When it comes to espadrilles, it doesn't take long to learn the ropes. The Summer shoes are defined by woven jute platforms. And from there the opportunities for different designs are endless. 
Born in the Pyrenees, the original espadrille was renowned for its flexible sole, lightweight fibers, and convenient slip-on style. The Spanish shoes quickly became a coveted closet staple to conquer sweltering climates. 
Today, the versatile shoe remains a quintessential addition to any Summer capsule wardrobe. And like all our favorite shoes, every silhouette serves a slightly special purpose. While braided flats hit the town running, woven wedges are made for whimsical weddings. And raffia sneakers give casual chic a whole new meaning.
Dior designer jutes are drop-dead gorgeous. And the Castaner Carina frequents the feet of fashion icons, including Kate Middleton. Knotted mules are your masterclass in modern minimalism. While straw soles and ballet flats collude to create a complementary contradiction. As you can see, espadrille styles come in many shapes and sizes. Yet they're all woven together by a single thread—a plaited straw platform. And it is this platform from which to springboard your Summer style this season.
Not convinced yet? Our top espadrille picks are sure to rope you in.
Refined rendition of a relaxed sole: The 15 best women's espadrilles
Tory Burch Ines: Best espadrille flats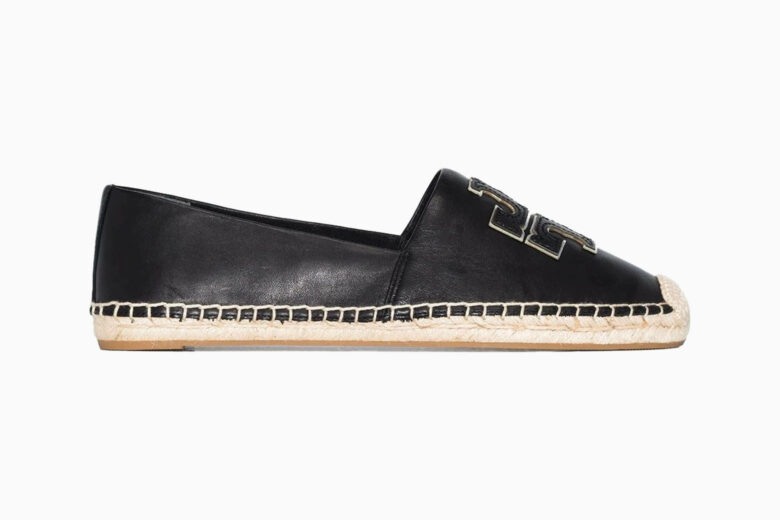 Sleek black leather gets a casual makeover with these signature straw soles. Tory Burch's contemporary design showcases the brand's iconic double T logo with a standout silver outline. The refined style speaks to warm evenings and rooftop bars. While the slip-on flat soles won't stop you from hopping town without a care in the world. 
These leather espadrille flats are what long summer nights are made of. And we think that they're new necessity to make moves in all the right circles.
Best for: Sleek black leather meets casual straw soles.
Color: black
Celine Taillât: Best espadrille heels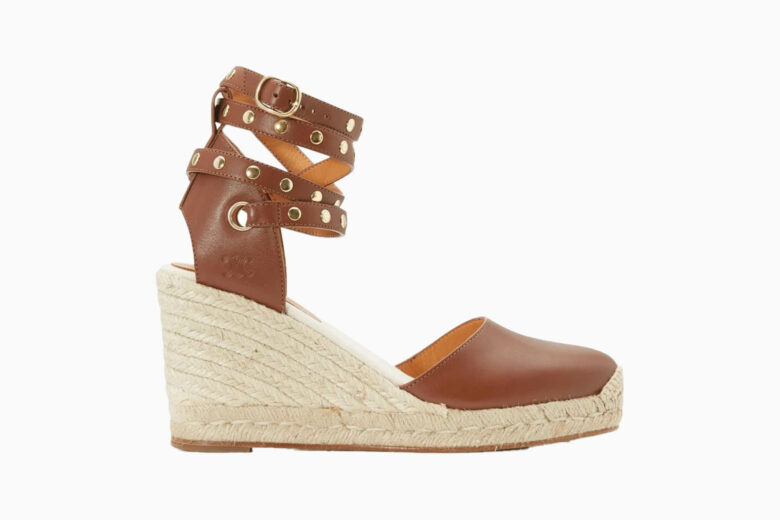 Comfortable heels are not preferential. They're a summer prerequisite. And these versatile, heeled espadrilles are at the top of our list. Made in Spain, soft, calfskin leather is styled up with gold-embellished gladiator straps. Their woven wedge heels will effortlessly tackle cobblestone streets. While a neutral, tan colorway will graciously complement any ensemble.
Dress these wedge espadrilles up with floral dresses or take them down with casual denims. Either way, these Taillât heeled espadrilles are all you need to elevate your outfits one plaited step at a time.
Best for: Take it up a notch with gold-embellished gladiator straps.
Color: tan
Dior Granville: Best designer espadrilles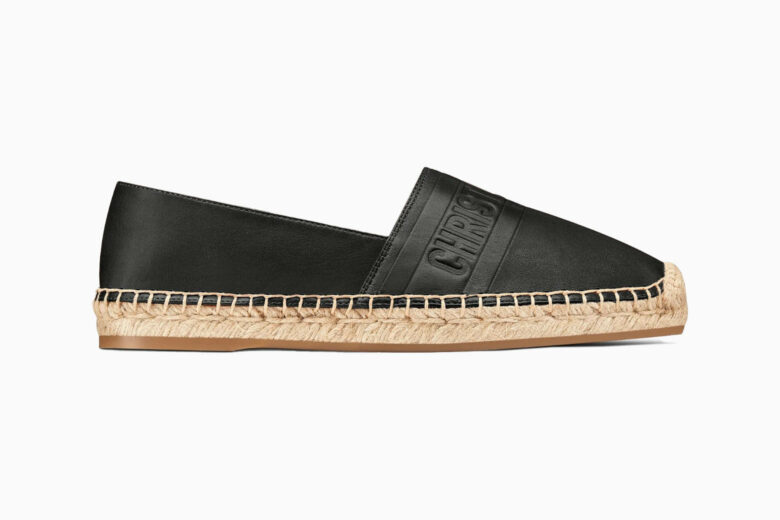 These Dior espadrilles are made of logo-lovers dreams: an elegant black upper is effortlessly embossed with the large signature Christian Dior motif. The summer shoes perfectly contrast the relaxed nature of the Spanish sandal with the designer's sophisticated style.
And while the courtier classics beg to hit the Parisian streets with your best sunglasses—the versatile black espadrilles belong in your travel tote as you head to the coast. Either way, these Dior espadrilles are absolutely to die for.
Best for: A nonchalant nature flaunts deluxe designer details.
Color: black
Gianvito Rossi Ribbon Beachclubs: Best flat espadrille sandals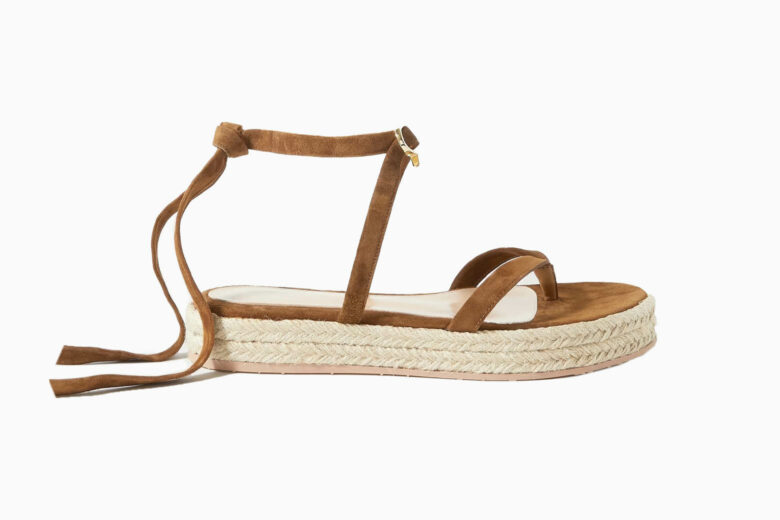 Gianvito Rossi's 'Ribbon Beachclubs' are at the top of our list when it comes to the most comfortable sandals this Summer. The open-toe espadrilles will keep you cool in sweltering climates. And they are the perfect excuse to show off a new pedi. While tactical suede straps wrap elegantly around the ankle. The brown and white hues ensure multifaceted versatility.
These flat espadrille sandals by Gianvito Rossi will tie together any ensemble with a feminine finesse.
Best for: Remaining cool, calm, and collected in sweltering climates.
Colors: brown, white
Castaner Carina: Best espadrille wedges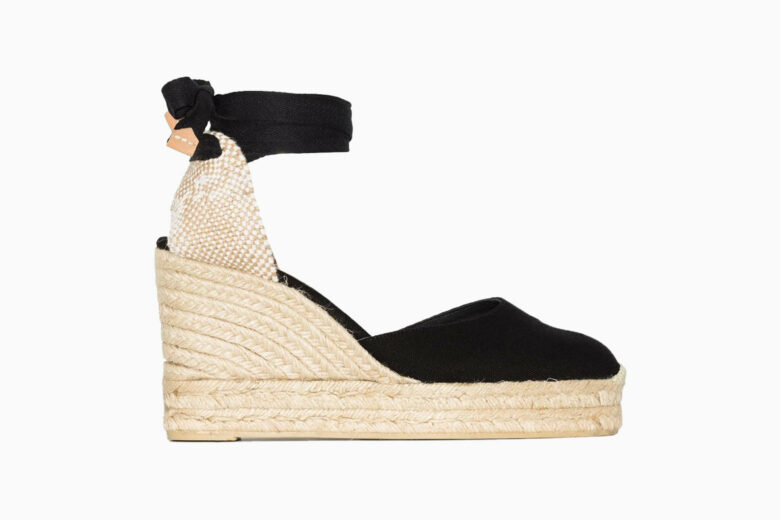 Get the Kate Middleton look with these casually, chic Castaner Carinas. The raffia espadrille wedges will give you the boost you're looking for without compromising on comfort. While a black canvas colorway can be dressed up or down depending on the occasion. And a clean, contemporary ankle tie is the kind of sophisticated finesse we've come to expect from the affluential Spanish brand.
These platform espadrille sandals are made to conquer garden weddings. And yet they manage to maintain an elevated air of elegance.
Best for: Duchess detailing.
Golden Goose Superstar: Best white espadrilles sneakers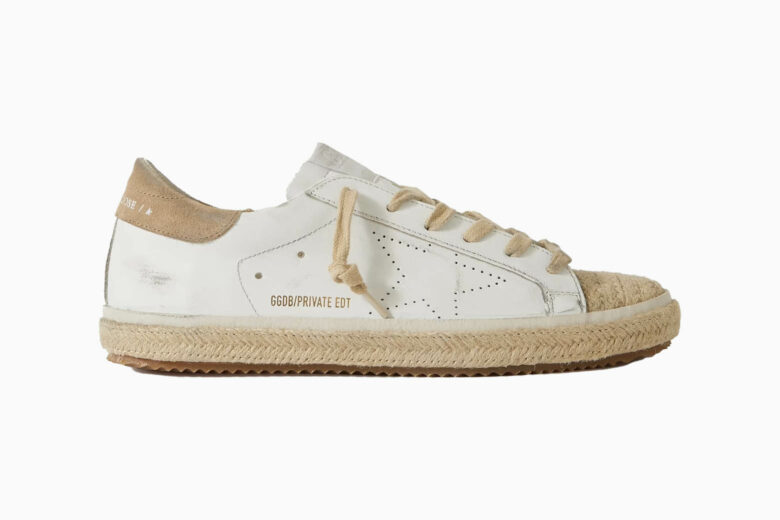 Polished shoes take on a carefree attitude in this rendition of the beloved white sneaker. The clean colorway leaves room for the Golden Goose's signature distressed style. And the subtle scuff marks speak to the relaxed nature of the woven soles. While suede heel tabs complement the sandy straw hues. A perforated star and simple motifs allow for a retro touch.
These white espadrilles are like nothing you own. And we highly recommend the addition to your casual sneaker collection.
Best for: Relaxed scuff marks take on the Spanish culture.
Color: white
Manebi Hamptons: Best espadrille mules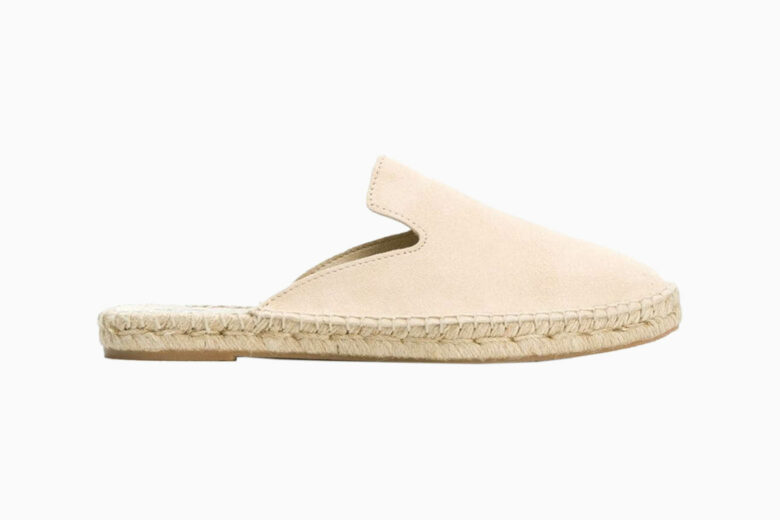 A weekend in the Hamptons is calling your name. And we've got just the shoes to take you there. The beige, soft suede of these Manebi mules whispers tones of subtle simplicity. And jute woven soles will transport you to the coast in a sophisticated, chic style. The Milan-based brand features a contemporary almond toe. And a flat, rubber sole guarantees hours of comfort.
Offering offers endless flexibility, these minimalist espadrille mules are a quintessential addition to any capsule wardrobe.
Best for: Vacationing with celebrities in the South.
Color: beige
Valentino Garavani Rockstud: Best espadrille slides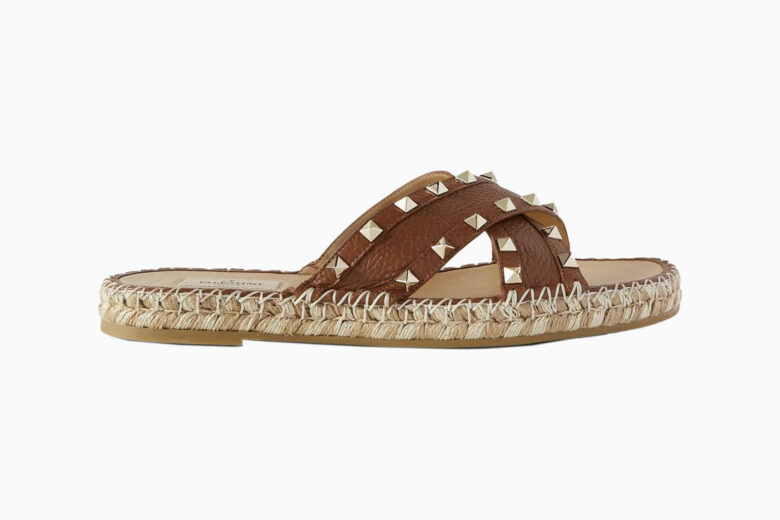 Boho chic takes a rock n roll turn with Valentino Garavani's signature studded straps. The Italian designer's rockstud embellishments continue to dominate footwear trends season after season. In this shoe, the fierce look is boldly juxtaposed against a bohemian braided canvas. And the flat soles further allude to their potential for everyday wear. 
These rockstar espadrille sandals exude casual confidence. And so will you when wearing them.
Best for: Bohemian braids meet rockstudded embellishments.
Color: tan
Gucci: Best leather espadrille shoes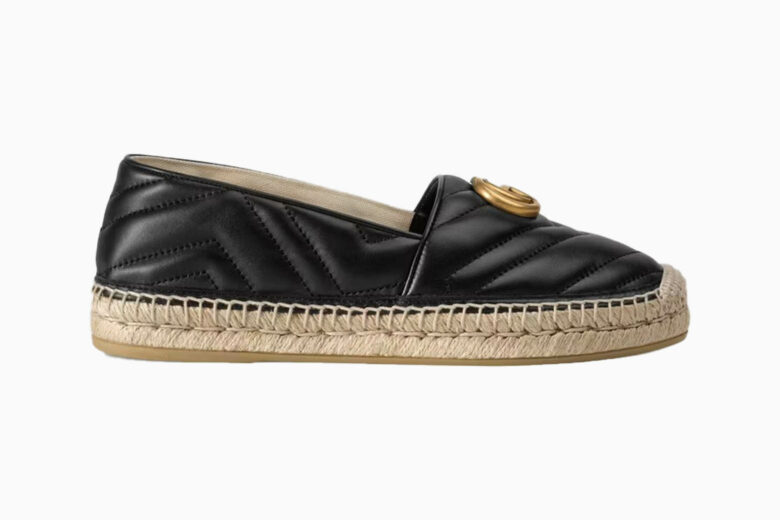 Is a list of top picks ever complete without a pair of Guccis? Not for us.
While we've come to expect bold confidence from the designer Italian brand. The effortless sophistication embodied in these leather espadrilles will blow your socks off. Showcasing soft matelasse chevron leather, these Summer shoes were designed for the brand's iconic Cruise collection. And so the simple, chic styling of these black espadrilles is perfectly complemented by gold, emblematic hardware.
Best for: Refined relaxation at the finest luxury resorts.
Color: black
Saint Laurent: Best classic women's espadrilles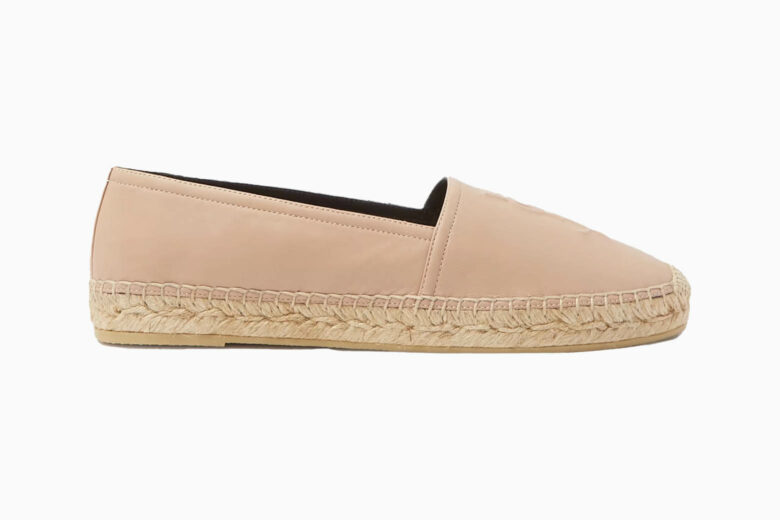 The French fashion house flawlessly fuses impeccable craftsmanship with its signature cheeky flair. And this pair of classic women's espadrilles knows exactly how to tug our heartstrings with subtle embellishments and understated elegance. 
The timeless design of these Saint Laurent espadrilles transcends every trend. And while a light pink palette effortlessly complements any ensemble—these summer shoes can be worn time and time again without a second thought. 
Best for: Less is more with a minimalist monogram.
Color: Neutral
Isabel Marant Canae: Best trendy espadrilles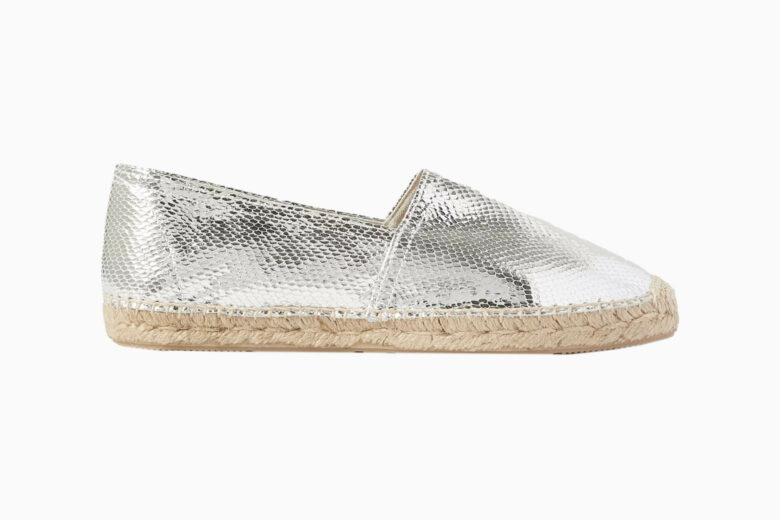 If snakes are renowned for temptation—these metallic snake-effect espadrilles are no exception. They'll lure you in with a silver colorway. And faux snakeskin uppers will further ignite an excitement towards standout fashion statements. The simple silhouette gives way to that metallic shine. And an endlessly comfortable, slip-on style should be enough to seal the deal. 
These showstopping espadrilles were born to stand out. And they'll almost certainly attract a stream of compliments. So be prepared to be stopped at every turn.
Best for: Standing out in faux snakeskin glory.
Color: silver
Saint Laurent Tribute: Best platform espadrilles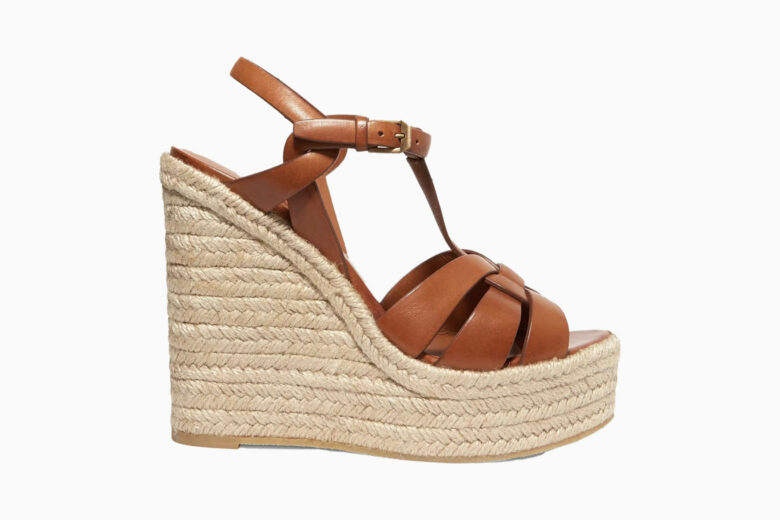 Interlocking leather straps play tribute to the original design of Saint Laurent's cult sandals. The high platform espadrilles will give you all the height you need to take on day-long events with unparalleled confidence. While a laid-back woven wedge brings the soaring style down to earth for everyday wear, the brown, leather tones of these Saint Laurent espadrilles stay true to their versatile nature.
These platform espadrille sandals will make you skyrocket to new heights with an extra boost of chic confidence.
Best for: Soaring heights has never felt so comfortable.
Color: brown
Vionic Laguna: Best comfortable espadrilles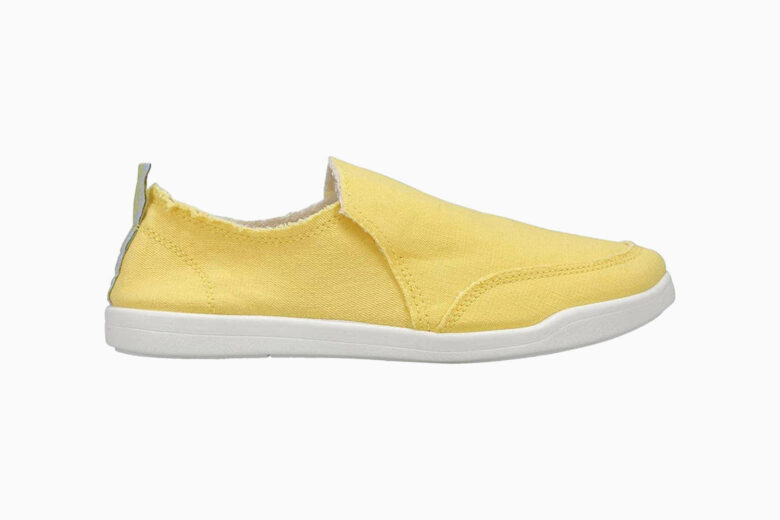 Your most comfortable flats have new competition in these Vionic summer shoes. The sustainable slip-on includes orthotic insole arch support for next-level comfort. The classic espadrille silhouette comes in a variety of soft hues—from frosty spruce to dusty cedar. And a light cotton canvas will provide your feet with plenty of air to breathe. 
Full disclaimer—you'll never want to take these sumptuous shoes off. So we suggest an extra pair to spice up your colorways.
Best for: Sensational support in scorching conditions.
Colors: black, blue, green and more
Soludos: Best flatform espadrilles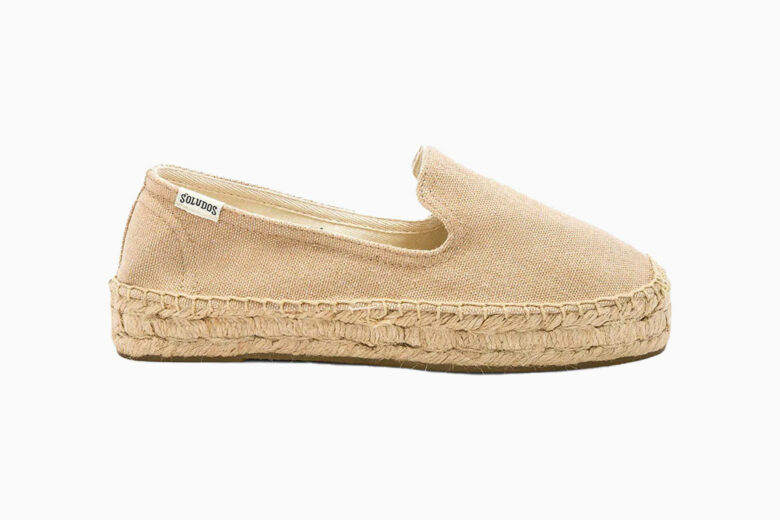 Combine the casual comfort of your flats with the chic lift of a platform. And you've got yourself a flatform. The minimalist design whispers tones of subtle simplicity. And soft hues of dove gray and bisque speak to the versatility inherent in the day to day shoe. An organic cotton blend will keep you cool in warmer weather. While a thick rubber sole is crafted to outlast multiple Summer vacations. 
These low platform espadrille sandals by Soludos will comfortably take you from the coast of Mallorca to Madrid's cobblestone streets in style.
Best for: Your blank canvas for self-expression.
Colors: black, safari, bisque and more
Hereu: Best ballet espadrille flats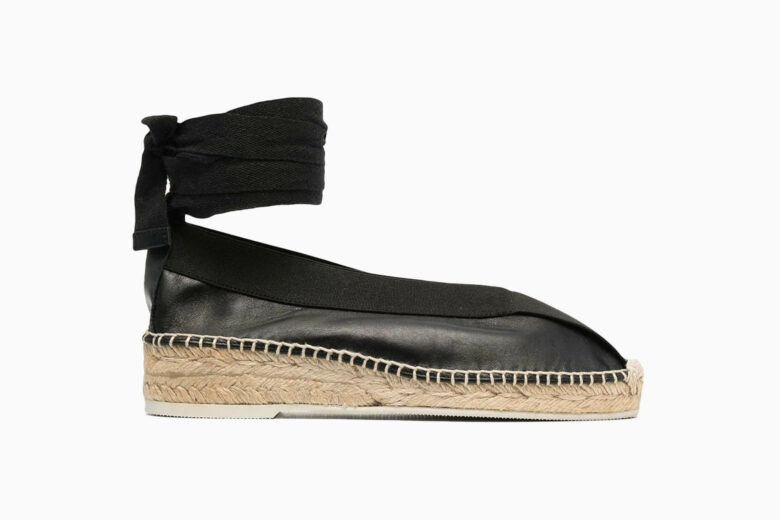 Sweet, simplicity gets a contemporary shakeup in these contradictory Summer sandals. There are few things that we love more than perfect contradictions in fashion. And this is one of those moments. While the ballet flat silhouette speaks to soft femininity—a sleek black leather colorway disrupts the notion of innocence. And a thick ankle strap pays homage to the classical, ballet knot, while simultaneously alluding to a cheeky attitude.
These espadrille sandals include all classical features of the unimpeachable pump. But these Hereu espadrilles are not as virtuous as they may initially seem.
Best for: Complementary contradictions.
Color: black
Frequently asked questions about women's espadrilles