The resplendent green hues of malachite are instantly recognizable, and its luxuriant, swirling patterns in varying shades of green are unique among gemstones. Its majestic, regal tones and marble hue have made it a favorite among royal families throughout the ages. The pharaohs of Ancient Egypt used it to adorn their headdresses, believing it helped them to rule wisely. The Russian czars used it extensively to create ornate sculptures and dramatic structures, (such as the columns of St Issac's cathedral in St Petersburg, Russia.
Today, malachite is still very popular as a decorative stone, stunning works of art carved in malachite are a collector's item, and more modestly priced, small carvings of animals make a thoughtful and distinctive gift. As luxury jewelry, malachite is striking: its rich, bold greens dazzle when polished into a smooth oval cabochon, and placed in the center of a gold pendant or ring. The brilliant green hues of malachite stones and crystals also make it popular as a gift for the office, where it not only brings joy through its unique beauty but also is said to spark creativity and positive change.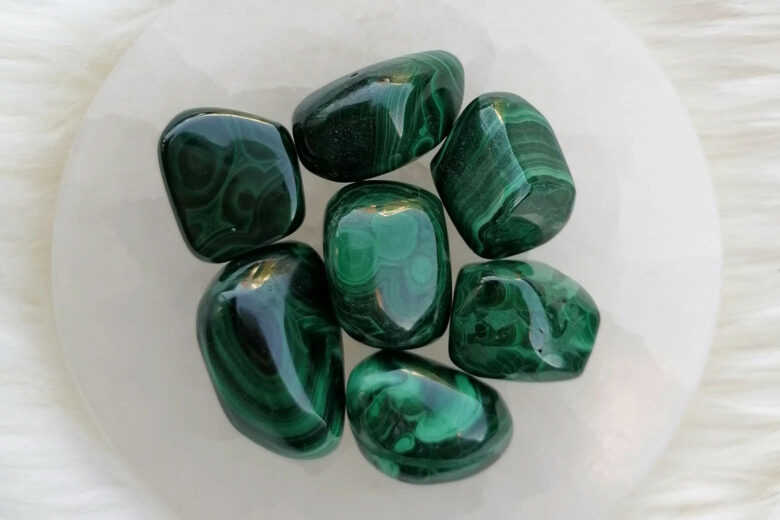 | | |
| --- | --- |
| Malachite Color | Bright green, dark green |
| Zodiac Sign | Taurus |
| Hardness Scale | 3.5 – 4 on Mohs Scale |
| Mineral Class | Carbonate Mineral |
| Symbolism | Transformation, Protection |
What is Malachite
Malachite is a glossy, green stone that contains hypnotic, lighter green swirls within. A beautifully decorative stone, it is often used in carvings for items like tabletops, bowls, vases and carved animals. Malachite gets its distinctive, vivid green color from copper carbonate. The regal color of Malachite, from bright to dark, mossy green, means that it has been highly valued as a gemstone since ancient times.
What does Malachite look like
Malachite is a resplendent, deep green color with an opaque, silky luster. Its rich, glossy appearance is often described as marble-like. Malachite's distinctive, patterned coloration, in various shades and swirls from light green to almost black, make it unique among gems. These swirls, or bands, are often described as 'eye-shaped', and have led many cultures to treasure malachite as a stone to ward off the 'Evil Eye' and enhance visionary powers.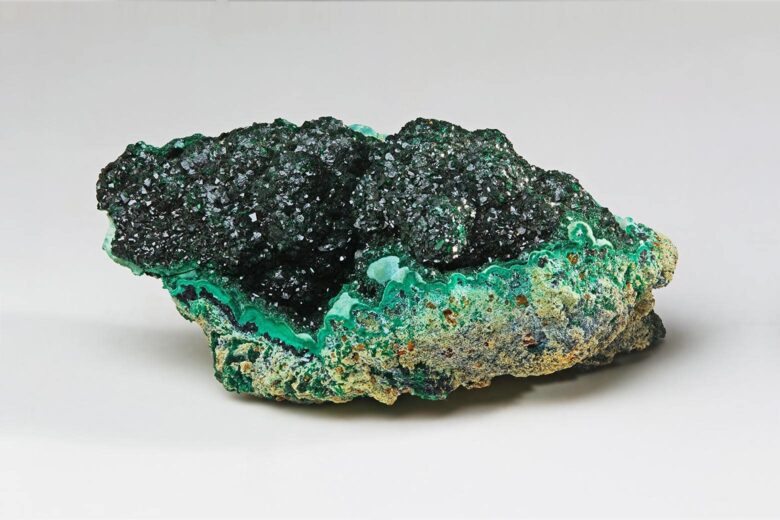 History of Malachite stone
Malachite has a rich and interesting history. It was beloved by the Ancient Egyptians, who used its regal tones to great effect in jewelry and headdresses. They also ground the stone into a fine powder for use as a brillant green eyeshadow. Vivid green malachite kohl was said to be Cleopatra's favorite cosmetic. It is believed that malachite was mined in Egypt as early as 4,000BC.
The Victorians also held malachite in high regard, and it was popular during this period for use in small carvings, beads and cabochons set in silver.
Perhaps the greatest admirers of malachite were the Russian royal family of the 19th century, who had dining sets and huge vases and sculptures made from this stone. The 'Malachite Room' in the Winter Palace at the Hermitage Museum in St Petersburg pays homage to their great love affair with this magnificent stone.
More recently, Tori Spelling, an enthusiastic fan of malachite, celebrated the birth of her 5th baby by designing him a malachite nursery, replete with malachite themed bow ties!
Meaning of Malachite
The name malachite is said to derive from the Ancient Greek word 'moloche' or 'malache', which means mallow, as the stone closely resembles the color of the leaves of the mallow bush. Some scholars believe that the word malachite originates in the Ancient Greek 'malakos', meaning soft. Malachite is a relatively soft mineral, only scoring 3.5 – 4 on the Mohs hardness scale, meaning that it is easy to work with, and a popular choice for carvings and lapidary artistry.
Malachite's spiritual meaning is one of transformation. It is a healing stone that is said to absorb negative energies and pave the way for positive emotional change, bringing joy and the spirit of renewal into our lives.
Where does Malachite come from
Malachite is found worldwide, but the largest quantities of malachite have been quarried in the Ural mountains in Russia, although these deposits are now becoming depleted. Fine examples of high quality malachite used in jewelry are found in Eilat, Israel. Other large sources of malachite include the Democratic Republic of the Congo, Namibia and the American Southwest.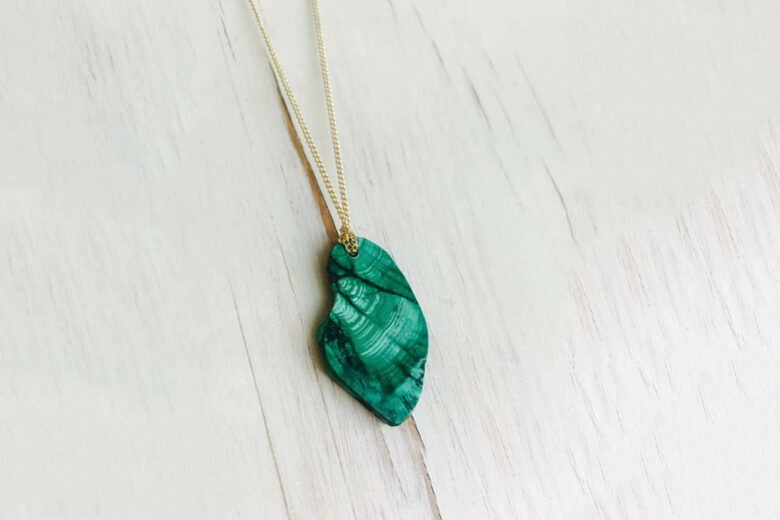 Malachite and Zodiac signs
Malachite is one of the natural birthstones for those born in the spring, under the sign of Taurus. Spring is a time of flowering and rebirth, and the color of malachite aptly personifies the deep, healing green colors of nature. Its gorgeous glowing green hues and glossy appearance means it makes for stunning jewelry, which works well as a gift for loved ones of friends born in April or May.
Which family is Malachite from
Malachite is a copper carbonate hydroxide mineral that forms naturally above copper deposits deep in the earth. The gemstones are found along the surface of underground caves as a malachite cluster of stalactites. Malachites occasionally form in combination with other minerals that contain copper, such as sky blue azurite. These unique formations can create spectacularly striking rocks of unparalleled beauty.
Birthstones chart
Find your birthstone by month
---
Frequently asked questions about Malachite
What is malachite stone good for?
The exquisite green tones of malachite make it an eye-catching and sophisticated jewelry stone. A luxury malachite cabochon looks both elegant and dynamic when placed as the centerpiece of a pendant or earrings, and the lush emerald green color enhances the beauty and glamor of a gold ring. Placing a malachite stone on your desk at work is said to help spark creative energy and growth.
Why is malachite toxic?
Malachite can be toxic because of the high percentage of copper minerals that it contains, as much as 58%. Copper is toxic to humans, and can affect the formation of red blood cells. However, it is only poisonous in its broken down form, inhaling or ingesting malachite dust can be hazardous, but wearing malachite jewelry or touching malachite stones or crystals is not harmful.
How do you use malachite for healing?
Malachite's healing properties are renowned, and it is considered to be a protective stone. It absorbs energy rather than radiates energy, and in this way is believed to soak up negative energy and ward off toxic emotions. As a stone of transformation, malachite is said to encourage change and emotional risk-taking.
Is malachite a precious stone?
Malachite is a semi-precious stone (The only precious stones being diamonds, rubies, emeralds, and sapphires). The value of a particular piece of Malachite is contingent upon how many swirls or rings it has, their distinctive pattern, and how visible they are. Rocks consisting of malachite in spectacular combination with other colorful copper minerals, such as azurite, fetch much higher prices than pure malachite and are highly sought-after.