Coco Chanel famously said, "the best things in life are free, the second-best expensive". When it comes to the most expensive engagement rings in the world celebrities have topped the list. Though some of the romances were fleeting and ended within a few months, the diamonds will go on forever. These rings have been crafted in the finest metal and precious stones.
You can take inspiration from our list of dazzling engagement rings with even more dazzling prices. If these gorgeous jewelry pieces seem out of reach, don't despair, as there are many exquisite options available at more affordable prices from some of the best jewelry brands out there.
Although some of the world's most valuable rings include Chopard's Blue Diamond Ring, The Pink Star Diamond Ring, Graff's Pink Ring, and The Cullinan Dream, these have not been featured on our list. These rings haven't been used as engagement rings and sit safely in their billionaire owner's collection. Maybe, someday…
Million-dollar gems: The 15 most expensive engagement rings in the world
Grace Kelly's 10.48-carat Cartier: $38.8 million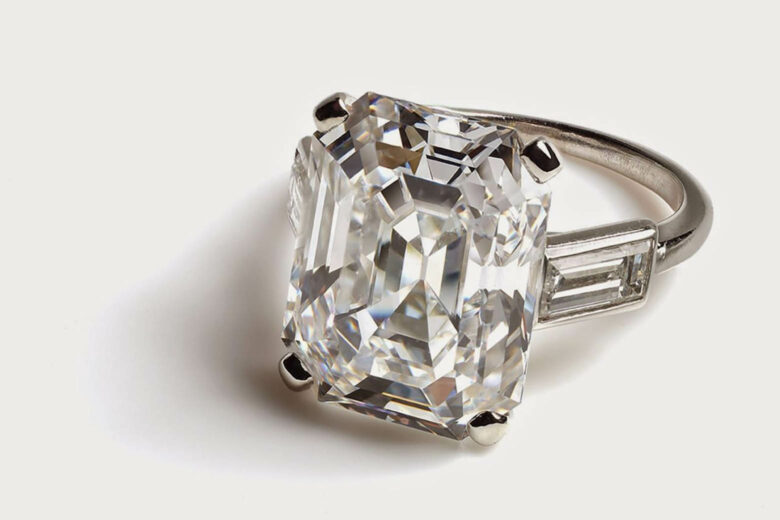 Prince Rainier initially proposed to Grace with a ring crafted from diamonds and rubies that made up Monaco's crown jewels. Later on, the Prince commissioned the 10.48-carat emerald cut diamond ring to be made by Cartier for Grace to wear out. 
The center diamond is flanked by two baguette-cut side diamonds. Although the ring was purchased for $4 million in 1956 it is now estimated to cost around $38.8 million today. The ring is now part of the collection belonging to the House of Grimaldi.
| | |
| --- | --- |
| Gemstone: | White diamond |
| Cut: | Emerald-cut |
Jackie Kennedy Onassis 40-carat Harry Winston: $20 million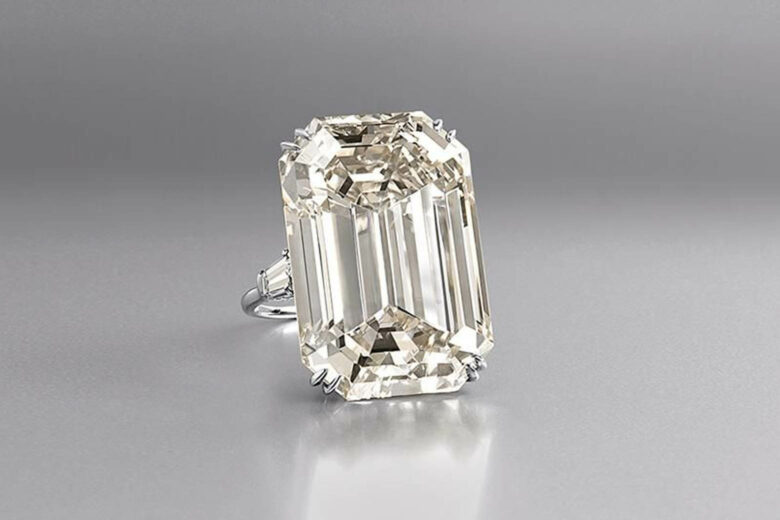 Jacqueline Kennedy Onassis's engagement ring from Greek billionaire Aristotle Onassis was auctioned off for $2.6 million in 1996. This was Jackie O's second engagement ring.
The diamond formed part of the original 601-carat Lesotho III diamond and was 1 of only 18 stones cut from it. This remarkable ring will set you back up to $20 million today.
While pricey, this isn't even enough to match the most expensive diamonds in the world at the moment.
| | |
| --- | --- |
| Gemstone: | White diamond |
| Cut: | Marquise-cut |
Mariah Carey 35-carat Wilfredo Rosado: $10 million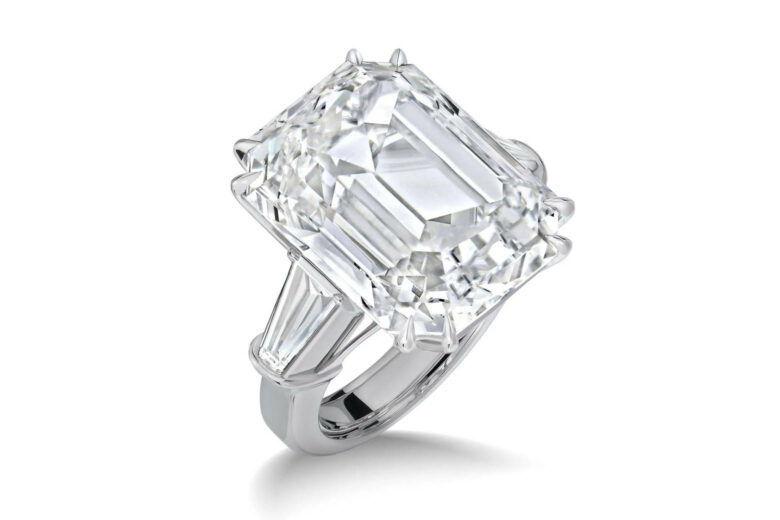 Mariah Carey's engagement to Australian businessman James Packer was a short-lived love story. But the platinum set ring is a timeless design.
This glittering bauble was later rumored to have been sold by Carey for $2.1 million. She let it go for a bargain considering the $10 million original price tag of the engagement ring.
| | |
| --- | --- |
| Gemstone: | White diamond |
| Cut: | Emerald-cut |
Blue Diamond 5.4-carat BVLGARI: $9.5 million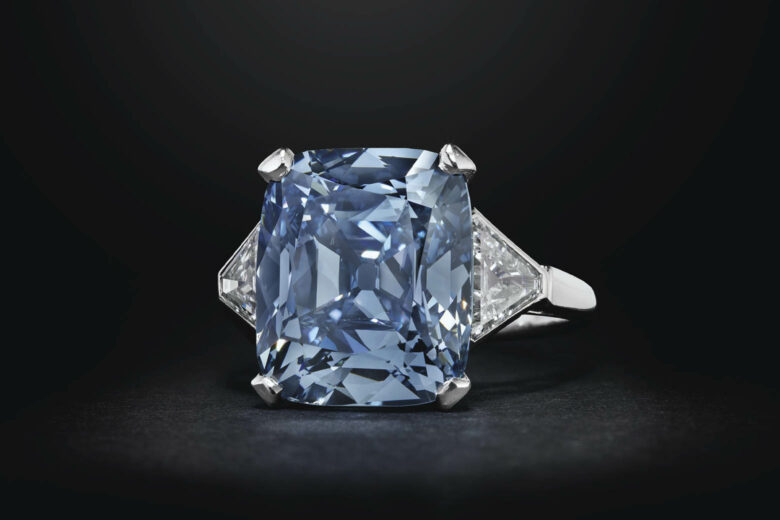 This showstopper was once considered to be the world's most expensive engagement ring. The ring was designed by Bulgari and later purchased by the House of Graff.
Blue diamonds are extremely rare (and some of the world's most valuable gemstones), which explains the hefty price tag. This one-of-a-kind piece is surrounded by brilliant-cut white diamonds around the center stone and baguette-cut diamonds down the side of the band.
| | |
| --- | --- |
| Gemstone: | Blue diamond |
| Cut: | Emerald-cut |
Elizabeth Taylor 33-carat Krupp diamond: $8.8 million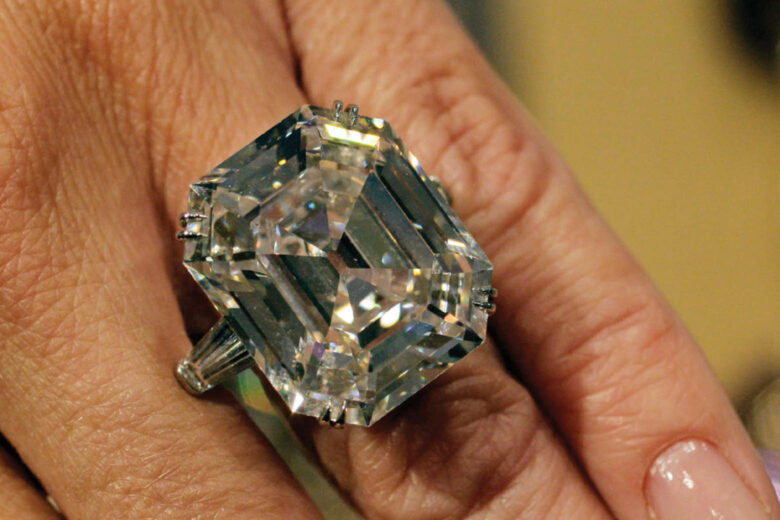 Elizabeth Taylor's iconic engagement ring from Richard Burton features a 33-carat Krupp diamond which was later named the Elizabeth Taylor diamond when she passed away in 2011.
The stone is said to be a rare type IIa diamond with other famous examples of such diamonds being the Koh-i-Noor and Cullinan. This is truly one of the most unforgettable engagement rings of all time.
| | |
| --- | --- |
| Gemstone: | White diamond |
| Cut: | Asscher-cut |
Anna Kournikova 11-carat Canary yellow diamond: $5.4 million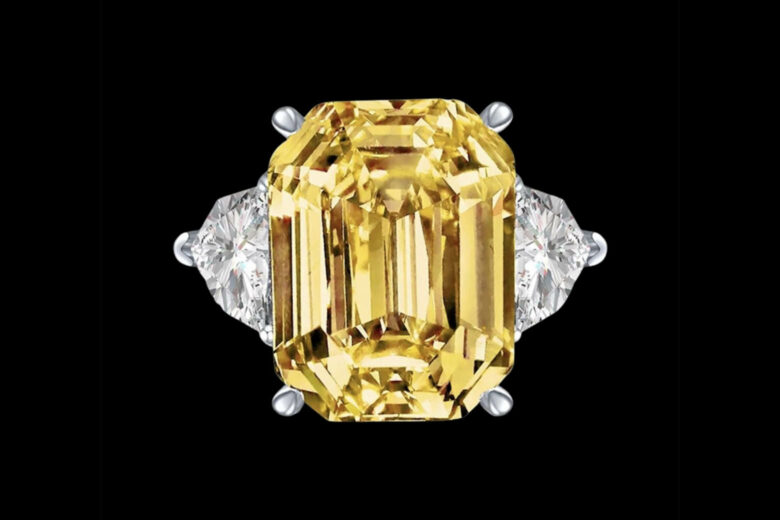 In 2009, Anna was spotted with an alluring canary yellow diamond ring from Enrique Iglesias. The couple never really confirmed if this was a second engagement ring or a wedding ring. Since the couple remains private about their personal lives, we have to keep guessing.
The ring is now valued at almost $7.5 million, ranking it among the most expensive engagement rings in the world.
| | |
| --- | --- |
| Gemstone: | Canary yellow diamond |
| Cut: | Radiant-cut |
Beyoncé 18-carat Lorraine Schwartz ring: $5 million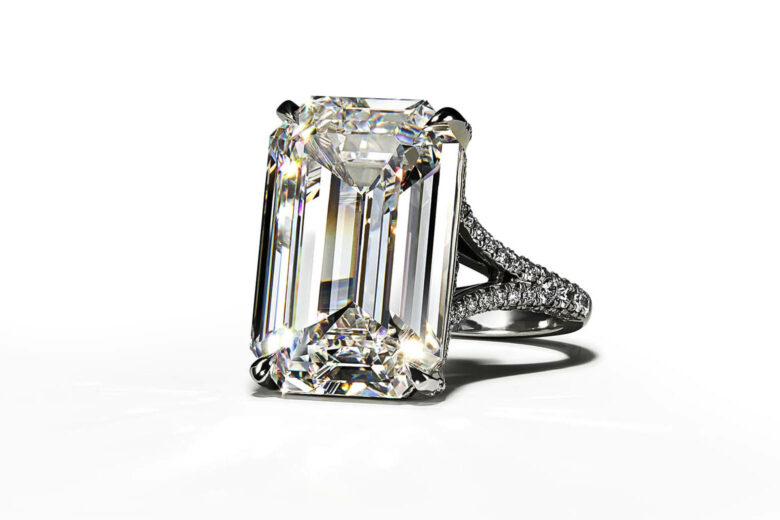 When Jay-Z proposed to Queen Bey, he did so with a flashy emerald cut diamond set on a split shank platinum band. Since their engagement in 2008 the ring has increased in value to over $9 million today.
The stone is flawless and deemed to be a premium and exceptional stone. It's no wonder the ring is kept locked in a safe for the most part and Beyoncé chooses to wear simpler alternatives when out.
| | |
| --- | --- |
| Gemstone: | White diamond |
| Cut: | Emerald-cut |
Paris Hilton 24-carat Harry Winston ring: $4.7 million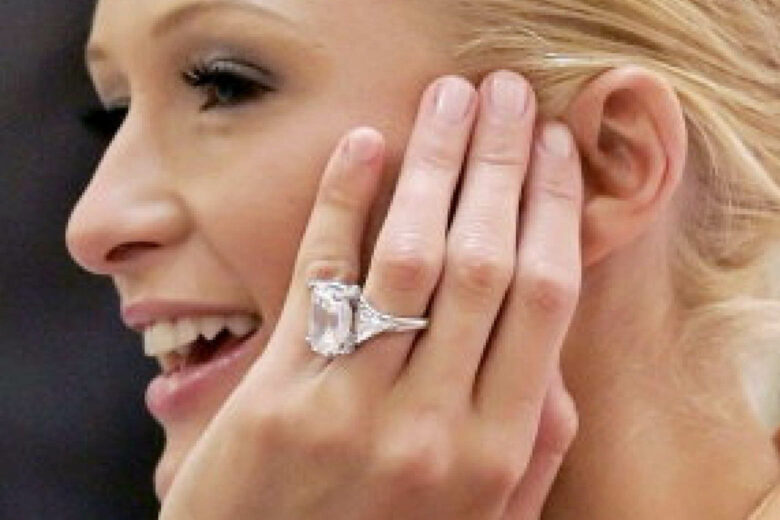 Paris might have gone through four engagement rings in total, but it was her second engagement to Greek shipping heir Paris Latsis that makes our list. The two were engaged in 2005 after a whirlwind romance and unfortunately called off the engagement just a few months later.
Paris later auctioned off the ring to support the victims of Hurricane Katrina.
| | |
| --- | --- |
| Gemstone: | White diamond |
| Cut: | Emerald-cut |
Jennifer Lopez 8.5-carat blue diamond: $4.5 million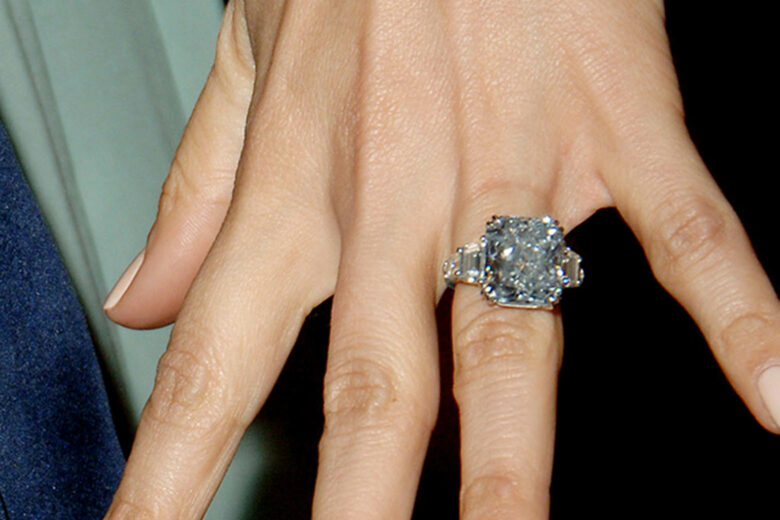 When J.Lo was engaged to singer Marc Anthony she received a rare blue diamond ring which is the most expensive of any of her other engagement rings (there's been five). This stunning ring was designed by Harry Winston and stands out for its unique style and even more unique precious stone.
J.Lo was said to be selling off all the jewelry from her marriage to Anthony, but there are no reports on whether or not the blue diamond ring was amongst the items sold.
| | |
| --- | --- |
| Gemstone: | Blue diamond |
| Cut: | Cushion-cut |
Vanessa Bryant 8-carat Raffi ring: $4 million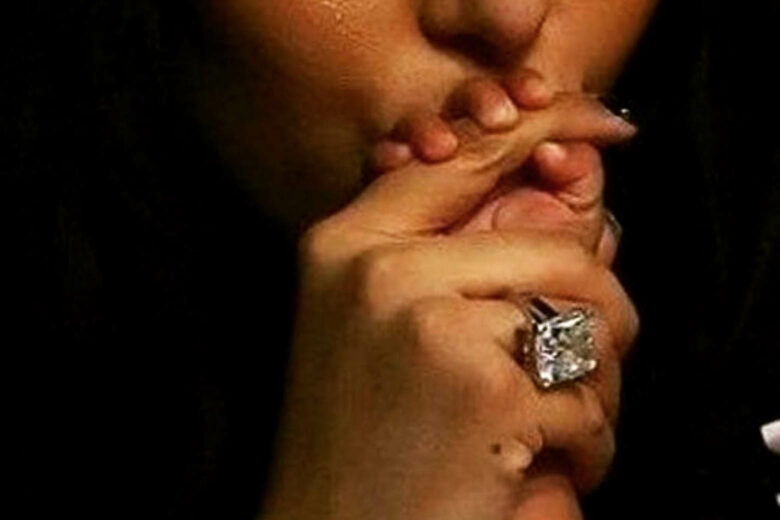 This isn't technically the couple's engagement ring, however, it has been known as the upgraded version of the initial engagement ring Kobe gave to Vanessa. Although most have reported it to be an apology ring, that's not something the couple got into at the time.
The custom-designed ring is said to have increased in value since the passing of Kobe.
| | |
| --- | --- |
| Gemstone: | Purple diamond |
| Cut: | Square-cut |
Kim Kardashian 15-carat Lorraine Shwartz: $4 million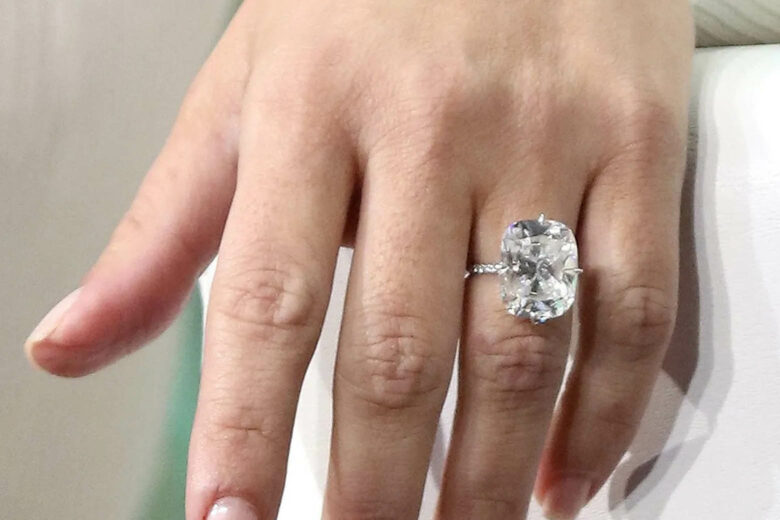 Kanye presented Kim with a sparkler for her dual 33rd birthday celebration and surprise proposal back in 2013. The gorgeous rock is set as a solitaire with micro-pavé diamonds on a thin platinum band.
In contrast to the very extravagant lives of Kim and Kanye, the ring is actually a simple design that allows the flawless diamond to take center stage.
| | |
| --- | --- |
| Gemstone: | White diamond |
| Cut: | Cushion-cut |
Alexa Dell 12-carat diamond ring: $3 million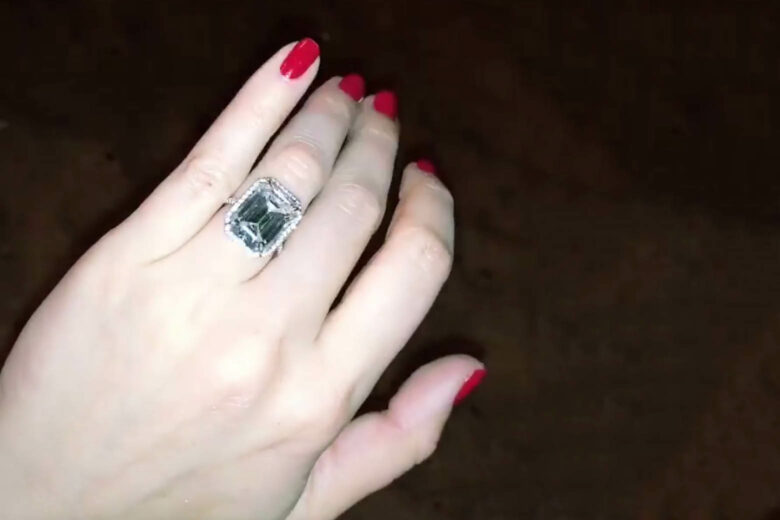 Alexa, the daughter of Dell Technologies founder Michael Dell flaunted her sparkly engagement ring in 2017 when her fiance Harrison Refoua proposed. Alexa is a billionaire heiress and businesswoman and her fiance a real estate investor.
The ring's center diamond is surrounded by smaller diamonds and set on a thin band encrusted with, you guessed it…even more diamonds!
| | |
| --- | --- |
| Gemstone: | White diamond |
| Cut: | Emerald-cut |
Anna Kournikova 11-carat Argyle diamond: $2.5 million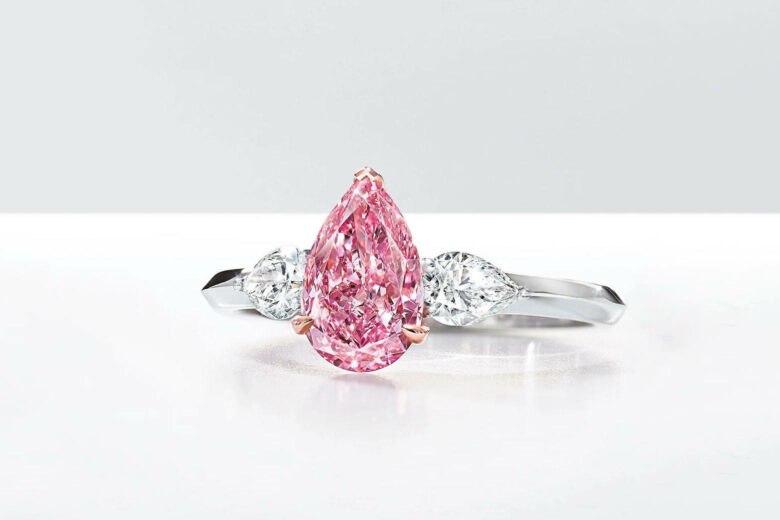 Enrique Iglesias and Anna Kournikova have been together since 2002. The two have stated on many occasions that marriage is not something they want to conform to. However, he has gifted her with "engagement" rings in two instances.
This ring was spotted on her ring finger in 2004. It holds a spectacular diamond from the Argyle mines in West Australia.
| | |
| --- | --- |
| Gemstone: | Pink diamond |
| Cut: | Pear-shaped |
Melania Trump 15-carat Graff diamond: $2.5 million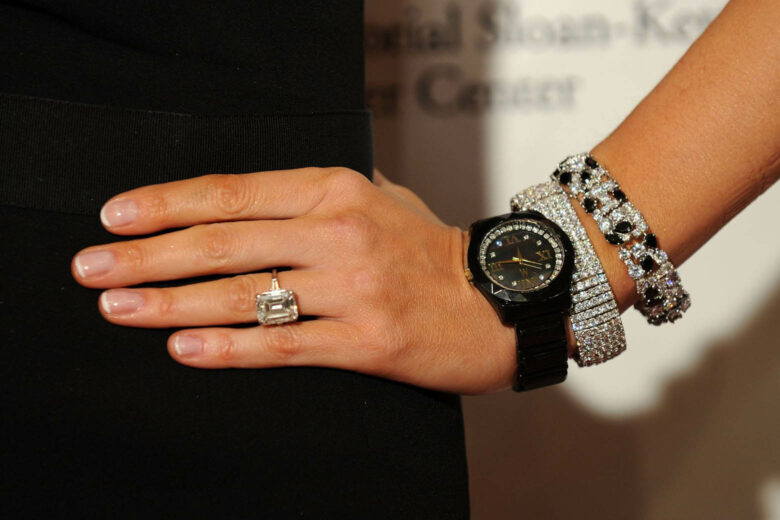 Donald Trump proposed to Melania in 2004 with a 15-carat Graff diamond worth an estimated $2.5 million. The ring features a remarkable D-flawless diamond with two smaller side diamonds.
In 2014, she was given an upgraded ring with a 25-carat diamond also from Graff and incredibly similar to the original ring. This ring is estimated to be worth up to $5 million.
| | |
| --- | --- |
| Gemstone: | White diamond |
| Cut: | Emerald-cut |
Blake Lively 12-carat Lorraine Schwartz: $2 million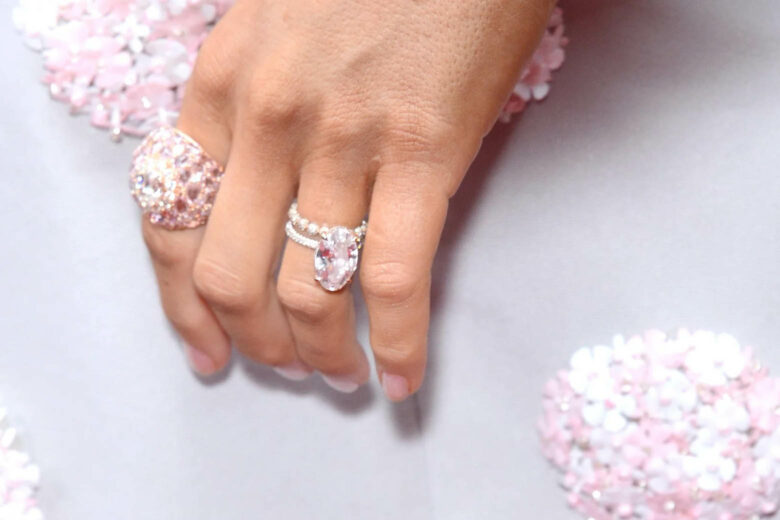 When Ryan Reynolds proposed to Blake in 2012, he did so with a specially designed piece from celebrity jewelry designer Lorraine Schwartz. The ring's band is made up of rose gold with pave diamonds and elegantly complements the pink diamond stone.
This piece is especially treasured by Blake since Ryan played a major part in helping design the ring with Lorraine without any input from Blake.
| | |
| --- | --- |
| Gemstone: | Pink diamond |
| Cut: | Oval-cut |
Frequently asked questions about the most expensive engagement rings in the world