Beauty lies in the eye of the beholder. And so does the significance of this tantalizing trinket. Despite its superstitious origins, the evil eye amulet means something unique to every person. And whether you view yours as an empowering talisman or you see it as just another fashion statement—the evil eye can be worn in a myriad of different ways.
With big names like Meghan Markle and Gigi Hadid promoting the time-honored trend—evil eye jewelry is no longer limited to the cobblestone pavements of Greece. It is quickly becoming so much more than an amulet on string. Evil eye amulets are at the forefront of stylish symbolism. It's no surprise that our favorite jewelry brands are pulling out all the stops to give us decadent designs. And many amulets are adorned with diamonds while paired with precious metals. 
Whether you believe in its protective powers or not, the contemporary accessories make for a sentimental gift for the apple of your eye. And the enticing detail inherent to the evil eye charm will step up any simple ensemble. So if you're looking for yourself or your loved one, we're here to unpack the evil eye myths and legends. And our foolproof jewelry suggestions are bound to make you buy one without batting an eyelid.
What is the evil eye?
The evil eye is a curse believed to bring about mental and physical illness. Yet thousands of people wear them as symbols of protection. This begs the question—is the evil eye good or bad? Is it a blessing or a curse?
There is an important distinction between the evil eye and the eye amulet. While the evil eye is a curse. The eye amulet is a trinket believed to dispel the curse. But over time the two terms have become confused. And the use of the name 'evil eye' regarding jewelry, usually refers to the protective eye amulet.
Evil eye jewelry meaning?
We all know the saying, "an eye for an eye." And it holds true with regards to the ardent amulet. The supposed curse of the evil eye stems from the idea that successful people fall prey to envious eyes. In Greek mythology, the eye is believed to hold great power. And those at the receiving end of an envious "evil eye" glare were said to suffer catastrophic misfortune.
People sought a means to ward off these evil spirits and to provide evil eye protection. And so the earliest iterations of the eye amulet were born. This explains why the trinkets are often associated with protection. And they are more specifically associated with protection from the malice or jealousy that is likely to accompany prosperity. Perhaps this is why you'll see so many celebrities adorning extravagant eye accessories. Or perhaps they're just drawn to the alluring details inherent to the trinket. Whatever it means to do, the one thing we know for sure, is that the evil eye is exquisitely enticing.
Who can wear the evil eye?
The evil eye pendant found its significance in the Mediterranean and West Asia. But as it becomes more prominent on red carpets, women worldwide are lining up for a taste of the evil eye charm. However you don't have to believe in the powers of the evil eye symbol to join the trend. And the mythical ornament is quickly becoming a contemporary closet staple.
On one hand you may choose to wear the evil eye for powerful protection. Or you could wear it as a symbol of protection for a modern approach to jewelry with meaning. You could also gift it to your loved one as a symbol of protection for long voyages, new ventures or other significant milestones. And if you're not the sentimental type, it can be worn as nothing more than a contemporary, chic fashion statement. Either way, the evil eye culture begs to be embraced by anyone and everyone. It's not just for the spiritual gurus.
The meaning of evil eye colors
The ubiquitous cobalt-blue eye may be the most popular color. But over the years, various colors have come to represent different things.
Dark blue evil eye meaning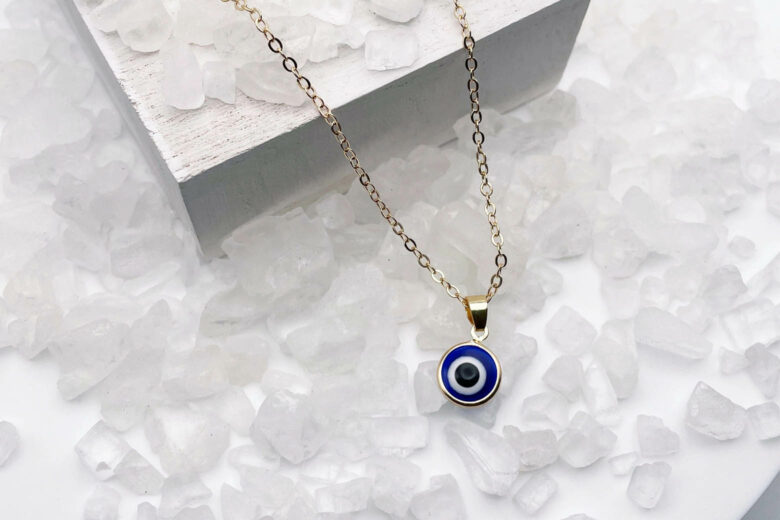 The iconic blue evil eye signifies relaxation as a result of karma protection. And it is worn to promote smooth communication.
Light blue evil eye meaning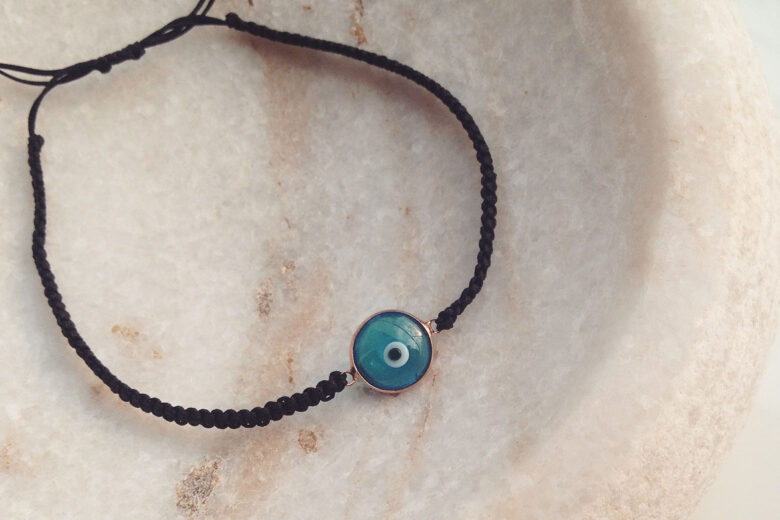 A lighter blue hue is representative of perspective and general protection. And it can be worn to attract peace and solitude.
Orange evil eye meaning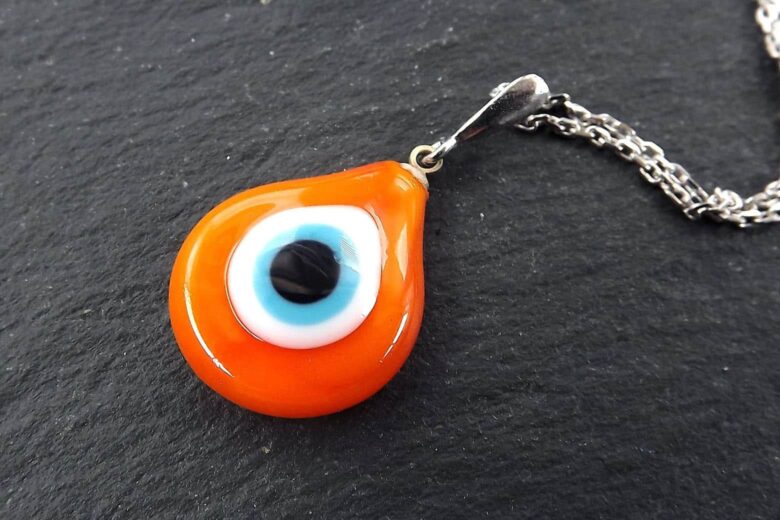 The orange evil eye is associated with happiness. It is said to inspire commitment and creativity.
Dark green evil eye meaning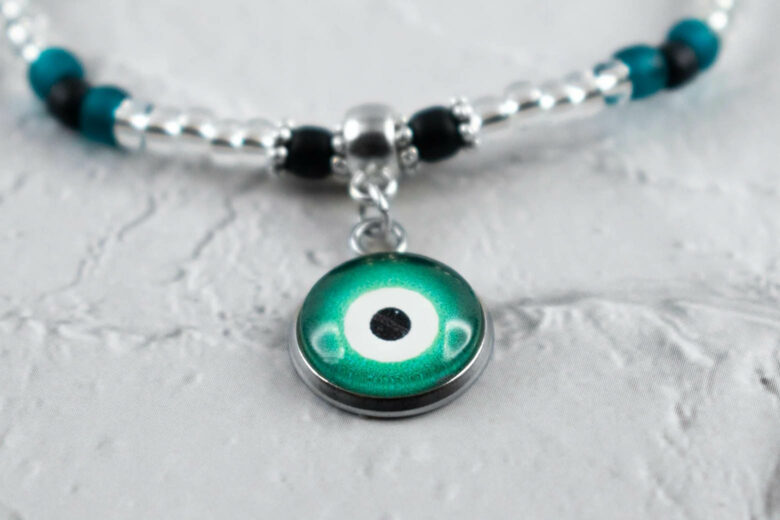 This color is renowned for balance and new beginnings. And this stands true for the green evil eye as it is believed to provide one with the freedom to chase their dreams.
Red evil eye meaning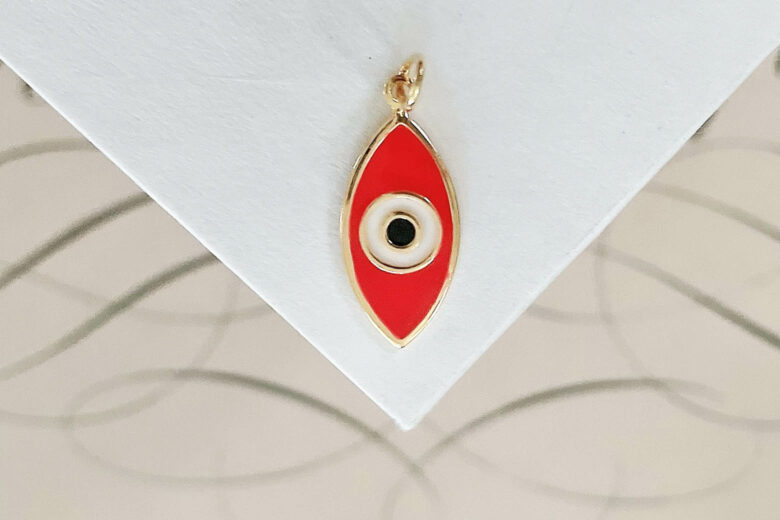 Red reminds us of vibrant energies. So it is fitting that the red evil eye is associated with enthusiasm and courage. It is commonly worn for protection against fear or anxiety.
Yellow evil eye meaning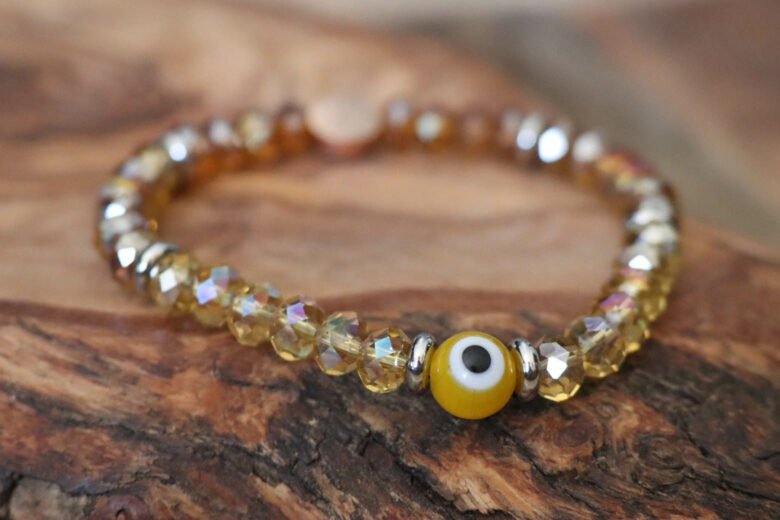 The yellow trinket is believed to protect health and provide relief from exhaustion. It could even improve concentration and sharpen the mind.
Pink evil eye meaning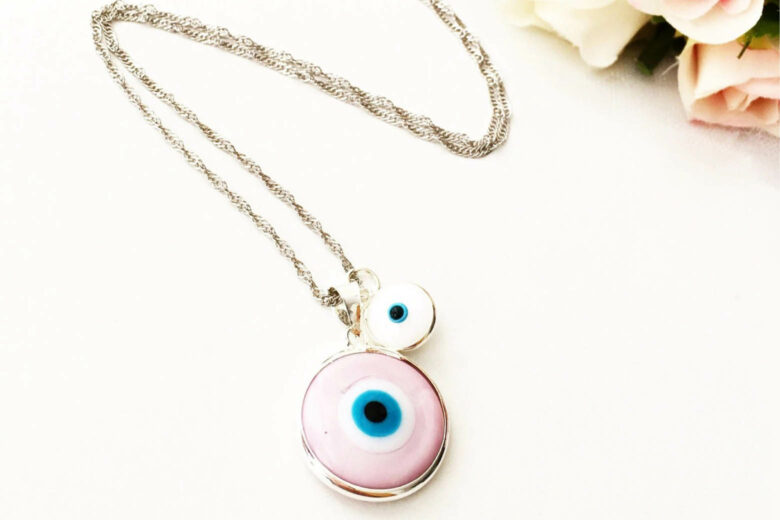 Pink evil eyes are for contentment. They protect friendships and are strongly associated with peace.
White evil eye meaning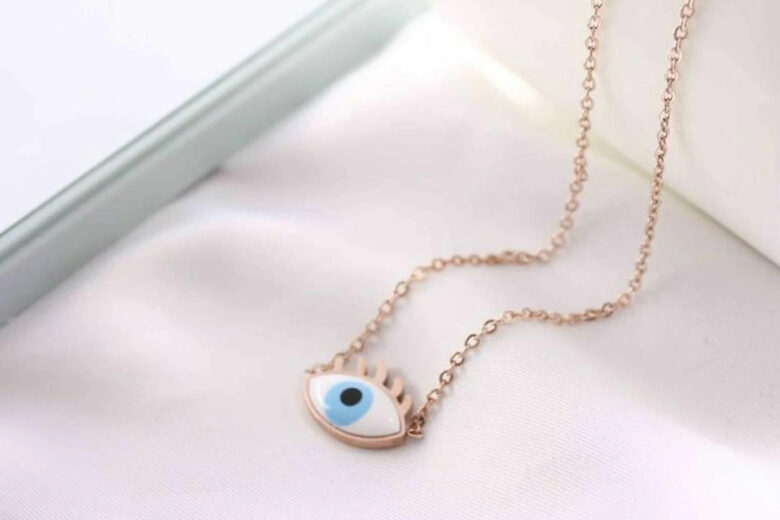 It is appropriate that your white evil eye symbolizes decluttering. It represents purity and a clean slate.
Evil eye jewelry: Editor's picks
Swarovski Duo Evil Eye Bangle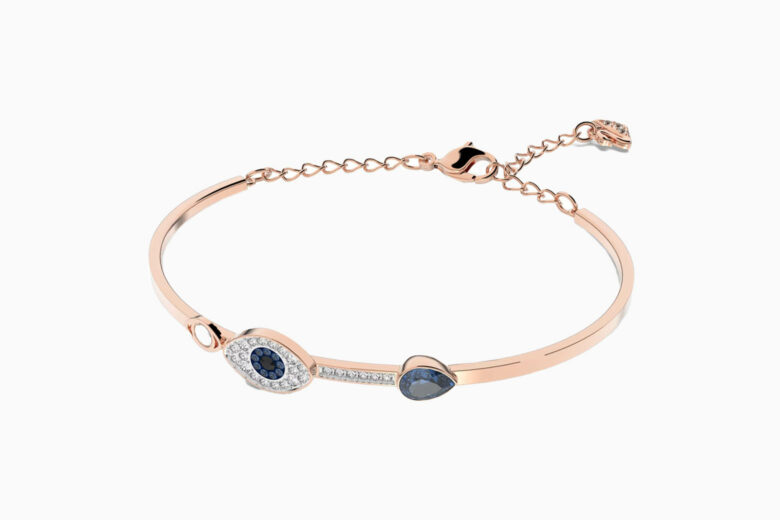 This duo evil eye bracelet by Swarovski contrasts rose-gold plated metals with crystal pave and blue crystals. The culmination is elegantly alluring. And the adjustable strap ensures a secure and comfortable fit. Whether you believe in its magic or not—there's no doubt that the striking combinations will completely transform your wrist.
Gorjana Evil Eye Charm Necklace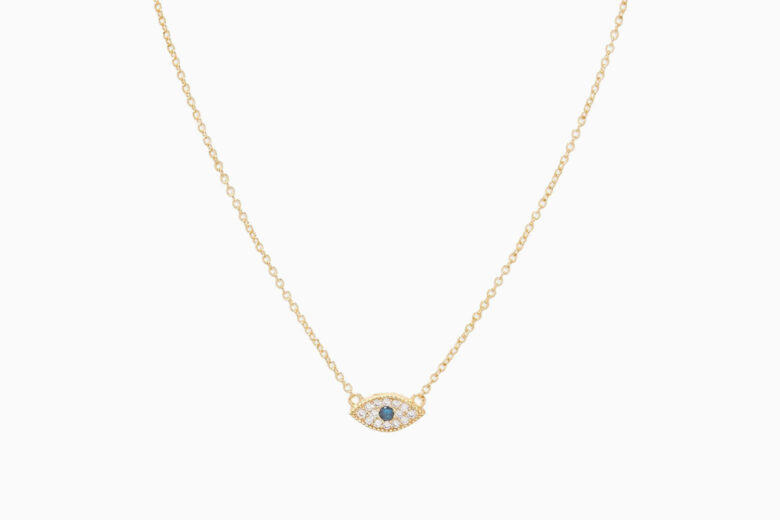 Wear the evil eye charm necklace for protection. Or use this Gorjana necklace to complement your everyday ensembles. The adjustable chain carries an eye pendant embellished with white cubic zirconias. While a London blue nanogem forms the pupil. The evil eye symbol is happily paired with casual denims or classical dresses.
Capsul Horeshoe With Blue Evil Eye Necklace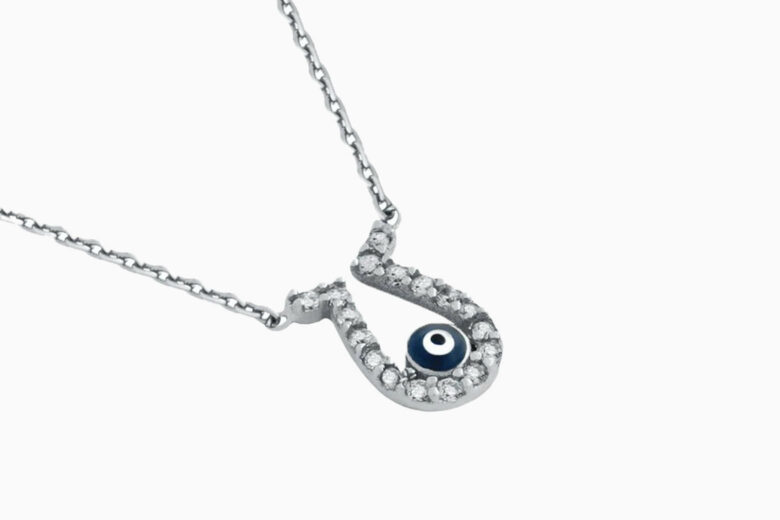 This evil eye pendant by Capsul brings two symbolic motifs together for extra significance and charm. While we know that the evil eye has come to represent protection, the horseshoe is a symbol of luck. And paired together, the result is a force to be reckoned with—both in style and security. The sterling silver chain comes in a gold or silver finish to match your mood.
Capucinne Evil Eye Necklace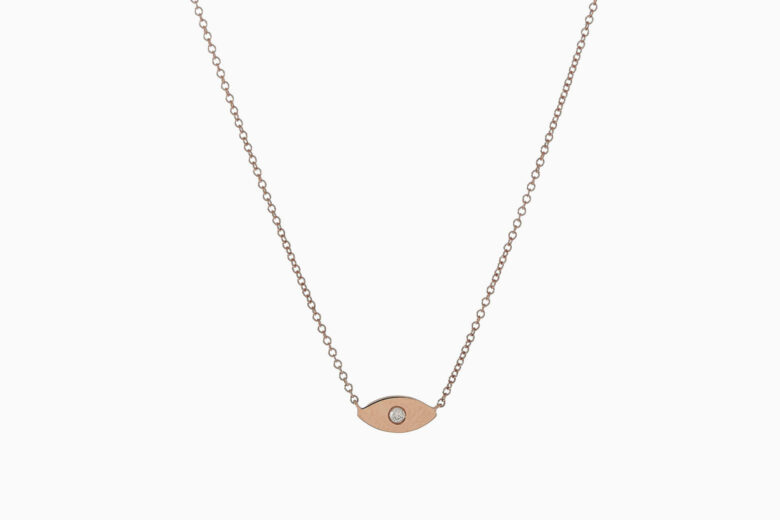 This Capucinne evil eye necklace effortlessly embodies luxurious simplicity. Clean lines speak to the refined sophistication of this European brand. A delicate gold chain complements a minimalist design. And a modern gold pendant flaunts a real diamond in the center. The elegant trinket hangs just below the collar bone.
Astley Clarke Evil Eye Biography Bracelet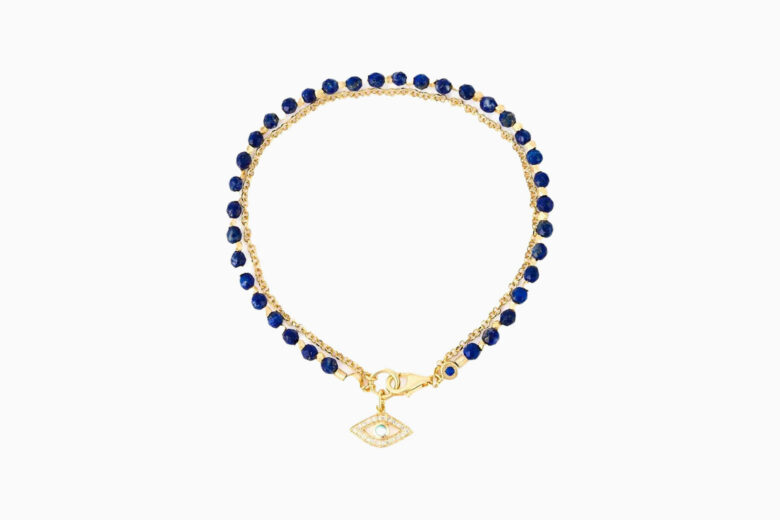 How could such a decadent design not bring you a bit of luck? Founded in London, Astley Clarke knows how to elevate our accessory game. And this evil eye bracelet is no exception. An adjustable gold chain flawlessly complements rich blue lapis lazuli. While white sapphires adorn the rim of the eye silhouette. And a turquoise stone sits in the center.
Tous Good Vibes Eye Ring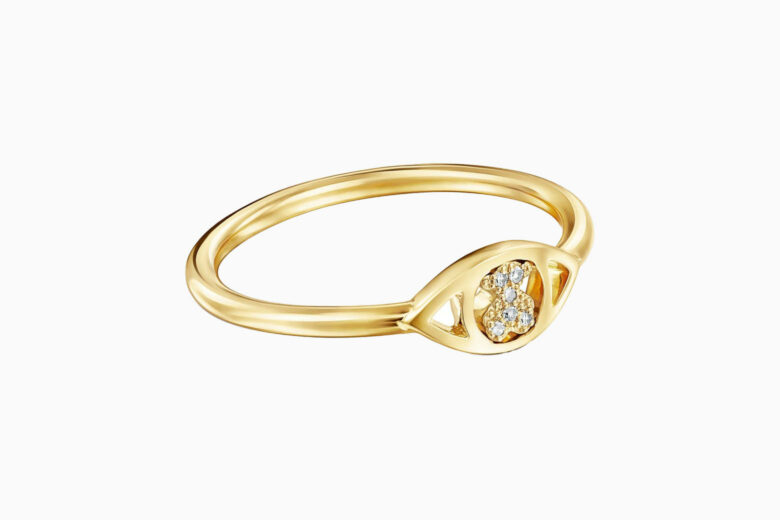 For better or worse, this evil eye ring isn't parting your side. The timeless design of this Tous ring exudes contemporary simplicity with a touch of extravagance. The 18kt yellow gold band bears the evil eye outline. And what better way to fill the clean silhouette than with single cut diamonds?
Sydney Evan Evil Eye Earrings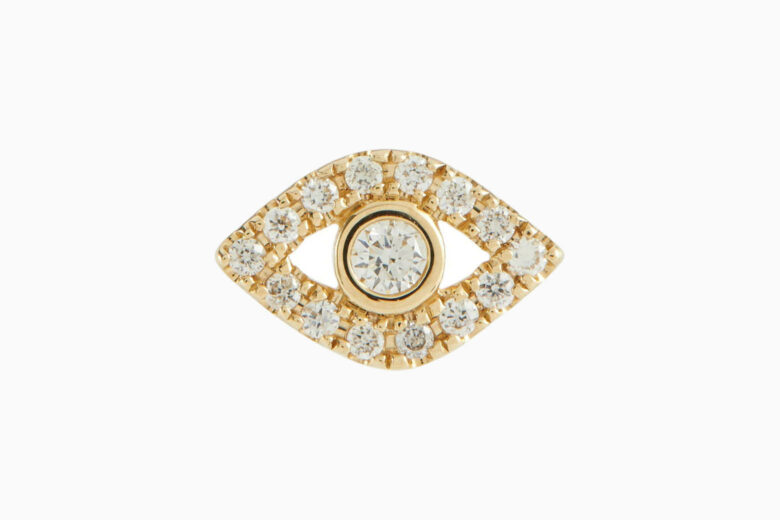 Looking for companions to whisper peace and security into your ear while making you look like a million bucks? We've got just the accessories. These Sydney Evans earrings are here to protect you with 14kt gold metals paired with dazzling bezel-set diamonds. Now that's one stylish way to add calm and serenity to your day to day.
Jennifer Meyer Evil Eye Necklace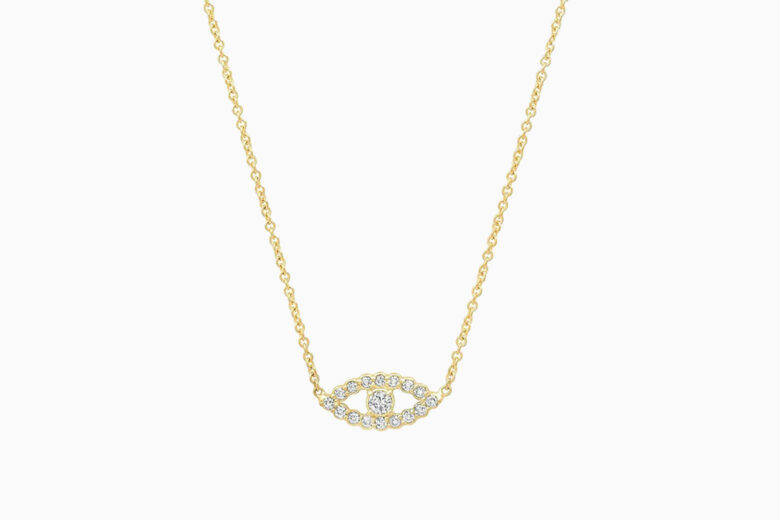 If Marilyn Monroe could see this diamond embellished evil eye necklace, we're pretty sure she'd approve. The whimsical style showcases an evil eye silhouette, outlined with dazzling diamonds. The scintillating center piece is strung on a dainty 18kt gold chain. And if it's said to bring you fortune in the future, it's a worthy investment right?
Tory Burch Evil Eye Pendant Necklace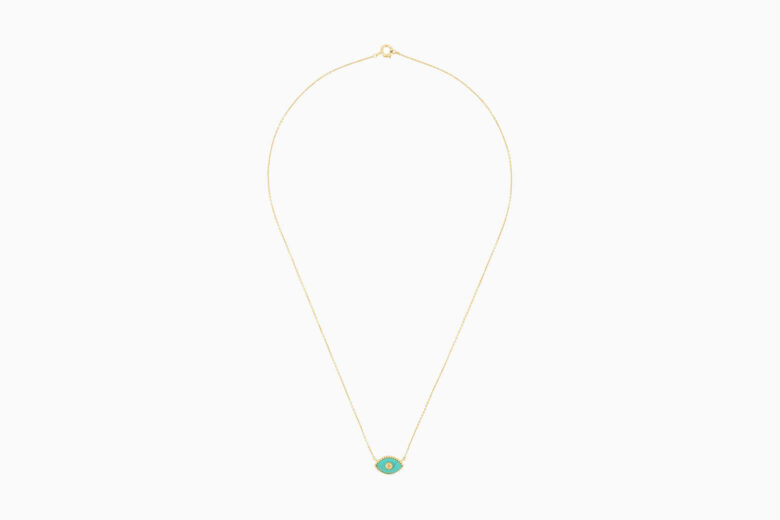 Born in New York, Tory Burch aims to redefine luxury. And this evil eye necklace does just that. A brass studded eye outline features a turquoise howlite. The vibrant hue is the perfect way to spruce up any ensemble. And Tory Burch's opulent pendant is strung on a brass chain for contrasted simplicity.
Nialaya Chain Evil Eye Chain Choker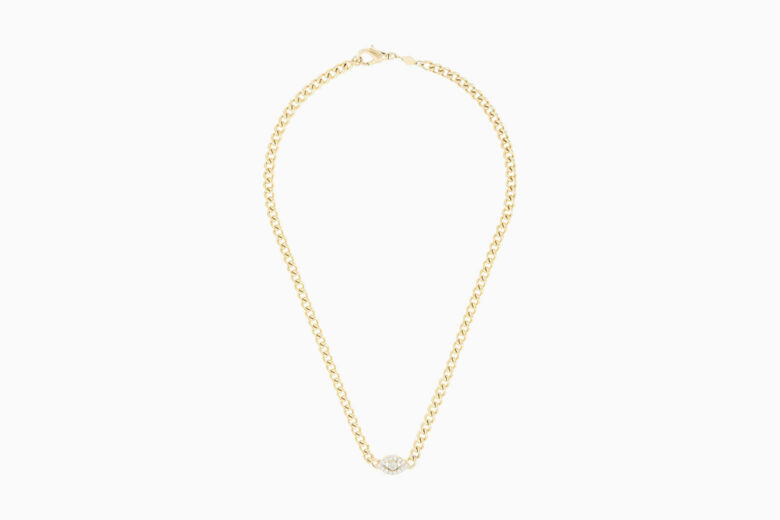 Take a masterclass in modern minimalism with Nialaya's evil eye chain choker. A gold-plated steel cable chain can be adjusted to your perfect height. And the chunky evil eye choker will rarely go unnoticed. While a smaller evil eye charm is securely nestled in the middle. The understated pendant is embellished with crystals for a subtle sparkle and extra luck.
Frequently asked questions about evil eye jewelry
What does the evil eye jewelry symbolize?
Contemporary evil eye accessories are seen as symbols of protection and prosperity. They were first worn to protect successful people from the envy of others. And they were believed to ward off evil spirits or curses. However, these days, most people wear evil eye jewelry as a stylish symbolization of protection, or gift them to loved ones for sentimental milestones.
What is the history behind the evil eye?
The evil eye jewelry meaning comes from the belief that success and fortune is usually accompanied by envy and malice from others. The evil eye amulet found in jewelry was first worn as protection against such envy. And it is believed to ward off evil spirits brought about by the "evil eye curse." Of course, not everyone who wears the trinket believes that. And it is now commonly worn in Western circles as a fashion statement or to symbolize general protection.
Who invented evil eye jewelry?
Evil eye protection finds its origins in Ancient Greece and West Asia. And the earliest iterations of the jewelry with meaning were worn to ward off evil spirits. While it is uncertain exactly who invented the evil eye culture, the amulets were typically worn on a piece of string by members of every social class.
What does wearing an evil eye mean?
Are they a myth or do evil eye bracelets work? Wearing an evil eye amulet can mean different things to different people. Some believe in their spiritual powers to ward off evil energies. While some wear them as symbols of protection and prosperity. And to others they are merely exquisitely stylish accessories.
Can I wear an evil eye?
Is the evil eye good or bad? This is the question asked by many contemporary women as the tantalizing trinket makes its way around high end society. The evil eye amulet is seen as a symbol of protection by many. But whether you believe in its significance or not, stunning evil eye accessories deserve to be worn by everyone.