Yellow gems can add a ray of sunshine to your jewels and bring just the right amount of pop to any outfit. Yellow jewels match exquisitely with almost every color on the color spectrum. Some of the best jewelry brands out there have yellow gemstones incorporated in their designs. 
Every yellow gem holds special symbolism for different zodiac signs, birth months, and anniversaries. From good luck and health to happiness and energy, yellow is a color that exudes positivity. There are a plethora of options to choose from, so take inspiration from our yellow gemstones list to make the best choice for your special piece.
The 20 best yellow gemstones and their meanings
Consider the durability of the gem before deciding whether you can wear them or display them in a gem collection. The Mohs scale ranks the hardness of the gem with 1 being the most delicate and easily scratched to 10 being the hardest and most scratch resistant. For yellow gemstone rings, a gem that ranks 7 or more will hold up well for daily use. Earrings and necklaces on the other hand don't require such a high durability rating.
Yellow Diamond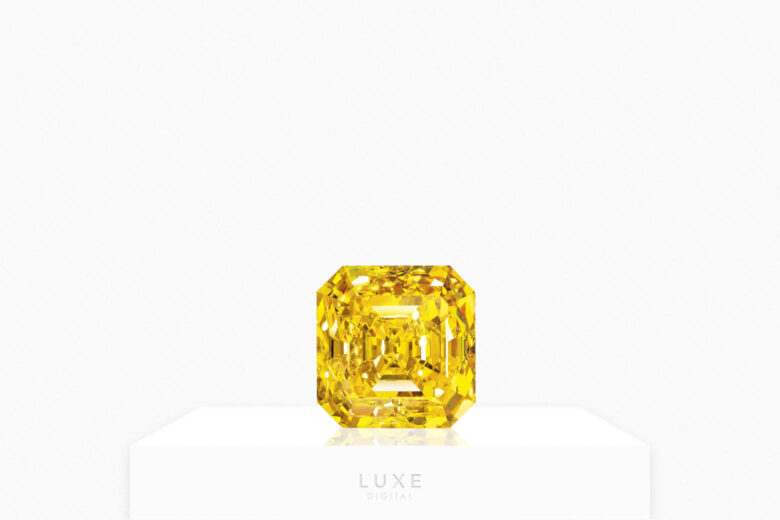 Yellow diamonds are precious stones and the least expensive of the diamond variety compared to their blue, white and pink counterparts. However, there are a few exceptions where the vividly yellow canary diamond can fetch more than white diamonds.
Yellow diamonds have a high nitrogen content which gives them different levels of yellow hues. As with other gemstones, the more intense and vivid the color the more valuable it is. Yellow diamonds hold great significance, some of them being joy, happiness, and prosperity. Read our diamond story to learn more about this precious stone.
| | |
| --- | --- |
| Birthstone: | April |
| Best use: | All jewelry, including engagement rings |
Yellow Sapphire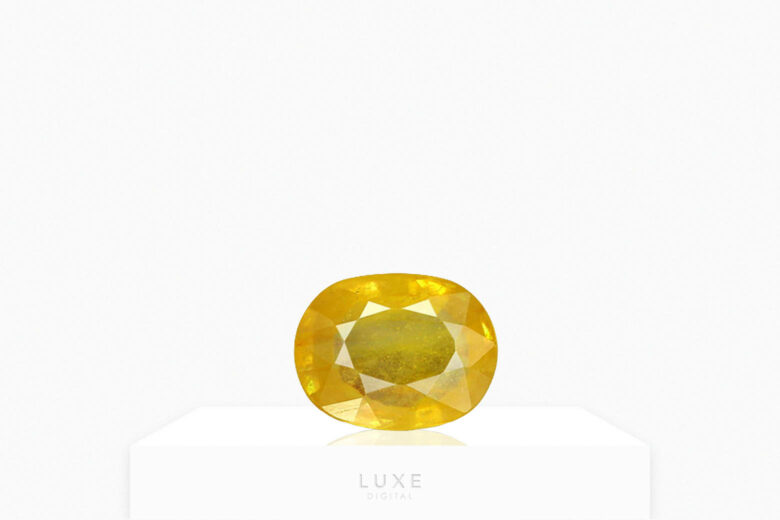 You may not have thought of sapphires being yellow, but in fact, sapphires come in almost every color imaginable except red (which is a ruby). Sapphires are part of the corundum mineral family and are highly durable. The price point of yellow sapphires is considerably less than the blue variety.
Yellow sapphires bring focus and determination to the wearer and are known to have great spiritual power. Sapphires in all colors are known to be given as gifts for a 5th wedding anniversary.
| | |
| --- | --- |
| Birthstone: | September |
| Best use: | Everyday wear on all types of jewelry |
Yellow Zircon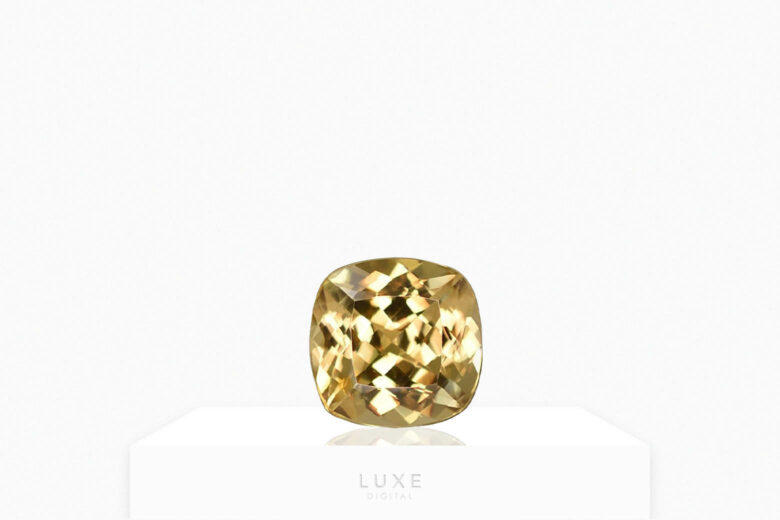 Zircons come in almost every color imaginable and the yellow variety is abundant. This explains why yellow zircons are relatively inexpensive gems. The yellow zircon comes in a range of hues, from orange/brown to deep yellow.
Zircons should not be confused with the man-made cubic zirconia (which is a cheap diamond simulant). The yellow zircon is said to bring prosperity to the lives of those wearing them.
| | |
| --- | --- |
| Birthstone: | December |
| Best use: | Bracelets, necklaces, and earrings |
Yellow Topaz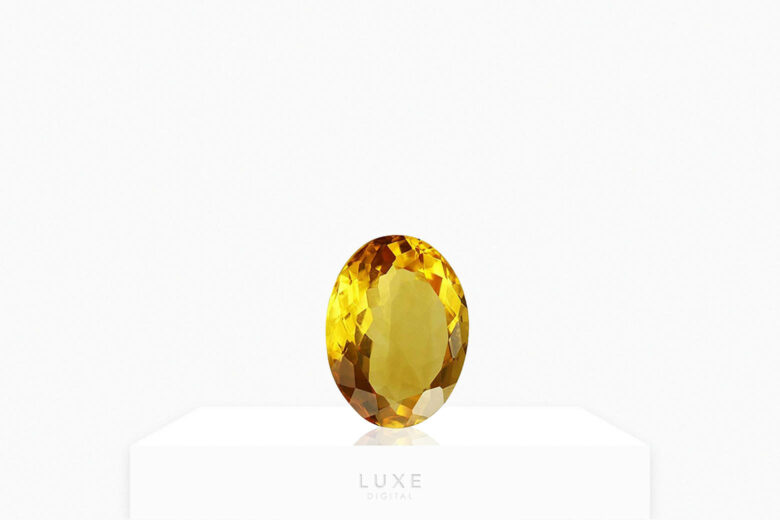 The yellow topaz is known for its natural yellow hues which don't need to be heat-treated to achieve its brilliance. The colors range from bright or dark yellow to orange and the Imperial Topaz is one of the rare and highly valued varieties of topaz.
You will rarely find any visible inclusions on a yellow topaz which aside from its lustrous sheen, makes it the ideal gemstone for jewelry designers. It is a soothing gemstone known to bring harmony.
| | |
| --- | --- |
| Birthstone: | November |
| Best use: | All jewelry |
Yellow Opal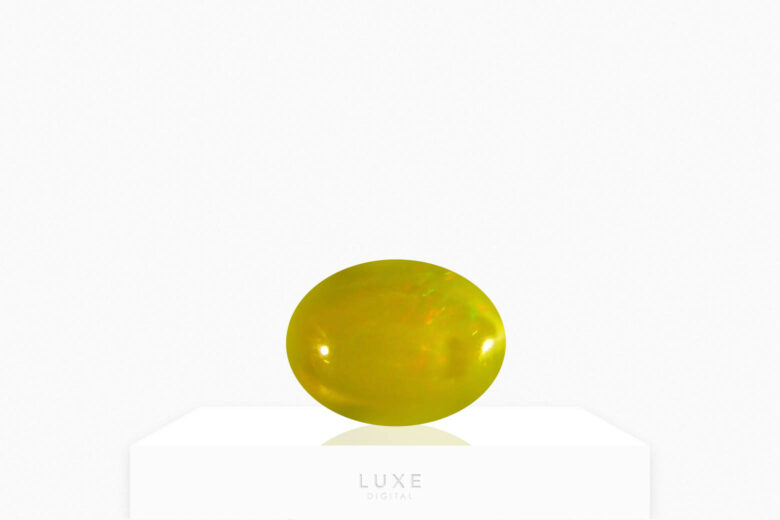 There are many variations of yellow opals including the cat's eye opal, fire opal, and yellow moss opal. The interesting moss leaf-like inclusions on the yellow moss opal makes for a quirky piece that will undoubtedly be a conversation starter.
Opals are found all over the world but the best quality is known to be mined in Australia. Opal is sometimes given as a 14th wedding anniversary gift and reinforces positive emotions. The yellow opal is said to encourage inventiveness and personal growth.
| | |
| --- | --- |
| Birthstone: | October |
| Best use: | Pendants and earrings |
Yellow Jade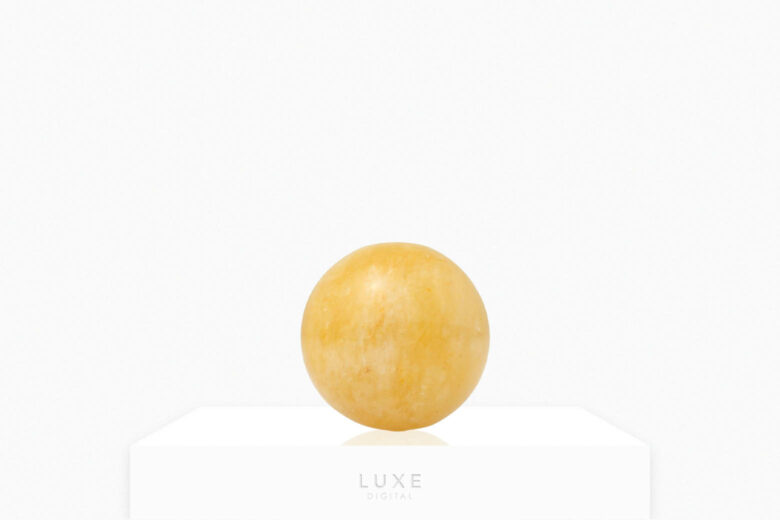 You will find yellow jade in hues of deep gold all the way down to pale yellow. Although the green variety is the most famous type of jade, yellow jade is highly valued in China and New Zealand.
Jade is not used for rings as it doesn't have the crystal structure required. It is especially popular in Chinese culture where Jade is used in feng shui and carried around as a lucky charm to attract good fortune.
| | |
| --- | --- |
| Birthstone: | March, Virgo, Pisces |
| Best use: | Bangles, pendants, and carvings |
Citrine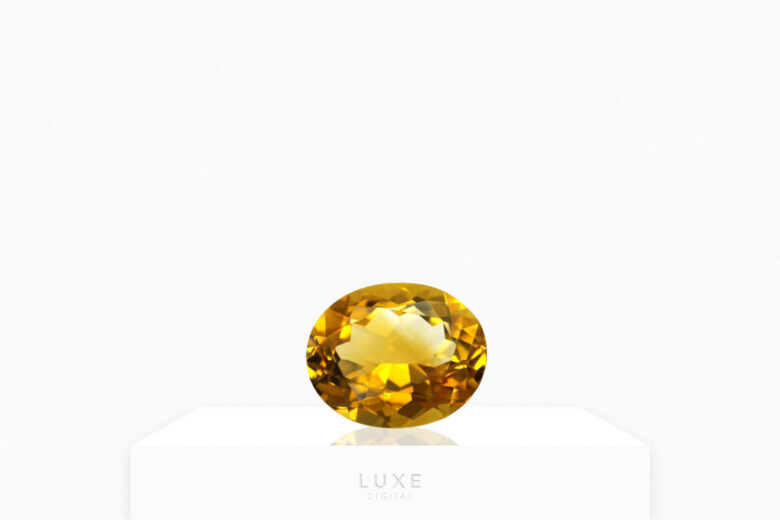 Citrine comes from the quartz family of minerals. It is often compared to yellow topaz since when cut the two are very similar. Citrine gemstones come in almost any cut you can envision and are modestly priced.
Citrine is a popular gemstone amongst crystal healers and is related to happiness and contentment. Citrine is often set in white gold or silver to accentuate its bright sunny tone. Couples celebrating their 13th wedding anniversary can gift this gemstone to each other.
| | |
| --- | --- |
| Birthstone: | November |
| Best use: | All jewelry and crystal healing |
Yellow Agate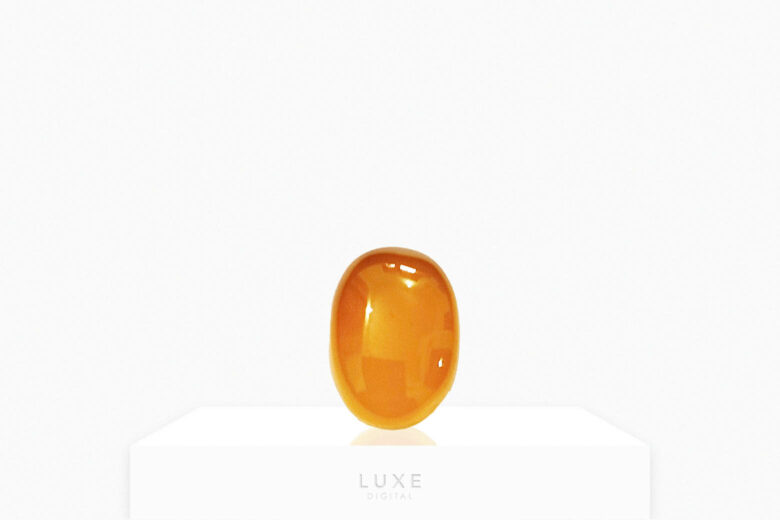 Yellow agate can be found to be either translucent and banded or opaque and waxy. Other varieties include white, black, and red agate. It is a chalcedony variant of silicate mineral. The ornamental use of agate dates back to Ancient Greece and the Indus Valley.
The yellow agate is used by jewelry hobbyists and artists interested in creating unique items. The hardness of this gemstone also makes it relatively scratch-resistant, ideal for experimenting with.
| | |
| --- | --- |
| Birthstone: | May, June |
| Best use: | Ornaments, brooches, and custom pieces |
Yellow Jasper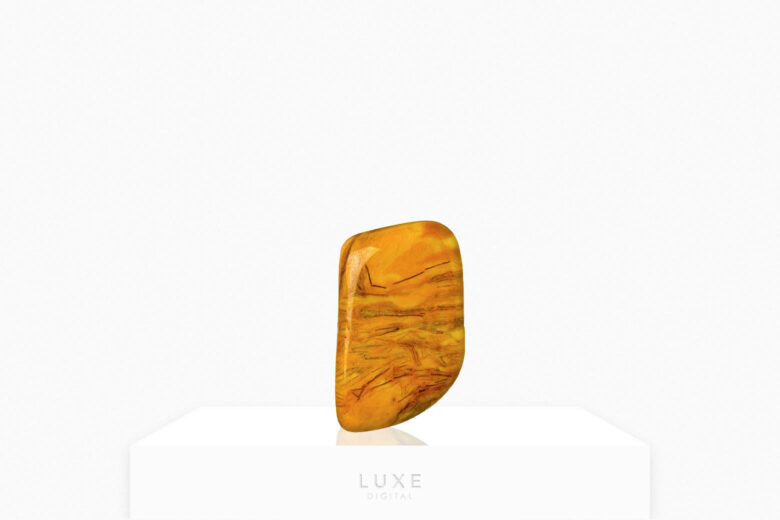 A combination of chalcedony and quartz, jasper also occurs in green, red, and black. The semi-precious gem has a smooth surface and opaque transparency. Yellow jasper is a natural stone that is not usually treated in any way.
The jasper comes in large sizes which allow you to design custom eye-catching jewelry. The patterns and flecks on the stone ensure you have a unique piece as you won't find another stone with exactly the same pattern.
| | |
| --- | --- |
| Birthstone: | March |
| Best use: | Unique pieces |
Tiger's Eye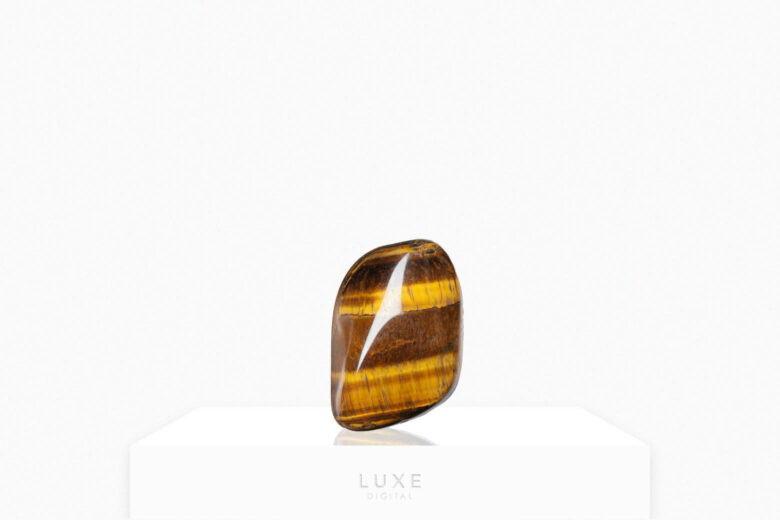 The golden earthy tones of the tiger's eye inspire self-confidence in its wearer. It is an abundant form of quartz that mostly comes from South Africa and East Asia. Tiger's eye stones derive their name from the cat's eye effect known as chatoyancy which many stones exhibit.
Tiger's eye gemstones come in a variety of sizes to suit any budget. They were historically worn by Roman soldiers in battle to offer them protection.
| | |
| --- | --- |
| Birthstone: | June |
| Best use: | Pendants and bracelets |
Golden Beryl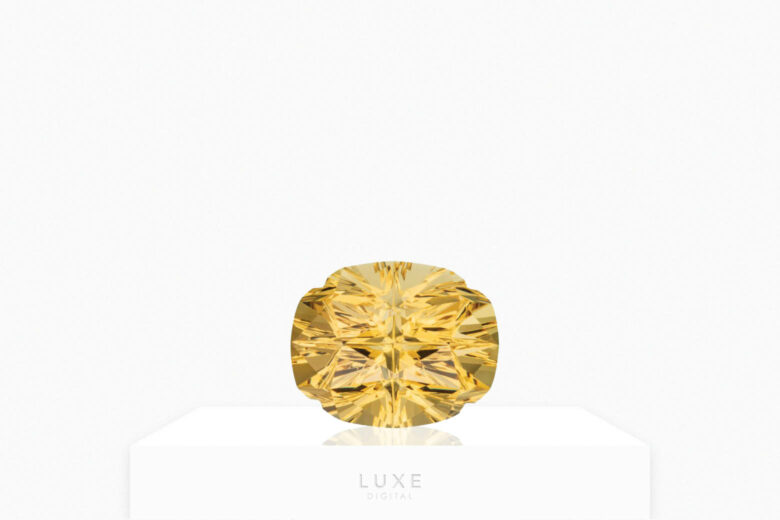 The beryl family of gemstones is made up of some of the most gorgeous gems on the market. Emerald, aquamarine, and morganite are the other species of beryl. Golden beryl, sometimes referred to as heliodor or yellow emerald, is the lesser-known and more affordable beryl stone.
Heliodor comes in greenish-yellow shades whereas golden beryl ranges from pale yellow to vibrant gold. These gold gemstones are some of the most flawless gems with little to no inclusions. Old-folk tales often make reference to beryl being used to ward off evil spirits.
| | |
| --- | --- |
| Birthstone: | November |
| Best use: | All types of jewelry |
Yellow Apatite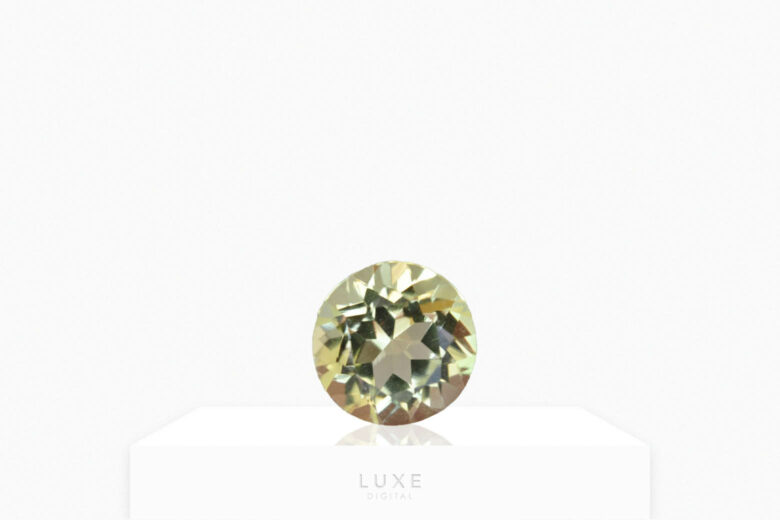 Yellow apatite is a soft gemstone that isn't often used in jewelry unless it is made in a well-protected setting. Apatite is a transparent stone and a rare variety of tourmaline. It is also known as golden or gold apatite.
Another variety is the yellow cat's eye apatite which displays the cat's eye effect on the surface of the gem. Apatite is used in alternative health therapies for its healing benefits. It is known to spiritually energize the aura.
| | |
| --- | --- |
| Birthstone: | June, July |
| Best use: | Protected low-impact jewelry, brooches, and pendants |
Yellow Quartz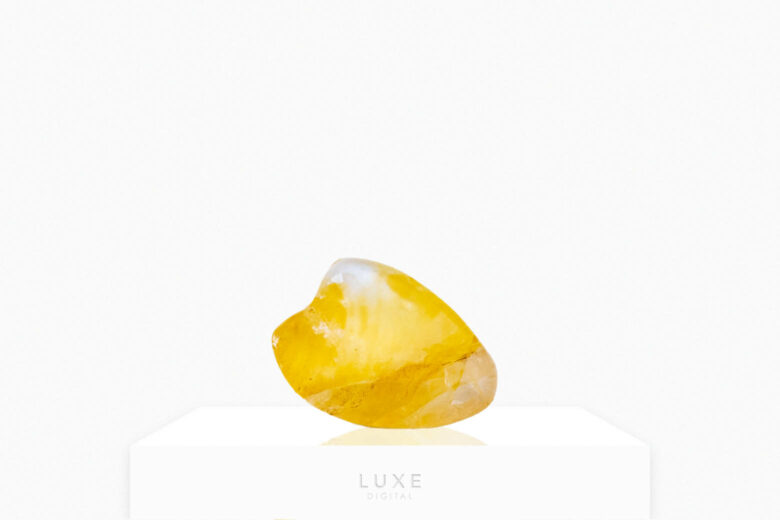 Yellow quartz is a durable gemstone that comes in many different cuts and shapes. It is reasonably priced, allowing jewelry designers to experiment with all types of creative pieces.
Quartz occurs in purple, black, and white varieties. Another version of yellow quartz is the lemon quartz gemstone. These gems have been treated to exude a sparkling lemony color. Some of the gems on rare occasions display a star effect on the stone's surface.
| | |
| --- | --- |
| Birthstone: | February |
| Best use: | Jewelry hobbyists, all jewelry |
Yellow Tourmaline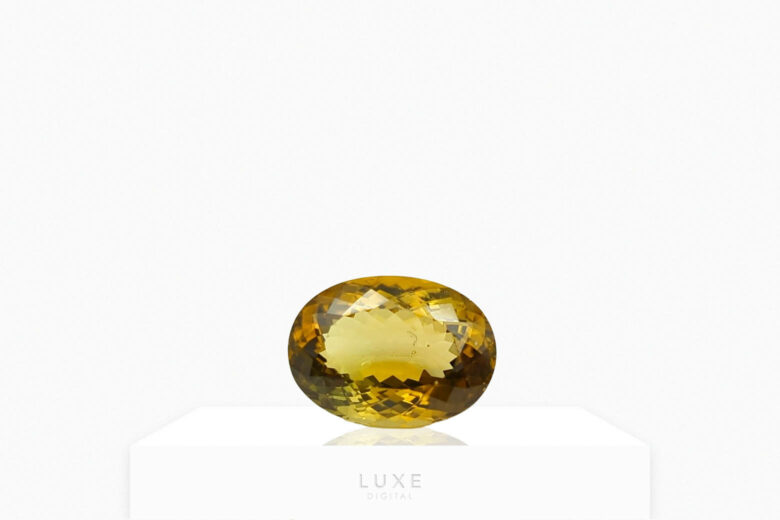 Tourmalines, the rainbow gem, come in almost every color under the sun, with the yellow variety being the rarest of them. Manganese in the gem's crystal structure gives rise to the yellow hues. These rocks are mined in Brazil and parts of Africa.
Yellow tourmalines can be steeply priced due to their rarity, not many jewelers readily keep the stone in stores. The cost heavily depends on the depth and intensity of its yellow color along with the carat size.
| | |
| --- | --- |
| Birthstone: | October |
| Best use: | All types of jewelry |
Yellow Sphene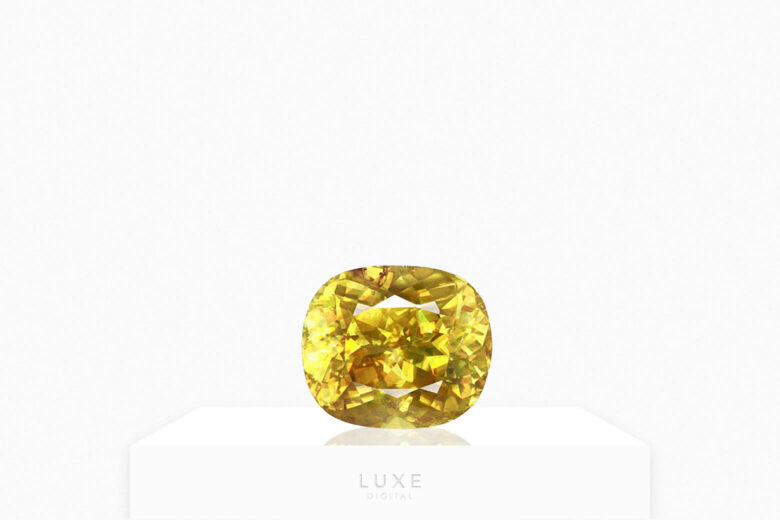 Sphene comes in the shades of yellow, brown, red, and green. It is a titanite mineral commonly found in Canada, Madagascar, and Mexico. The brilliant luster of the gem is known to exceed that of the diamond, however, it is not durable enough to be used for all types of jewelry.
The sphene gemstone is a rare collectors stone and is not commonly seen in jewelry. However, like most delicate gems, if set protectively and worn occasionally, it can be a stunning addition to any jewelry collection.
| | |
| --- | --- |
| Birthstone: | N/A |
| Best use: | Gem collections, pendants, and brooches |
Yellow Garnet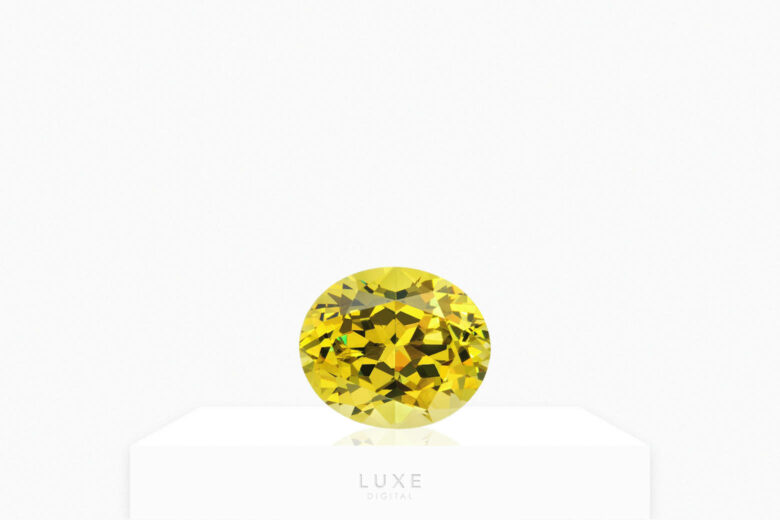 The yellow garnet belongs to the grossular branch of the garnet family. The mali garnet, topazolite, and andradite are other yellow garnet varieties. The yellow grossular garnet has great fire (dispersion), which is even more vivid in the lighter yellow stones.
Garnets are beautiful gems on all types of jewelry. The garnet gemstone can be given as a 2nd wedding anniversary gift. It is known to signify romance, love, and passion.
| | |
| --- | --- |
| Birthstone: | January |
| Best use: | All jewelry pieces |
Yellow Calcite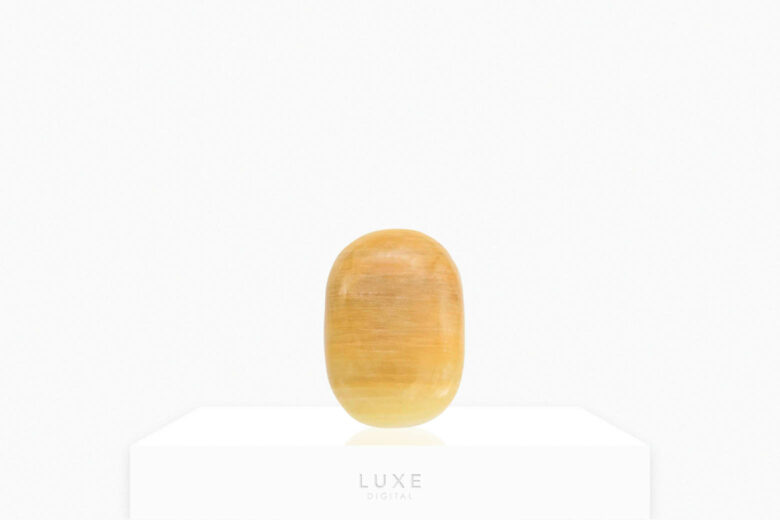 Yellow calcite is an opaque variety of calcium carbonate that comes in a variety of shapes and sizes. The hues of yellow calcite range from light to deep lemon yellow.
The softness of the calcite gem means that it is not a popular choice for jewelry. Alternative healers make use of the gem which is related to calm and balance. In Ancient Egypt, calcite was used to make artifacts that would adorn the tomb of the pharaohs.
| | |
| --- | --- |
| Birthstone: | Unofficially Cancer |
| Best use: | Collectable, alternative healing |
Yellow Chrysoberyl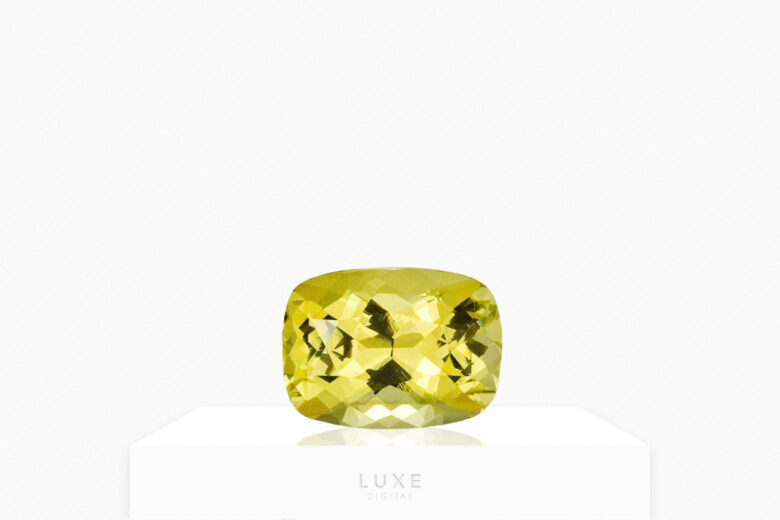 Yellow chrysoberyl is a translucent gem that occurs in yellow, green, gold, and brown hues. It is also known to display chatoyancy for which it is called the yellow cat eye chrysoberyl.
The bright yellow and cat's eye varieties fetch a higher price than the other yellow variants, however, they are all modestly priced. One of the rarest forms of chrysoberyl is the Alexandrite gem. This gemstone appears red under internal lighting and a deep green under sunlight.
| | |
| --- | --- |
| Birthstone: | June |
| Best use: | All types of jewelry |
Yellow Color-Change Diaspore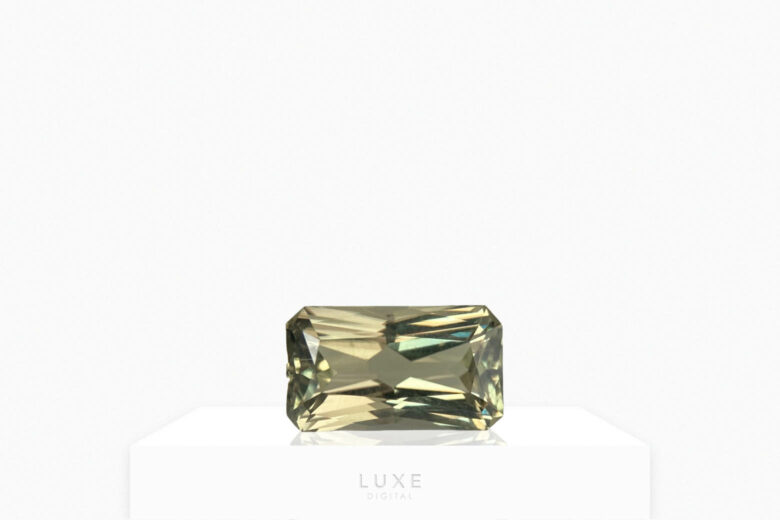 Color changing diaspore is known for its ability to change color under different light sources. The yellow gemstone in daylight deepens to a peachy orange color under incandescent or candlelight.
Color-change Diaspore also goes by the names Zultanite and Csarite and is mined primarily in the Anatolian mountains of Turkey. Color changes can only be seen in gems greater than 2-carats, with the 5-carat gem showing the best color changes.
| | |
| --- | --- |
| Birthstone: | Leo, Libra, Pisces |
| Best use: | Gem collections, all types of jewelry |
Golden Pearl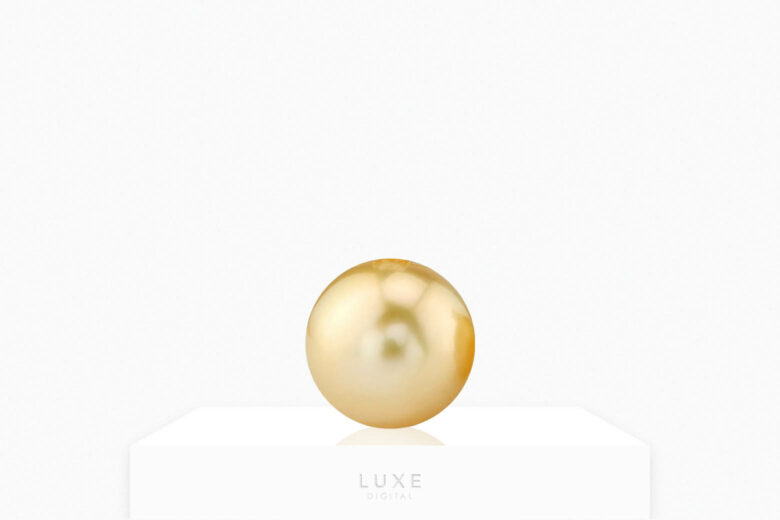 The golden pearls are some of the largest pearls available. They come from the South Sea pearl oyster. It is known as an organic gemstone since it comes from a living organism much like coral and amber. The natural variety is extremely rare and thus highly-priced. Due to this, most pearl oysters are farm-raised by scientists.
The strand of pearls is an iconic statement piece that will never go out of fashion. Pearls are given as gifts for both a 3rd and 30th wedding anniversary celebration.
| | |
| --- | --- |
| Birthstone: | June |
| Best use: | Necklaces, earrings, brooches |
Frequently asked questions about the best yellow gemstones
What gemstone is yellow?
Some of the most common yellow gemstones on the market today are citrine, yellow sapphire, yellow topaz, tourmaline, and yellow opal. There are many more varieties of yellow gemstones like yellow diamonds, yellow garnet, and a long list of others. Check our list of the best yellow gemstones for more inspiration.
What is the rarest yellow gem?
The yellow tourmaline is one of the rarest yellow gemstones. This type of tourmaline is known as canary tourmaline and is known to occur on rare occasions. Even more rare are canary tourmalines bigger than 2-carats.
What is the most expensive yellow gemstone?
Yellow diamonds are precious gems and some of the most expensive yellow gemstones. One of the most expensive yellow diamonds, the Graff Vivid Yellow, a 100-carat yellow diamond, sold for over $16 million in 2014.
What is the yellow crystal good for?
Yellow crystals represent positivity, energy, and vitality. They are used in alternative therapies to help you connect with your emotions and create greater awareness in your relationships.