If you have ever laid eyes on a Moss Agate gemstone, you were probably astonished by its spiraling greens, radiant energy, and illustrious nature. The forest green complexion on Moss Agate is the imprint from mother nature herself.
There is more than meets the eye when it comes to this magnificent gemstone. From physical to emotional cleansing properties, Moss Agate is said to promote balance, success, and prosperity. Spiritually, Moss Agate is correlated with awakening a deeper spiritual connection to the self.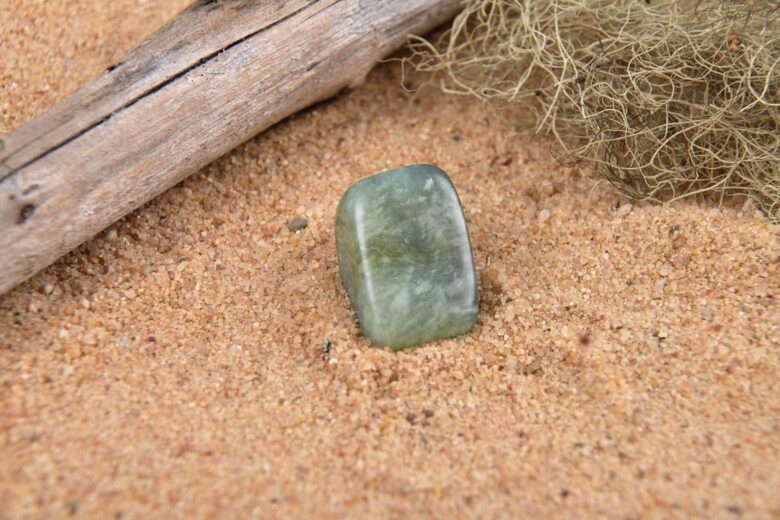 | | |
| --- | --- |
| Moss Agate Color | Green and grayish to milky-white |
| Birthstone Month | April 20 to May 20 |
| Hardness Scale | 6.5-7 on Mohs Scale |
| Mineral Class | Chalcedony, Quartz group |
| Symbolism | Serenity and emotional equilibrium |
What is Moss Agate
Moss Agate is a semi-precious gemstone that's formed from silicon dioxide. Semi-precious gemstones are those that aren't diamonds, rubies, emeralds, and sapphires, which are the only four precious gemstones.
It's given the name Moss Agate because of the green dendritic inclusions that bear a resemblance to moss.
Agate is usually a banded material, meaning you can see bands around the gemstone, similar to Jupiter's rings. However, Moss Agate isn't banded but is still included in the Agate family. Agate is also a variety of Chalcedony, a mineral in the quartz family.
Moss Agate is a gemstone that symbolizes new beginnings. It is believed to revitalize the soul and empower you to see the beauty in everything. Each stone is embedded with distinct mythology that inspires new ideas, promotes self-expression, and reduces stress.
In essence, the Moss Agate value contribution is limitless. It's a stone that throughout history, is known to encapsulate wealth and attract abundance in all forms.
What does Moss Agate look like
Moss Agate is clear or milky white, with green-colored minerals throughout the gemstone that looks like moss. Although this gemstone is predominantly green, Moss Agate types can also have blue, yellow, black, brown, white, or red-colored sections throughout it. The green can also come in a variety of shades, from dark forest green to lighter green stones.
The Moss Agate colors are formed because of trace amounts of metal that are present in the gemstone as an impurity, such as iron or chrome. The metals produce unique colors based on their oxidation state (valence) that form the Moss Agate properties. Although it's named Moss Agate, it does not contain any organic matter.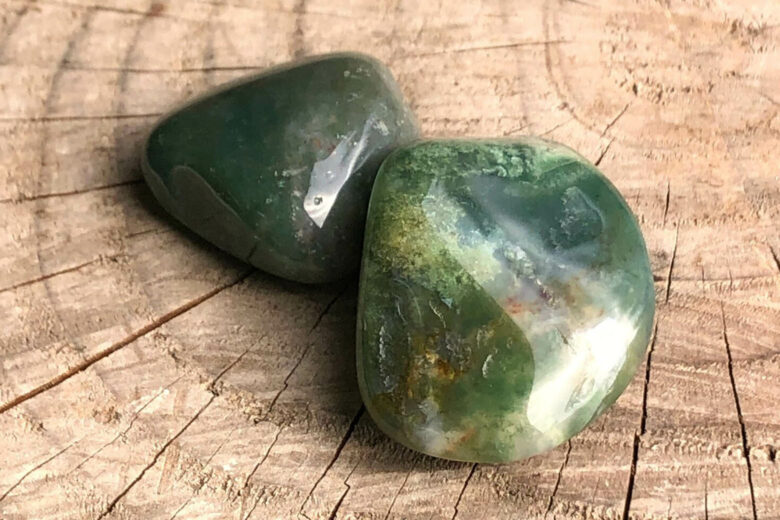 History of the Moss Agate stone
Going back to the 18th century, British farmers believed that Moss Agate would bring prosperity to their lands due to its green hues. European farmers would dangle Moss Agate from tree branches and the horns of their cattle because they thought this good luck charm would bring an abundant harvest.
Moss Agate has always been considered a lucky gemstone. When left in the garden, the flowers seem to bloom healthier and fuller. When kept in the workplace, businesses grow and prosper.
Throughout history, Moss Agate was known as the crystal of agriculture and gardeners. It was also considered a supernatural healing stone for tribal priests, giving them the power to interact with the human organic system. Warriors used Moss Agate as a talisman for strength and bravery.
Moss Agate meaning
Similar to other gemstones, Moss Agate has metaphysical properties that embody a deeper meaning. One of Moss Agate's meanings is that it inspires a sense of emotional balance and tranquility. It's believed to be helpful to individuals with a strong sense of aggression or emotional outbursts by giving them composure.
Moss Agate also brings peace and draws us closer to nature. It helps us feel more patient and present when we need to disconnect from the distractions and disarray of the modern world.
This special gemstone is also associated with sprouting new friendships. Many individuals wear this gemstone when meeting new people because Moss Agate is supposed to promote a sense of connection and relatability.
Where does Moss Agate come from
Moss Agate is known as the Mocha Stone or Mocca Stone, which stems from the Arabian city of Mocha in Yemen, which was where the stone originated.
You can find Moss Agate in several countries around the world, including the United States, Brazil, Uruguay, India, and central European countries.
Moss Agate is usually formed from weathered volcanic rocks. In the United States, Moss Agate is located in the alluvial gravels in the Yellowstone River and its tributaries between Billings and Sidney, Montana.
It's a naturally occurring stone that is not manmade. However, when sold commercially, it is often dyed to intensify its natural Moss Agate colors or to achieve a broader range of shades.
In terms of Moss Agate price, they are normally inexpensive at a price from $1 to $10. However, you can find expensive and rare pieces of Moss Agate for $100 to $3,000 depending on their colors, type, and the location it was found in.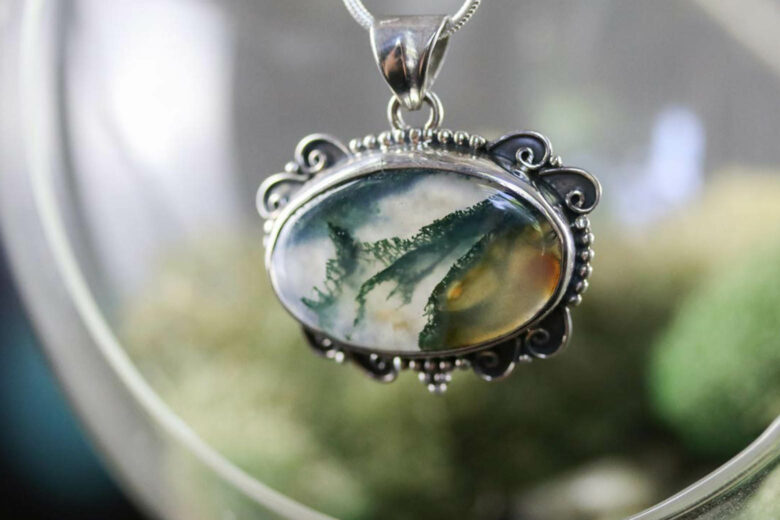 Moss Agate & Zodiac sign
Similar to all Agates, Moss Agate is associated with the astrological zodiac sign of Gemini. Due to its projected balancing nature, Moss Agate is the perfect match for Geminis and their contrary personalities. See our detailed birthstone by months guide to learn more.
Geminis are represented by two twins and are associated with creativity, communication, and change. If you are a Gemini, Moss Agate can help you communicate your ideas more effectively and express yourself more creatively. Moss Agate can also help you embrace new experiences and change.
What is the green in Moss Agate?
The green patches found in Moss Agate are created by metal impurities such as iron or chrome. When these trace amounts of metal are rooted in the stone, the minerals form primarily green patterns, which look as if moss is inside it.
Which family is Moss Agate from
Moss Agate is a variety of chalcedony which belongs to the quartz family. Chalcedony is a cryptocrystalline form of silica, which is made up of very fine intergrowths of moganite and quartz.
Birthstones chart
Find your birthstone by month
---
Frequently asked questions about Moss Agate
What are moss agate good for?
Moss Agate is said to have several physical and emotional healing properties that can strengthen your body and clear your mind. This gemstone is believed to support the immune system and provides outstanding anti-inflammatory properties. 

Moss Agate has an uncanny potential to lift you up and give you the confidence needed to tackle any challenge. By helping you feel connected to the earth, this swirling green stone can balance your energies and nurtures your self-esteem. Read our moss agate guide to learn more about the stone.
What is the spiritual meaning of moss agate?
Moss Agate is considered a "growth crystal", a powerful conduit of the earth's birth, development, creation, and the strength of nature's constant renewal. It's a gemstone that's associated with boosting self-confidence, creativity, and optimism.

Just like a walk through nature, Moss Agate works to calm you down and soothe your soul by connecting you to the world. See our detailed birthstone by months guide to learn more.
What is the spiritual meaning of agate?
Agate is heavily linked to positive thinking and bright ideas. It also symbolizes rebalance and harmony.

In the olden days, Persian magicians would use Agate stones to control the lightning and thunder that whirled across the sky. In Chinese medicine, Agate was used to invigorate one's own chi. Fast forward to modern times, we turn towards Agate to ease our anxieties and keep our emotions in check.
Where should I put my moss agate?
This piece of nature's treasure is a beautiful addition to any room or space. 
Keeping Moss Agate in your place of work will bring all the healing elements of water, air, and earth. It will keep your mind creative and provide abundance and optimism.

The best way to keep your Moss Agate close is to wear it in jewelry form.