We're all going places. Whether to a Friday cocktail soirée, to pick the children up from school, or indeed, to the crescendo of our careers. Our daily lives depend on our unique commitments, values, and priorities—all are equally important, and all are subject to change. But we can't thrive without our requisite essentials, no matter what yours comprises. Naturally, then, we need the perfect tote bag to keep up with the relentless whirlwind of life.
KAAI, born in 2017 in Antwerp, Belgium, has the secret. A re-imagination of the model work-life bag, the KAAI Helix is as key to a busy life as a devoted personal assistant—except you needn't pay it a salary.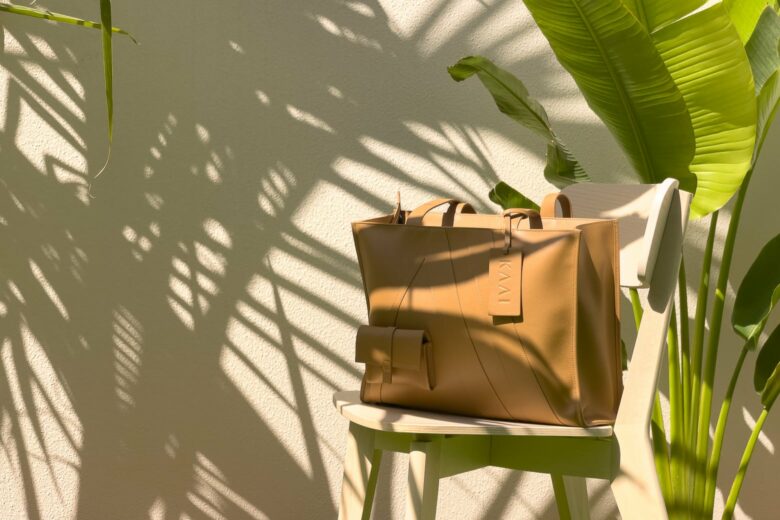 Mindfully designed by women who don't just think they know what you need—they actually understand. From first-hand experience, no less. Indeed, founders Ine Verhaert and Helga Meersmans are well-versed in the ins and outs of a hectic day-to-day, having both climbed the corporate ladder to its sky-reaching heights.
So, you'll tote this tote bag with the knowledge it was designed for women, by women. Women who appreciate what's truly essential, the importance of organization, and naturally, the desire to look exquisitely stylish and put-together through it all.
And KAAI, Dutch speakers will know, translates to "the quay." Echoing the flowing waters of Antwerp, its bustling port, and the immortal energy of the city itself, KAAI is forever moving and evolving—just like modern women.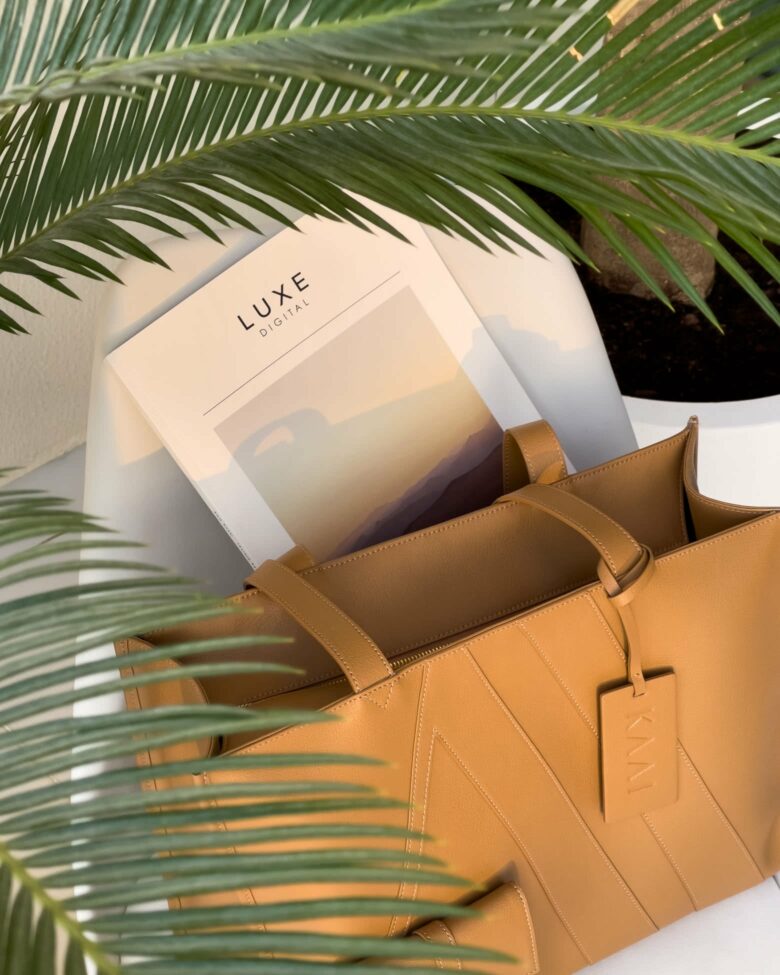 Crafted to the highest standards with premium materials, the KAAI Helix is born to outlive lesser bags, as well as capricious trends. Finished with an exquisitely organized interior (we wish we could claim the same), the KAAI Helix is fiercely practical and subtly sophisticated—and, like the Art Deco era from which it's inspired—always timeless. So, of course, that makes KAAI one of our absolute favorite luxury brands. And we'll wager it's about to become yours, too.
Our team owns (and adores) several KAAI styles—from the designer work bags of our dreams to crossbody bags, wallets, and cardholders. They have been by our side for all of our daily life's journeys, near and far and in all weather—from rainy days in beautiful Belgium to the city of endless sunshine, Dubai.
Wondering whether or not you should welcome this particular over-the-shoulder shopper with open arms? This KAAI Helix review will get you a handle on (pun intended) this chic oversized tote.
KAAI Helix review: Go big or go home
Our verdict: Big enough to carry your entire life in (goodbye double-shoulder duty), the Helix is the largest bag in KAAI's collection. This can-fit-anything-carryall is made by women who understand women and appreciate our fluidity. Equipped with a mindfully organized interior and an aesthetic that's just as suited to the office as the last-minute weekend getaways, the Helix tote bag is thoughtful and dynamic. Just like we strive to be.
The pros:
Impeccable Italian craftsmanship and unmatchable attention to detail
Sophisticated and elegant design with timeless appeal
Well-designed for work and play
It has an organized interior for tech and other essentials
Features a zip closure for peace of mind
Extras like an outer pocket for your phone
Reinforced handles and metal feet to bear the weight of your laptop
It's lightweight (though we can't speak for the contents)
The cons:
If you're averse to light packing, an even larger style may make a better travel tote
Globe-trotters would benefit from a removable strap to attach to their suitcase
The handles are slightly too long to comfortably carry as a handbag
Hands-on experience and benefits: Toting pure sophistication on your shoulder
Unboxing
Like any luxurious gift (even if it's to yourself), the unveiling is all part of the pleasure. The KAAI Helix satisfyingly hits the spot with its careful wrapping and protective details. The Helix comes with its own dust bag, and even the 5 metal feet come with cute silicone protectors (talk about attention to detail).
Materials & craftsmanship
At Luxe Digital, you know we're artisan enthusiasts. One of the numerous shining stars of the KAAI Helix is that it's crafted from 100% Italian grain leather, sourced from a single tannery in Italy.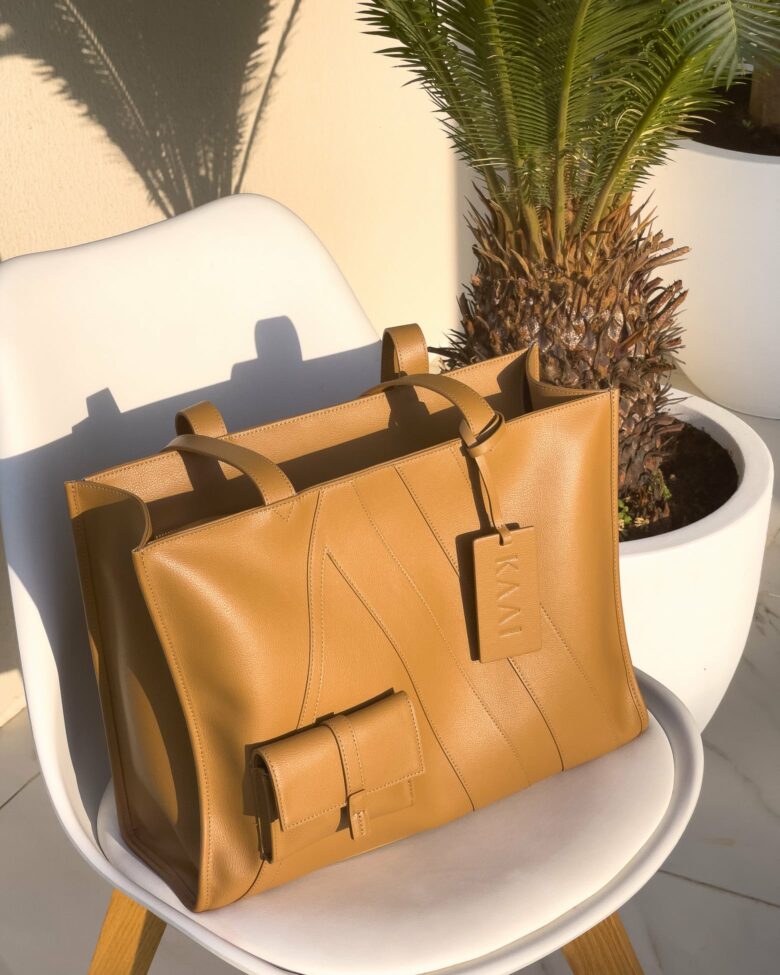 Next, it's treated with innovative technologies, rendering this bag scratch-proof, waterproof, and UV-resistant. In other words: No need to worry about babying this designer bag. And yes, that means it'll retain its picture-perfect shade and clean-lined shape for years to come.
KAAI is nothing if not devilish for detail, so even reaching inside your KAAI bag is a delight. Lined with addictively soft micro-suede, your fingers will brush against this feather-like fabric every time you reach for your laptop or lip balm. And, no matter what overall hue you select, your bag will boast a striking-yet-subtle contrast thanks to KAAI's signature blue shade that colors the lining.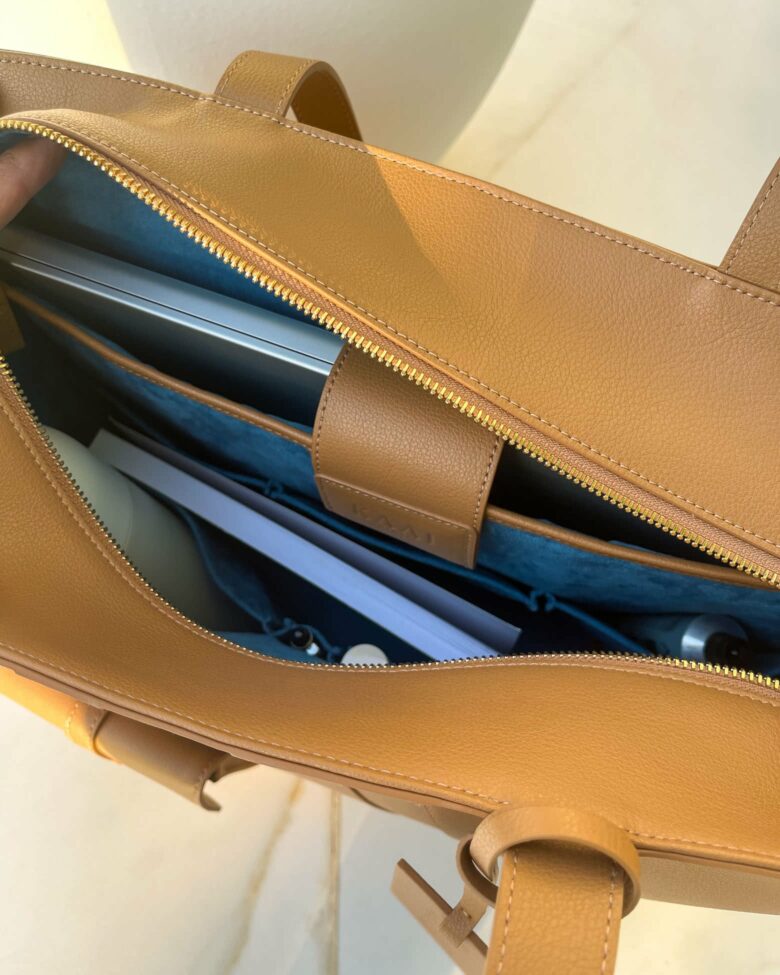 Standing on a reinforced base and 5 carefully positioned metal feet, the Helix deftly eliminates the anxiety of scuffing your bag on the floor. Plus, it'll protect your tech in the same breath.
The feet might be small, but they make a huge difference: the bag feels grounded in the here and now, and is all the more resilient (read: resistant to wear and tear).
Functionality
Working to both add spoonfuls of chic style to your aesthetic while adding minimal actual bulk, the luxuriously lightweight feel of this bag means there's plenty of scope for packing. Not to mention, the splendor of ample space.
Yes, being XL-sized, you'll easily fit in your workday essentials, plus a change of clothes for after-work wind-down drinks or even an overnight stay. Light in weight but heavy in traits, the Helix hits the spot.
An extra-large upgrade to your bag rotation, consider this your fast-track pass to Marie Kondo-level of organization on the go, and yes, that means instant serenity and joy.
What fits inside
The short answer: a lot. When we say this is a true "carry-all," we mean it.
Meeting the requirements of the modern woman, naturally, the Helix offers space for your 15.6-inch laptop. The designated compartment comes lightly padded and with a Velcro flap closure, so it'll stay snug until you need it.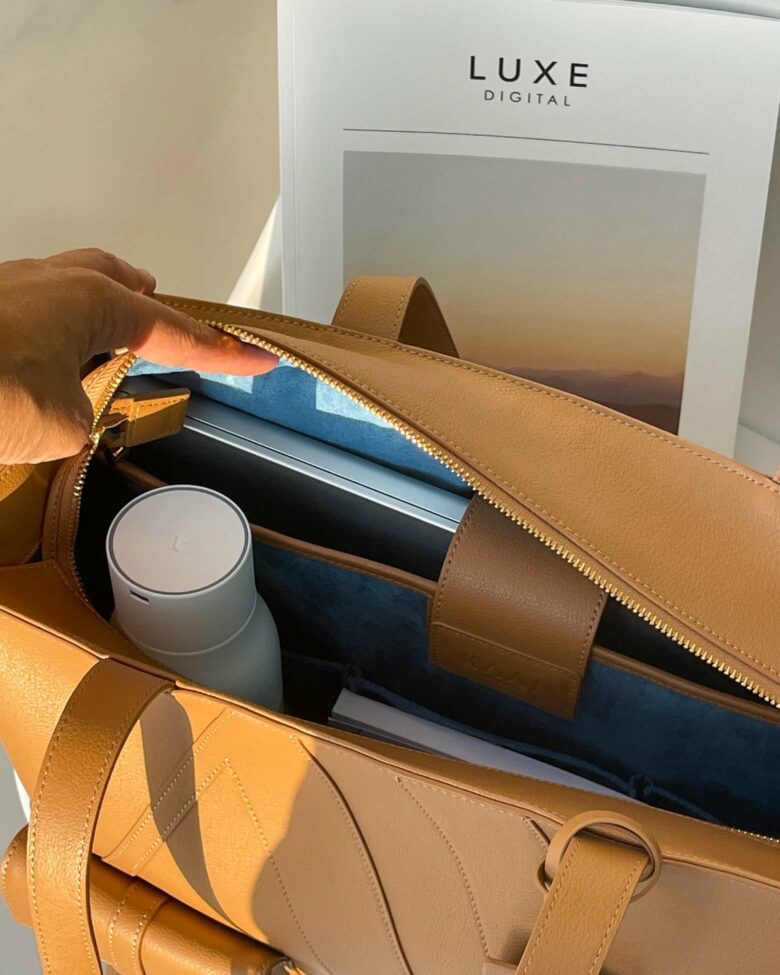 Echoing Narnia and its secret inner world, you'll also find 5 large pockets to house your power bank, purse, glasses, and water bottle (it's LARQ compatible). Two perfectly-shaped holders invite your pen and lipstick (only if not bigger than the standard lip balm tube, though), and the small zipped inner pocket is equipped for change and other small essentials.
Everything in the bag will stay firmly where it should be, thanks to the full-length metal YKK zip closure to keep your belongings away from prying eyes (or, worse, hands).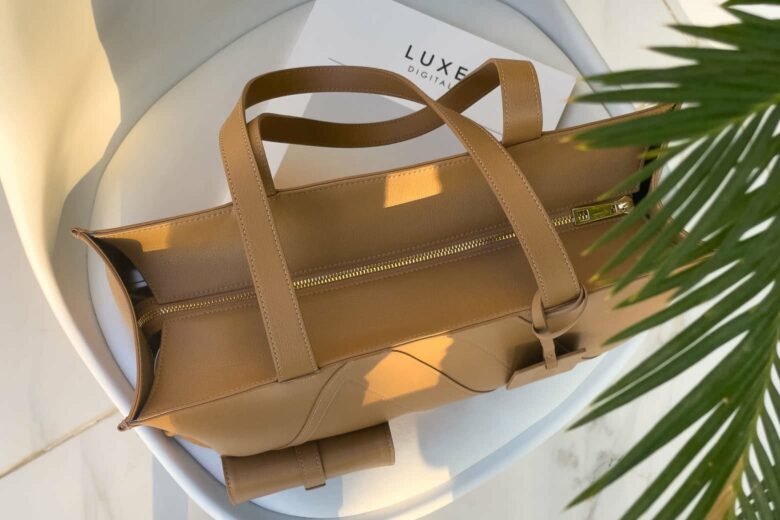 Maximizing all available space, there are also 2 outer pockets and a front pocket made for your AirPods, AirTag, and other small gadgets. The larger back pocket, on the other hand, is excellent for easily accessing your phone for those unexpected calls—no fumbling necessary.
Extra details include the supple micro-suede interior (happily stain-resistant to avert any catastrophic damage from spills or makeup leaks), fold-down handles to keep it compact on that packed-in subway ride, and a detachable leather key leash to ensure your keys are always at hand. Carry it your way with the comfortable shoulder strap for hands-free toting, or take it by the handles, girl-about-town style (We find them slightly too long to comfortably carry by hand for long distances, though).
Aesthetic & design
Designed in Antwerp (location-based reminder: it's in Belgium), the brand gathers its inspiration from the ever-moving energy of its home city. However, KAAI also turns to the magnificent muse that is the Art Deco era, borrowing its relative simplicity, graphic lines, and gratifyingly streamlined shapes.
By reinterpreting Art Deco characteristics, KAAI transforms the prescriptive elements into magical, modern, and minimalist bags and accessories, resulting in a timeless appeal to rival the era itself.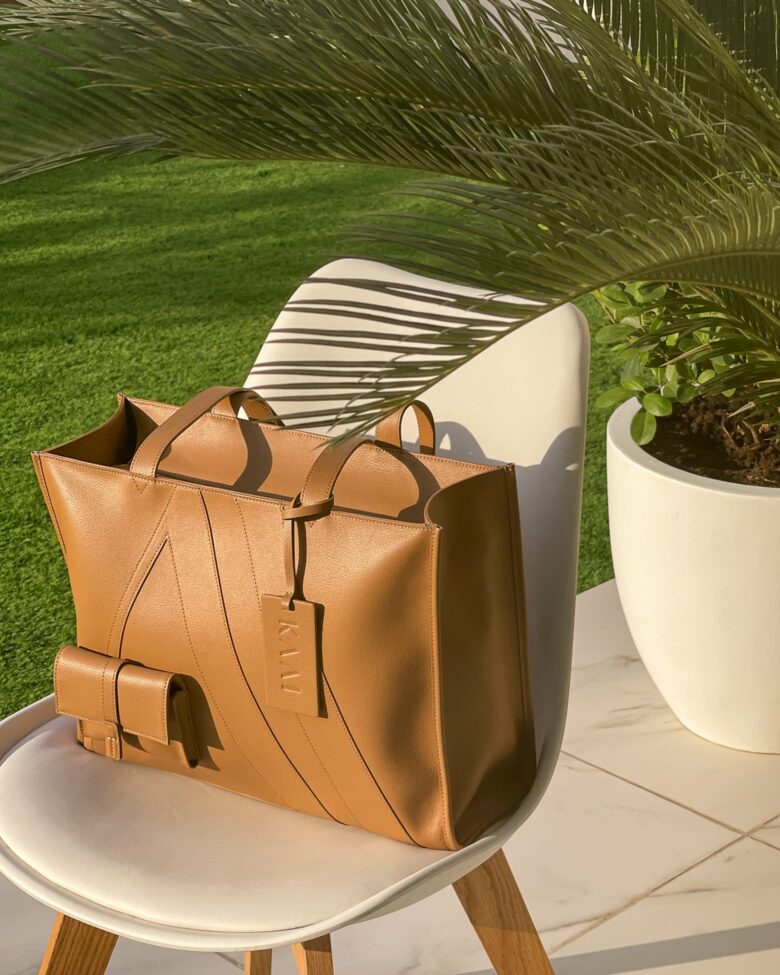 Sitting (stylishly) at the meeting point between fashion and functionality, the relaxed leather design both elevates and complements your outfit—and your schedule.
Colors
Influenced by the shades of the Art Deco period, KAAI offers its bags in a selection of timeless colors designed to match your ensemble and transcend the seasons. The quietly stunning shades for the Helix currently include classic Black, Camel, and Moss Green.
Care & maintenance
You'll be pleased to learn that the care and maintenance of the Helix bag is as easy as styling it. Now and then, give your bag a once-over with water and a mild detergent (of course, without bleach). Always test the detergent on a small area first, just to be safe.
However tempting, do not use leather-care formulas on your bag since it could damage the finish of the leather.
Price
The KAAI Helix retails at $799. So, it's unequivocally a luxury item, yet it feels reasonably priced if you are accustomed to paying for big brand names that are well into the four-digit territory.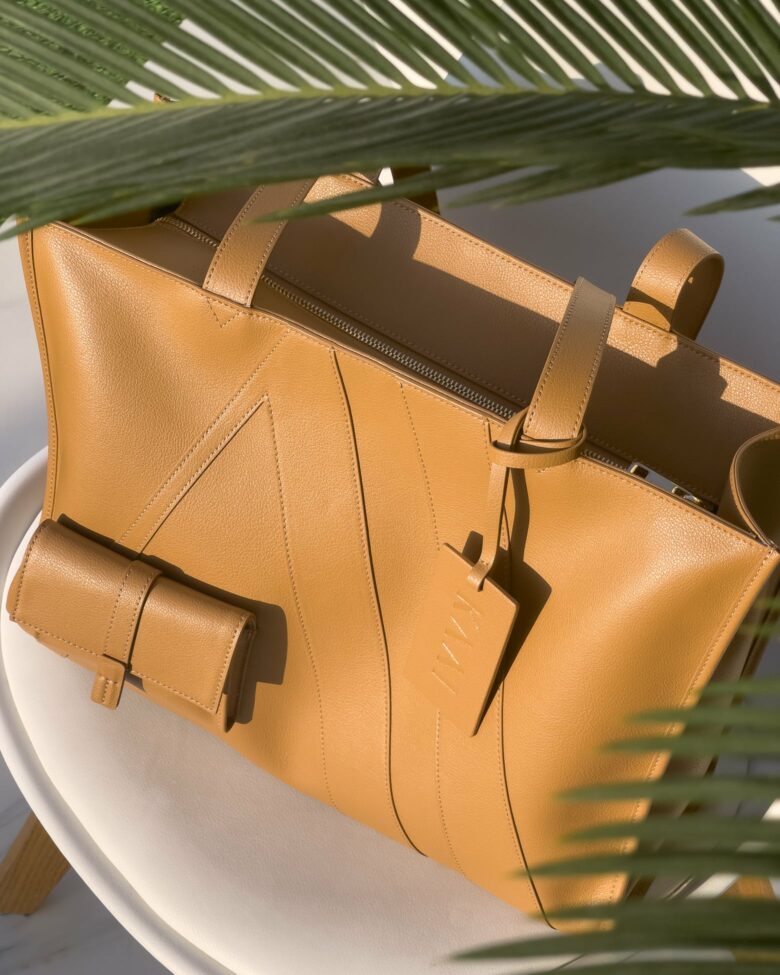 Much like any long-lasting, classic, capsule-worthy piece, it's well worth the price tag, especially considering the exquisite craftsmanship.
If you don't get on with the Helix (unlikely), there's a 30-day money-back guarantee, so you can shop with confidence.
Who it is best for
Designed for the plate-spinning, modern woman with a hectic life and ever-changing schedule, the Helix is a blessing disguised as a handbag.
Where to buy KAAI Helix?
Ready to welcome this extra large bag with open arms? We certainly are. Head to KAAI's official website to pick up your Helix bag. The brand offers super-fast delivery and free international shipping, so your location won't limit you. Or, if you find yourself in Belgium, head straight to the motherland—the KAAI studio store is located in the heart of Antwerp, a few steps from the main shopping district. Kaai also opened a flagship store in the Galerie du Roi in Brussels.