It's a new dawn. It's a new day. And we're (tote)ally feeling Dagne Dover. Born to look beyond the horizon, the female-led brand is all about empowering women and men through bags that are hyper-functional, performance driven and—yes you guessed it—undeniably stylish. From optimally organized slips and zips, minimalist silhouettes, and innovative materials, you're guaranteed to be taken seriously with a Dagne Dover bag in tow; be it in the office, on the street, or tackling unbeaten tracks.
At a glance
| | |
| --- | --- |
| Brand: Dagne Dover | |
| Founded: 2013 | Founders: Deepa Gandhi, Melissa Shin Mash and Jessy Dover |
| Origin: United States | Industry: Fashion, Footwear, … |
| Collections: Women and men's bags and accessories | Website: www.dagnedover.com |
| Shipping: International | Headquarters: New York |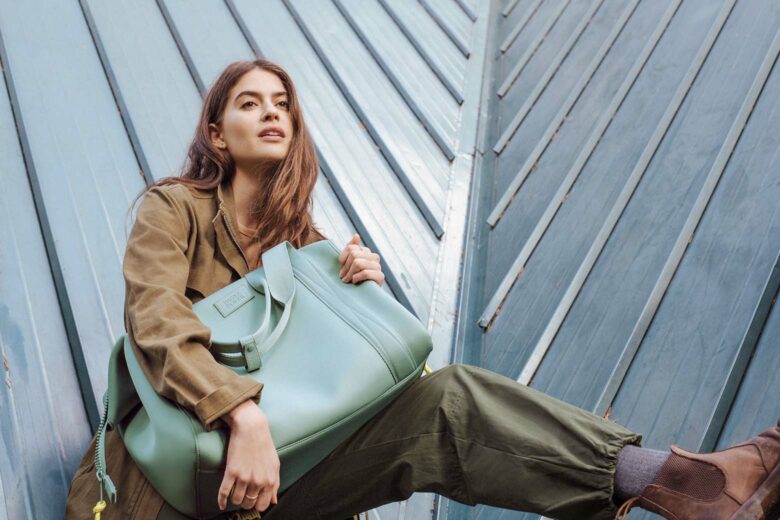 Behind the brand
History of Dagne Dover
Founded in 2013 by three fierce females in New York City, Dagne Dover was born to defy the status-quo and empower women through hyper-functional, fashionable accessories. Deepa Gandhi came from working in finance at Club Monaco, whilst Jessy Dover and Melissa Mash both worked for Coach—in product designs and retail management respectively. Together they combined their unique passions and experience with a common appreciation for excellent design and a mutual goal to inspire future female leaders.
Deepa, Jessy, and Melissa all experienced the lack of professional career-friendly bags for women in their own ways. Melissa describes interactions with multiple Coach customers in London as all being very similar. They all seemed to encounter the same problems with their everyday bags regardless of where they worked. They couldn't find a bag with a laptop sleeve. They ruined papers and tech with spilled water bottles. And they were constantly scrambling to locate smaller items such as a wallet or keys. In short: their designer work bags made them feel like a hot mess—rather than the boss-lady they were aspiring to be.
The following year, Melissa faced similar struggles firsthand when she signed up for business school. After investing in the "ultimate professional bag" (for $1000), she found that it didn't fit a laptop and the three indistinctive pockets were only three new opportunities to misplace a phone. She realized how hard it was to look put together for recruiting events when you're schlepping around two bags or rummaging for a resume. She also noticed that most of her fellow female-graduates' bags were either too casual or too flashy to be taken seriously.
When Melissa, Jessy, and Deepa started working together on solving these problems in 2012, they were determined to hit the elusive sweet spot in functionality and fashion. Dagne Dover bags do just that, and every unique design is created with a distinct purpose in mind. The minimalist styles avoid flashy logos, allowing the silhouettes—and the people holding them—to speak for themselves.
Read our in-depth Dagne Dover review to learn more about the brand's bags collection.
Interesting facts about Dagne Dover
Dagne is actually pronounced 'Dag-nee' (don't worry we also said it incorrectly for a long time) and it derives from the Nordic word for "new dawn." Whilst Dover is the last name of Chief Creative Officer Jessie Dover, one of the brand's co-founders. Put together, Dagne Dover speaks to an awakening in functional fashion.
The innovative brand's mantra—good design is everything—is manifested in multiple ways. However, Dagne Dover doesn't do it alone, and they're conscious of listening to their consumers' needs and desires. Essentially, they conduct field studies to decide which problem to solve next and then weave that data into beautiful designs. And in doing so, they have been able to determine which handbag items to designate a distinctive compartment for and when "machine-washable" should be deemed a priority, amongst many other distinguishing features.
When it comes to distinguishing features of the brand as a whole, their eco efforts are impossible to ignore. All materials are tested for harmful chemicals. They have launched a vegan-leather line. And with the vision to reuse and recycle wherever possible, Dagne Dover minimizes waste in a myriad of different ways. They transform plastic bottles into Repreve recycled poly. All excess materials are used for sampling, rather than being sent to landfills. And their charity donations and in-house clothing drives have both a positive social and environmental impact.
Almost Vintage—Dagne Dover's onsite resale service—is another way in which the brand manifests its reuse, recycle vision. It is an effortless elevated service that allows customers to sell and buy pre-loved Dagne Dover accessories. And it also means that the brand takes ownership of the entire lifecycle of its products. Obviously, they give a scrap about eliminating waste and doing their bit. And we love them for it.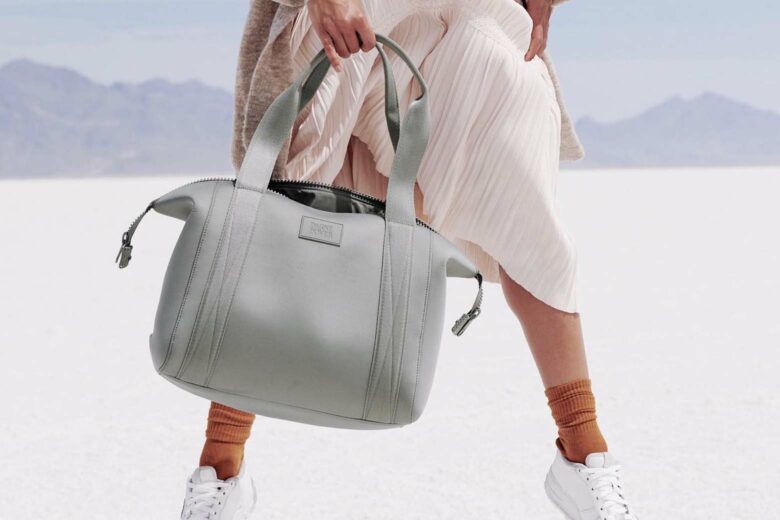 Dagne Dover product range
Although Dagne Dover was born to reinvent bags for professional women, the current product range speaks more to the multifaceted lifestyle of modern women and men. And unsurprisingly, the brand has some of the best totes for everyday functionality. We love the Dagne Dover Allyn for laptops. The Dagne Dover Pacific is the ultimate beach bag.
Dagne Dover is also renowned for its hyper-functional backpacks. The unisex Dakota is both school-ready and itching for a Summer break adventure. And the machine-washable Indi diaper bag is a game-changer for on-the-go parents. Dagne Dover's compartmentalized weekender beckon you to get away for the weekend—in an organized fashion. And their range of cute accessories includes some of the best women's wallets and card holders to complete your set.
Signature materials and craftsmanship
We've already mentioned Dagne Dover's obsession with excellent design. Instrumental to their pursuit of this are their signature materialism, impeccable craftsmanship, and sustainable alternatives. Every Dagne Dover silhouette is carefully considered. And each collection is made from different distinctive materials to achieve a unique purpose.
One of Dagne Dover's most eco-conscious materials is their signature Repreve and recycled polyester. This sustainable material quite literally transforms recycled bottles into bags. It also requires less water and energy. And it emits fewer greenhouse gases during the manufacturing process. All of their silhouettes are lined with Repreve and include a Repreve dust bag. And the Dagne Dover Nova sling bag is made entirely from the eco-chic material.
Dagne Dover uses many other sustainable materials. The Made for Now collection is made using 100% Organic Cotton, grown without using any pesticides. Their vegan collection is every animal-lover's dream. And whilst not plant-based, Dagne Dover's genuine leather is sustainably sourced and drum-dyed to perfection with a water-resistant polyester lining.
When it comes to performance-driven materials, Dagne Dover goes for gold. Their signature neoprene collection marries sporty and stylish. Whilst the durable fabric is water-resistant, soft on the shoulders, and machine-washable—perfect for adventure backpacks, diaper bags, and commuter bags. And finally, Dagne Dover's original coated canvas is the material that started it all. Not only is it super-durable and anti-stretch, but it also looks minimalistically fantastic.
Where is Dagne Dover made?
Designed in New York, Dagne Dover accessories are engineered with the multifaceted modern woman and man in mind. And whilst they originally planned to manufacture their products in The Big Apple, they soon realized that it wasn't possible. As a result, the co-founders made the trip to Vietnam in search of an ethical factory. And they were delighted to find one in which everyone seemed really happy. The building is furnished with modern facilities with a beautiful outdoor setting for lunch breakers. Employees are given reasonable holidays, are treated with respect, and are paid fairly.
Dagne Dover values
| | |
| --- | --- |
| Vegan options | Yes |
| Carbon-neutral | No |
| Gives back | Yes |
Our favorite finds from Dagne Dover
Vida Dagne Dover Daily Tote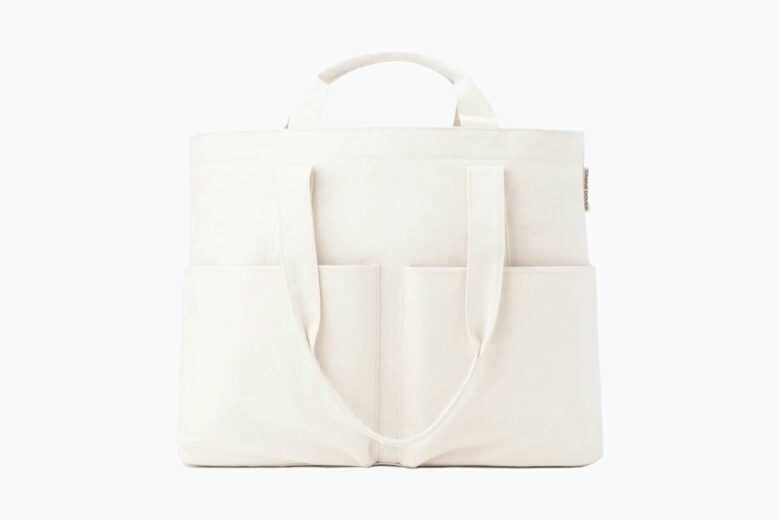 As our overall best beach tote, Dagne Dover's Vida truly is the tote-al package for coastal getaways and everyday errands alike. The minimalist silhouette may seem simple, but for us, it's the tiny details that make all the difference. The detachable key-chain is case in point. And if you're a fellow perpetrator of leaving your keys on the kitchen counter, you'll immediately understand just how much this feature means.
We're also inexplicably grateful for the multiple pockets. They all seem to be perfectly placed. And as a result, we feel super organized and ready to seize the day with this Dagne Dover daily tote by our sides.
Dakota Dagne Dover Backpack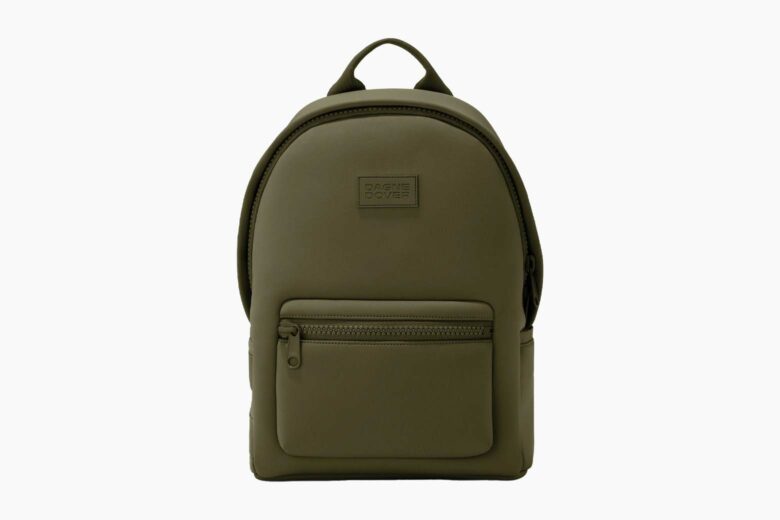 Calling all adventure enthusiasts and daily-commuters alike: this one's got your back. The Dakota is made from the brand's signature water-resistant fabric—proving that neoprene isn't just for keeping surfers warm. The fact that it is water-resistant means that you can tackle rugged edges regardless of the weather forecast. And perhaps more significantly, it means that should you get stuck in a rainstorm on the way back from work, your laptop, tech, and important documents will remain unharmed.
This Dagne Dover backpack also has a laptop sleeve, big enough for a 16" laptop. And you seldom need to worry about what to pack and what to leave out—the spacious compartment and soft comfortable straps make carrying around more of a breeze.
Landon Dagne Dover Carryall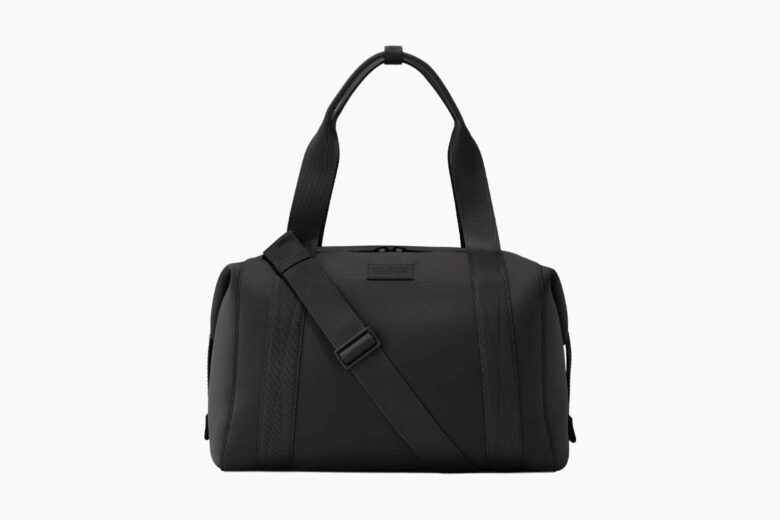 The key to a good weekend is to ensure that you don't return needing a holiday from your holiday. And the key to that is the right bag. That may seem like a stretch, but when your shoulders are aching, and everything arrives creased, you'll know what we mean. This Dagne Dover carryall solves all those problems and problems we hadn't even yet made conscious.
The light materials and padded detachable crossbody strap are back-savers. The super-organized pockets mean that you arrive knowing exactly where everything is. The shoe dust bag keeps your sneakers from your chiffons. And the durable design never grows weary or tired—in style or sturdiness.
Indi Dagne Dover Diaper Bag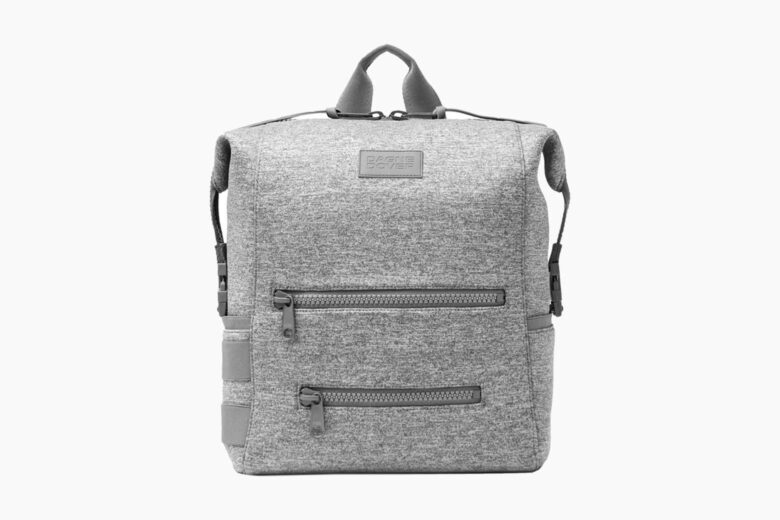 If anyone understands the importance of hyper-functional accessories (and the lack thereof), it's our powerhouse mamas. But before you give up on the idea of a bag that actually does it all, we implore you to keep your designer work bag baby-free and give this Dagne Dover diaper bag a chance. After all, you may be super-mom, but that doesn't mean you don't need all the help you can get.
We know we've already waxed lyrical about this brand's organized designs and compartmentalization, but the Indi Diaper Bag takes it to the next level. And you'll have that dummy in his mouth before the tears even start. It also comes with a travel changing mat and stroller clip. The neoprene fabric is durable and spill-proof. And unlike your leather diaper bag: it's machine-washable. Because we all know that new parents don't have time to scrub out odorous milk stains.
Where to buy Dagne Dover
Dagne Dover launched in 2013 as an online-only accessory store. And today the official Dagne Dover site remains the best place to shop Dagne Dover products. It's super easy to find what you're looking for with efficient filters. And when we have time, we love scrolling through their latest additions. Plus, you can shop with the peace of mind that you aren't missing out on different colorways, sizes or styles—the Dagne Dover online store is always well-stocked.
Dagne Dover price
Designed to outlast multiple adventures, getaways, and daily excursions, Dagne Dover's bags are excellent value for money (in our humble opinions). The bestselling medium Dakota backpack and Indi Diaper Backpack both cost $195. The medium-sized Landon Carryall is priced at $185. The Vida Tote is priced at $165. And smaller accessories, such as Dagne Dover wallets and card holders, are priced around $60-$75.
Dagne Dover discount code
The Dagne Heroes discount acknowledges our everyday heroes. To show their appreciation for people who sacrificially serve us from day to day, Dagne Dover offers teachers, troops, vets and healthcare workers a 20% discount on all purchases.
They also have a loyalty program to give back to their fans. And you earn points for things like referrals, purchases, reviews, and following the brand on social media. Every 100 points equate to $10 off your order—and they add up quickly. 
Dagne Dover shipping
Dagne Dover offers free shipping in the U.S on orders over $75. And deliveries typically take between 3-8 business days. Dagne Dover also ships internationally, however shipping is not free, and the cost will depend on the country being shipped to.
Dagne Dover return policy
Dagne Dover offers full refunds for U.S purchases on used products returned within 30 days of purchase. U.S returns are subject to a $10 handling fee. They do not, however, offer refunds on purchases made outside of the U.S or on final sale items.
Dagne Dover social media profiles
Frequently asked questions about Dagne Dover
How do you pronounce Dagne Dover?
Dagne Dover is pronounced "Dag-nee Dover." Dagnee derives from the Nordic word for "new dawn" and Dover is one of the co-founder's—Jessie Dover's—last name.
Where is Dagne Dover based?
Dagne Dover launched as an online-only store in 2013. However, their headquarters and offices are based in New York City.
How did Dagne Dover get its name?
Dagne derives from the Nordic term for "new dawn." This speaks to the brand's performance-driven designs as an awakening in functional fashion. It also reflects empowerment with a "seize each day" attitude. Dover is simply the last name of one of the brand's co-founders—Jessie Dover.
Who founded Dagne Dover?
Dagne Dover was founded in 2013 by three females: Deepa Gandhi, Jessy Dover, and Melissa Mash. They combined their unique experiences with the common goal of designing hyper-functional bags for women and men.