Derived from the French word for sense and dream, Senreve marries the contradictory worlds of practicality and fantasy. Designing luxury bags to reconcile the everyday dichotomies of modern women, the thought-provoking brand refutes the notion that a woman is either utilitarian or stylish. It detests the label that she is either mother, businesswoman or socialite. And with timelessly versatile and durable bags, Senreve proves that she is all of those things—and more.
At a glance
| | |
| --- | --- |
| | |
| Brand: Senreve | Founders: Coral Chun and Wendy Wen |
| Founded: 2015 | Industry: Fashion |
| Origin: USA | Website: senreve.com |
| Collections: Women's bags and accessories | Headquarters: California, United States |
| Shipping: International | |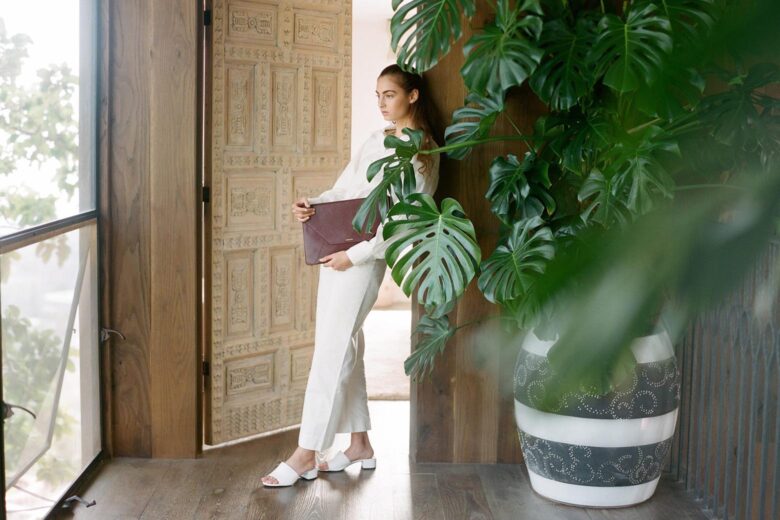 Behind Senreve
History of Senreve
Founded in 2015 by boss-women Coral Chun and Wendy Wen, Senreve was born to empower fellow powerhouse ladies through fashionably functional accessories. Reflecting the modern woman's uncanny ability to multitask, Senreve bags are designed to harmonize everyday dichotomies. And they are created to pull double (more like quintuple) duty so that you don't have to.
As businesswomen themselves, Chun and Wen were irked by the lack of professional bags that were both stylish and practical. They found that these accessories failed to represent the multifaceted nature of women. And so they sought out the most-skilled artisans and the highest-quality leathers to create a brand that enabled us to commute to work comfortably—and look fantastic doing so. Refusing to compromise in any area, the eco-chic brand also took its environmental responsibility seriously from the get-go with a plethora of sustainable initiatives.
In the beginning, Senreve bags were only handcrafted in Tuscany, Italy—where leather craftsmanship is a storied, generational tradition. And whilst such impeccable attention to detail speaks to this age-old artisanal prowess, the innovative designs played to the women of the day. Gaining Instagram stardom overnight, the female-led brand commanded thousands-long waitlists season after season. Thankfully (for us), they expanded their workshops to Cadiz in Spain, where timeless masterpieces continue to be handcrafted with durability, versatility, style, and sustainability in mind.
Interesting facts about Senreve
Whilst we strongly admire Senreve's conscientious mindset, it's their considered designs that saw them catapult to cult-favorite status and Instagram fame. Senreve bags are engineered from the highest quality scratch-proof and water-resistant leathers—yes, you can find videos of influencers attempting to knife through them, but we won't go there.
Senreve bags feature flawlessly compartmentalized internal configurations, making them Mary Poppins-approved and A-type personality endorsed. Plus, their chameleon-inspired straps transform the bags to fit their surroundings, nominating them as the ultimate versatile accessory. We're thinking: backpack to walk, tote to tube, crossbody to grab lunch, and shoulder sling to cocktail hour. Converted yet?
If not, this should do it. Unlike other luxury labels, Senreve promises that its handcrafted creations are never burnt or sent to landfills with its Handbag Revival initiative. We've already mentioned their zero-waste policy and timeless designs. But we haven't touched on how this sentiment not only impacts the planet but directly benefits the consumer. Beyond the fact that your purchase will never grow tired, fade out of style or see a landfill, Senreve's bi-annual revival sales mean that you can buy Last Chance designs and ever-so-slightly defected Perfect Enough styles at a vastly reduced price. To us, this epitomizes elevated, conscious living.
Senreve product range
Unless you've been hiding under a rock or detoxifying from digital demands, we'll assume you've been introduced to Senreve's trademark The Maestra. And whilst the brand's iconic silhouette will forever remain one of our best designer work bags, we equally adore the Gemelli in vegan leather as a sustainable and successful tote bag.
The Continental Clutch remains one of our best wallets for women, getting all the credit it deserves amongst affluent shoppers. While its slimmed-down younger sister, the Carte Folio holds a special place in our back pockets—as well as our list of the best cardholders for women.
With the rise of functional fashion, the Aria belt bag has also claimed its spot amongst It-girl favorites—as seen on Kristin Bell. And whilst fashionably functional bags may be the brand's flagship product, we think they're best accompanied by the brand's leather belts, silk scarves, and cashmere loungewear.
Signature materials and craftsmanship
Intrinsic to the brand's ethos is its commitment to sustainability and social responsibilities. Senreve has implemented a zero-waste policy, ensuring that all scraps are repurposed. Their leather is sourced from food production or recycled products, maintaining a cruelty-free philosophy. And they are continuing to introduce vegan options in every range to accommodate a plant-based lifestyle.
Alongside sustainably sourced materials and recycling initiatives, Senreve is committed to minimizing its chemical and energy usage. They only partner with principled manufacturers, remaining cognizant of fair working conditions, safety, and health policies. They send their bags to ethical tanneries that strive to reduce their carbon footprint. And they are committed to supporting businesses that give back to the community. For example, their partner in Italy sponsors a technician training school and an apprenticeship program.
But Senreve's mission towards a sustainable future in fashion goes beyond manufacturing practices, sustainable materials, and social initiatives. It extends into the quality of their products, as well as the timelessness of their designs. All Senreve bags are designed with longevity in mind, both in durability and style. Robust fabrics and impeccable craftsmanship encourage a lifetime of wear. While classical silhouettes and immortal hues beg to be passed down to future generations.
Where is Senreve made?
Dreamed up in San Francisco, Senreve bags are designed in New York City. And whilst the fast-paced cosmopolitan city reimagines accessories for the modern woman, impeccable craftsmanship speaks to the brand's intrinsic timelessness. Senreve bags are handcrafted in Italy and Spain, where leather craftsmanship is passed down from generation to generation. This storied artisanal talent is evident in every stitch as Senreve bags are shipped around the world to empower multifaceted powerhouse women from one day to the next.
Brand values
| | |
| --- | --- |
| Vegan options: | Yes |
| Carbon-neutral: | No |
| Gives back: | Yes |
Who wears Senreve?
Adorning the arms of star-studded celebs and fashion it-girls, Senreve is making moves in high-end circles. Angelina Jolie is a big fan and is often seen toting around the Gemelli Dolce in beige. Similarly, Priyanka Chopra-Jonas has made her stance known with her Mini Maestra in pebbled green.
Anna Kendrick is also a fan of the compact iteration—but in a beige hue. While Taylor Hill and Lady Gaga have adopted the bigger is better mentality with the full-sized Maestra in pebbled pink and black respectively. Naturally, Kirstin Bell is an advocate of the black pebbled Aria belt bag. And Emma Roberts has been spotted flaunting her black Doctor bag in dolce leather. We could go on, but we think you get the point. Senreve bags are quickly becoming a mandatory A-list accessory—as well as an essential symbol of stylish boss-women. Wait, that's you, isn't it?
Our favorite finds from Senreve
Senreve Maestra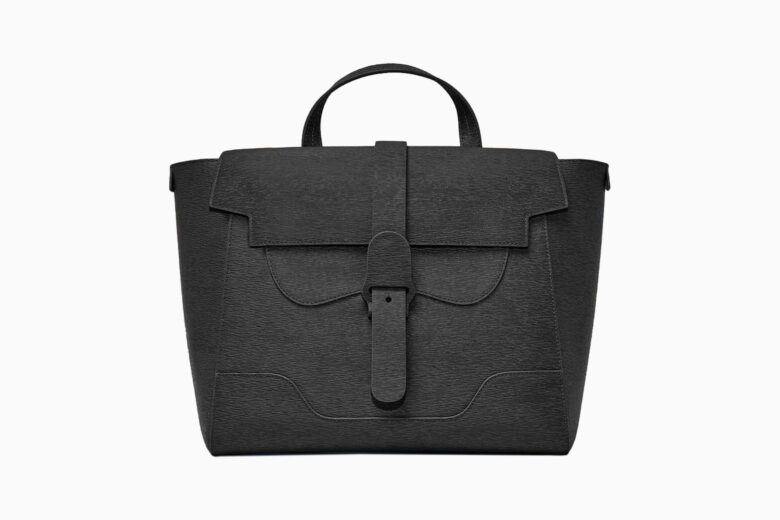 According to our Instagram feeds, the Maestra is the ultimate everyday accessory. But beyond its social-media stardom, it humbly works hard to accommodate the stylish working woman. Details like bag feet may seem minor, but how often have you wrestled with how to put your tote bag down without it falling over or scuffing the leather? Now we're sure you'll agree that solving this mystery is no small (feet).
The Maestra is also thoughtfully designed for modern devices and office essentials. It's made to fit a 15" laptop, your lunch, and even a sweater—so there's no excuse to freeze through office air conditioning. We also adore the mini Maestra—a slight-more compact, lighter iteration, which may be better suited to petite women and smaller tablets (such as an iPad Mini).
Senreve Aria Belt Bag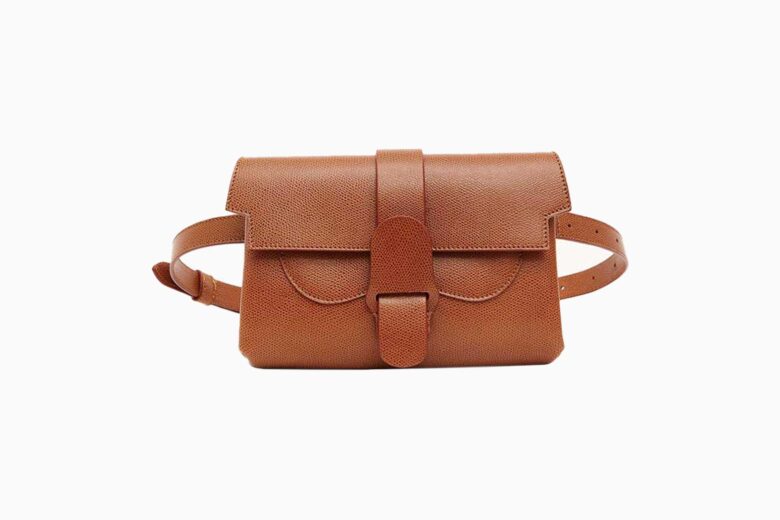 Breaking free from the confines of security lines and bag drops, belt bags are no longer just a tourist accessory, they're an everyday staple. Chances are, you've already adopted the practical trend. Although we doubt you've found a belt bag that is this versatile and in vogue.
We love the Senreve Aria for its hands-free convenience as well as its timeless elegance and considered design. Whilst it's conveniently compact, it's intentionally engineered to fit an iPhone 13 Max. It also has the uncanny ability to convert from belt bag to sling to crossbody to clutch, making it the only belt bag that we actually feel comfortable taking absolutely anywhere—not just to gym runs and school drops but also to fancy brunches and sophisticated evening soirees. Surely you can't say the same about your worn-out airport accomplice?
Senreve Cadence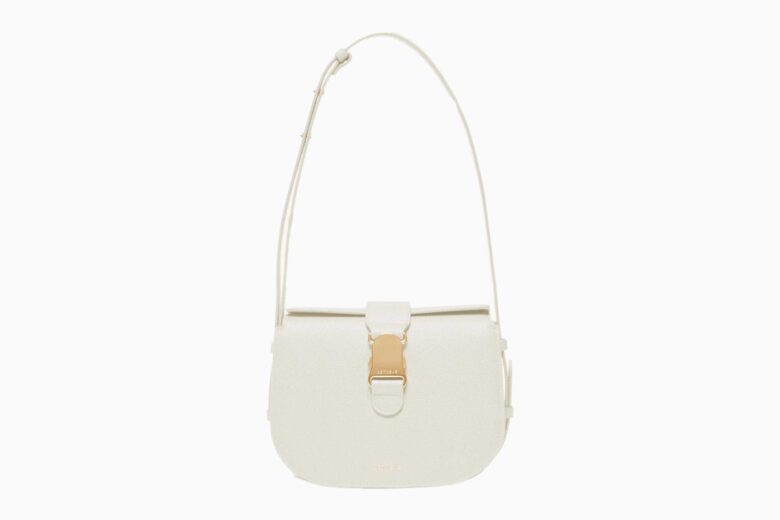 To us, the Cadence crossbody epitomizes modern luxuries. In an age that demands hands-free navigation, the trusted crossbody has become most women's everyday go-to. And it's these kinds of day-to-day accessories that really hero Senreve's durable leathers. Scratch-proof, stain-proof and waterproof, this hardworking warrior can literally handle anything you throw at it.
Plus the curved silhouette and detachable chain and exposed gold hardware clasp add an air of elegance, making it a respectable accessory for the most sophisticated soirees. And even after enduring all these shopping sprees, school runs, and boujee brunches, we're pretty sure this timeless piece has what it takes to maintain its heirloom status. Talk about a style investment.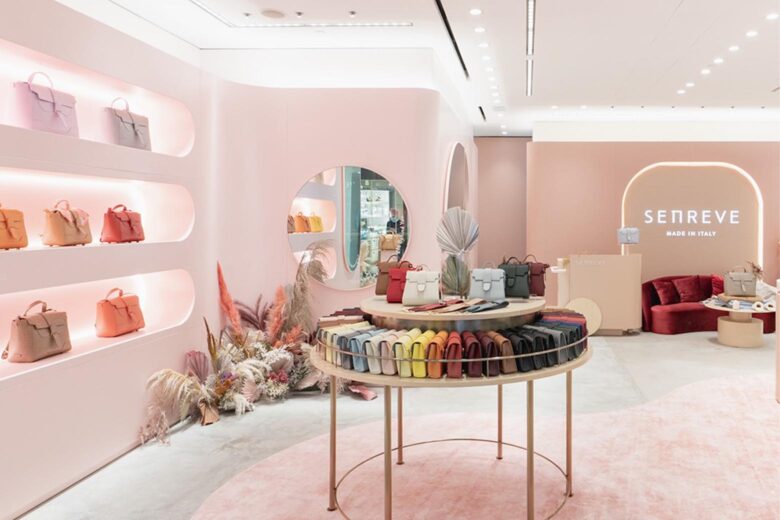 Where to buy Senreve
Senreve bags have made their way onto many luxury platforms such as Farfetch, but the Senreve official website is still our favorite place to shop Senreve bags. The online platform is effortless to navigate. And unlike other platforms, they feature every version of every collection, so you won't miss out on any of their different materials, colorways or sizes.
Senreve price
Senreve is a luxury label, but they're more affordable than other luxury labels of the same quality. And because Senreve bags are almost guaranteed to last a lifetime you can consider it more of an investment than an expense. Smaller Senreve bags such as the Aria Belt Bag start at around $440. Midi bags such as the Cadence crossbody are priced at around $635. While larger iterations such as the Maestra range from $880 to $1,155.
Senreve shipping
If you've been eyeing this Insta-famed brand for a while, you're almost certainly aware of Senreve's free international shipping policy and impossibly fast delivery period. And whilst they ask you to allow them 6-9 business days to deliver, most customers appear to be pleasantly surprised by how quickly their orders appeared on their doorstep.
Senreve return policy
Once you receive your bag, you'll have up to thirty days to decide whether to keep it. If you wish to return, Senreve will refund you within 10 days of the return. And all US returns are free of charge. Senreve bags are also subject to a two-year warranty, so if something happens to your purchase over this time, your bag will be replaced or repaired at no extra cost.
Senreve social media accounts
Here are Senreve's social media accounts: