Thanks to the sheer number of older women and teachers walking around in cardigans, the seasonless staple has gained an unfair reputation of being rather conservative. And whilst the convenient pullover will always be the official teacher uniform—it needn't be limited to such. In fact, we think we could all take a practical tip from some of the wisest people in our society.
Yes, some of the more frumpy iterations deserve to stay confined to classroom walls and old-age homes. But grandpa style is making headlines. And these best cardigans are totally on-trend, especially when layered correctly. To avoid the conservative stereotype, we suggest staying away from floral frock and cardigan pairings—with the odd exception, of course. Instead, try contrasting them with your more cheeky garments such as chunky Chelseas or sneakers, distressed jeans, casual tees, or leather pants.
The real trick to challenging the old-fashioned ideas about cardigans is choosing the right one. Long ribbed renditions give off a casual, chic look for everyday wear. Colorful patchwork pieces speak to the iconic Harry Styles moment. A Merino wool matching cardigan and pants are an effortless way to elevate your loungewear. While a more boxy fit is all over our Instagram feeds.
Button up, we've put together a list of the best cardigans for women—the kind that doesn't make it look like you've ravaged through your grandma's wardrobe.
The 20 best quality cardigans for women
Cuyana Cashmere Cardigan: Best overall cardigan for women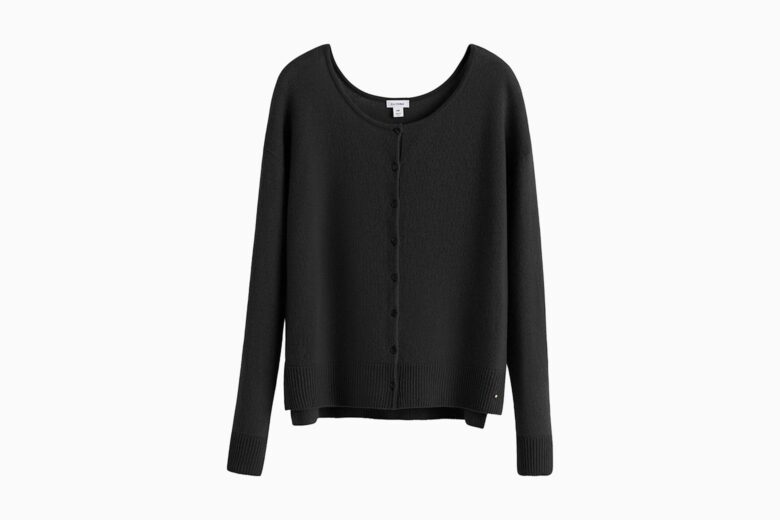 Made in a family-owned Italian mil, this single-origin cashmere cardigan epitomizes everything we adore about Cuyana. The effortlessly soft material melts like butter against your skin, whilst keeping in line with the brand's priority toward responsibly sourced materials. The wide boat neck shows off your collarbones, giving the design a feminine touch.
Wear this comfy cardigan the traditional way, with a button or two down and contemporary pants. Or go against the grain and wear it with the buttons at the back—your Grandma wouldn't do that.
Best for: A quintessential capsule wardrobe staple.
| | |
| --- | --- |
| Colors: | Jade, Black, Beige + More |
| Material: | 100% Cashmere |
Gucci: Best designer cardigan for women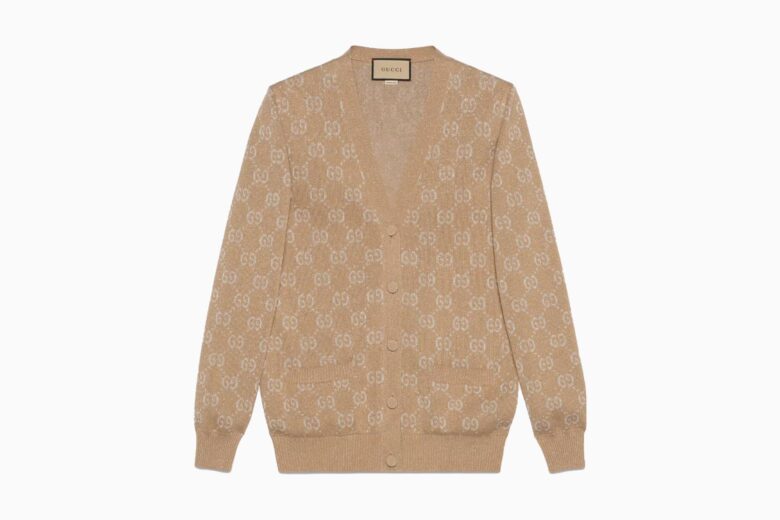 You can't avoid the monogram mania, and you don't want to—especially when it's Gucci. This timeless piece fuses the latest trends with a classic silhouette. The brown GG wool is luxuriously soft and endlessly versatile. While the brand's signature gold buttons add an air of elegance.
Get the Hailey Bieber look and pair your GG cardigan with chunky Chelseas and a brown on brown shorts and top set. There's nothing fuddy-duddy about it.
Best for: Being timelessly on-trend.
| | |
| --- | --- |
| Colors: | Beige |
| Material: | 100% Wool |
Amazon Essentials: Best value long cardigan sweater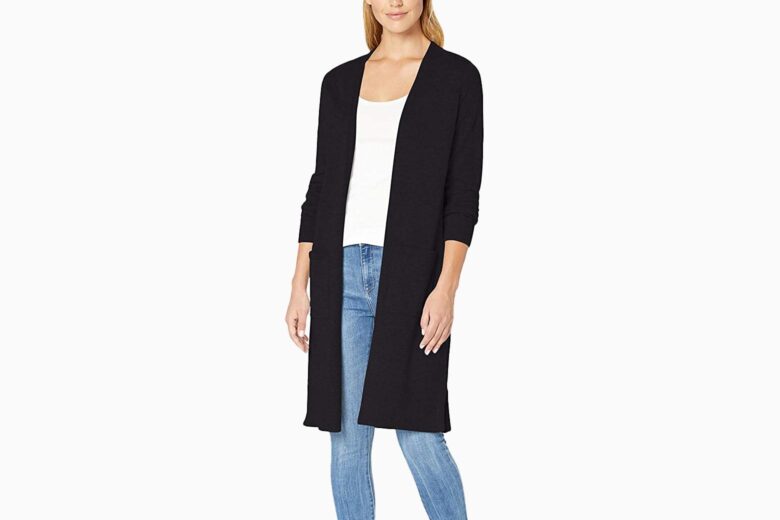 Every now and then, we find high-quality items without the high price tag. And when we do, we owe it to you to share them. This long cardigan sweater by Amazon Essentials is such an item. Made from a lightweight cotton blend, the seasonless staple is easy to throw over jeans, a tee, and white sneakers whenever there's a nip in the air. Plus, the versatile design runs the gamut in trendy hues—so we recommend adding more than one to your arsenal.
Best for: Throwing over anything and everything.
| | |
| --- | --- |
| Colors: | Black, Brown, Burgundy + More |
| Material: | Cotton Blend |
Axel Arigato: Best women's cardigan sweater with pockets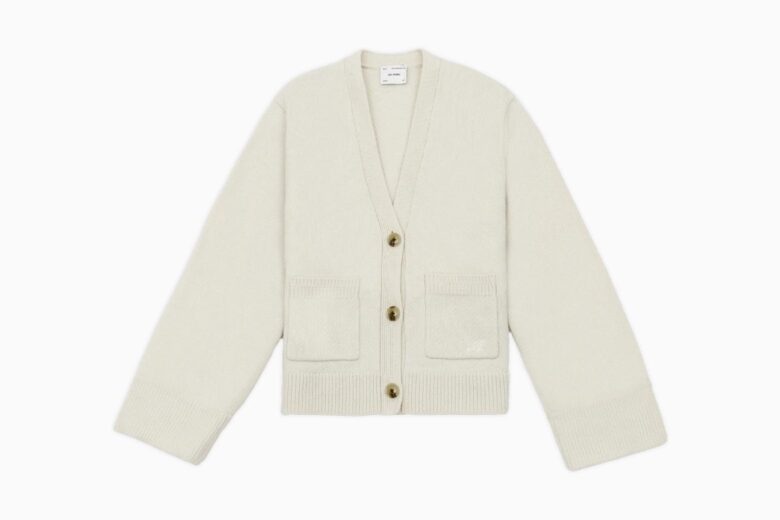 With grandpa style making headlines, there's no better time to invest in this Memory Relaxed Cardigan by Axel Arigato. The deep v-neck, tortoise shell buttons, and double pockets speak to the signature classical style. While the wool-knit fabric, relaxed silhouette, and ribbed edges take the old-school look even further.
Pair this cream cardigan with sultry leather pants, chunky sandals, and square sunnies to wear it as the avant-garde label would have intended.
Best for: Grandpa style—but make it chic.
| | |
| --- | --- |
| Colors: | Cream |
| Material: | 100% Wool |
Naked Cashmere Amber: Best cashmere women's cardigan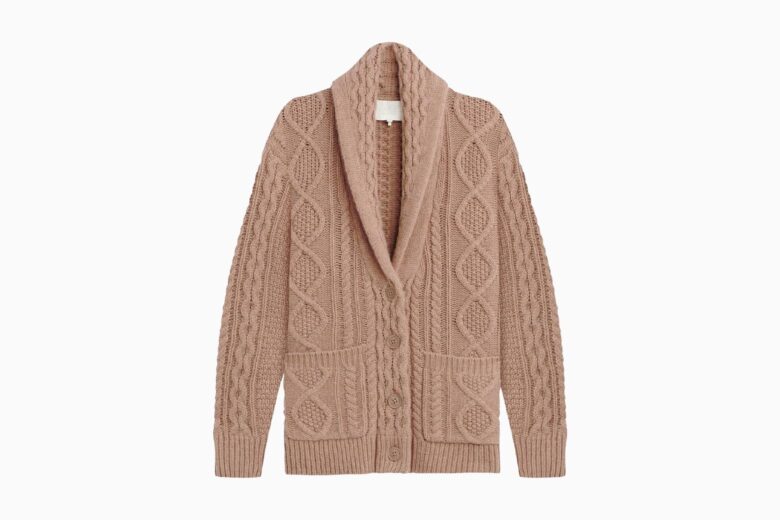 Elevate your teacher-look with this quintessential capsule wardrobe classic. Naked Cashmere's Amber ribbed cardigan epitomizes everything we love about the timeless piece. The soft fabric makes it difficult to put on anything else in cooler months. While a range of versatile natural hues means that you don't have to. Style it with white sneakers or boots with pants or shorts—the options are endless.
Best for: The ultimate elevated essential.
| | |
| --- | --- |
| Colors: | Sand, Camel, and Brown |
| Material: | Cashmere |
Anine Bing: Best black cardigan sweater for women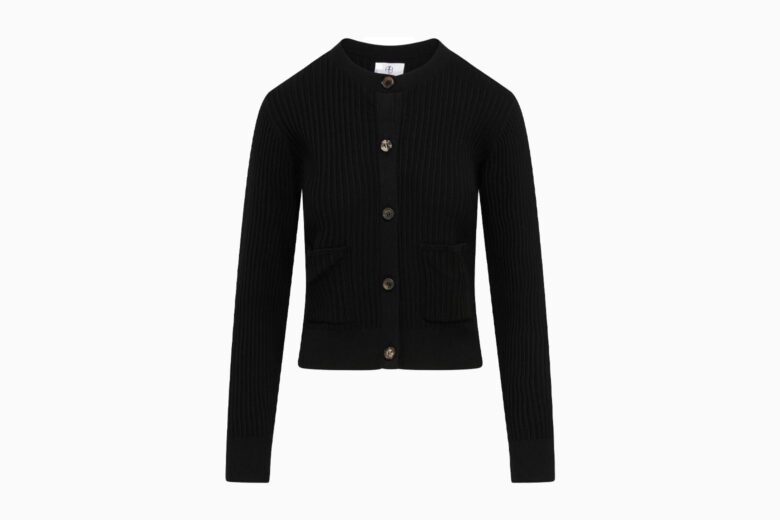 Every woman needs a little black sweater. And as cliche as that sounds, it couldn't be more true. We especially love the Elm Cardigan by Anine Bing. Although simple, the novelty rib stitch fabrication, exceptionally soft silhouette, contrasting buttons, and classical crew neck make it a standout.
Pair this LBS with your LBD and comfortable heels to achieve the Selena Gomez look that made the world swoon.
Best for: The revenge sweater.
| | |
| --- | --- |
| Colors: | Black |
| Material: | Viscose Blend |
Ganni: Best white cardigan for women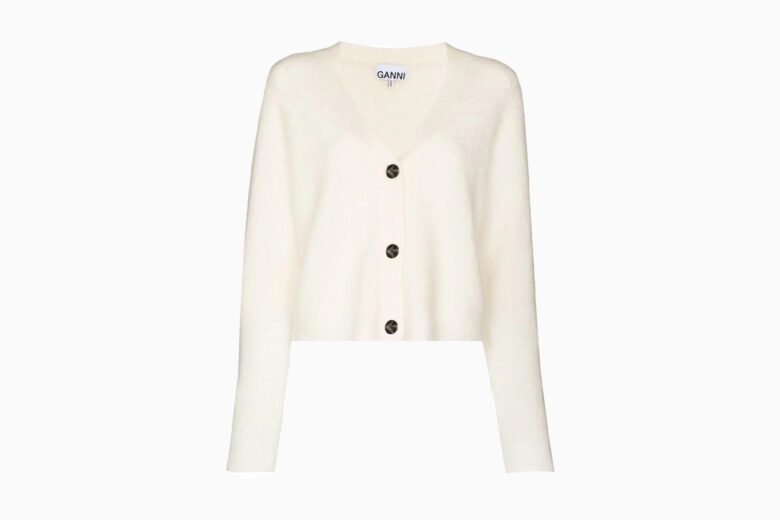 Contemporary yet classical, Ganni's white cardigan evoked a lighthearted approach to luxury garments. The woolen ribbed fabric is polished yet relaxed—all whilst contributing to the brand's carbon-neutral status. And the deep v-neck and contrasting buttons exaggerate the traditional elements of the cardigan, making it more modern. We especially love this versatile piece paired with pops of color on the bottom.
Best for: Refined and relaxed.
| | |
| --- | --- |
| Colors: | White |
| Material: | Wool |
Balmain: Best women's cream cardigan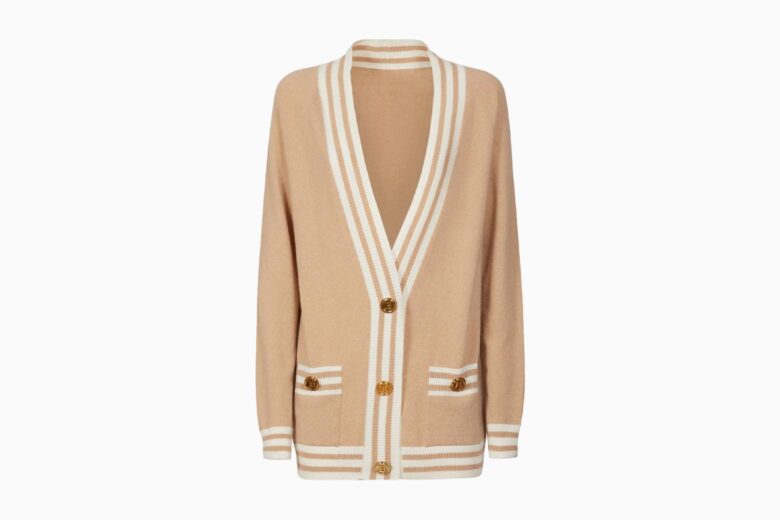 Renowned for its savoir-faire and French flair, Balmain embodies all our Parisian-Girl dreams. And this wool knit cardigan is case in point. The long taupe and cream silhouette is nonchalant. While signature pinstriped edges and an embroidered logo on the back add a preppy edge—making it tres chic. All you need is a beret, and you're good to go.
Best for: Casual savoir faire.
| | |
| --- | --- |
| Colors: | Cream |
| Material: | Wool |
Alo Yoga: Best cropped Summer cardigan for women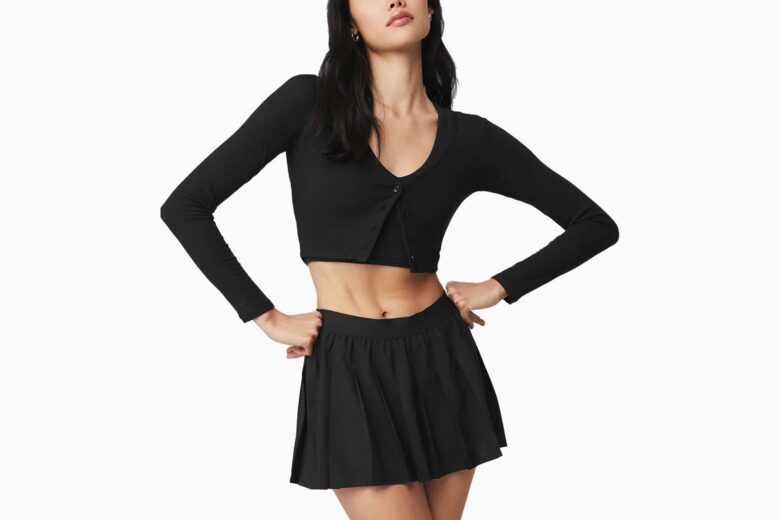 Alo Yoga proves that cardigans can be sexy with this cropped iteration. The fitted silhouette features a low V and classical front button closure. While a variety of colors speak to a range of different styles. We all know that Bella Hadid would opt for black, worn with low-rise jeans to reveal washboard abs. While the fuschia pink would melt Elle Woods' heart.
Best for: Sweet and sexy.
| | |
| --- | --- |
| Colors: | Black, White, Pink + More |
| Material: | Fine-Knit |
Bottega Veneta: Best colorful cardigan sweater for women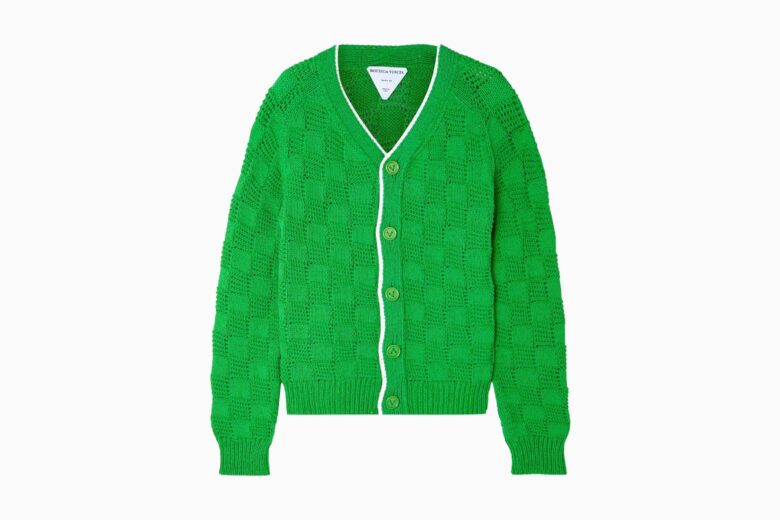 Bringing together two of the hottest trends—dopamine dressing and grandpa style—this cardigan is the ultimate It-Girl staple. The chunky knit reflects the brand's signature intrecciato technique. While the vibrant Gen Z green colorway with white accents further speaks to the brand's iconic designs. If you love the hue but want to tone it down, it also comes in a white silhouette with green accents.
Best for: Forcing smiles wherever you go.
| | |
| --- | --- |
| Colors: | Green and White |
| Material: | Cotton Blend |
Cuyana: Best long women's cardigan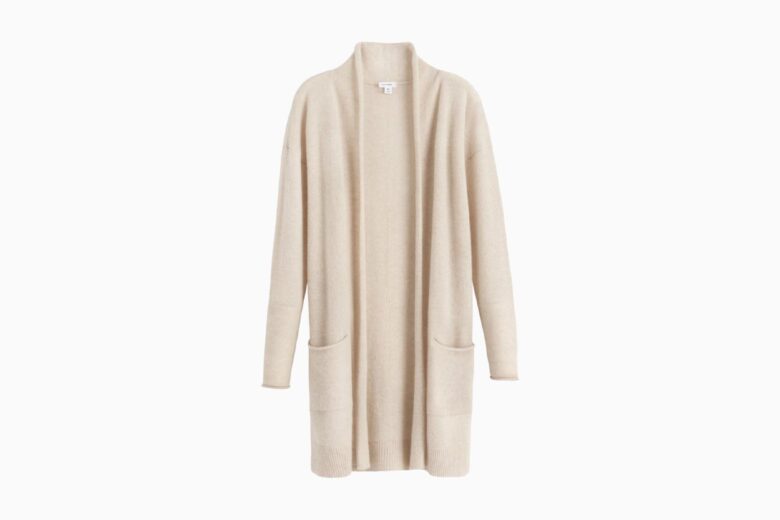 Long cardigans for women marry loungewear comfort with an elegant finesse. And we especially love this long cashmere cardigan by Cuyana. The elongated silhouette exudes coat-ish sophistication, making it one of the best cardigans for work. While the extra length in cashmere simultaneously gives it a snug blanket feel.
Style your designer work bag with this long cardigan in black or beige to complete your Fall office outfits. Or opt for Jade green or light gray to keep it more relaxed in denims.
Best for: Going the extra mile in classy comfort.
| | |
| --- | --- |
| Colors: | Beige, Gray, Jade + More |
| Material: | Cashmere |
Canada Goose Cortina: Best oversized cardigan for women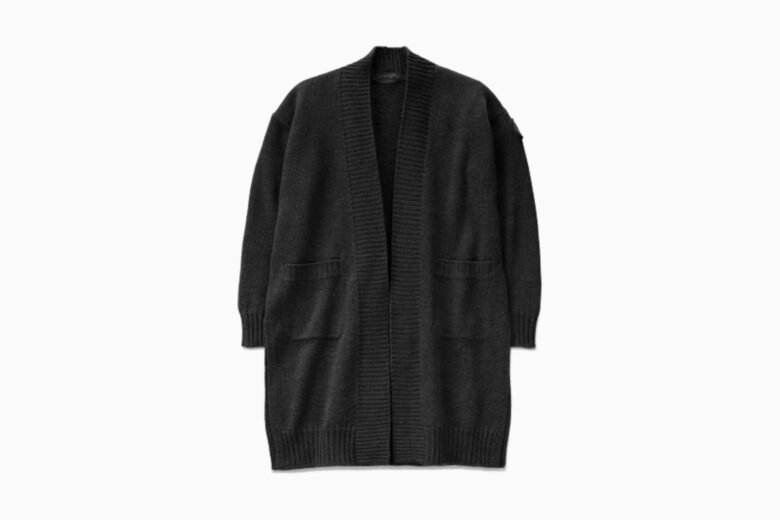 Comfort is key when it comes to long flights, but rocking up to the airport in pajamas will never be deemed acceptable. Cue Canada Goose's extra fine Merino wool cardigan. The long silhouette makes it one of the best cardigans for travel. It looks sophisticated but feels like you're wrapped up in a blanket.
Dress this cardi with loose black slack pants, a black tee, and your most comfortable flats for endless hours of chic comfort.
Best for: Styling at the airport and sleeping on the plane.
| | |
| --- | --- |
| Colors: | Black and Gray |
| Material: | Merino Wool |
Naked Cashmere: Best open cardigan for women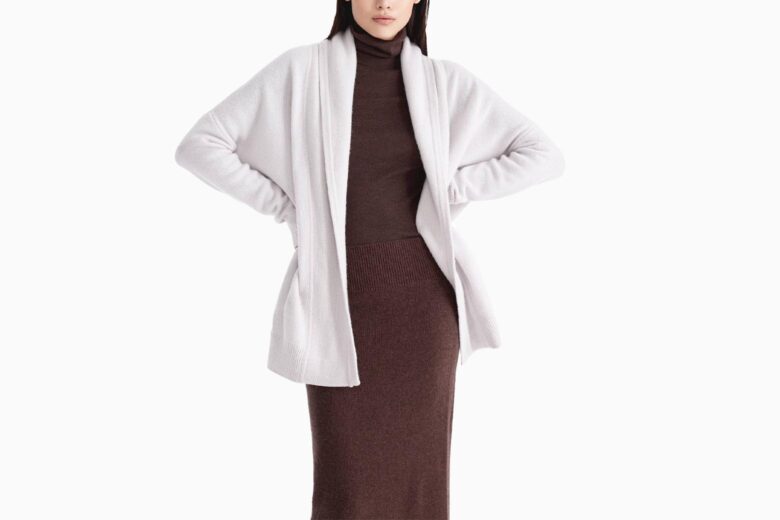 An open cardigan is perfect for layering in Summer or Winter. And we just adore Naked Cashmere's long knit cardigan layered with turtlenecks or tees. As the ultimate, transitional essential, the black silhouette can be dressed up in the evening with a sleek black on black ensemble. Or it can be worn casually with your favorite mom jeans during the day.
Best for: All black everything.
| | |
| --- | --- |
| Colors: | Black |
| Material: | Cashmere |
Proenza Schouler: Best boxy cardigan sweater for women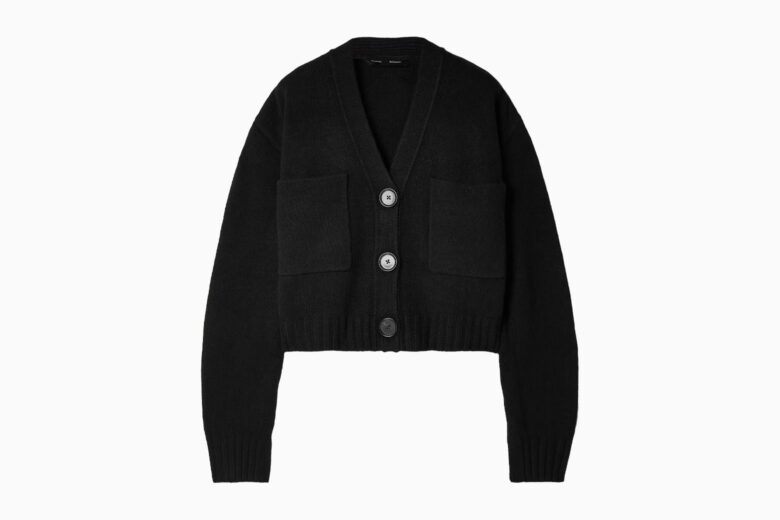 With the rise of y2k fashion, boxy cuts are an It-Girl favorite. And trust Proenza Schouler to nail it with this cropped cashmere classic. The oversized fit gives off a nonchalant attitude. While exaggerated buttons keep it cool and contemporary. The problem is that we just cannot choose between black and brown—but then again, why not get both?
Best for: Thinking out of the box (or in it).
| | |
| --- | --- |
| Colors: | Black and Brown |
| Material: | Cashmere |
Giuseppe Di More: Best women's chunky cardigan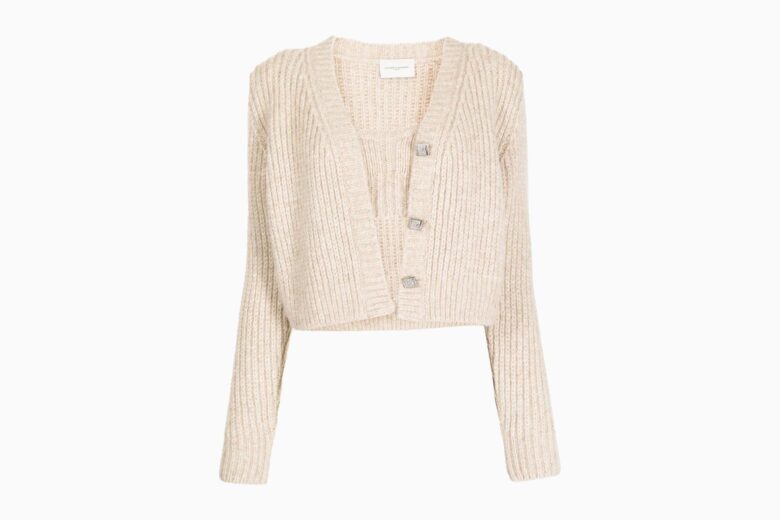 Chunky cardigans will always be the ultimate comfort clothing. They're the thing you put on when you're homesick, missing someone, or just need some TLC. And it goes without saying that you can never have too many. This cropped chunky knit deserves a spot in your arsenal. The square, silver buttons give it that extra edge. While the cream wool elevates any ensemble.
Best for: Chunky knits save the day.
| | |
| --- | --- |
| Colors: | Beige |
| Material: | Wool Blend |
Vince: Best knitted cardigan for women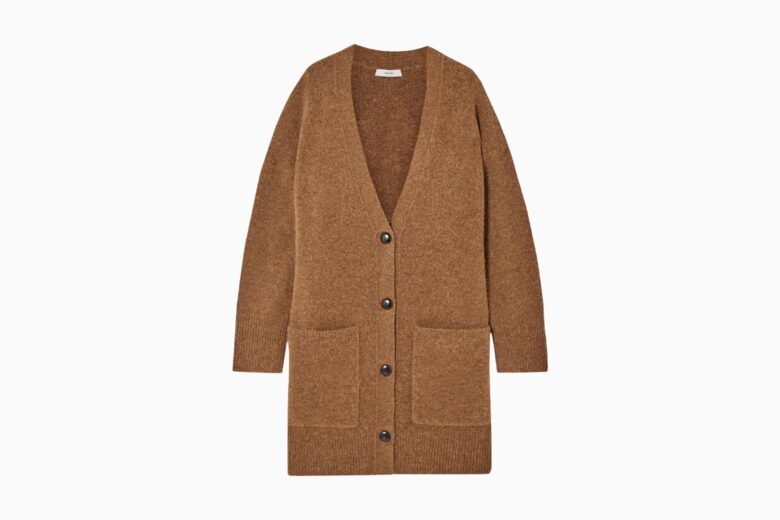 An absolute classic: this long knit cardigan is our new Winter cocoon. The versatile brown colorway makes it effortless to throw over any ensemble. The deep V-neck and spacious pockets speak to a timeless silhouette. And the superlatively soft knit makes it impossible to take this cozy cardigan off—but then again, you don't have to.
Best for: A style metamorphosis.
| | |
| --- | --- |
| Colors: | Brown |
| Material: | Wool Blend |
Max Mara: Best lightweight cardigan for women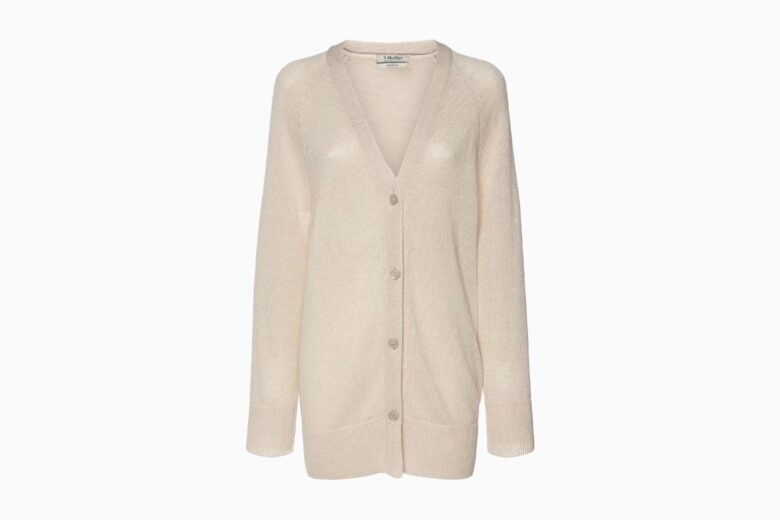 Luisaviaroma is renowned for finding the best in luxury fashion. And this long white cardigan by Max Mara is case in point. Made in Italy, the soft linen silhouette encapsulates a la dolce vita lifestyle. And paired with matching cream trousers and your Randolph sunnies, we can just imagine this lightweight cardi hitting Lecce's cobblestone streets—gelato in hand.
Best for: La dolce vita loungewear.
| | |
| --- | --- |
| Colors: | White |
| Material: | Linen |
Calle Del Mar: Best short sleeve Summer cardigan for women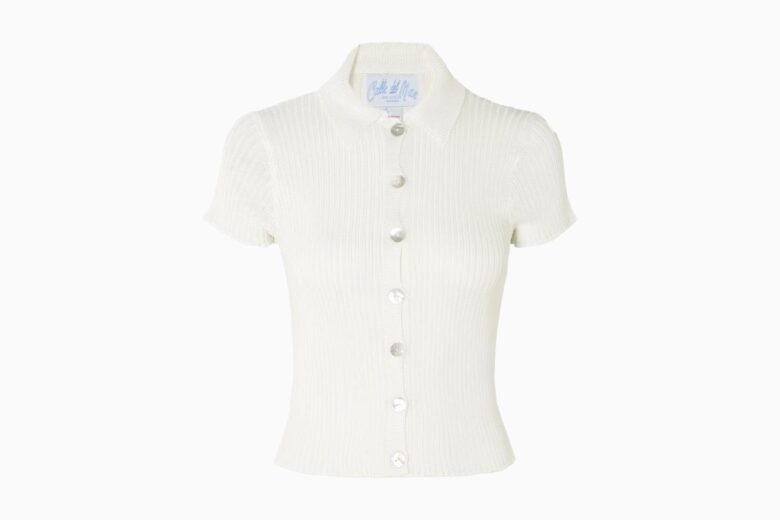 Short sleeve cardigans are a more mature take on the classic white tee. And we adore this elegant iteration by Californian brand, Calle Del Mar. The fitted silhouette is effortlessly refined. Silver pearly buttons elevate it even further. And the versatile white colorway pairs well with absolutely anything.
Dress this short sleeve cardigan up with a crocheted skirt or take it down with low-rise denims. Either way, you nail casual sophistication.
Best for: Your simple tee's sophisticated older sister.
| | |
| --- | --- |
| Colors: | White |
| Material: | Viscose |
Anthropologie: Best women's cardigan for dresses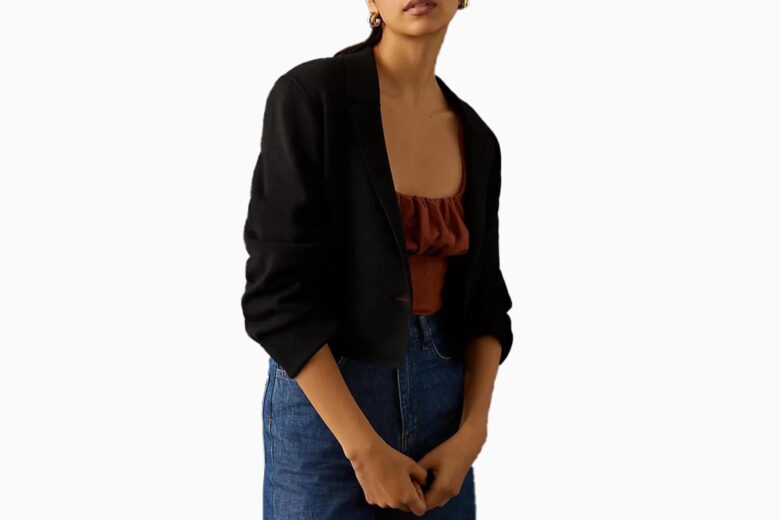 Finding the best cardigans for dresses is no small feat. And whilst the pairing can come off a little teacher-esque, when styled well it's anything but. This cropped black cardigan looks fantastic with shorter dresses and exaggerated soles. Add a few chunky accessories and you've broken the conservative dress-and-cardigan stereotype for good.
Best for: Styling to break stereotypes.
| | |
| --- | --- |
| Colors: | Black |
| Material: | Cotton Blend |
Asos Design: Best wrap cardigan for women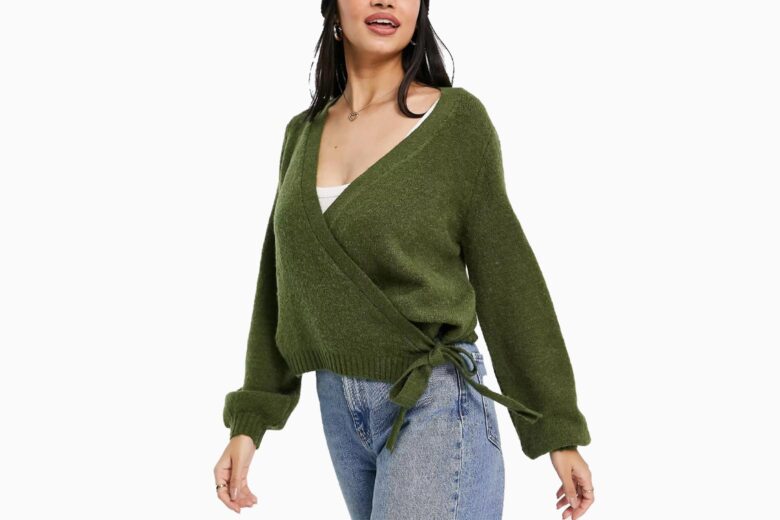 Tying together the pieces in your wardrobe, this wrap cardigan is the ultimate transitional piece. The soft green hue is the perfect balance between neutral and color. The balloon sleeves give it a contemporary chic flair. And the wrap tie is both elegant and convenient. Style yours with various pieces through the different seasons.
Best for: Piecing it all together.
| | |
| --- | --- |
| Colors: | Green |
| Material: | Acrylic Blend |
Frequently asked questions about the best cardigans for women