Gleaning valuable insights into the bag industry, Bellroy was able to get a handle on exactly what the market required—that being smarter designs. By sizing up its competition and slimming down its silhouettes, the data-driven brand can be accredited with pioneering the Slim Your Wallet revolution. That sleek mindset (coupled with Roy the Owl's wisdom) ultimately led to a collection of fashionably functional accessories—from travel essentials to everyday totes. Plus, they also give a hoot about protecting the environment—and we love them for that.
At a Glance
| | |
| --- | --- |
| Brand: Bellroy | |
| Founded: 2010 | Founders: Andrew Fallshaw, Hadrien Monloup, Lina Calabria and Matthew Fallshaw |
| Origin: Australia | Industry: Bags and accessories |
| Collections: Women's and men's bags and accessories | Website: bellroy.com |
| Shipping: International | Headquarters: Melbourne, Australia |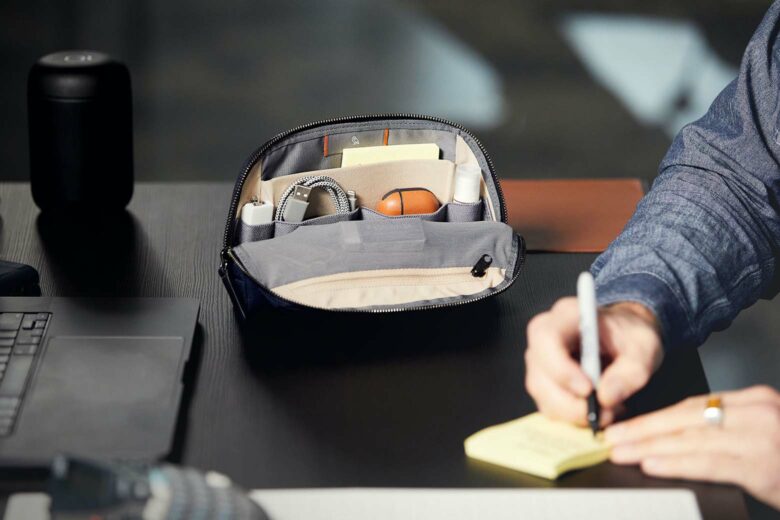 Behind the Brand
History of Bellroy
Originally dreamt up as a global luxury bag brand in 2009, Bellroy may not have started as such. But in 2022, it's safe to say that they've got a handle (pun intended) on how to disrupt the industry. However, practical bags themselves are no longer a novelty. So what sets a brand like this one apart from a market saturated with similar products?
Well, in short, Bellroy didn't try to take any shortcuts. From the very beginning, they were steadfast in making data-driven decisions. In fact, so much so that they created an editorial testing ground, Carryology, from which they could glean valuable insights pertaining to the bag market.
Those insights revealed stats that backed up their initial thoughts—that a brand built around frictionless travel bags was a good idea. But Carryology also exposed an interest in wallets in particular. This seemed to be the perfect place to start. And so in 2010, the founding team of designers and engineers–Andrew Fallshaw, Hadrien Monloup, Lina Calabria and Matthew Fallshaw—sat around a kitchen table in Bells Beach, Australia, discussing how to perfect the standard wallet.
The brand's first product was the Slim Sleeve wallet as they set out to prove the all-hailed (yet really lived up to) saying: less is more. And by using as few materials as possible, the Slim Wallet was a lot sleeker and streamlined than the traditional bulky silhouette, but it maintained the capacity to fit excess cards and cash. After the success of their first design, they soon released four more silhouettes—all of which slid effortlessly into the modern minimalist lifestyle. And they began signing contracts with big international retailers such as Huckberry.
By 2014, the burgeoning brand outgrew its small bay, Bell's Beach roots, and relocated to Fitzroy, Melbourne (hence the name.) And as a nod to their smart designs and inherent (data-driven) wisdom, they adopted Roy the Owl as the brand's official logo. Along with a new mascot, the founding team demonstrated that they also gave a hoot about their social and environmental standards. They signed up as a Certified B Corp company in 2015 and soon after became committed to only sourcing leather from gold-rated LWG tanneries and experimenting with recycled materials.
Through collaborations with big names like Barneys and Google, Bellroy extended their product range to include phone cases and work accessories before they finally felt equipped to materialize their original vision as a fashionably functional bag brand.
Interesting facts about Bellroy
The name "Bellroy," pays homage to the brand's Australian roots. "Bell" derives from Bell's Beach—a small bay along Victoria's Surf Coast, where the surf-loving founding team (uncoincidentally) set up their product design, marketing and sales team. While "roy" comes from Fitzroy, Melbourne—home to the brand's creative division, tech dome and business engine. Of course, now when we think of "roy," we think of the brand's quirky newsletters written by their mascot, Roy the Owl himself.
As a team of young designers and engineers who spent most of their savings on surf travel, Bellroy's co-founders certainly didn't leave anything up to chance when starting the brand. Before doing anything, they pitched their idea of functional travel bags to friends and family. And after receiving less-enthusiastic feedback than expected, they launched Carryology—an affiliate marketing editorial from which they could glean invaluable insights into the bag market.
Besides being data and design-obsessed, Bellroy is also passionate about protecting the environment in the process. And alongside B Corp Certifications and gold-rated LWG leathers, in 2020 they launched the MIRUM collection. MIRUM is a regenerative plant-based, plastic-free leather that only uses natural inputs such as rubber, soybeans and biomass charcoal. Naturally, the eco chic line is vegan-approved. And matching genuine leather in aesthetic, flexibility and longevity, it is also endorsed by high-end shoppers.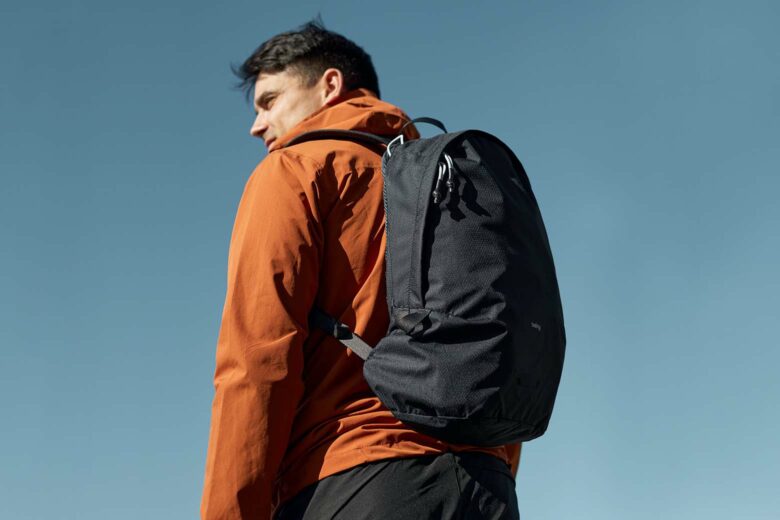 Bellroy product range
Although envisioned as a travel bag brand from the very beginning, Bellroy started with only their signature wallets. As some of our best wallets for men, the slimmed-down silhouettes included the Slim Sleeve and Hide & Seek. Ten years later, they have a huge range of designs in a myriad of distinctive hues and sustainable fabrics. And they've also extended their range to fashionably functional bags.
Bellroy bags now include some of our best totes for women, as well as light gym duffels. Their travel line comprises compact carry-ons and failsafe belt bags. Their ever-growing accessories collection is known for practical organizers such as tech kits and work folios. And whilst we love every one of the brand's carefully considered designs, a Bellroy backpack is a quintessential transit staple for travel and everyday wear.
Signature materials and craftsmanship
From day one, Bellroy was dedicated to using only the best premium materials. But as they grow in size and influence, they are continuing to explore ways in which to make the brand more sustainable, whilst maintaining the integrity and quality of their long-lasting accessories. Sourcing environmentally-conscious materials has played an instrumental role in this vision. And at Luxe Digital, we particularly appreciate that we can enjoy Bellroy products with the knowledge that they have a much lower carbon footprint than similar luxury labels.
It's no secret that leather has gained a bad environmental reputation in the fashion industry. Bellroy is conscious of this. So, they only source eco-tanned leathers from gold-rated tanneries. And all of their leathers are a byproduct of the meat industry. As a result, no animals are killed for their hides. And they save more than 15 million liters of water every year.
In 2020, Bellroy took the concept of environmentally-friendly leather even further and made it vegan. The MIRUM collection features a regenerative, plastic-free, plant-based leather that looks and feels like the real thing but without the involvement of any animals. While other plant-based fibers used by the brand include Tencel X Refibra, which derives from harvested wood pulp and upcycled cotton offcuts. As well as a fully compostable bio-based polymer.
Bellroy is also big on recycling. And recycled polyester and recycled nylon are two of its signature materials. Recycled polyester in particular transforms used plastic bottles. And since the release of Bellroy's first range of recycled polyester in 2019, the brand has diverted over 10.5 million plastic bottles from seeing a landfill.
Where is Bellroy made?
As alluded to in the name, Bellroy products are designed and imagined in Bell's Beach to capture the adventurous Australian spirit. And only once every detail of the designs have been scrutinized, are the final products manufactured in China, India or the Philippines. Understandably, the production in the East has developed a bad reputation when it comes to social and quality standards. But Bellroy only partners with suppliers that fully comply with the high standards for environmental and social responsibilities of a B Corp certified business.
Brand values
| | |
| --- | --- |
| Vegan options | Yes |
| Carbon-neutral | No |
| Gives back | Yes |
Our favorite finds from Bellroy
Bellroy Tokyo Tote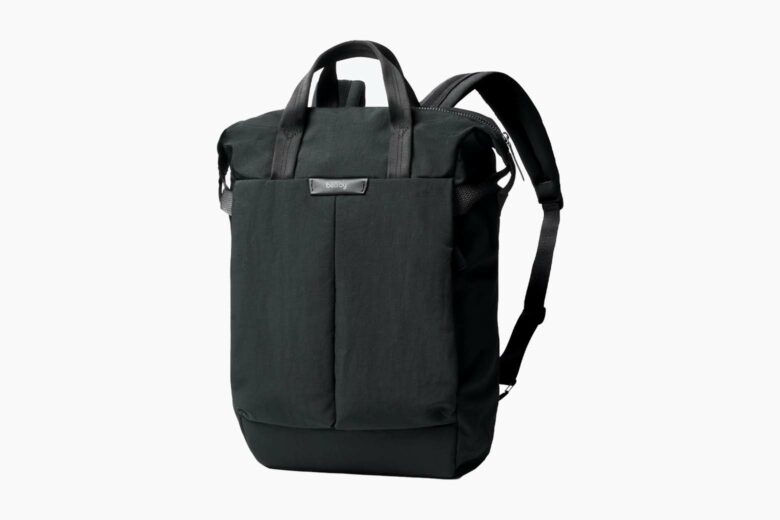 Endlessly practical with a touch of luxe, the Bellroy Tokyo Tote is easily one of our best designer work bags for women. The smart design speaks to smart decisions—both in the boardroom and out. And whilst we adore the overall minimalist aesthetic, it's the brand's considered attention to detail that melts our utilitarian hearts every time we take it out.
With a specific sleeve for all your essentials (including a 13" laptop), this bag takes care of everything—small and big. It even has a pocket for a spare pair of shoes (if cycling to work's your thing.) And this tote is spacious enough to fit that quintessential downpour-ready umbrella. Whilst the water-resistant fabric does the rest.
Bellroy Hide and Seek Wallet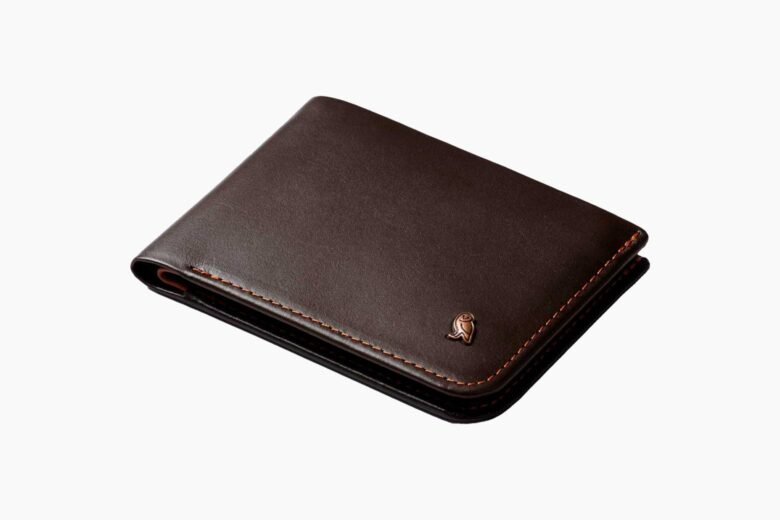 No longer just a childhood game, Bellroy is certainly upping the ante with this Hide and Seek wallet. With fortnight security and secret stash pouches, this slim and sly accessory deserves all the credit it receives—on Instagram and elsewhere.
As mentioned in our Bellroy review, this Bellroy wallet is ideal for storing tickets, receipts or GBP notes in the hidden back pocket, without compromising the slenderness of the silhouette. Whilst its signature security protects your cards from RFID skimming and digital pick-pocketers. Plus, the quality leather ages beautifully over time.
Bellroy Tech Kit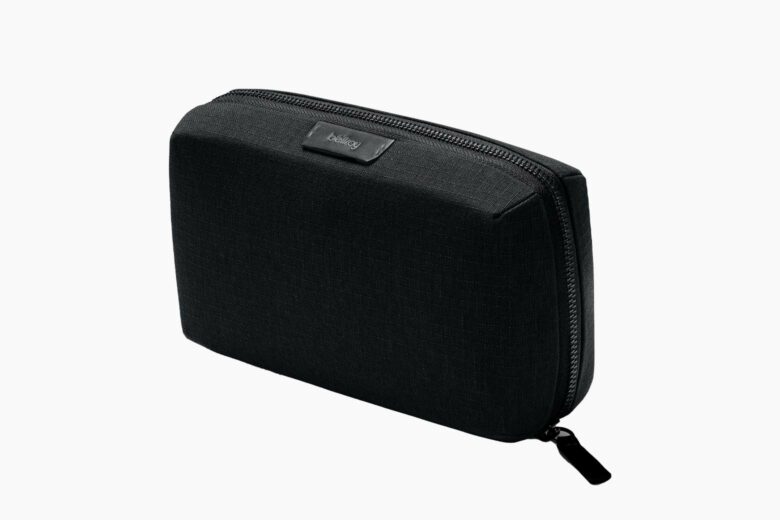 They say that a good system shortens the road to the goal, but for many of us a clutter-free lifestyle is a lot easier to philosophize about than actually implement. Enter: The Bellroy Tech Kit. It may be compact in size, but its compartmentalization is dynamite.
As one of our best tech organizer pouches, we particularly love that this one is just the right size to slip into our briefcase, backpack or everyday tote. The magnetic slip pockets and elastic cable loops are able to withstand the wildest electric bike commutes.
Bellroy Work Folio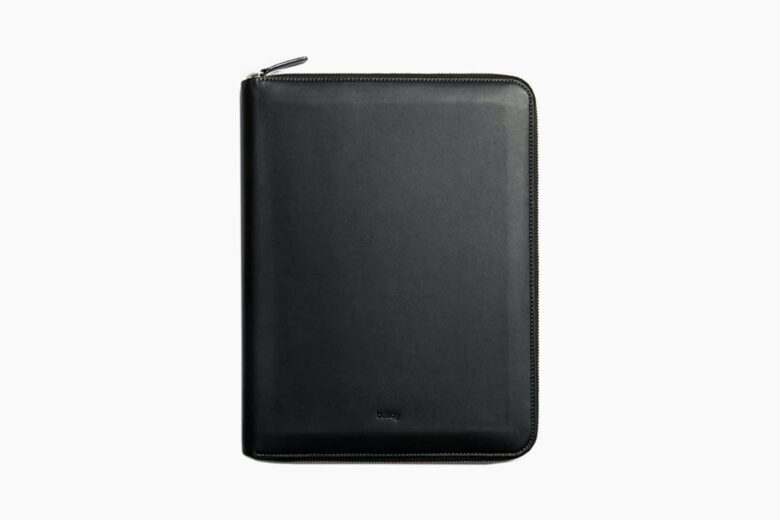 Showcasing the brand's signature slim silhouette, the Bellroy Work Folio proves that you can carry the essentials without the extra bulk. And whether you've just received that promotion or are still working for it, you'll certainly feel like a boss when you can whip out what's required without a second's notice.
The office essential is made from a premium, environmentally certified leather. But the real magic lies in the perfectly thought-out design. With slips for you notebooks, phone, tablet, cables, cards and pens, you won't need a specific bag for work, you can just slip this work folio into your everyday tote.
Where to buy Bellroy
Bellroy is stocked by many reputable luxury e-retailers such as Nordstrom. However, to view their full collection of silhouettes, styles and colorways, the official Bellroy online store remains our favorite place to shop.
Bellroy price
Crafted from premium materials with impeccable attention to detail, Bellroy products are covered by a 3-year warranty. Bellroy prices are a lot more affordable than other similar labels. The iconic Bellroy Tokyo Tote is priced at $189. Whilst their signature wallets range from $55 to $179. And tech organizers range from $35 to $95.
Bellroy discount code
Bellroy's website features an Outlet section where they sell soon-to-be discontinued products at discounted prices. Not only does this reduce waste, but it also gives us the opportunity to buy originals for a lot less.
Bellroy shipping
Bellroy ships to customers around the globe. Shipping costs and delivery times depend on where the order is shipping to, all of which is made clear upon check out. The brand tries to dispatch orders within two days. But if you need your order sooner than it's expected to arrive, they also offer express shipping at an extra cost.
Bellroy return policy
We can't see why anyone would ever want to return Bellroy bags. But if that is the case, the brand does have a full refund policy for all orders returned within 30 days of purchasing. The refund includes all initial shipping costs. But it doesn't include the return shipping costs. And the refund has to be sent to the original purchaser's method of payment.
Bellroy social media
Frequently asked questions about Bellroy
Is Bellroy a luxury?
Although Bellroy is a lot more wallet-friendly than many of their competitors, they are absolutely still a luxury brand quality-wise. Only using premium sustainable materials and showcasing impeccable attention to detail, all Bellroy products come with a 3-year warranty and are designed to outlast many seasons of everyday use.
What is Bellroy known for?
Bellroy is known for their fashionably functional bags and accessories. The luxury brand's trademark is the slim, minimalist silhouette. But they're also renowned for smart compartmentalization and making everyday organization that much easier.
Is Bellroy a designer brand?
Although Bellroy is a relatively new luxury label, we still like to consider them a designer brand. Most of their products are trademarked by the instantly-recognizable owl logo. Whilst the clean, minimalist, high quality silhouettes speak to the finesse of designer brands.
Does Bellroy use real leather?
Bellroy does use genuine leather. But they only use sustainably sourced, eco-tanned leather from gold-rate LWG tanneries. If genuine leather isn't your thing, they also have a collection of vegan-friendly versions that are crafted from plant-based leathers and other natural fibers.