Mary Poppins knew the value of a good umbrella. So did Rihanna. Take your lead from them and invest in one of the best umbrellas on the market today—as handily compiled by us.
You don't realize how much you need an umbrella until you find yourself drenched by driving rain, making a mental note to never leave home without one ever again. Then you forget all about it until the next time those dark clouds appear. 
There are two kinds of people in this world. Those who fly by the seat of their pants, ignoring the forecasts, and winging it—even if that means getting soaked from time to time. And those who have their life sorted, are always prepared, and can be spotted, dry as a bone, smugly strolling the streets with their umbrella. Who would you rather be?
It's time to invest in a durable and dependable umbrella that will have your back whenever the weather decides to mess you around.
The 13 best umbrellas
Check our special umbrellas buyers' guide after the list to see exactly what you should pay attention to before purchasing a new umbrella.
Davek: Overall best umbrella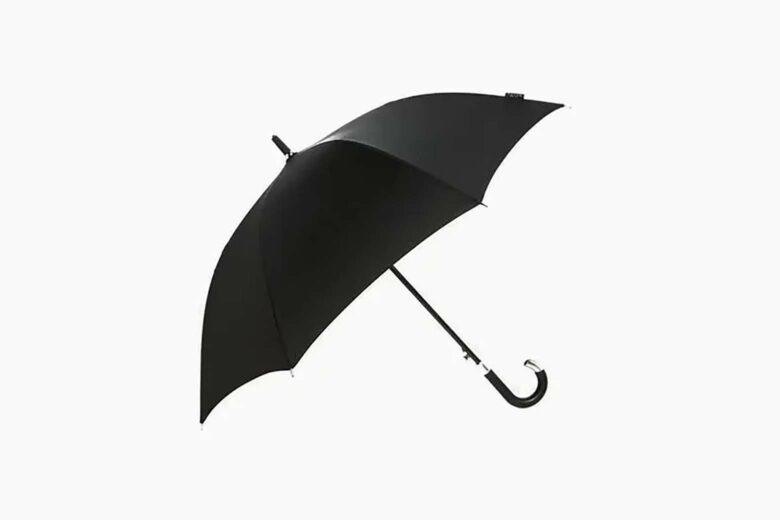 Coming up trumps in all the most important categories, from performance to aesthetics, the Davek Elite is one expertly designed stick umbrella.
It's sturdy as hell with a frame system made of high-grade steel, fiberglass, zinc alloy, and aluminum, capable of withstanding and defying even the most biblical of rainstorms. 
Plus, it's got an automatic open, so no matter how laden down you are with belongings, you can get the Davek Elite Umbrella up and over your head in seconds, protecting you—and your perfect hair—from the elements.
Aesthetically, it's simple and classic—because we don't want our umbrellas to be upstaging our outfits. 
| | |
| --- | --- |
| Best for: | A high-quality umbrella built for the most blustery of days.  |
| Color: | black |
Burberry: Best luxury umbrella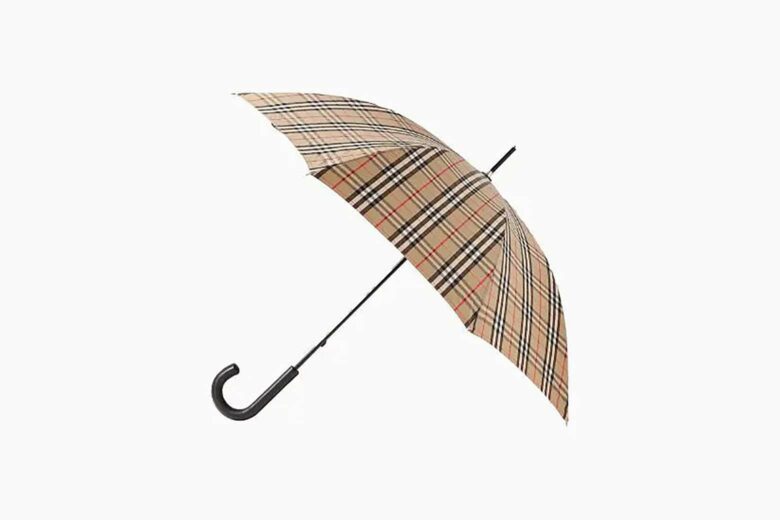 No better way to declare your high-fashion loyalties than with this designer umbrella—here to ensure you stay stylish even when it's tipping it down outside.
With a diameter of 92 cm, Burberry's designer umbrella offers significantly more coverage than a folding umbrella. And the checked print—that legendary Scottish tartan—is a symbol of luxury recognized the world over. 
The silhouette of this rain umbrella is classic and traditional with a sweeping arched canopy and curved leather handle. Folded down, it's 87cm long, so not small enough to slip into a bag—but when it's Burberry, why would you want to hide it away? 
| | |
| --- | --- |
| Best for: | Upping your umbrella game and bringing fashion flair to foul weather. |
| Color: | beige |
Magitec: Best value umbrella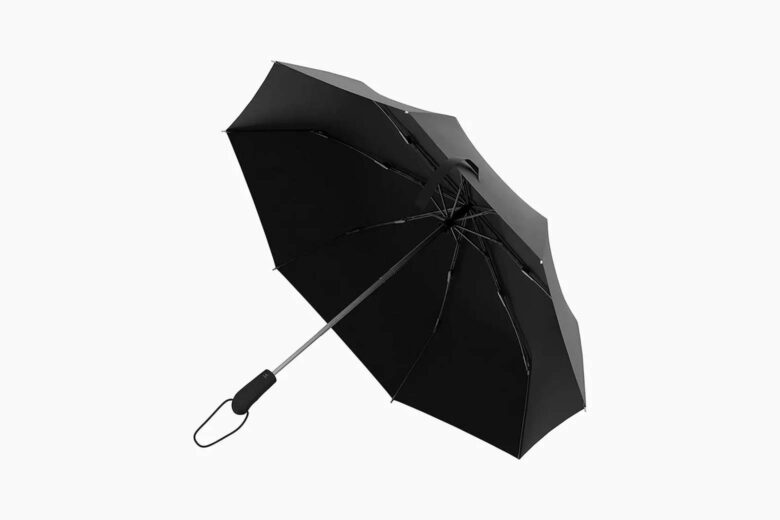 Despite the seductively low price tag, you get a solid design. Made from non-corrosive stainless steel, this umbrella is an appropriate size for travelling around at 33 cm (13 inches) long, and yet it can still withstand winds of up to 88 km/h (55 mph) thanks to its resin-reinforced ribs. 
Don't take our word for it. This rain umbrella has been durability-tested up to 5,000 times. So you can be confident this one won't leave you alone to face the storm. Plus, the auto-open/close function means it springs open with ease, and you don't need to struggle to put it back down again afterward. 
Finally, the more than reasonable price of this Magitec umbrella makes it the perfect choice for those of you who have a tendency to leave umbrellas all over town. 
| | |
| --- | --- |
| Best for: | An affordable solution to your missing umbrella mystery. |
| Color: | black |
GustBuster: Best compact umbrella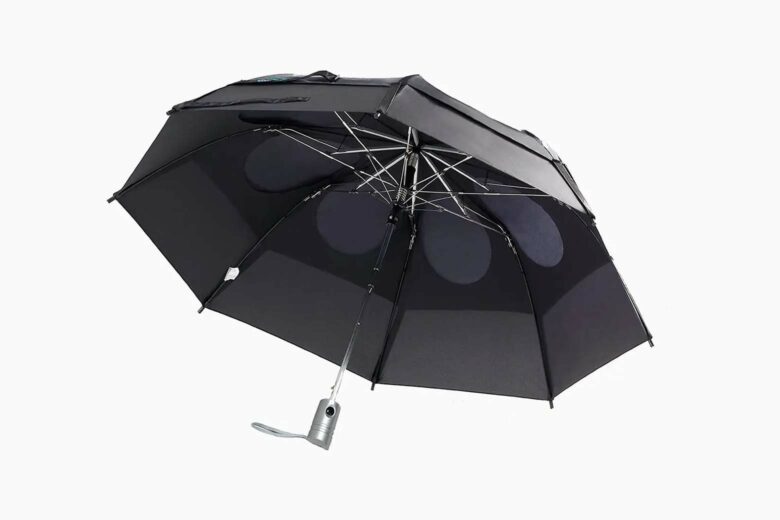 The word GustBuster immediately fills us with confidence, and the company's Metro umbrella definitely lives up to brand name. Not only is it reliable and durable but it's also the best compact umbrella on our list. 
At only 40 cm (16 inches) long when folded, the Metro slides neatly into your backpack or travel tote. Alternatively, the sheath actually doubles as a backpack itself. Carry it around with you on all occasions, and never get caught short again. 
And, despite its reduced size, this small umbrella doesn't compromise on functionality, with an automatic opening system and the brand's unique patented double canopy design that never flips or breaks—ensuring that you'll stay cozy come rain, sleet, or snow.  
Unflippable, unflappable, unleakable, claims GustBuster of its Metro umbrella, which has been tested by the College of Aeronautics and proven to withstand winds of up to 55 mph. Team with a great cold-weather coat and let winter do its worst. 
| | |
| --- | --- |
| Best for: | Small enough to tote around, big enough to take on a storm. |
| Color: | black |
LifeTek: Best large umbrella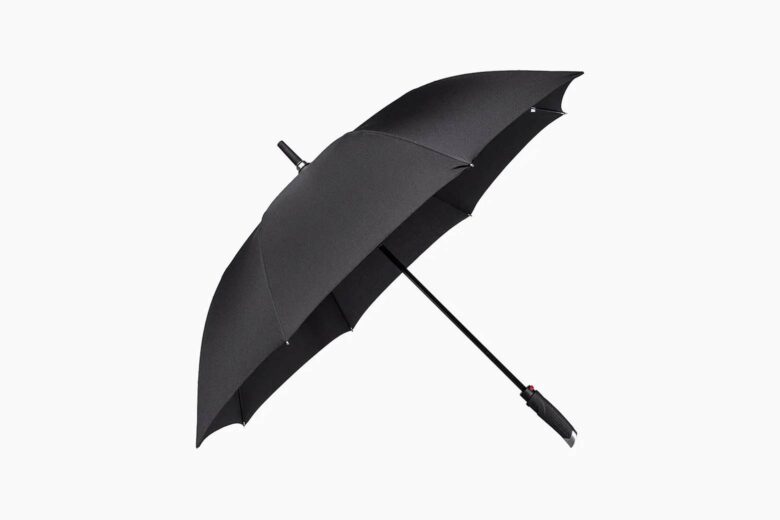 The massive New Yorker umbrella from LifeTek is one seriously reliable rain refuge whose massive 137 cm (54 inches) coverage is the next best thing after a tent.
With a canopy arc of 137 cm (54 inches) and a coverage diameter of 120 cm (47 inches), even the most torrential of thunderstorms will struggle to reach you under there.
The upgraded 8-rib wind-tech frame system means sudden gusts of winds stand no chance of taking this large umbrella down. Plus, it's got an auto-open mechanism to make your life easier, and an ergonomic handle sculpted for comfortable gripping. 
Finally, aesthetically, the LifeTek's New Yorker umbrella is sleek and modern, perfect for urban living. 
| | |
| --- | --- |
| Best for: | Massive coverage to shelter you from the most severe conditions.  |
| Color: | black |
Repel: Best umbrella for windy weather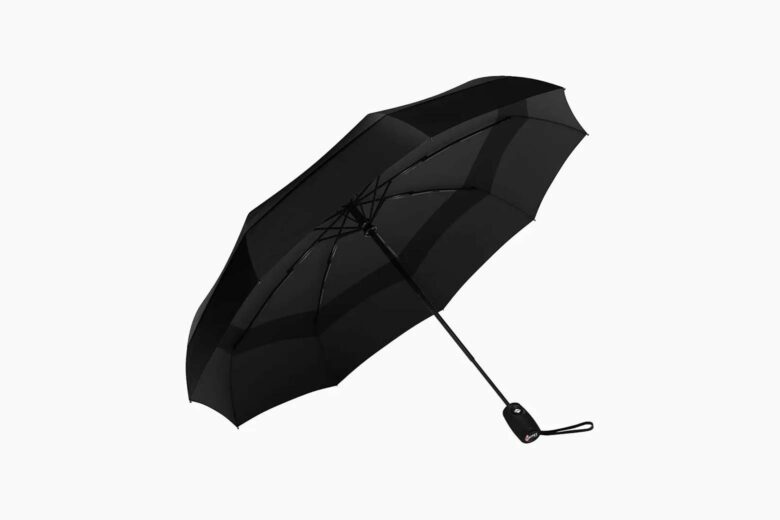 Heavy rain is horrible but gale-force winds that flip your umbrella inside out? They're even worse. Repel's Windproof Umbrella has been designed to survive everything from a strong breeze to violent gusts and is the best windproof umbrella on our list.
No more battling to return your umbrella to its rightful shape or trying to resurrect it after a howling wind has wreaked havoc with it. This rain umbrella is described as wind-defying and features a sturdy 9-rib canopy—compared to the 6 or 8 ribs of a standard mini umbrella. These reinforced fiberglass ribs flex slightly in a gust so that the umbrella isn't forced to turn inside out. 
The ergonomic rubberized grip handle is another bonus—slip-proof and with a wrist strap. And a travel sleeve is also included so you can transport the brolly without everything in your work bag getting wet. 
Repel's wind-resistant umbrella also features cutting-edge Teflon technology that means not only is the canopy exceedingly waterproof, but it also dries instantly. Need more convincing?
| | |
| --- | --- |
| Best for: | Staying strong on wild and windy days. |
| Color: | black |
Siepasa: Best umbrella for heavy rain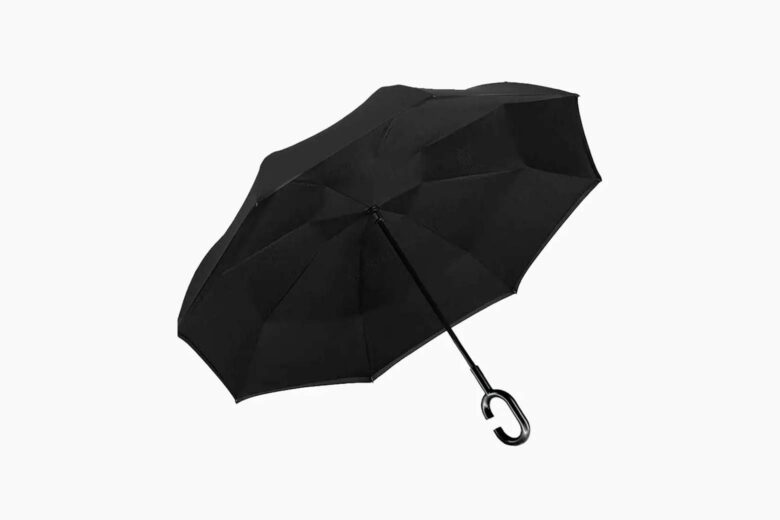 There's only one umbrella we've found that has been truly optimized for encounters with heavy rain—Siepasa's double-layer inverted umbrella. 
This innovative design takes the classic rain umbrella to the next level. Not only is the material highly water-resistant polypongee but its unique structure allows you to fold the wet layer of the umbrella under the dryer layer so that it doesn't drip once you reach your destination.
This umbrella provides protection from wind, rain, and UV, making it one of the best umbrellas for sun protection too. Its eight steel ribs transform into eight legs when you contract the umbrella so you can stand it up in a corner somewhere. And the C-shaped handle allows you to cross it over your arm, keeping your hands free for other activities.
Finally, the interior of this Siepasa umbrella comes in a whole range of funky patterns, from flowers and tartan to some rather eye-catching pink flamingos. 
| | |
| --- | --- |
| Best for: | Staying bone dry even when it's bucketing down.  |
| Color: | black exterior with a range of patterned interiors  |
EEZ-Y: Best umbrella for travel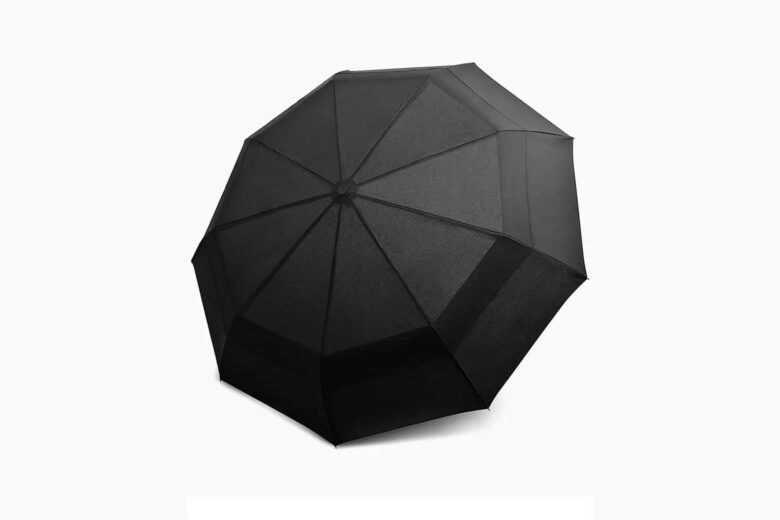 If you're about to hit the road—whether for a business trip or romantic getaway—it's always wise to take an umbrella. The best travel umbrella out there? This EEZ-Y windproof umbrella.
This compact umbrella folds down to just 28 cm (11 inches), so it can easily slip into your carry-on luggage, backpack, or bag. 
And, despite it being a pretty small umbrella, you still get durable and dependable coverage. The umbrella's fiberglass and stainless steel frame system means it won't rust or break, while the double-vented canopy means the wind can pass straight through, rather than flipping it inside out. 
The price is the final deal-breaker when it comes to this EEZ-Y Umbrella. At under $20, there's nothing to stop you adding it to your cart now.  
| | |
| --- | --- |
| Best for: | The perfect frequent-flyer umbrella — just as travel-ready as you are. |
| Color: | a range including black, red, and blue |
G4FREE: Best umbrella for golf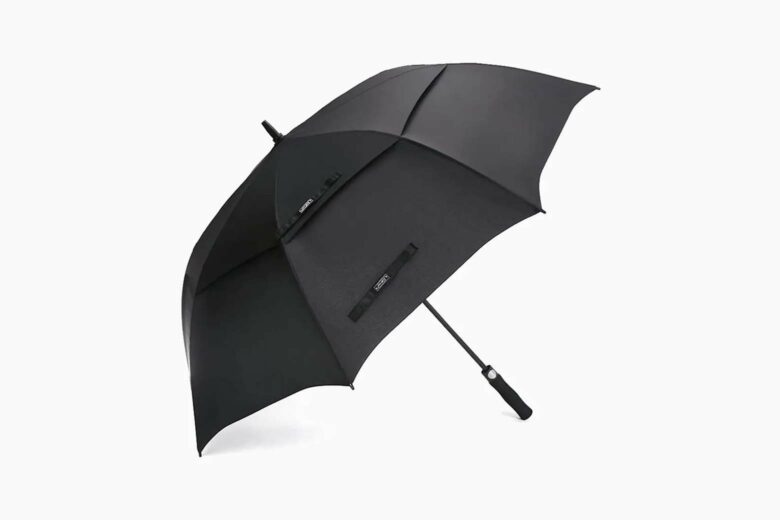 When you're out on the course and the heavens open, there's only one umbrella you want by your side. This G4Free Golf umbrella. It's the best golf umbrella we've come across.
With this extra large umbrella, you've got a choice of canopy sizes—137, 157, 173 cm (54, 62, or 68-inch)—giving you all the protection you need from the rain. The 210T pongee fabric is not only supremely water-resistant but also lightweight and has SPF 50+, making it one of the best umbrellas for sun protection.
The robust fiberglass frame will hold up in strong winds while the double canopy design allows wind to pass through it, so you won't be battling to keep the umbrella under control. The EVA grip is comfortable to hold, and an auto-open mechanism means no time is wasted getting the umbrella out. 
| | |
| --- | --- |
| Best for: | An extra large umbrella for anyone who absolutely refuses to get wet. |
| Color: | a range including black, black and green, and black and yellow  |
Paul Smith: Best classic umbrella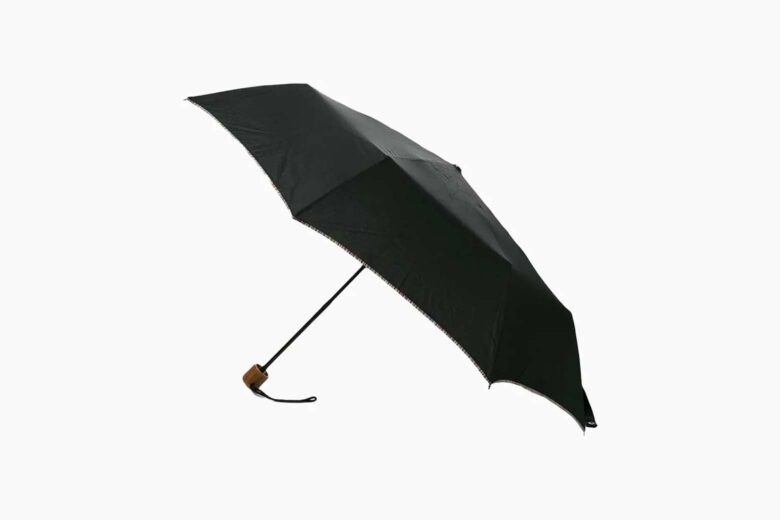 While our first priority with umbrellas is protection from rain and wind, we also want to maintain our style standards. Thank goodness, then, for this elegant umbrella by British designer Paul Smith.
It's a classic design—traditional in all the best ways. In a stealthy and sophisticated black, it will go with all your outfits, while its superior quality will be evident as soon as those around you have binned their cheaper models, and yours is still going strong. 
The handle is made of nicely polished wood and also features a hand strap for easy carrying. A waterproof case is another bonus. Tuck the umbrella away when not in use without soaking everything in sight.
For understated style appeal, this Paul Smith umbrella is the only one for the job. Pair with an ultra-stylish raincoat, and you'll be laughing.
| | |
| --- | --- |
| Best for: | Sleek, stylish, and timeless protection from the elements. |
| Color: | black  |
Totes: Best clear umbrella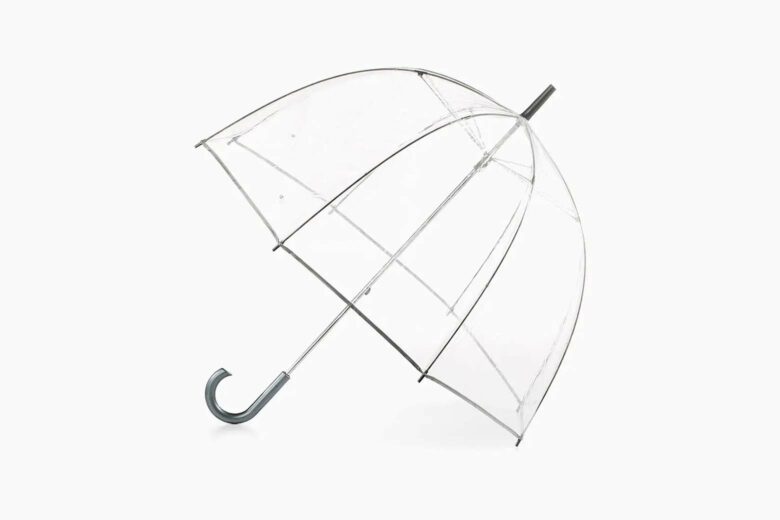 If you've just got a blow-dry (at home or in the salon) or you're on your way to some exclusive black-tie event, you can't afford to have the rain ruin your look. You need a bubble umbrella like this one by Totes.
The beauty of a bubble umbrella is that the sides of the canopy encase you more than a standard design, further protecting you from drizzle and downpours. Meanwhile, the clear material means you have total visibility, so no danger of crashing into unsuspecting passersby. 
This clear umbrella has a 130 cm (51 inches) canopy, so you can be sure every part of you will stay dry. The construction is solid and reliable, with a sturdy steel shaft, and the handle is a classic umbrella curve for some old-school charm.
The final advantage of this Totes Clear Umbrella? Not only can you see out, but people can also see in. So whatever stylish ensemble you're rocking (preferably a great winter coat), it won't go unnoticed.  
| | |
| --- | --- |
| Best for: | Staying dry without any sidewalk collisions.  |
| Color: | clear |
AmazonBasics: Best budget umbrella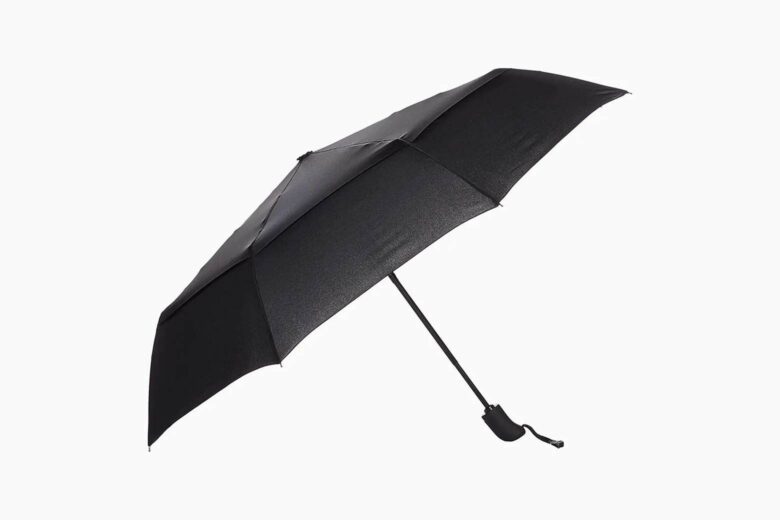 An umbrella is a practical essential—not a guilty pleasure—so if you don't want to blow all your savings on one, this AmazonBasics umbrella is a great find.
This bargain umbrella looks as elegant as the more expensive models on our list but is a fraction of the cost. Yet it's made of durable steel and polyester and is more than capable of enduring severe weather.
The automatic open/close works with a simple touch of a button for seamless functionality. And this AmazonBasics umbrella closes down to a compact 28 cm (11 inches)—so you can tuck it into its storage sleeve and slip it into your bag no problem.
Not only will it allow you to survive being in the eye of the storm but you can feel smug in the knowledge that you snagged a total bargain too.  
| | |
| --- | --- |
| Best for: | Surviving storms and keeping your wallet full. |
| Color: | clear |
Yohji Yamamoto: Most expensive umbrella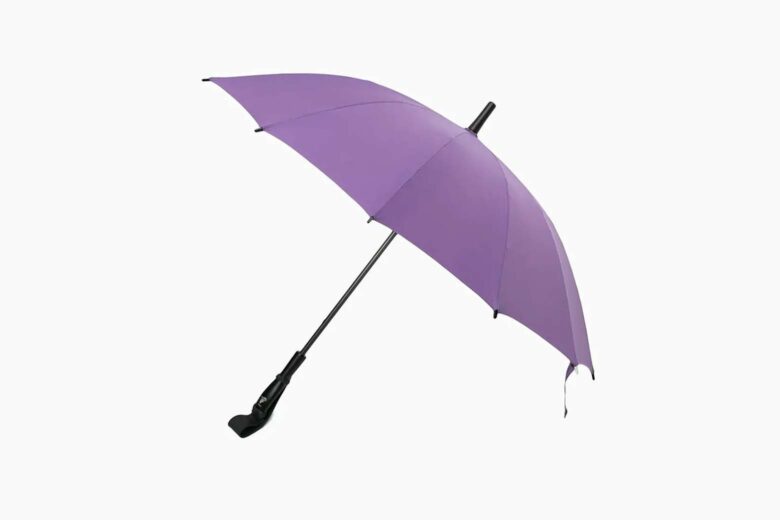 You know you've made it in life when you're swanning along the streets in a storm with an umbrella that looks like it belongs on the front cover of Vogue. This luxury umbrella by influential Japanese designer and master tailor Yohji Yamamoto offers some truly high-fashion functionality.
Combine practicality with panache with this umbrella whose distinct shade of pink has stolen our hearts. Not only does the bright color mean you'll instantly be able to spot it in the umbrella stand, but it will also help you stay cheerful when rain threatens.  
The logo-free canopy keeps it elegant and sophisticated while the brand name is embroidered on the handle—just in case anyone asks. And the quality is unsurprisingly peerless.
In fact, this Discord Yohji Yamamoto is such an exquisite piece of design work that you'll be praying for rain so you have a chance to show it off. 
| | |
| --- | --- |
| Best for: | Bringing ultra-stylish shine to overcast days.  |
| Color: | pink, purple |
Buyers guide: How to choose an umbrella
When buying an umbrella, there are a few important considerations to ensure you get what you're looking for.
Size
Whether you need an extra large golf umbrella or a smaller and more compact umbrella depends on your lifestyle.
If you need something for your commute during the wet winter months, then an umbrella that can fit in a bag, backpack, or briefcase is likely the best choice.
But if you want something to use on more formal occasions where you really can't afford for your outfit to get wet (perhaps you're wearing a leather jacket that needs to be kept dry) then a larger umbrella could be a good investment.
To understand where a particular umbrella falls on the spectrum, know that folding umbrellas typically have a diameter of between 70 and 110 cm, and stick umbrellas usually have a diameter of between 90 and 130 cm. 
Style
There are two main styles of umbrella: folding and stick.
Folding umbrellas, also known as travel umbrellas, have a folding frame and collapsible shaft, so you can reduce them to a size that fits in your bag. When closed, they are usually between 25 and 30 cm.
Stick umbrellas, also known as walking umbrellas, are the most classic and traditional style of umbrella. They don't collapse down and are usually between 80 and 110 cm when closed. They usually have more ribs, offering a stronger frame that lasts longer, and the handles are also bigger and often more comfortable to hold.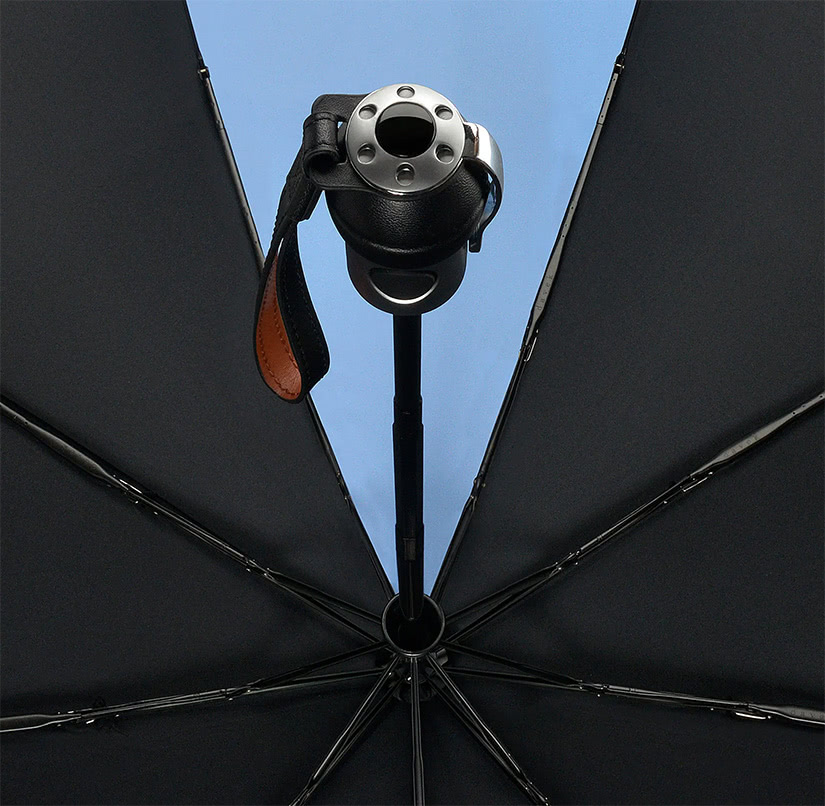 Opening mechanism
When it comes to the opening mechanism of your umbrella, you have a choice of three systems: manual, auto-open, and auto open/close.
An auto open/close mechanism is designed for the greatest ease of use, ideal for those days when you're loaded down with work, shopping, or gym bags. Only folding umbrellas offer the open/close automatic mechanism. Stick umbrellas are usually either manual or auto-open.
While automatic mechanisms are useful, they are also vulnerable to breaking, especially the less high-quality ones.
Quality and price
Quality and price generally go together. Cheaper umbrellas are usually made of less high-quality materials or have less robust construction and don't last as long as the more high-end and expensive umbrellas.
Nevertheless, you can still find affordable yet durable umbrellas, such as those by Magitec or AmazonBasics.
Additional features
Vented or two-layer canopy – this stops the umbrella from flipping inside out as the wind passes through it instead of forcing it to invert.
Ergonomic handle – having a handle that's easy to grip is essential. Bigger handles are usually more comfortable.
Bubble canopy – bubble umbrellas, or domed umbrellas, have a bubble-shaped or spherical canopy that is clear, allowing you to see out while offering additional protection from the elements.
Sheath – you may want an umbrella that comes with a sheath or case to stop it from making the inside of your bag wet.
Ribs – these are the parts of the frame that hold the canopy open. Anything with 8 or more ribs offers superior durability in high winds.
Frequently asked questions about umbrellas
What is the best umbrella brand?
The best umbrella brand is Davek. Davek umbrellas are high-quality and specifically designed to survive severe weather including torrential rain and strong winds. They aren't the cheapest umbrellas on the market, but they will last a long time, making them a less expensive option in the long run.
What is the best rain umbrella?
The best rain umbrella is the Davek Elite, whose smart design makes it incredibly sturdy and capable of withstanding both heavy rain and strong winds. An automatic open makes for superior ease of use and the quality is also impressive.
What is the most durable umbrella?
The most durable umbrella on the market is the Repel Windproof umbrella which features 9 reinforced ribs, compared to the 6 or 8 ribs of most standard umbrellas. This makes it extra strong and sturdy as the ribs flex slightly in a gust, stopping the umbrella from being flipped inside out.