Exposed to the elements and nasty chemicals, constantly getting wet, and doing their fair share of manual labor—our hands don't have an easy life. It's time we showed them the love and care they deserve with hand creams designed to restore, repair, and revive. 
Wintery weather, too much washing up, and regular application of hand sanitizer can all cause our hands to dry out and become cracked and chapped. But the best hand creams can combat this damage and get to work patching our palms and fixing our fingers, leaving our hands gloriously soft and smooth. 
These hand creams are a purse-sized indulgence that we can slip into our bags for a little dash of luxury throughout our day. Like superfood but for our hands, the best hand creams deliver much-needed nutrients, vitamins, and antioxidants with minimum effort or fuss.
We've picked out the top expert-endorsed hand lotions, including creams for dry cracked hands, lotions for sun protection and dermatitis, plus the best anti aging hand cream for those who want hands so young they might get asked for ID. 
From age spots to calluses, chapped cuticles to dry digits, these hand creams are champions when it comes to giving our hands a second chance and so effective that we'd bet money your entire squad of friends will want a squeeze.
The 21 best hand creams
Check our special hand cream buyers' guide after the list to see exactly what you should pay attention to before purchasing a cream online.
Aesop: Best overall hand cream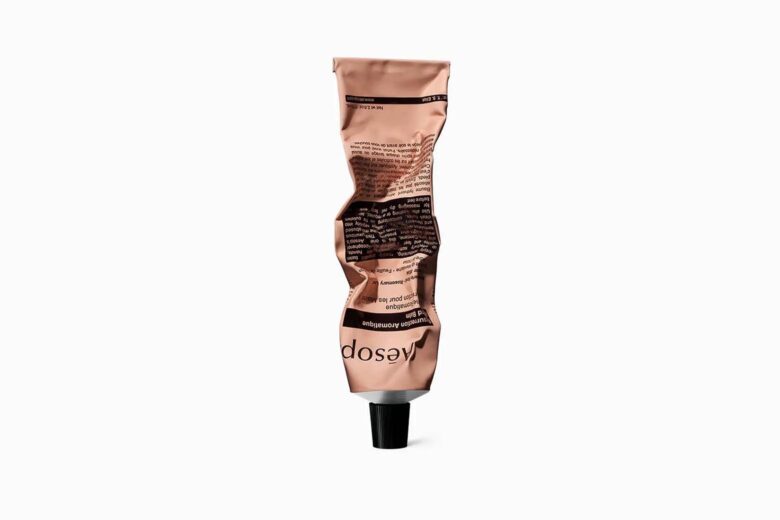 The perfectly named 'Resurrection' hand cream from Australian skincare brand Aesop is our favorite when it comes to healing tired and dried-out hands. 
This medium-weight hand cream is made from a blend of delicious-smelling botanicals, plus emollients that work to soften your skin, delivering high-level hydration with a greaseless finish. Ideal for any hands that have spent too long doing dishes or other household chores. It will also restore and repair chapped cuticles.
After a few applications, your skin will feel beautifully nourished. And the combination of mandarin, rosemary, and cedar atlas creates a wonderfully citrus, woody, and herbaceous aroma.
Give a breath of life to hands-on their last legs with Aesop's Resurrection hand cream—just as gloriously indulgent as the brand's scented candles. 
Best for: Bringing worn-out hands back from the dead.
Augustinus Bader: Best luxury hand cream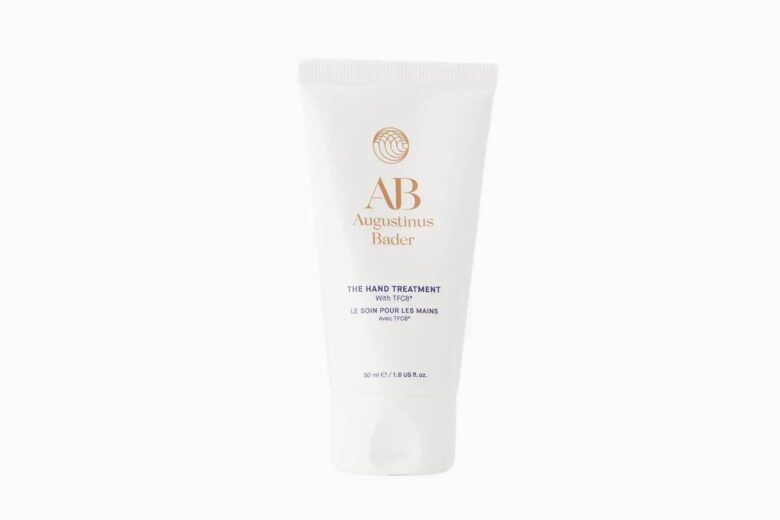 Given everything they do for us, we can afford to spoil our hands rotten with a high-end hand cream like this one by Augustinus Bader.
Known as The Hand Treatment (emphasis firmly on treat), it's specially designed to target dry hands suffering from one too many washes. Using Dr. Augustinus Bader's patented technology, it nourishes and conditions, infusing skin with a potent concoction of amino acids, vitamins, and synthesized molecules that are naturally found in our skin.
It's all very scientific and incredibly effective. Massage into hands and cuticles whenever you fancy, and especially after washing up or using a hand sanitizer. 
Consider this Augustinus Bader hand cream the equivalent to checking your hands into a 5-star hotel for a night.
Best for: Superlative hand support from a world leader in skincare. 
Burt's Bees: Best value hand cream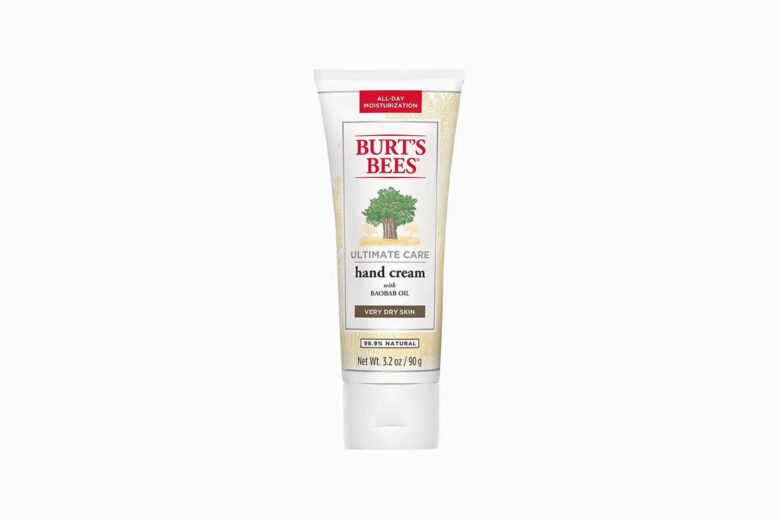 We already love Burt's Bees lip balm and now we're adding this Burt's Bees hand moisturizer to our all-time skincare essentials thanks to its mega-effectiveness and, most importantly, incredibly wallet-friendly price. 
This nutrient-rich hand cream from Burt's Bees is made from a combination of natural ingredients including green tea extract and baobab, watermelon, and pumpkin seed oils—pretty much a who's who of skincare heroes.
It's also non-greasy, unscented, hypoallergenic, and dermatologist-tested so you can use it on very dry hands or sensitive skin.
Best for: Saving money and your hands.
NUORI Vital: Best natural hand cream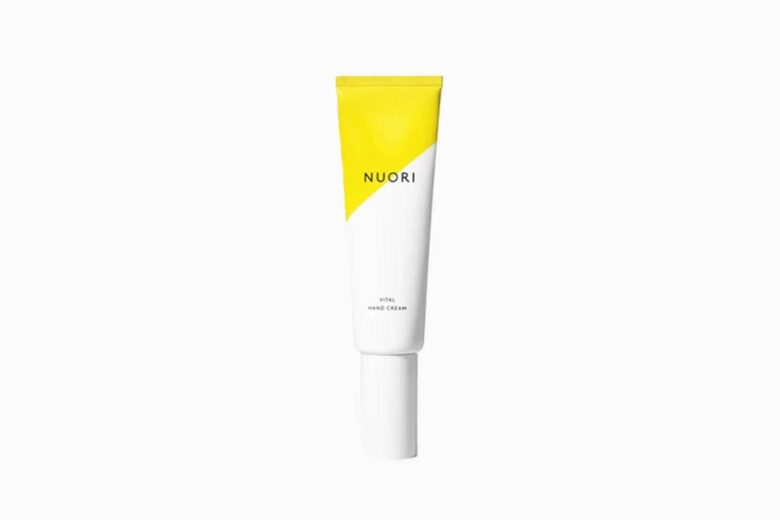 As much as we're suckers for sophistication, sometimes being unrefined is preferable—especially when it comes to hand creams. We want lotions bursting with pure and unprocessed ingredients.
NUORI's Vital Hand Cream is masterfully formulated with natural ingredients including grape seed, almond oil, botanical squalane, shea butter, plus vitamin E and white tea extract to rapidly restore moisture balance and smooth out age-betraying fine lines. The antioxidant-rich blend offers powerful protection against environmental aggressors.
Danish brand NUORI is known for its ultra-fresh line of skincare and an innovative tube design with an airless pump ensures the natural formula stays in perfect condition. It also makes the cream super easy to use on the go. 
Best for: Proof that nature always does it best.
Natura Bissé: Best anti-aging hand cream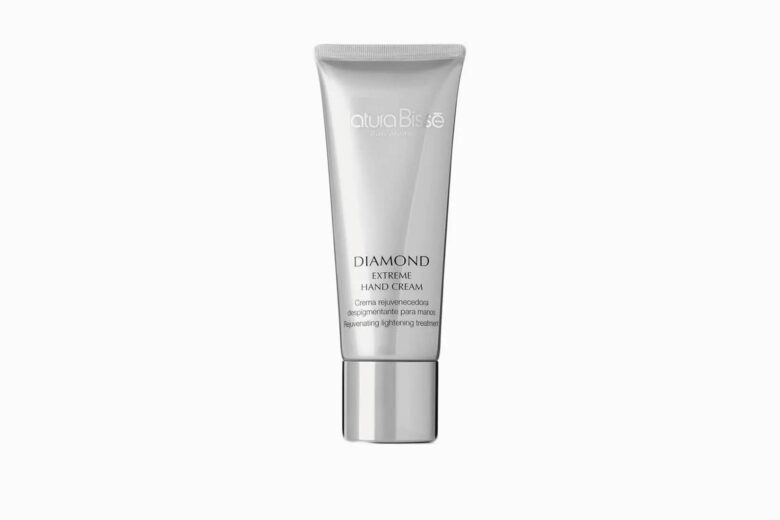 We tend to lavish all our attention on keeping our faces looking young but our hands are the true tell-tale sign when it comes to our age. So keep your mitts looking fresh and fabulous with this hand cream by Natura Bissé.
The best hand cream for wrinkles that we've found, this lotion is deceptively lightweight given the potency of its ingredients. You've got turmeric extract and antioxidants to wage war against free radicals while other ingredients are designed to combat dark spots.
And, like all the best wrinkle creams, it also stimulates collagen to leave your hands looking plumper and the skin more elastic.
Forget about being young at heart. Thanks to Natura's Bissé's Diamond Extreme hand cream, it's all about the hands.
Best for: Hands that could be mistaken for those of a twenty-year-old.
Caudalie: Best hand cream for brightening skin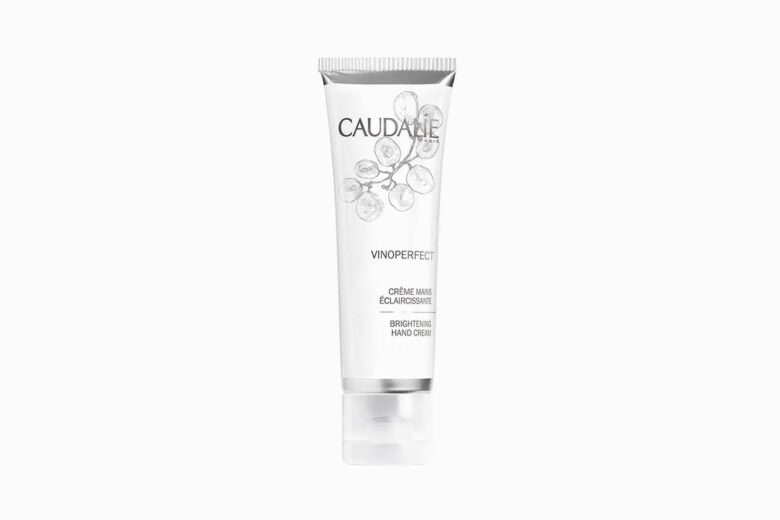 If you're suffering from dark spots ruining the otherwise sleek perfection of your skin, then definitely check out Caudalie's Vinoperfect. It's an anti-dark spot hand cream that targets uneven skin tone, working to boost radiance and visibly reduce pesky marks.
Dark spots can be caused by anything from sun and age to pregnancy. But rather than trying to determine the reason for the spots, simply get rid of them with this hand moisturizer. 
It includes ingredients like shea butter, white peony, and avocado oil to set about rectifying dull and dry hands, moisturizing, softening, and minimizing the appearance of spots. The cream also melts quickly into skin without leaving a sticky residue behind.
When it comes to dark spots, there's light at the end of the tunnel and it comes in the form of Caudalie's Vinoperfect hand cream.
Best for: Giving your hands a distinct and undeniable glow.
L'Occitane: Best hand cream with shea butter
Reducing inflammation, healing skin, smoothing, soothing, hydrating—is there anything shea butter can't do? Hence why we love L'Occitane's classic hand cream.
First used by Burkinabé women in sub-Saharan Africa, shea butter is rich in fatty acids, making it a dream ingredient in beauty routines—and one that is now world-famous for its skin-soothing potential.
Shea butter is the showrunner in this hand cream, making up 20% of the rich balm, while nourishing organic spring honey, omega-dense almond extract, and coconut oil are also included.
The result is a surprisingly effective formula with a rich and indulgent texture. Your hands will feel soft, smooth, protected, and nourished, and with no oily traces in sight.
Putting shea butter front and center stage, L'Occitane dry skin hand cream gets our vote. 
Best for: A die-hard hand cream classic.
Algenist: Best hand cream with collagen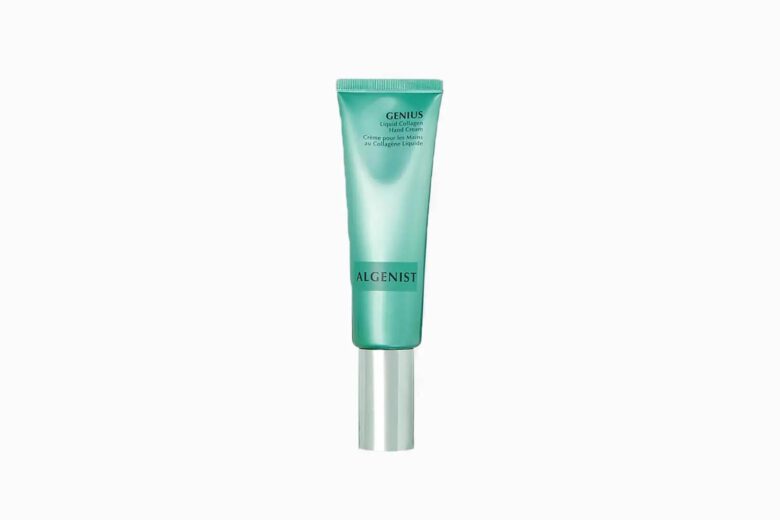 Collagen is pretty much as close as we can get to an elixir of life with its cell-renewing properties that work to firm, plump, and smooth skin. This is why we're raving about Algenist's Genius hand cream, which contains the brand's Active Vegan Collagen.
The skincare masterminds at Algenist have created a formula that targets dry cracked hands with a blend of shea butter, glycerin, collagen, and alguronic acid, which soothes irritation and protects against further environmental damage.
Vitamin E and C also work hand in hand to encourage a brighter and more even skin tone. It's non-comedogenic and dermatologist-tested, making it suitable for sensitive skin.
Don't believe in magic? You haven't tried Algenist's Genius Liquid Collagen hand cream.
Best for: A miracle-working hand cream that's just as genius as it claims.
Le Labo: Best hand pomade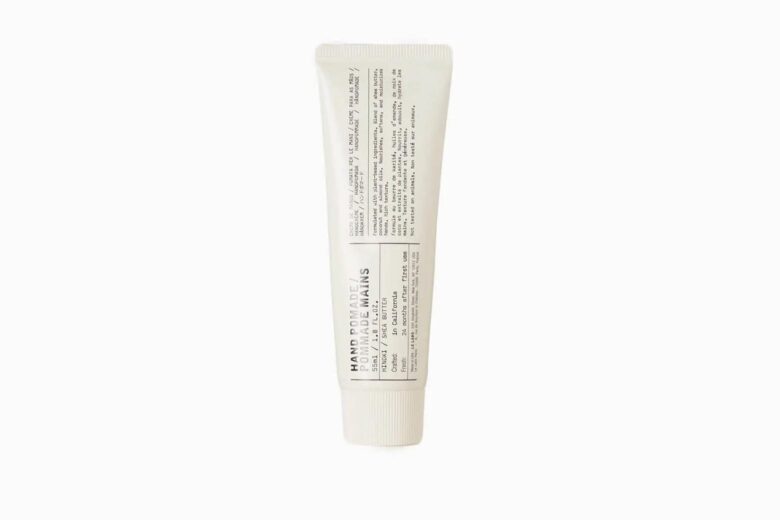 Le Labo never fails us when it comes to quality plant-based and vegan skincare, and this hand pomade is yet another example of the brand's knack for creating grooming staples.
This hand moisturizer is super functional, with shea butter to soften skin and peony root's repairing power. It moisturizes skin without leaving a greasy trail behind and is free from parabens and sulfates. 
But the first thing you'll notice about this hand pomade? The scent. The delicious and highly distinct fragrance comes from the Hinoki tree, sourced from the woods around the Buddhist temples, pagodas, and shrines of Japan's Mount Koya. Tap into that zen mood each and every time you reach for this Le Labo hand pomade.
Best for: Hand care that's pretty much been blessed by the Buddha.
NUORI: Best hand lotion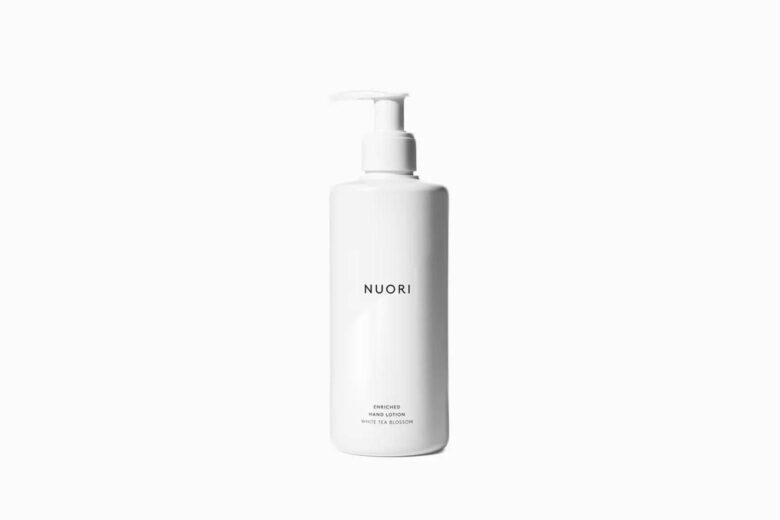 If you find the majority of hand creams too greasy and heavy, then definitely try NUORI's Enriched Hand Lotion. It's deliberately designed to be light and fresh on your palms, ensuring you feel soothed and restored rather than weighed down.
It contains grape seed and sweet almond oils that are rapidly absorbed into the skin where they can start moisturizing and nourishing. Shea butter and botanical squalane create a strong barrier against the elements as well as softening and smoothing skin. 
Meanwhile, white tea extract and vitamin E provide the necessary antioxidant protection to neutralize free radicals. 
Restore balance to your hands and the rest of your life will follow with Nuori's Enriched Hand Lotion.
Best for: An enhanced equilibrium for tired and stressed-out hands.
Avène: Best hand cream for sensitive skin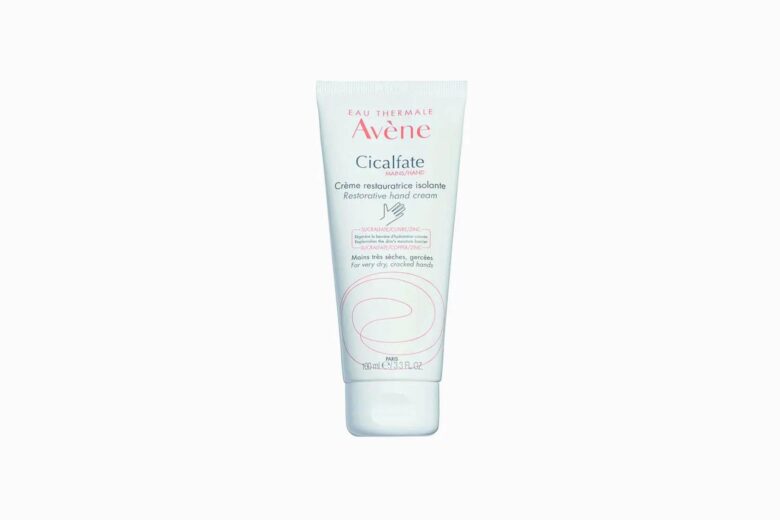 Changes in weather, day-to-day jobs, and chores, not to mention cleaning products—the list of things that irritate our hands is endless. This hand cream by Avène is here to calm and reassure the most sensitive hands with a formulation that's gentle when it comes to skin but powerful when it comes to results. 
This hand cream contains sucralfate to replenish and restore your cutaneous barrier—vital for healthy skin—and ensures that your hands stay hydrated while also preventing cuts and fissures that can lead to infection.
With its highly nourishing texture, this cream spreads easily and is swiftly absorbed. Ingredients also include copper-zinc complex to maintain healthy skin and spring water to calm and cool.
No more wince-worthy dry cracked hands. With this hand cream by Avène, your hands will feel like they just got back from a weekend spa break.
Best for: Intensive care for compromised skin.
Aveeno: Best hand cream for eczema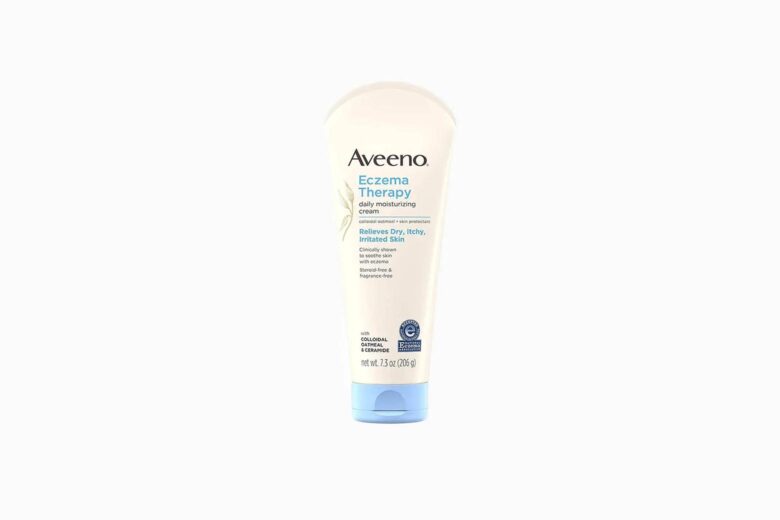 Dealing with eczema outbreaks is no fun at all but when it spreads to your hands, life gets really tricky. Here to save the day is Aveeno's Eczema Therapy—especially engineered to help those struggling with eczema on their fingers and palms.
This cream has been awarded the National Eczema Association Seal of Approval and is clinically proven to alleviate the main symptoms of eczema, such as itchiness, redness, dryness, and irritation. It contains ceramides, which are found naturally within the skin and enhance and elevate the skin's essential protecting abilities, helping to avoid the recurrence of eczema.
This product is also allergy-tested, steroid-free, and fragrance-free, making it ideal to use daily on your hands—and basically anywhere else.
Give your hands a new lease of life with Aveeno's Eczema Therapy.
Best for: Eczema-specific support for skin that's really struggling.
La Roche-Posay: Best hand cream for dermatitis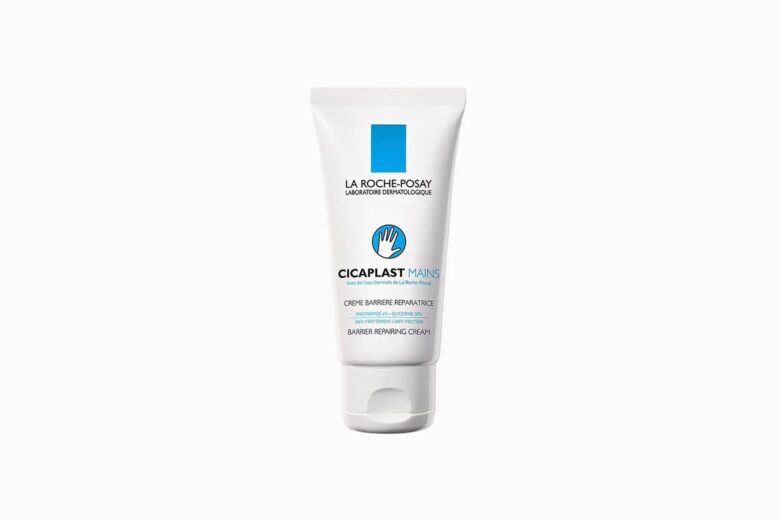 With hand dermatitis, skin becomes red, swollen, and sometimes so dried out that it starts to flake. When it gets to this stage, it's time to call in backup in the form of La Roche Posay's Cicaplast Hand Cream. 
This hand cream contains shea butter, niacinamide, and glycerin—basically all the skincare saviors neatly packaged up in a single tube. The cream replenishes lost moisture and is also wash-resistant so it can provide 48-hour hydration, allowing your skin to properly recover.
It's both non-greasy and non-sticky, a double win when it comes to application. And it's been allergy and dermatologist-tested, making it perfect for those with sensitive or dermatitis-prone skin.
For hands that are really having a tough time, get the expert help you need with La Roche-Posay's Cicaplast hand cream.
Best for: A dermatologically-approved dermatitis-appropriate hand cream.
Grown Alchemist: Best multipurpose hand-cream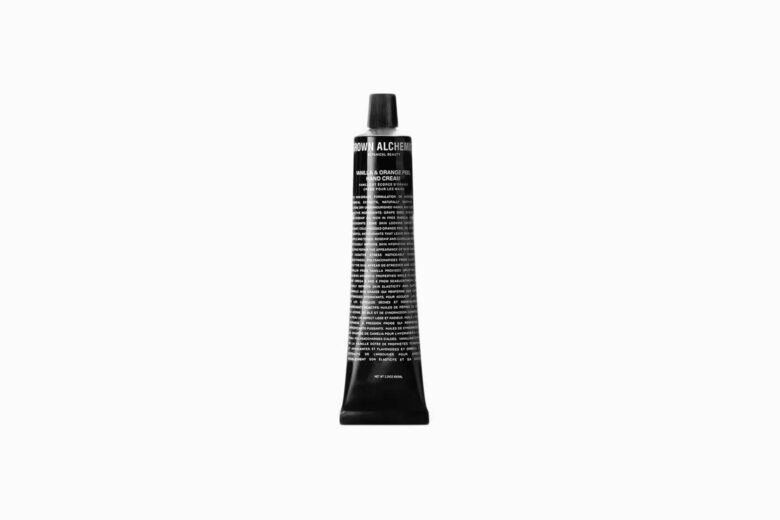 If you're new to the business of hand cream and overwhelmed by all the products on offer, best to start with something simple and ultra-versatile—by which we mean this hand cream by Grown Alchemist.
It has a distinct orange aroma whose lingering scent is both uplifting and refreshing. Leave by your computer for a much-needed wake-up call whenever work gets too much.
The cold-pressed orange peel doesn't just smell great. It also contains antioxidants to leave hands feeling supple and toned. In addition, you've got rosehip and camellia oils to nourish and hydrate, while aloe vera and sea buckthorn berry increase skin elasticity and softness.
Use on your cuticles and nails as well as your hands—or even on your feet, knees, and elbows, if the mood takes you.
For a hand cream that does pretty much everything, look no further than this one by Grown Alchemist.
Best for: An all-around excellent, all day, every day kinda hand cream. 
Glossier: Most portable hand cream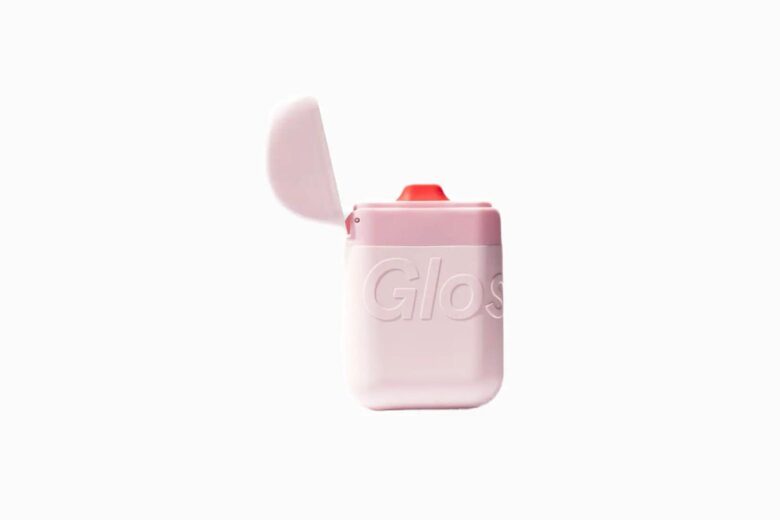 If you haven't got a Glossier product in your bath bag yet, then hurry up and join the party. The brand has a devoted following of fans thanks to its affordable yet super-effective skincare products—including this cute and compact hand cream. 
Supercharge your hydration with a hand cream that's formulated with fast-absorbing and nutrient-dense ingredients like meadowfoam seed oil and coconut fruit extract. These work to nourish your hands without leaving them tacky and greasy. The cream uses a so-called 'second skin' matrix to retain moisture as well as working as a barrier to keep skin aggressors away. 
But the best bit about this cream is the nifty little pack with a click-close cap so no danger of spillages. Never be without your hand cream again thanks to Glossier's palm and purse-sized hand cream.
Best for: Superbly portable hand cream to accompany you everywhere.
Eucerin: Best hand cream for very dry skin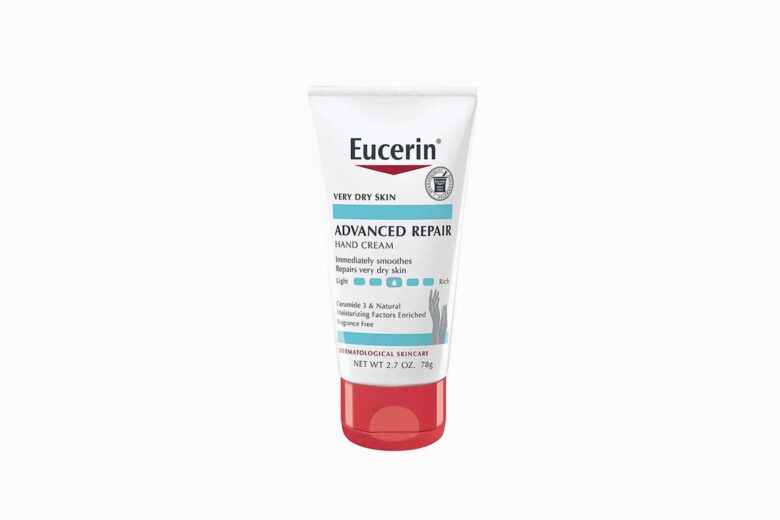 There's dry skin and then there's very dry skin. When your hands are so parched that they start to crack, you know you need some hardcore and heavy-duty hand cream—like this one by Eucerin.
This dermatologist-recommended hand cream works to repair and exfoliate, enriched with buffered alpha hydroxy to gently remove dead skin cells while restoring and rejuvenating. Those of you with eczema-related dry skin will also experience relief from symptoms.
Providing much-needed moisture for thirsty hands, this hand lotion is made with a unique and non-greasy formula and is absorbed quickly and efficiently by your skin. It's also free of fragrances, parabens, and dyes.
For a dermatologist-recommended lotion that will give your hands a boost after just one use, definitely try this hand cream by Eucerin.
Best for: A no-messing-around hand cream that gets right to the heart of the matter.
Supergoop!: Best hand cream with SPF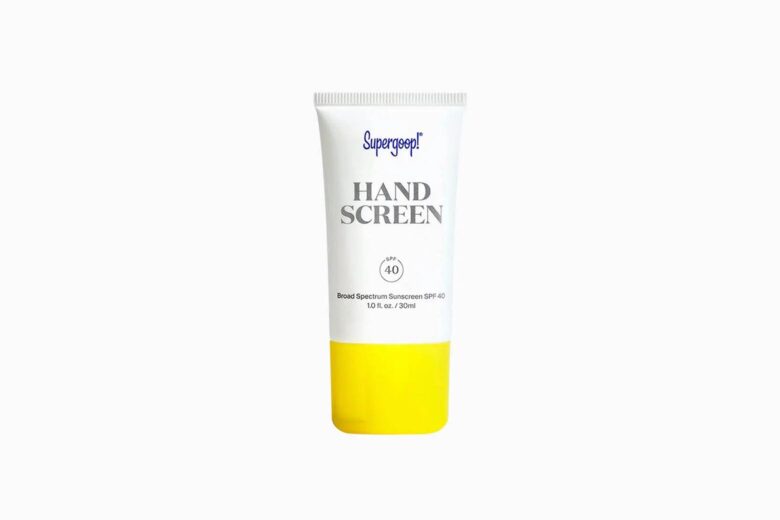 If you're serious about stopping aging in its tracks, then you need to get a hand cream with SPF like this one by Supergoop! Our hands are constantly exposed to the elements so unless you fancy wearing gloves year-round, you need a good quality hand-appropriate sunscreen. 
Offering broad-spectrum SPF40 protection, this cream is called 'Unseen Sunscreen' because it's totally clear. No white streaks make it a winner as far we're concerned.
The formula is also blended with antioxidant-rich ingredients to further protect your skin from UV rays and any other weather and environment-related threats. It's even appropriate for use on your face.
Worried about sun damage? With this Supergoop! Unseen Sunscreen, you're, well, in good hands.
Best for: Ultimate UV protection for hands that are tired of getting burned. 
Byredo: Best scented hand cream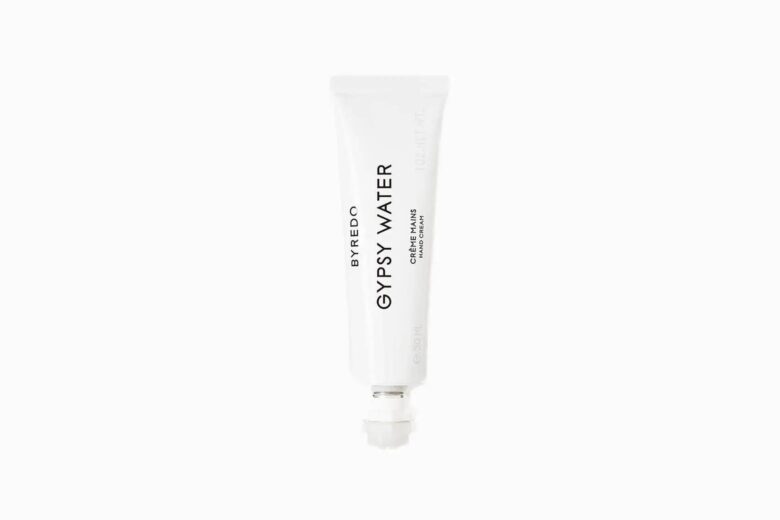 Our favorite scented hand cream has to be this one by Byredo. Byredo's signature Gypsy Water fragrance is immediately alluring. A sweet and peppery combination with top notes of bergamot, lemon, and juniper berries, as well as a distinct aroma of incense, the overall impression is exotic, wanderlust-worthy, and wonderfully summery.
It's gender-neutral so don't be surprised if your partner tries to steal a squeeze of this hand lotion. And, as well as smelling too good to be true, this hand cream also works to deliver deep yet lightweight hydration and comes in a travel-sized tube.
For a luxurious hand moisturizer that does double-duty as your new fragrance, check out this hand cream by Byredo. 
Best for: Delivering some serious decadence to your digits.
Neutrogena: Best fragrance-free hand cream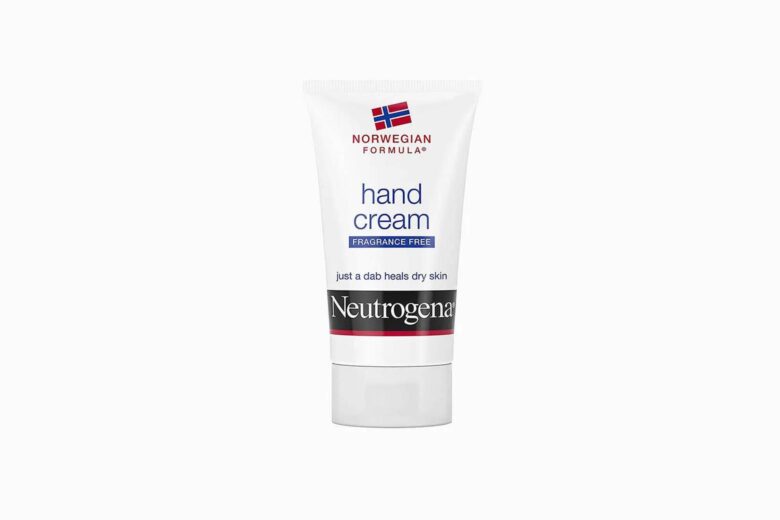 Those with sensitive skin will want a fragrance-free cream that doesn't irritate their hands. Our top choice is this Neutrogena Norwegian Formula hand cream.
This hand lotion takes advantage of time-release technology to deliver 24-hour moisturization, swiftly healing chapped hands and making a noticeable difference to their look and feel as it works to strengthen your skin's barrier, helping to combat the effects of environmental stressors. 
It's fragrance-free, not too greasy, and optimized to totally defeat dryness and redness.
For baby-skin-soft and satin-smooth hands—with no lingering scent to speak of—get your hands on this Neutrogena Norwegian Formula hand cream.
Best for: The dream rescue remedy for delicate hands. 
EltaMD: Best non-greasy hand cream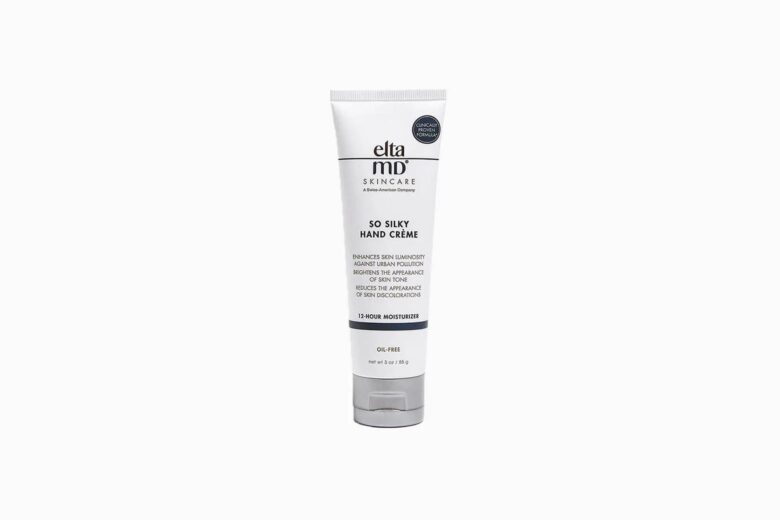 There's nothing worse than slathering on your hand cream only to be left with greasy palms that leave a stain on everything. Which is why EltaMD's non-greasy hand cream merits a place in your car, bag, or by your bedside.
Suffering from dry and flaky skin? This hand cream has been clinically proven to hydrate for up to 12 hours. It also enhances skin's luminosity and radiance which can be dulled by the pollutants we encounter on a daily basis, using plant-derived sclareolide to combat discoloration. 
A combination of ceramides, emollients, and antioxidant vitamin E deliver nutrients and repair and replenish hands, dramatically improving dryness and roughness. And because it's free of oils, it's not at all sticky and is absorbed quickly for a silky skin feel. 
EltaMD's hand cream: a feather-light and silky-sweet lotion that redefines the meaning of soft touch.
Best for: All the hydration, none of the gloop or grease.
Gold Bond: Best budget hand cream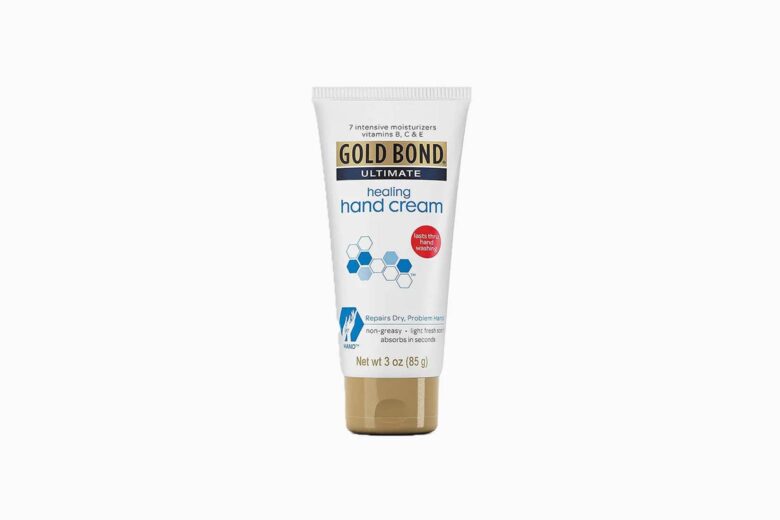 Send your hands to cloud nine without paying the cost with this great value Gold Bond Ultimate hand cream. 
For cushion-soft hands, this hand cream is your shining knight on horseback. It's a perfect addition to your pre-bed routine or use throughout the day to enjoy enriching, nourishing, and intensely hydrating effects.
Using positive ions that attach to skin, it lasts through hand-washing and is dermatologist-tested, and hypoallergenic, delivering a protective layer of moisture that helps hands recover from wear and tear.
Comfort, cool, and replenish ragged hands all for less than $5 with this Gold Bond Ultimate hand cream.
Best for: The perfect price-conscious restorative tonic for your hands.
Buyers guide: how to choose a hand cream
Choosing a hand cream isn't as simple as it sounds given how many there are to pick from. Here's some things to consider when making a decision.
Specific skin concerns
Nearly all hand creams are designed to deliver hydration. They are also formulated to repair and restore damaged skin. And some are designed to help with other skin issues such as:
Age spots or hyperpigmentation – hand creams containing glycolic acid, vitamin C, or niacinamide can help brighten dark spots with a combination of exfoliation and moisturization, while those containing sunscreen prevent future damage. 
Cracked cuticles – many hand creams will also do the job of repairing cracked cuticles with soothing oils and other hydrating ingredients.
Eczema or dermatitis – flare-ups often happen on hands so it's worth looking for a cream specifically formulated to protect and soothe inflammation and strengthen the skin barrier.
Psoriasis – some hand creams can help alleviate the itchiness of psoriasis and accelerate the healing process.
Sensitive skin – those with sensitive skin should look for hand creams that contain natural and organic ingredients that aren't heavily fragranced.
Calluses – hand creams containing ingredients like salicylic acid can help exfoliate palms and soften calluses. You can also use highly moisturizing hand creams to help prevent the hardening of the skin in the first place. 
Wrinkles – look for hand creams containing retinol, a form of Vitamin A, and which work to stimulate collagen production, reducing wrinkles and increasing the thickness and elasticity of skin.
Many hand creams are multipurpose, offering various different benefits, such as sun protection, hydration, and exfoliation.
Packaging and ease of application
When it comes to packaging, you may want to consider size and shape. How easy is it to carry around? And if you're going to have it on display in your bathroom, you'll want it to be aesthetically pleasing.
The packaging also affects how easy it is to apply. Squeeze tubes are the easiest to use while tubs with screw tops are slightly tricker to apply on the go. 
Scent
Many hand creams will come with a scent. Some scents will be stronger than others and some have a fragrance with therapeutic benefits, such as lavender for sleep or citrus for something energizing and uplifting. 
Consider whether you want your hand cream to have a strong aroma. If you plan to use it at work, you might want something more subtle and low-key. 
Additional things to consider when buying hand creams
Absorption – how fast does the hand cream get absorbed into the skin? Given how much we use our hands, it's useful to have a hand cream that penetrates deeply but quickly.
Texture – most people prefer a hand cream that doesn't leave their palms tacky or greasy and feels lightweight.
Season-appropriate – during winter, you may want to look for hand creams that are extra hydrating as cold weather can cause our hands to dry out and become chapped or cracked.
When to use hand cream
You can use your hand cream at regular intervals throughout the day, including whenever you wash them. It's also a good idea to apply it at night to help your body with the task of healing skin.
Frequently asked questions about hand creams
What is the best hand cream for extremely dry hands?
The best hand cream for extremely dry hands is Eucerin's Advanced Repair hand cream, a dermatologist-recommended cream that both repairs and exfoliates, as well as delivering intense hydration. It's also absorbed quickly and doesn't leave hands greasy or sticky.
What hand cream do dermatologists recommend?
Dermatologist-recommended hand creams include Burt's Bees Baobab hand cream, La Roche-Posay's Cicaplast hand cream, and Eucerin's Advanced Repair hand cream. Other clinically-approved creams include Aveeno's Eczema Therapy and EltaMD's So Silky Hand Crème.
Do hand creams really work?
Hand creams really do work to hydrate and moisturize hands and keep them soft and smooth. Hand creams can also help restore and repair the skin on your hands as well as reducing the appearance of any damage such as wrinkles or dry patches.
What is the number one hand cream?
The number one hand cream is Aesop's Resurrection hand cream, lightly scented, nourishing, and great for repairing chapped cuticles too. The best bargain-friendly hand cream is Burt's Bees Baobab hand cream while the most high-end hand cream is Augustinus Bader's Hand Treatment. Check out our list of the best hand creams for more inspiration.