The brilliant magenta tones and resplendent reds of the exquisite red beryl stone are a well-kept secret. Worth a 1000 times more than gold, this dazzlingly pretty gem is a surprisingly unsung star of the gemstone world. Its relative obscurity is down to its intense scarcity; only one red beryl crystal is found for every 150,000 diamonds.
The rarity value of red beryl means that prices can reach astronomical heights, placing it far out of reach of most peoples' pockets. However, its elegant and vivid fuschia tones and delightful raspberry reds make it a strikingly beautiful gemstone. In fact, red beryl's beauty clamors for a place in the spotlight, and more than deserves the recognition frequently bestowed on its famous cousins, emerald and aquamarine.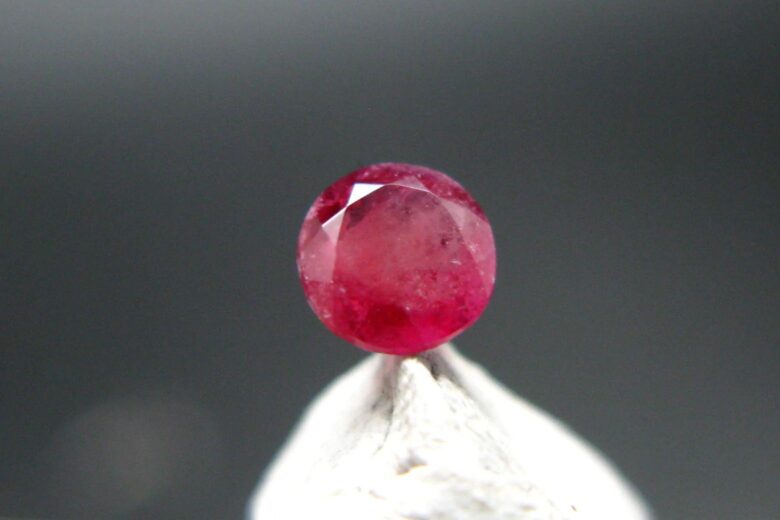 | | |
| --- | --- |
| Red Beryl Color | Red |
| Birthstone Month | October, November |
| Hardness Scale | 7.5 – 8 Mohs Scale |
| Mineral Class | Beryl |
| Symbolism | Energy, Courage, Passion |
What is Red Beryl
Red beryl is an extremely rare yet highly desirable stone, which gets its gorgeous dark pink to purplish red tones from trace amounts of manganese. Red beryl hails from the family of beryl minerals, whose illustrious cousins include the exceedingly valuable precious gems emerald and aquamarine. Red beryl is only found in a handful of locations around the world, and crystals suitable to be cut into gems are uniquely sourced in the Wah Wah mountains of Utah. The extraordinary scarcity of red beryl pushes prices sky-high, fine quality gemstones fetching prices of over $20,000 per carat. Red beryl is sometimes referred to by its old fashioned name, bixbite, and often, inaccurately, as red emerald. 
What does Red Beryl look like
Scarlett, vermillion, crimson, ruby, the strikingly vivid tones of red beryl make it an exquisitely eye catching stone. Its color is often described as raspberry red or raspberry pink, and in fact red beryl shades can range from a delicate cerise, through bright cherry tones, to a spirited fuchsia (purplish red). Gem quality crystals have a rich, saturated color. Red beryl is a very hard mineral, rating 7.5 – 8 on the Mohs scale, which means it makes for an excellent jewelry stone, though sadly, due to its rarity, gem quality crystals are very hard to come by.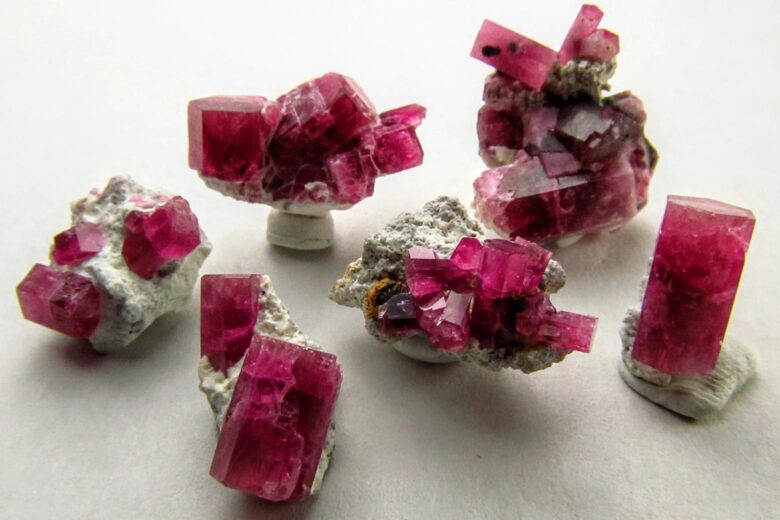 History of Red Beryl
Red beryl is a relatively young gemstone, only discovered in 1904 by the American mineralogist Maynard Bixby, in the wonderfully named Wah Wah mountains of Utah. A few years later its name was changed to 'bixbite', in honor of Bixby. However, the World Jewelry Federation never really approved of its new moniker, which led to red beryl often being confused with another mineral named 'bixbyite'. As a result, the name bixbite has largely fallen out of fashion.
Meaning of Red Beryl
Red beryl is so called because it forms part of the beryl family of precious minerals, which includes aquamarine and emeralds. In fact, red beryl is sometimes referred to as red or scarlet emerald, though this is something of a misnomer, since emerald, by definition, is green.
Where does Red Beryl come from
The intricate crimson beauty of red beryl is unfortunately very hard to come by. It is 100 times rarer than emerald. Deposits of red beryl have only been unearthed in a remarkably tiny number of locations worldwide; in Utah, New Mexico and Mexico. However, the largest and finest crystals, those that can be turned into gem quality stones, are sourced only in the Wah Wah mountains of mid-western Utah.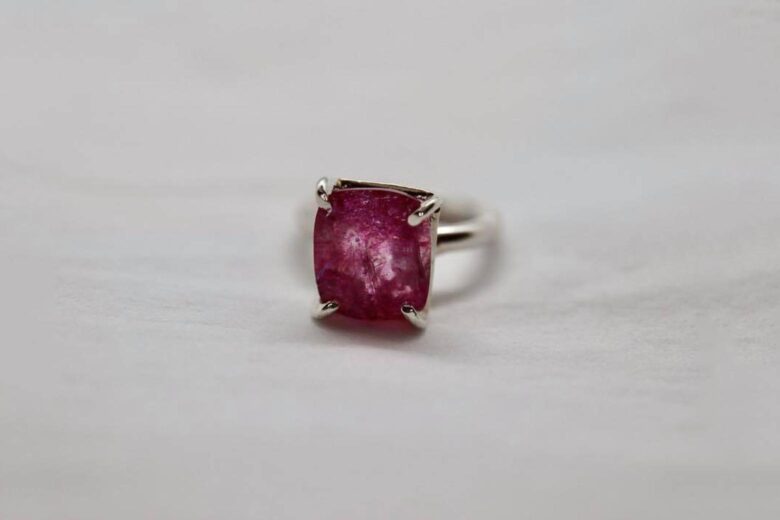 Red Beryl and Zodiac signs
Although there is no zodiac sign assigned to red beryl, it is sometimes used as a natural birthstone by those born in mid-autumn (October 23-November 21). Red crystals are said to bring energy, courage and passion, and the exquisite beauty of this crystal would make a wonderfully luxurious gift for those born under the sign of Scorpio.
The richly saturated reds and violets of red beryl make it a superlative choice as a gemstone, its magenta tones shine resplendent when combined with gold in earrings or rings. However, its stunning rarity means gemstones are scarce, and prices are similarly unreachable.
Which family is Red Beryl from
Red beryl is a surprisingly little known gem, though its family members are far more famous. Red beryl is green emeralds cousin, both precious gemstones hailing from the beryl family, a mineral composed of beryllium aluminum silicate. In fact, the beryl mineral has provided us with many varieties which are valued as gemstones. These are aquamarine (a pale bluish green), emerald (deep green), heliodor (golden yellow) and morganite (pink).
Birthstones chart
Find your birthstone by month
---
Frequently asked questions about red beryl
How much is red beryl worth?
Red beryl is estimated to be 1000 times more valuable than gold. Fine, gem quality crystals that are over 1 carat can sell for as much as $20,000.
Why is red beryl so rare?
Red beryl is such a rare mineral as its formation requires the presence of certain unique geochemical elements. One of these elements is manganese, a metallic component from which red beryl gets its vermilion tones. The formation of gem quality red beryl relies upon the even scarcer presence of cavities and fractures, in which extra fine crystals can grow.
Is red beryl rarer than diamonds?
Incredibly, only 1 red beryl is found for every 150,000 diamonds. According to the Gemmological Association of Great Britain, a 2-carat red beryl has the same rarity as a 40,000-carat diamond.
Is red beryl the same as ruby?
Although these two gemstones may look alike, their similarity ends there. Red beryl is formed from the beryl or beryllium mineral, whereas ruby, like sapphire, belongs to the corundum family. Another striking difference is in their value and rarity. Although ruby commands a relatively high price on the jewelry scale, it doesn't come close to that of red beryl, whose scarcity means that prices are unsurpassed even by diamonds.