From elegant kitchen countertops to historical monuments and even the world's best luxury watches, it's hard to overstate the meaning and value of marble. Marble's unique colors and properties make it amongst the most useful but also elegant stones.
Though we interact with types of marble daily, there's a lot to explore. Seemingly ubiquitous, marble shapes our world. Serving as a foundation for infrastructure, adding value to designer furniture and home interiors, and elevating designer fashion, marble's benefits are numerous. Here's why, and how, marble continues to be one of the most popular stones.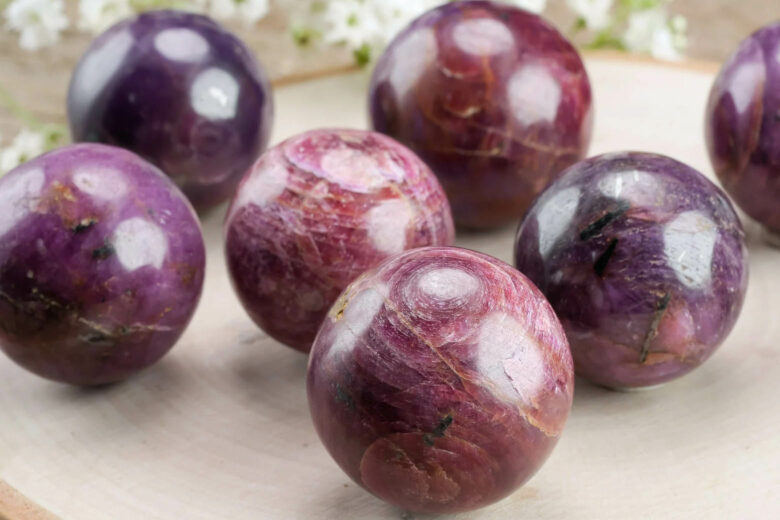 | | |
| --- | --- |
| Marble Color | Black, Yellow, Blue, Pink, Gray, White, Champagne, Brown |
| Zodiac Sign | Gemini |
| Hardness Scale | 3 on Mohs Scale |
| Mineral Class | Metamorphic Rock |
| Symbolism | Immortality, Purity, Focus, Positivity |
What is Marble?
Marble is classified as a metamorphic rock. Calcite and dolomite become crystalized again under heat and pressure. The result is a unique, valued, and beautiful texture. However, marble is considered a soft stone, with a Mohs hardness rating of just 3 out of 10.
Marble is sold as polished stones but also for the back of luxury watches, monuments, buildings, counters, and more. The most valuable marble ever sold was the Indian Swirl marble, which was auctioned for $2.6 million in 2008.
Marble is sold as slabs, most commonly for refined kitchen countertops. The average price of marble countertops ranges from $30 to $200 per square foot. The price depends on the type of marble, pattern, and colors.
Marble continues to shape our world today. While it may not have the value of April's birthstone, the diamond, marble still has a timeless look. Marble, in its many forms, shapes everything from our buildings to luxury fashion and so much more. 
What does Marble look like?
Marble is distinguished by its unique patterns. Veins are dispersed throughout for a visually interesting stone. The patterns range from delicate and subdued to bold, dramatic, and vibrant. This adds to its versatility and aesthetic. Interlocking swirls can also be seen.
Marble has been described as having a "sugar-like" appearance. This is due to its formation with fine minerals and texture variations. This soft look is elegant and classic, complemented with a gentle to pearl-like luster. While marble can appear shiny, it only remains so with upkeep. Its properties mean that it can become dull with dirt and wear. 
Marble colors range widely, even though pastel and lighter hues are the most common. Marble can be pink, blue, black, yellow, gray, brown and shades of white and cream. The combinations are nearly endless.
The most popular colors for marble are listed in the table below.
| Marble Type | Description |
| --- | --- |
| Amazonite Marble | Brown, pink, and gray veins against a teal background |
| Armani Marble | Brown background with golden and lighter brown veins |
| Calacatta Marble | Pearly white to ivory background with fine gray and golden veins |
| Carrara Marble | Bluish-gray marble, known for its slightly harder properties |
| Deep Emperador Marble | Cream to champagne tones with white veins |
| Red Levante Marble | Deep red with a lighter red and white veins |
| Statuario White Marble | White with gold and gray veins, especially popular for building and in Italy |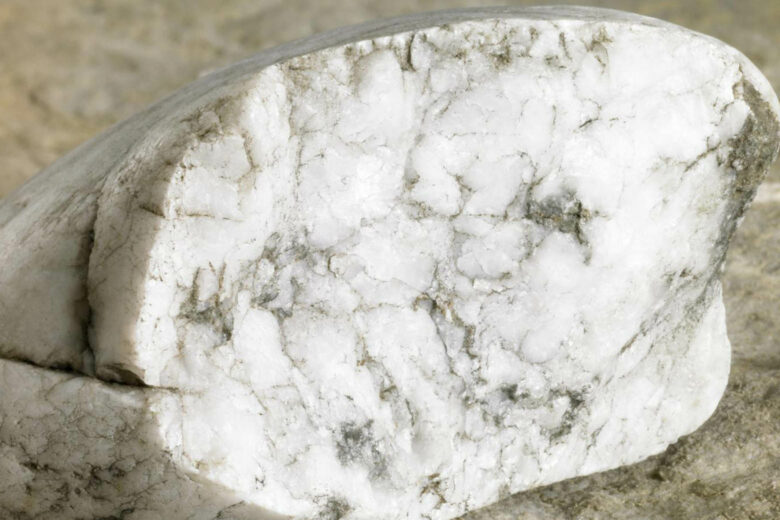 History of Marble
Marble has been used as far back as the 3rd century BCE in Ancient Greece. It was used for architectural purposes, especially within the islands of Naxos and Paros.
By the 7th century BCE, marble was used within Anatolia. It was during this period that sculptures, temples, tombs, and even dwellings were built with marble. Marble was so prominent that historians touted the 7th century as a Golden Age for marble. Both the Romans and Byzantines prized marble. Marble continued to be used during the stretch of the Ottoman Empire.
Of course, you can't discuss the value of marble without mentioning the Temple of Artemis. The Temple of Artemis is one of the 7 World Wonders. This Greek temple was made to honor Artemis, Goddess of the Hunt. This is one of the reasons why marble is so closely associated with mythology and wisdom.
Other notable monuments made with marble include countless famous statues by Michelangelo, the Taj Mahal, the Lincoln Memorial, the Washington Monument, the Pantheon, the Dome of Rock in Israel, and the Vatican Museum.
Marble remains one of the most widely used stone materials.
The meaning of Marble
Marble may be beloved for its elegant properties, but its value also lies in its symbolic meaning. Like many jewelry birthstones, marble's appeal is connected to its lore and purported benefits. 
Marble is closely associated with both purity and immortality. This is due to its use in art and ancient architecture. Marble exhibits natural beauty, perfection, and idealized imagery. Marble is likewise associated with wealth, elegance, and power.
Some also seek marble to open their mind. Marble is said to have properties to promote clarity and emotional balance. Marble provides the perfect backdrop for meditation, dreams, and spiritual connection.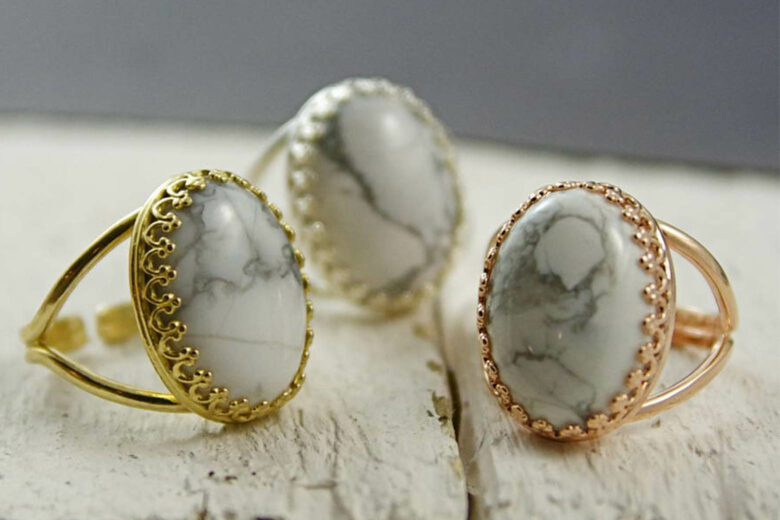 Where does Marble come from?
Marble forms near the edge of a tectonic plate, although it can form wherever molten magma merges with either dolomite or limestone. A combination of high temperatures and pressure is needed for a marble to form.
Due to the heat and pressure, the crystal structure of calcite deposits changes, resulting in marble. The patterns, veins, and unique colors are a result of the minerals and the high pressure during marble's formation.
An astonishing 50 percent of marble in the world is sourced from India, Spain, China, and Italy. The remaining marble is sourced from Belgium, France, Greece, the United Kingdom, and within select states in the United States (Vermont, Alabama, Colorado, Tennessee, Montana, and Texas).
Which family is Marble from?
Marble is a type of metamorphic rock. Its parent families include limestone and/or dolostone. To understand marble's properties, it's helpful to understand its broader origins. Metamorphic rocks make up a large portion of Earth's crust, alongside igneous rocks and sedimentary rocks. Marble is one of the most commonly used forms of metamorphic rock.
Its parents—limestone and dolostone—are both sedimentary rocks. Both limestone and dolostone are fine-grained rocks and have a high composition of calcium carbonate.
Birthstones chart
Find your birthstone by month
---
Frequently asked questions about marble
What is marble made from?
Marble is a type of metamorphic rock that consists of serpentine, dolomite, limestone, and calcite. However, the levels of these deposits can vary. All marble is primarily made with calcium carbonate, combined with acidic oxide. The different levels of these minerals result in different marble colors and slightly different properties.
How is marble created?
Marble, like other forms of metamorphic rock, is formed from a combination of high temperatures and pressure. Molten magma flows under Earth's crust. Individual minerals combine to form marble. Sometimes, the movement of tectonic plates provides the proper conditions and friction to form marble.
Why is marble more expensive?
Though metamorphic rocks like marble are quite abundant, marble's high demand makes it more expensive than most in its family. Marble is prized for its beauty and widespread use. The variable patterns and colors of marble likewise add to its high cost. Even though marble is classified as a soft stone, it's valued for its relative durability within homes. 
What marble is used for?
Marble is widely used within both commercial and residential lots. The most popular application of marble is countertops, followed by marble flooring. Marble has a classic, elegant appearance that many love. Marble is also used for the back of some of the best luxury watches. Of course, marble has been used for nearly all of human history for decorative purposes, including statues and monuments. It's likewise useful for foundations and even in the construction of railroads and paved roads.