You probably already know about Vincero watches. You've most heard the hype or at least spotted their supremely elegant timepieces on your social media feed. Vincero is currently one of the hottest brands in the horological world, and while we've already tested (and enjoyed) many of their watches, we felt it was time for a Vincero watches review of their most popular models of the year.
Vincero doesn't make legacy luxury watches. These aren't timepieces designed to give a Rolex a run for its money. Instead, the brand is re-imagining the whole concept of affordable timekeepers. Rather than mass-producing watches from second-rate materials, they create small batches and check each timepiece by hand to ensure it meets quality control.
This youthful company was only founded in 2014, but it's already creating waves in the watch-making world with its ground-breaking quartz and automatic watches. Each one is made using the highest standards of engineering and premium materials—including sapphire crystal, Italian leather, and marble. The brand also cuts out the middleman by selling directly to customers, therefore keeping prices low.
No outsourcing and in-house customer support are also ways in which Vincero (which means 'I will win' in Italian) refuses to take shortcuts. Detail-oriented is an understatement. No wonder they won a place on our ranking of the best luxury watch brands of the year.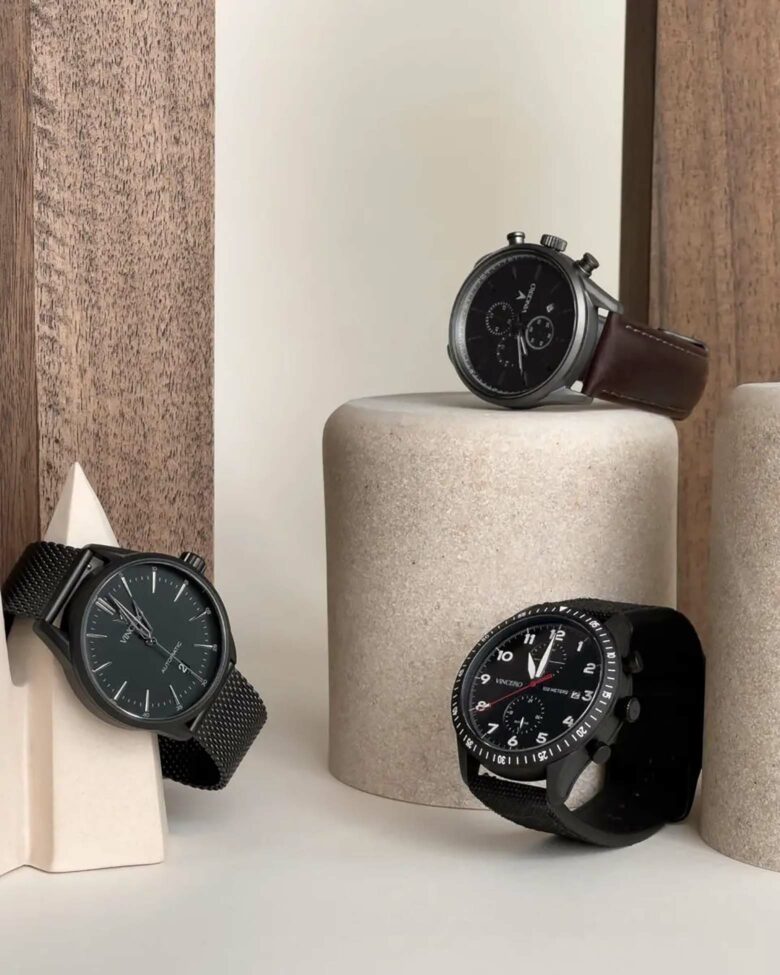 The style of Vincero watches is clean, sophisticated, and versatile, with a large range of color and material combinations. There are heaps of different models to choose from, but in this Vincero review, we'll focus on three of their top men's timepieces. There's the Chrono S, an elegant everyday chronograph; the Altitude, a rugged pilot watch ideal for go-getters; and the Icon, a sleek automatic dress watch.
Vincero Chrono S review
One of the brand's most popular watches and a definite statement piece, the Chrono S is a classic chronograph that's as functional as it is alluring, as we'll discover in this Vincero review.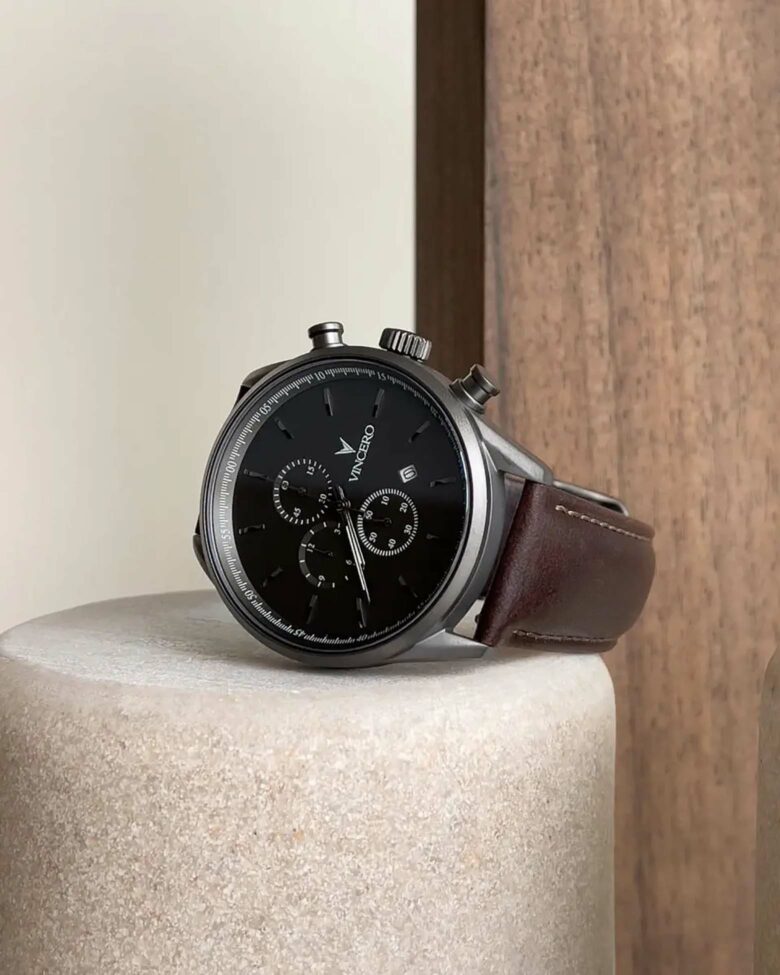 The pros:
Has the feel and appearance of a far more expensive watch.
3-subdials for versatile timekeeping.
A wide range of color combinations to choose from.
The cons:
For some users, the lume might seem a little dull in low light.
Only waterproof up to 5 ATM so not appropriate for total submersion in water, although it will survive light rain.
The alternatives:
If you're drawn to the affordability of the Chrono S but want something more minimalist in appearance, check out Nordgreen's Pioneer Watch, an ultra-pared-back timepiece.
Another one of the brand's most popular timepieces, the Vincero Kairos offers refined sophistication like the Chrono S but has no complications except a date window.
For more inspiration, check out our guide to the best luxury watch brands.
Hands-on experience and benefits
To hold—and on the wrist—the Chrono S has a nice weight to it, similar to premium watches. Along with the aesthetics, it looks and feels like a more expensive timepiece.
Need proof? In one Vincero watch review, the customer writes that their Chrono S receives more compliments than their TAG Heuer watch.
Design
The Chrono S promises to 'make you feel like you're in charge', and we're inclined to agree. With its sharp angles, chunky profile, and bold pushers, this is a confident and assertive watch that pulls no punches, designed to accompany you fearlessly through your 24 hours, whether you're negotiating a tough business deal or out for a night on the town.
We especially like the company motto on the back of the watch. Veni. Vidi. Vici, or I came, I saw, I conquered—a bold statement of daring.
The Chrono S comes in a range of colors and materials, from classic gunmetal with a walnut-colored strap to a more flashy and eye-catching gold steel with a green face.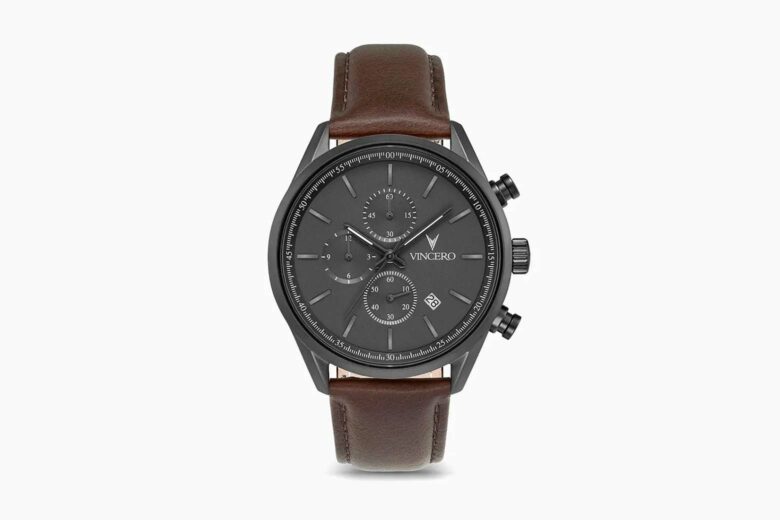 Quality of materials & craftsmanship
The Chrono S case is made of 316L surgical stainless steel—hard-wearing and corrosion-resistant. The case back is Italian marble—another example of Vincero's refusal to cut corners when it comes to quality. These high-performance materials mean you won't experience spotting or dullness with wear.
There are different bands to choose from, from stainless steel to top-grain Italian leather. While definitely high-quality, the leather can feel a little stiff initially but soon softens with wear.
The sapphire-coated crystal glass is scratch resistant and, while not as good as pure sapphire crystal, is definitely superior to mineral glass.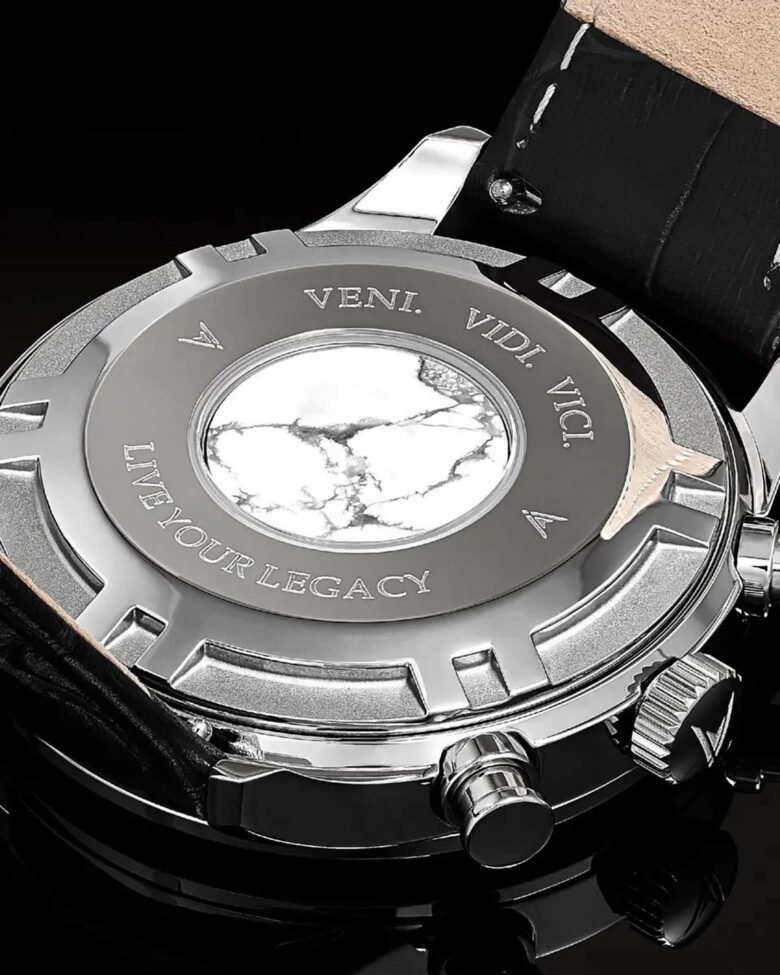 Dial & movement
The dial features a simple hour marker along with an hour, seconds, and minutes sub-dial and a date window, so you'll always be able to stay ahead of schedule. There's also a range of dial colors, from stealthy black to elegant blue.
The Chrono S uses a Citizen Miyota quartz movement. This is one of the best Japanese quartz movements available—well-made and durable, offering accurate time-keeping with no need to wind.
Best for: A commanding and impressively high-quality chronograph to keep pace with life.
| | |
| --- | --- |
| Case size: | 40mm |
| Material: | stainless steel |
| Movement type: | quartz |
Vincero Altitude review
One of Vincero's more rugged timepieces, the Altitude has all the hallmarks we'd expect from a quality pilot watch, including a dual-time function and a no-nonsense demeanor.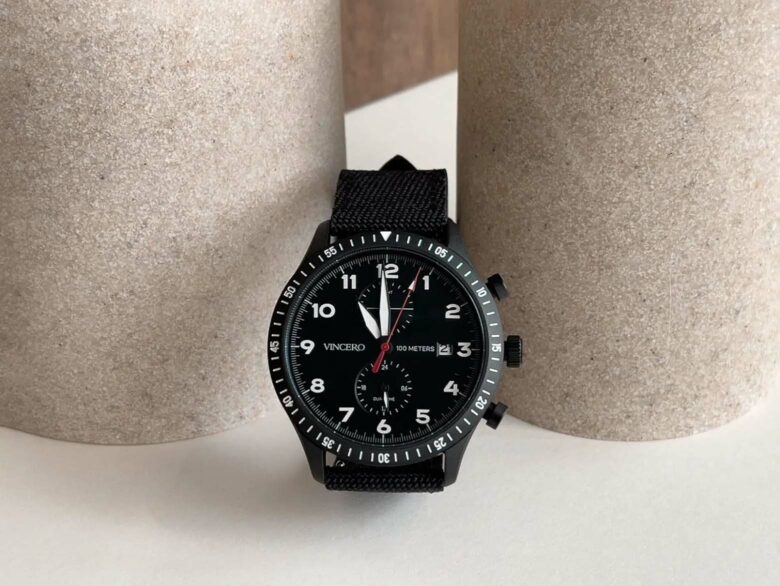 The pros:
Large and luminous dial for 24-hour legibility.
Rugged aesthetic that still manages to look refined.
Option to choose a nylon strap for a more modern and practical option.
The cons:
No option for a stainless steel bracelet—but the leather can offer a dressier alternative to the nylon.
Sapphire coating isn't as high-quality as sapphire crystal but helps to keep this Vincero watch affordable.
Hands-on experience and benefits
The Altitude stands out as a particularly sturdy timepiece with chunky pushers and sharply pointed hour and minute hands that add a touch of the intrepid. We like the neutral lowkey color choices—suitably practical and versatile enough to work with any outfit.
Design
Even if you don't plan to board a fighter jet anytime soon, you'll appreciate the sleek yet down-to-earth aesthetic of the Altitude. With a larger case (43 mm) and a smart, professional, and functional dial, this is a timepiece that can get a job done and look good while doing so. It's also slightly enigmatic. In the words of one Vincero watch review, the Altitude has a 'subtle secret sort of air about it—kind of secret agent-ish.'
We imagine wearing the Altitude out on the trail or for more extreme exploits—as well as with business casual.
The Altitude features a dual time and 24-hour function, perfect for jet setters always on the move. It also has 10 ATM water resistance—more than the Chrono S—which means you can wear this Vincero watch in the pool or ocean.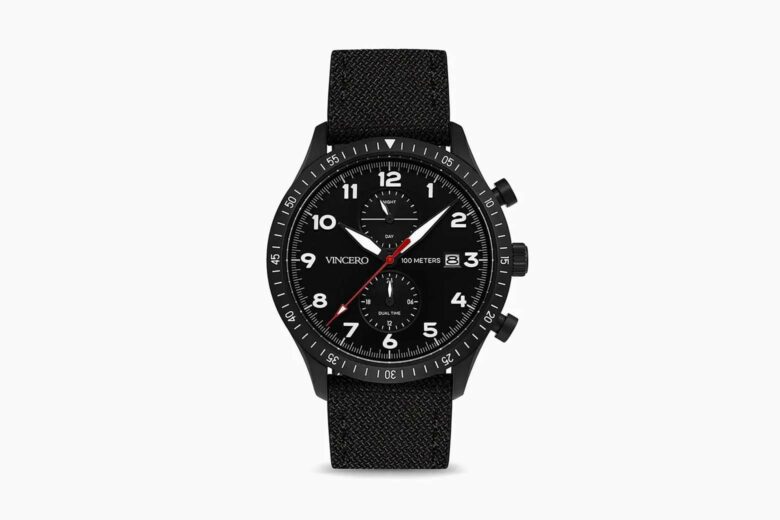 Quality of materials & craftsmanship
The case is made of 316L stainless steel—a type of steel with extra-low carbon content, ensuring high levels of corrosion resistance. Stainless steel is also anti-allergic and very strong.
As this is more of an adventurous watch, it feels appropriate that you can get the Altitude with a practical and hard-wearing 100D Cordura Nylon band. But there's also the option of plush Italian leather in a range of earthy and neutral shades.
Like the Chrono S, the Altitude's glass is sapphire-coated crystal. This means the glass has a layer of sapphire laminate on the surface—an affordable halfway house between the cheaper mineral glass and more premium sapphire. We can't fault it if it helps to keep prices down.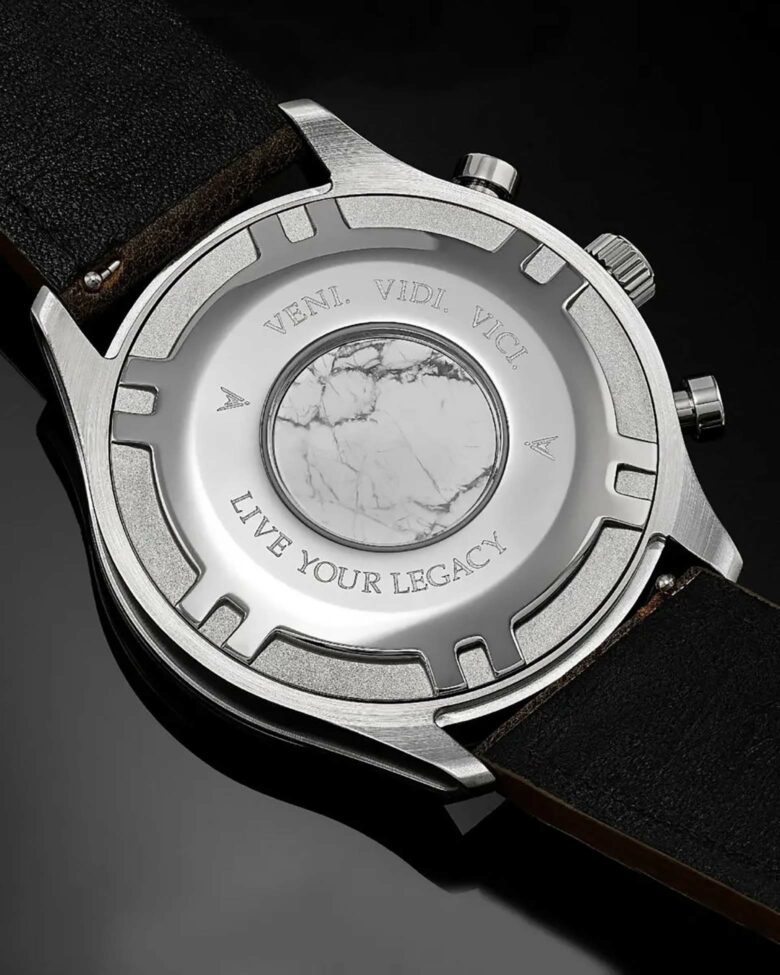 Dial & movement
Pilot watches were traditionally designed for maximum legibility in the cockpit. As such, the Vincero Altitude features large and luminous numbers and hands, and the high contrast really makes the indicators pop.
The movement is a super precise quartz—hassle and effort-free timekeeping for those who are too busy to think about maintaining a manual or automatic watch.
Best for: A tough timepiece that's solid, sensible, and sophisticated simultaneously.
| | |
| --- | --- |
| Case size: | 43mm |
| Material: | stainless steel |
| Movement type: | quartz |
Vincero Icon review
The Vincero Icon is a dress watch with an automatic movement, harnessing the power in your everyday motion to deliver reliable timekeeping and impeccable style straight to your wrist.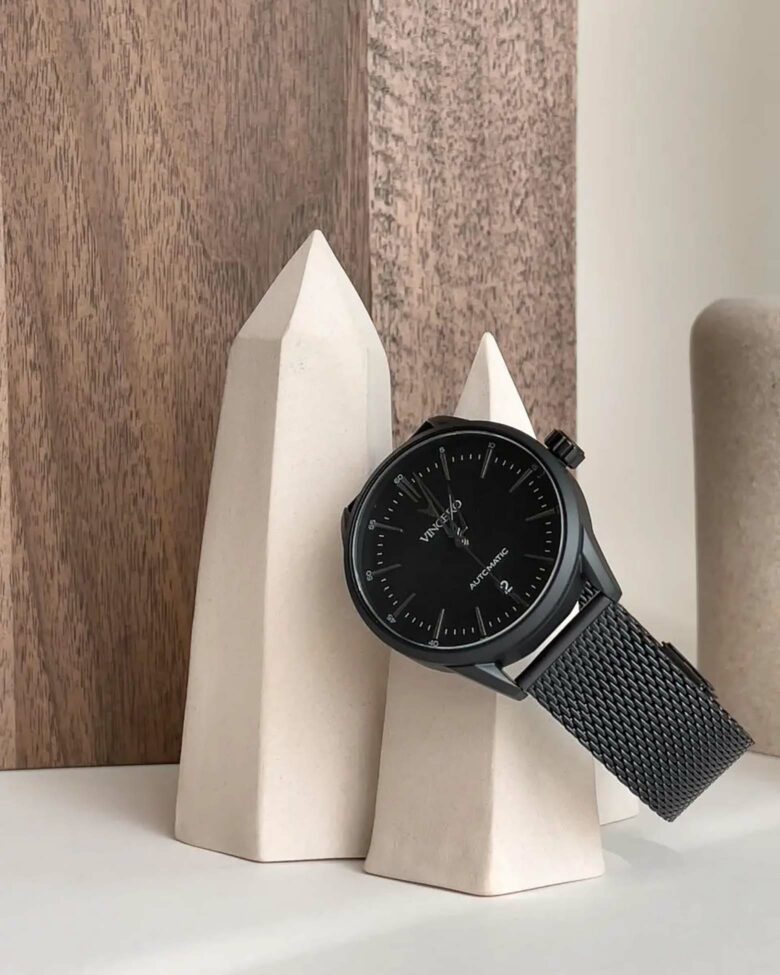 The pros:
Quality automatic movement for an affordable price.
Sapphire crystal glass rather than sapphire coating for greater scratch and shatter resistance.
100m water resistance means you can wear this Vincero watch in the shower.
The cons:
An automatic movement isn't as low maintenance as quartz.
No lume for night-time reading, but as this is a dress watch, that's to be expected.
Hands-on experience and benefits
As with all Vincero watches, the build quality of the Icon is evident from the outset and definitely better than you'd expect at this price point. The case is slender and not too obtrusive on the wrist—bigger than a traditional dress watch but not too big.
Design
The Icon's most exciting feature is the automatic movement. Usually, automatic movements are reserved for the most high-end timepieces. Being able to pick up a high-quality automatic timepiece for this price is exactly what makes Vincero so unique.
Aesthetically, the watch is simple and straightforward. The design is classically handsome and unfussy—versatile enough to team with any outfit, from casual get-ups to cocktail attire.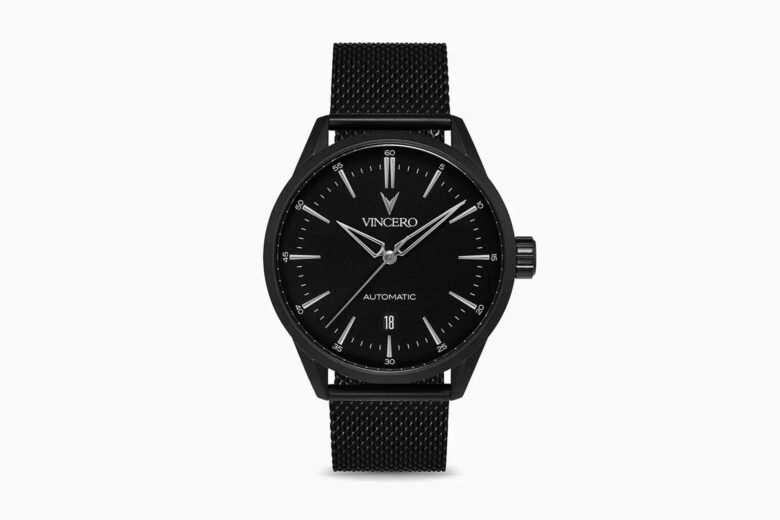 Quality of materials & craftsmanship
The case of the Icon, like other Vincero watches, is made from surgical-grade stainless steel. This iron-based alloy is particularly robust and corrosion-resistant, easy to clean, and with a pleasing glossy finish. The display case back is a cool touch, allowing you to watch the movement at work.
The strap is available in mesh, leather, or steel. We'd opt for leather for a classic look, stainless steel for something more contemporary and eye-catching, and the mesh for a rugged activewear vibe.
The glass is sapphire crystal, the top-of-the-line choice when it comes to watch glass and offering optimum shatter and scratch-resistance.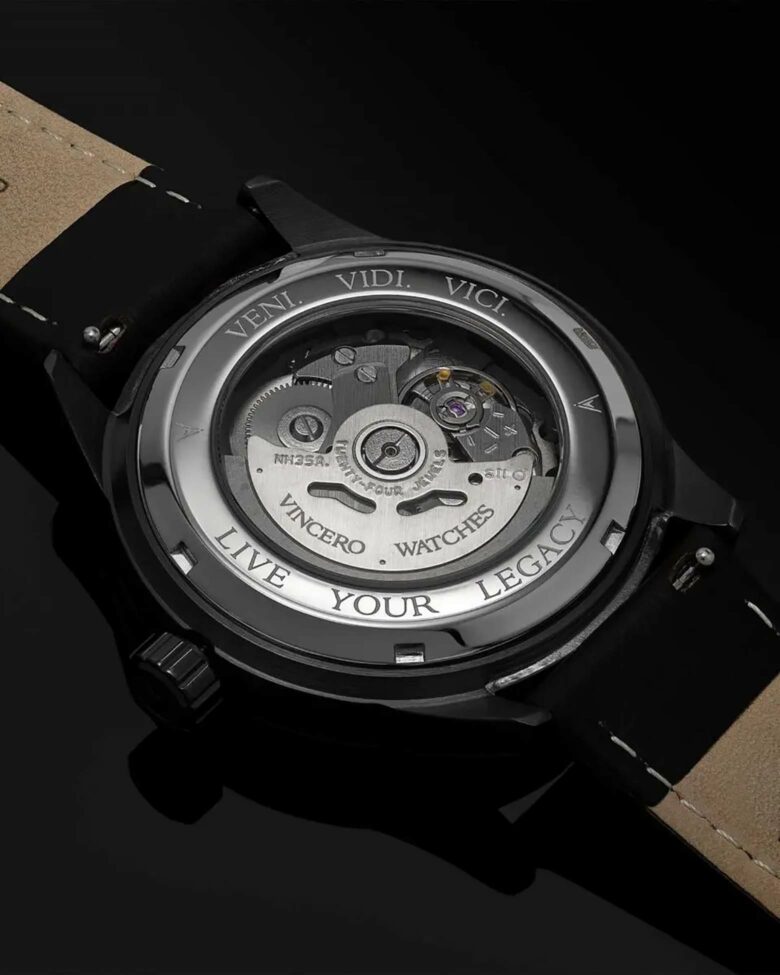 Dial & movement
The Icon's dial is smaller than that of the Altitude but it still offers easy legibility with clear hour markers and striking cut-out sword and dagger-shaped hands. There's no lume but as this is a dress watch, you're unlikely to be using it in the dark.
Unlike the Altitude and Chrono S, the Icon features an automatic movement powered by your motion throughout the day. You neither have to wind it manually nor worry about replacing a battery. But you will have to reset it each time you wear it unless you wear it every day.
This 24-jewel Seiko automatic movement is intricate yet durable with up to 40 hours in its power reserve when fully wound—more than you're likely to ever need.
Best for: High standard of horological engineering without the premium price tag.
| | |
| --- | --- |
| Case size: | 41mm |
| Material: | stainless steel |
| Movement type: | automatic |
Vincero's manufacturing process: how do they make affordable luxury watches?
As our Vincero watches review shows, the company makes seriously high-quality timepieces. Yet their prices are at the lower end of the spectrum when it comes to luxury watches. How does the brand manage this?
It all comes down to a different approach to the production process. Firstly, they make their watches in small batches so they can ensure the highest quality, and don't rush the process. Each product takes around a year to design and prototype. This commitment to perfection means fewer products are sent back, saving the company money in the long term and keeping prices low.
Secondly, Vincero refuses to outsource any part of the process. They're committed to keeping everything in-house, with a hands-on approach to every aspect of production, from sourcing materials to customer service. They can ensure every single product passes rigorous quality control tests as well as ethical working conditions for employees.
Thirdly, they sell directly to the consumer, cutting out the middleman so they can charge customers less. Without the markup of third-party retailers, they can keep prices accessible.
And where are Vincero watches made? In China, where the founders moved before starting their business. However, the different materials are sourced from around the world. The movement, for example, comes from Japan, the leather and marble from Italy, and the steel and sapphire glass from China.
Frequently asked questions about Vincero watches
Is Vincero a good watch brand?
Vincero is a great watch brand for those looking for high-quality and affordable watches. Vincero watches are accessibly priced but don't compromise on the quality of materials or craftsmanship, offering a lasting timepiece for less money.
Are Vincero watches worth it?
Vincero watches are worth it if you want a watch that will last and has the design caliber of a more expensive luxury watch. Vincero watches look and feel expensive yet are in the low to mid-range price bracket when it comes to luxury watches. Check our hands-on Vincero watches review to learn more about the brand.
Are Vincero watches made in China?
Vincero watches are assembled in Guangzhou, China, and Vincero's quality control team ensures all watches pass rigorous testing before being sent off to customers. Materials are sourced from all over the world.
Who makes Vincero watches?
Vincero watches are made by manufacturers in China. The company was founded by three college friends from the US who moved to China and decided they wanted to fill a gap in the market for high-quality but affordable timepieces.
Ceramic artwork by Maison Dejardin.