Whether it's a casual Friday at the office, a weekend brunch with friends, airport runs, or a leisurely stroll through the city streets, the casual dress code empowers women to embrace their personal style without sacrificing comfort.
But don't—like many do—get casual wear confused with letting yourself go. There's a big difference between a carefully curated loungewear set paired with stylish sneakers and wearing your boyfriend's hoodie with mismatched sweats. While comfort is key when it comes to casual dressing, so are body-complimenting fits, quality materials, sustainable fabrics, and complexion-enhancing hues. This can make a casual dress code one of the most difficult to perfect.
Yep, the freedom and flexibility of a casual dress code is one of the things we appreciate most about it. However, it can also lead to overwhelm—and maybe even a little sartorial anxiety.
Basically, you want to achieve that "I woke up like this" aesthetic, where you magically look fantastic without even trying. Easier said than done, right? Well, good news: we've decoded the casual dress code, helping you achieve that much-coveted effortless elegance for all relaxed occasions. You're welcome!
If you are interested in learning more about casual attire for men, we have a dedicated guide for guys, too.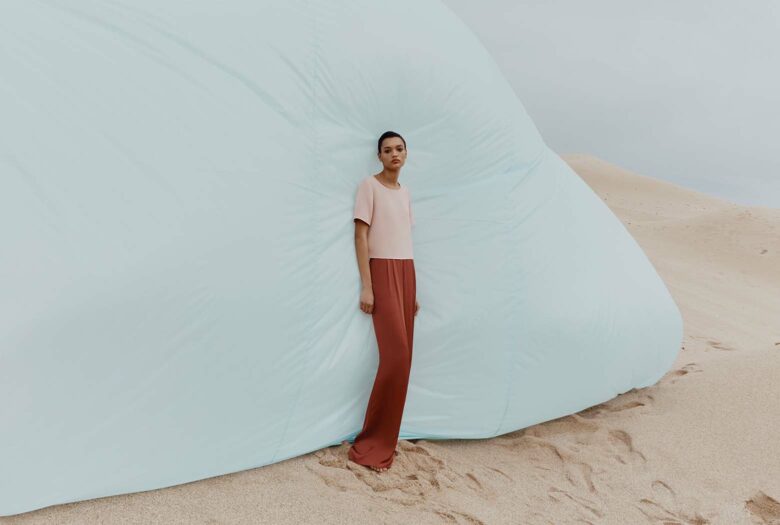 What is a casual dress code?
The less coded of all dress codes, women's casual wear is basically an open invitation to dress in what feels most comfortable to you—nothing too serious. A casual dress code is inherently relaxed, informal, and suited for everyday use. Unlike strict office protocols and prescriptive wedding invitations, this is an opportunity to prioritize comfort and individuality. That being said, there is a big difference between looking scruffy and looking laidback. As much as casual wear is supposed to be relaxed, it should also be refined.
Think denim and a simple (but well-fitted) white tee or flowy summer dresses and comfortable sandals. One of our favorite casual styles for women is the classic midi skirt and chunky-soled sneaker aesthetic. But of course, a fitted turtleneck and mom jeans are a great way to turn up the heat without trying too hard for a casual date night.
When to wear casual wear
While we usually subscribe to the rule that it's always better to be overdressed than to be underdressed, we know that there is such a thing as overwhelming overdressing. And if you've ever turned up in heels when everyone else is wearing sneakers, you'll know that dressing too formally can be just as embarrassing (if not more so) than the other way around. Besides teetering around in stilettos and crouching down for photos for absolutely no reason, you feel like you're trying too hard, and everyone else knows it.
It's not often that an invitation mandates a casual dress code. This style of dressing is more often implied than prescribed. Relaxed gatherings such as backyard barbecues, picnics, and informal get-togethers are opportunities for dressing casual. So are casual outings such as movie nights, shopping sprees, and many sporting events. Beach vacations and coastal resorts are also a time to unwind and prioritize comfort. Basically, the only time you cannot wear casual attire is when the dress code states otherwise.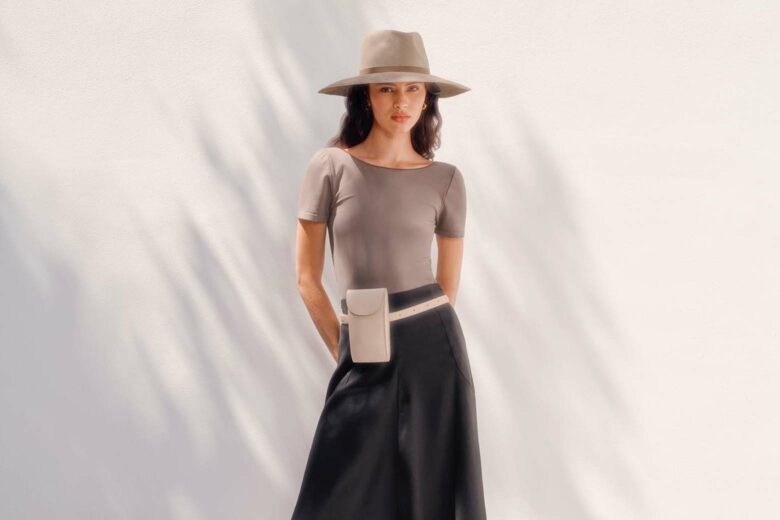 How to dress casual: Style tips
When it comes to casual styles for women, Rachel from Friends is our muse. From simple tees to sultry slips, there are several style go-to's that can help you achieve a comfortable and effortlessly-chic, casual aesthetic. Here are some casual clothes tips to bear in mind while assembling various nonchalant getups:
Casual attire don'ts
Revealing clothing: While casual attire is relaxed, avoid clothing that is overly revealing or inappropriate for the occasion.
Graphic tees with controversial slogans and images: Inflammatory words and offensive logos are best left at home.
Wrinkled or stained clothes: This is never stylish.
Excessively baggy or ill-fitting clothes: We love a slightly oversized look for certain items like blazers and shirts, but the overall look should be balanced.
Athletic wear and pajamas: Yep, this includes your slippers (unless they don't look like slippers, and then you can probably get away with it.)
Casual attire do's
Opt for comfortable clothing: Casual wear is all about looking comfortably chic. Prioritize comfort by choosing clothing made from breathable fabrics (linens and organic cottons are our go-to) and relaxed fits that allow for ease of movement.
Prioritize quality basics: Invest in timeless and versatile wardrobe staples like jeans, t-shirts, skirts, and dresses that can be easily mixed and matched to create various casual outfits. See our guide to creating the ultimate capsule wardrobe for women.
Layer strategically: Experiment with layering by adding lightweight jackets, cardigans, or scarves to create dimension and interest in your outfits.
Pay attention to grooming: While the dress code may be casual, make sure your clothes are clean, wrinkle-free, and well-maintained. Pay attention to personal grooming, such as neat hair and clean nails.
Accessorize thoughtfully: Add accessories like hats, scarves, belts, or statement jewelry to elevate your casual look and add a personal touch.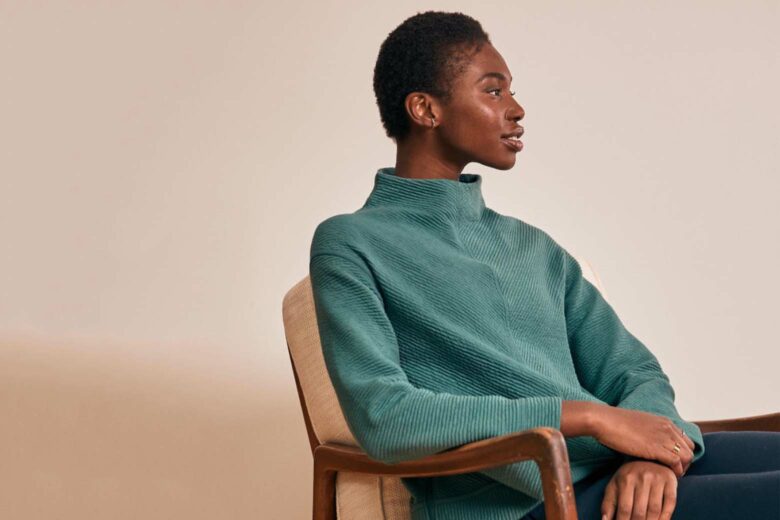 Casual outfits for women: Essentials to rock the casual look
Casual wear usually revolves around a set of beautiful basics and elevated essentials that form the building blocks of your personal style. See below some casual outfit ideas that are both fashionable and foolproof.
Jeans
Jeans are the quintessential foundation of many great casual outfits. And with so many different cuts, the styling opportunities are endless. Adopt an on-the-go mom look with flattering-but-fashionable mom jeans and a turtleneck. Keep it young, wild and free in slightly distressed denims and a (non-offensive) graphic tee. Or make skinny jeans cool again with an oversized cardigan and Chelseas.
See our list of the best denim brands for some inspiration.
T-shirts
A classic tee exudes that effortless "I woke up like this" aesthetic, making it an easy way to rock the casual dress code. Take a page out of Hailey Bieber's style book and pair an oversized tee with biker shorts and sneakers. Keep it simple in a Rachel Green-inspired white tee (see our favorite white tees) and low-rise denims. Or take it back to the '60s in a cropped tee and high-waisted skirts.
Casual shirts
As quintessential to the casual dress code as they are, tees aren't the only casual tops out there. Oversized collared shirts are great paired with denim shorts and sneakers to give off a relaxed-but-refined vibe. We always throw in one or two linen shirts to complete our coastal-attire arsenal. If you're concerned that your button up shirt is too formal, roll up the sleeves or layer it with a denim jacket or oversized cardigan.
Hoodies
Hoodies are slightly more controversial when it comes to casual clothing. While they nail the comfort brief, they don't always nail the style brief. To wear a hoodie appropriately, we recommend steering clear of mismatched sweats and ex-boyfriend reminders. If you're going to wear an oversized hoodie, take your style cues from Gigi Hadid and pair it with matching bottoms, a baseball cap, skinny jeans, or any other tailored bottoms. Otherwise, a cropped cut is a good way to make the humble hoodie slightly more polished.
Casual skirts
Skirts are the ultimate versatile clothing essential. You can dress them up with heels and satin shirts. And yes, you can dress them down with sneakers and tees. From midis to maxis and everything in between, we love a patterned skirt. And because the dress code is casual, the brighter the better. Naturally, for the Y2K fans among us, a shorter mini is Britney Spears-approved and often casual dress code appropriate. But be cognizant of the specific occasion and just how revealing the skirt is.
Casual jackets & coats
When the temperature takes a dip and chill sets in, women's casual style calls for cozy coats and snug jackets. From trendy duster coats to classic denim jackets to temperature-regulating puffers, there are numerous relaxed options to keep you warm while maintaining an effortless aesthetic. In fact, there are few rules when it comes to choosing casual outerwear. The most important thing is that you're warm—nothing kills a casual look like goosebumps.
Casual dresses
There's nothing more effortless than throwing on a flowy dress in summer. The one-piece outfit requires minimal thought and is almost always comfortable. To keep it casual, we recommend looking for midi lengths or boho styles. Avoid anything too tight and save the satins for more formal affairs. If in doubt, linens and cottons are almost always a failsafe. And when it comes to prints, you really can't go wrong with bold or muted variations.
Casual pants
When it comes to a casual dress code, there are several pants options that strike the perfect balance between comfort and style. Cropped pants, such as ankle-length or culottes, offer a trendy and comfortable alternative for warmer weather. Wide-leg pants have gained popularity for their effortless and chic aesthetic. Even leggings are deemed appropriate when worn with long enough tops. And joggers work well with matching tops—for specific occasions such as a Netflix and Chill date.
Casual sweaters
Like hoodies, sweaters are intrinsically casual. And you don't need to do much to achieve that nonchalant-chic aesthetic. Opt for a vibrant knit to brighten up your casual wardrobe. Or keep it timeless in neutrals. Opt for oversized sweats to make your tailored pants chilled. Or show off your form in a fitted cut. Our favorite sweater look is a classic Breton stripe paired with distressed denims, or a crewneck (cashmere) sweater styled with sneakers. It doesn't get much more effortlessly fashionable than that.
Casual cardigans
Cardigans are no longer relegated to the back of your grandma's wardrobe, when worn correctly, they're a quintessential addition to your casual wear arsenal. To steer clear of the strict-librarian aesthetic, avoid pairing fitted cardigans with floral dresses. Instead, style chunky knits with ripped denims and trendy sneakers for an edgy take on the classical cardi. And for a more understated-but-polished look, pair a long cashmere cardigan with stretch pants and lug-soled Chelseas.
Casual blazer
Defined by boardrooms and office breaks, the blazer doesn't scream "casual." But that doesn't mean it can't be. It just requires a little more thought to get there. While we love a blazer paired with matching suit pants, this doesn't fit the casual dress code brief. In fact, stay away from work pants altogether. And instead, style an oversized blazer with mom jeans or denim shorts, a tee and sneakers for a more casual look.
Casual blouses and tops
Not all blouses and tops are casual. To hit the comfortably-cool brief, choose relaxed or loose-fitting styles that provide comfort and ease of movement. Opt for relaxed fabrics such as cotton, linen, or silk for a small touch of luxury. Embrace casual patterns and prints, like stripes or florals or stay minimalist with foolproof neutrals.Of course, jeans and sneakers always help to dress down satins and chiffons.
Casual shoes
When it comes to casual dressing, your choice of footwear can make all the difference, especially if you're concerned that your ensemble is too dressy. Luxury minimalist sneakers are our go-to for making an outfit more casual. But mules, flats and sandals are all excellent choices when seeking both comfort and style. Consider making a statement with your shoes by selecting a pair that complements one of the colors in your outfit, or opt for a contrasting shade to add an extra edge without going overboard.
Casual accessories
A general rule for casual accessories should always be as functional as they are fashionable. This makes them an easy way to dress down an outfit, while benefiting from their practical elements. For example, scarves add warmth but can also be worn to brighten up an ensemble. And while baseball caps are essential for sun protection, they simultaneously exude chilled-out celebrity vibes. All you need is a pair of oversized polarized sunglasses to complete the look (see our list of the best women's sunglasses for some inspiration).
Casual jewelry
Casual jewelry (from our favorite designer jewelry brands) comprises pieces that are perfect for everyday wear, seamlessly complementing relaxed and informal outfits. Minimalist necklaces with delicate chains and pendants are perfect for layering. When it comes to earrings, we love wearing simple pearls, studs, and minimalist hoops. Dainty bracelets, like thin chains, bangles, or charm bracelets, add a touch of personality, especially when stacked. And designer watches are a great way to make your look more sophisticated while still keeping it casual.
Casual bags
Like other casual accessories, casual bags should be as practical as they are stylish. And like casual jewelry, they should be designed for everyday wear. Casual bags include everyday tote bags, crossbody bags, backpacks, and hobo bags, often made from durable materials like canvas, nylon, or leather. They should be spacious enough to carry the daily essentials and should feature comfortable straps, multiple compartments and easy access closures. The goal is to look great on the go—without compromising comfort and convenience.
Casual colors
When it comes to what colors to wear for a casual dress code, there are no hard and fast rules. Neutrals and muted tones are easy to mix and match with understated elegance. But the lack of regulation also makes it a great opportunity to wear bold hues and exotic prints. It's all about what makes you feel most comfortable.
Neutrals: Nothing says effortless chic like a quality black or white tee and denims.
Bright colors: Got a fuschia pink sweater? Or a pink babydoll dress? This is your chance to wear it all without worrying about whether it's sophisticated enough.
Prints: Again, there's no need to hold back. Exotic patterns are just as appropriate for a casual dress code as subtle prints. From animal prints to florals to tweeds, you don't need to take yourself too seriously when dressing casual.
For more on how to mix and match your casual classics, see our complete color matching style guide.
Where to buy casual outfits and the casual brands women need to know
Cuyana
The key to casual attire for women is high-quality basics. Cuyana understands the brief. And as one of our best women's online stores, we are big fans of how the luxury label produces "fewer, better things," helping us curate capsule wardrobes that last a lifetime. From linen summer dresses to transitional cashmere cardigans, we live in our Cuyana classics. And while it feels like we're living in loungewear, we still feel put together and polished.
LilySilk
It's no secret that we are major fans of LilySilk. Specializing in sumptuous sleepwear and conscious casual wear, the luxury brand only uses the highest quality, sustainably sourced materials. The result? Silk shirts that feel like butter against your skin and cashmere sweats that are the sartorial equivalent of a hug.
WHBM
White House Black Market is renowned for its timeless designs and impeccable attention to detail, making them one of our best brands for everyday casual wear. With a focus on elevated essentials and chic monochromatic styles, the brand's collections are characterized by versatility, quality craftsmanship, and a refined aesthetic that effortlessly transitions from day to night.
Anine Bing
Minimalist and slightly rebellious, Anine Bing's collection of high-quality basics is both edgy and easy to wear. Employing sleek lines and an uncomplicated color palette, the Scandi-American label skillfully combines fashion and function. Our top suggestion: try the brand's signature oversized hoodie paired with biker shorts and cat eye sunnies. As cool as it is comfortable, Anine Bing has you covered.
KAAI
KAAI bags are the epitome of craftsmanship and sustainability. Handcrafted by skilled Italian artisans, they're scratch-, water-, and stain-resistant. While the brand's unique designs and careful attention to detail fuse style, functionality, and sustainability. Compartmentalized and organized on the inside, KAAI bags are relaxed on the outside, making a life in motion appear effortless.
Linjer
With an understated elegance and timeless essence, Linjer's jewelry is designed for everyday wear. From delicate necklaces to simple yet sophisticated earrings, Linjer offers a curated collection of fine jewelry that effortlessly complements any style. Crafted with meticulous attention to detail, each piece showcases high-quality and sustainable materials such as sterling silver and 14k gold. And made to last, they're the kind of pieces that you don't have to take off to go for a run or prune your roses.
To explore a greater variety of casual attire, you can also conveniently browse through many of our favorite high quality brands on reputable online retailers such as Luisaviaroma, Net-a-Porter, and Farfetch.
Frequently asked questions about a casual dress code for women