The lustrous, glimmering, pale golden tones of pyrite have long fooled prospectors and experts alike, leading them to believe that they had found their fortune. Sadly, the similarity of pyrite to gold is in appearance only, yet it possesses its own unique charms and powers which go far beyond earthly riches.
The sparkling metallic stone is a joy to behold, it both catches and reflects shafts of golden light, and fine crystals are highly-sought after by mineral collectors. Pyrite's gorgeous golden hues recall the warmth and energy of the sun, and indeed pyrite contains hidden fire within itself, which it reveals when struck against metal or stone. This fire energy has led to pyrite's symbolic reputation for unleashing power and potential, and it is also known throughout the world as the crystal of protection.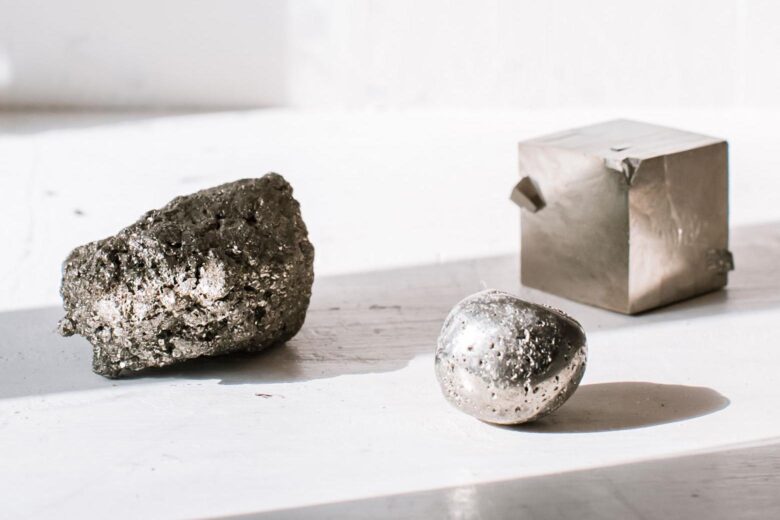 | | |
| --- | --- |
| Pyrite Color | Gold |
| Zodiac Sign | Leo |
| Hardness Scale | 6 – 6.5 on Mohs Scale |
| Mineral Class | Iron sulfate |
| Symbolism | Power, Potential, Protection |
What is Pyrite
A beautiful golden blond with a distinctive metallic luster, Pyrite hails from the family of iron sulfate minerals, and is in fact the most abundant mineral within this group. A unique property of pyrite is its ability to give off fiery sparks when struck by another metal, meaning it has been popular since prehistoric times for its capacity as a fire starter. Pyrite is famous throughout the world for its similarity to gold, and has earned itself the dubious moniker 'Fool's Gold' as a result of this resemblance. However, the value of pyrite is negligible in comparison to gold. Pyrite gemstones usually sell for between $5 – $8 per carat, but it is the intrinsic glittering brilliance of Pyrite that gives it its true value. Pyrite is also lighter in color than gold, and both harder and more brittle. 
What does Pyrite look like
Pyrite is a dazzling, golden-hued stone with colors that range from a light champagne gold through to a slightly darker brassy yellow. It is an opaque mineral with a metallic luster which gives it an attractive shimmer or shine. Glittering pyrite forms in some of the most unique and unusual structures, including near perfect cubes and octahedrons (three dimensional shapes with eight faces).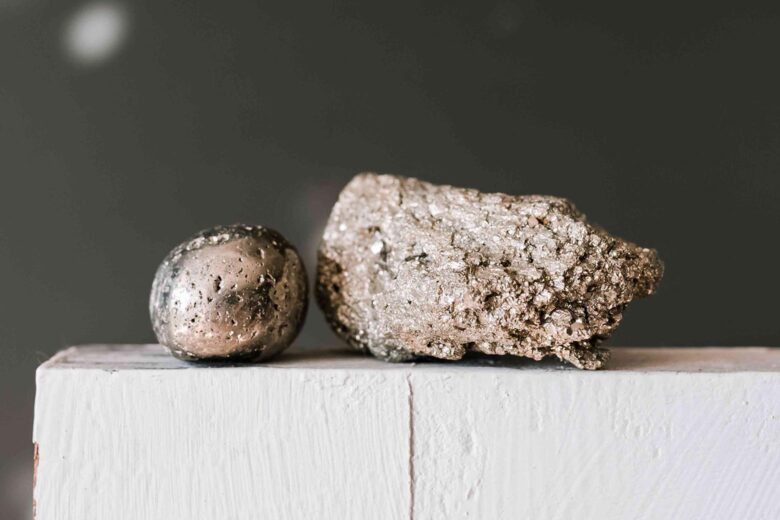 History of Pyrite stone
Pyrite has long been a favorite among civilizations both ancient and modern. The Incas of Peru and the Aztecs of Mexico polished large slabs of this highly reflective rock into mirrors, and also used it to create impressively glittering jewelry.
The North American Indians worshiped pyrite crystals as stones of great power and magic. They fashioned them into amulets, to ward off evil spirits, and also used the stones during incantation ceremonies to harness their healing and protective properties.
Pyrite became an extremely popular stone during the Victorian era, when it was used to create carved rosettes, shoe buckles and rings.
Today the sparkling, flaxen gold of pyrite means it is very popular as a decorative stone, and it is also celebrated for its spiritual properties of protection.
Meaning of Pyrite stone
The name pyrite comes from the Greek word pyr, which translates as fire. Pyrite gemstones can be used to create sparks when struck by another hard metal, and have been used throughout history for this purpose. Indeed, nodules of pyrite crystal have been found in prehistoric burial mounds. The name pyr is also perhaps a testament to the way the stone's metallic luster catches the light, emitting a warm, sparkly glow.
Pyrite's main spiritual meaning is one of protection. It is a stone which protects you from danger, and it is also said to increase inner strength and spark positive energy.
Where does Pyrite come from
As pyrite rock forms under extremely varied conditions, it can be found in abundance all over the world. Particularly fine crystals are known to have been found in the US, in Colorado, Pennsylvania, and Utah. In Europe, the richest deposits are found at Rio Tinto, in Spain, although large stones are also found in Italy, England, Austria, Germany, Switzerland and Sweden. And in South America, Peru produces exceptional crystals which are highly-sought after by collectors.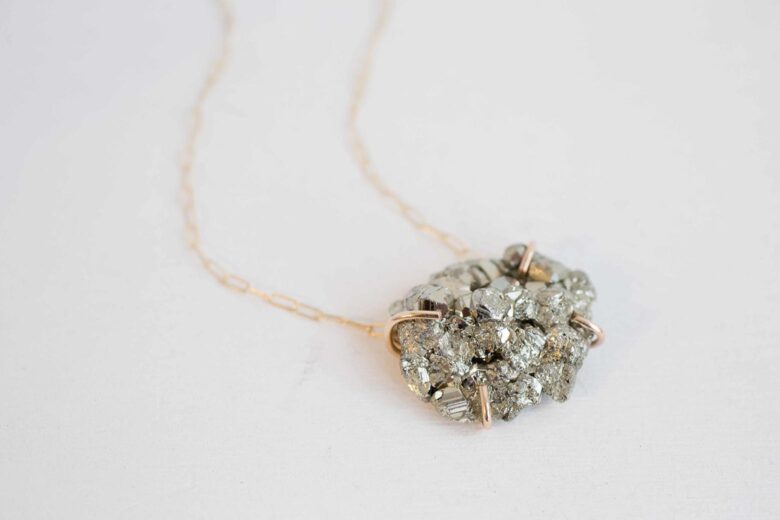 Pyrite and Zodiac signs
Although not a traditional birthstone, the fiery stone of pyrite is the natural birthstone for those born in the height of summer, under the sign of Leo. The bold, shimmering tones of this golden stone aptly reflect the brightness of long summer days, and the heat of midsummer nights. In fact, pyrite is said to correspond to any of the three fire signs, Aries, Leo and Sagittarius.
For people with fire in their soul, pyrite makes for a unique and spectacular gift. Its burnished tones look spectacular as the centerpiece of a ring or necklace. The warm, golden hues of pyrite also pair perfectly with other gems, particularly black gems such as jet or similarly colored gems such as sunny citrine. 
Which family is Pyrite from
Pyrite, also called iron pyrite, comes from the family of sulfide minerals and is the most numerous sulfide mineral of all. It forms at high and low temperatures and occurs in igneous, metamorphic and sedimentary rocks. The material is very brittle and heat sensitive, and requires care in cutting.
Birthstones chart
Find your birthstone by month
---
Frequently asked questions about Pyrite
What are the benefits of pyrite?
Glowing pyrite is a crystal of positive energy. It is believed to enhance the flow of creativity, and to spark ideas. Light gold crystals are said to provide us with the simple pleasures of life; cheerfulness and contentment.
What is pyrite used for spiritually?
Pyrite's central spiritual meaning is that of protection. It guards against negative energies, and protects the owner from harmful atmospheres. The sparkling energy of pyrite is also said to help unleash your potential, giving you the power to embrace change and fulfill your ambitions.
Why is pyrite harmful to humans?
Pyrite is a dangerous mineral for human health. It is composed of iron and sulfur and can contaminate groundwater and streams. Oxidation of pyrite releases toxic metals found in the stone such as arsenic, which is poisonous for humans. Pyrite is a main source of acid gasses in the atmosphere.
Is pyrite toxic to touch?
Despite being listed as a toxic mineral, wearing pyrite jewelry or touching the stone or crystals poses no threat to humans. Pyrite is not soluble in water, and therefore is not dangerous when handled.