Passionate, beautiful, and dreamy: rose quartz has enchanted lovers for centuries. From the Ancient Egyptians to modern-day meditation, rose quartz provides healing, value, and more benefits than first meets the eye.
Perhaps the most whimsical type of quartz, rose quartz holds special meaning as one of January's birthstones. It so happens to be one of the most valuable types of quartz, and in more ways than one.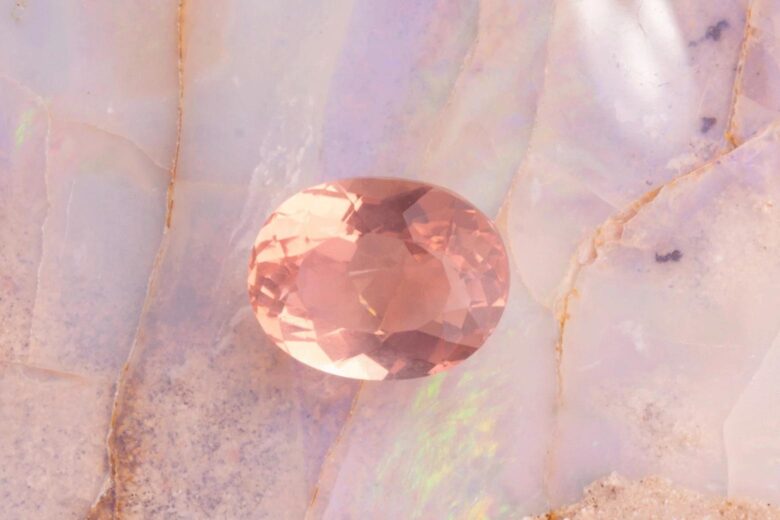 | | |
| --- | --- |
| Rose Quartz Color | Blush Pink to Deep Pink |
| Birthstone Month | January |
| Hardness Scale | 7 on Mohs Scale |
| Mineral Class | Silicate |
| Symbolism | Love, Compassion, Unconditional Love |
What is Rose quartz
Rose quartz is one of the most popular types of quartz, aside from citrine or amethyst. It is noteworthy for its signature pink colors. It's these beautiful pink hues that strongly align with its symbolic connection to love, romance, and passion. 
Rose quartz is sold as raw crystals for meditation and healing. Fine jewelers usually cut and polish rose quartz into cabochons for everything from rings to necklaces and bracelets. 
Rose quartz, like other types of quartz, has a Mohs hardness rating of about 7. It can be damaged but isn't easily scratched by everyday use or wear.
Rose quartz is one of the more expensive types of quartz, with an average price of $100 per carat for reputable quality stones. However, rare rose quartz of exceptional value and clarity can cost as much as $1,000 per carat.
What does Rose quartz look like
Rose quartz is most notable for its colors. Rose quartz may be blush pink so light it appears nearly white, to medium and deeper pinks. Tiny inclusions—usually microscopic—provide the beautiful dimensions of this stone. If you look closely, even rose quartz of the highest value is not perfectly uniform.
The pastel colors of rose quartz are translucent and slightly cloudy. This provides a dreamy, romantic ambiance but is quite different from the clarity prized in regular quartz or other types of jewelry birthstones. However, there is a selection of less common crystalline quartz which is transparent. This is the most expensive pink quartz, quite rare, and usually sourced from Brazil.
Some of the finest jewelers cut pink quartz in such a way that its inclusions form a faceted, star-shaped orientation. Rose quartz is graded based upon color, cut, clarity, and carat on a letter scale, similar to many colored gemstones. 
Pink Quartz Grading Chart
| | |
| --- | --- |
| Letter Grade | Description |
| AAAA (Heirloom) | Top 1 percent of pink quartz; medium to deep pink |
| AAA (Best) | Top 10 percent of pink quartz; soft pink |
| AA (Better) | Top 33 percent of pink quartz; paler pink |
| A (Good) | Top 75 percent of pink quartz; very pale pink with notable inclusions |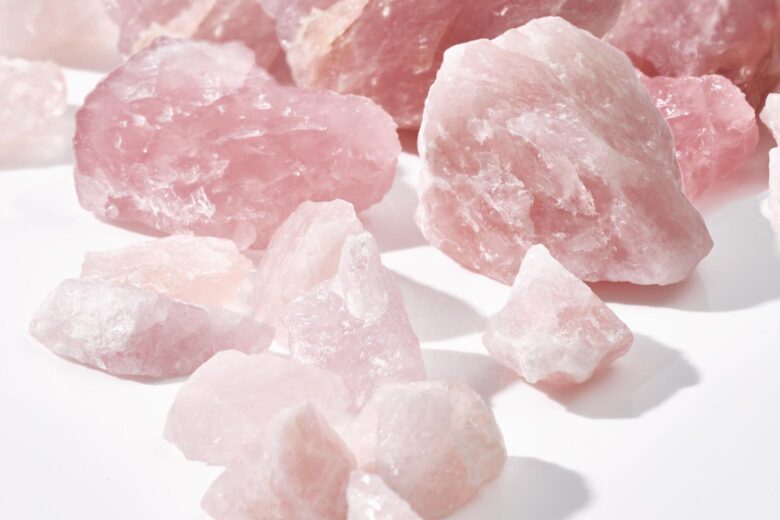 History of Rose quartz
Like many types of quartz, the history of rose quartz is long and rich. Rose quartz has been used across cultures for its religious, symbolic and healing powers. Archaeologists have found rose quartz dated as far back as 7,000 BC in Ancient Mesopotamia (modern-day Iraq). The Assyrians widely used rose quartz for jewelry from 800 to 600 BC. 
Amongst the Ancient Romans, Egyptians, and Greeks, rose quartz played a role in religious and momentous ceremonies. It was used to slow aging (Egypt) and even to showcase property and rank. Indigenous groups have used love quartz in beaded necklaces and as a token of love. 
However, rose quartz's beginnings in most of North America were centuries later. It was discovered in South Dakota around 1880 and began to be mined in abundance. Eventually, it was named the official state mineral of South Dakota. It's since been mined in other places within the United States, including Maine.
Meaning of Rose quartz
Perhaps the greatest value of rose quartz lies in its unique meaning. From its practical purposes to symbolic meanings, rose quartz remains important. For many, it is a symbol of love, compassion, romance, and authenticity.
Rose quartz is used in meditation, worn, or given as a gift between partners. Believed to possess properties that stoke passion, it's commonly placed in bedrooms.
Yet rose quartz is also thought to bring forth stability and balance. It heals and removes emotional barriers, bringing stability to all seven chakras in Feng Shui. For this reason, rose quartz is also a way to promote love, compassion, and acceptance towards oneself.
Those healing properties extend to health benefits. With a connection to the heart chakra, many see rose quartz as a way to promote heart health, and overall well-being.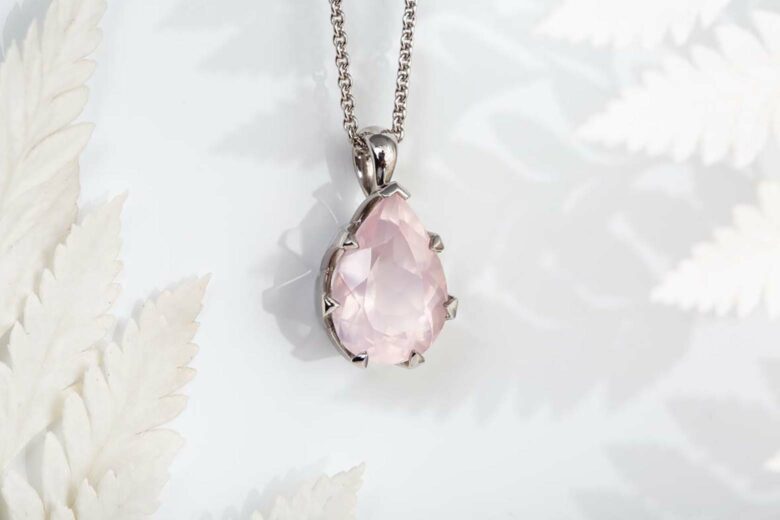 Where does Rose quartz come from
Rose quartz of the greatest value comes primarily from Brazil. However, rose quartz also comes from Sweden, Namibia, Uruguay, Germany, India, South Africa, Madagascar, Sri Lanka, and parts of the United States (especially Maine and South Dakota).
Rose quartz is formed in a similar way that other types of quartz are. The main way it's formed is by a hydrothermal process. A hydrothermal process describes a chemical reaction that occurs with hot liquid and intense pressure. During this process, oxygen and silicon atoms bond to form crystal structures. Rose quartz may also be formed during magma crystallization (when hot magma cools and solidifies).
The unique colors of rose quartz are attributed to trace minerals. Impurities of both phosphate and aluminum create its signature blush to medium pink hues. Rose quartz may also contain trace amounts of iron, manganese, or titanium.
Which family is Rose quartz from
Rose quartz is a type of quartz and thus a member of the silicate mineral family. Silicate, a salt anion, is one of the most abundant minerals in the world. It forms nearly 90 percent of the Earth's crust. Most types of quartz, including rose quartz, are quite common.
Rose quartz, rutilated quartz, and other types of quartz are all classified as tectosilicates. The tectosilicate group is one of seven major groups in the silicate family. Tectosilicates are defined by a three-dimensional crystal structure. Collectively, tectosilicates comprise ¾ of the Earth's crust. 
Birthstones chart
Find your birthstone by month
---
Frequently asked questions about Rose Quartz
What is rose quartz good for?
Rose quartz is used for promoting harmony, compassion, romance, and self-acceptance. It's used to restore emotional and relational balance. Some believe it has physical healing properties too- promoting healthy circulation and blood flow and protecting the heart. Rose quartz is used as crystals, jewelry, and decor.
How can you tell if rose quartz is real?
The best way to tell if rose quartz is real is by testing its hardness. If it's easily scratched with a piece of metal or glass, it's not real rose quartz. It should be cool and not have any air bubbles. Real rose quartz is also slightly heavier than glass. Synthetic quartz is usually lightweight, cheap, and easy to damage.
What powers does rose quartz have?
Rose quartz is said to have many healing and uplifting benefits. Most commonly associated with love, rose quartz is used to enhance romantic love and connection between partners. It also has balancing properties, healing emotions, and removing psychological barriers. In Feng Shui, rose quartz balances chakras.
What happens when you give someone rose quartz?
When given as a gift, Rose quartz is meant as a token of love or compassion and shows your commitment and feelings towards them. A gift of rose quartz also restores healthy energy, balance, and authentic, unconditional love, between two lovers.