Between the zingy, sharp feel and the crisp sound it makes, there's something refreshingly special about pouring chilled soda water.
If you've found yourself splurging on sparkling water—in bulk—it's time to take your relationship with seltzer to the next level. Purchasing an at-home carbonation system or easy-use soda maker can make a luxurious ritual accessible for every day.
In the past decade, the number of sparkling water makers on the market has skyrocketed. Now, you have options, depending on how you'd like to power, store, or use your system…or even just how carbonated you need your beverage to be.
Don't worry, though; we've got it all figured out. We've carefully researched this year's best soda makers so you can figure out the best one for you.
We think you'll also find these seltzer systems are the little something extra you didn't know your kitchen needed.
The 9 best sparkling water makers
Check our home soda maker buying guide after the list to see exactly what you should pay attention to before purchasing a soda maker online.
SodaStream Fizzi One Touch: Best overall sparkling water maker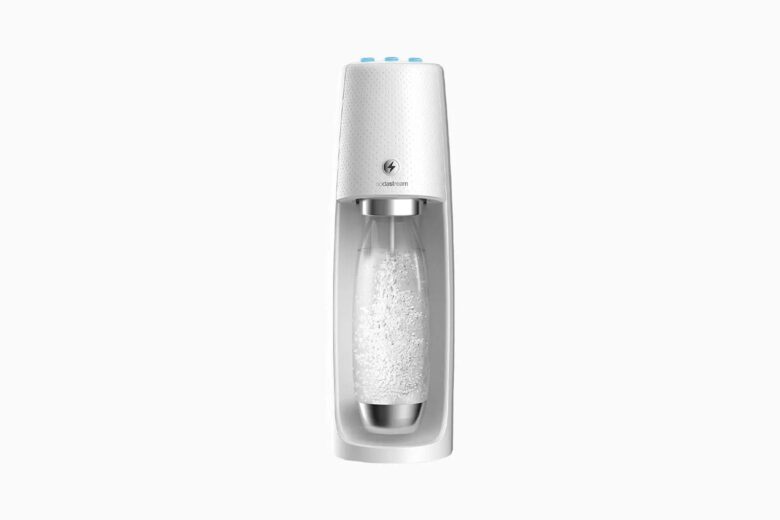 Easy to use, fast, and free of complicated extras, the Fizzi from SodaStream presents a streamlined way to make yourself a drink within minutes.
With one button, you can cater your carbonation to your taste. Lots of bubbles, or just a few? You decide.
This is an electrically-powered carbonator, and you will need SodaStream canister refills from time to time. However, the machine comes with one full cylinder to get you started right out of the box.
We love that the included BPA-free plastic bottle has a little metal edge that elevates its look.
While the SodaStream Fizzi only carbonates water, SodaStream sells lots of flavored syrups that you can use to add a little something extra to water after it's been properly carbonated.
Best for: Control over your carbonation–whether it's just a few bubbles or maximum fizz.
| | |
| --- | --- |
| Colours: | Black, white |
| Carbonates: | Water |
| Capacity: | 1 liter |
| Carbonator: | 60L CO2 canisters |
Aarke Carbonator III: Best high-end soda maker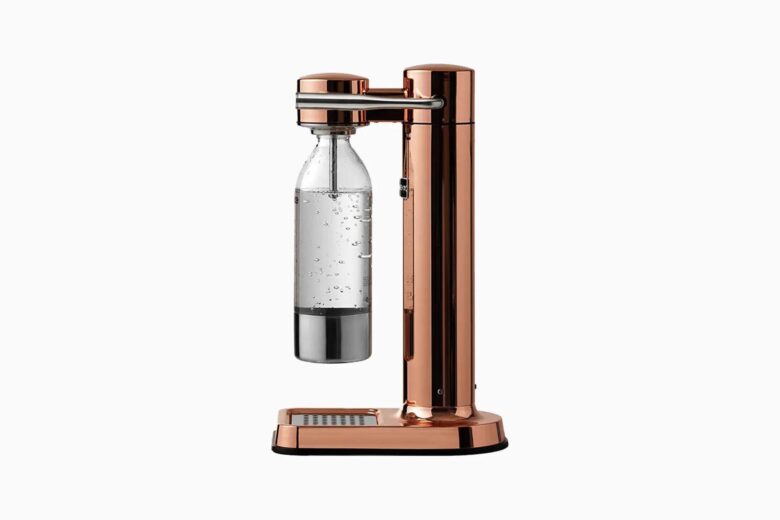 If you're anything like us, you consider aesthetics nearly as much as utility, even when you're buying practical kitchen tools. (After all, if you're going to be using a product often, shouldn't it look good?)
The Swedish-made Aarke Carbonator III comes in a copper finish, giving it a unique upscale look you won't find in other carbonators. We suspect that the metal does more than look great: It will also provide more durability against carbonation pressure, lending longevity as well as luxe design.
This soda machine is simple to use: Push a lever, carbonate your water. The Aarke Carbonator III works with 60L CO2 canisters—but the system does not include one to begin with, so purchase one separately so you can use the Aarke straightaway.
Best for: Those seeking the Cadillac of carbonators.
| | |
| --- | --- |
| Colours: | A range including copper, matte black and brass |
| Carbonates: | Water |
| Capacity: | 1 liter |
| Carbonator: | 60L CO2 canisters |
DrinkMate Carbonation System: Most versatile soda machine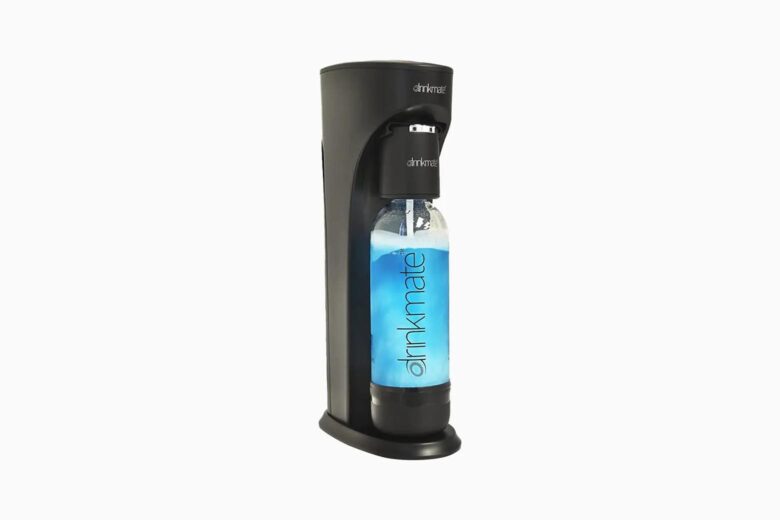 The difference between a true carbonation system and a sparkling water maker is simple but crucial: With the DrinkMate, you can carbonate any liquid you, please.
Once you realize this, the possibilities are endless. Sparkling tea. Effervescent orange juice to start the day. A carbonated cocktail (or two) in the evening.
The trade-off with the DrinkMate system is that you get the versatility, but you don't have electricity powering the carbonation. However, we like to think that this just adds to the flexibility of the DrinkMate: You can take your sparkling water maker to go.
The DrinkMate Carbonation System uses standard 60L carbonation cylinders, and the manufacturer has a trade-in program you can take advantage of for sustainability and a slight discount.
Best for: Scientists and explorers at heart who want to answer the question 'Can you carbonate that' immediately.
| | |
| --- | --- |
| Colors: | Black, white, red |
| Carbonates: | Any liquid |
| Capacity: | 1 liter |
| Carbonator: | 60L CO2 canisters |
Spärkel Beverage System: Best carbonated water maker without CO2 tank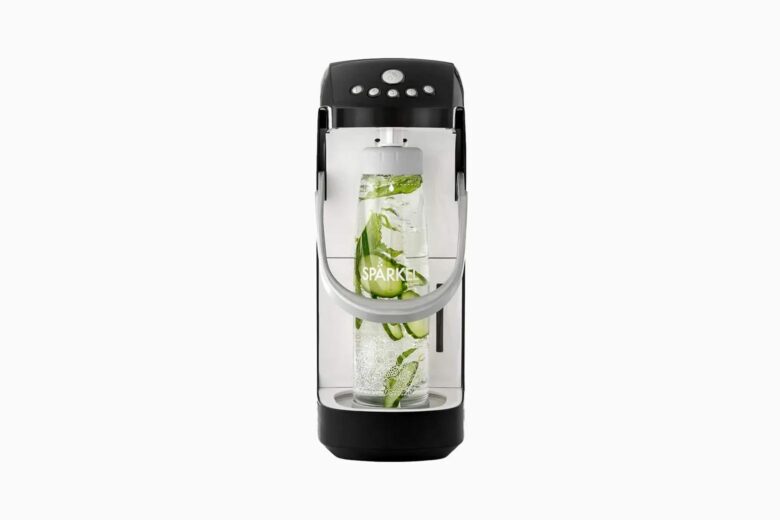 Is the idea of having to source, store, and send back endless CO2 canisters standing between you and your personal supply of seltzer?
We understand. The company behind the Spärkel Beverage System does, too—which is why they've debuted an innovative beverage system that doesn't require CO2 tanks at all.
With easy-to-use individual carbonator packets, you can use this system to carbonate any liquid you choose. You can even add herbs and fresh fruit directly to the bottle without voiding the warranty, allowing you the ability to make delicious, experimental infusions all your own.
The Spärkel Beverage System is also ultra-customizable and offers a pleasant user experience. You can choose from five carbonation levels, the controls are simple and designed nicely, and there's even a soothing melody that plays when the carbonation is complete.
Best for: Those who want to try the very latest innovations in carbonation.
| | |
| --- | --- |
| Colors: | A range including black, silver, white |
| Carbonates: | Any liquid |
| Capacity: | 750ml |
| Carbonator: | N/A |
SodaStream Aqua Fizz: Best soda maker with glass bottles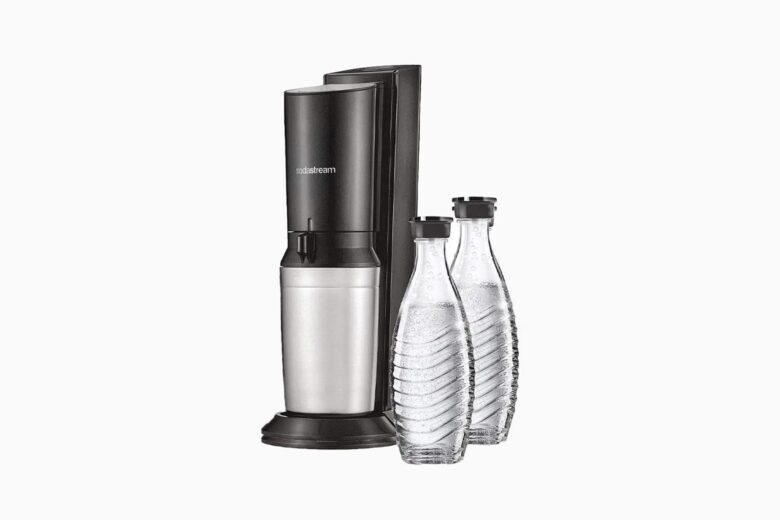 Perhaps you don't love the idea of all that plastic in your home (even if it is BPA-free).
There's just a certain flair that comes with chilled glass bottles of stored sparkling water, no? If you think so, too, you'll enjoy the SodaStream Aqua Fizz and the two gorgeous ribbed glass bottles that accompany it.
We think they're lovely enough to keep tableside—and we think you'll agree.
The SodaStream Aqua Fizz is very similar to the SodaStream Fizzi, but is a little bulkier; it requires a little more clearance in order to safely accommodate a glass bottle. You may have to set aside a little more counter space for the Aqua Fizz; but, as it doesn't require electricity, you can use it wherever you please.
Best for: Those who enjoy their dinner with a side of class, fine china, and dressing to the nines.
| | |
| --- | --- |
| Colors: | Black |
| Carbonates: | Water |
| Capacity: | 620ml per bottle |
| Carbonator: | 60L CO2 canisters |
FIZZpod Soda Maker: Best compact carbonated water machine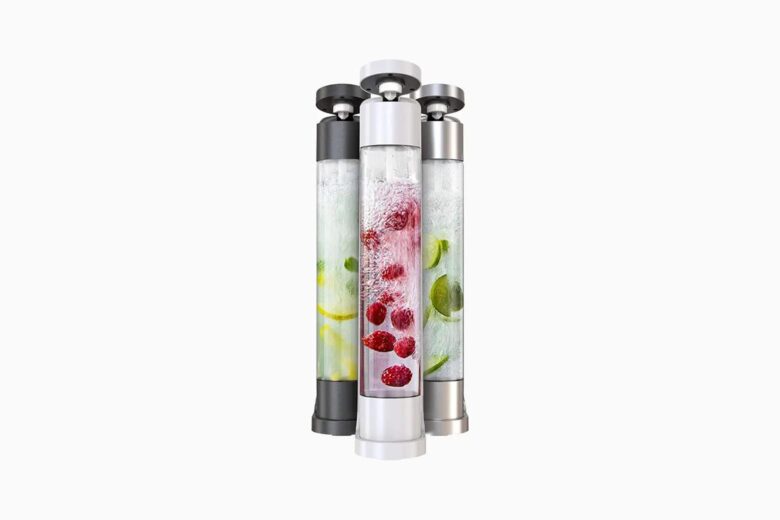 Perhaps you don't have any counter space to spare—or you're in need of soda water on the go.
Have any beverage you want, anywhere you are: just a simple press of the lightweight lever on the FizzPod, and you'll have an effervescent drink in minutes. The FizzPod is extremely portable—some might even say flimsy, but it holds together well, and the water seals remain tight.
It's also a good entry-level seltzer maker, if you're looking for something budget-friendly, cordless, and free of bells and whistles. The FIZZpod Soda Maker makes fizzy water very well, and that's all; but, then again, that's really all it needs to do, isn't it?
Best for: Your spontaneous, on-the-go spritzer needs.
| | |
| --- | --- |
| Colors: | Cognac, silver, black |
| Carbonates: | Any liquid |
| Capacity: | 1 liter |
| Carbonator: | 60L CO2 canisters |
iSi Soda Siphon: Best non-electric sparkling water machine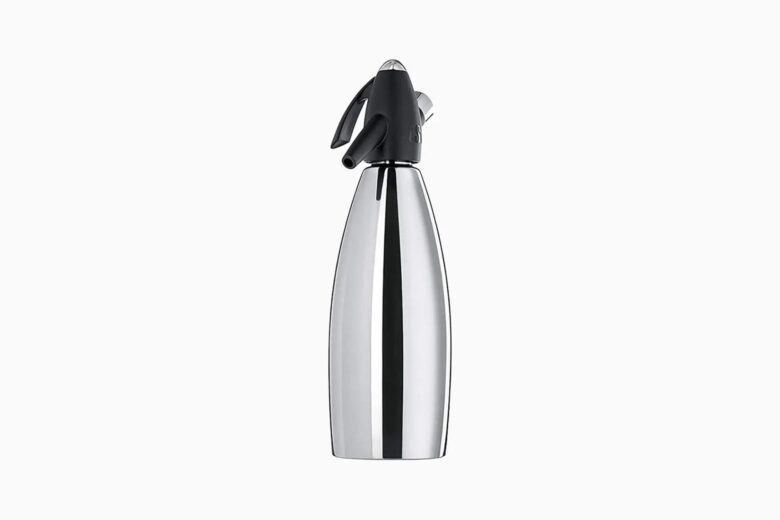 Maybe you're not looking for another countertop appliance for your kitchen.
Perhaps you're looking for a stylish accessory for your bar cart.
If so, the iSi Soda Siphon is perfect for you. Just as a professional bartender uses a docked siphon to shoot crystal-clear sparkling water straight into a chilled glass, so can you—with this shiny, sleek handheld model. (This will definitely up the ante for the next happy hour you host.)
The wow factor does take a little time and effort; this isn't a one-step seltzer solution. You do need to assemble the siphon, clean it, and charge it. The end result is worth it: The carbonation is strong, and your friends and family will be impressed, too.
Best for: The amateur mixologist who hosts happy hour and wants to make a good impression.
| | |
| --- | --- |
| Colors: | Stainless steel |
| Carbonates: | Any liquid |
| Capacity: | 1 liter |
| Carbonator: | Small, one-use CO2 charger |
KitchenAid Beverage Maker: Best retro-inspired seltzer maker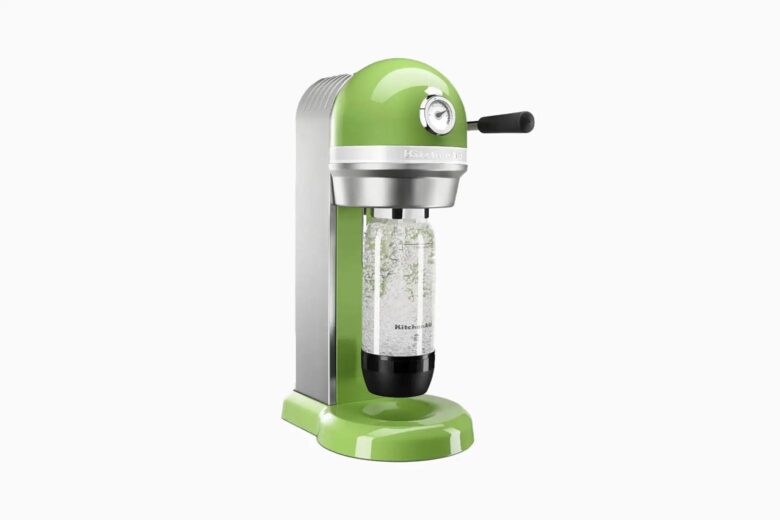 If your tastes are more for perfectly retro appliances, you need to look into the KitchenAid Beverage Maker. Set aside for a moment that it's a truly premium soda machine: It's gorgeous, giving off the same colorful, sculptural feel for which a KitchenAid Mixer is well-known.
It is pricey, but if it fits in well with your kitchen and you don't have to store it after each use, that's definitely a pro.
The KitchenAid Beverage Maker also has amazing reviews that speak to its durability and longevity, making it a definite investment in your long-term sparkling water prospects. (It's made of die-cast metal, which does feel nice when compared to the plastic housing of other models.)
Best for: True dedication to the mid-century modern aesthetic (and, of course, to sparkling water.)
| | |
| --- | --- |
| Colors: | A range including white, silver, and cobalt blue |
| Carbonates: | Water |
| Capacity: | 1 liter |
| Carbonator: | 60L CO2 canisters |
DrinkWorks Home Bar: Best water carbonator for home bar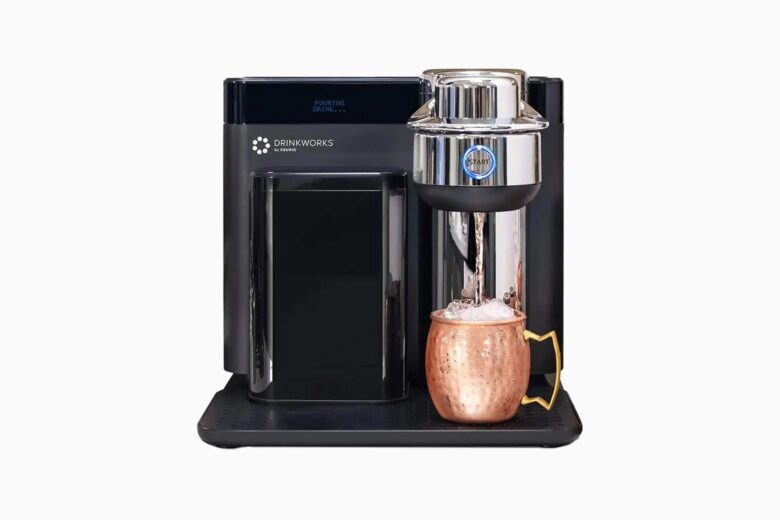 We all have times when we love to play at mixology, but there are other times—hosting a large party, at the end of a long day—when it'd be nice to press a button and receive a perfectly-mixed, chilled drink in moments.
With the DrinkWorks Home Bar, you can. This machine is reminiscent of an at-home espresso maker, but instead of a foaming wand, it has a small sparkling water siphon. It's perfect for fizzing up individual servings of delectable beverages.
The DrinkWorks Home Bar, much like a Keurig, also uses individual pre-measured drink pods to mix you the perfect mojito, gin and tonic, spritzer, or any of a variety of delicious drinks.
Best for: The closest thing to having an at-home private bartender.
| | |
| --- | --- |
| Colors: | Black |
| Carbonates: | Water |
| Capacity: | Drink-by-drink basis (up to 12 oz) |
| Carbonator: | DrinkWorks CO2 cartridges |
Buyers guide: Making your best at-home bubbly
With this many great options on your metaphorical sparkling water menu, how are you supposed to choose?
Thinking about your carbonation preferences, the space in your home, and what you need out of a soda maker can help you narrow down your choice. For example, when you're searching for a carbonation system, consider the following:
Versatility
Many soda makers can only carbonate water, and doing otherwise will void your warranty. If you want to carbonate other liquids, consider a more versatile system.
Carbonation style
If you choose water that requires CO2 canisters, you will need to purchase and store them—then figure out a way to exchange them or dispose of them properly. Some carbonators go a step further and require one-use or proprietary canisters that can be difficult to find. If storing CO2 isn't your thing, you may want to think outside of the box and try something slightly more innovative, such as powder carbonators.
Size
You only have so much room on your counter and in your cabinets! Whether you need something you can carry around, you need something that isn't anchored to an electrical outlet, or you're actually looking for a weightier, more permanent piece, the space you have is definitely something to consider when sourcing the perfect soda machine.
Frequently asked questions about the best soda makers
What is the best soda maker to buy?
The best soda maker to buy is the SodaStream Fizzi: It's easy to use, electrically powered, and moderately priced. Check our round-up of the best soda makers of the year to find the one that's right for you.
Are soda makers worth it?
Yes, soda makers are definitely worth it! If you drink seltzer often, this is a great way to customize your experience and reduce recurring seltzer purchases.
What is the difference between SodaStream Jet and Fizzi?
The difference between the SodaStream Jet and Fizzi is that with the Fizzi, you can customize your carbonation levels.
What should I look for in a soda maker?
In a soda maker, you should look for the versatility, size, and carbonation process you need.