Remember the days when your morning coffee ritual consisted of dumping a few spoonfuls of freeze-dried instant into a mug? We assume you're shuddering at the painful memory. Well, wake up and smell the good news: Thanks to huge innovations in coffee-tech, you can now enjoy barista-standard coffee at home.
You'll probably be aware that specialty coffee has developed a committed following of impassioned experts, much like wine sommeliers. 
There's now a whole world of excellent coffee makers out there. From drip to cold brew and everything in between, we've got your caffeine fix, fixed.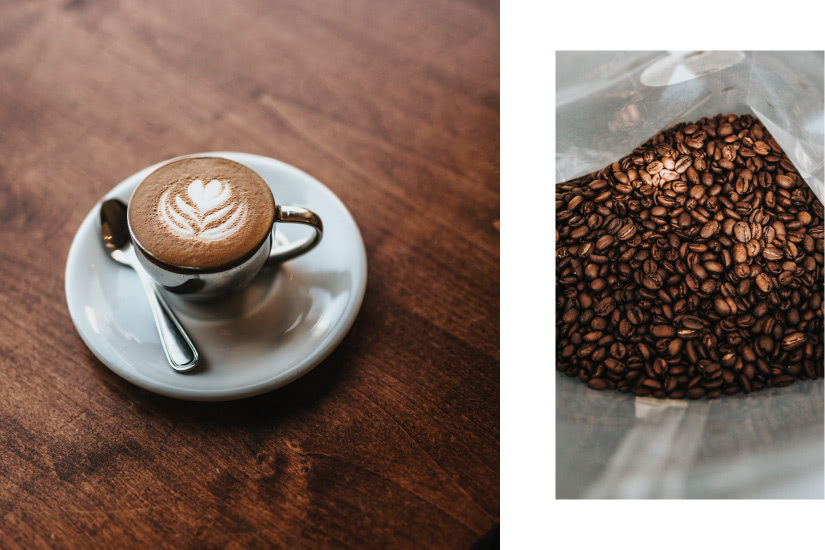 There are two types of coffee drinkers in this world:
The black coffee types (maybe with milk or cream on an indulgent day), and the white-chocolate-flat-white-mochaccino-almond-milk-vanilla-syrup types.
Whichever category you fall into (and there are no judgments here), we have the perfect coffee maker for you. You're now free to indulge in elaborate multi-hyphenated hot beverages or a refreshingly simple black coffee con leche.
Consider yourself clued up on coffee, fluent in flat white, an expert on espresso (okay, you get the idea), or you simply enjoy the buzz?
Either way, we've constructed the ultimate guide to the best, top-rated coffee makers on the market this year, so you can shop with certainty:
The top 15 best coffee makers
1. Breville the Barista Express Espresso: Best overall coffee maker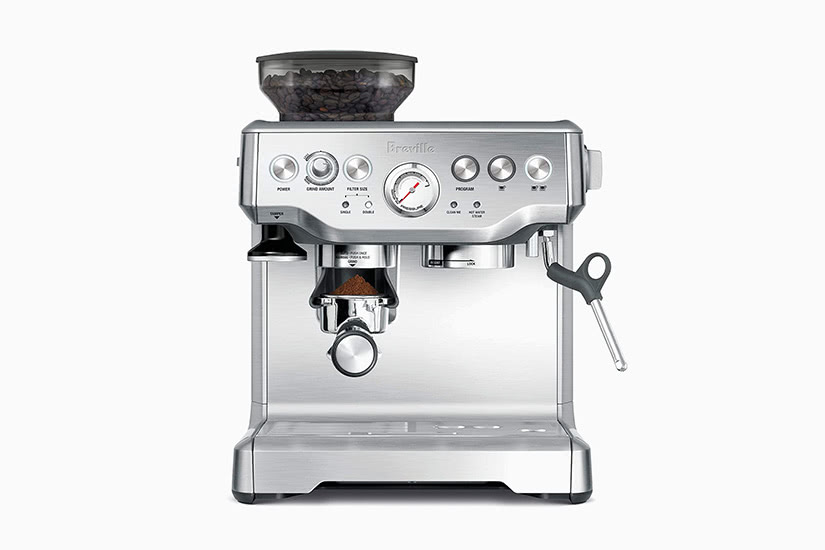 The Barista Express Espresso machine by Breville will have you expertly extracting rich black espresso with the perfect crema in no time. Featuring dose-control grinding, hands-free operation and a great steamer for micro-foam milk texturing, it pretty much has it all.
If you didn't know, micro-foam milk allows you to create latte art, ensuring that only the most aesthetically pleasing coffees are served at your home. You can also adjust the setting to double espresso shots for those mornings.
However, the best is yet to be served. This machine grinds your beans right before you extract your espresso, which is the bonafide best way to get the freshest coffee. Freshly ground coffee is super important for optimal taste, so this is an excellent feature.
We've rated this the best overall at-home coffee maker because of its user-friendly yet versatile settings. Plus, it'll look great on your kitchen counter.
2. Keurig K-Cafe: Best premium coffee maker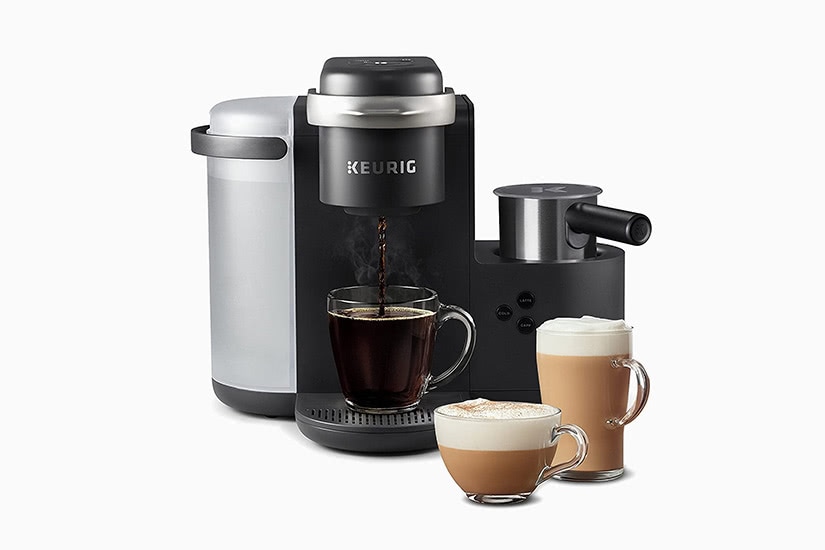 If you expect nothing but the absolute best for your coffee, the K-Cafe by high-end coffee maker brand Keurig is for you.
Stylish without being overbearing and boasting a whole bunch of life-simplifying features, it really is a superior machine.
'Life-simplifying?' you may enquire dubiously, 'But don't all coffee makers do that?'. While they all do to some extent, the Keurig K-Cafe Coffee Maker goes one step further.
The machine works with any k-cup pod to brew coffee, or make hot or iced lattes and cappuccinos. It's very easy to use with its smart start features that heats up then brews in a single step. Just one press of a button to do it all. No need to wait by the coffee machine.
It's a generous brewer too. You can make up to six cups before having to refill the removable reservoir.
Oh, and if you happen to be living high up in the mountain, don't worry, the Keurig K-Cafe Coffee Maker has a high altitude setting to continue brewing at peak performance up to 5,000 feet above sea level.
Taking into account this cornucopia of special features, the Keurig K-Cafe Coffee Maker is our choice for the best premium coffee maker of the year spot.
3. De'Longhi Dedica Style: Best value coffee maker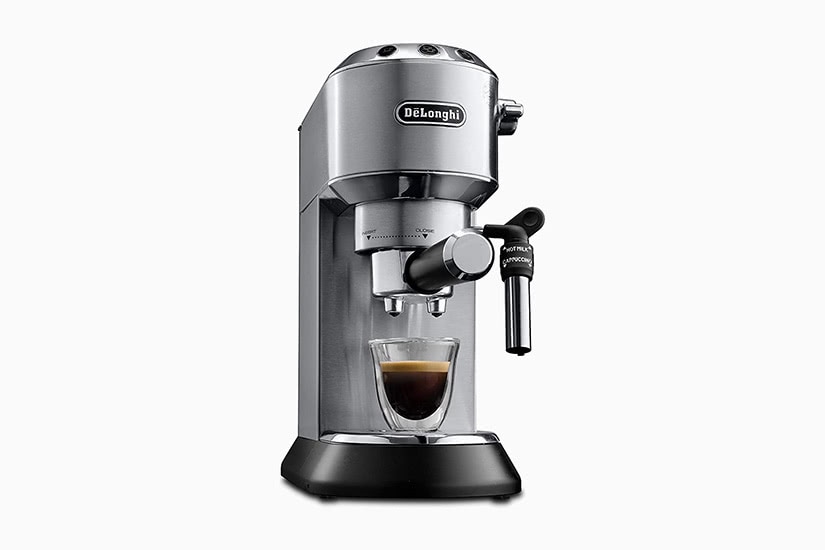 When it comes to value, the De'Longhi Dedica Style coffee maker scores highly on our list. If you like to be more involved with your coffee making, you can be your own favorite barista with the numerous features.
The 15-bar pressure allows for a rich, creamy crema that's synonymous with good coffee (as well as being the ideal base for latte art). The attached milk frother enables the creation of latte, cappuccino, and everything in between so you can enjoy authentic barista-style coffees at home.
Additionally, it's super-slim at a teeny 15cm, so finding space won't be an issue. Along with the ubiquitous self-cleaning technology, the Dedica strives to cover all bases.
Providing everything you need to craft a professional-looking flat white, we've chosen the De'Longhi Dedica Style as the best value coffee maker.
4. Minimal Precision Stainless Steel Pour-Over Stand: Best minimalist coffee maker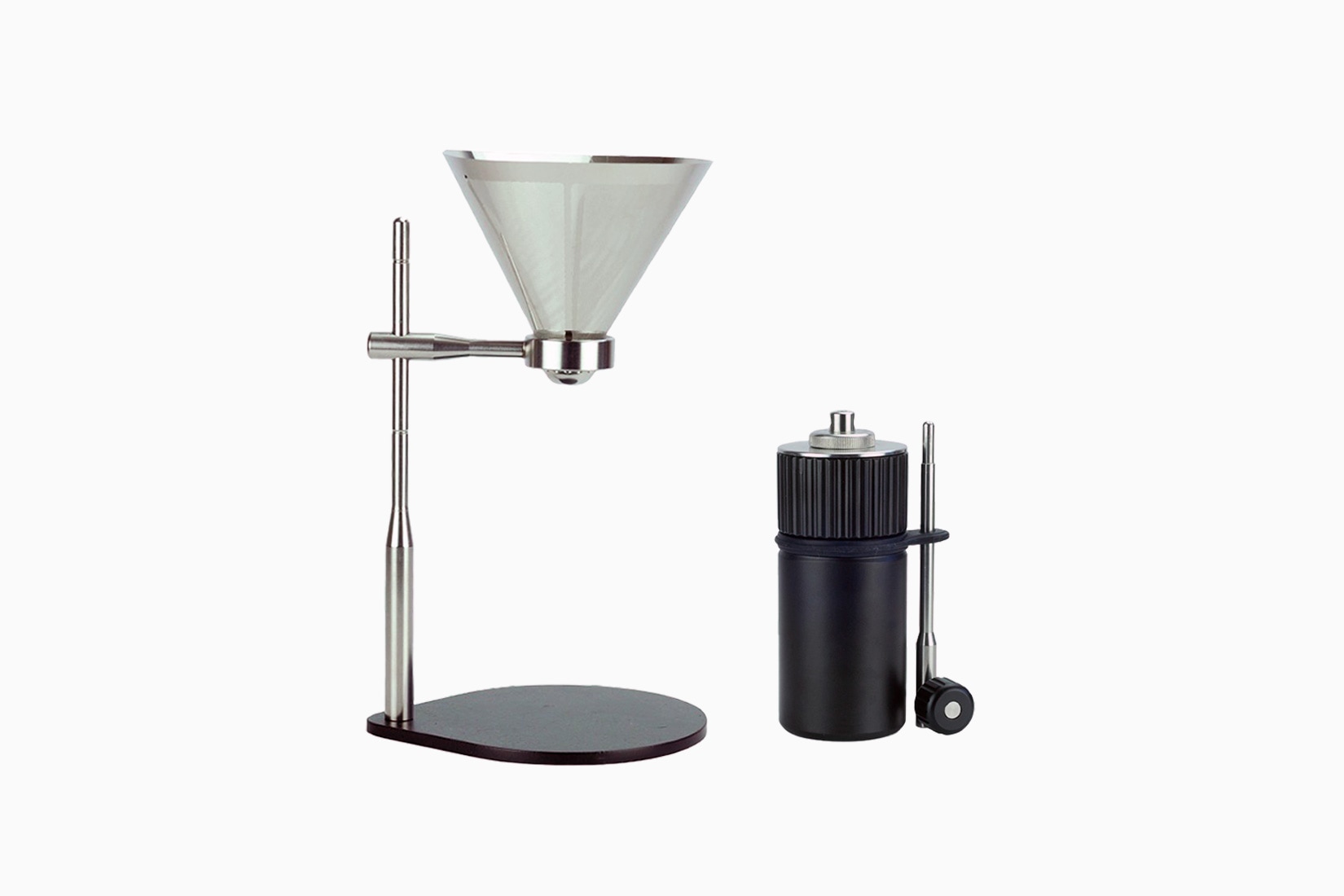 Sometimes in this hectic world, we just want simplicity. The Precision Pour-Over Coffee Stand and accompanying coffee grinder by Minimal is the perfect combination of style and simplicity.
Although there are plenty of minimalist-ish coffee makers on the market, the Minimal set breaks the mold with its pure, elegant design. Not out of place in the offices of a Silicon Valley tech start-up, it will supply refreshing modernity to your kitchen too.
The stainless steel pour-over stand is easy to assemble and clean up. The revolutionary filter system design ensures every cup is precisely brewed. The coffee grinder is beautiful and feels solid in hand.
The entire set is entirely built with stainless steel and durable aluminum. You won't find any plastic here.
Minimal has seriously impressed us with their attention to detail, super-chic design and ease of use and cleaning. So, we've rated the pour-over stand and grinder as the best minimalist coffee maker on the market this year.
Exclusive Offer: Luxe Digital's readers enjoy 20% off when shopping on Minimal. Use the code coffee20 at checkout.
5. De'Longhi Magnifica Automatic Bean-to-Cup: Most popular coffee machine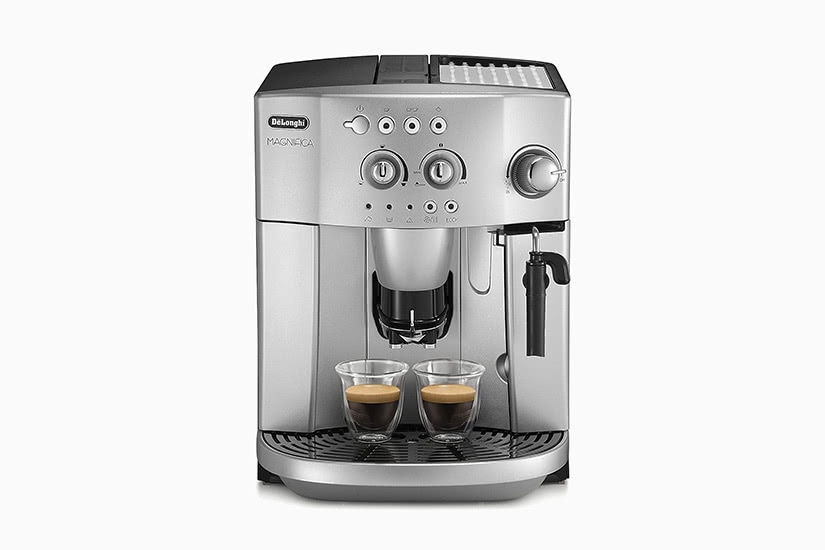 Thought making cappuccino at home was the logistical equivalent to solving world hunger? Think again. With the Magnifica Automatic Bean-to-Cup coffee machine by De'Longhi, you can foam your milk to your precise preference. Dry cappuccino? No problem. Flat white? Done. Don't care? That's fine too!
This elegant model could be the new coffee machine you've been dreaming of. It has seven grind settings to ensure the perfect extraction and even cleans itself automatically.
It's a good choice if you like a sleek appearance, a variety of options and total control over your cup. With all those great features, it's not surprising that it's the most popular.
6. Braun Tassimo: Best coffee maker under $100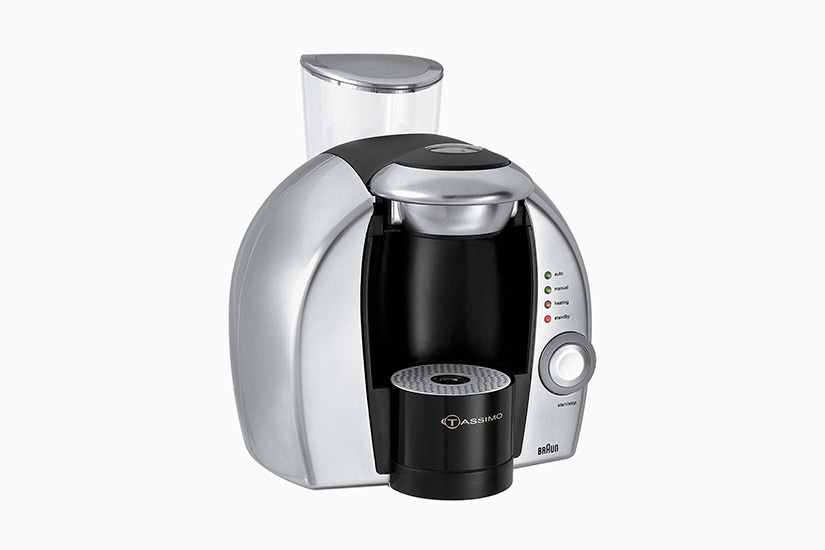 Despite retailing at under $100, the Braun Tassimo coffee maker doesn't cut any corners. With the Tassimo INTELLIBREW technology, it has the ability to make 40 different drinks. Like they say, variety is the spice of life!
The auto-clean feature between each use prevents any undesirable flavor mixing, and the in-built water filtration ensures optimal purity. The benefits of filtration are two-fold: purer water maximizes flavor and reduces limescale, which in turn helps maintain your machine.
Personalizable settings enable you to choose your desired strength, size, and intensity so you really can have it 'your way'.
Thanks to its hefty variety of features and settings, we've chosen the Braun Tassimo My Way as the best coffee maker for under $100.
7. EspressoWorks 7: Best grind and brew coffee maker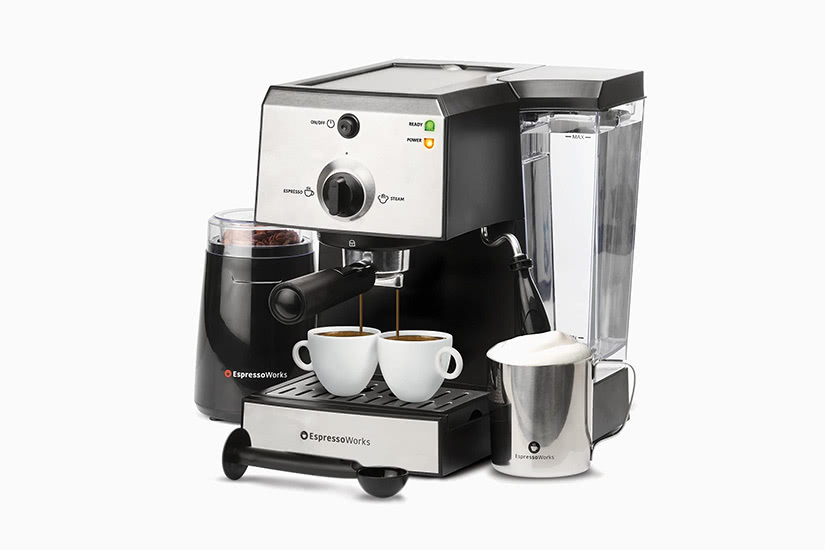 Is there anything more pleasing than the aroma of freshly ground coffee beans? While pods are convenient, they certainly don't indulge the senses quite as pleasingly as the coffee bean. The EspressoWorks 7 really is an 'all-in-one', and about as close as you'll get to a cafe-grade coffee maker.
Complete with an adjustable grinder, milk frother, milk jug, and tamper, all packaged neatly into a compact machine, the EspressoWorks 7 does it all.
Really, the best thing about no grind-and-brew over pods is that you can experiment with a variety of beans (and there are a lot out there) and find the perfect blend for you. Dive into the aromatic world of single-origin beans and expertly-crafted blends from the best coffee growers across the globe.
So, due to its great variety of features and attention to detail, we've rated the EspressoWorks 7 as the best grind and brew coffee maker on the market this year.
Pro tip: Colombia, Guatemala and Ethiopia are typically considered the reigning supreme nations for coffee beans, thanks to their fertile soils and warm tropical climates.
8. Moccamaster KBG Coffee Brewer: Best drip coffee maker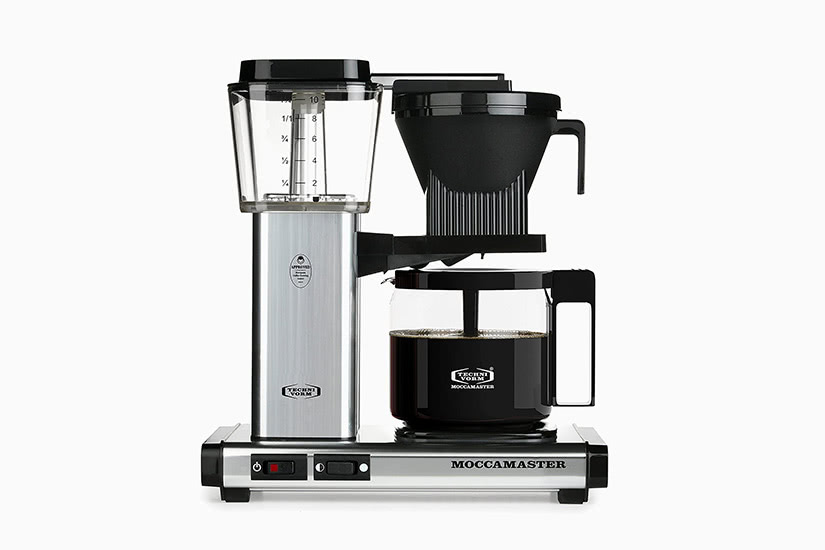 Drip coffee is like the cooler, more understated little sister of the more complex grind-and-brew machines. This drip coffee maker by Moccamaster KBG Coffee Brewer has an abundance of helpful features to help you make the best coffee, every time.
One of our favorite quirks of this model is that it has an automatic drip-stop brew basket that stops the flow of coffee when the carafe is pulled away. Furthermore, you can adjust the hot plate from 80 to 85 degrees so you can enjoy your coffee at your preferred temperature. Nifty.
You can brew over a liter pot of coffee in just six minutes. They promise a 'unique hot plate' which rolls heat, ensuring that each cup has an even taste (if you've ever suffered the misfortune of the last cup of a drip coffee carafe, you'll understand).
For these reasons, we've rated the KBG Coffee Brewer as the best drip coffee maker.
9. Bella One Scoop One Cup: Best single-serve coffee maker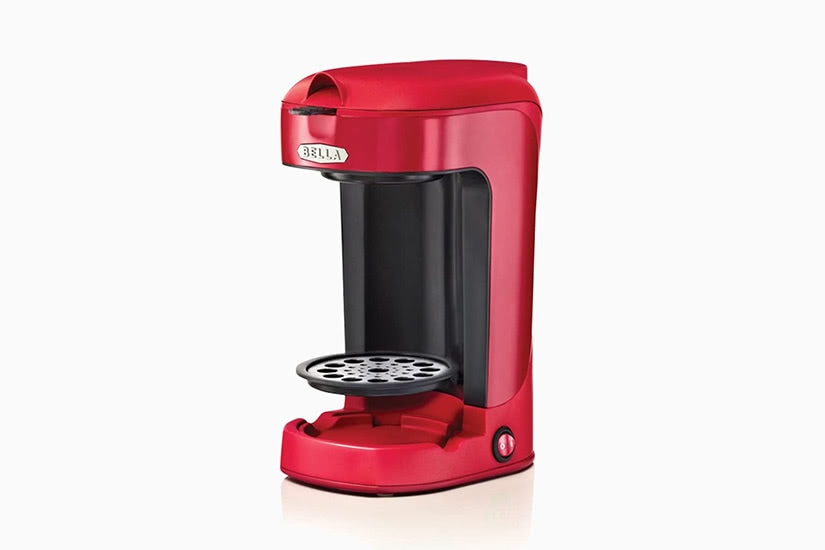 Bella Housewares have struck a good balance of stylish and utilitarian with their One Scoop One Cup coffee maker. The one-touch operated single-serve coffee maker includes a reusable permanent filter— a handy feature we've come to expect from any worthy coffee machine.
Aside from being space-saving and energy efficient, the adjustable drip tray means that this neat little machine can make more than just coffee. The quick-brewing technology allows you to enjoy tea, coffee, or anything that requires hot water in seconds.
Bella's whole philosophy is simplifying your kitchen needs, and their useful single-serve coffee maker certainly hits the nail on the head.
Therefore, a combination of attractive design and straightforward use means the Bella One Scoop One Cup coffee maker deserves our rating as the best single-serve coffee maker on the market.
Alternative single-serve coffee machine
Compact and single-serve, with the added bonus of automatic frothed milk, the De'Longhi Lattissima is also a great choice.
The Lattissima has an array of attractive features and options so you can craft your perfect coffee. Specify your preference (espresso or lungo), choose between 135ml or 330ml of frothed milk, and have it frothed to either cappuccino or latte macchiato style.
What's more, the smart optical sensor recognizes the quantity of the milk in the jug and uses it all, avoiding any waste or spillage. With a 25-second heat-up time, you won't be kept waiting, either. Seriously, 'a watched pot never boils' is never more true than when you're waiting for your first coffee of the day.
The Lattissima ticks all the boxes for an excellent single-serve coffee maker; the convenient features and auto-milk frother make it a winner in our books.
10. Nespresso Vertuo Plus Special Edition by Breville: Best coffee maker for speed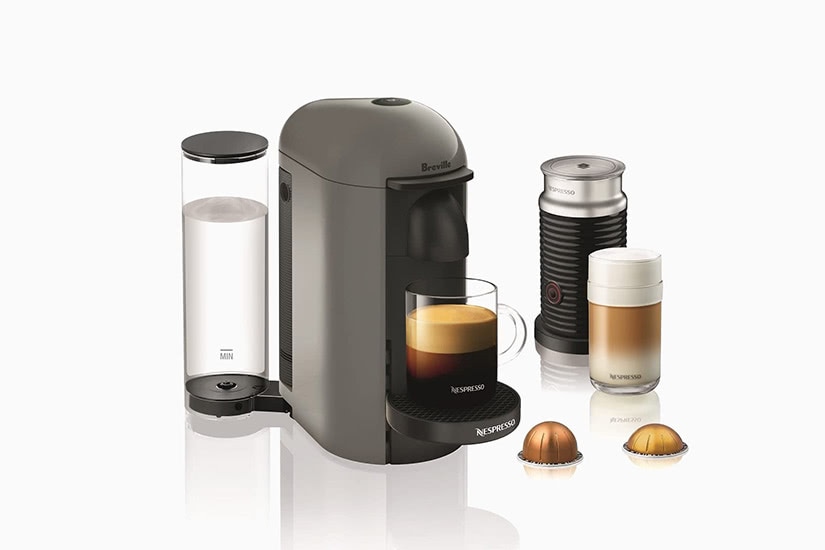 Nespresso is synonymous with home coffee makers. In line with their bonafide reputation, the Nespresso Vertuo Plus makes great coffee fast. The single-serve mechanism allows you to choose between espresso, double espresso, and gran lungo ('americano' to us).
It takes 40 seconds for the water to heat, so it could be perfect if you're always on the go. There's also an auto-off mode after 9 minutes of non-use. Using the popular Nespresso capsules, there's no need for a grinder. So, if you're a combination of both very busy and very forgetful, this coffee maker was literally made for you.
We've allocated this model as the best coffee maker for speed because it's quick, compact, and convenient.
11. Oxo Good Grips Cold Brew Coffee Maker: Best coffee maker for cold brew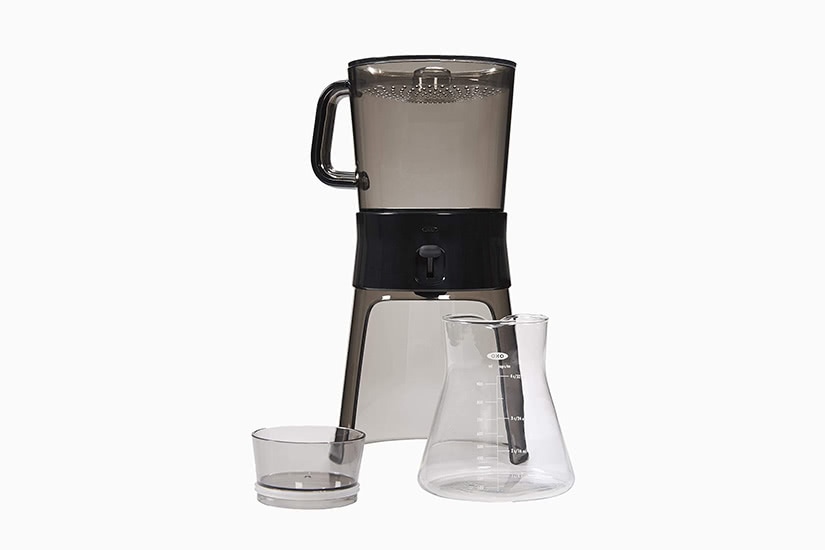 If the idea of cold brew is new to you, the Oxo Good Grips Cold Brew coffee maker could be a great starting point. Who knows, you might never go back. The cold-brew coffee maker (which can also make hot-brew) produces smooth, low-acid coffee in the carafe. Which, by the way, boasts a handy silicone seal to keep it fresh in the fridge.
With an automatic drip-stop when the carafe is removed, you'll save yourself time cleaning the otherwise inevitable spillages.
While cold-brew coffee does take longer (i.e, a minimum of 12 hours soaking time), some consider it more flavorsome than hot-brew. While the jury's still out, try it for yourself!
We've rated Oxo Cold Brew as the best cold brew coffee maker available. It's clean, sleek, and interchangeable from hot to cold brew.
12. Capresso MT600 Plus: Best programmable coffee maker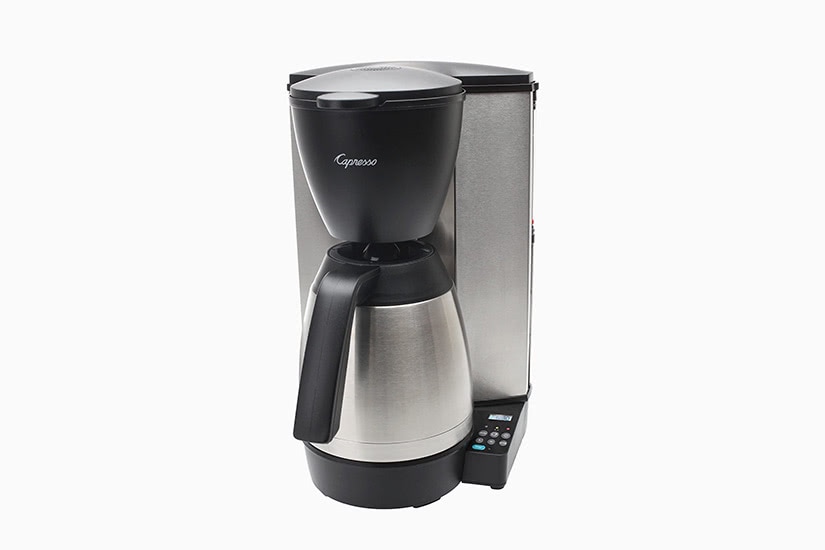 For ultimate control, the Capresso 485.05 MT600 Plus 10-cup coffee maker, complete with a thermal carafe, could be a good option. With a gold-tone filter, this model promises to eliminate the need for paper filters, saving you time and hassle.
That's not all, though. The in-built water filter is a handy little feature (purer water= better coffee) and the soft-touch controls with a clock/timer make the programming super easy. Set the timer to your usual wake-up time, and you can literally wake up to freshly brewed coffee. No effort required.
If you thought it couldn't get more user-friendly, the stainless steel heating system ensures your coffee is always brewed at the perfect temperature.
So, if you have a penchant for convenience, the Capresso could be the programmable coffee maker you're looking for.
13. Nespresso Essenza Mini: Best small coffee maker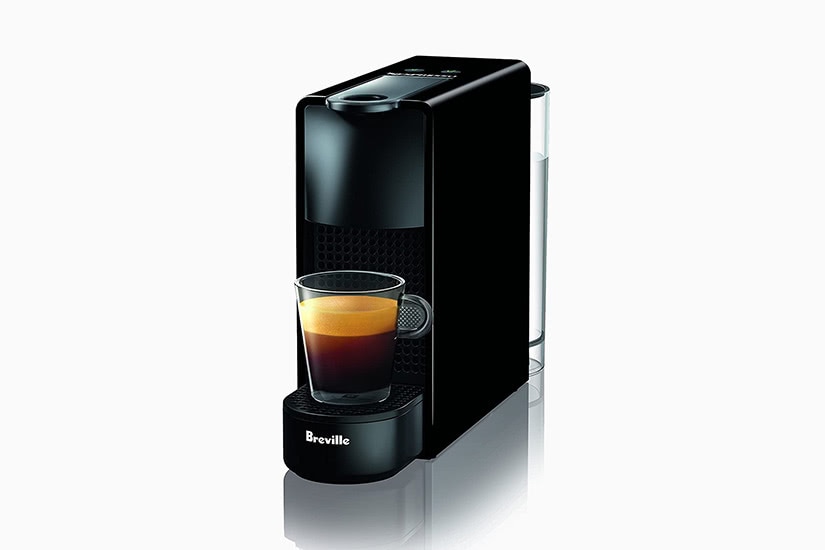 If the Nespresso Essenza Mini coffee maker was a boxer, it would be Floyd Mayweather. Weighing in at less than 3 kilos, it's a featherweight but still packs quite the punch (pun 100% intended). They say good things come in small packages. Ultra-compact, it's small but perfectly formed.
In spite of its somewhat homunculus stature, the Nespresso Essenza nonetheless offers sizable features. You can choose from espresso or lungo, and it heats up in a speedy 25 seconds.
We've rated the Nespresso Essenza Mini coffee maker as the best small coffee maker available because, well, size isn't everything. As the old adage goes: it's what you do with it.
14. Nostalgia Retro 12-Cup: Best 12 cup coffee maker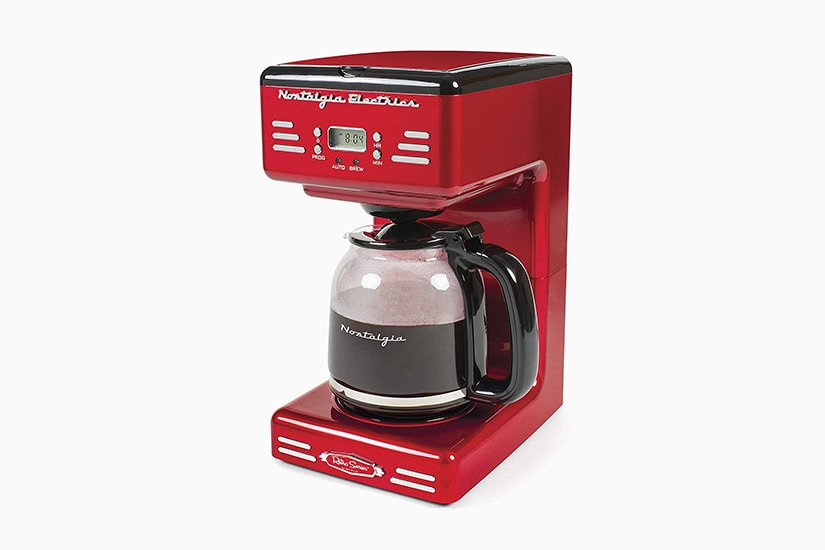 Whether you have an exceptionally large household or just seriously love coffee, the Nostalgia Retro 12-cup programmable coffee maker is the gift that keeps on giving. The automatic keep-warm function keeps your coffee at a perfectly drinkable temperature for 2 hours.
Coming in a retro design in aqua blue, this coffee maker is not just a pretty face. With 'pause and serve' technology, it allows you to pour a cheeky cup when your coffee is still brewing. No drip means no mess, and simple controls make it easy to navigate.
Easy on the eye, simple to use and great for prolific coffee drinkers, meetings or entertaining, this could be the best 12-cup coffee maker on the market.
15. Nescafé Dolce Gusto Majesto: Easiest coffee machine to use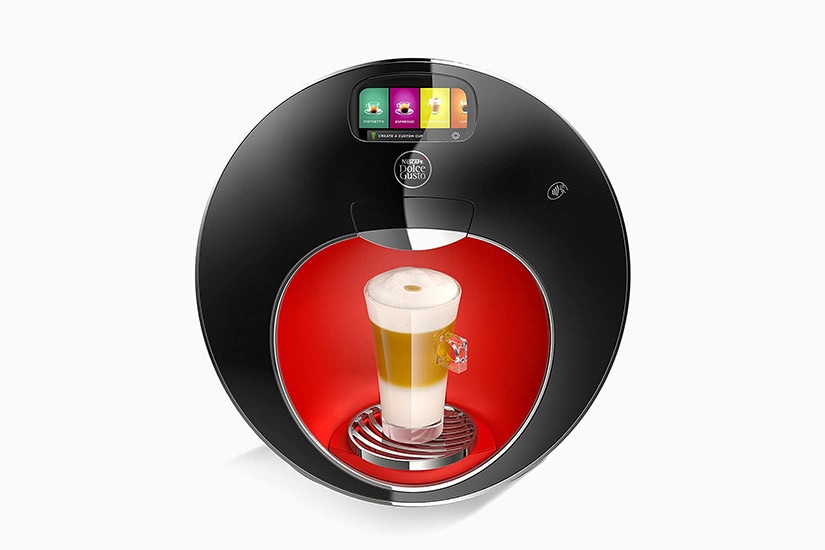 If there ever was a trusted name in all things coffee— it's Nescafé. The company has operated since 1938, and they know their stuff.
With the Nescafé Dolce Gusto Majesto, there is a distinct omission of any complicated programming, with a design which reflects that simplicity.
While appearances can be deceptive, the Nescafé coffee maker has style and substance in equal parts.
Featuring a high-pressure system, eco-mode and automatic water-level detector, the Dolce Gusto Majesto has everything covered. However, all these fancy features require little input from you; there are over 30 options of hot and cold beverages available at the swift touch of a button. Great for people who just want good coffee, without the faff.
We've rated the Nescafé Dolce Gusto Majesto as the easiest to use coffee maker due to its ease of use and ultramodern design.
Alternative option:
Operating with one single button, the Bosch Tassimo coffee maker could not be more simple. When you just want to get up and go, this model is your friend. With no fuss required and quick to heat up, this is a great coffee maker for the minimalists out there.
It works with Tassimo coffee pods and is automatically programmed to the correct amount of water and the appropriate temperature to ensure consistently good coffee.
So, if you want great coffee at the click of your fingers*, we've found that the Tassimo Braun Happy coffee maker is one of the best models for ease of use.
How to find the right coffee maker for you: What makes a good coffee maker?
Honestly, what constitutes a good coffee maker really depends on what you're looking for:
For drip coffee makers
Most drip coffee makers are now made with automatic stop-drip technology, so keep an eye out for this when browsing the market. It's a simple but oh-so-effective feature that detects when the carafe has been removed and consequently prevents the coffee from dripping further and making a hot mess (literally).
Adjustable hot plates are also a good feature to look out for, so you can enjoy your coffee at your perfect temperature.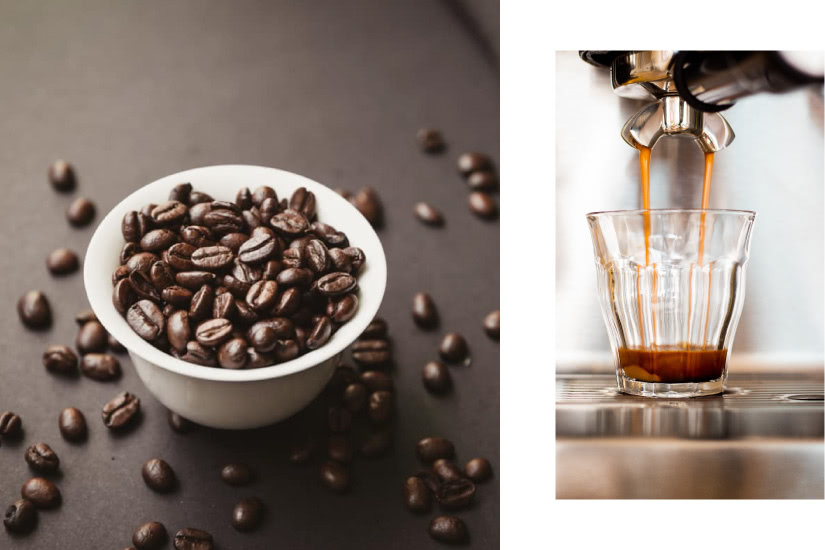 For bean to cup/grind and brew coffee makers
Arguably the most authentic method for home coffee making, the grind and brew coffee makers closely resemble the kind you'd find at your local cafe (although considerably smaller). Thus, the following components are imperative for an all-round good coffee maker:
Built-in, adjustable grinder. Coffee grinders are very sensitive and can fluctuate depending on factors such as humidity and temperature. It's important to regularly adjust the grinder to make sure it stays at an optimal level.
High pressure. Each coffee machine should state its pressure capability. High pressure is hugely important for ensuring the espresso is extracted properly. Too high, and you'll have a slow extraction resulting in bitter, sour espresso. Too low, and you'll be faced with a weak, watery espresso. The standard is 15 bars for home coffee makers.
Tamper. This is a hand-held manual pressing device which is used to press the coffee into the coffee handle. Ideally, you want an even 'tamp', applying roughly the pressure of a firm handshake, leaving no cracks in the coffee granules. This is important because if there are cracks present, the water will just fall through and you'll be left with a disappointingly watery espresso with no crema.
Self-cleaning and water filtration system. For obvious reasons. No one likes cleaning.
Auto-off mode. Many coffee makers have technology whereby they will automatically turn off after a set amount of no usage. Better for the environment and safer for your home.
Milk frother. While not imperative, this is desirable if you're looking to create a variety of coffees at home. Without one, you'll struggle to form the appropriate consistency for most drinks, from flat whites to cappuccino.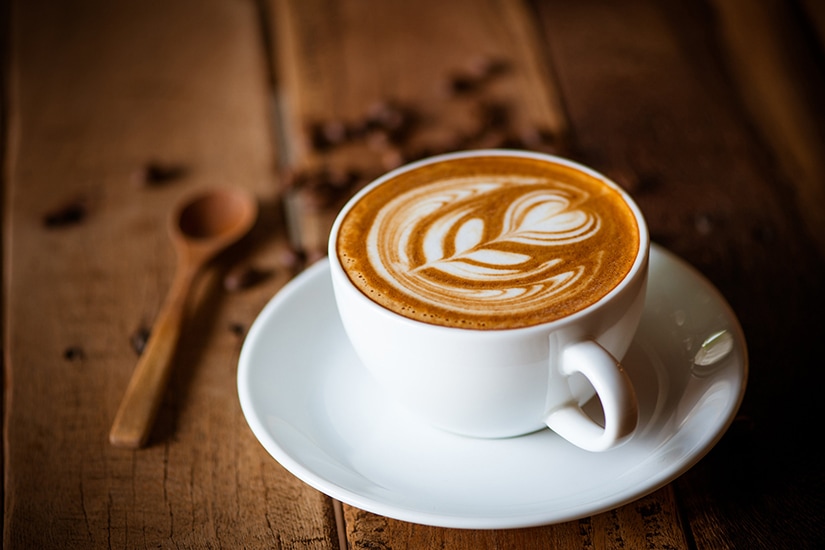 Frequently asked questions about coffee makers