Smooth, silky, and suspiciously underrated: there's just something about Irish whiskey that's impossible to replicate.
An underdog of the whiskey industry, the list of the best Irish whiskey brands is something that continues to grow, catching up with its Scotch partners across the pond at a rapidly increasing speed.
Irish whiskey might only be a stone's throw away from its closest competitors, but its unique edge promises a world of difference from its delicate palate to its lighter hues. As the craft distillery movement continues to grow, so does the careful curation of new top-rated Irish whiskey distilleries across the land.
Just one sip reveals an entire history of whiskey as you've never experienced before. With a floral edge like Japanese whisky but the same rugged depth as Scotch, a good Irish whiskey is an attention grabber, a conversation starter, and an essential to your proudly stocked bar cart.
The Emerald Isle might just be home to the next generation of top whiskeys. Read on for all of our favorite drams.
The 15 best Irish whiskeys
Check our special Irish Whiskey's buying guide after the list to see exactly what you should pay attention to when shopping for proper Irish Whiskey online.
Knappogue Castle 16 Year Old: Best overall Irish whiskey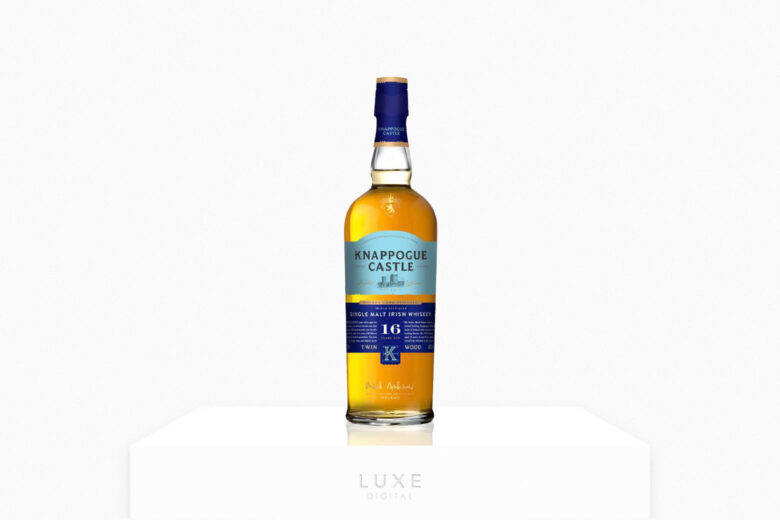 Knappogue Castle 16 Year Old is an intriguing Irish whiskey with an ever-growing number of notes that seem to appear and disappear each time you sip it. This no-peat, triple-distilled malt whiskey comes aged in both bourbon and sherry barrels, ensuring a well-rounded, slightly sweet aroma and a creamy finish.
Sip on this deep amber-gold whiskey and breathe in its comforting warmth and earthy appeal. The benefits of this bottle never seem to end: while it's good enough to drink straight or on the rocks, it's also sweet enough to work perfectly in cocktails or long drinks. Complex and smooth, it's our favorite Irish whiskey if you're looking to tick all the boxes at once.
Midleton Barry Crockett Legacy: Best high-end Irish whiskey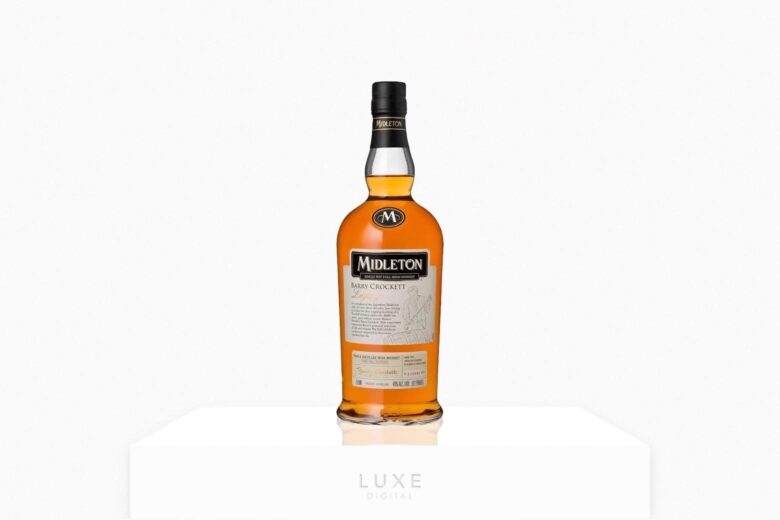 Midleton's Barry Crockett edition was named after the distillery's master distiller and comes with all of the lengthy, smooth, refined notes you'd expect from such a bottle. A firm favorite that struggles to get anything less than a 9/10 review, this deep, cherry-wood-colored Irish whiskey was designed to be enjoyed with friends or taken out proudly after a sumptuous dinner.
Its light, floral aroma paves the way for an entire orchestra of notes, filled with sweet tobacco leaves, sugared peels, toffee, and honey from each mere sip. Released in limited quantities, it's a bottle to never pass up.
The Irishman Single Malt: Best value Irish whiskey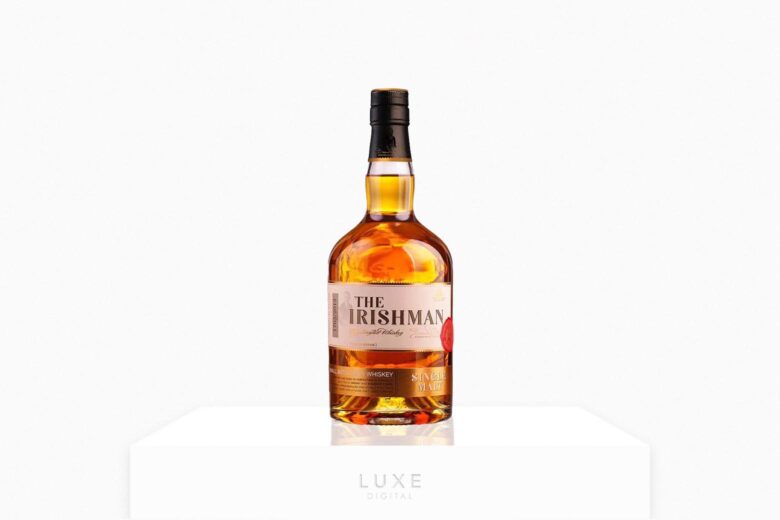 This staple bottle is a firm favorite for all kinds of Irish whiskey lovers—easy enough to drink for beginners but complex enough for aficionados to enjoy, too. This triple distilled expression is soft and sweet, a comforting bottle that sits firmly in the middle when it comes to all kinds of notes.
A warm amber bottle, The Irishman Single Malt is heavy on the fruits, with apricots and mangos taking center stage on the palate. Its good value ensures you'll never feel like you're wasting this bottle, whether you're sipping on ice or mixing into a round of cocktails with friends.
Bushmills 21 Year Old: Smoothest Irish whiskey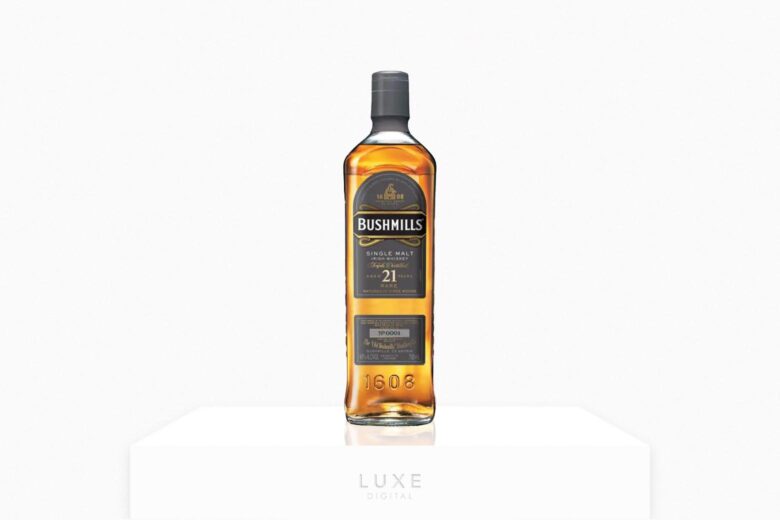 Bushmills 21 Year Old is a bottle that's designed to impress and one that constantly sits at the head of the table when it comes to crowning the best, smoothest whiskey. A staple bottle that you'll quickly find becomes a top choice whenever you're in the mood for something top shelf, Bushmills is renowned for producing excellent drams, and the 21 Year Old is possibly the best example of just that.
Once this bottle has aged individually in seasoned, hand-selected bourbon barrels and sherry casks, it's aged for a further two years in Madeira casks, adding a sweet touch and extra complexity.
Tyrconnell 10 Year Old Madeira Cask: Best Irish whiskey to drink straight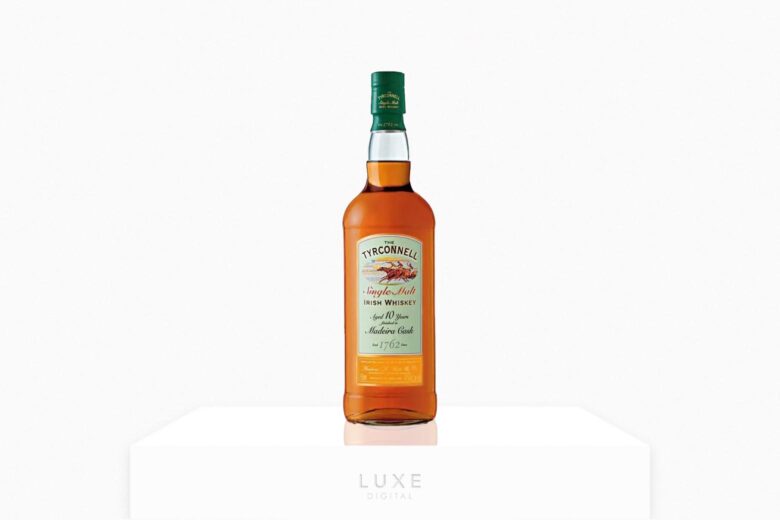 Tyrconnell 10 Year Old Madeira Cask is widely recommended—a bottle you'll admire upon first sip and hurriedly hunt down to add to your prized collection on the bar cart. Known for being one of the most interesting Irish whiskeys around, this Madeira cask-finished bottle is a stunning dram from start to seriously long finish.
Golden raisins and walnuts are two of the most prominent notes you'll pick out here, alongside that fortified Portuguese sweetness from those extra years of aging. Concentrated and well-rounded, this ever so slightly caramel-spiced bottle is a pure pleasure for drinking straight.
Proper No.12: Best Irish whiskey for beginners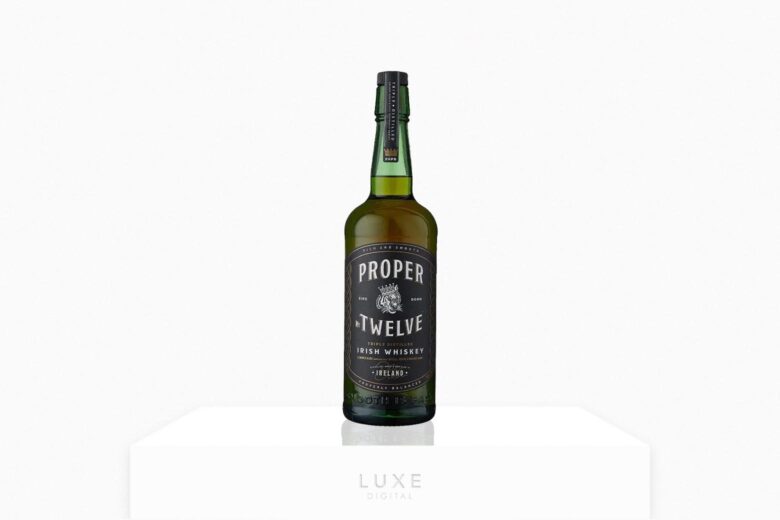 Proper No.12 is a whiskey for those who'd like to dip their toe into the world of whiskey, without throwing themselves full-bodied into a world of intense notes and smoky aromas. Proper No.12 is a great bottle to start with, thanks to its lighter body and less intense appeal.
Sure, if you're a true whiskey lover, you probably won't be overwhelmed with Proper No.12, but beginners will enjoy its fruit and honeyed notes as well as its sweet, vanilla-hued aroma. Made from a blend of malt and grain whiskeys aged in American bourbon barrels, Proper No.12 paves the way for plenty more whiskey-based enjoyment.
Jameson Irish Whiskey: Most popular Irish whiskey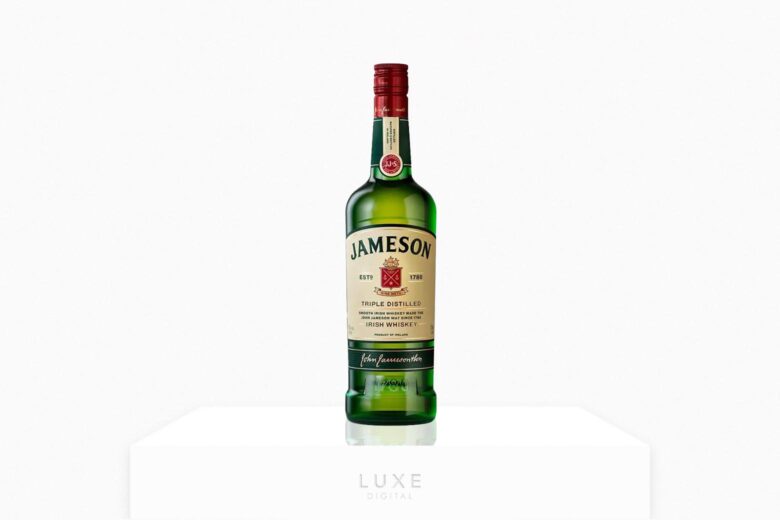 You're in luck if you're a big fan of Jameson Irish Whiskey, as this seriously popular bottle can be found virtually anywhere. Luckily, it's also one that's easy to drink, with a smooth, sweet appeal that always goes down easily.
Loved mostly for its pear, hops, green apple, and vanilla notes, Jameson Irish Whiskey ticks plenty of boxes with its budget-friendly price tag and drinkability. It's one you'll likely buy to use in mixed drinks or cocktails, but one that also goes down nicely if you fancy a neat drink and don't fancy sourcing another bottle. Check our in-depth listing of the Jameson whiskey price and bottle sizes to see all the available options.
Teeling Small Batch: Best Irish whiskey under $50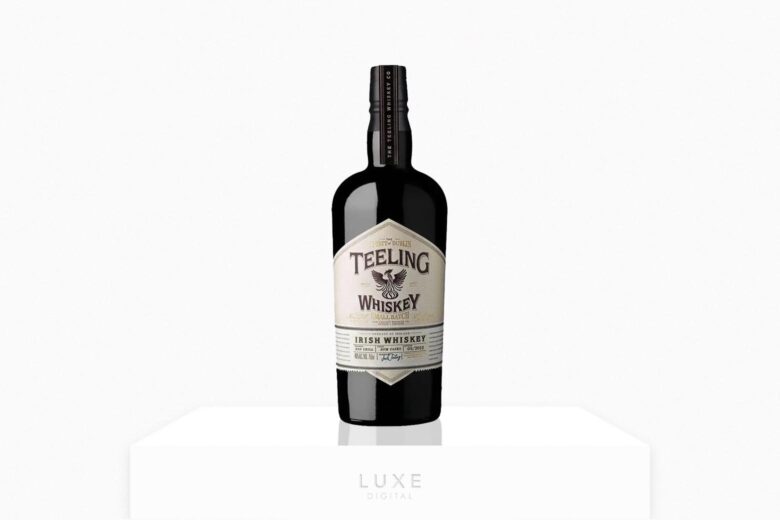 Small-batch whiskey often gets held in higher regard, thanks to the extra attention to detail it receives over mass-produced bottles. Not only does Teeling Small Batch excel as a brilliant example of just that, but it's also available at a deliciously friendly price.
This delicate bottle is intricate and unraveling, something you'll want to sip once or twice just to get your bearings before properly understanding the complexities at play here. Made with a blend of malt and grain whiskeys, it's initially aged in ex-Bourbon barrels before being moved over to casks that previously held Central American rum. That extra resting time is responsible for its fresh fruit and creamy vanilla notes.
Redbreast 15 Year Old: Best tasting Irish whiskey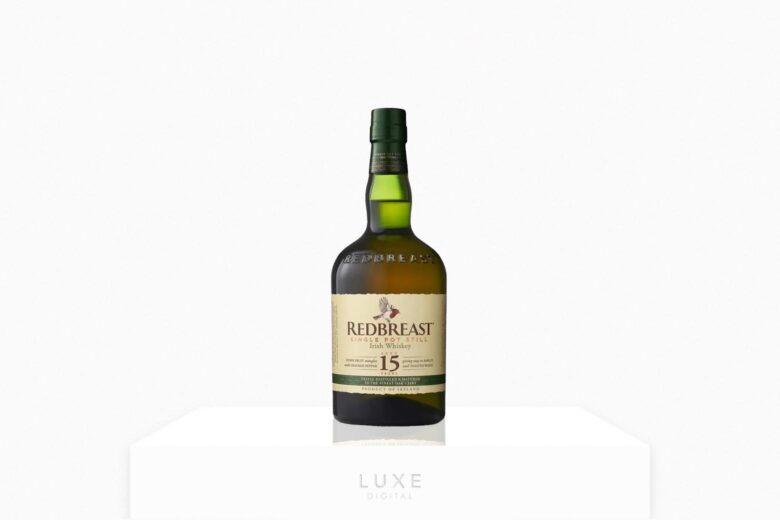 Redbreast 15 Year Old is heavy and dense, a whiskey that almost bridges the gap between food and drink. One that deserves all of your attention without any distractions, this rich, earthy whiskey is a grandfather of the world, with plenty of character and endless wisdom. It's a bottle you'll feel proud to display, with subtle dryness and deep, honeyed notes just adding to its power.
Sip on this limitless Irish whiskey and spend some time simply appreciating each note as it dances across your tastebuds. Much like cologne, it's a bottle that lands differently on everyone that tries it. But that just adds to the conversation.
Yellow Spot Single Pot 12 Year Old: Best sipping Irish whiskey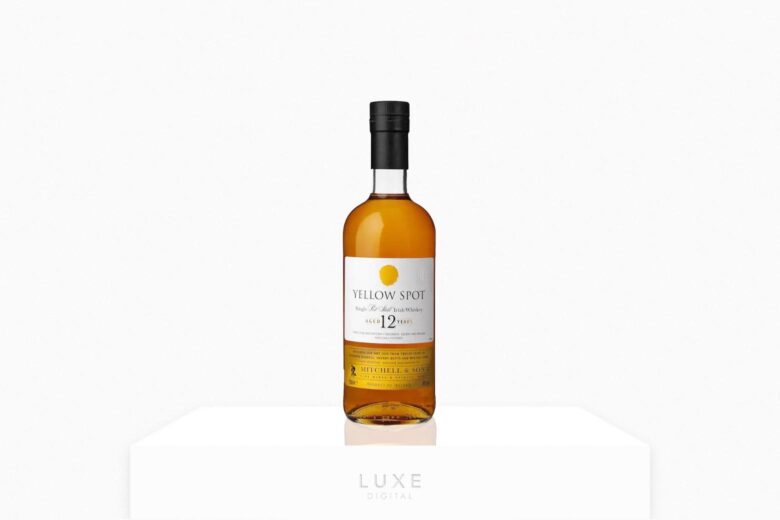 This warm, gold Irish whiskey warms you from the inside and the outside, something you'll spend a few seconds admiring the way it glows before you take your first sip. Yellow Spot Single Pot 12 Year Old is velvety smooth, aged in Bourbon barrels, Sherry butts, and Malaga casks with a selective combination that promises a unique finish.
A bottle that's perpetually recommended, Yellow Spot Single Pot 12 Year Old is opulent and silky, with lots of umami and soft rancio notes and a slightly syrupy finish that's comforting and enjoyable. One of the best Irish whiskeys out there, it's a safe blind buy for all kinds of drinkers.
Roe & Co Irish Whiskey: Best Irish whiskey for cocktails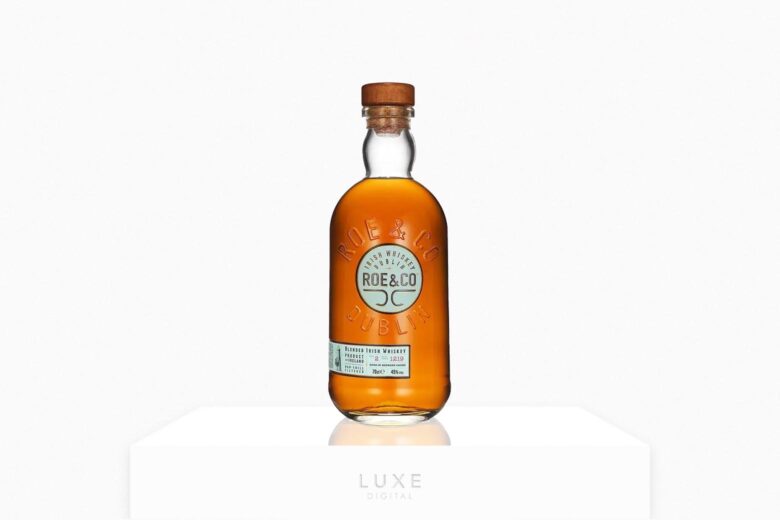 Roe & Co Irish Whiskey is fragrant and remarkable, a blend of single malt and grain whiskeys matured exclusively in bourbon casks that sells itself with a bright and reassuringly amber bottle. Its velvety, creamy texture makes it a brilliant base for whiskey cocktails, providing a smooth and reassuring kick that steals the show in Old Fashioneds and Whiskey Sours.
Creamy apple and pear are two of the most prominent notes here, accompanied with sour lemon, unripe mangoes, and other contrasting fruits. Hints of vanilla and spice just add to this bottle's well-rounded effect. Mix it into cocktails and prepare yourself for endless compliments on your great taste in whiskey.
Connemara: Best single malt Irish whiskey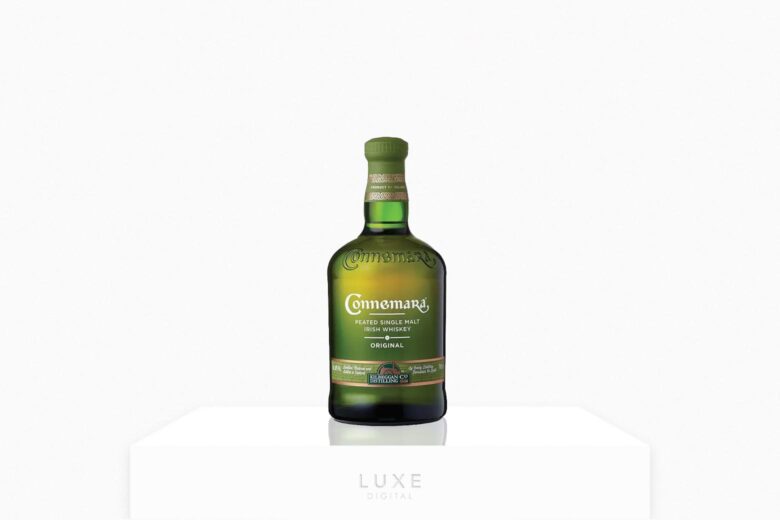 Connemara is renowned for its peatiness—a heavier whiskey designed for fans of Scotch and those with a discerning palate. This single malt is smoky and intense, a carefully curated assortment of notes that promises to leave a lasting impression on anyone who tries it. Incredibly full, it's a mouthful of a bottle no matter how small the sip, with a honeyed sweetness and a dash of cinnamon as well as a heather freshness and floral notes.
This budget-friendly bottle promises to never break the bank, designed to be just as accessible for beginner drinks as well as those who are prepared to spend a little more on their favorite bottles. Sure, it might not be the most traditional Irish whiskey, but it's a great option for those who like a heavier mouth and a more familiar, dark dram.
Tullamore Dew Original: Best blended Irish whiskey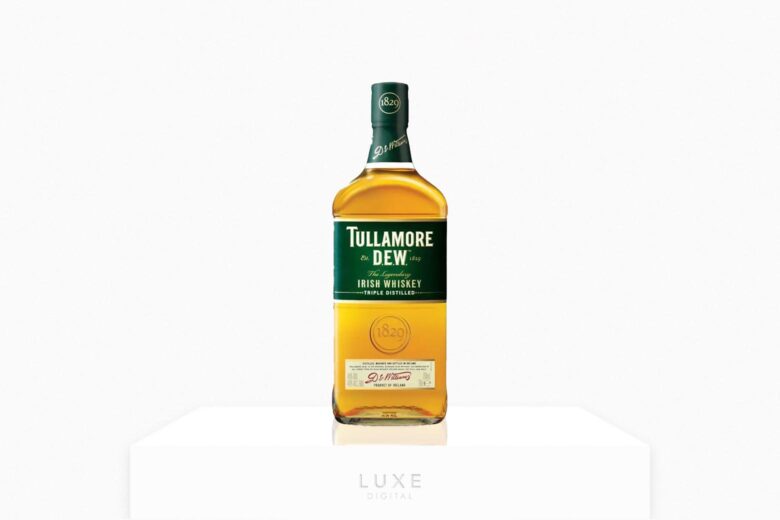 Tullamore Dew Original is sweet and light, a blended whiskey that's filled to the brim with fruity, biscuity notes. One of the most popular blended Irish whiskeys, this bottle is lighthearted and enjoyable—something best enjoyed with friends without any kind of complications necessary.
Its most prominent characteristics include pear, vanilla, and blackcurrant, a joyful combination that provides a silky feel and a vegetal finish. Very smooth and known for its rich aroma, this is a bottle that pairs best with a few drops of filtered water to really bring out all of its flavor. Sweet and burn-free, it's also a great introductory bottle for beginners.
Bushmills Original: Best budget Irish whiskey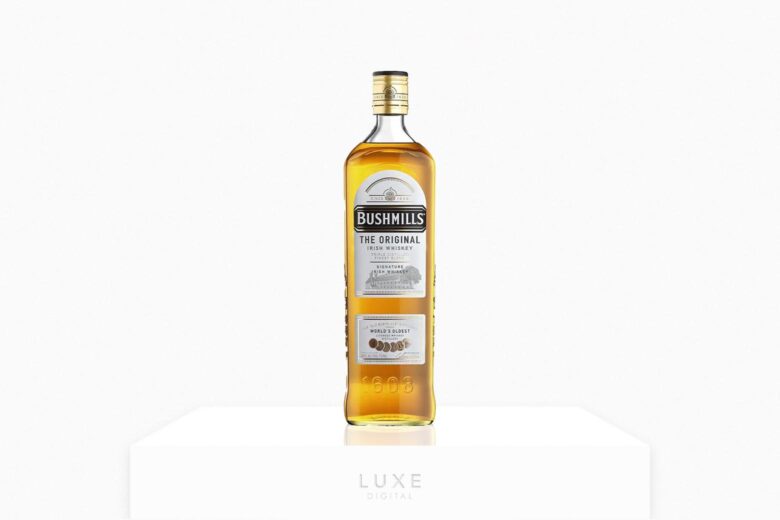 Bushmills is a household name in the world of Irish whiskey, which means you can't go wrong with any of its offerings. Drinking on a budget? Bushmills Original is our top choice for a bottle that's deceivingly affordable.
Aged for five years, this impressive whiskey combines blossom, sweet vanilla, and citrus notes into a blend that tastes far more expensive than its price tag reveals. A cardamom and ginger final touch adds to its never-ending appeal, with an easy-to-drink finish that goes down well every time. Clean tasting and simplistic, a dram of Bushmills is never a bad idea.
Glendalough 25 Year single Malt Oak Finish: Most expensive Irish whiskey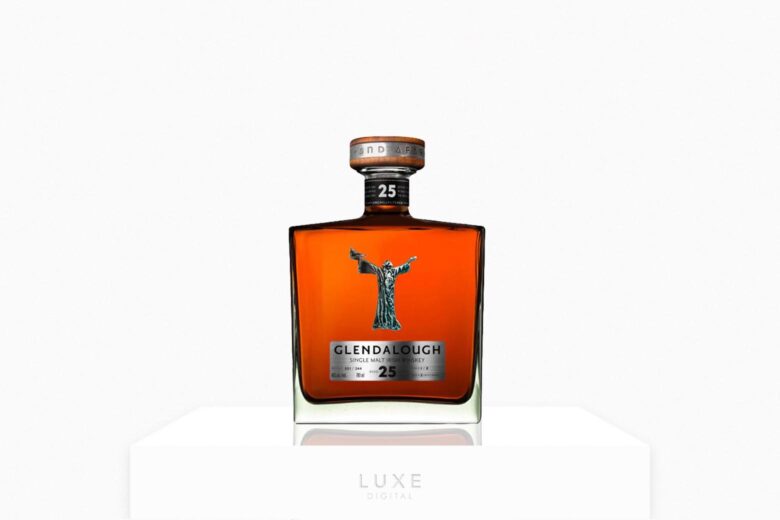 Glendalough 25 Year single Malt Oak Finish is gloriously intense—a bottle with its very own "come hither" appeal that you'll find yourself dreaming about long after you've taken the final sip. While it's expensive, its price is more than justifiable, thanks to its lengthy aging process and intricate combination of notes.
Ex-Bourbon casks, seasoned Oloroso Sherry casks, and virgin Irish oak casks all take turns patiently waiting for this whiskey to age. The finishing result? Something unique, something one-of-a-kind, and something that feels seriously indulgent. Limited to 1,800 bottles, the Glendalough 25 Year Old was the first Irish Single Malt to be aged in Irish oak. It's also arguably the best.
Buyers guide to the best Irish whiskeys
A novice will take a sip of this silky smooth amber liquid and tell you it's whiskey. But a true fan will breathe in its delicate aromas and pinpoint immediately that what you're sipping on is not just a whiskey, but an Irish whiskey.
Because not all whiskey is created equally, even if it does all stem from the same part of the world. Irish whiskey as an industry is on the rise, which means plenty more delicious and unique drams to try, and also plenty more opportunities to learn more about your preferences in the whiskey-drinking world.
Irish whiskey is also known as "uisce betha," which translates to "water of life" in Gaelic. So, when we say Irish whiskey is something worth trying, we're not just speaking from opinion.
It's known for a few unique characteristics which keep it a world away from the rest of whiskey. When they say "there's something in the water", there's a high chance the "they" in question are talking about Irish whiskey.
While whiskey from across the world might also be silky smooth, and rich, the premium quality of Irish water provides a breathtakingly delicious base for Irish whiskeys that's difficult to reproduce elsewhere.
Irish whiskey is also generally easier on the throat than other types. Its lower ABV provides less burn than Scotch whiskey, for example, making Irish whiskey a great option if you're only just venturing into the world of this spirit.
While scotch remains more popular out of the two, a lot of that stems from the fact that Scotland has a far higher number of whiskey distilleries. As well as having a larger number, it also has the advantage of age: if an Irish whiskey distillery is only 10 years old, it's a long way off being able to sell bottles aged for longer than that.
What that does mean is that now's a great time to get involved with the industry, staying ahead of the trends and being first in line to sample new drams before the rest of the world catches on.
But where to start?
You'll recognize a great Irish whiskey by its color. Most are generally a pale straw color or light amber at most, compared to Scotch's darker shades. That's partially due to the distillation and also the ratio of core ingredients involved. Irish whiskey tends to be triple distilled, while Scotch is mostly distilled twice.
Some of the most popular brands of Irish whiskey include Jameson, Tullamore Dew, and Redbreast. But there's a growing number of distilleries across the country, which means as well as blended whiskey, you'll now find plenty of single malts, small batch bottles, and especially aged whiskeys in varying barrels.
The sky's the limit when it comes to Irish whiskey, and it's an exciting time to get involved.
So, what're the most important factors to note when buying Irish whiskey?
The Irish Whiskey Act of 1980 requires that all whiskey labeled as Irish Whiskey must be distilled and aged exclusively in Ireland—the same way all Bourbon must be produced in Kentucky. So there's no need to worry about buying inauthentic bottles.
Irish whiskey must be aged for a minimum of three years in wooden casks, although distilleries are free to use whichever types of barrels they like. That freedom contributes to the growing number of fortified wine barrels and other unique choices.
There's something bespoke about Irish whiskey that sets it apart from anything else. It's definitely worth exploring.
Frequently asked questions about the best Irish whiskeys
What is the smoothest Irish whiskey?
Bushmills 21 Year Old is the smoothest Irish whiskey, aged individually in seasoned, hand-selected bourbon barrels, sherry casks, and Madeira casks. Read our full guide to see all of the best Irish whiskeys.
What are the top 10 Irish whiskey?
Some of the top 10 Irish whiskeys include Knappogue Castle 16 Year Old, Midleton Barry Crockett Legacy, and The Irishman Single Malt. Check out our full guide to discover your next favorite Irish whiskey.
What is Ireland's best whiskey?
We'd choose Knappogue Castle 16 Year Old as our favorite Irish whiskey for its complexity, smoothness, and versatility. Discover our full guide to read about all of the best Irish whiskeys.
What is the best value Irish whiskey?
The Irishman Single Malt is the best-value Irish whiskey. This budget-friendly bottle is a firm favorite for all kinds of Irish whiskey lovers, with a fruity aroma and long finish that works just as well in cocktails as it does served neat or with a drop of water.