You're laying back and musing on what a relaxing afternoon it is. With a satiated smile, you think "All I need now is a nice, cold…." But it hits you. You're all out of beer and wine and champagne.
Not a problem! With our list of the best websites to buy alcohol online, you can get a bottle delivered the same day to your doorstep.
Whether it's your favorite small-batch craft ale (yes, we're looking at you, Millennials), your preferred single malt whiskey, or an inviting case of the finest sipping rum, we have researched the best sites to buy alcohol online.
Struggling for time? Here's a quick overview of our favorite online alcohol suppliers:
The best websites to buy alcohol online
Looking for more options? Here's the entire list of the best online liquor store:
As you can see, there are lots of good options for buying alcohol online. Familiarise yourself with who can buy alcohol and how to buy alcohol online.
The best websites for same-day-delivery: When it just can't wait
Short of 3D printing your desired bottle at home instantly, (nope, don't think that's a thing yet), these same-day-delivery companies are the next best thing.
Drizly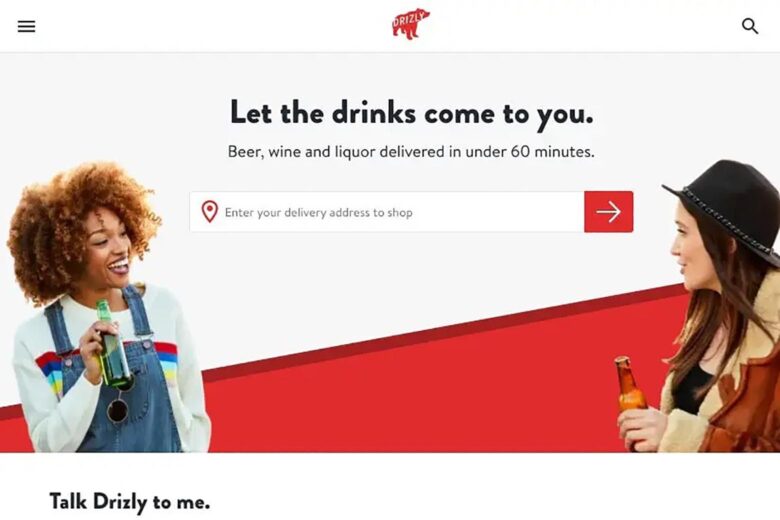 Check out Drizly for super-efficient deliveries. Drizly has partnerships with local stores, so you can browse their shelves online, order, and have your favorite drinks delivered pronto.
Ordering alcohol online has never been easier. Simply enter your postcode to find which beers, wines, and spirits are available in your area. Even better, their handy app allows you to track your delivery!
Bear in mind that deliveries can take 2-3 days, depending on your location. Best to check the website for specific shipping info. Currently available across the US.
Or, for when it really can't wait (we've all been there).
Saucey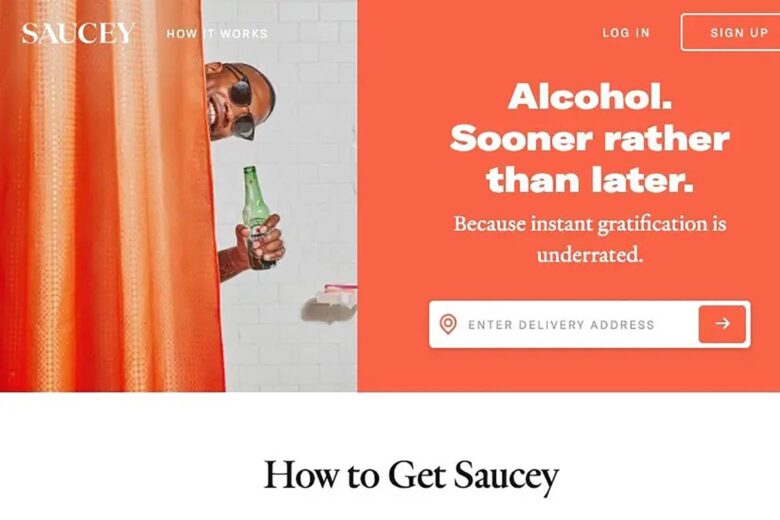 Saucey, an LA-based company, do their utmost to supply you with, well, sauce, as speedily as possible. Saucey promises alcohol delivery across the US in 30 minutes (in most cases, of course. If your nearest neighbor is 4 miles down the dirt track and then straight on till sunset, you may be waiting a little longer).
By establishing partnerships with your local liquor stores, the innovative company strives to deliver refreshing tipples into your awaiting hands, literally ASAP. With an impressive selection, Saucey makes it their business to make sure you don't go without. Ever.
Saucey currently ships to the US only.
Postmates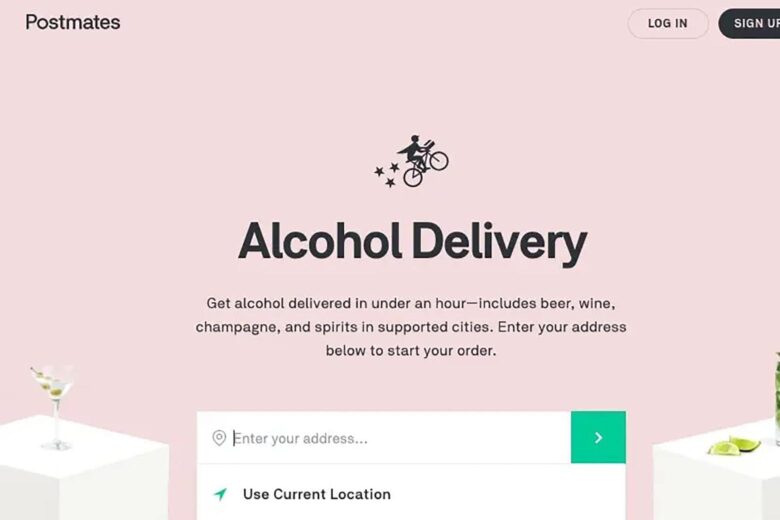 Postmates are great. Last-minute party? No time to head out? You can order all kinds of liquor, as well as those all-important party supplies. Aiming to deliver in 1 hour, Postmates have got your back.
Founded in 2011 and operating in 3,940 US cities, their popularity has soared. Currently, they ship exclusively to the US, but they do have plans to infiltrate the UK market very soon. Non-US residents: watch this space!
Their mission statement is "enabling anyone to have anything delivered on-demand". Sounds pretty good to us.
Amazon Prime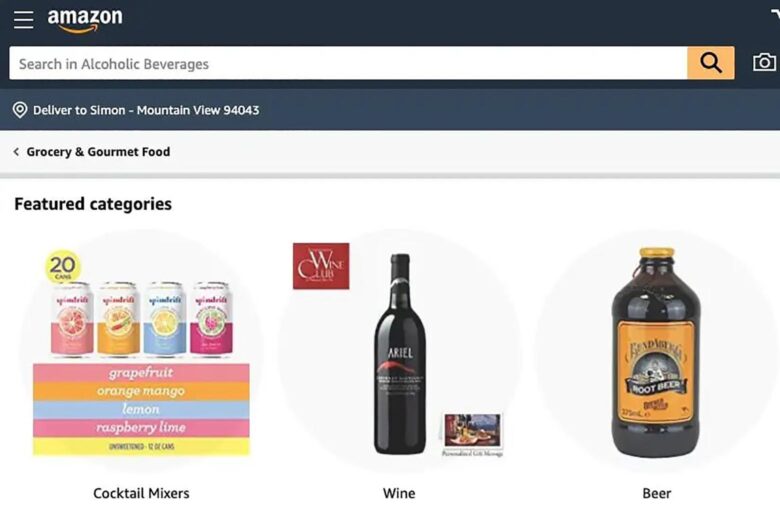 Is there anything Amazon doesn't deliver? Bar the obvious illicit goods, it appears not. With a vast selection, international shipping, and fast delivery, Amazon Prime could be your one-stop shop for all things potent and delicious.
Wannabe sommeliers, Amazon Prime makes the browsing process easy as pie. You can search by wine type or region and have your choice delivered straight to your door* (you'll have to pour it yourself though!).
*Remember, you are required to prove your age when signing for the delivery. The same laws apply both online and offline, and they can and do check.
Best websites to buy liquors and spirits online: Fancy something a little more potent?
ReserveBar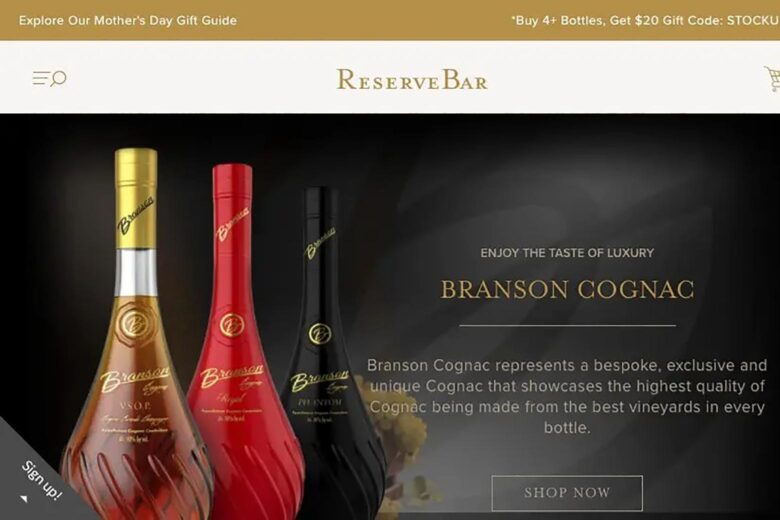 ReserveBar specializes in premium and reserve spirits, with their motto being "Good Spirits. Delivered". The idea was born when the company founder attempted to have four bottles of premium vodka delivered to a college friend and to his dismay, found it was easier said than done. Well, all that's certainly changed.
Thanks to ReserveBar, you can now order the crème de la crème of premium spirits with the bonus of upscale packaging and reliable delivery.
America is good at a lot of things, but distilling delectable liquors has to be near the top of the list. At ReserveBar, they're proud of their heritage, and it shows. If you're looking for superior American liquors and spirits (and more) delivered right to your door, ReserveBar could be your go-to.
On their website, it states they currently ship to the 48 contiguous US states, but plan to expand in the near future. So, hold tight non-US residents, ReserveBar could be coming to you very soon.
The Whisky Exchange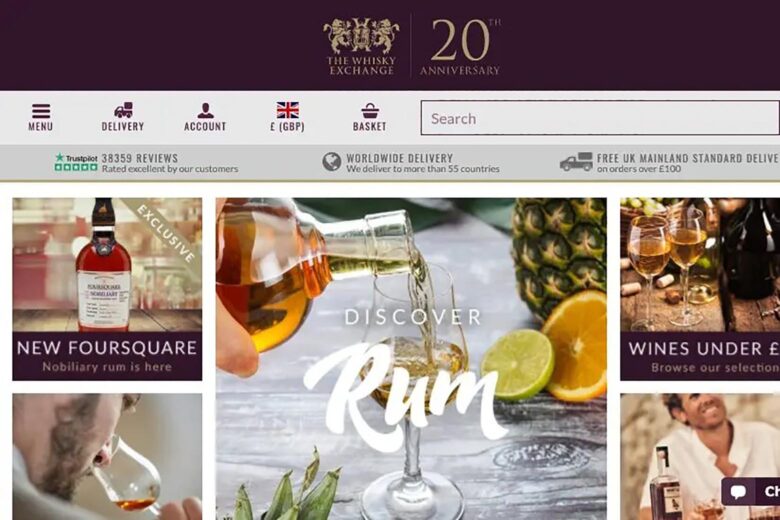 Whisky has long been established as a favorite tipple- it was known in the 15th Century as 'aqua vitae'- or 'water of life', in Latin. Its popularity has only increased throughout the years, with the Scots and the Irish famously perfecting the art of distillery.
Don't know your Scotch from your Bourbon? No worries, we've made a fantastic list of the best whiskeys on the market.
Whether you're a whisky (or whiskey) expert or just fancy a bottle of the smooth, golden liquid, The Whisky Exchange has quite the collection. The Whisky Exchange have been supplying the masses with the 'water of life' since their founding in 1999.
They stock an impressive 3,500 varieties, of which 2,300 are Scotch whisky. Bourbons are well represented, in addition to a number of distilleries from around the world (ever tried a Swedish whisky? Here's your chance!).
The Whisky Exchange ship internationally, although your order will arrive more promptly if you reside in the UK. Check their delivery information to see where you stand.
The Whisky Barrel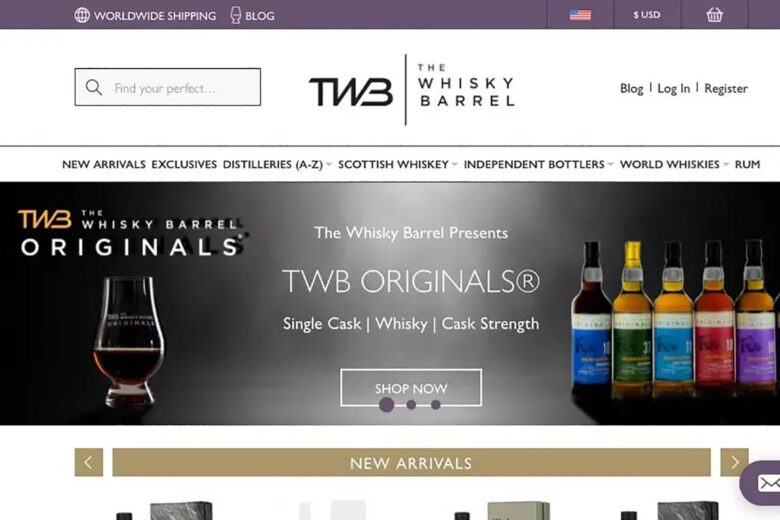 Does anyone really know whisky better than the Scots? Winner of the Queen's Award for Enterprise in April 2019, The Whisky Barrel is based in Edinburgh, Scotland: right in the heart of Scotch whisky production and consumption.
True to their roots, there is predictably a strong focus on Scotch single malt whisky producers. You can browse a plethora of Scottish highland distilleries, as well as hundreds of globally revered whiskies from Johnnie Walker to Jack Daniels.
The Whisky Barrel ship internationally, with flat shipping rates for the UK and Europe. For the US and Canada, shipping rates vary depending on volume.
The Drink Shop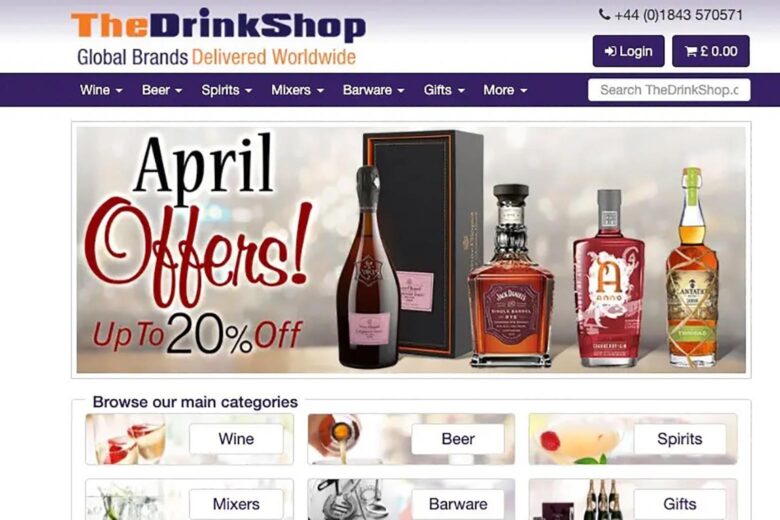 The Drink Shop does what it says on the tin. With a choice of 6,000 bottles, you're not going to be short of options here. From classic bar staples to a wide range of cocktail ingredients (and recipes), The Drink Shop has got it covered.
They also supply barware, glasses, and cocktail paraphernalia, so you can add those all-important finishing touches (parasol, anyone?).
If the juniper-y, floral taste of the ever-popular gin gets your mouth watering, The Drink Shop has got your back. Boasting nearly 700 kinds, deciphering the collection could be a challenge. Check out the best gins of the year, so you can navigate the 'ginaissance' with confidence.
The Drink Shop ships internationally, except for the US. Next-day delivery options are available.
Best websites to buy wine and champagne online: For all your wine and fizz needs
Wine.com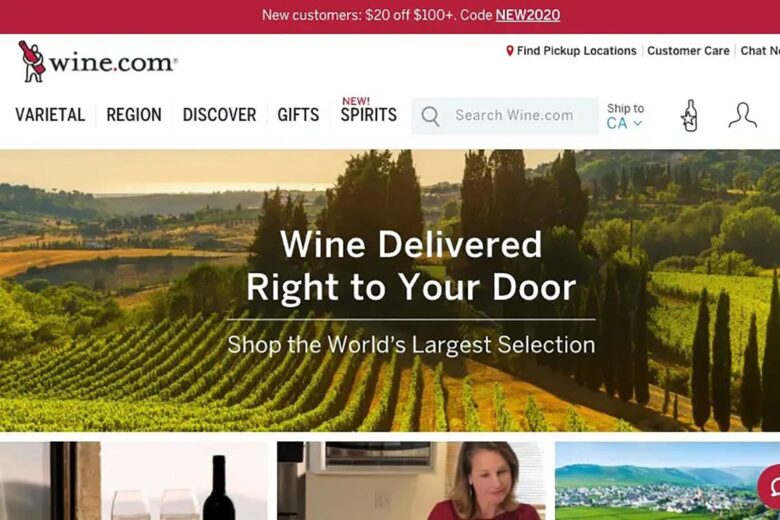 The eponymous Wine.com certainly lives up to their name. Hailed as the world's largest wine store, you won't be short of choice here. With wine experts on hand via their online chat service, to virtual wine-tasting events, they go the extra mile to make sure you receive 5* customer service.
Their vast selection boasts everything from big-name wineries to small production bottles- they aim to cater to every palate. With such an extensive collection, even the pickiest sommelier can find their perfect bottle at Wine.
Overwhelmed with choice? We don't blame you- our list of the best champagnes will help you decipher the wonderful world of fine bubbles.
Wine.com currently ships to most US states (bar those pesky few, in compliance with state laws).
Wine Insiders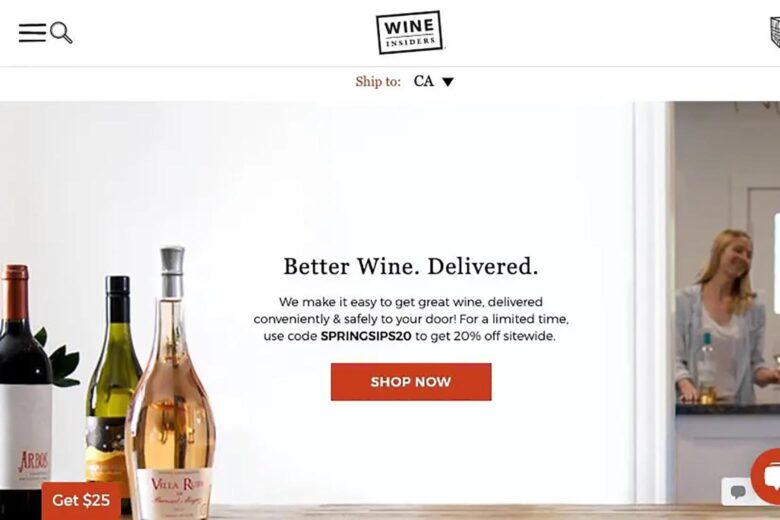 As the name suggests, Wine Insiders truly know their wines. Entering their website is like walking into an expertly-curated wine cellar.
Categorized neatly for ease of search, you can find vegan wines, award-winners, new arrivals, and customer favorites. If inspiration is what you're after, their regularly updated blog provides excellent insights and some exquisite pairing ideas.
Oh, and they have a highly tempting selection of magnum bottles, too…
Wine Insiders currently ship their bottles to all US states and territories, with the exception of the usual states.
Naked Wines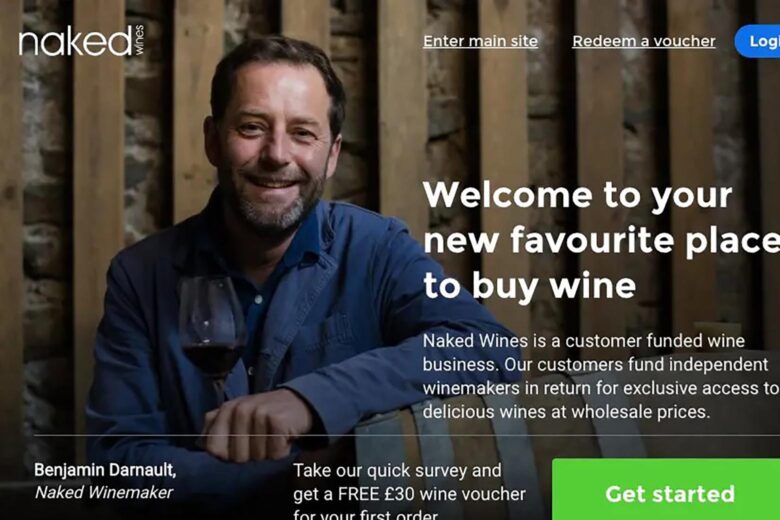 You need only to look at Naked Wines' many awards to conclude that they're excellent at what they do. One of the best things about Naked Wines is, aside from curating excellent wines, they love to connect winemakers with their customers.
Even better, you can be involved as much or as little as you like. For those with a penchant for wine-tasting, you're encouraged to converse with the winemakers themselves, give reviews, and chat with other customers.
Or, for those who lack time or inclination, the WineWizard service is described as "the wine club for people who hate wine clubs" and is undoubtedly popular with those short on free time.
Their standard delivery service is next day (Monday to Saturday) to most UK addresses.
Zachys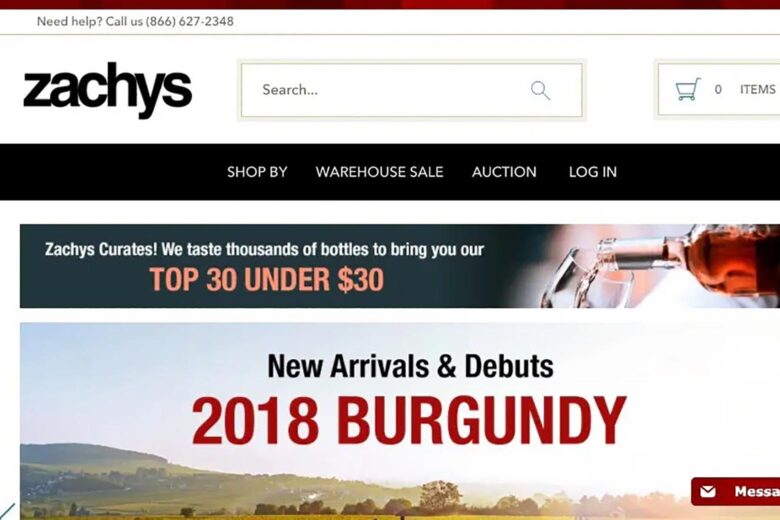 Founded in 1944, US wine experts Zachys have decades of experience. They aim to offer a truly personalized experience, providing wine consultations, an online wine concierge, and hold events and tastings.
Zachys collection of the finest wines and champagnes available across the globe is brimming with both quality and quantity. What's more, when you order you can opt for a traditional wooden wine crate for an extra $12 per case for that rustic visual appeal.
If you know your wines, then you're in the right place. If you don't know your wines (but wish to), you're still in the right place.
Zachys currently ships to most US states.
Best website to buy beer online: More than partial to a cold brew?
Tavour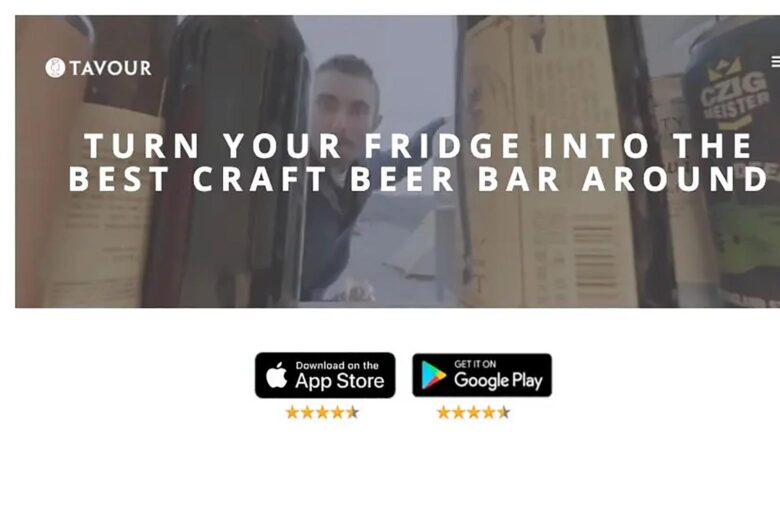 With over 650 breweries featured, and beers from 47 different states, Tavour is big on variety. More than just a beer store, Tavour encourages customers to download their app, where you can peruse countless member-only beers and lagers before making your choice.
The perks of choosing Tavour are many:
You're free to build a custom box of your favorite brews, or you can enroll in a subscription with no minimums or commitments. If you opt for the latter, they will select the current top-rated beers which match your tastes and deliver them efficiently to your doorstep for a flat fee. With a subscription, you bypass the delivery costs entirely!
At the moment, Tavour ships to the US states of AZ, CA, CO, CT, DC, MA, NE, NM, NV, OH, OR, WA and WI.
Best website for sampling new brands: Meet the new kids on the block
Flaviar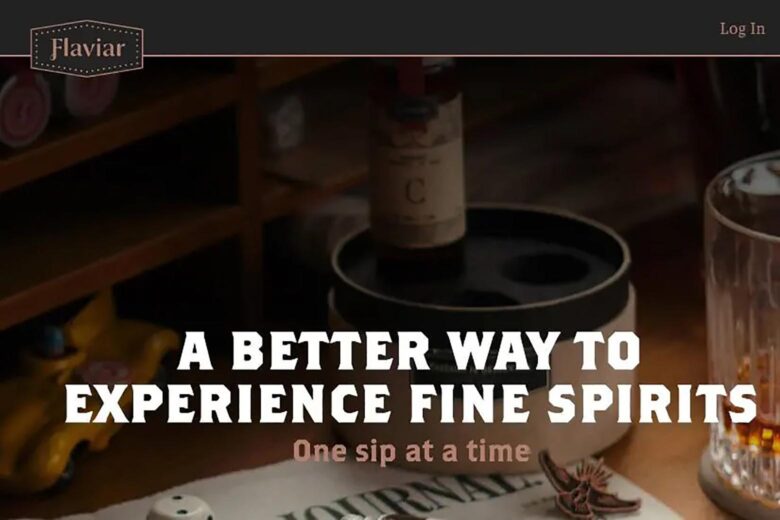 It's always good to try new things. Flaviar is here to break the mold by sourcing the very best rare and original spirits available and delivering them right to your door.
Flaviar dives way below the surface of your run-of-the-mill spirits and explores the deeper realms of unique, artisan distillery. Their Quarterly Spirits Delivery option will arm you with a Tasting Box, and a full-size bottle of your choice. Of course, tasting notes and instructions are included- these guys are nothing if not thorough!
Not short of perks, Flaviar offers a Refer-a-Friend system ($50 store credit at the time of writing) and the opportunity to gain Tasting Box Credits for a free Tasting Box, to name a few.
Flaviar currently ships to all EU countries and the US (with the usual states excluded, of course).
Best websites for subscriptions: Keep 'em coming!
Cellars Wine Club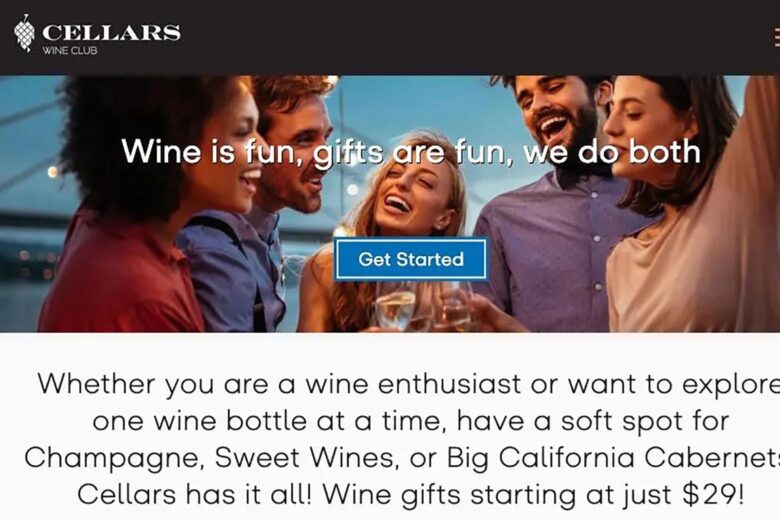 Whether you're looking for wine-spiration in a single monthly bottle or a jam-packed case of carefully chosen delights, Cellars Wine Club has a variety of subscriptions. With over 20 years of experience and an in-house tasting team, they promise nothing less than excellence in every bottle.
You choose your own 'club' based on variety and price preference. Then, specify whether you'd prefer one-time, monthly, or quarterly deliveries. Cellars Wine Club is hot on details, ensuring no customer leaves disappointed.
Currently, Cellars Wine Club ships to most US states, except Delaware, North Dakota, South Dakota, Mississippi, Kentucky, New Hampshire, Rhode Island, and Utah.
Craft Beer Club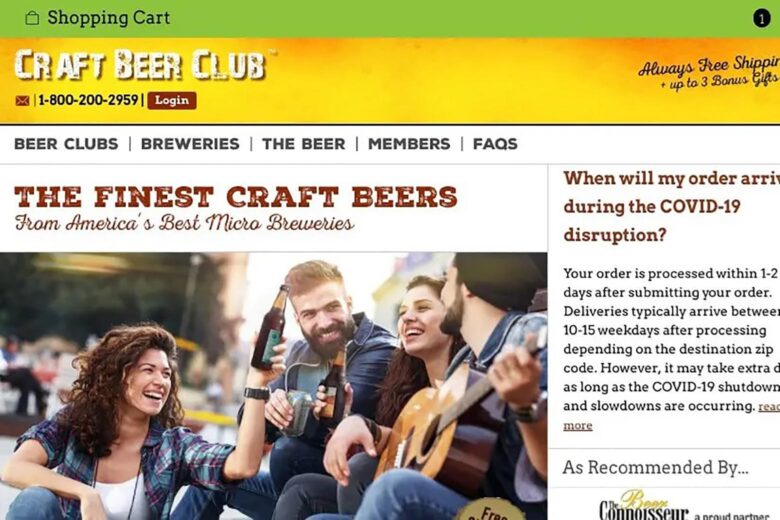 Micro-brewed craft beer is a trend that's not going anywhere anytime soon. In recent years, countless micro-breweries have popped up supplying fresh takes on old classics and introducing us to unique flavor combinations.
At Craft Beer Club, they've curated the best brews from America's finest micro-breweries, who employ creative approaches while using traditional methods.
Sign up, and you'll receive a brimming case of 12 expertly selected craft beers, right to your door. Each box is accompanied by tasting notes and the company's newsletter to keep you in the loop!
Craft Beer Club makes it super simple. 12 of the finest craft beers delivered straight to you, every month. No membership fee, and no obligation. Just good beer.
They currently ship to most US states.
The California Wine Club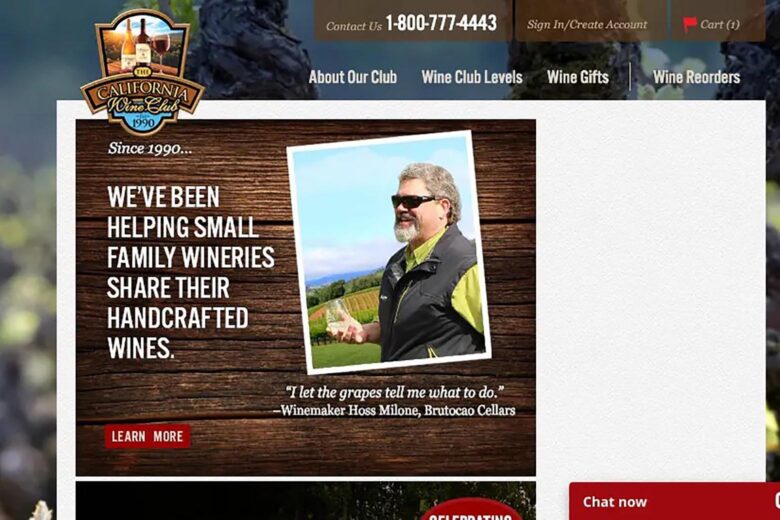 Ah, Californian wine. The sunny state is synonymous with luscious vineyards, producing exquisite wines from their world-famous grapes. With a focus on small, family-run wineries, The California Wine Club strives to uncover hidden gems.
The California Wine Club team travels far and wide within the wine country, interviewing winemakers and sampling their wares. (Not a bad job, right?) With such a rich and widespread culture of wine-making, they want to leave no stone unturned.
Choose whether you'd like 2 bottles or 4, red or white (or half red, half white), and monthly, every-other-month, or quarterly deliveries.
They currently ship to most US states, with delivery times varying from 2-3 days to 1-2 weeks, depending on location.
Firstleaf Club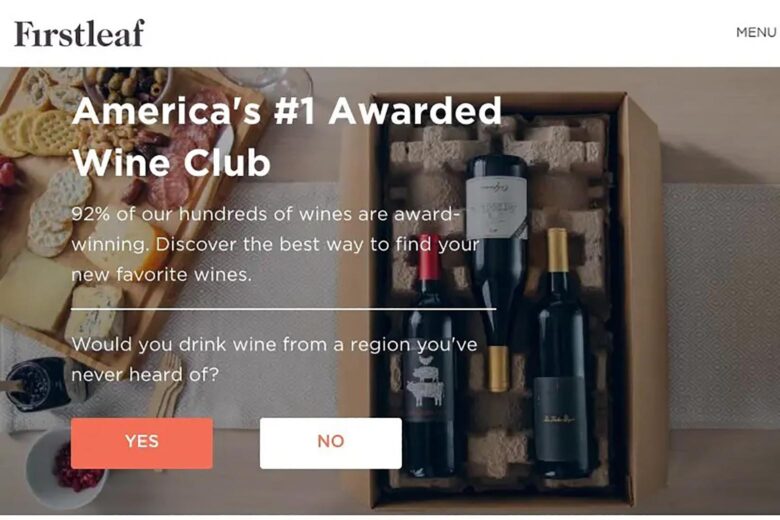 92% of Firstleaf's wines are award winners. That takes some beating.
Firstleaf Club creates your perfect case of wines based on the outcome of their simple quiz. Using a sophisticated algorithm based on over 500,000 customer ratings, they're able to make amazingly accurate predictions on which bottles will tickle your tastebuds.
They also promise excellent value by 'eliminating the middleman and working directly with producers. Still unsure? Their online concierge team is on-hand to guide you and answer any questions you might have.
Decide on the style of wines and frequency of delivery to suit your needs, and Firstleaf Club will take care of the rest.
They currently ship to 43 of the 50 US states.
Plonk Wine Club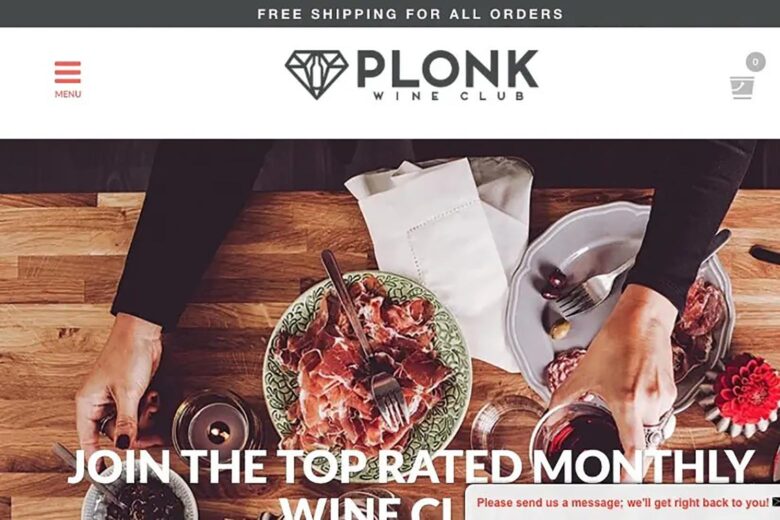 If you love all things organic, Plonk Wine Club could be the wine club you've been searching for.
Small-batch, organic and sustainable is the order of the day at Plonk Wine Club- and they're proud to offer you the best bottles made from biodynamic methods, which are additive and pesticide-free.
Scouring the globe for the most unique and exciting grapes, they focus on limited-production wines from international growers.
Upon delivery, you'll receive tasting notes and pairing recipes to make sure you get the most out of your subscription.
Plonk Wine Club currently ships to most US states.
Winc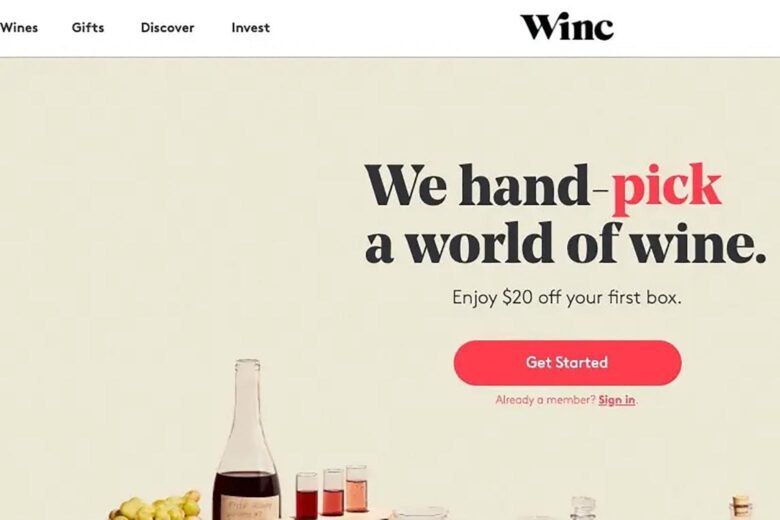 Founded in 2012, Winc was born with the idea that good wine should be more accessible. With simple ordering and hundreds of wines, they've achieved just that.
Huge on variety, Winc promises exceptional bottles curated from all corners of the earth. From well-known classics to artisan small batches, they've got it all.
Crucially, Winc produces their own wines from their Californian vineyard. They focus on smaller quantities, aided not a little by their in-house expert winemaker and sommelier, Brian Smith. With such impressively high standards, you can expect only the finest wines from Winc.
Ever inclusive, they showcase a great selection of vegan wines too. Not a fan of wine? Have a look at their cider selection for some aromatic treats.
Best website to buy alcohol for gifts and weddings: For gift inspiration
The BroBasket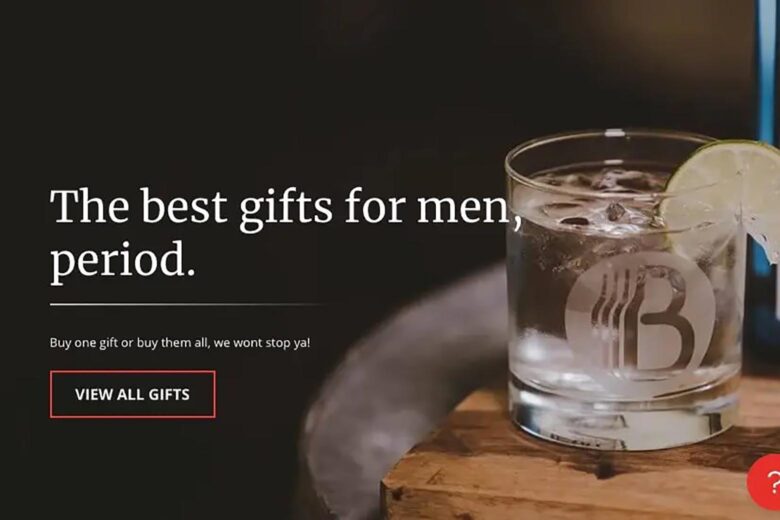 Men are notoriously difficult to shop for. If his sock drawer is bursting at the seams, and he's already got every bit of new tech you can think of, what do you do? Head to The BroBasket, that's what.
Offering alcoholic gifts of all varieties, you're sure to find the perfect gift at The BroBasket. Gift baskets, corporate gifts, and engraved bottles are all a mere click away. You can customise your own, or take advantage of the existing gift packages.
No matter what the occasion, or whom the recipient, The BroBasket has a vast selection of boozy gifts (there's even a non-alcohol section for the teetotallers).
Orders placed before 3 pm are shipped the same day, and they currently deliver to most US states.
Who can order alcohol online: Can anyone buy alcohol online?
As with all age-restricted goods, there are inevitably some rules. And when we say rules, we mean, well, laws. And not in the 'there to be broken' sense, either.
Based in the US?
You may well breathe a sigh of relief to learn that most states allow home deliveries of liquor to private individuals over the age of 21. However, that all-important word being: most. Unfortunately, if you live in Alabama, Oklahoma, or Utah, you are not permitted to receive deliveries of alcohol at all. Off to the liquor store you go!
Mississippi is pretty unclear on their state laws, with alcohol delivery being neither banned, nor specified as legal. We'll leave that one up to you.
So, that leaves 46 states where, as per state law, online alcohol ordering is permitted. Just so long as you can provide these two things:
A valid form of identification at the point of order
An adult signature upon delivery (make sure you're home! Or say goodbye to that bottle of 18-year-old Glenmorangie. Which is, by the way, three years younger than the minimum legal age in the US. Don't say we didn't warn you…)
So assuming you're over 21 years old and you live in one of those 46 states, it's important to bear in mind that these states vary on their regulations regarding beer, wine, and spirits.
Of course, the individual laws of each state would make for tiresome reading, so the cheat's method is to simply check your chosen online liquor store website to see where they'll deliver. To be completely on the safe side, your best bet is to check your own state's laws on alcohol delivery and shipment.
Living in the UK?
Lucky you. You can bypass the irksome minefield of state-by-state regulations. In the UK, you can purchase wines, beers, and spirits online providing you can verify you are over 18 years old both at the point of order and the point of delivery. It is a legal requirement that premises license holders operate an age verification policy, inclusive of a photo ID.
What about Canada?
Online alcohol sales are also permitted in all Canadian states, with British Columbia being the last to allow the practice as of 2016.
Notably, in Canada, the legal drinking age varies from each province and territory. The legal age is 18 years old in Alberta, Manitoba, and Quebec. The remaining states require you to be 19 years old in order to consume alcohol.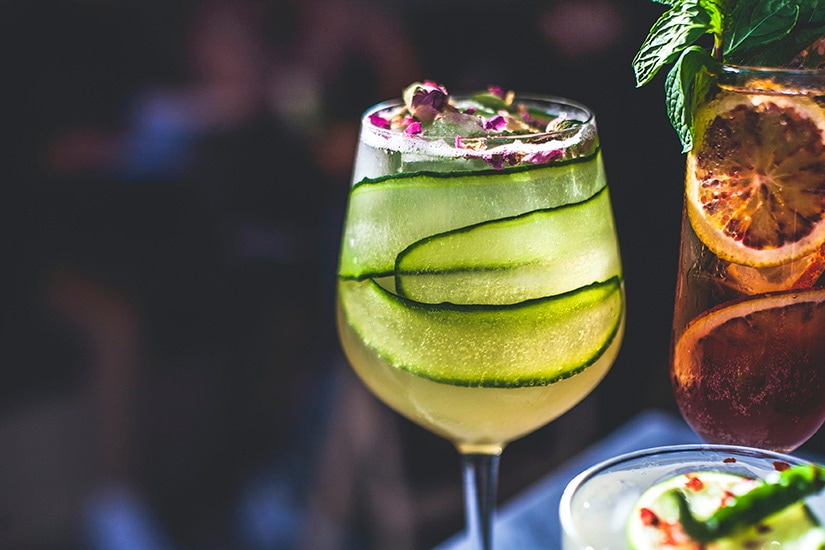 Frequently asked questions on buying alcohol online
Where can I buy alcohol online?
You can buy alcohol online at Drizly, ReserveBar, Wine.com, or any of the other alcohol delivery websites featured on our list.
Is it cheaper to buy alcohol online?
Yes, it is often cheaper to buy alcohol online. Alcohol delivery websites are able to cut out the middleman and pass on the savings to you. It's also easier to shop around for the best deals.
Can I buy alcohol online without being 21?
The age limit to buy alcohol online varies by country. If you are in the US, you can't buy alcohol online without being 21 years of age.
Can alcohol be ordered online?
Yes, alcohol can be ordered online. Most states in the US do allow the purchase of alcohol online as long as you have proof of age. The same goes for Canada, although the legal age varies. In the UK, you are free to buy alcohol online if you are over 18.