Aromatic, intense, with the perfect foamy crema on top: espresso really does set the tone for a perfect day. The best espresso machines can make it easy to enjoy this fine Italian creation without having to leave home.
Whether you're interested in an automated coffee machine or a hand-operated espresso press to get the most out of your high-grade coffee beans, we've got the perfect brewers
After sifting through hundreds of espresso machine reviews, we've crafted our list to suit the needs of any caffeine connoisseur. We've also included a helpful guide to the different features you'll find on the different espresso machines.
The best espresso machines of 2020
Check our special espresso machine buyers' guide after the list to see exactly what you should pay attention to before purchasing an espresso maker.
Nespresso Vertuo: Overall best espresso machine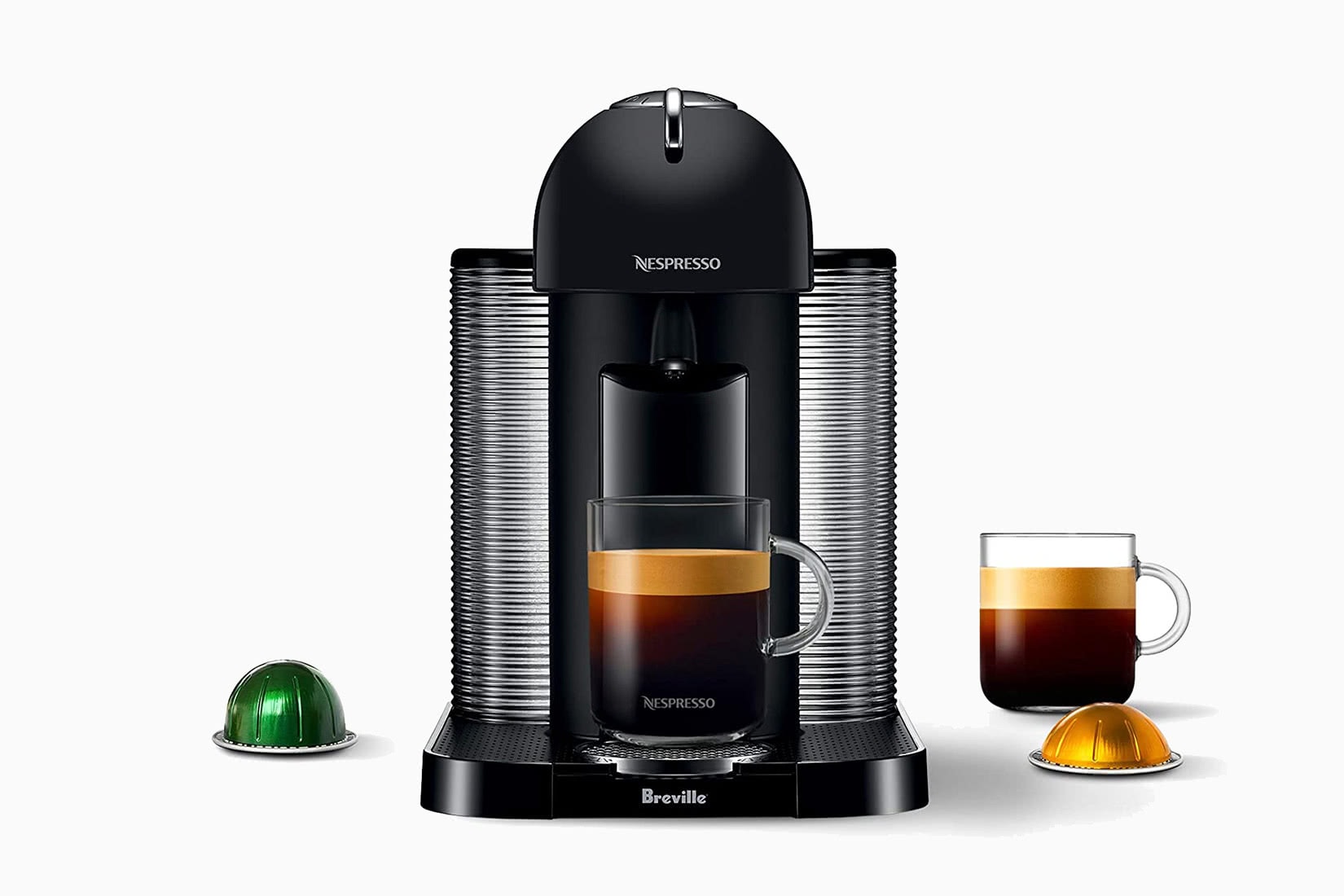 When you're looking for a quality shot of espresso, you're looking for luscious, fresh-brewed, rich taste. And, likely, you want it fast.
The Nespresso Vertuo delivers on both fronts. If you want espresso first thing in the morning, all you need to do is press one button. Within seconds, you'll have your fix.
(We never thought complicated coffee-making should come before caffeine, anyway.)
With room for five cup sizes, easy-use pods for freshness every time, and an intelligent extraction system that recognises the type of espresso you're brewing, the Nespresso Vertuo takes care of all the advanced barista-work for you. (Once it starts brewing, the capsule inside rotates 7,000 times a minute to blend your coffee perfectly.)
All you need to do is sit back, then enjoy each sip of your barista-worthy espresso.
Best for: Espresso with a solid crema, first thing in the morning – without having to think about how to make it!
Breville Bambino Plus: Best high-end espresso machine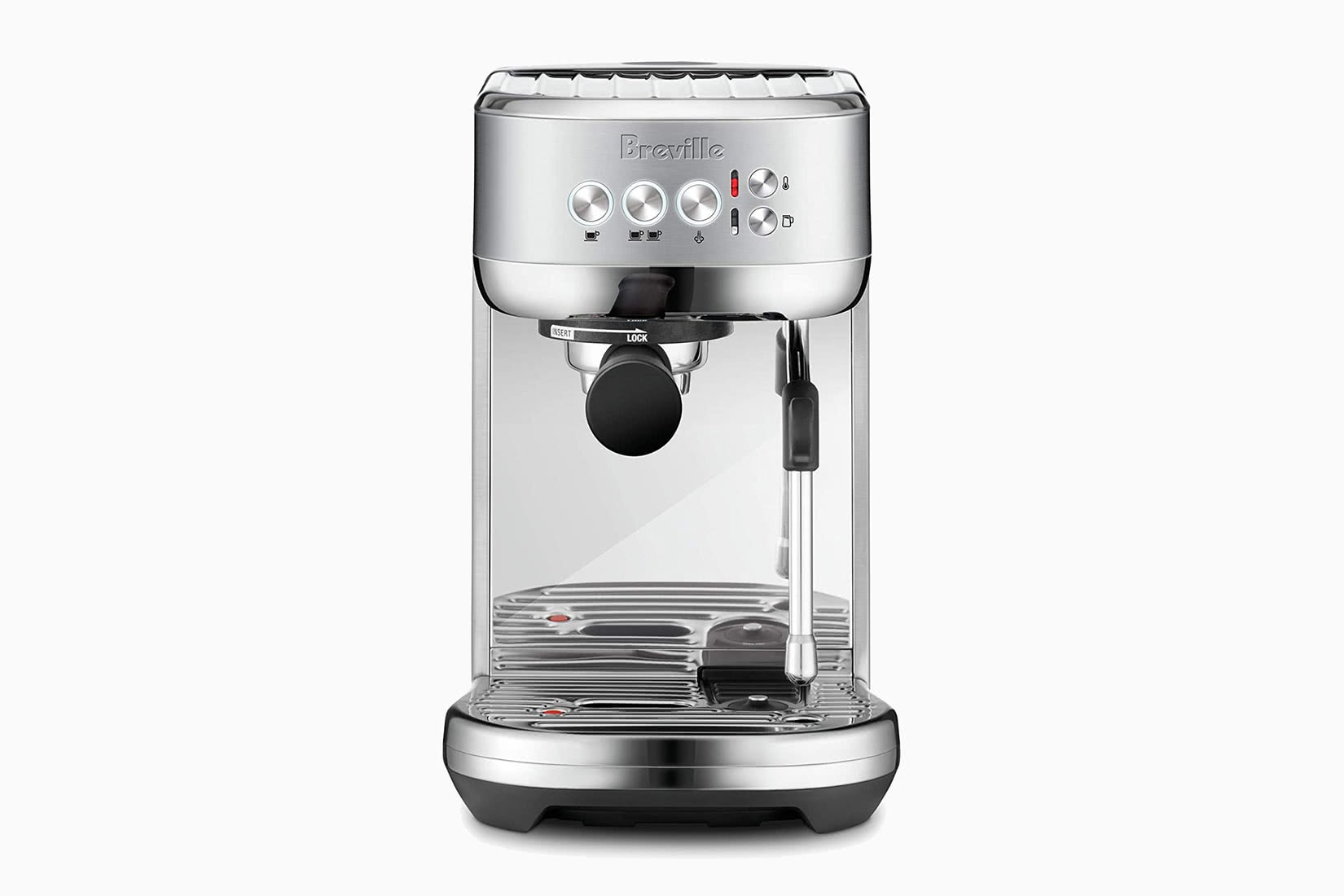 Perhaps you love the artistry that comes hand-in-hand with the espresso-making experience. If that's you, then the Bambino Plus is just the thing.
This advanced espresso maker comes with filter baskets for your pre-ground coffee, as well as all of the professional-grade tools you'll need for the perfect shot of espresso: A trimming tool, a milk jug, and a tamper.
Whether you're in the mood for a single espresso or need the jolt of a double, the Breville Bambino Plus has your back. You can froth your milk with the same machine for fresh cappuccinos and lattes with the perfect amount of microfoam.
The best thing? You can do all of your advanced latte art without having to wait. This espresso machine heats up to optimal extraction temperature in as little as three seconds.
Best for: Caffeine enthusiasts who appreciate the DIY nature of a fine espresso experience.
De'Longhi: Best value espresso maker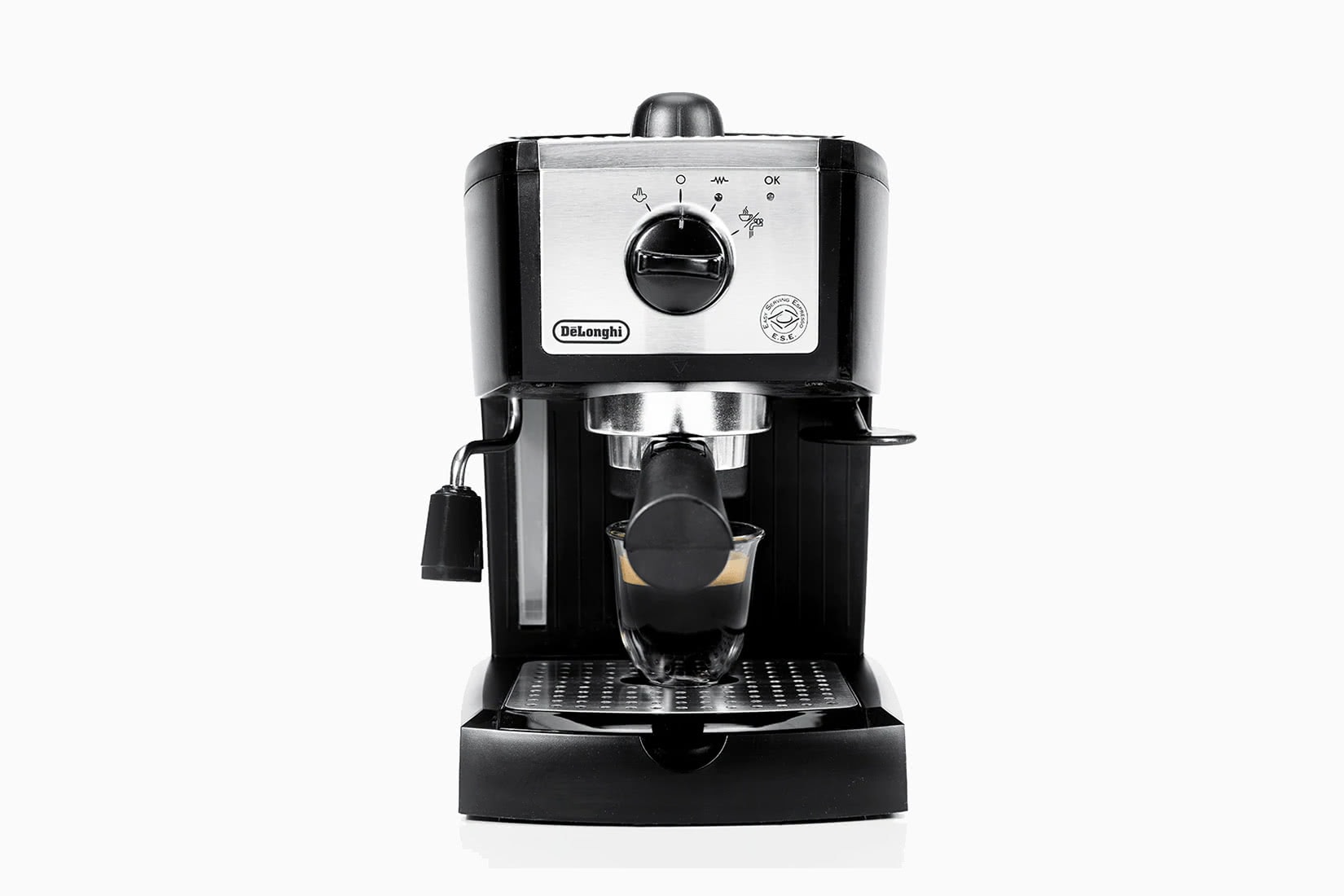 If you're looking for the best value with your espresso machine, read no further: This is it.
As an entry-level option, this espresso maker is easy-to-use and attractive for your kitchen countertop. It also comes from an established name in the coffee game – which lends confidence to this budget-friendly alternative.
With an inset frothing wand and a filter holder that works both for espresso and regular coffee, you're sure to find this an essential for your caffeine needs.. Bonus: This is on the smaller side, and it's very easy to clean, adding little-to-no maintenance to your daily kitchen cleanup.
Whether you want to use pods or grounds, the De'Longhi Espresso and Cappuccino Maker is fast, simple, and results in high-quality drinks every time.
Best for: Budget-savvy baristas who want to make both good coffee and fine espresso with one do-it-all machine.
Keurig K-Cafe: Best espresso machine for beginners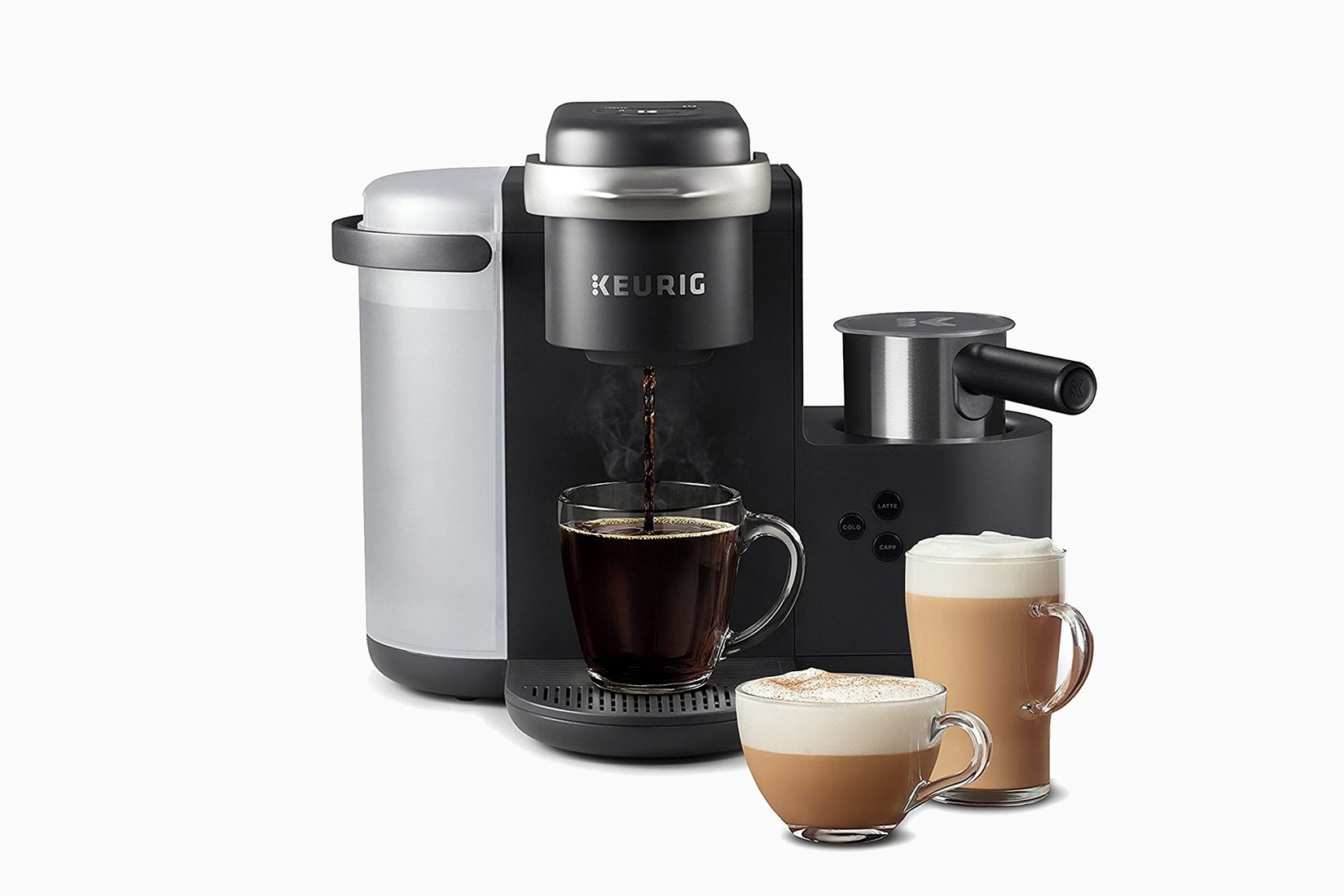 A lightning-fast, ridiculously-simple method to get your coffee fix,this almost-mindless option from Keurig is a great espresso maker for beginners.
With an Espresso Roast K-capsule, you can easily brew a shot anytime you please. However, this machine also comes with coffee options, meaning that you can have your java precisely the way you like it. The Keurig K-Cafe comes with a built-in frother, as well as a cold option for your iced lattes.
When you're interested in a quick-serve espresso option that's standardised to be precisely the same, every single time, this one-touch smart-start espresso machine is a no-brainer.
Best for: Budding espresso lovers who need an at-home way to brew easy shots.
Mr. Coffee: Best espresso machine with frother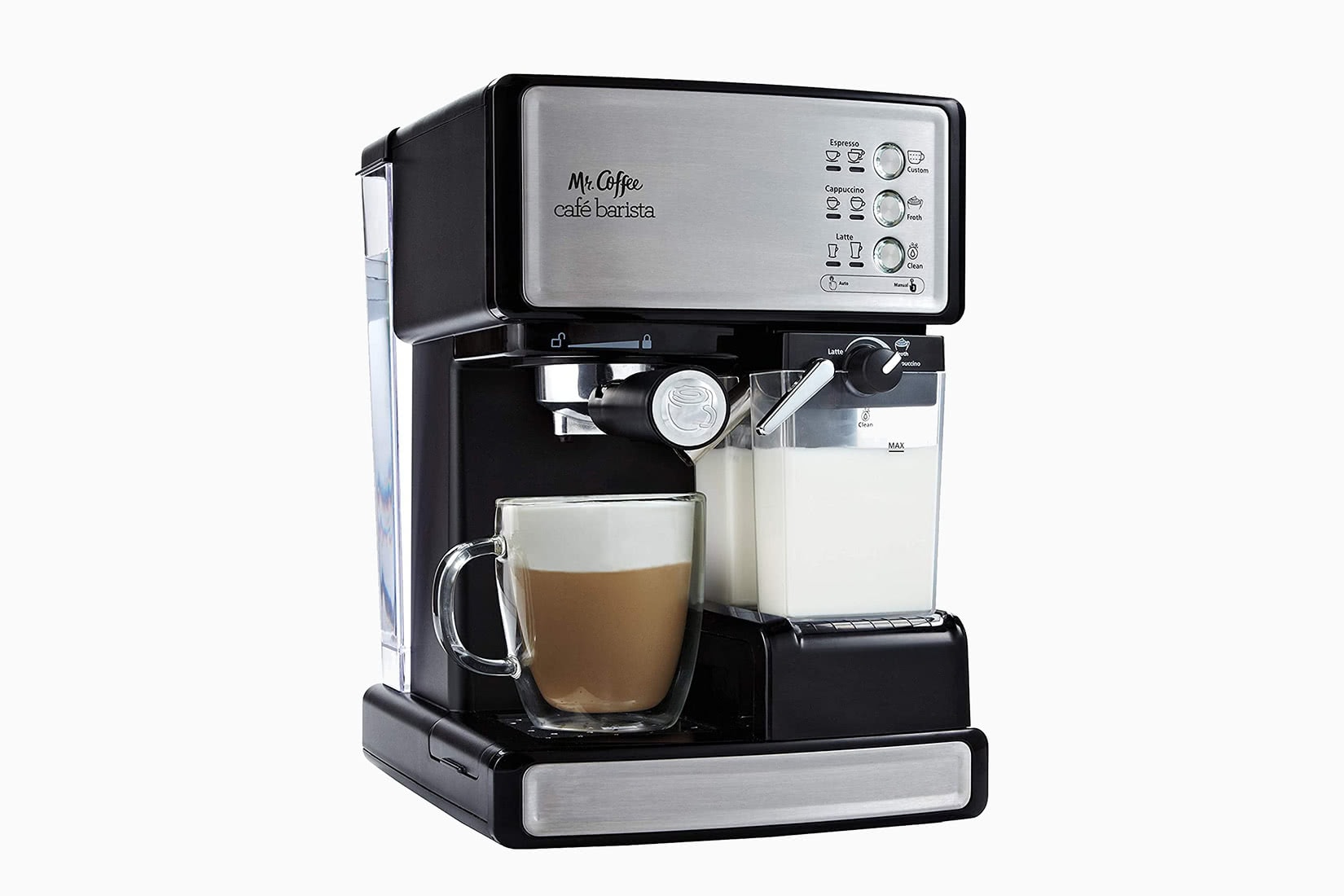 If you crave your coffee with a side of convenience, the Mr. Coffee espresso machine is for you. It'll make your espresso just the way you want it with an automatic frother, varied brewing options, and even an adjustable cup tray for your coffee mug of choice.
The included frother makes velvety-smooth latte and cappuccino foam a piece of cake, and the one-touch control panel introduces drink selection as easy as tapping on your phone.
With removable milk and water reservoirs, easy controls for espressos, cappuccinos, and lattes, and an easy-clean interface, this Mr. Coffee Cafe Barista system is a guesswork-free system for excellent espresso at home.
Best for: Those who want slightly more than just a basic shot of espresso.
De'Longhi Magnifica: Best automatic espresso maker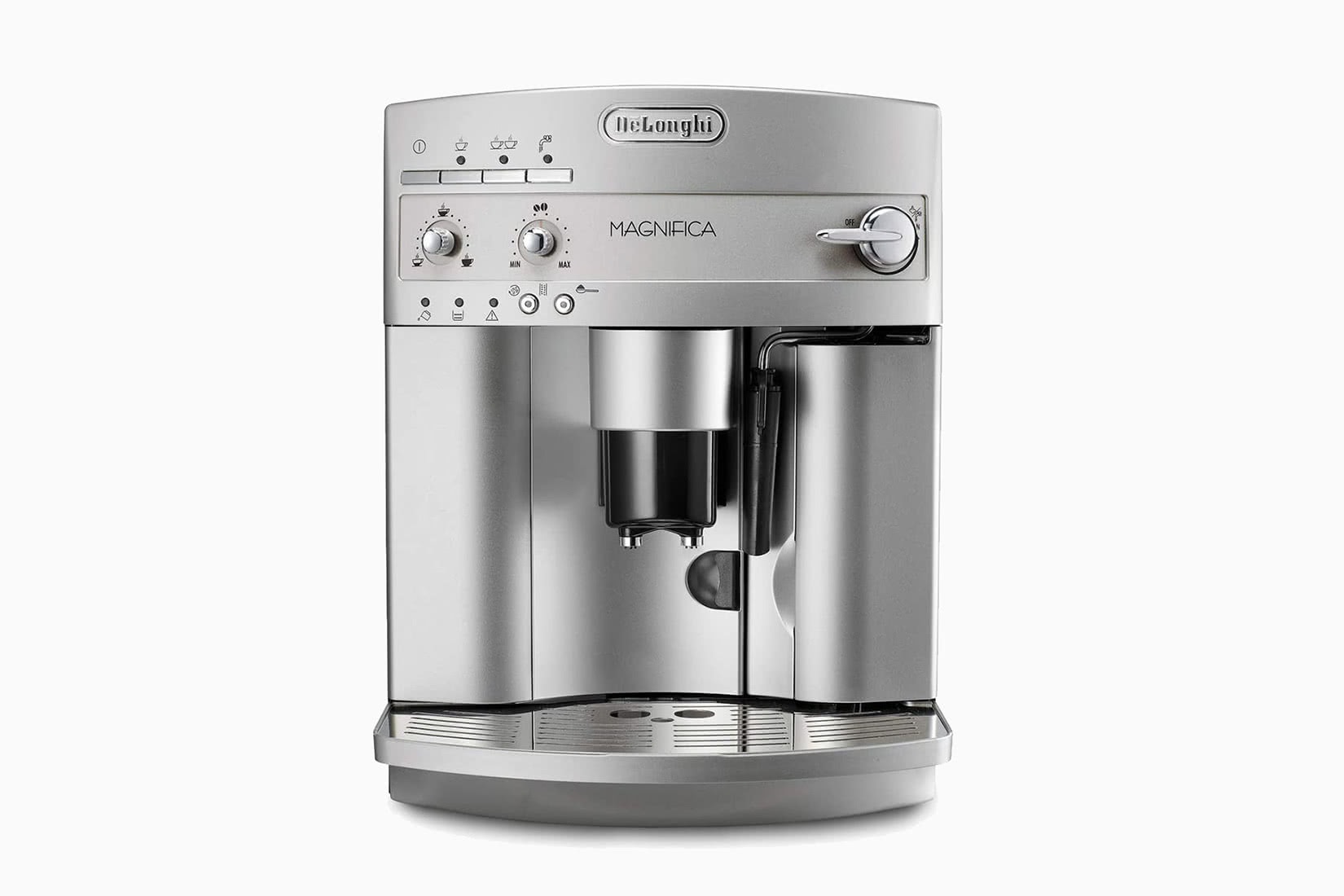 Espresso is complex, velvety and bursting with flavour. Many believe that the only way to brew it correctly involves intricate, lengthy hand-operated steps.
The Magnifica gets as close as possible to proving them wrong. The silky black espresso with just the right amount of crema that this machine produces is picture-perfect. Its taste? Divine.
With a built-in burr grinder, you can enjoy the freshness of just-grinded beans in your own home. The De'Longhi Magnifica also includes De'Longhi's intelligent thermostat and convenient milk frother, for truly seamless and whip-quick espresso-making with minimal input from you.
In other words, a high-end cup of artisan espresso at home doesn't have to be complicated. With this, it won't be.
Best for: Efficient early-risers who need their dose of caffeine, stat – but don't want to compromise on quality.
Nespresso Inissia: Best pod espresso maker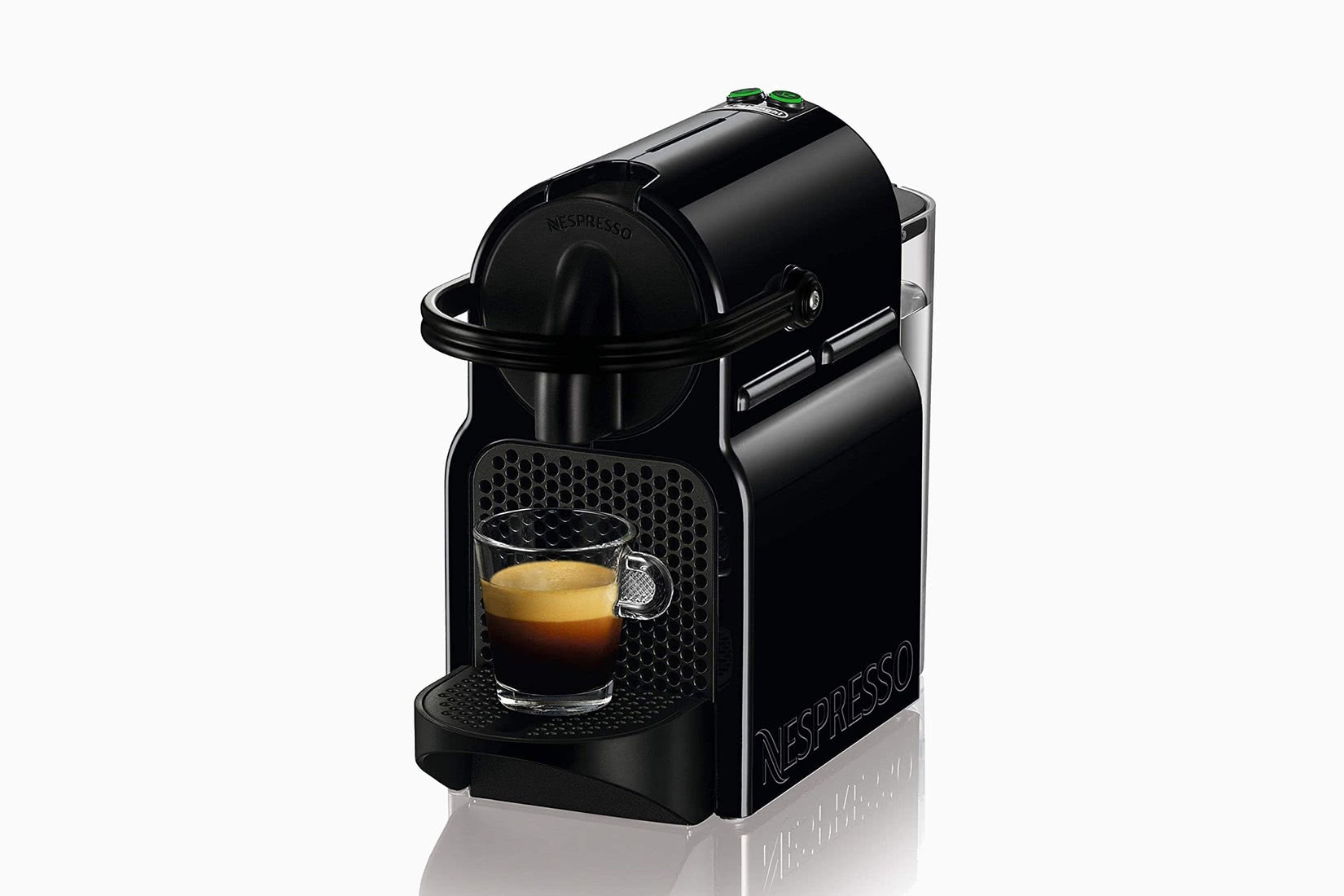 Interested in the De'Longhi name and reputation without the hefty price tag? If so, this collaboration between Nespresso and De'Longhi serves up high-quality coffee with the ease of a pod format.
With one simple touch, the Inissia brings water from a refillable reservoir up to ideal water temperature. (You can get 9 full cups of espresso or coffee from the 24-oz tank.) Within a matter of seconds, you'll be sipping on convenient, stress-free espresso – and so will your family or friends.
This model comes with a starter pack of espresso pods, so you can truly take your time to get to know the roast you'll love. Plus – this piece incorporates an energy-efficient feature that shuts off the machine after 9 minute of inactivity. Truly, the Nespresso Inissia makes fine espresso one simple touch away!
Best for: Coffee lovers who enjoy the simplicity of Keurig cups, but are looking for a next-level espresso investment.
Breville-Nespresso Essenza: Best compact espresso machine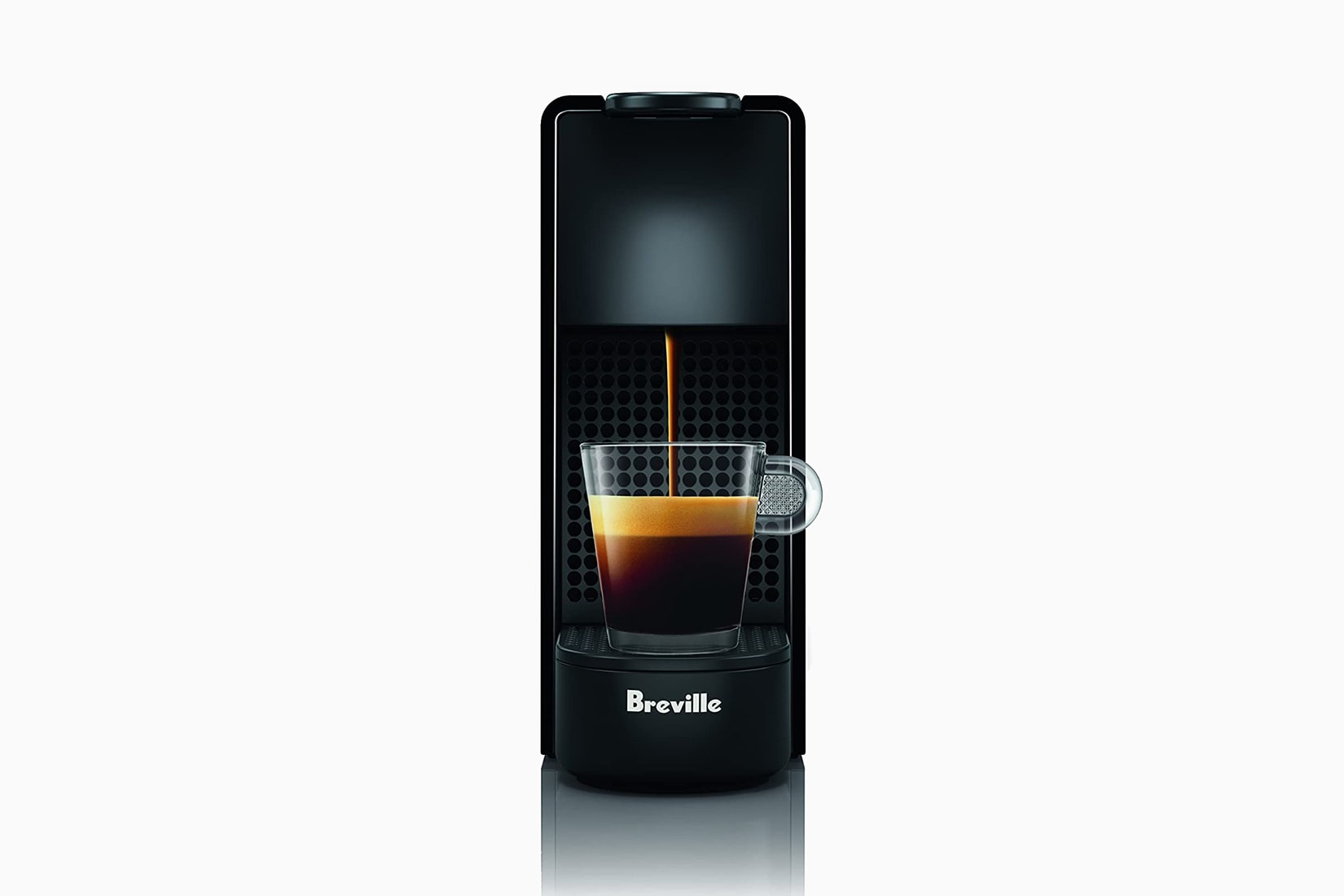 Whether you live in a stylish studio or are searching for a mini espresso machine for your office space, the Breville-Nespresso Essenza will fit the bill. Great coffee doesn't have to take up a ton of counter space. This machine is portable, sleek, and doesn't compromise on the quality of its espresso.
Nespresso knows how to make pod espresso excellent; Breville is an established name in the fine coffee industry. Together, they make a pod espresso machine that is as reliable as it is tiny. It's perfect for single-serve needs – but can also make as much espresso as you desire.
Effortless, chic, and efficient: The Breville-Nespresso Essenza is a pint-sized espresso maker that can fit anywhere, yet it does everything you'd require of the perfect espresso machine.
Best for: Those who mindfully enjoy just the one cup of espresso at a time – or who have limited counter space to devote to their caffeine obsession.
Wacaco Minipresso: Most portable espresso machine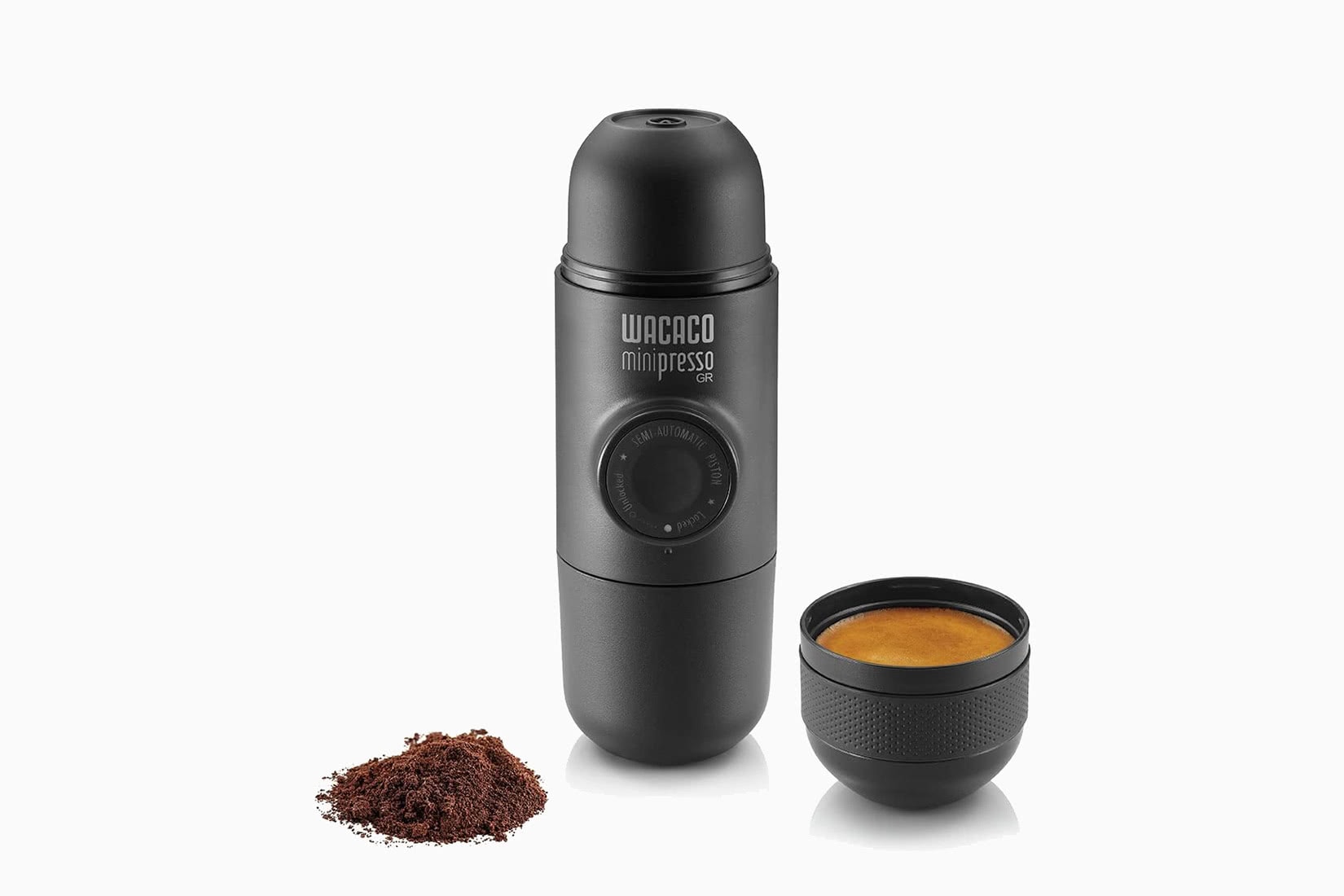 If you've ever been on-the-go – enjoying a picture-perfect picnic on a gorgeous day, perhaps – you might have mourned the fact that very fresh coffee is difficult to enjoy just anywhere.
Enter: The Wacaco Minipresso. It's ready to change all of that.
This sturdy plastic invention divides into several pieces – so you can easily store it; but when it's time to make espresso, it can jump into action. Simply add water and ground espresso, and (with a quick hand workout) you'll have a full-bodied shot with a nice crema in just a minute!
With the Wacaco Minipresso, you can bring the luxury of a good cup of espresso with you wherever you go.
Best for: Anyone who thinks that fresh espresso simply needs to be enjoyed in life's beautifully unpredictable moments.
SOWTECH: Best budget espresso machine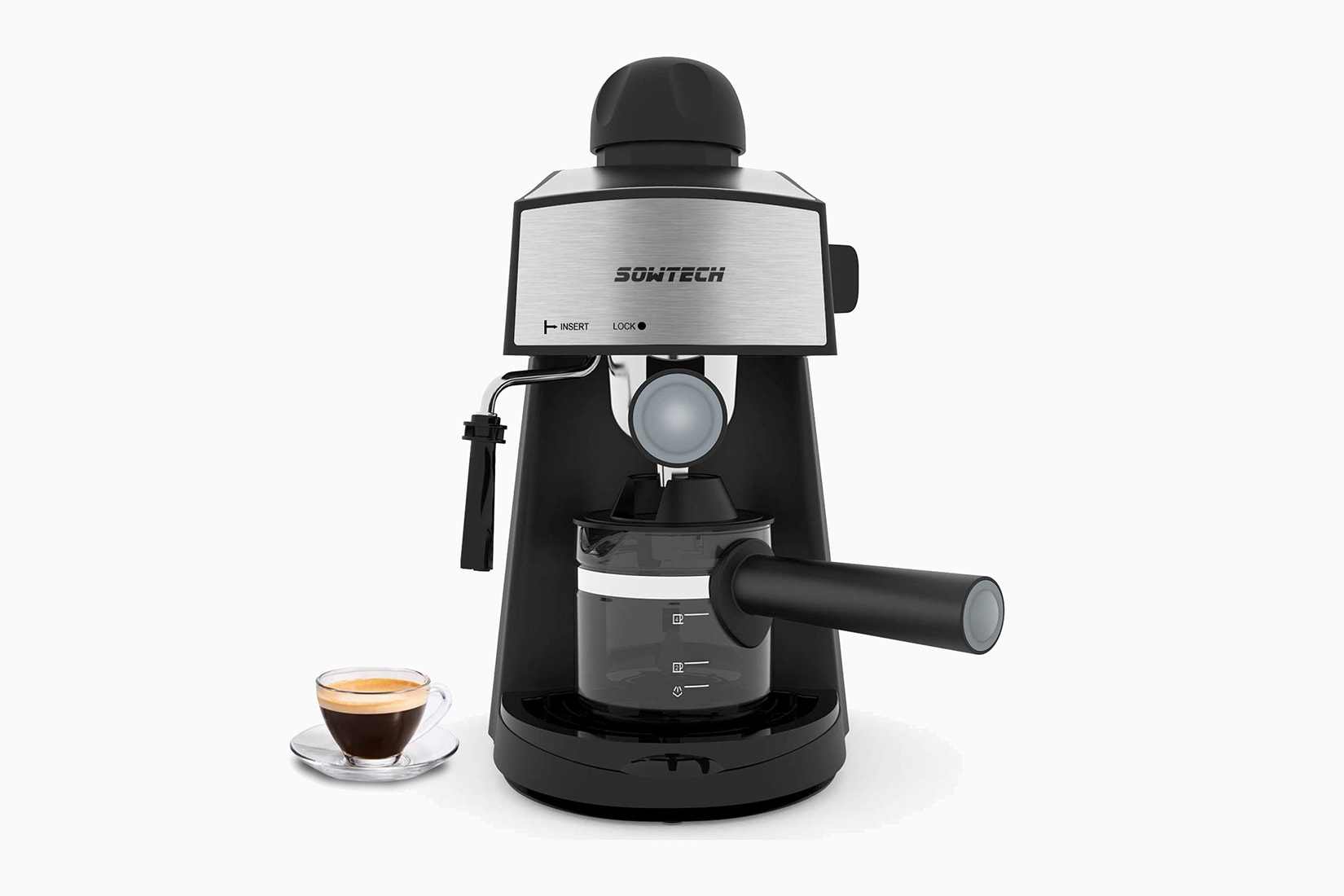 Looking for a barista-approved budget alternative? The best budget espresso machine is right here: the SOWTECH Espresso maker! Even though this is a value-based model, it doesn't compromise on features or quality.
With accurate temperature control, an easy-op coffee and espresso drip, and a built-in steam selector, you can make lattes and cappuccinos home simply. Interested in velvety espresso and densely-foamed milk? This machine is all you need.
It even looks high-end. With a compact, stainless-steel design, this best espresso machine under $100 won't look out of place in your modern kitchen. The SOWTECH Espresso Maker even has a washable drip collector so maintenance is as easy as can be.
Best for: Those wishing to make a minimal investment, but who still appreciate the makings of a fine brew.
Breville The Barista Express: Most Expensive espresso maker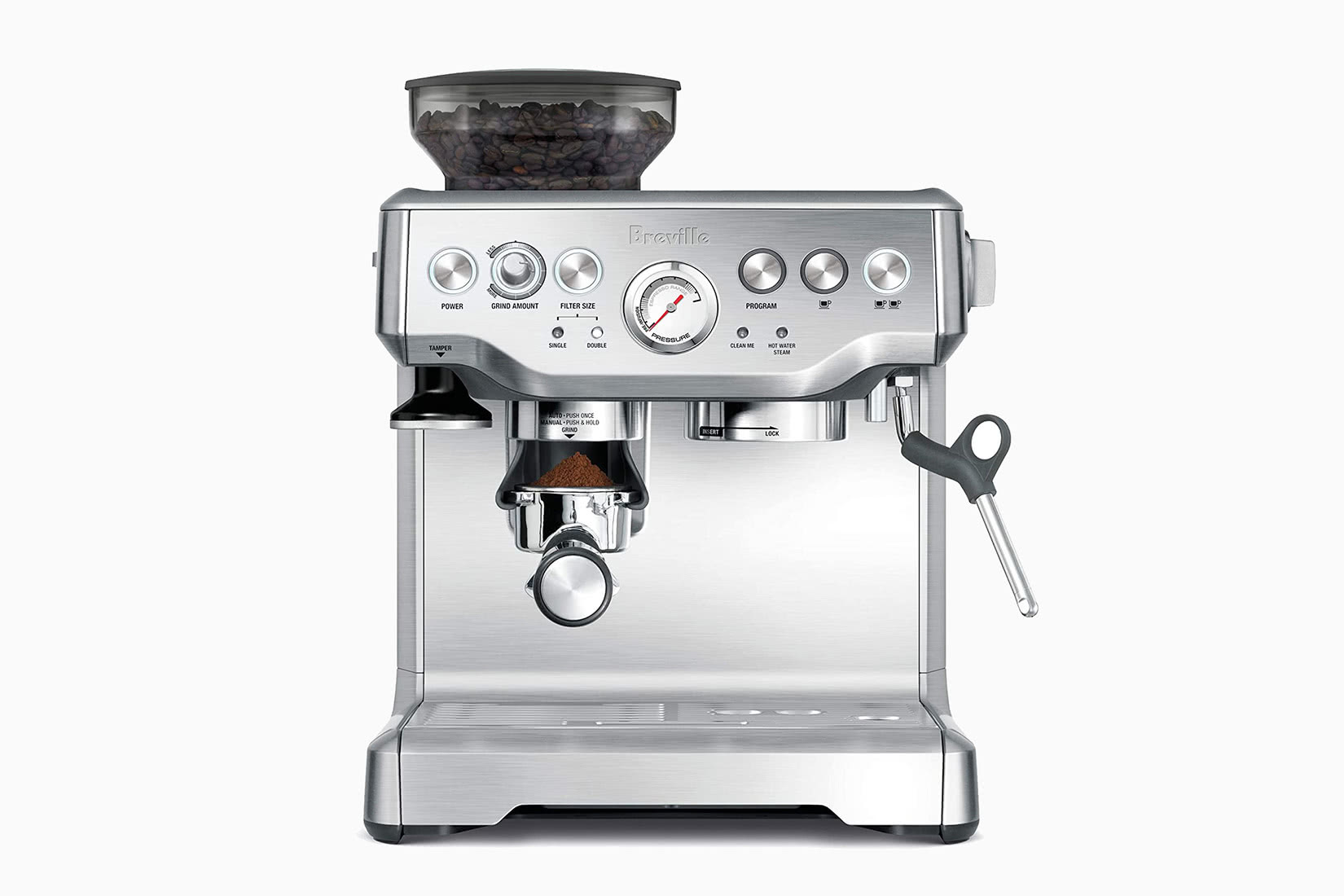 Experts agree that one of the best ways to lower bitterness and really experience the true flavour of your coffee beans is to grind your beans fresh. However, in order to get the fine grind you need for espresso, you can't just have any grinder. Only a burr grinder will extract the most oil from your beans. Most espresso machines can't do that for you.
This one can.
This Breville The Barista Express not only has a built-in burr grinder for ultimate freshness, but also has digital temperature control so that your water is always the perfect temperature for espresso extraction.
An on-board milk foamer also delivers micro-foamed milk for enhanced flavour, creaminess, and picture-worthy art for your espresso beverages.
If you're looking for the best espresso machine with a grinder, the Breville The Barista Express is it.
Best for: Gourmands who believe that nothing should stand in the way of a truly blissful, high-grade cup of espresso.
Buyer's guide: How to select the correct espresso machine for you
The right espresso maker can completely enrich your daily routine. The wrong one, on the other hand, can just be a complication. How to tell which one is right for you depends on your lifestyle – and what you want out of your morning energy boost.
The different types of espresso machines
Manual Pump: This ultra-DIY type of machine requires no electricity, but it does need some help from you. With the help of a lever, you can make espresso yourself, no matter where you are.
Electronic Pump: If you have access to power, this type of espresso machine can take care of the extraction process for you: You simply select which temperature you'd like to brew your espresso at, and the machine will do the rest. These espresso machines come in different versions, depending on how much input you want in the process. For example, a semi-automatic pump would require you to grind the beans and tamp the grounds in yourself – while a super-automatic pump would take care of grinding the beans, boiling the water, tamping it down and actually making the espresso.
Steam Espresso Maker: These types of espresso makers don't really qualify as 'machines'; rather, they're deftly-engineered coffee-pots that can extrude espresso on your stovetop. They don't offer the convenience of a one-touch interface or any other features like a milk frother or timer, of course, and you do have to turn on your stove to get them working.
The different features you'll find on a home espresso machine
Different sized shots or portion control: Want the ability to pull a double shot all at once? Make sure that your espresso machine is able to handle a few different sizes of cups and filler baskets, and that it has a way to manage the amount of espresso you want.
One-touch convenience: Especially if you're waking up early to enjoy your brew, you might want the ease of a simple interface. Some espresso machines may require intense calculations; others might only need a one-button touch from you.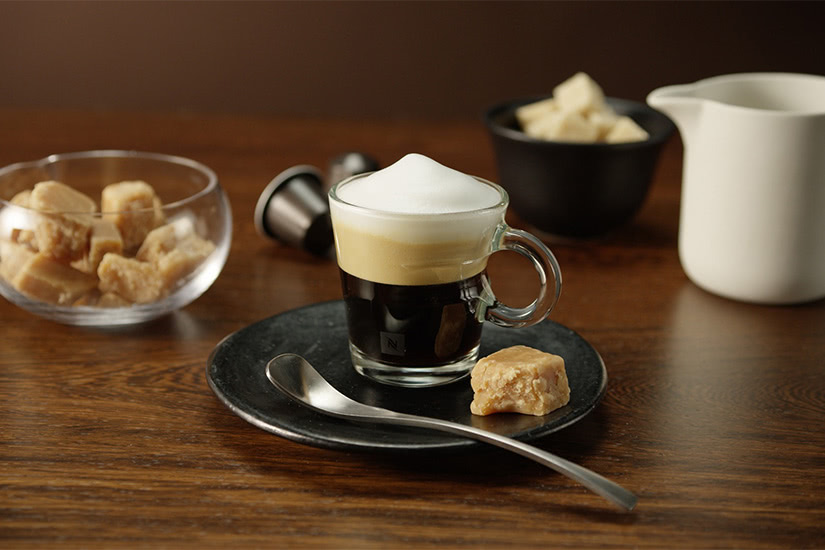 Milk frother: Although espresso can easily be enjoyed on its own, some prefer to mix it with frothed milk for indulgent lattes and cappuccinos. If your espresso machine has an on-board frother, that'll make it much easier to produce the rich drinks you deserve.
Water reservoir: Much like coffee machines, you'll need a place to put water so you can pull espresso shots. Consider the size of the reservoir you'll need: If you're frequently making drinks for more than one, it'd be nice not to have to refill the reservoir constantly, no?
Removable drip tray: Finally, the lower plate underneath the espresso-maker should be easy to pull out and easy to clean. Some are even adjustable, to account for different heights of cups. Ensure that the height works for you, and make sure that it will be easy to maintain.
Grinder: You'll only find an included grinder on the most high-end or expensive espresso machines; but if you're interested in the freshest, deepest flavour possible, a grinder is a must-have. Look for a burr grinder – they're the best in the business.
Frequently asked questions about espresso machines
Which is the best espresso coffee machine?
The best espresso coffee machine for you will depend upon the way you intend to use it! We like the Nespresso Vertuo because it has room for five cup sizes, pods that make the brewing process easy, and a smart system that adjusts its temperature automatically to best brew your espresso.
What kind of water is best for espresso machines?
Filtered or bottled water is best for espresso machines. If there's anything in your water, it's going to influence the taste of your espresso. For a clear, strong espresso taste, you'll want the purest water you can find.
Are home espresso machines worth it?
Home espresso machines are worth it if you drink espresso often or want the convenience of making it from home.
Is Espresso healthier than coffee?
Espresso can be healthier than coffee, simply because espresso in its purest form is just concentrated coffee and water. If you add cream and sugar to your espresso, it will be just as healthy or unhealthy as you choose to make it.