In case you're still getting to grips with the complexities of coffee lingo, drip coffee, aka filter coffee, is made using a carafe and a paper or metal basket containing ground coffee. Water is heated and dripped onto the filter, allowing for all that delicious bean juice (aka brewed coffee) to flow out. Drip coffee devotees love this brewing method because it's simple to make, incredibly affordable, and tastes just like you'd want it to (strong, full-bodied, and full of flavor). Top tip: elevate your coffee-drinking experience even further by getting your beans delivered on a monthly basis straight to your door.
The best drip coffee makers are an easy and inexpensive way to make delicious coffee from your kitchen and a great purchase for any coffee enthusiast who wants their daily dose of caffeine delivered with minimum effort and maximum convenience. These top-rated coffee makers can also make big quantities of coffee—great if you're nursing a coffee addiction or regularly entertain guests.
There are lots of different types of drip coffee makers out there. Some are user-friendly and fuss-free, some are large and luxurious, some are more wallet-friendly. But the basic idea behind all the best drip coffee makers for home is the same i.e. providing a jolt of liquid energy in the simplest and most effective way.
You don't want to waste time reading about all the thousands of drip coffee makers out there. You just want to be drinking a big bold cup of the best tasting coffee—right? So check out our handy list of the best drip coffee makers on the market. We've got programmable and customizable coffee makers for those who like to be in control, the best small coffee maker for compact spaces, and top-rated coffee makers with bonuses like in-built grinders or milk frothers.
Sure, you could survive without a drip coffee maker. But your mornings could be so much more enjoyable if you traded your sloppy mug of brown water for some expertly brewed rocket fuel—carefully crafted while you stand around in your slippers.
The 10 best drip coffee makers
Check our special drip coffee makers buyers' guide after the list to see exactly what you should pay attention to before purchasing a drip coffee maker online.
Braun: Best overall drip coffee maker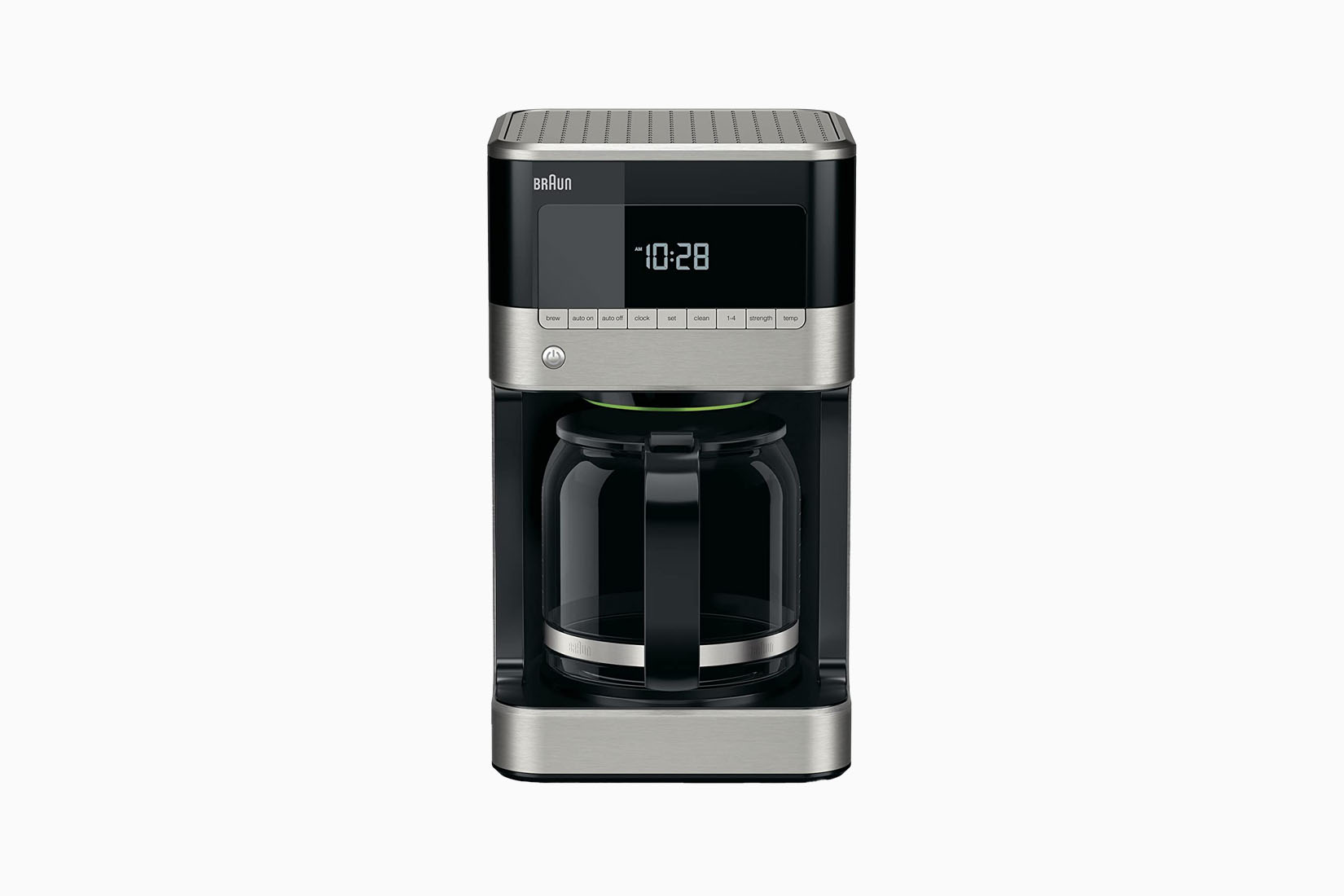 A solid and reliable drip coffee maker that doesn't faff around without unnecessary accessories? Yes, please. Step forward the Braun Brew Sense, the best coffee machine we've come across for drip coffee, standing out from all the others thanks to its ease of use, great value for money, and, of course, its ability to make the best tasting coffee.
Using the brand's unique PureFlavor system, each cup of coffee is made using the perfect temperature and the exact brewing time necessary to extract the maximum flavor and aroma from your coffee beans. The carafe lid has also been designed to seal in the nuanced and balanced taste by minimizing air exposure.
The anti-drip system makes for a mess-free pour and you can also adjust the strength, choosing between regular or bold. Our favorite feature? You can set the coffee maker's 24-hour programmable timer so you have a mug of steaming good stuff waiting for you when you wake up.
Best for: The next best thing after having a professional barista brewing your morning cuppa.
Capacity: 12 cups
Brews with: ground coffee
Carafe: glass
Technivorm: Best high-end drip coffee maker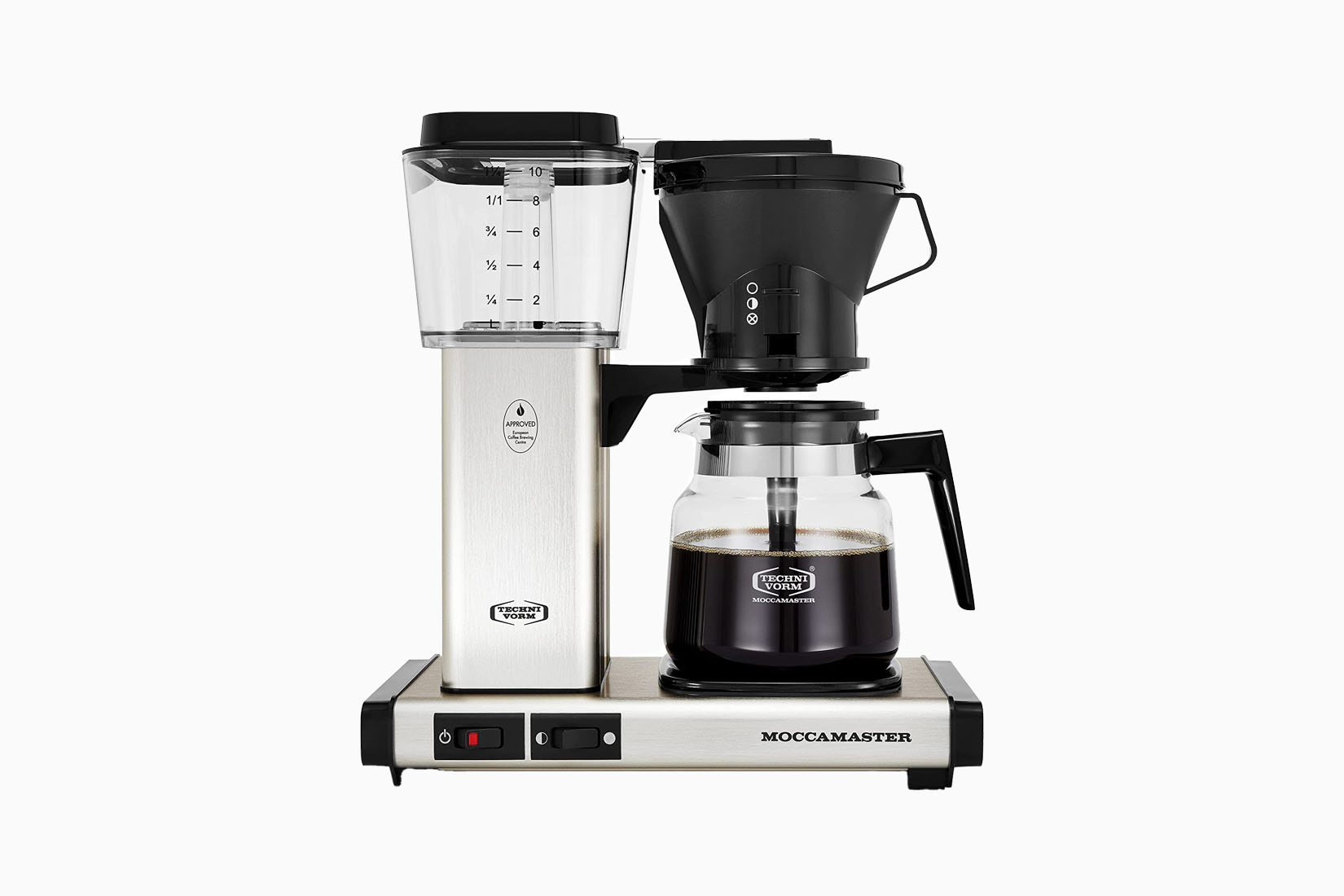 This drip coffee maker may not be cheap but can you really put a price on the perfect cup of Joe? Exactly. The best high-end coffee maker on our list, the Technivorm Moccamaster KB brings some top-of-the-line luxury to your morning routine.
This deluxe drip coffee pot has a few features that distinguish it from the other top-rated coffee makers on this list, including a manual-adjust brew basket so you can adapt exactly how quickly your coffee flows into the carafe, changing the steeping time to suit your tastes.
A super speedy machine, the Moccamaster will fill a 40oz (1182 ml) coffee pot in just 6 minutes, after which it's held on a hot plate, staying warm while you finish off your morning routine. It will turn off automatically after 100 minutes so you don't have to panic that your house is burning down while you're at work.
Best for: Like the Mercedes-Benz of drip coffee makers. 
Capacity: 10 cups
Brews with: ground coffee
Carafe: glass
Mr. Coffee: Best value drip coffee maker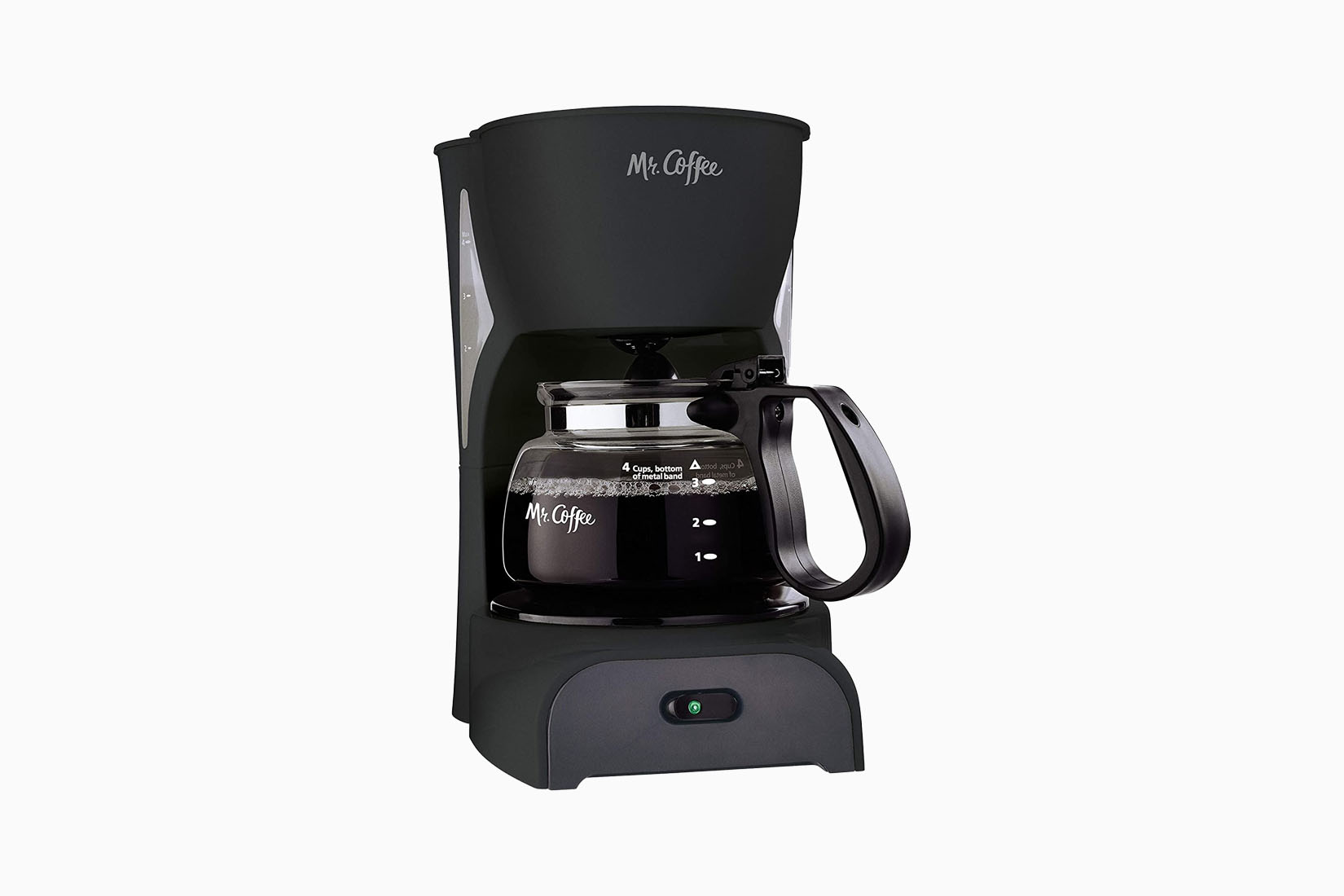 Want to wake up to a tasty cup of coffee but don't want to go into your overdraft to make it happen? Grab yourself this budget-friend coffee maker from Mr. Coffee, one of the best coffee makers for under $100 that we've seen.
This isn't a particularly fancy drip coffee pot but it's simple and easy to use which is exactly what we want on a Monday morning. Stress-free and mess-free, it even features an auto-pause button known as the Grab-A-Cup so you can stop brewing mid-cycle, pour yourself a mug, and finish the brew cycle once the carafe is back in position. Great for days when you're running late.
The filter basket can be removed easily for a quick and efficient clean while a power light reminds you to turn the machine off before you head out the door. Finally, at just over 25 x 25 cm, the Mr Coffee 4-Cup is a great small drip coffee maker for space-limited kitchens too.
Best for: A no-nonsense and easy-on-the-bank-balance cup-to-go.
Capacity: 4 cups
Brews with: ground coffee
Carafe: glass
OXO: Best programmable drip coffee maker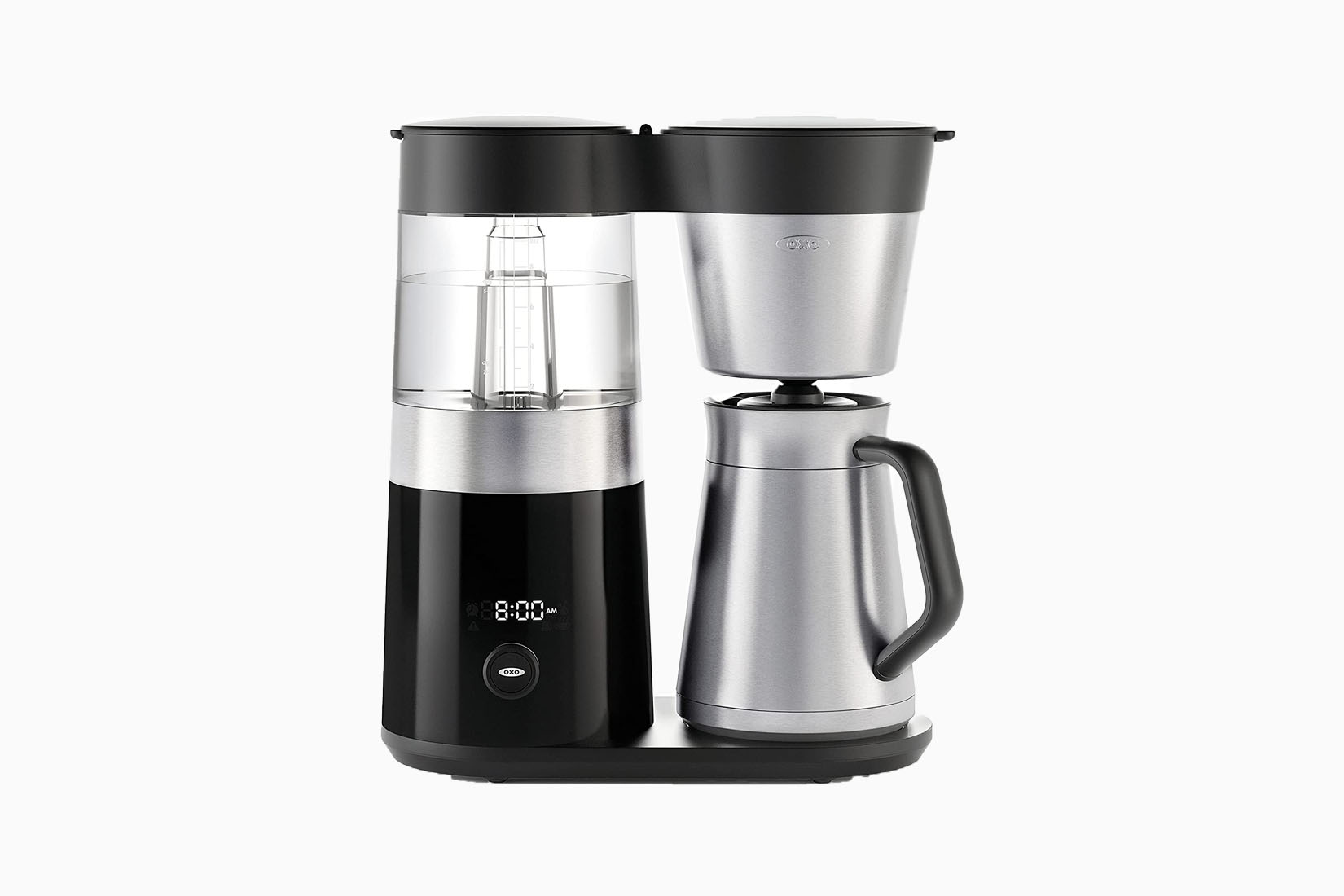 Why would you want to drink the exact same coffee as the guy next door? You need something personalized to your specific taste buds. Hence the beauty of the fully programmable OXO drip coffee maker, a top contender for the best home coffee maker.
By means of just a single dial, you can set a wake-up timer to get the brewing started while you're still hitting the snooze button in bed. You can also choose the amount of coffee you want to brew. Then there's a double-wall thermal carafe made from insulated stainless steel, great for keeping your coffee at the perfect temperature.
Not convinced that this is the best programmable coffee maker around? Don't take our word for it. This OXO machine has been SCA-Certified, recognized as an exemplary home brewer by the Speciality Coffee Association.
Best for: A coffee customized to your unique brew preferences.
Capacity: 9 cups
Brews with: ground coffee
Carafe: thermal

Cuisinart: Best drip coffee maker with grinder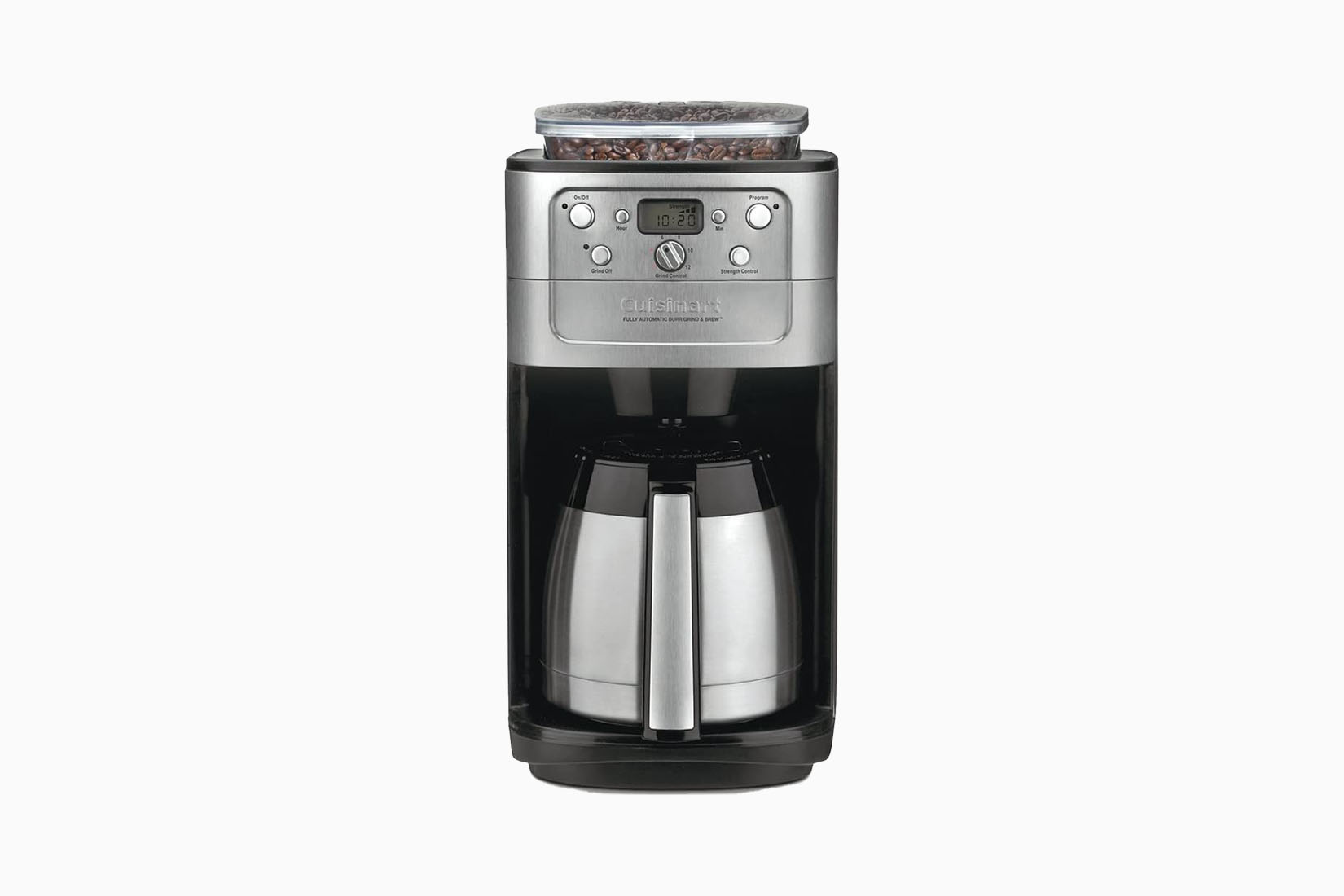 If you've got limited surface space but refuse to compromise when it comes to coffee, then you need a multi-functional coffee maker with grinder. We've found just the one.
This Cuisinart drip coffee machine is the best grind and brew coffee maker out there. As any coffee connoisseur knows, nothing beats freshly ground beans straight from a burr grinder and this machine offers just that. It grinds your beans automatically before starting the brewing process. You just need to choose how much you want to grind (2 to 12 cups).
You can also choose the right coffee strength (strong, medium, or mild). Plus, this Cuisinart coffee machine even features a charcoal water filter to remove impurities—because water quality is just as important as bean quality when it comes to a masterfully made cup of coffee.
As the coffee maker reviews confirm, this is one of the best home coffee makers around thanks to its durability, convenience, and power to deliver the best tasting coffee. If you prefer to grind your beans separately, check our round-up of the best coffee grinders on the market.
Best for: Double brewing bang for your buck.
Capacity: 12 cups
Brews with: whole beans
Carafe: thermal, glass
Hamilton Beach: Best automatic drip coffee maker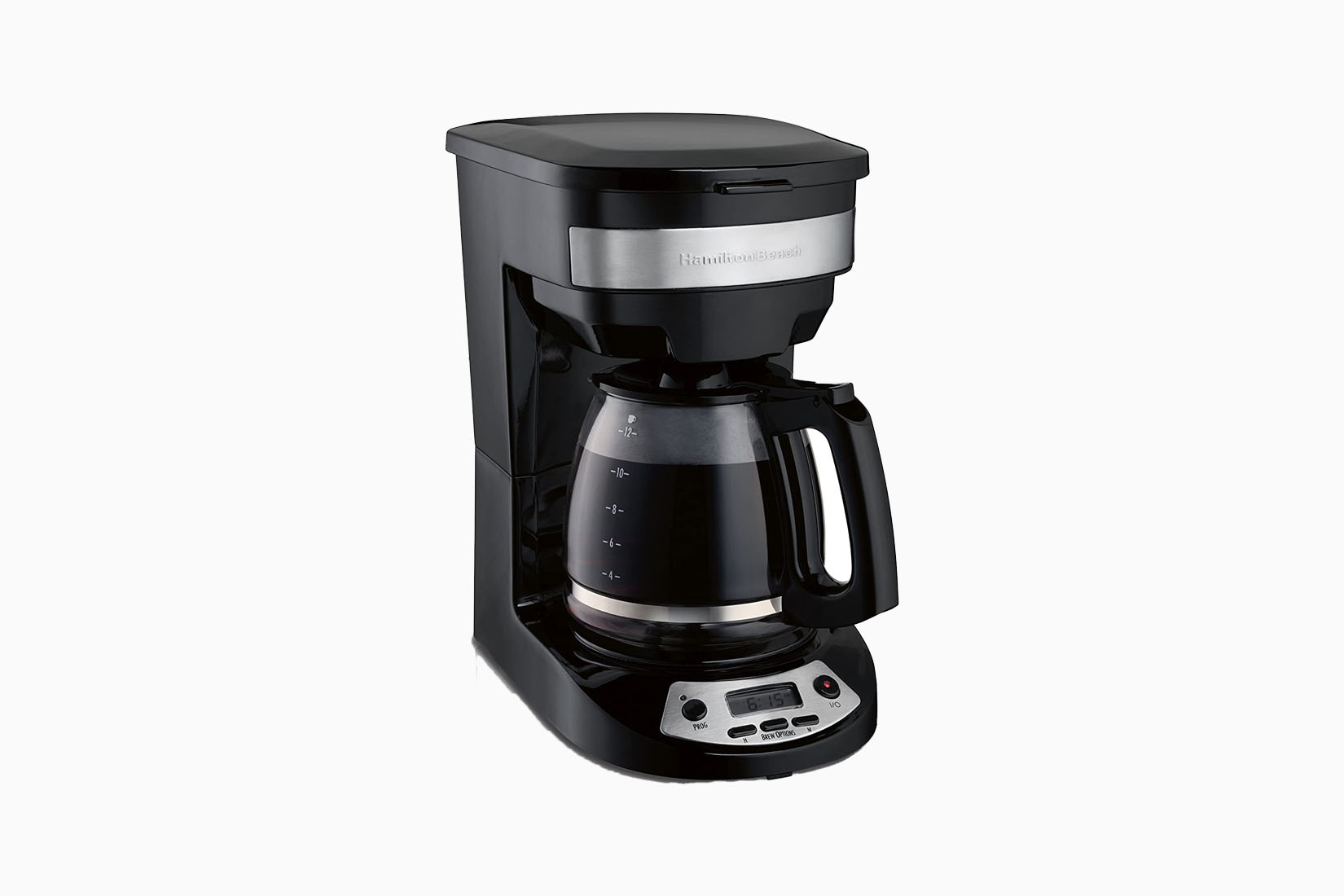 Life is stressful. Our to-do list is never-ending. Wouldn't it be nice if we could relax and let our coffee maker take care of the brewing process without us having to think too hard? That's exactly what the Hamilton Beach drip coffee pot does.
If you struggle to get up in the mornings, this coffee brewer is the answer. Wake up and smell the coffee literally with a machine that can be programmed up to 24 hours in advance.
You can choose between a regular and bold brew and even use the auto-pause feature to pour your first cup before the brewing is finished—without compromising the taste or creating a mess. For days when you just can't wait.
Another reason why this Hamilton coffee maker is one of the best drip coffee makers for home? The cord storage means no messy tangles on your countertop and both the carafe and brew basket are dishwasher-friendly.
Best for: A coffee maker that does everything short of bringing a cup to your bedside.
Capacity: 12 cups
Brews with: ground coffee
Carafe: glass
Breville: Most customisable drip coffee maker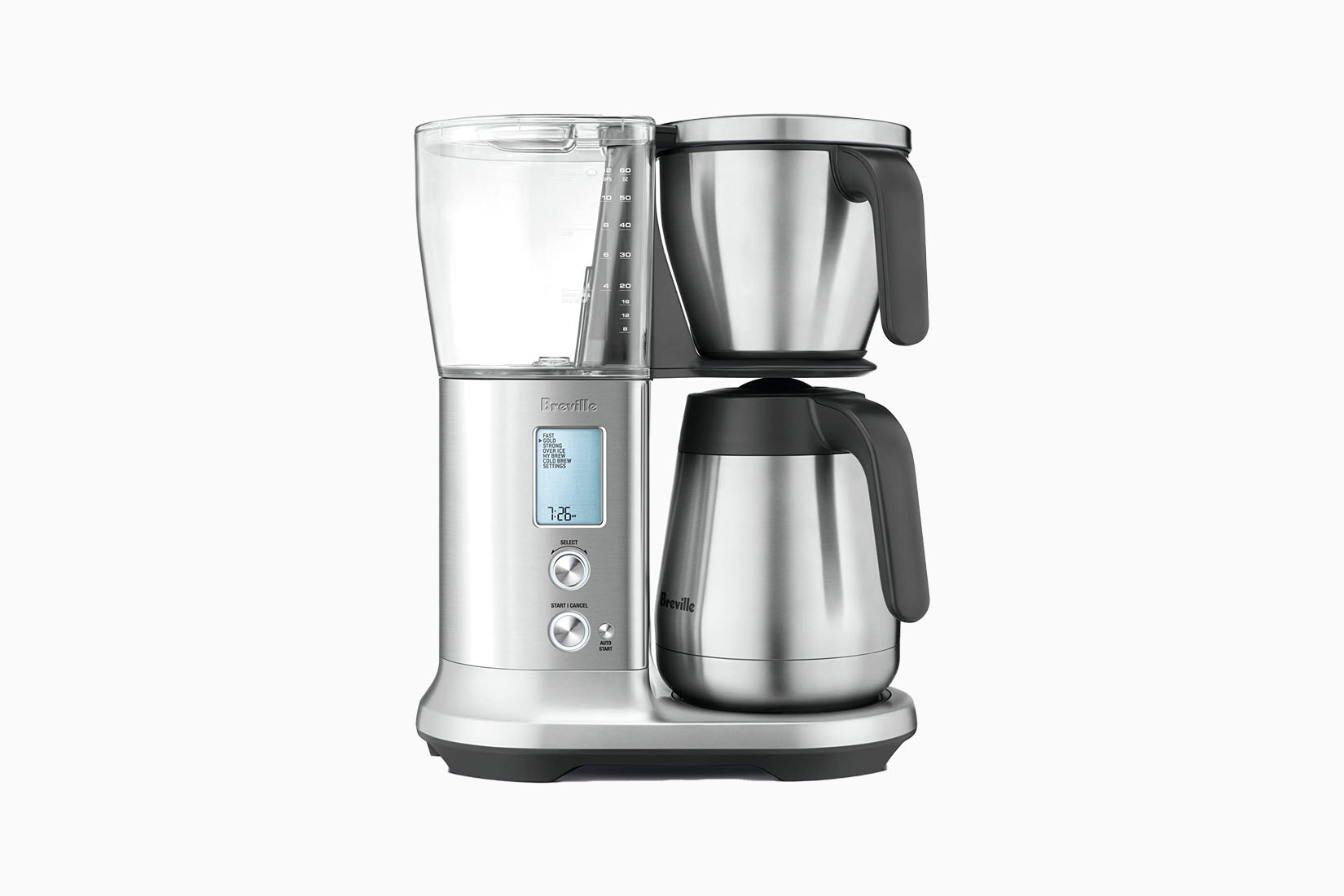 How'd you like the sound of channeling your inner barista and experimenting with various specialty coffees from the comfort of your own home? You can do just that with the Breville Precision Brewer.
Don't waste your high-quality coffee beans with a subpar coffee machine. The Breville has been designed to maximize the flavor potential of the best tasting coffee, whatever its origin, age, or roast, thanks to the customizable temperature and brew time features. Use the My Brew setting to adjust bloom time, temperature, and flow rate, to create a coffee that's more floral, fruity, earthy—or just plain delicious.
Or you could use one of the 5 preset modes, which include Gold, Fast, Strong, Ice, and Cold Brew. Our mouths are watering just thinking about getting our hands on the Breville, one of the best coffee machines for coffee snobs around.
Best for: A top-level brew tailored to your exact whims and fancies.
Capacity: 12 cups
Brews with: ground coffee
Carafe: thermal
Bodum: Best pour-over coffee maker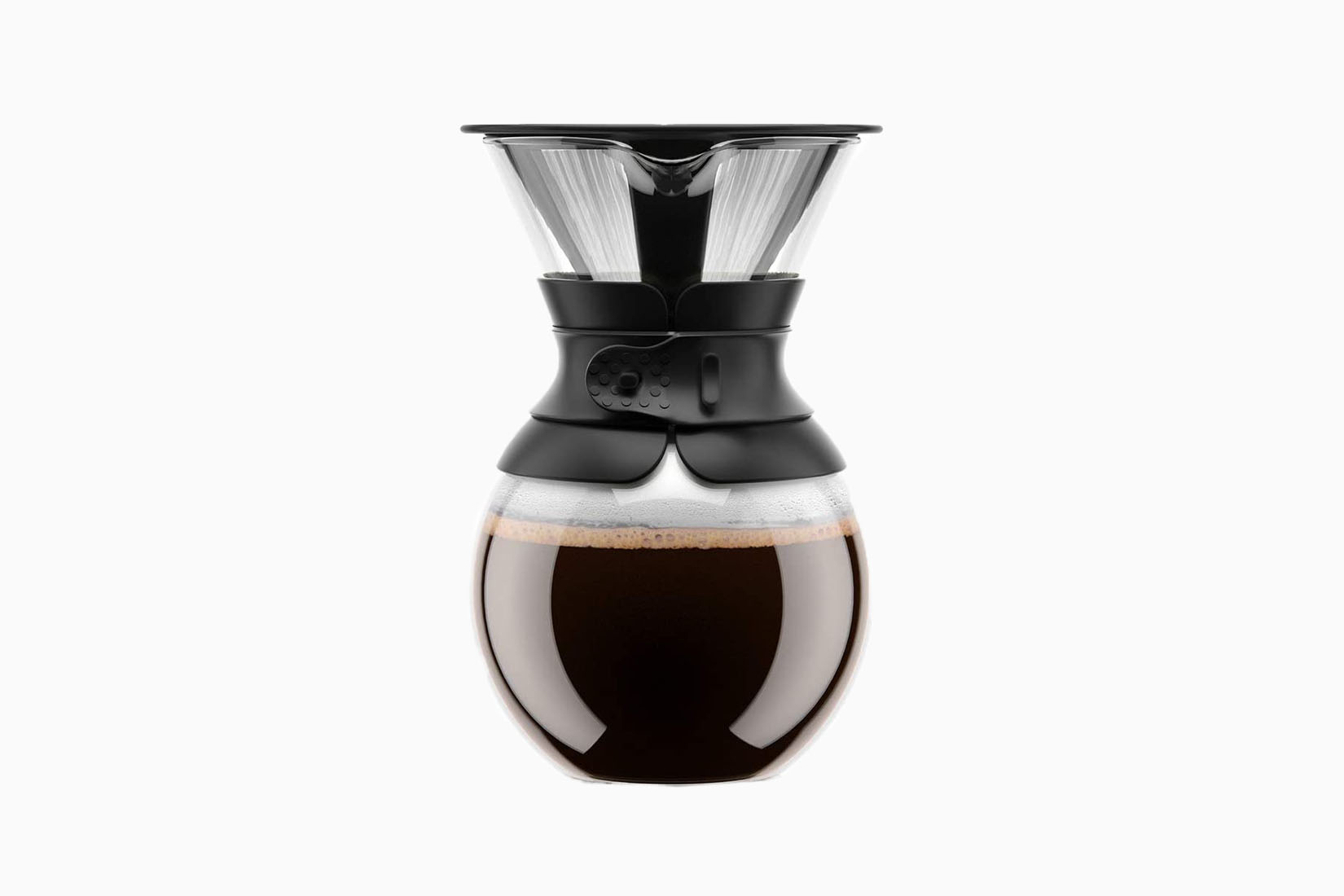 Pour-over coffee is part of what's known as third-wave coffee, which is all about high-quality specialty coffee, brewed to perfection. If that sounds like the kind of coffee you want to be drinking, then check out this Bodum coffee pot.
The best bit about this Bodum coffee maker is that it features a fine mesh dishwasher-safe stainless steel filter—so no need for disposable paper ones. Not only is this good for the environment but paper filters tend to trap the essential oils and flavors of the coffee beans. In other words, more tasty coffee.
Simply pour hot water over your ground coffee and it will drip into the temperature-resistant borosilicate glass carafe. Let it brew for around 4 minutes, remove using either the cork or silicone band, and you're ready to start sipping.
Best for: A pour-over so perfect you'll be inviting the neighbors round to sample.
Capacity: 8 cups
Brews with: ground coffee
Carafe: glass
Keurig: Best single-serve coffee maker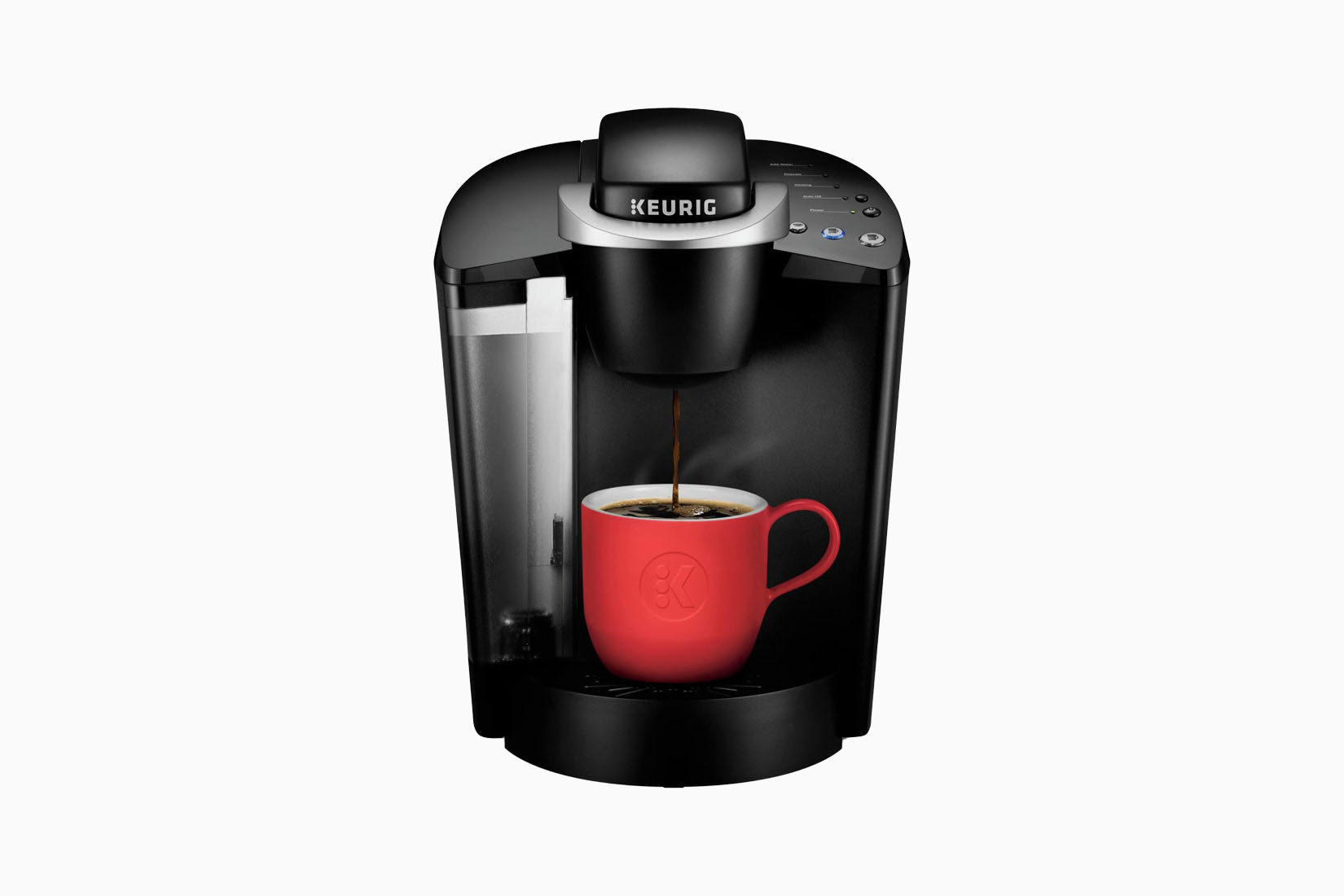 Are you the only coffee drinker in your household? Lucky you. You only need to worry about brewing one mug of jitter juice each morning. The ideal machine for the job? This one by Keurig.
While Keurig coffee makers typically use the brand's K-cup pods, you can also use ground beans in this machine for a standard filter coffee. Simply select your cup brew size and you'll have your caffeine hit in your hands within a minute.
And while you can use it to just make one cup, the large water reservoir means you can brew over 6 cups before having to refill, saving time and effort. There's also an auto-off feature which means the Keurig coffee maker will turn off after 2 hours of not being used, saving energy.
Best for: A simple, streamlined, one-cup winner of a coffee maker.
Capacity: 1 cup (but you can make 6 without having to refill)
Brews with: ground coffee
Carafe: thermal, glass

De' Longhi: Best all-in-one coffee maker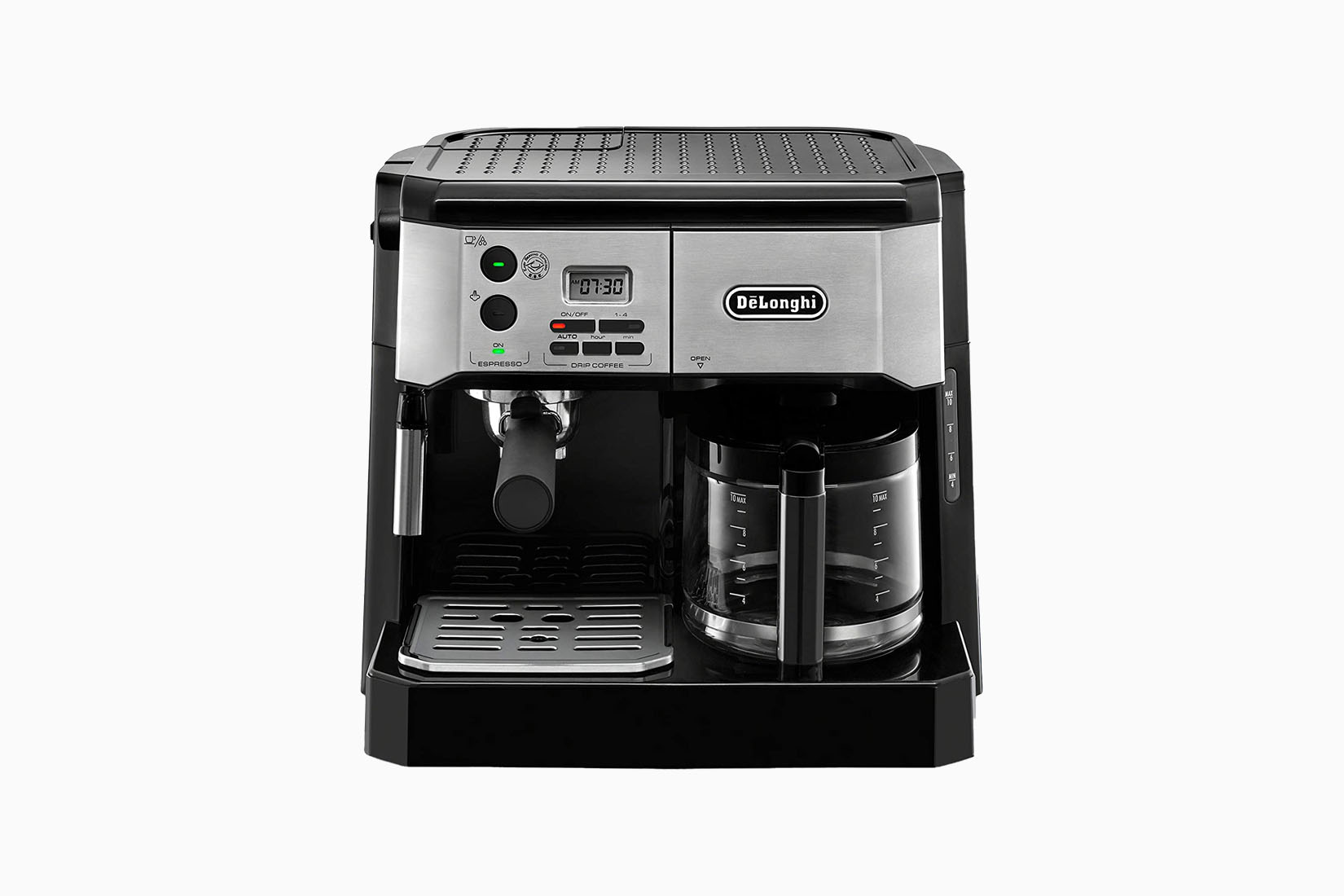 If you're the kind of person who likes an espresso on Mondays, a frothy cappuccino on Tuesday, and a luxuriously milky latte on the weekend, you need a coffee machine that can do it all. The De' Longhi is that machine.
Use this coffee maker to create a rich and creamy froth for your cappuccinos. Enjoy water filtered by carbon for a fresher and better tasting brew. And take advantage of the large water reservoir when guests come over and want one of your famously professional coffees.
Other advantages to this De' Longhi coffee maker? The 24-hour digital timer, the auto shut-off feature, the brew-pause feature so you can pour whenever you're ready, and the warming plate for your cups.
Best for: The ultimate multitasking coffee machine.
Capacity: 10 cups
Brews with: ground coffee
Carafe: glass

Buyers guide: how to choose a drip coffee maker
When buying a drip coffee maker, it's easy to get overwhelmed by all the different features and terminology. Check the coffee maker reviews and consider the following to make an informed decision.
Water temperature and brew time
The best coffee makers use the right water temperature and brew time to consistently deliver the best tasting coffee. Some also offer the option to adjust the settings to get the flavor exactly how you want it depending on your coffee style.
Ease of use
Obviously, the more functions a coffee maker has, the more complex it is to use. If you plan to be making a coffee in the mornings when you're in a rush, you want a machine that's simple and straightforward to use, with minimum buttons. The best home coffee makers make brewing coffee effortless.
Ease of cleaning
How easy is it to remove certain parts of the machine to clean it? Are any features specifically designed to make the process less messy, such as a carafe with a no-drip design?
Carafe material: thermal vs glass
A coffee maker with a glass carafe is usually cheaper but when used together with a hot plate to heat the coffee, they can make your brew taste slightly bitter. A glass carafe also means the machine uses more energy.
The best drip coffee makers for home will feature a thermal carafe. This can keep coffee at the perfect temperature for around 1-2 hours, saving energy and creating a better flavor. However, they are also typically more expensive.
Carafe capacity
Most drip coffee makers have a carafe capacity of 4, 10, 12 or 14 cups. Which one you choose will depend on how many coffee drinkers there are in your household—or how many cups of coffee you enjoy in the mornings. If in doubt, err on the larger side as you don't always have to fill it all the way up.
Additional features
Programmable – many drip coffee makers can be programmed to start brewing at a certain time.
Customizable – the best home coffee makers will allow you to customize the strength of the brew according to your personal tastes.
Brew-pause – if you can't wait until the machine has finished brewing before drinking, look for a machine that allows you to pause mid-brew.
Automatic keep-warm – if you want your coffee to brew and then stay warm while you finish your morning routine, it's worth looking for a machine with a keep-warm button or hot plate.
Automatic shut-off – this feature means the machine turns off after a certain period of being idle, ensuring the coffee maker is safe while also saving energy.
Built-in grinder – freshly ground beans help to create a richer and smoother-tasting coffee. If you don't already have a coffee grinder, consider getting a machine that automatically grinds the beans before brewing.
Built-in water filter – some top rated coffee makers feature carbon filters to remove impurities from the water for an even more flavourful coffee.
Milk frother – if you enjoy a cappuccino or latte from time to time, you might want a machine that comes with an in-built milk frother or steamer.
Frequently asked questions about drip coffee makers
What coffee maker makes the best tasting coffee?
The Braun Brew Sense drip coffee maker makes the best tasting coffee, maintaining just the right temperature and brewing for just the right time to extract the best flavor. The Technivorm Moccamaster also makes tasty coffee but it's more expensive. 
What is the best coffee maker?
The best coffee maker of the year is the Braun Brew Sense. This drip coffee maker is versatile, affordable, and reliable. Another favorite is the Technivorm Moccamaster, slightly more expensive, or the Mr. Coffee 4-Cup Maker, a budget-friendly option. 
Is percolated coffee better than drip?
In general, drip coffee is considered better than coffee made in a percolator because a percolator cycles water through the ground coffee multiple times. This can lead to over-extraction and a slightly bitter taste compared to drip coffee.