In case you're still getting to grips with the complexities of coffee lingo, drip coffee, aka filter coffee, is made using a carafe and a paper or metal basket containing ground coffee. Water is heated and dripped onto the filter, allowing for all that delicious bean juice (aka brewed coffee) to flow out.
Drip coffee devotees love this brewing method because it's simple to make, incredibly affordable, and tastes just like you'd want it to (strong, full-bodied, and full of flavor).
Pop tip: elevate your coffee-drinking experience even further by getting your beans delivered on a monthly basis straight to your door.
The best drip coffee makers are an easy and inexpensive way to make delicious coffee from your kitchen and a great purchase for any coffee enthusiast who wants their daily dose of caffeine delivered with minimum effort and maximum convenience. These top-rated coffee makers can also make big quantities of coffee—great if you're nursing a coffee addiction or regularly entertain guests.
There are lots of different types of drip coffee makers out there. Some are user-friendly and fuss-free, some are large and luxurious, and some are more wallet-friendly. But the basic idea behind all the best drip coffee makers for home is the same: providing a jolt of liquid energy in the simplest and most effective way.
Sure, you could survive without a drip coffee maker. But your mornings could be so much more enjoyable if you traded your sloppy mug of brown water for some expertly brewed rocket fuel—carefully crafted while you stand around in your slippers.
In a rush? No problem! Here's our shortlist of the absolute best options available right now:
BEST OVERALL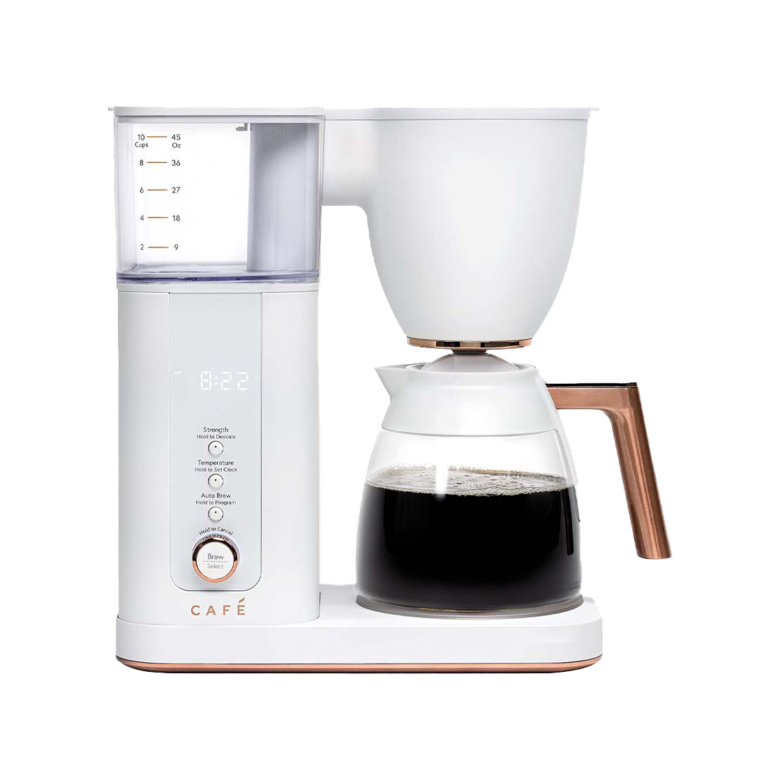 Cafe
Wi-fi enabled and voice-controlled, this smart drip coffee maker is the antidote to hitting snooze—Alexa, make me coffee.
Capacity: 10 cups
Carafe: Glass
Filter style: Cone
Materials: Glass
Brews with: Ground coffee
SCA Certified Brewer: Yes
BEST LUXURY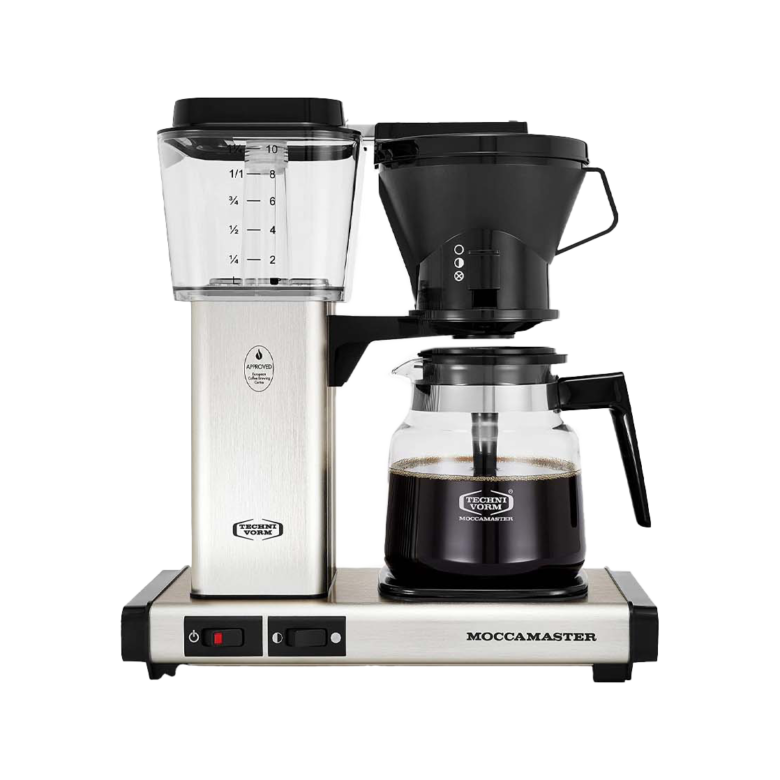 Moccamaster
A masterclass in Italian-approved espressos, this luxury coffee maker extracts the full flavor from the beans.
Capacity: 10 cups
Carafe: Glass
Filter style: Cone
Materials: Metal, copper
Brews with: Ground coffee
SCA Certified Brewer: Yes
Our favorite coffee beans
EDITOR'S CHOICE: Atlas Coffee Club
For delicious coffee, you'll also need high-quality coffee beans. We recommend Atlas Coffee Club for its premium selection of single-origin equitably-sourced coffee. Select your bean type (ground, whole, or pods) and roast preference, and they'll ship directly to your door.
Check our hands-on Atlas Coffee Club review to learn more about the brand.
The 11 best drip coffee makers
Check our special drip coffee maker buyers' guide after the list to see exactly what you should pay attention to before purchasing a drip coffee maker online.
Cafe Speciality: Overall best drip coffee maker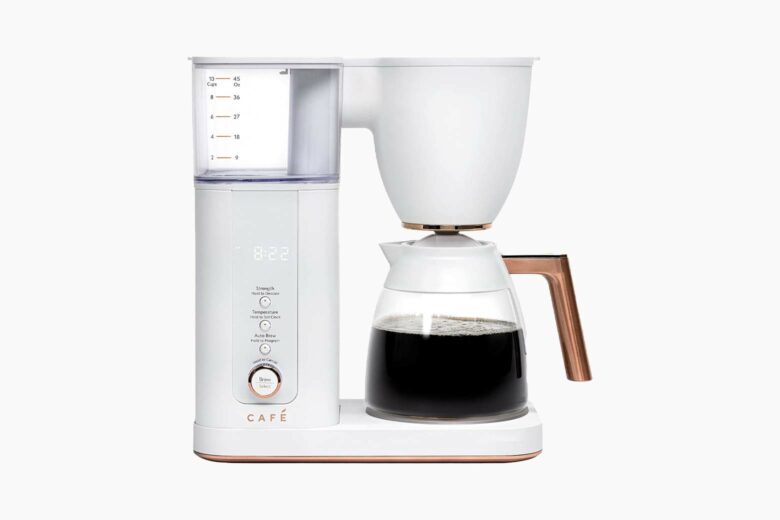 An excellent cup of coffee is about more than just sourcing the best coffee beans—as important as that is—it's also about finding the best coffee makers. As our overall best drip coffee maker, we're particularly partial towards this one by Cafe. And according to our Insta feeds and Reddit reviews, so are all the other high-tech coffee aficionados.
Customizable and wi-fi enabled, Cafe's drip coffee maker can be voice-controlled from anywhere in your kitchen. While the auto brew feature allows you to wake up to a steamy, personalized cup of coffee the minute your alarm goes off. Struggle not to hit snooze? This programmable coffee maker is the antidote to climbing out of bed.
| | |
| --- | --- |
| Capacity: | 10 cups |
| Carafe: | Glass |
| Filter style: | Cone |
| Materials: | Glass |
| Brews with: | Ground coffee |
| SCA Certified Brewer: | Yes |
Moccamaster Technivorm: Best high-end drip coffee maker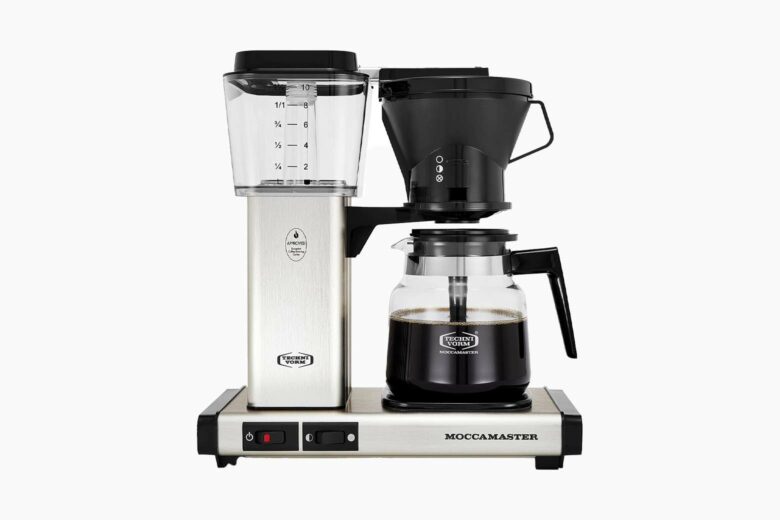 As coffee geeks ourselves, we see a high-end coffee maker as more of an investment than a luxury. After all, you're still saving loads on your morning cuppa—without compromising the quality of your brew.
The ultimate coffee investment? The Technivorm drip coffee maker by Moccamaster. This pump-free coffee maker heats the water to just the right temperature for perfect coffee extraction every time. And the cone-shaped brew basket extracts the full flavor from the bean. Now all you need is one of our best coffee subscriptions, and you'll never have to wait in a coffee queue again.
| | |
| --- | --- |
| Capacity: | 10 cups |
| Carafe: | Glass |
| Filter style: | Cone |
| Materials: | Plastic, metal, copper |
| Brews with: | Ground coffee |
| SCA Certified Brewer: | Yes |
Braun Brewsense: Best value drip coffee maker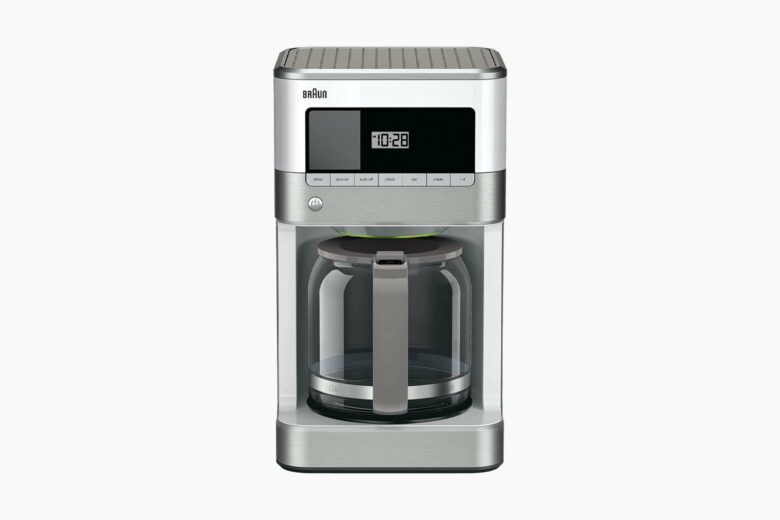 A Braun brew tastes (almost) like some of the most expensive coffees in the world—but without the exorbitant price tag. Acclaimed as being the best value drip coffee maker, the smart design is sleek and elegant. While high tech programmable features make acquiring that much-needed caffeine kick a lot more convenient.
Braun's Brewsense coffee maker may be more affordable than most. But you could never tell by the quality of coffee. The gold-tone filter only allows essential oils to reach your cup, enhancing the boldness of the brew. And charcoal filters purify the water. We dare you to invite the biggest coffee nerd you know around for an espresso and watch them rave—as only a true coffee nerd can.
| | |
| --- | --- |
| Capacity: | 12 cups |
| Carafe: | Glass |
| Filter style: | Flat bottom |
| Materials: | Stainless steel |
| Brews with: | Ground coffee |
| SCA Certified Brewer: | No |
OXO: Best programmable drip coffee maker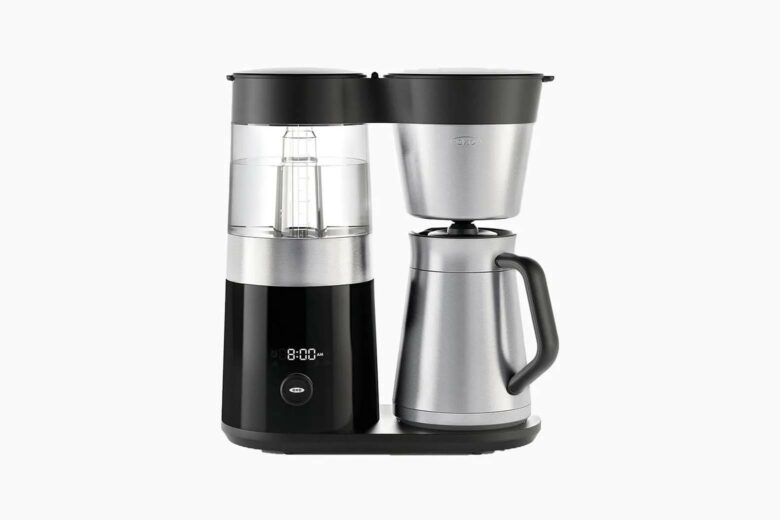 Why would you want to drink the exact same coffee as the guy next door? You need something personalized to your specific taste buds. Hence the beauty of the fully programmable OXO drip coffee maker, a top contender for the best home coffee maker.
By means of just a single dial, you can set a wake-up timer to get the brewing started while you're still hitting the snooze button in bed. You can also choose the amount of coffee you want to brew. Then there's a double-wall thermal carafe made from insulated stainless steel, great for keeping your coffee at the perfect temperature.
Not convinced that this is the best programmable coffee maker around? Don't take our word for it. This OXO machine has been SCA-Certified, and recognized as an exemplary home brewer by the Speciality Coffee Association.
Best for: A coffee customized to your unique brew preferences.
| | |
| --- | --- |
| Capacity: | 9 cups |
| Carafe: | The double-wall stainless steel thermal carafe |
| Filter style: | Cone |
| Materials: | Stainless Steel |
| Brews with: | Ground coffee |
| SCA Certified Brewer: | Yes |
Cuisinart: Best drip coffee maker with grinder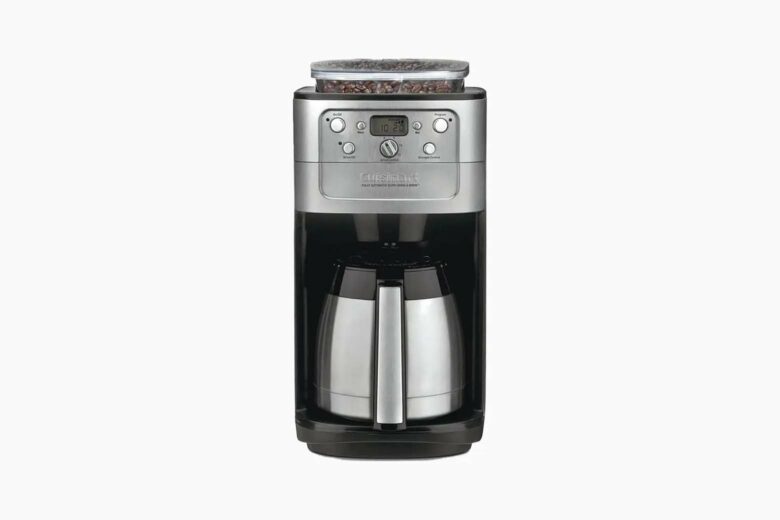 If you've got limited surface space but refuse to compromise when it comes to coffee, then you need a multi-functional coffee maker with grinder. We've found just the one.
This Cuisinart drip coffee machine is the best grind and brew coffee maker out there. As any coffee connoisseur knows, nothing beats freshly ground beans straight from a burr grinder and this machine offers just that. It grinds your beans automatically before starting the brewing process. You just need to choose how much you want to grind (2 to 12 cups).
You can also choose the right coffee strength (strong, medium, or mild). Plus, this Cuisinart coffee machine even features a charcoal water filter to remove impurities—because water quality is just as important as bean quality when it comes to a masterfully made cup of coffee.
As the coffee maker reviews confirm, this is one of the best home coffee makers around thanks to its durability, convenience, and power to deliver the best tasting coffee. If you prefer to grind your beans separately, check our round-up of the best coffee grinders on the market.
Best for: Double brewing bang for your buck.
| | |
| --- | --- |
| Capacity: | 12 cups |
| Carafe: | Double-wall insulated stainless steel thermal carafe |
| Filter style: | Reusable, Cone |
| Materials: | Stainless Steel |
| Brews with: | Whole beans |
| SCA Certified Brewer: | No |
Breville: Most customizable drip coffee maker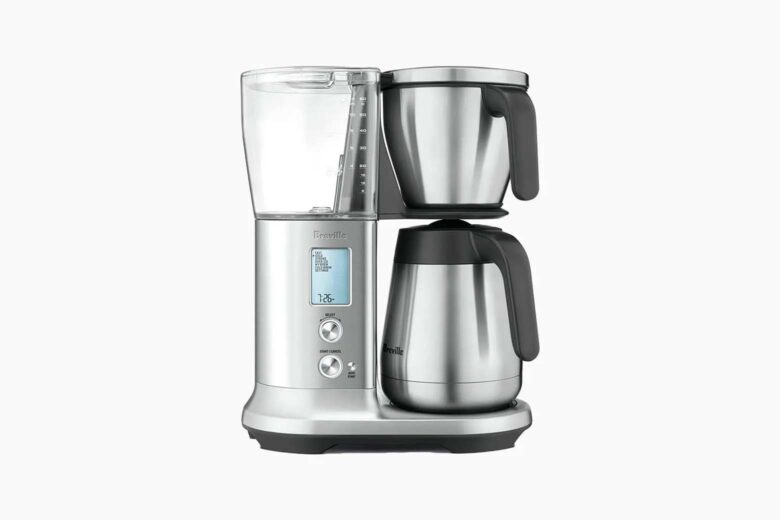 How'd you like the sound of channeling your inner barista and experimenting with various specialty coffees from the comfort of your own home? You can do just that with the Breville Precision Brewer.
Don't waste your high-quality coffee beans with a subpar coffee machine. The Breville has been designed to maximize the flavor potential of the best tasting coffee, whatever its origin, age, or roast, thanks to the customizable temperature and brew time features. Use the My Brew setting to adjust bloom time, temperature, and flow rate, to create a coffee that's more floral, fruity, earthy—or just plain delicious.
Or you could use one of the 5 preset modes, which include Gold, Fast, Strong, Ice, and Cold Brew. Our mouths are watering just thinking about getting our hands on the Breville, one of the best coffee machines for coffee snobs around.
Best for: A top-level brew tailored to your exact whims and fancies.
| | |
| --- | --- |
| Capacity: | 12 cups |
| Carafe: | Thermal carafe |
| Filter style: | Cone filter |
| Materials: | Brushed Stainless Steel |
| Brews with: | Ground coffee |
| SCA Certified Brewer: | Yes |
Bodum: Best pour-over coffee maker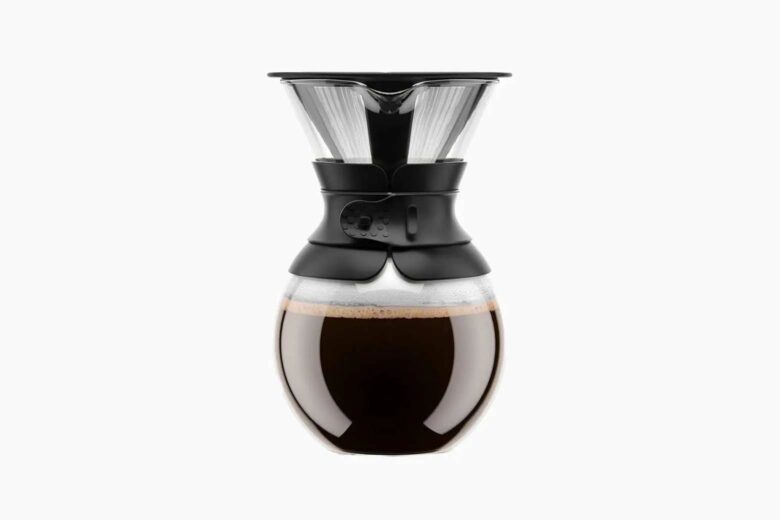 Pour-over coffee is part of what's known as third-wave coffee, which is all about high-quality specialty coffee, brewed to perfection. If that sounds like the kind of coffee you want to be drinking, then check out this Bodum coffee pot.
The best bit about this Bodum coffee maker is that it features a fine mesh dishwasher-safe stainless steel filter—so no need for disposable paper ones. Not only is this good for the environment but paper filters tend to trap the essential oils and flavors of the coffee beans. In other words, more tasty coffee.
Simply pour hot water over your ground coffee and it will drip into the temperature-resistant borosilicate glass carafe. Let it brew for around 4 minutes, remove using either the cork or silicone band, and you're ready to start sipping.
Best for: A pour-over so perfect you'll be inviting the neighbors round to sample.
| | |
| --- | --- |
| Capacity: | 8 cups |
| Carafe: | Borosilicate glass |
| Filter style: | Permanent stainless steel filter |
| Materials: | Stainless Steel, glass |
| Brews with: | Ground coffee |
| SCA Certified Brewer: | No |
Keurig: Best single-serve coffee maker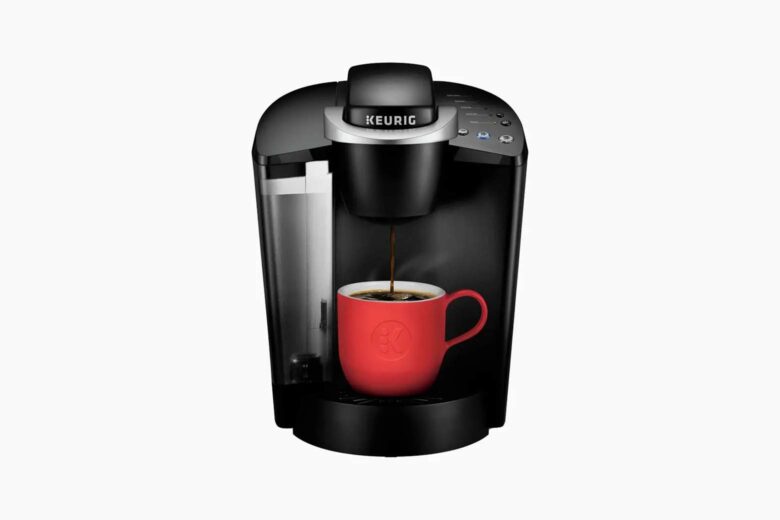 Are you the only coffee drinker in your household? Lucky you. You only need to worry about brewing one mug of jitter juice each morning. The ideal machine for the job? This one by Keurig.
While Keurig coffee makers typically use the brand's K-cup pods, you can also use ground beans in this machine for a standard filter coffee. Simply select your cup brew size and you'll have your caffeine hit in your hands within a minute.
And while you can use it to just make one cup, the large water reservoir means you can brew over 6 cups before having to refill, saving time and effort. There's also an auto-off feature which means the Keurig coffee maker will turn off after 2 hours of not being used, saving energy.
Best for: A simple, streamlined, one-cup winner of a coffee maker.
| | |
| --- | --- |
| Capacity: | 1 cup (but you can make 6 without having to refill) |
| Carafe: | Thermal, glass |
| Filter style: | Reusable |
| Materials: | Plastic |
| Brews with: | Ground coffee |
| SCA Certified Brewer: | No |
De' Longhi: Best all-in-one coffee maker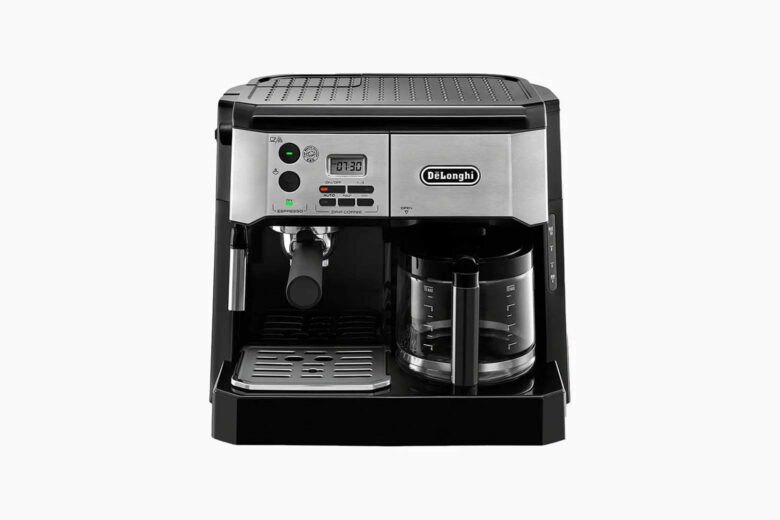 If you're the kind of person who likes an espresso on Mondays, a frothy cappuccino on Tuesday, and a luxuriously milky latte on the weekend, you need a coffee machine that can do it all. The De' Longhi is that machine.
Use this coffee maker to create a rich and creamy froth for your cappuccinos. Enjoy water filtered by carbon for a fresher and better tasting brew. And take advantage of the large water reservoir when guests come over and want one of your famously professional coffees.
Other advantages to this De' Longhi coffee maker? The 24-hour digital timer, the auto shut-off feature, the brew-pause feature so you can pour whenever you're ready, and the warming plate for your cups.
Best for: The ultimate multitasking coffee machine.
| | |
| --- | --- |
| Capacity: | 10 cups |
| Carafe: | Glass |
| Filter style: | Reusable |
| Materials: | Stainless steel, glass |
| Brews with: | Ground coffee |
| SCA Certified Brewer: | No |
Breville Precision: Best drip coffee maker with thermal carafe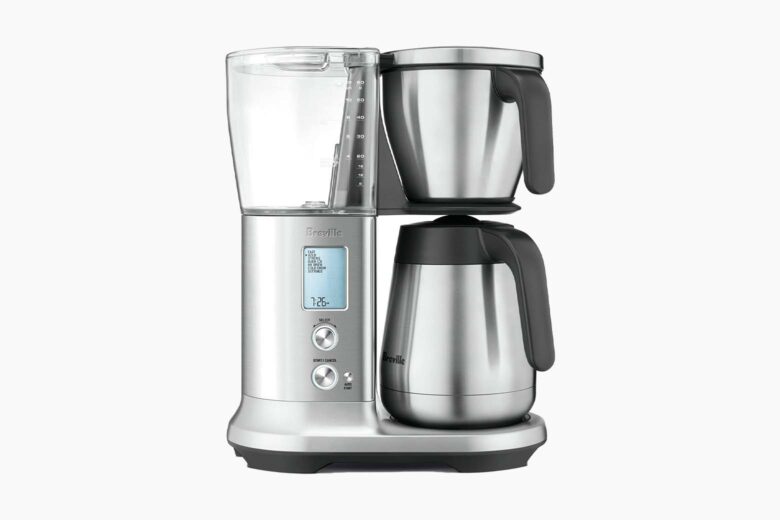 If you're yet to master the art of french pressing, we say ditch the plunger and get acquainted with this drip coffee maker. The thermal carafe keeps your coffee hot for hours after your morning brew. The customizable settings allow you to tailor-make your cup to your exact preferences. While the automatic preset adjusts the temperature and brew time to ensure the best brewing practices.
Dual filter baskets allow you to choose between flat bottom filters and cone filters. And Breville's patented Steep & Release technology allows you to brew small cups at a time. Plus, this programmable Breville coffee maker can be set in advance to prepare a cup just when you need it.
| | |
| --- | --- |
| Capacity: | 7.5 cups |
| Carafe: | Thermal |
| Filter style: | Flat bottom and cone |
| Materials: | Stainless steel |
| Brews with: | Ground coffee |
| SCA Certified Brewer: | Yes |
Ratio Six: Best looking home coffee maker for beginners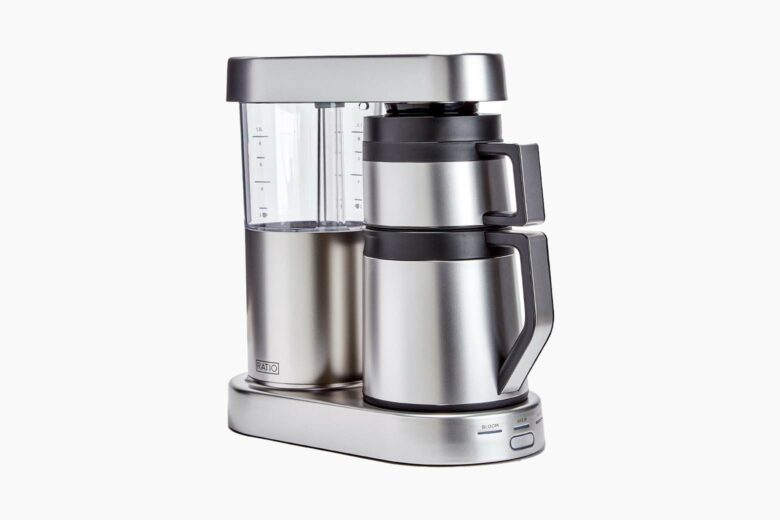 Like any life partner, looks aren't the first thing we look for, but they certainly help—especially when it comes to your kitchen's aesthetic. Enter: the Ratio Six home coffee maker. It looks just as good as the coffee it makes. And if you've tasted a cup made by this stellar machine, you'll know that's saying something.
Designed in Portland—home to many meticulous coffee connoisseurs—the stainless steel drip coffee maker is sleek and simple to use. With just one button, the machine's Bloom, Brew, and Ready phases run in perfect succession. While the precise water flow simulates an expert barista's pour. Place this scintillating coffee maker beside our best tea brands at your next tea party, and we promise no one will notice the cake flop.
| | |
| --- | --- |
| Capacity: | 8 cups |
| Carafe: | Thermal |
| Filter style: | Flat bottom |
| Materials: | Stainless steel |
| Brews with: | Ground coffee |
| SCA Certified Brewer: | Yes |
Buyers guide: how to choose a drip coffee maker
Being able to tell the difference between a flat white and a latte is one thing, but being able to determine which of the top rated coffee machines is best is a whole other ball game. From the carafe type to the meaning behind "SCA-approved," here is all you need to know about how to choose from the best coffee machines.
Water temperature and brew time
The best coffee makers use the right water temperature and brew time to consistently deliver the best tasting coffee. Some also offer the option to adjust the settings to get the flavor exactly how you want it depending on your coffee style.
Carafe
Hot plate? Or thermal carafe? The carafe you choose isn't as simple as aesthetics. A glass carafe usually sits on a hot plate to keep it warm while the coffee brews. However, once the coffee is made, the coffee maker turns off, along with the hot plate. This means that you have to drink the coffee soon after it has been made as it will not stay hot for much longer.
A thermal carafe, on the other hand, can keep the coffee hot for hours after it has been made without continuing to extract grounds as it does in a French Press. This means that your second cup and third cup for the day are ready and waiting for you to drink any moment that you get a break.
Carafe capacity
Most drip coffee makers have a carafe capacity of 4, 10, 12 or 14 cups. Which one you choose will depend on how many coffee drinkers there are in your household—or how many cups of coffee you enjoy in the mornings. If in doubt, err on the larger side as you don't always have to fill it all the way up.
Filter style
Ok, coffee nerds, we know that you've already researched the different filter styles, but allow us to explain to the newbies here. Without getting too technical, the shape of the filter affects the degree of extraction (or the TDS—total dissolved solids.)
A flat-bottom filter shape produces coffee with a lower TDS and yields sweeter notes such as honey, florals and fruits. A cone filter shape produces coffee with a higher TDS and yields darker, earthier notes such as umami, berries and cocoa. Apart from coffee flavor, cone filters work well with medium-fine grind sizes, while flat-bottom filters work with all grind sizes, allowing for more freedom.
Pausing capabilities
Pausing capabilities? Does this really matter? It does if you're used to making coffee on the run. A drip coffee maker takes approximately five minutes to fill a carafe. And while this takes a whole lot quicker than running down to your local cafe, you may not want to wait to fill a full carafe before receiving your caffeine kick. In this case, the ability to pause mid-brew won't go unnoticed. The ability to pause mid-brew allows you to pause the machine to fill your cup before it resumes brewing.
Water filter
Water is one of the most overlooked factors in an excellent coffee. Not only does it affect the longevity of your machine, but it reacts with the caffeic acids and can have a huge impact on flavor. This is why choosing a coffee maker with a water filter is so important. Water filters remove unwanted components in your brewing water for the best alkalinity levels. Charcoal water filters are acclaimed for producing even better-tasting water, but regular filters work well too.
Additional features
Programmable – many drip coffee makers can be programmed to start brewing at a certain time.
Customizable – the best home coffee makers will allow you to customize the strength of the brew according to your personal tastes.
Brew-pause – if you can't wait until the machine has finished brewing before drinking, look for a machine that allows you to pause mid-brew.
Automatic keep-warm – if you want your coffee to brew and then stay warm while you finish your morning routine, it's worth looking for a machine with a keep-warm button or hot plate.
Automatic shut-off – this feature means the machine turns off after a certain period of being idle, ensuring the coffee maker is safe while also saving energy.
Built-in grinder – freshly ground beans help to create a richer and smoother-tasting coffee. If you don't already have a coffee grinder, consider getting a machine that automatically grinds the beans before brewing.
Built-in water filter – some top rated coffee makers feature carbon filters to remove impurities from the water for an even more flavourful coffee.
Milk frother – if you enjoy a cappuccino or latte from time to time, you might want a machine that comes with an in-built milk frother or steamer.
SCA certified
What does SCA certified mean? SCA stands for Speciality Coffee Association. And all coffee makers deemed SCA-approved meet the association's rigorous technical requirements. This includes the perfect water temperature, brewing time and the ability to brew the Golden Cup. In short, if your coffee maker is SCA-certified, you know that a lifetime of excellent coffee awaits.
Ease of use
Obviously, the more functions a coffee maker has, the more complex it is to use. If you plan to be making a coffee in the mornings when you're in a rush, you want a machine that's simple and straightforward to use, with minimum buttons. The best home coffee makers make brewing coffee effortless.
Ease of cleaning
How easy is it to remove certain parts of the machine to clean it? Are any features specifically designed to make the process less messy, such as a carafe with a no-drip design?
Prop tip: Buy whole beans and grind coffee right before you brew
The essential oils are released during the grinding process. Therefore, to capture the full freshness of those aromatics and the natural complexity of the beans, we recommend buying whole beans and grinding them just before you brew.
Frequently asked questions about drip coffee makers
What coffee maker makes the best tasting coffee?
The best drip coffee makers maks the best tasting coffee, maintaining just the right temperature and brewing for just the right time to extract the best flavor. Check our list of the best drip coffee makers for inspiration.
What is the best coffee maker?
The best coffee maker of the year is the Cafe Speciality. This drip coffee maker is smart, stylish and reliable. Another favorite is the Technivorm Moccamaster, slightly more expensive, or the Braun Brewsense, a budget-friendly option. 
Is percolated coffee better than drip?
In general, drip coffee is considered better than coffee made in a percolator because a percolator cycles water through the ground coffee multiple times. This can lead to over-extraction and a slightly bitter taste compared to drip coffee.