When it comes to fine dining, you can't surpass the best Michelin Star restaurants. In fact, every gourmet restaurant around the world one day aspires to earn their rightful place in Michelin's influential guidebook. In culinary terms, it is an honour beyond all others – and proves that your level of cuisine and service are suitable for the most discerning food connoisseurs and the finest palates!
This glowing recognition was once reserved for the highest-class restaurants in Europe, mainly within France and London. But, in recent years, the Michelin Star standard has branched out all across the globe. More and more culinary chefs are delivering delectable appetizers and mouthwatering main courses in the most exquisite and unique ways. And, as the global food standard is rising, so are the intrigued diners interested in sampling the latest delicacies.
So, whether you're curious about the trendiest luxury dining delights or want to indulge in what's tantalizing the taste buds of the best food fanatics, below, you'll find the top Michelin-starred restaurants around the world.
Our editors curated this list of the best Michelin Star restaurants in the world, to help you discover a range of delicacies from around the globe. These are our top picks for high-end cuisine, regardless of their location or price. Fine dining doesn't just have to be French or British to earn a Michelin Star. And it also doesn't have to be excessively expensive either! (We've also included the best value Michelin restaurants to give you an assortment to suit both your palate and your wallet)
If you want to learn more about starting a fine dining restaurant and how to make it special, we've got the perfect guide to help you market your new restaurant.
The 11 top Michelin star restaurants of 2023
| Rank | Restaurant | Location |
| --- | --- | --- |
| 1 | Central | Lima, Peru |
| 2 | Azurmendi | Larrabetzu, Spain |
| 3 | Atelier Crenn | San Francisco, United States |
| 4 | Le Bernardin | New York, United States |
| 5 | Mirazur | Menton, France |
| 6 | The Fat Duck | Bray, United Kingdom |
| 7 | Den | Tokyo, Japan |
| 8 | Noma | Copenhagen, Denmark |
| 9 | Attica | Melbourne, Australia |
| 10 | Robuchon Au Dome | Macau, China |
| 11 | Ultraviolet | Shanghai, China |
1. Central, Lima: The best value Michelin star restaurant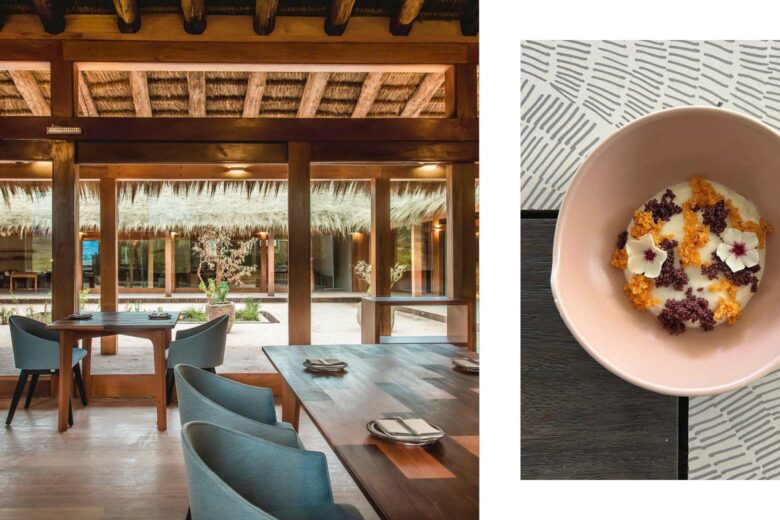 Located in the Miraflores in the Barranco District in Lima, the Peruvian capital, Central is the flagship restaurant of Virgilio Martínez Véliz.
Central's 17-course taster menu is a treat for the senses. Using locally sourced ingredients, delicious flavors, and innovative methods, Martínez combines his love for the planet with indigenous Peruvian ingredients, to create an intriguing menu. Through the contemporary dishes he creates, he takes guests on a journey across the rich biodiversity of Peru. He completely captures his love for his rainforest home with his cooking, and it's a delight both to see and to eat!
Despite the uptown location and the elegant originality of the plates, the 17-course tasting menu comes in at just $130 per head. Considering the values of Central and what you get, it's easily one of the best value Michelin star restaurants in the world!
2. Azurmendi, Spain: The best sustainable Michelin star restaurant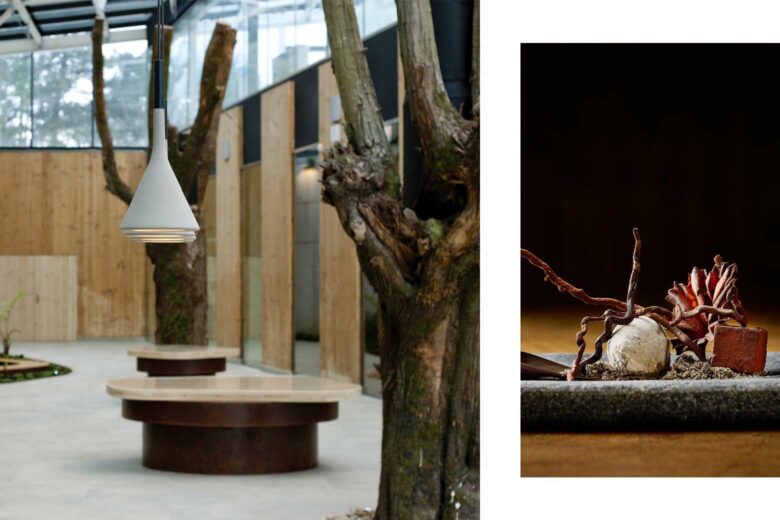 Acclaimed as one of the world's most sustainable restaurants, Azurmendi marries a love for nature with sensational gastronomy. Located in the Basque countryside in Spain, the Michelin-star restaurant grows a portion of its vegetables in its own greenhouse. And since its inception in 2005, the team has planted over 800 trees to reduce carbon emissions.
Azurmendi is owned by culinary aficionado Enko Atxa. And drawing on his love for authenticity and innovation, the menu and interior combine natural elements as well as cutting-edge technologies. The space is modern and minimalist, harnessing its mesmerizing mountainous views. And while we could stare out at the trees and vineyard forever, it's the genius menu that has earned the restaurant three Michelin stars.
Chef Enko Atxa redefines the culinary journey with three different stages that take place across the entire restaurant. The welcome picnic takes place in the restaurant atrium. The greenhouse stage features various nibbles hidden amongst greenery. And the final experience before heading to the dining room highlights truffles in a number of ways. And that's all before you've even ordered the main event.
3. Atelier Crenn, San Francisco: The best Michelin star restaurant in California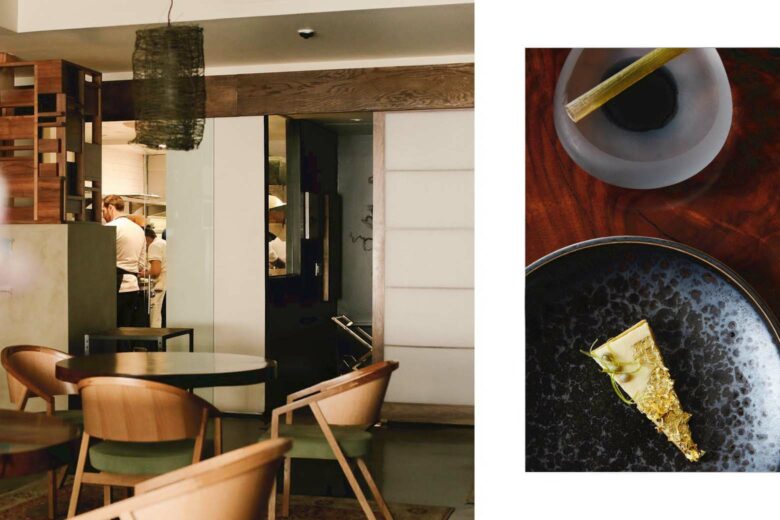 The Golden State is home to some amazing dining experiences, including 90 Michelin-starred restaurants, so it's only fitting that it would have one of the best in the world. Located in San Francisco, Atelier Crenn is not just brimming with culinary flair, but it's also the only female-run restaurant in America to be awarded 3 Michelin stars! Dominique Crenn opened the restaurant in 2011 and had been hovering at two stars for years before Michelin finally granted her a third.
Featuring incredibly elevated plates both in taste and presentation, Crenn pays meticulous attention to detail. Her take on French cuisine can only be described as 'art' and the restaurant's signature dishes demand to be ordered. These include a geoduck tart with oyster and rosé or a feather-light brioche with fragrant butter. Pair Crenn's catering magic with San Francisco's diversity and unique way of life and you'll see why this is one of the best Michelin star restaurants in the world.
4. Le Bernardin, Manhattan: The best Michelin star restaurant in New York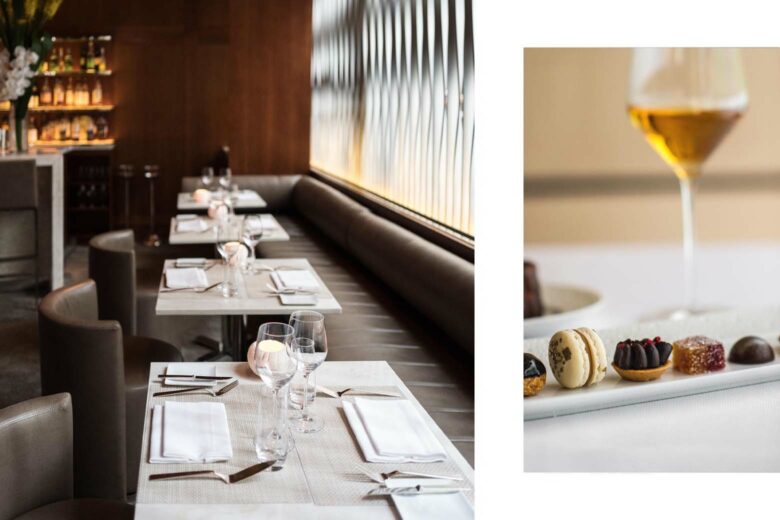 For a classy, seafood dining experience worthy of three Michelin Stars, head over to Le Bernardin near Central Park in Manhattan. Best friend of celebrity chef Anthony Bourdain, top Michelin star Chef Eric Ripert helped Le Bernardin earn four stars from The New York Times just three months after its opening! Since then, it has never dropped a star throughout five reviews. This is the only restaurant to maintain this level of distinction for more than three decades!
Serving several delightful tasting menus, Ripton splits his classic four courses into three sections – Almost Raw, Barely Touched and Lightly Cooked. Marrying succulent French flavors with an array of cultures including Asian and Greek cuisines, the food will dazzle you.
5. Mirazur, Menton: The best Michelin star restaurant in France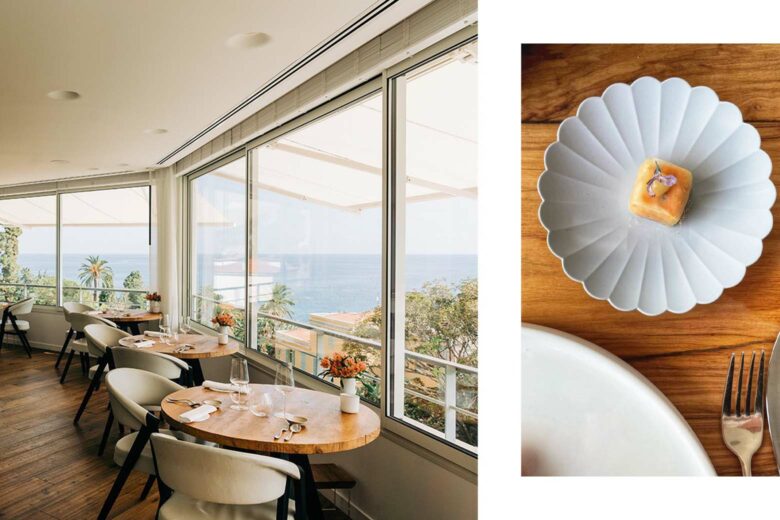 Located in Menton on the French Riviera with stunning views across the Mediterranean, Mirazur is most certainly food with a view! The multi-award-winning restaurant serves the freshest French dishes in its serene and romantic dining room, complete with a mountain backdrop and superb terraced garden. Run by Mauro Colagreco, the young Italian-Argentinian chef draws his culinary inspiration simply from nature – the sea, the garden and the mountain.
A lot of the ingredients are home-grown in Mirazur's garden. This includes the fresh baby salad leaves and rare vegetables that make up his signature dishes: anchovies with fried skeletons and lemons; oysters with tapioca, shallot cream, and pear; and salt-crusted beetroot with caviar cream. The Argentinian chef's cuisine is a daily ode to aromatic plants, flowers, vegetables and fruits.
6. The Fat Duck, Bray: The best Michelin star restaurant in the United Kingdom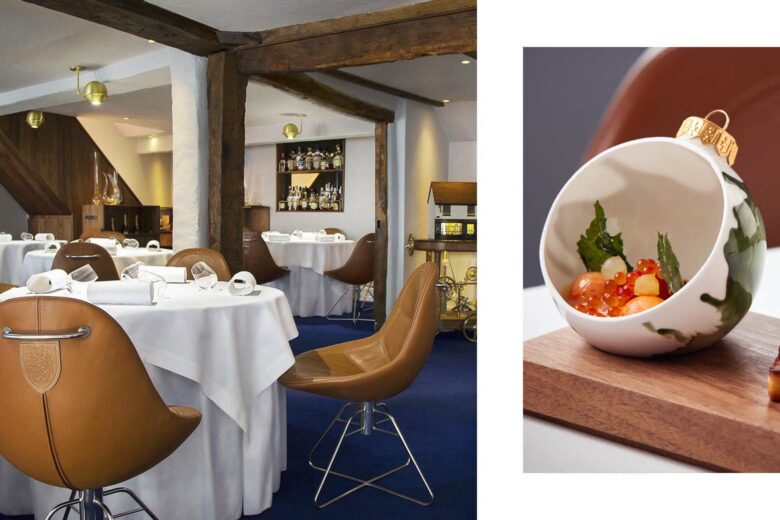 Instead of simply something to be eaten, Heston Blumenthal has turned food into a journey. The thought-provoking menu takes you on a sensory adventure through childhood memories, daydreams, and lovely holiday surprises, all from the comfort of a rustic, 16th-century renovated cottage.
Established in 1995, it didn't take The Fat Duck long to rise to culinary fame. As one of the only five restaurants in the UK to receive this level of recognition, the three-star venue is well deserved. Mostly known for its 14 or 17-course tasting menus, the clash of unexpected flavors works shockingly well. Prepare to feast on delights like the hay-smoked veal sweetbread, the turtle soup, themed around Alice in Wonderland, the mushroom truffle log, or the treats from the custom-built doll's house! With innovation beyond all possible realms, Heston has certainly earned The Fat Duck the title of Michelin three-star restaurant.
7. Den, Tokyo: The best Michelin star restaurant in Japan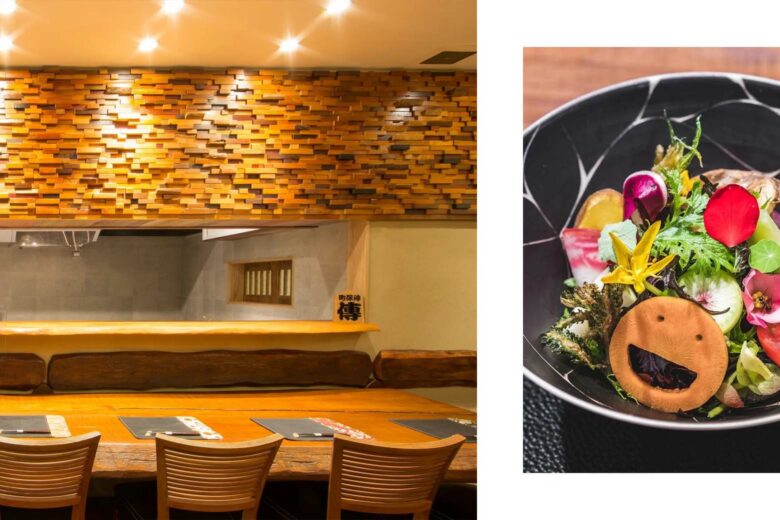 Japan has one of the most revolutionary culinary scenes in the world, with people flocking from all over the globe to sample the country's delights. There's so much more to Japan than sushi; chefs put so much attention to detail, care and passion into every morsel, what you are left with is some of the simplest but most outstanding flavors. Across the whole of Tokyo, there are 200 Michelin-starred restaurants in total, which is more than any other city in the world. But, if you have to visit just one top Michelin star restaurant in Tokyo, take a trip to Den.
Run by award-winning Chef Zaiyu Hasegawa, Den really is at the top of its game. Hasegawa aimed to deviate from the refined but often repetitive Japanese stereotypes and cook his own, much more personal creations. You'll find dishes that will blow your mind and eat things that you probably never thought you would. For example, sardines with liver paste and sesame rice, pork with root vegetables and lime and the incredibly surprising Den's salad which comes with a stuffed ant!
Paired this ingenious food with delightful Asian hospitality and what more could you ask for? Expect to be greeted with a hug, given everything you need by the warm, smiling staff, and leave with full bellies and a challenged perception of what ingredients make a great meal!
8. Noma, Copenhagen: The best Michelin star restaurant in Denmark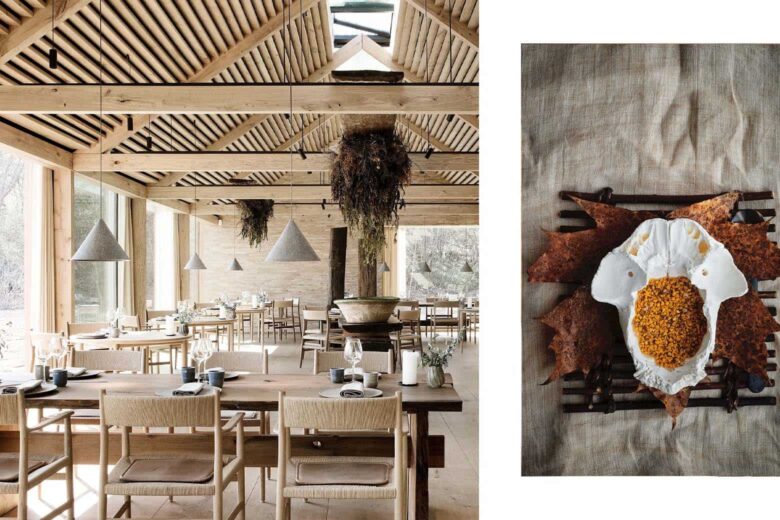 Copenhagen's Noma is a gastronomic sensation. First opened in 2003, the original Noma was probably the most influential restaurant of its time. Head chef René Redzepi literally revolutionized Nordic cuisine by foraging through the land's unique flavors and using un-thought of ingredients.
Today, guests who visit Noma will be served a combination of peculiar dishes from their 20-piece tasting menu, which is based on the given season. Having explored every possible method of cooking and presenting food, you can expect to eat some interesting things. For example, soup inside a potted plant, seaweed foraged from beaches around Copenhagen or a pancake made from mouldy barley. This is created in Noma's 'fermented kitchen', in the same Japanese style that creates soy sauce or miso. It's understandably a little controversial and, like marmite, some will love it while others will hate it! But it fits strongly within Noma's goals of pushing hard against the boundaries of what we eat.
9. Attica: The best Michelin star restaurant in Australia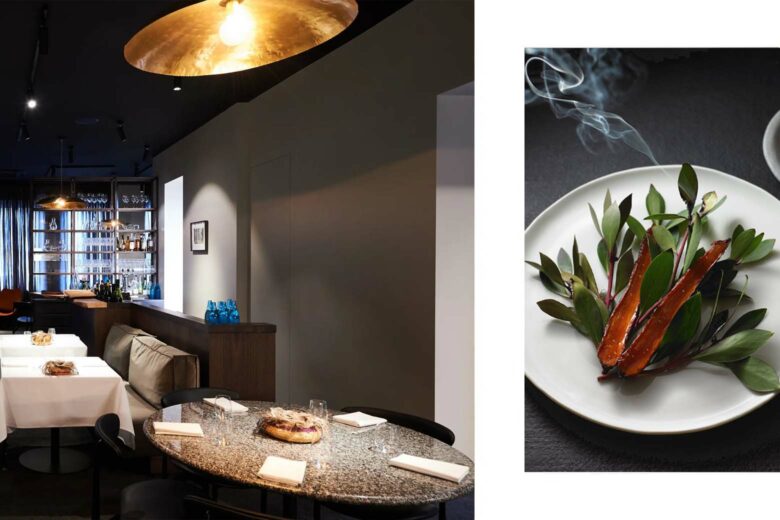 If you've experienced food cities before, then you may think you know what to expect. This is, of course, before you go to Melbourne. Around every corner, you'll find a stunning venue with delicious smells wafting you inside. Top Michelin star Chef Ben Shewry's Ripponlea restaurant Attica is no exception, yet somehow a step above all the competition.
Featuring authentic Australian ingredients such as lemon myrtle, pepperberry and desert oak wattle seeds, the food takes diners through a poetic sequence of stunning dishes. Prepare to dine on a higher plane at this dazzling outback-inspired eatery. The outstanding food will be matched with the perfect wine pairing and excellent service, making this one of the top Michelin star restaurants in the world.
10. Robuchon Au Dome, Macau: The best Michelin star restaurant in Macau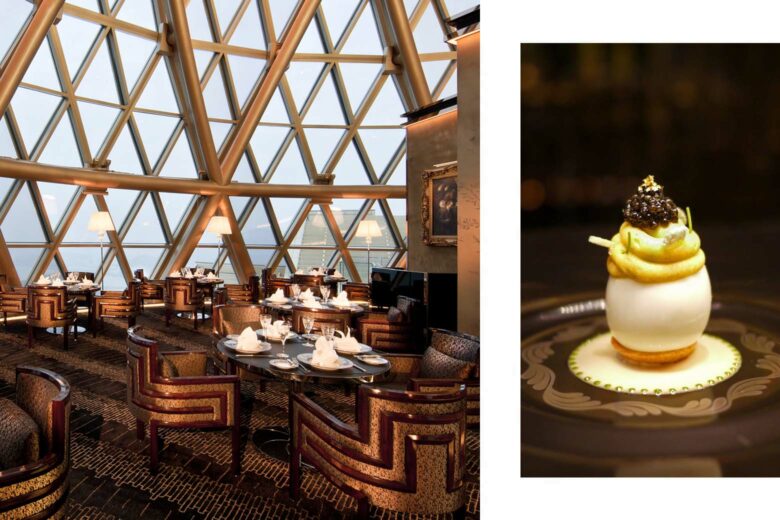 With strong Portuguese and Chinese influence, Macau is a melting pot of cultures—and cuisines. From shrimp roe noodles to Portuguese egg tarts, food is a main attraction for many traveling to the Asian city. And whilst there are a couple of Michelin star restaurants to choose from, none come close to Robuchon Au Dome.
Located at the Dome of Grand Lisboa Hotel, Robuchon flaunts sensational views of the city. The overall experience is perfectly luxurious—from cascading chandeliers to dramatic interiors. Accented with gold touches and black marble, you feel as if you've already reached the pinnacle of fine dining. But the real hero is the menu.
Drawing on chef Julien Tongourian's French heritage, the three Michelin star menu is decidedly French with subtle Asian influences. An array of breads and homemade butters prove to be the perfect amuse-bouche. Whilst an indulgent selection of caviar, lobster and Japanese beef epitomize old school opulence with an intricate modern flare. Naturally, we recommend opting for the tasting menu for a true portrayal of Julien Tongourian's culinary expertise.
11. Ultraviolet Shanghai: The best Michelin star restaurant in Shanghai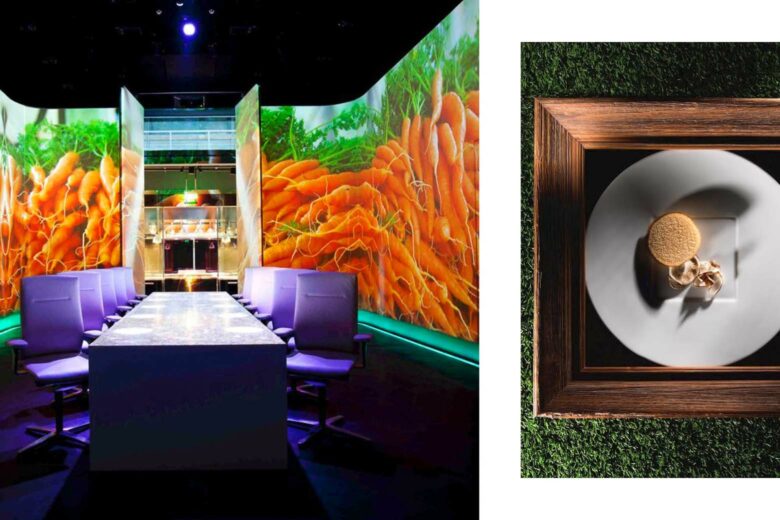 The most expensive Michelin star restaurant on our list, Paul Pairet's Ultraviolet in Shanghai, is the best of its kind. A completely unique dining experience, the restaurant, set in an unremarkable-looking bunker, can only seat ten guests at a time. But considering the 22-course menu can cost just shy of $900 per head, they won't really need to serve many more! Inside the bunker, the walls of the dining room are plain, white, and windowless as well. But during the meal, they transform with lights, colors, sounds, and scents for a complete treat to feel with all the senses.
The award-winning chef states that he wants Ultraviolet to be about "doing things seriously without taking oneself too seriously,". The restaurant was awarded two Michelin stars in 2017 before gaining the third a year later. A contemporary, modern and slightly experimental experience, Ultraviolet displays the wonderful innovations of Pairet and, although there are a lot of courses, everything is perfectly balanced so that guests leave satisfied but never uncomfortably full. Ultraviolet is definitely one to watch and undoubtedly one of the top Michelin star restaurants in the world.
What's new and exciting in the world of Michelin star restaurants today?
From the very first Michelin Star in the world, which was awarded to a French restaurant in the 1900's, the catering industry has come a long way. You can now find fine dining establishments that serve only delicious vegan food, restaurants offering up to 25 stunning courses and eateries serving some of the most bizarre ingredients such as edible cotton or mustard ice cream! Nevertheless, what unites all of these restaurants is their aptitude for combining fantastic flavors and a standard that sets them high above the rest.
What are the top cities in the world to experience a Michelin star restaurant?
There are some people who might think traveling all over the globe just to eat is insane. However, for foodies, there is some food that's so unusual, so flavorsome, so rich and utterly delicious, it's worth flying anywhere for! When it comes to the best cities for foodies, there are a few that always make the list. France is notorious for its cordon bleu cooking and fine dining, especially Paris and Nice. London frequently appears as one of the food-lovers' capitals and anyone that's traveled to Asia will know that their fresh cuisine and tasty dishes are well worth the flight! Tokyo especially serves some of the most delicious dishes on the planet and Singapore may be small, but it packs a powerful punch of flavors by taking the best of the surrounding countries and creating its own masterpieces.
Top 10 cities with the most Michelin-starred restaurants worldwide in 2023
| City | # of Michelin-starred restaurants |
| --- | --- |
| Tokyo | 200 |
| Paris | 123 |
| Kyoto | 98 |
| Osaka | 94 |
| New York City | 72 |
| London | 69 |
| Singapore | 52 |
| Shanghai | 50 |
| Seoul | 35 |
Learn more about Michelin star restaurants
A short history of Michelin's ranking
Michelin had quite an interesting beginning and actually had very little to do with cuisine. Brothers Andre and Edouard Michelin wanted to create a higher demand for cars and therefore tires, which they sold. So, they introduced the Michelin guide books in the early 1900's to give existing motorists information on where to find petrol stations, accommodation or the best meals on their travels. They grew quickly in popularity and, as their business grew, so did their influence. They eventually decided to set up a team of inspectors to anonymously rate restaurants out of three. The Michelin star ranking began for restaurants in 1926, with the first given to an establishment in France. This formed the foundation of their acclaimed star system today.
How are restaurants being evaluated today?
So, what do you need to do to earn a Michelin star? Originally it was simply an award that chefs earned if they were considered a fine dining establishment. Today, it is still awarded this way, however the inspectors do their utmost to remain covert. They believe it to be unfair to judge someone who knows they are being judged and prefer to remain anonymous and see how the chefs serve their food on a regular basis.
In the same way, the exact criteria required to earn the acclaimed award remain known only to Michelin themselves and they do not publish or disclose this information. However, it is no secret that being awarded a Michelin star qualifies a restaurant as one of the best in the world.
What does it take to receive a Michelin star?
Although Michelin doesn't disclose its ranking criteria, it does give an indication as to how it awards its stars. One star is given if the restaurant is 'a very good restaurant in its category'; two will be awarded for 'excellent cooking, worth a detour' and three mean the restaurant serves 'excellent cuisine' and is 'worth a special journey'.
Michelin does also state that an establishment must use quality products in their dishes and be consistent throughout their standards. They also care a great deal about originality and require chefs to use a 'mastery of flavor and cooking techniques', and let their own personality shine through their dishes. They're looking for food that exudes flair and sophistication or dishes with a unique twist. Lastly, Michelin requests that the food is good value for money. This incorporates everything, from the attentiveness of the service to the ambiance of the restaurants to the overall experience of the food. Quite simply, restaurants should thoroughly 'wow' them, and then they will be worthy of a Michelin star.
Our methodology to select and rank the best Michelin star restaurants
With the incredible range of restaurants around the globe, deciding the 11 best Michelin star restaurants in the world wasn't an easy task. However, there were a few key factors that made up our decision.
Firstly, the location. There are plenty of national cuisines worldwide, but few cities are known for the culinary expertise or signature flavors. Many of these top culinary cities, such as Nice, New York and Tokyo have also been recognized by Michelin for many of their restaurants. So, it seemed only fitting to include them in this list.
Once we'd narrowed it down to the gastronomic hotspots around the globe and made sure they were actually ranked by Michelin, we selected the restaurants that made this list. We researched each restaurant in depth, explored other people's experiences and read reviews both by the public and the media. We also looked at the menus of each restaurant, which cuisines they catered to and whether there were any unique qualities or dishes that particularly stood out. From there we were able to narrow it down to a list of 11 outstanding places. Located in a range of cities across the globe and serving a variety of delicious dishes, they truly are the best Michelin star restaurants in the world.
Frequently asked questions about Michelin star restaurants
How many restaurants in the world have Michelin stars?
Across the world, there are a total of 3,364 Michelin star restaurants as of February 2023. This is broken down into 2,740 restaurants with one Michelin star, 483 restaurants with two Michelin stars, and 141 restaurants with three Michelin stars.
Which country has the most Michelin star restaurants?
The country with the most Michelin stars is France with a total of 615 Michelin starred restaurants. However, Tokyo alone has 200 Michelin-starred restaurants, which is significantly more than any other city in the world. This has given Japan the title of the second highest Michelin-starred country in the world (414 restaurants), which is closely followed by Italy (384 restaurants).