There's no drink so ripe with history and so rich with flavor quite like Bourbon.
And there's no 'right' way to enjoy Bourbon, but there are certainly ways of drinking the liquor that make for a more enjoyable experience.
You don't have to spend hundreds on fancy bottles to drink excellent Bourbon. In fact, there are some fantastic lesser-known bottles hiding in price points that you wouldn't expect.
But it can be difficult to know which brand and bottle are for you. How do you decide between the most popular Bourbons or, ultimately, find the best Bourbon of the year? The huge variety of brands, distilleries, proofs, and ages has made the world of whiskey a fascinating one, albeit slightly challenging if you're not sure where to start.
That's why we maintain this up-to-date, carefully curated selection of the best bourbons available on the market. From the smoothest to the best premium and budget Bourbons, here's everything you need to know when buying your next bottle.
The best Bourbons of 2023
If you prefer to read about Bourbon before opening the bottle, jump to our sections below to learn more about Bourbon. Read more about the terms to know when talking about Bourbon or our methodology to select and rank the best Bourbon brands of the year.
Four Roses Single Barrel: Overall best bourbon of 2023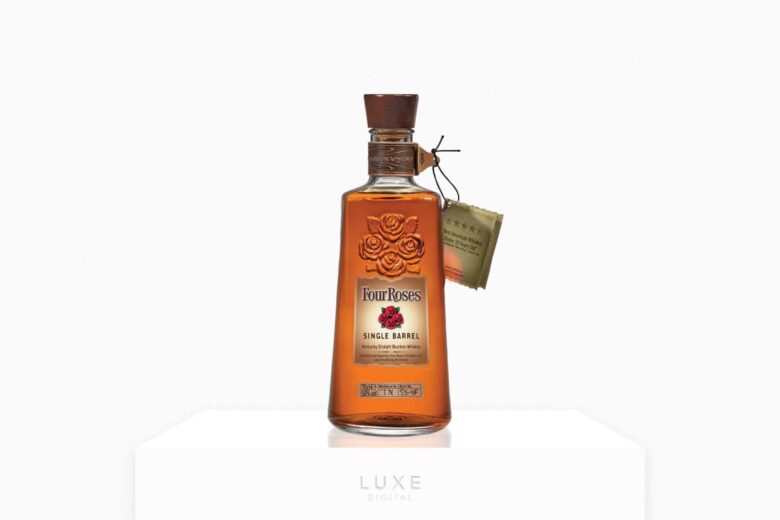 Four Roses has been around since 1888, making it through the prohibition period before disappearing from shelves for 40 years. Nowadays, the brand is a staple for Bourbon-loving Americans who enjoy it neat or on the rocks for the ultimate experience. It won several taste competitions over the past decade and works well as a versatile spirit.
To top our ranking of the best bourbons of the year, we picked Four Roses' Single Barrel bottle. It's just one of many bottles in Four Roses' successful collection.
With notes of caramel, vanilla, raisins, and a hint of charred oak, you'll want to savor the taste of this premium Single Barrel again and again. This whiskey covers a lot of ground with a floral, spicy, woody, and fruity aroma, a medium color, and a lingering finish. It's complex, full-bodied, and surprisingly smooth, with a delicate, long finish that's unbelievably mellow.
| | |
| --- | --- |
| Proof: | 100 |
| State: | Kentucky |
| Category: | Small Batch Bourbon |
Knob Creek 9-Year-Old: Best bourbon under $50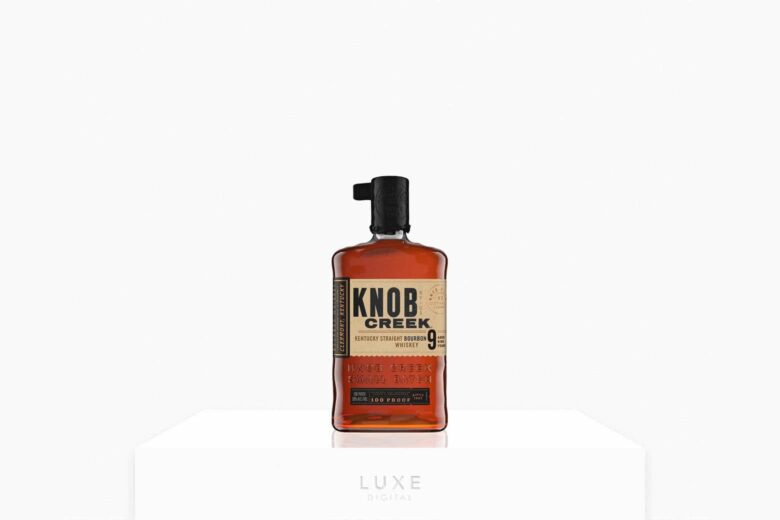 Spicy and sweet, and perfectly balanced, Knob Creek 9-Year-Old packs a solid punch in a single sip. Distilled in a traditional style and named after the area in Kentucky where Abraham Lincoln grew up, this nine-year-aged bourbon is a popular choice at a friendly price point. We think it's the best bourbon under $50 on the market today.
One with a slight nuttiness, a swirl of caramel, and a respectable 100 proof, Knob Creek's 9-Year-Old is simple yet enjoyable, a popular choice for beginners and connoisseurs alike.
| | |
| --- | --- |
| Proof: | 100 |
| State: | Kentucky |
| Category: | Small Batch Bourbon |
Pappy Van Winkle's 23 Year Family Reserve: Best high-end bottle of bourbon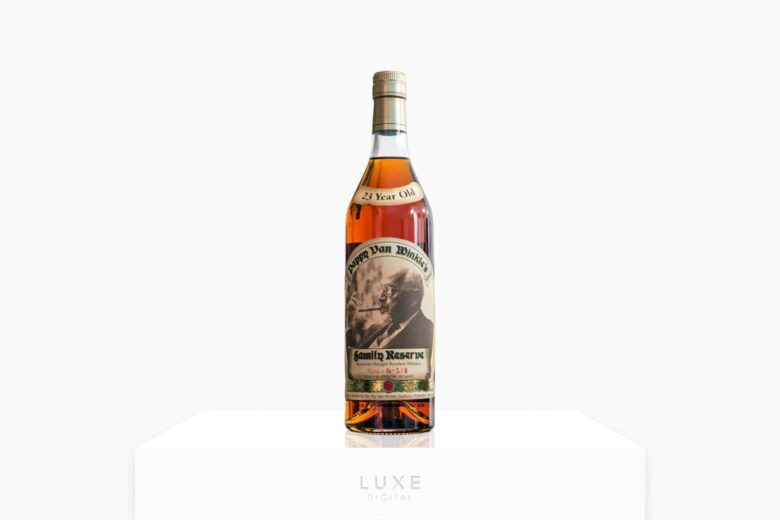 Considered by many to be the world's finest Bourbon, Pappy Van Winkle's Bourbons are so rare and so popular that there's even a term for finding a bottle: "Pappy hunting". But the challenge of sourcing a bottle – or paying around $100 for a pour in a bar – is worth the hype.
The sweetness and finish of this Bourbon are often regarded as being superior to any other Bourbon on the market. With an average price of around $2,500 a bottle, it's certainly not cheap, but the range of (mostly dark) flavors and aromas means you'll want to savor its uniqueness.
It's almost impossible to go wrong with anything Pappy Van Winkle, so if it's proving tricky to get your hands on the 23 Year release, the 15 Year and 20 Year are also top contenders.
| | |
| --- | --- |
| Proof: | 96 |
| State: | Kentucky |
| Category: | Small Batch Bourbon |
Elijah Craig Small Batch: Smoothest Bourbon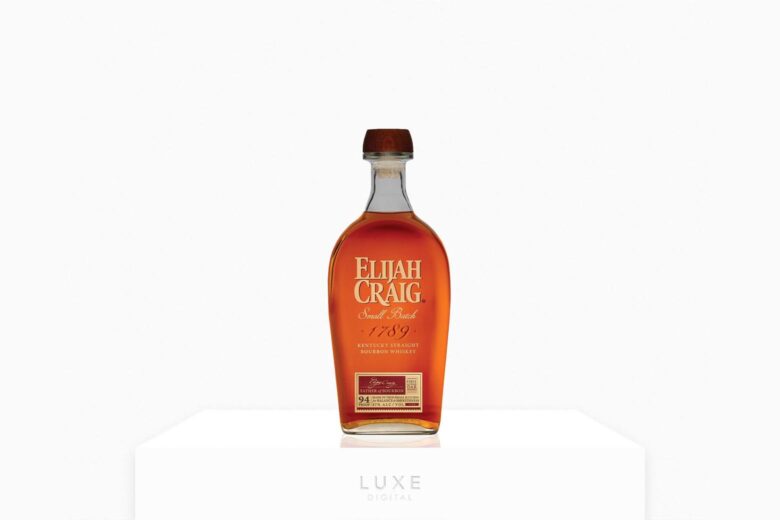 Elijah Craig has a particular legacy in the world of bourbon drinking, and the Elijah Craig Small Batch provides a brilliant continuation of just that. 
Undoubtedly one of the smoothest bourbon brands on the market, this award-winning bottle is layered and soft, offering a fruity, subtle smokiness with just a hint of spice to round it off. It leans towards the sweeter end of the spectrum but still appeals to all palates. Buy for dinner parties when you want to casually impress.
| | |
| --- | --- |
| Proof: | 94 |
| State: | Kentucky |
| Category: | Small Batch Bourbon |
Wild Turkey 101 Bourbon: Best Bourbon for beginners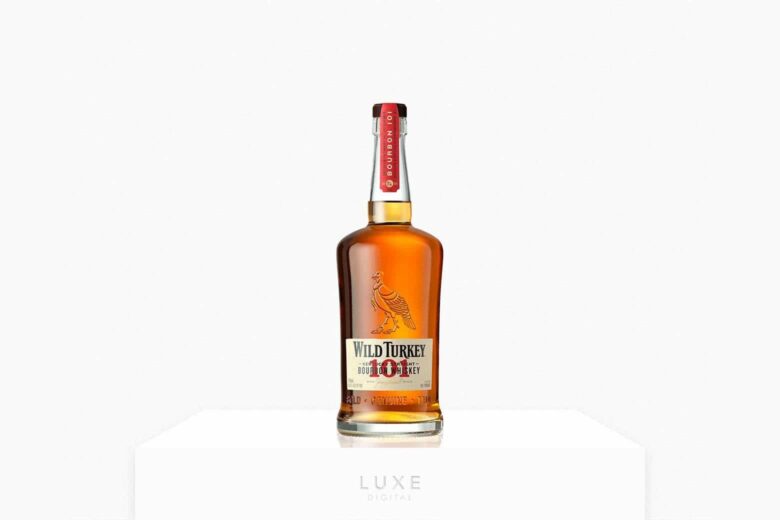 Wild Turkey is another premium brand that's been distilling whiskey for more than 100 years. It's a brand that knows exactly what's what when it comes to distilling: its master distiller is Jimmy Russell, the world's longest-tenured active distiller.
As our best bourbon for beginners, we picked Wild Turkey 101 for its approachable taste, rich history, and the lesson in traditional American values that this bottle offers.
Wild Turkey 101 refuses to compromise on standards of excellence. This iconic bourbon is perfectly aged for a minimum of five years in American White Oak barrels with a level 4 char. Also called the Alligator Char, it is obtained after 55 seconds of fire. The barrel begins to crack and peel in a rough, shiny pattern that looks like alligator skin. The result is a deep color and spicy flavor profile to the bourbon.
Expect tastes of cherry pie, raisins, and nuts, with an intense finish of tropical fruit. With a 101 proof, it finishes nicely with a subtle aftertaste of spice.
| | |
| --- | --- |
| Proof: | 101 |
| State: | Kentucky |
| Category: | Small Batch Bourbon |
Old Forester Classic 86 Proof: Best value Bourbon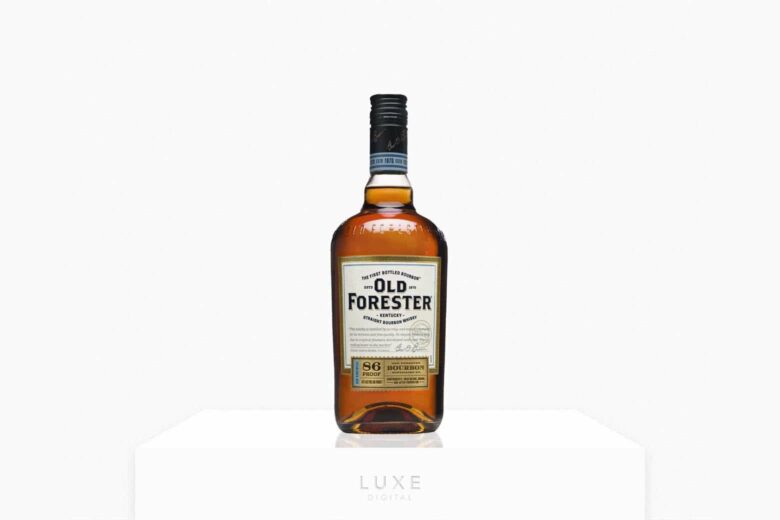 The Old Forester brand is more than 150 years old, and its classic 86 Bourbon is proof that with time comes expertise. A favorite among bartenders, this Bourbon offers rich and complex flavors far superior to what you might expect at its price point. Old Forester delivers a fresh and bright flavor profile perfect for sipping neat, on the rocks, with a splash of water, or in a classic cocktail.
For another great option if you want a great value bourbon with a more modern twist, check our Bulleit bourbon review.
| | |
| --- | --- |
| Proof: | 86 |
| State: | Kentucky |
| Category: | Bourbon |
Woodford Reserve Double Oaked: Best Kentucky Straight Bourbon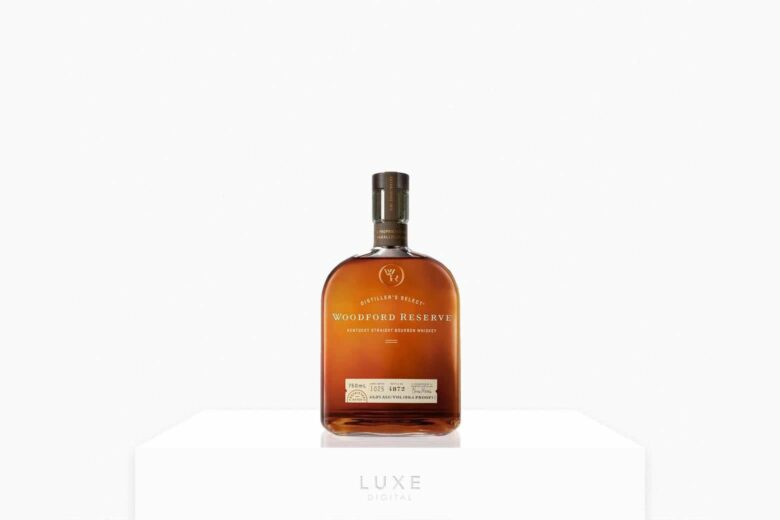 Woodford Reserve's large bourbon collection can be bought at various price points, but it's worth paying the extra dollars for an unrivaled taste. Smooth, woody, and with quality, Woodford Reserve's Double Oaked Kentucky Straight Bourbon is made up of a wonderful mellow spice flavor.
The double oak Bourbon brings out vanilla and caramel notes with a smooth start and a slightly sweet finish. As the name suggests, Woodford Reserve distills its Bourbon in Woodford County, Kentucky, in small batches for optimal taste. It's a sophisticated brand that's won international awards and acclaim.
This innovative approach to aging whiskey pays off, with a rich and powerful flavor from start to finish. It's mostly a sweet and aromatic liquor with notes of chocolate, marzipan, honey, and brown sugar. Expect a long-bodied finish with a lingering hint of apple.
| | |
| --- | --- |
| Proof: | 90.4 |
| State: | Kentucky |
| Category: | Small Batch Bourbon |
1792 Single Barrel Reserve: Best tasting Bourbon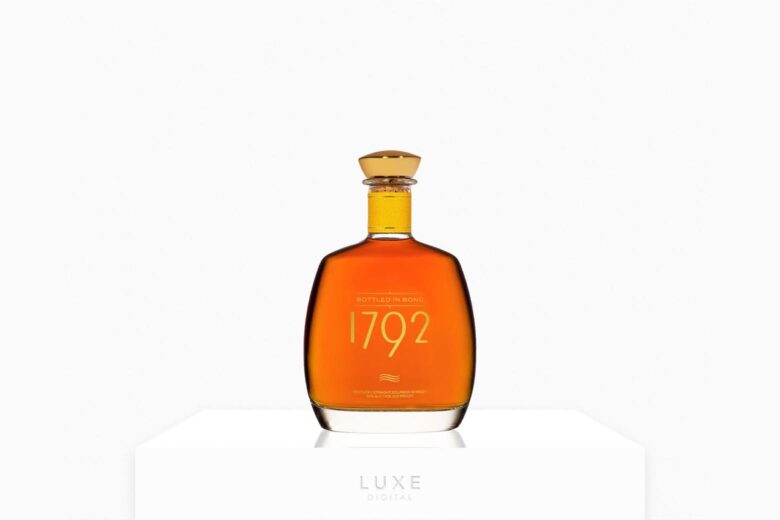 Formerly known as "Ridgewood Reserve 1792" and "1792 Ridgemont Reserve", 1792 is another brand that offers taste beyond its value. This small-batch Single Barrel Bourbon follows an old-school Kentucky recipe with a high rye content. It uses hand-selected barrels for the aging process and has a smooth flavor to match.
This is a superior Bourbon well worth its money. A winner of many international awards, it features rich butterscotch and caramel flavors with hints of fruit and toffee.
| | |
| --- | --- |
| Proof: | 93.7 |
| State: | Kentucky |
| Category: | Small Batch Bourbon |
Jefferson's Ocean Aged at Sea: Best sipping Bourbon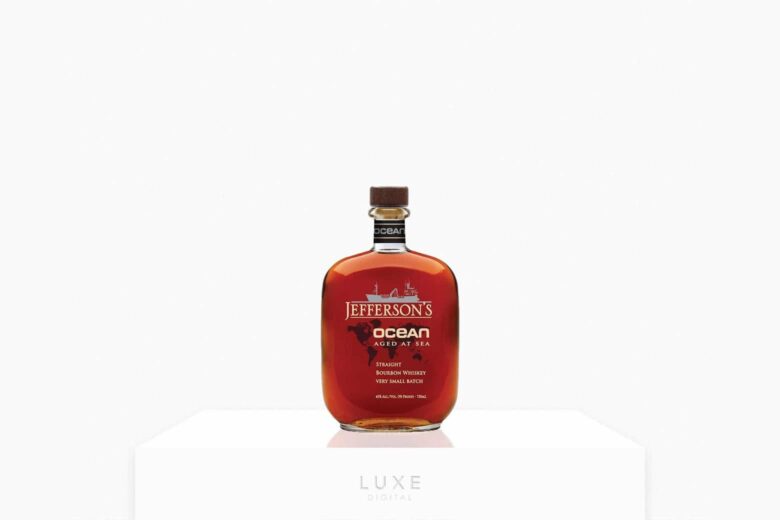 Not many Bourbons can say they've crossed the seas during the aging process. What might sound like little more than a marketing gimmick has proven to pave the way for a great-tasting whiskey in the form of Jefferson's Ocean Bourbon.
Each voyage of Jefferson's Ocean typically crosses the equator four times. Drink it neat while wondering exactly how far your bottle has traveled before it reached you.
This experiment resulted in a thick, dark Bourbon with complex flavors. Jefferson's believes that temperature fluctuations, salt air, and the gentle rocking of the ship all work together to weather a truly fine Bourbon.
Jefferson's rich amber Bourbon is known for its red apple aroma and dried fruit flavor. But it's not just fruity flavors that'll come through: alongside its sea air saltiness comes milky coffee, strong dark chocolate, and a hint of bitterness.
| | |
| --- | --- |
| Proof: | 90 |
| State: | Kentucky |
| Category: | Small Batch Bourbon |
Blanton's Single Barrel: Best small batch Bourbon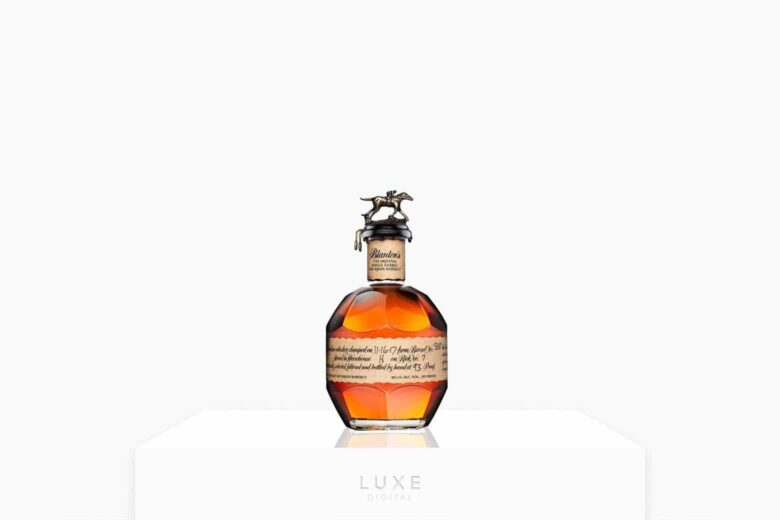 Master Distiller Elmer T. Lee released Blanton's Single Barrel Bourbon in 1984, at a time when the Bourbon industry appeared to be on a downward slope. But Blanton's higher-rye mash bill proved a success, and the brand has risen from strength to strength over the years.
But while this small-batch Bourbon has changed a few things over time, it's kept its 'super premium' holding and taste. Blanton's claims that it's "the original single barrel Bourbon whiskey" and is known for its unique bottle shape.
Keep an eye out for the collector's set of eight different bottle stoppers featuring a horse and jockey. We list them all in our Blanton's bottle price list.
Blanton's is nothing if not a satisfying whiskey, and the Single Barrel Bourbon is an excellent example of just that. It features powerful vanilla notes combined with hints of honey and a nose of spices and nutmeg. It's another winner of various national competitions.
| | |
| --- | --- |
| Proof: | 93 |
| State: | Kentucky |
| Category: | Small Batch Bourbon |
Maker's Mark: Best Bourbon for an Old Fashioned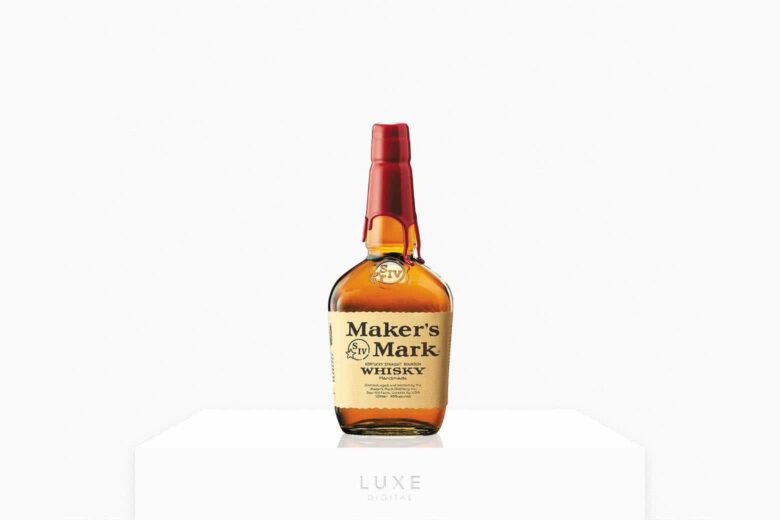 An Old Fashioned is traditionally made with Bourbon or rye. But which Bourbon should you choose for the perfect whiskey-based cocktail? A wheat Bourbon combined with a large dash of bitters will result in a well-rounded, spice-heavy Old Fashioned. At the same time, a corn-heavy version will balance well with citrus. The perfection option? We pick Maker's Mark as the best bourbon for an old-fashioned.
Simply add one sugar cube or ½ tsp. sugar, two dashes of Angostura bitters and garnish with a lemon or orange twist in a sturdy Old Fashioned glass to complete.
Maker's Mark isn't as spicy as rye-influenced whiskeys, making it a great Bourbon for a pairing. And don't be put off by the 'whisky' spelling: it uses a process similar to that of Scotch, but that's where the similarities end.
A rising star in the Bourbon market, Maker's Mark prides itself on being neither bitter nor sharp, but somewhere comfortably in the middle. It's a smooth and subtle whiskey with fruity essence throughout. Check our Maker's Mark in-depth review to see the price breakdown of each bottle from the brand.
| | |
| --- | --- |
| Proof: | 90 |
| State: | Kentucky |
| Category: | Bourbon |
Old Grand Dad 114 Proof: Best Bourbon to mix in a cocktail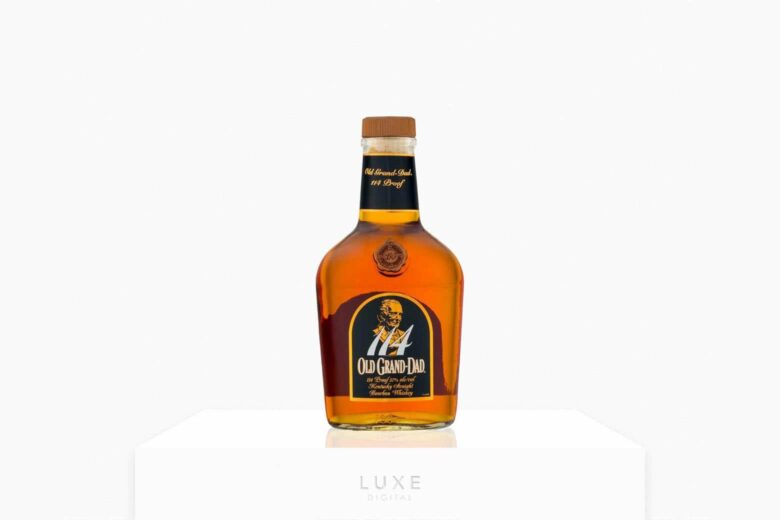 A cult Bourbon, Old Grand Dad is not for the faint-hearted. This liquor features an unusually high rye content in the mash, producing a spicy kick. Many enjoy it straight, but its variety of flavors also makes it an ideal Bourbon for cocktails or those dipping their toe into the world of whiskey.
The 114 proof has a complex nose, a velvety sip, and a burst of flavor on the tongue. Try it with a traditional Old Fashioned or branch out with a Bourbon Sour or Manhattan for a sensational drink.
| | |
| --- | --- |
| Proof: | 114 |
| State: | Kentucky |
| Category: | Small Batch Bourbon |
Jim Beam Black Extra Aged: Best Bourbon to pair with a beer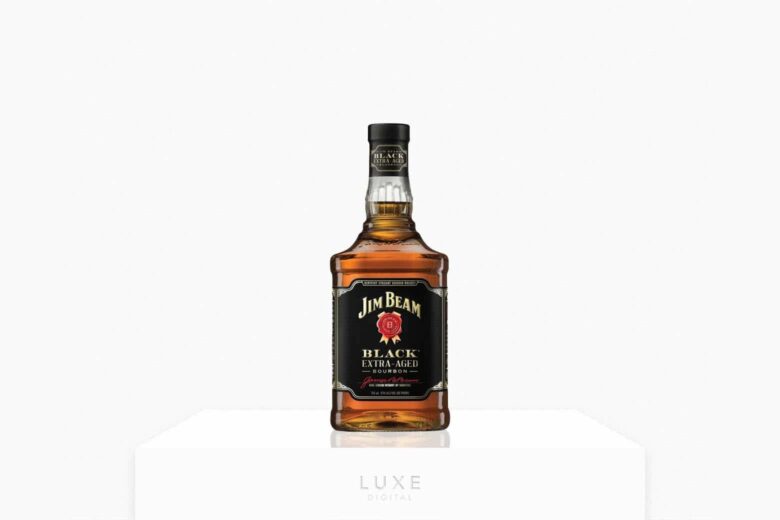 The Jim Beam distillery has been producing excellent Bourbon since the late 18th Century and has more than a few tricks up its sleeve for creating a range of delicious whiskeys.
A classic and much-loved choice for Bourbon fans, Jim Beam offers the best option for those who want the best of both: whiskey and beer. It's full-flavored and one-of-a-kind, with a reliable, easy-to-drink taste and a smooth and satisfying finish.
Jim Beam was awarded the International Wine & Spirits Competition's Bourbon Trophy back in 2016 and little has changed since. The Extra Black is an elegant Bourbon with a heavy caramel flavor and a strong nose of oak, cinnamon, and vanilla. A crowd-pleaser, it's a popular choice to pair with a beer.
If you prefer something a little sweeter, Jack Daniel's is another great bourbon to drink with a beer or in a cocktail.
| | |
| --- | --- |
| Proof: | 86 |
| State: | Kentucky |
| Category: | Bourbon |
Bulleit: Best Bourbon for the money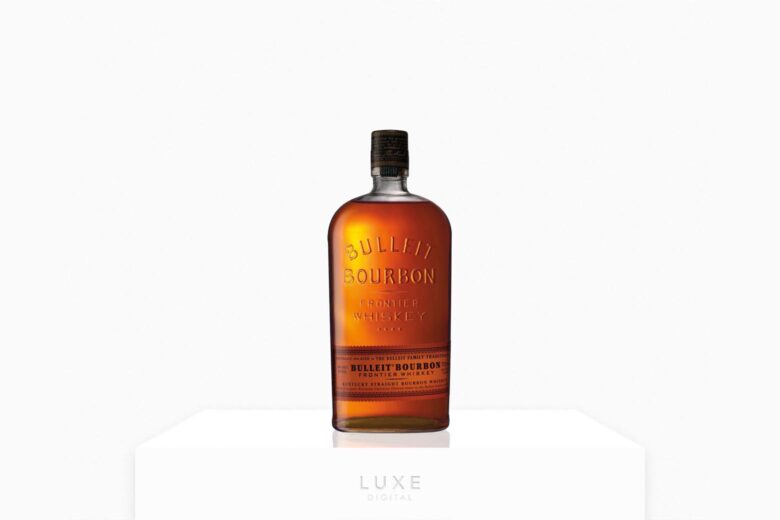 Bulleit Bourbon is a little sharper than most, thanks to its high rye content. It's an attention grabber, with a pungent and powerful taste and plenty of contrasting notes. You'll taste caramel most prominently when sipping this bourbon, rounded off with an expert hint of spicy cinnamon and ginger.
Another award-winning bourbon, it's hard to beat this seriously smooth whiskey with its peppery depth and complex creaminess. Known as one of the best evening bourbons, Bulleit's taste lingers long after that final sip.
Check our up-to-date list of Bulleit's bourbon bottle prices and sizes to see how much you should pay for it.
| | |
| --- | --- |
| Proof: | 100 |
| State: | Kentucky |
| Category: | Small Batch Bourbon |
Woodford Reserve Baccarat: The most expensive Bourbon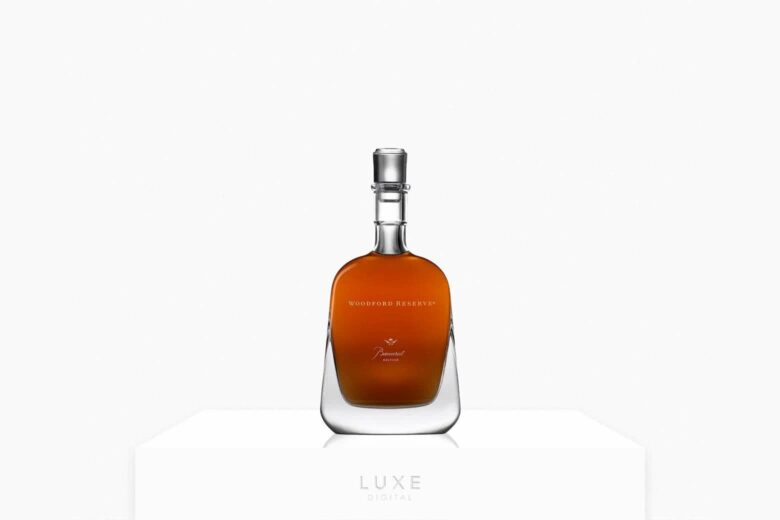 Ok, this is not technically the most expensive bourbon on the market. Pappy Van Winkle's 23-Year Family Reserve wins that crown at a recommended retail price of $3,000. But Pappy Van Winkle's bourbon is pretty much sold out and impossible to find anywhere. So we turn instead to Woodford Reserve's Baccarat bottle as the most expensive bourbon you can actually find and purchase if you want the best top-shelf bourbon available.
Woodford Reserve's Baccarat will forever – rightly – be a talking point in the bourbon world, a fusion of sophistication and complexity with a brilliant light copper coloring. The difference between Baccarat and the brand's other offerings comes from a few final touches: an extra period aging in XO Cognac barrels, the handmade crystal decanters it's served in, and its insanely velvety, fruity, sweet, citrus-tinged taste.
Crisp American and French oak notes combine in a bottle that you'll save for only the most special of occasions. Even if you wouldn't buy it regularly (we can dream) it's absolutely a top-shelf Bourbon to try at least once.
| | |
| --- | --- |
| Proof: | 90 |
| State: | Kentucky |
| Category: | Small Batch Bourbon |
What's special about Bourbon?
This much-loved spirit has a distinct flavor profile and a history to match. The time, care, dedication, and craftsmanship that goes into Bourbon make it quite unlike anything else you'll spot in the liquor cupboard. In 1964, Congress even declared Bourbon "America's Native Spirit."
Kentucky, the birthplace of Bourbon, produces 95 percent of the world's Bourbon supply. Unlike other spirits, a company can't just call their liquor "Bourbon" unless it fulfills every one of the requirements. Its strict production process ensures a smooth and successful drink.
How Bourbon is made
Before the process is started, a distiller must first determine the mash bill: the exact makeup of grains from which the whiskey is made. To qualify as Bourbon, the grains must feature at least 51% corn. Then, a combination of rye, wheat, and malted barley can also be added.
The grains are coarsely ground and added to water. The mixture is then heated, to break down the structure of the grains, which produces fermentable sugars.
The next step differentiates Bourbon from whiskey. The mixture is pumped into a fermentation vat with yeast and, commonly, a sour mash mix. The mash is then distilled – mostly twice – to remove impurities and increase the strength of the liquid.
Arguably, the most crucial step of the Bourbon production process comes next: aging. Whiskey must be aged for at least two years before it can be called "straight whiskey". A spirit distilled for a shorter period of time is known as "white dog" and has a paler, almost clear coloring and a sharp flavor.
And let's not forget the oak casks: the oak used is first stripped and left to weather for six months. This process removes the bitter tannins, allowing for a smoother flavor once the mixture has been added.
Then, the barrels are charred, offering a smoky environment that almost caramelizes the liquid. The standard barrel size is 263 liters and weighs 225 kilos when full.
What's the difference between Bourbon and Whiskey?
As the saying goes, "All Bourbon is whiskey but not all whiskey is Bourbon." But there's more to it than just semantics. If you're a whiskey (and especially Bourbon) drinker, you need to know the differences.
Whiskey is a spirit distilled from fermented grain mash (wheat, rye, barley, and corn) and then aged in wooden barrels.
However, to be called a Bourbon, it must also be produced in the United States and be made from 51 percent corn. The liquid needs to be distilled to no more than 160 proof and entered into the barrel at 125 proof. It must not contain any added flavoring, coloring, or other additives and must be aged in new, oak-charred barrels.
It's easy to get lost down the rabbit hole of Bourbon technicalities and terminologies. For the sake of focusing on the important bits – which Bourbon we recommend buying or drinking for every occasion – you'll find the common terminology further down.
Terminology: The terms to know when talking about Bourbon
There are different types of bourbon on the market, depending on how they're made. Single barrel bourbon, sweet or rare. Learn more about the terms and distillery processes to understand what goes into making a delicious bottle.
Age/Age Statement: Though not required, many distilleries display their whiskey offerings with the amount of time they've spent aging. Generally, the more years the liquor has spent in its barrels, the better – although there are some exceptions.
Barrel: Whiskey is distilled in oak barrels or casks in order to impart the most flavor into the liquid. These barrels are charred on the inside for maximum flavor and smokey notes.
Blend: Some whiskey experts may disregard blended whiskey while many others consider it an art. Blended whiskey combines multiple other whiskeys alongside neutral grains, flavorings, and colorings.
Bottled-In-Bond: The Bottled-in-Bond Act of 1897 identifies one class of spirits based upon a specific set of requirements. They must be distilled in their entirety by a single distiller in a single American distillery within the course of a year. After that, they must age for four years in a state-owned warehouse and be bottled at 100% proof/50 ABV.
Distillation: A process where a liquid is heated and cooled for purity. For whiskey specifically, this is the part of the process where any existing alcohol created during fermentation is removed.
Mash/Mash Bill: The ratio and mixture of grains used to produce whiskey. This differs between distillers and many distillers stick to one specific ratio to produce their offerings.
Proof: Another term for measuring the alcoholic content of a beverage. The proof is double the alcohol by volume (ABV) measurement.
Small-Batch: There are no legally-defined parameters as to what "small-batch" actually means. However, it's the term used for whiskey that's been produced in select numbers on a limited basis.
Sour Mash: The most common mixture of crushed malt and grain meal, "sour mash," means adding some of the already used mash into a fresh batch for fermentation.
Our methodology to select and rank the best Bourbon brands in the world
To help us rank the best Bourbons in the world, we looked at a number of different factors, including the proof, age, and price.
The proof: While the general consensus is that a higher proof (or ABV) number results in a "better" whiskey, this isn't always the case. A lower proof may be more successful in cocktails while a higher proof could be enjoyed more on the rocks.
The aging process: Similar to the above, many will assume that the longer the aging process, the better the Bourbon. But some brands have thrown caution to the wind and either removed their age banner from their bottles or have reduced the length of time their Bourbon matures for.
The price: It's understandable that you'd rather spend more money on a whiskey to sip rather than one to mix into cocktails or an Old Fashioned. So, while it wasn't as important a factor as the above, the cost was something taken into account when putting together this list.
Frequently asked questions about Bourbon