Dreaming of Dubai? We don't blame you. After all, the sunbaked nation is fast becoming the global glamor epicenter, where world-class dining, paradisical beaches, and an infectious energy fuse to create an unforgettable experience for all who swing by.
But check this out: hidden within Dubai's high-rises, blue ocean, and stretches of white sand lies another nirvana—where some of the finest elements of our planet are distilled in one incredible destination:
Located on Palm Jumeirah's West Beach, Playa is the utopia you need on your itinerary.
So, what is it exactly? Well, to the untrained eye, Playa is a fizzing and vibrant Peruvian-inspired venue awash with vividly-styled alfresco lounges and a high-class indoor restaurant. Sure, it's cool, but nothing new, right? Wrong.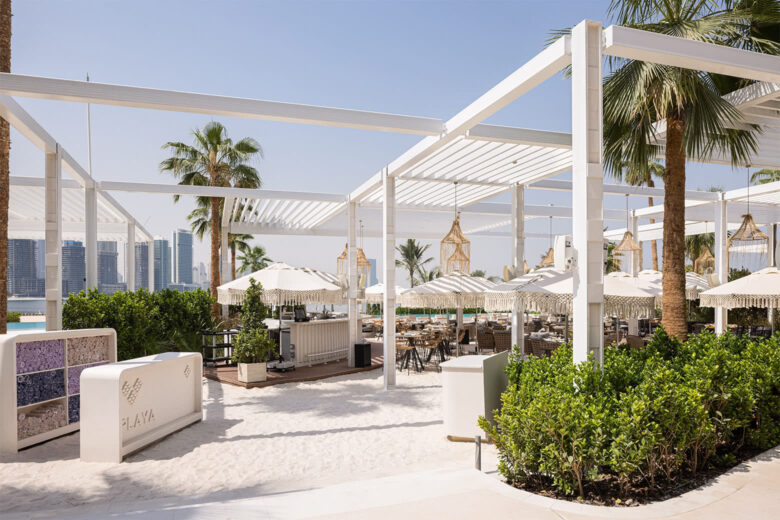 Playa is more than a beach club and an (unbelievably chic) restaurant. It's a concept. A place to celebrate the essence of life and experience its pinnacles. Playa's ethos is "life, renewed"—simple as that.
Carefully (not to mention beautifully) designed to enliven all your senses, you'll feel your soul reawaken and your lust for life reinspired.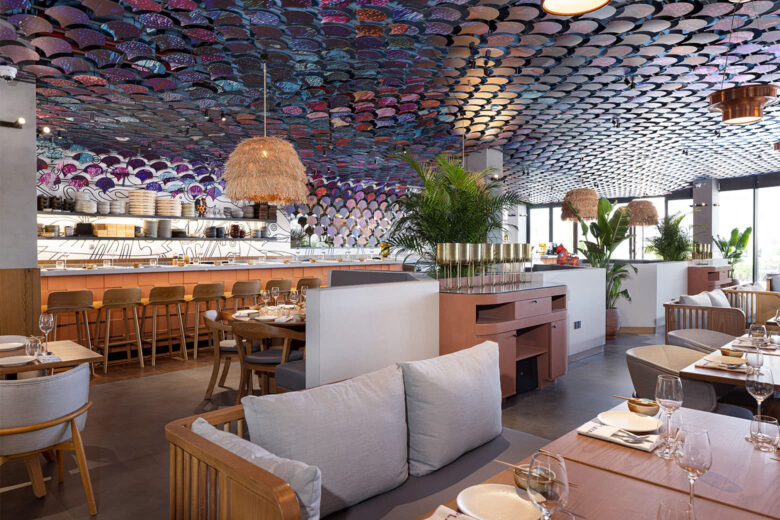 Yes, just as the superfood-packed plates nourish your body, the energy and atmosphere of Playa feed your spirit. Move with grace between the colorful spaces, bathe in the afternoon sun, and recharge at golden hour when everything you see is gilded with aureate bliss.
Dubai is where the world chinks its glasses, and Playa is Peru's salud.
Sol Celebration
Just like the ancient Incas held festivals to honor the sun, Playa is following suit (but with a decidedly luxe twist) with the Sol Celebration. Head down to The Club on Palm Jumeirah any (or every) Sunday at 5pm for the Sound Healing ceremony, followed by perfectly-timed sunset celebrations. You'll sip Peruvian cocktails and watch with fresh awe as the sun bids its farewell for the day before kicking off your shoes—assuming you're wearing any—and connecting to the earth through barefoot dance. Indeed, you'll fall in love with yourself, the world, and its beautiful people in these precious few hours.
The restaurant: A fine dining destination in its own right
When was the last time you enjoyed luxurious fine dining at a beach club? Exactly. Breaking the mold yet again, Playa offers exquisite fare in its class-of-its-own restaurant.
Offering two separate menus with two dining styles, you can nibble signature light bites barefoot and beachside, or head to the inside restaurant for a more refined, high-society experience.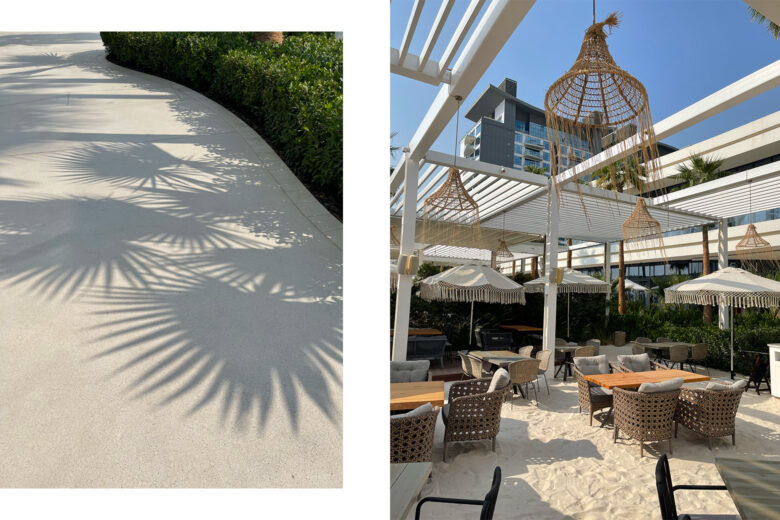 If you'd love to soak up every last morsel of sunshine and enjoy a more laid-back affair, head to the tasseled parasols of the alfresco lounge, with swaying palm trees above and soft sand at your feet.
Even better: you can take a refreshing dip in the temperature-controlled infinity pool before your meal arrives, absorbing uninterrupted views of the Dubai Marina skyline and the glimmering Arabian Gulf.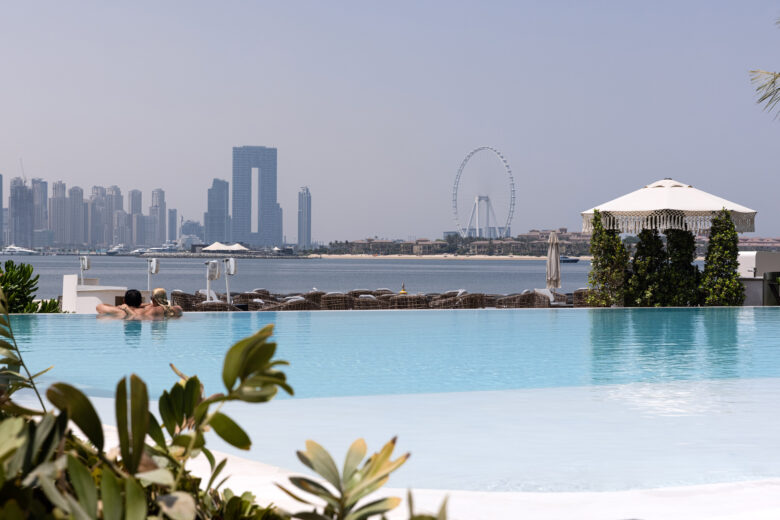 If you prefer a touch of grandeur, head inside to the indoor restaurant and bag a table by the open kitchen (culinary enthusiasts: take mental notes for your own cooking)—or settle down in one of the cozy booths for a more intimate setting.
We at Luxe Digital recently sauntered by to sample the indoor menu, and we can attest—it was exquisite.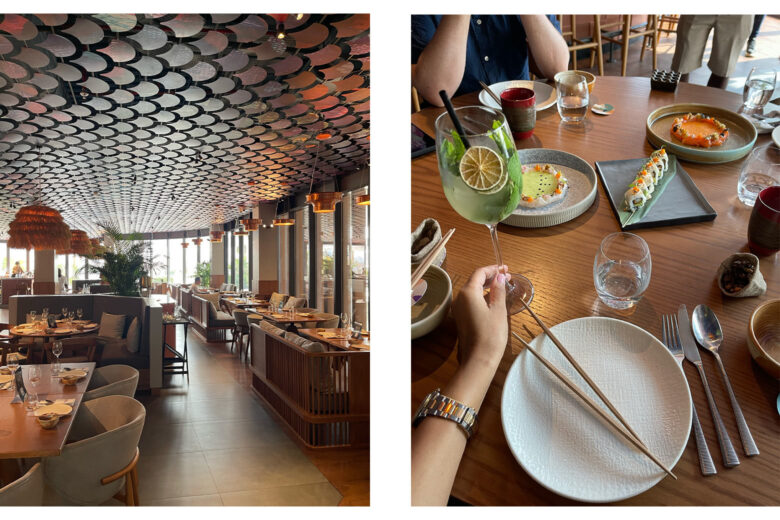 Fusion Peruvian cuisine by Chef Carlo Valentino
Allow us to introduce you to Carlo Valentino, hailing straight from Peru and carrying over 15 years of experience under his belt. A passionate proponent of all things foodie and Peruvian, Carlo takes you on a mouthwatering journey through iconic culinary elements from the country's regions.
Naturally, you can't (and shouldn't) ignore the Peruvian influence radiating from every pore of Playa. Which, of course, means that ceviche takes center stage. If you're not familiar with ceviche, no fear: it's Peru's most famous dish, and is proudly declared as an intrinsic part of the nation's national heritage.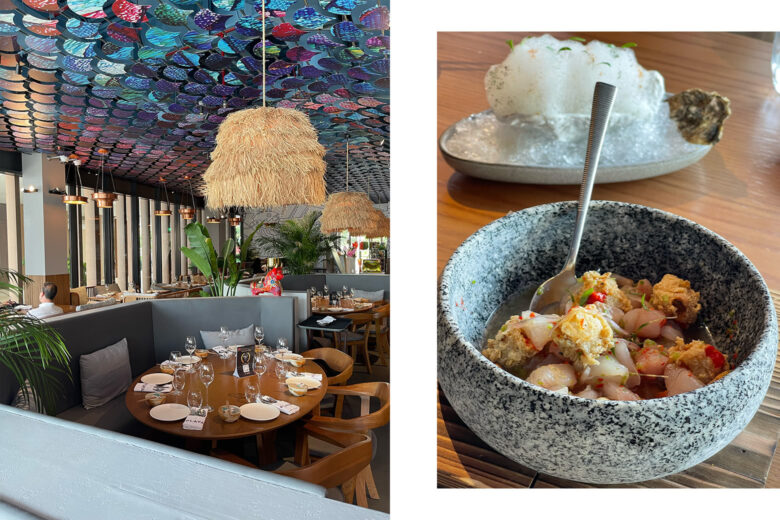 Composed of raw fish chunks marinated in freshly-squeezed lime or bitter orange (known as naranja agria) juice and mixed with sliced onions, chili, and a generous dose of salt and pepper, ceviche is a tastebud explosion. The simplicity of the ingredients and punch of the seasonings combine to craft a dish that captures Peruvian culture, and it's not to be missed.
Anything but a one-trick pony, Carlo is a virtuoso at Nikkei Peruvian cuisine—a captivating fusion of traditional Japanese methods and recipes, infused with Peruvian ingredients. The ultimate synthesis, you'll find Japanese culinary cornerstones like miso, ginger, soy, and wasabi integrated with classic Peruvian elements like Andes potatoes, corn, and yellow pepper. The result? A sensational balance of Far East meets Latam cuisine—and believe us: it's delightful.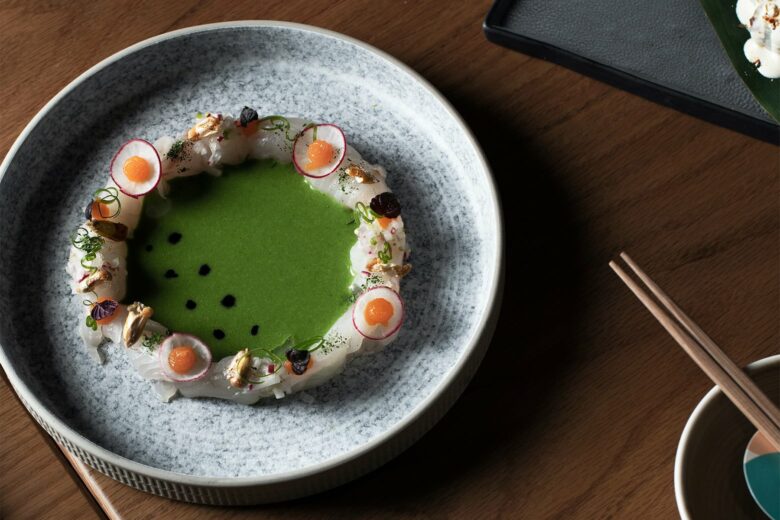 Peruse the menu and discover a mouthwatering variety of Grade 5 Wagyu beef, protein-rich chicken, juicy lamb, and nourishing vegetables spanning the selection—you're sure to find a new favorite. Explore the all-out Peruvian Crudo Bar, or opt for the Nikkei Bar to discover delicate fusions with a Japanese touch.
Dish highlights
Tiraditos: A Peruvian dish of raw fish. You must try the Salmon, served elegantly in a slightly spicy curry-like sauce, and the Seabass with a subtle hint of burnt jalapeno.
Playa Classico: Our absolute favorite ceviche—and soon to be yours, too. Discover the delights of marinated seabass, crispy squid, ají amarillo peppers and chili-laced tiger's milk. But that's not all: tuck into truffle scallop nigiri with three different types of truffle with this dish, plus coriander and spiced tiger's milk, and finally, seabass tiraditos with sweet potato, black quinoa and a type of Peruvian corn, cancha.
Makimono Acevichado: Open wide for the deliciously meaty Wagyu maki. Each piece is a luscious mouthful of tender Wagyu and cloud-soft sushi rice, topped with fresh spring onion for the ultimate mouthwatering bite.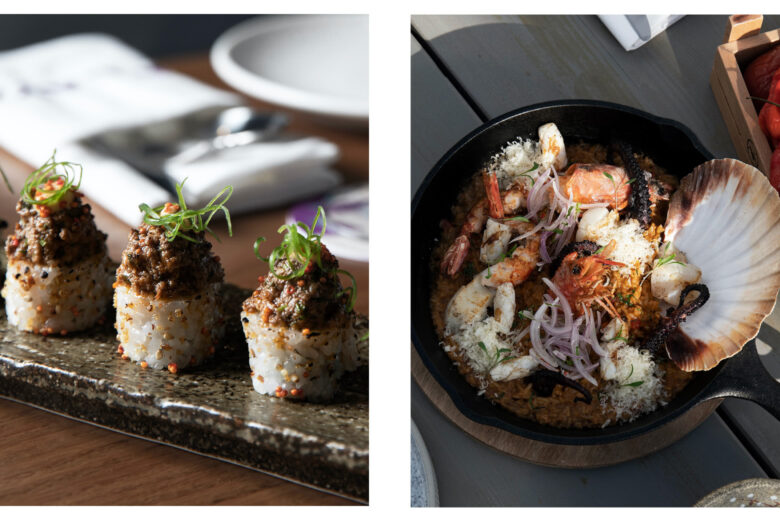 Arroz Con Mariscos: This Peruvian seafood paella is crafted from long-grain rice, bursting with all the flavors of the accompanying squid, king prawns, scallops and ají amarillo peppers.
Lomo Saltado: Steak lovers, listen up: Lomo Saltado is a melt-in-the-mouth marinated sirloin served in delicate cubes. Indulgent and delicate at once, this dish is a sweet spot.
Crema Volteada: Seeking something sweet? Finish your meal with this sponge cake, made with three different types of milk (coconut, condensed, and evaporated) and laced with popping candy—a clever addition by Carlo himself, adding effervescence and childhood nostalgia to this classic Peruvian sweet treat.
And to drink:
Keeping masterfully within theme, extensive signature Latin American-inspired cocktails and other craft cocktails make up the tempting drinks menu. And naturally, the Peruvian spirit Pisco takes the spotlight here.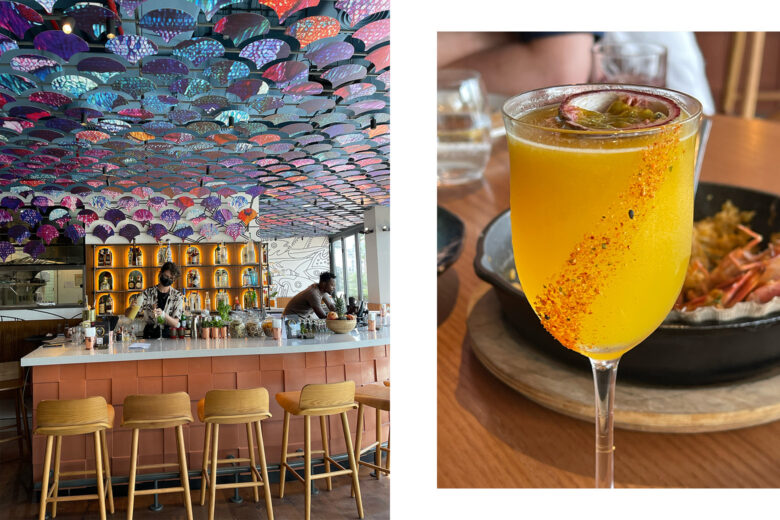 Pisco Sour: An uplifting blend of pisco quebranta, fresh lime juice, sugar, egg white, and bitters.
Passion Piccante: The clue's in the name—this spicy cocktail is crafted from pisco quebranta, maracuja-granadilla, fresh lime juice, and a dash of chili.
Al Fresco signature sip: Our post-meridian, pre-dinner favorite—a light concoction of gin, elderflower, mint, yuzu, Scavi & Ray prosecco, and yuzu air.
The aesthetic
It's all about boho-chic nowadays, and Playa didn't miss the memo. Yes, you'll be immersed in a bold world of tasteful art, free-spirited decor, and vibrant hues that echo Peru's rich culture. Expect earthy neutrals, glowy lighting, clean alfresco whites, and splashes of color all-around.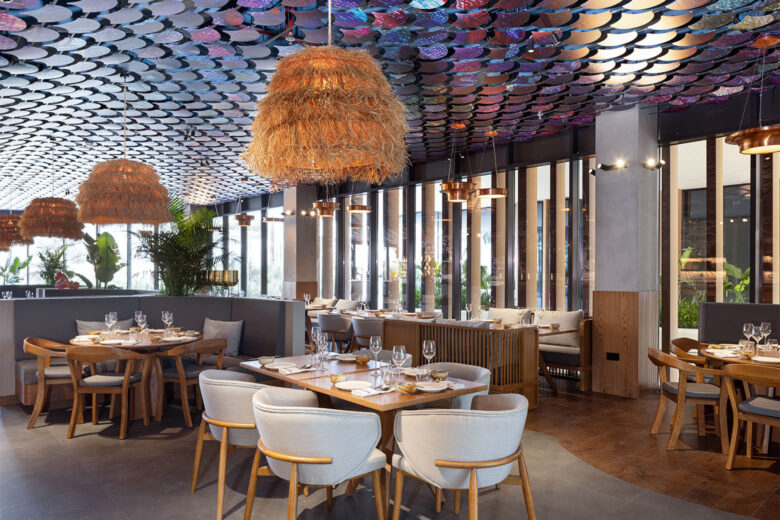 Upon entering reception, you'll notice even the color scheme is designed to make you feel renewed. Black and white sketches adorn the walls, exuding purity and simplicity that can't help but penetrate your spirit.
This is a destination where new perspectives are actively encouraged, so be sure to look up: the ceiling is embellished with shimmering scales in shades of orange, pink and purple, reminiscent of ocean fish and bringing the beauty of the sea indoors.
Our only criticism? It's not the easiest to access. The best way to get there is to stop at the parking just after the Adagio Premium The Palm, then take a ride on one of the complimentary golf carts riding to and from Playa. But trust us: this little extra effort is a thousand times worth it.
| | |
| --- | --- |
| Address: | 445Q+WC – The Palm Jumeirah – Dubai |
| Opening hours: | 10AM–2AM |
| Phone number: | 80075292 |
| Website: | www.playadxb.com |