Going sober used to mean a sad glass of lime and soda. But that's all changed. A new class of non-alcoholic spirits have arrived on the scene and suddenly everyone wants to be designated driver.
Talk about a glass of the good stuff. These non-alcoholic spirits are grown-up, refined, sophisticated, and fun—all at the same time. They're pretty much everything we like about alcohol minus the alcohol. They're even free of sugars, sweeteners, allergens, and additives.
With no nasties—and no nasty hangover—these new alcohol-free offerings make not drinking a no brainer. And did we mention the best non-alcoholic drinks are also low in calories?
From zero proof spirits designed as substitutes for gin, whisky, and tequila, to beverages that aren't like anything we've ever tried before, these non-alcoholic drinks will make detoxing, dieting, and dry January actually sound rather tempting.
So whether you're a veteran teetotaller or are simply seeking something new for your drinks cabinet, here are the top non-alcoholic spirits for a sober bar.
17 best non-alcoholic spirits
Seedlip: Best overall non-alcoholic spirit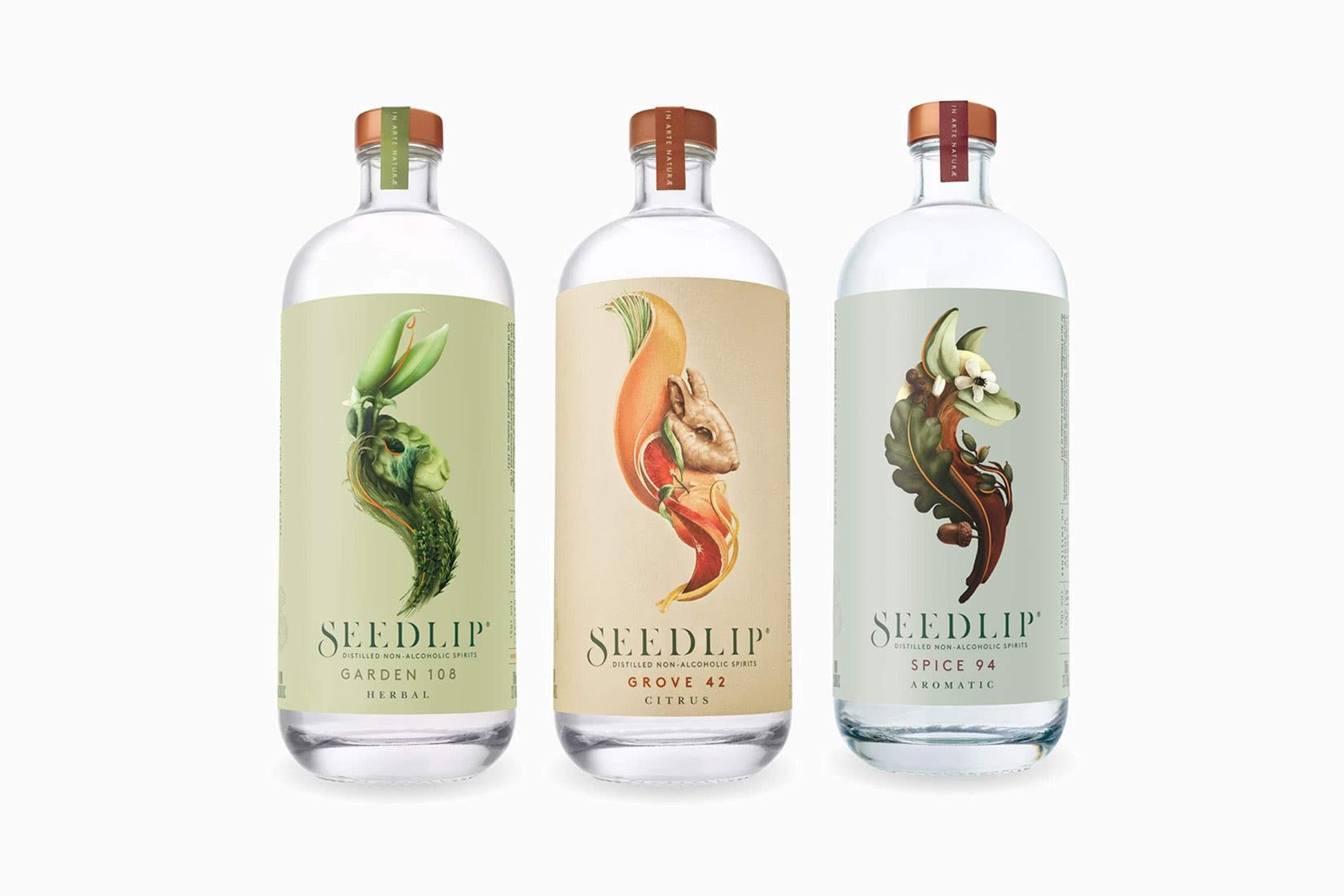 Seedlip took the drinking world by storm when it launched its pioneering non-alcoholic distilled spirit—the first of its kind. Today, it effortlessly outshines all other alcohol-free drinks with its three unique zero proof spirits, inspired by nature and made with premium ingredients.
There's Spice 94—an intricate blend of Jamaican allspice berry, cardamon, and two types of bark. Then there's Garden 108, which offers all the charm and romance of the English countryside in spirit-form—think notes of peas, hay, spearmint, rosemary, and thyme. And finally, lively and zesty Grove 42 with its citrusy blend of orange. Delicious when mixed with ginger ale.
Craftily described as what to drink when you're not drinking, Seedlip reviews will attest to the fact that this is the ultimate refined non-alcoholic drink.
Best for: Proving that not 'drinking' is the best decision you ever made.
Kin Euphorics: Most innovative alcohol-free spirit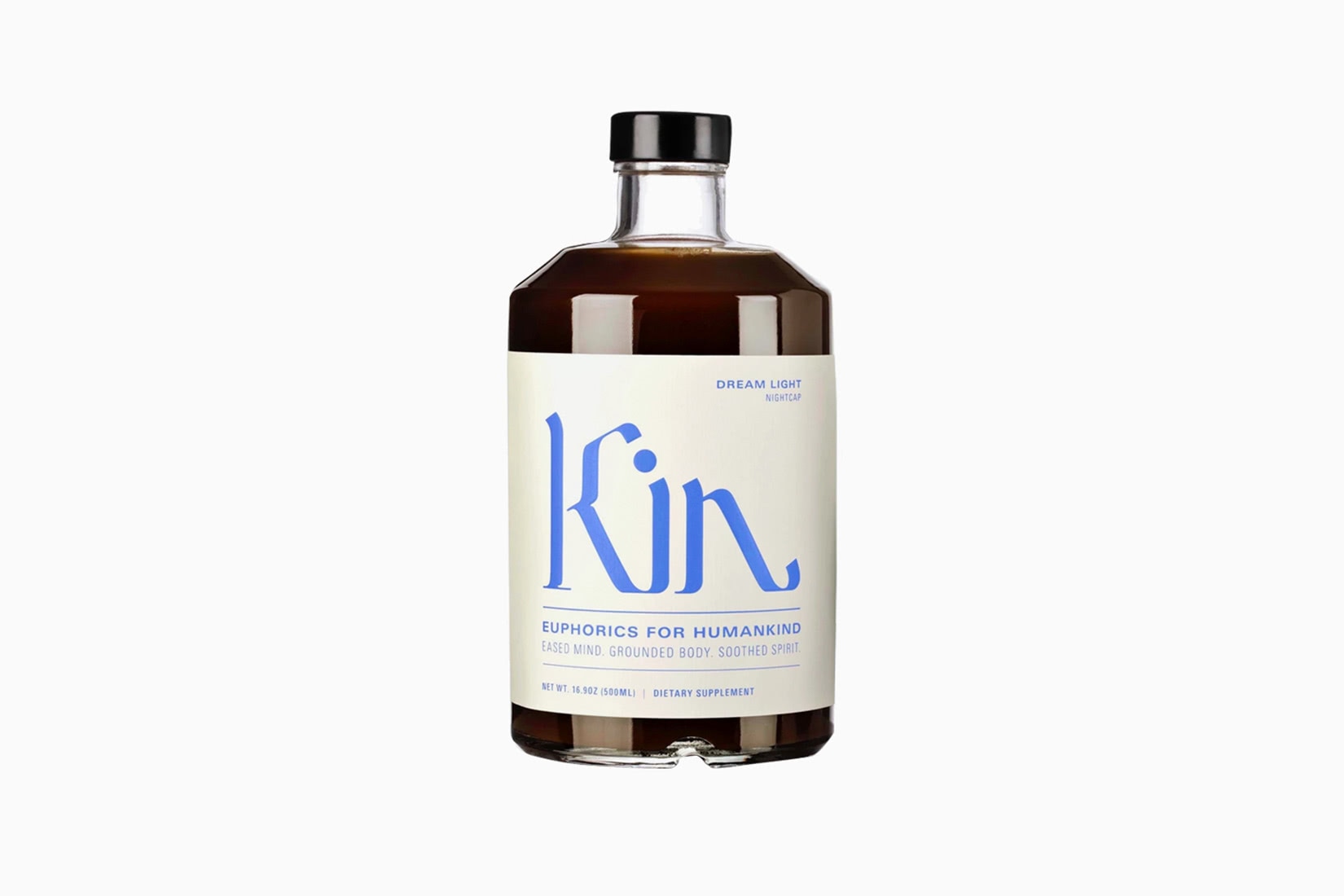 Transforming the ancient tradition of drinking with a spirit that contains no alcohol yet gives you the same seductive buzz of real booze, Kin Euphorics makes mood-defining spirits. Basically, drinks that make us better versions of ourselves.
Kin Euphorics contains adaptogens that moderate stress responses as well as nootropics to improve cognitive functions. Meanwhile, botanicals with therapeutic benefits also make the drink taste delicious—as confirmed by Kin Euphorics reviews.
From Kin Spritz, the brand's most popular spirit—sparkling and playful—to the High Rhode—tart, floral, and fun—each of the brand's unique offerings deserves some time on your taste buds. Our favourite is Dream Light, the perfect alcohol-free nightcap with reishi mushroom to reduce cortisol and passionflower to relieve stress.
Discover how to drink differently with Kin Euphorics. Easily the most intriguing alcohol-free spirit out there.
Best for: Making forgoing the booze fun.
My Celtic Soul: Best non-alcoholic 'whisky'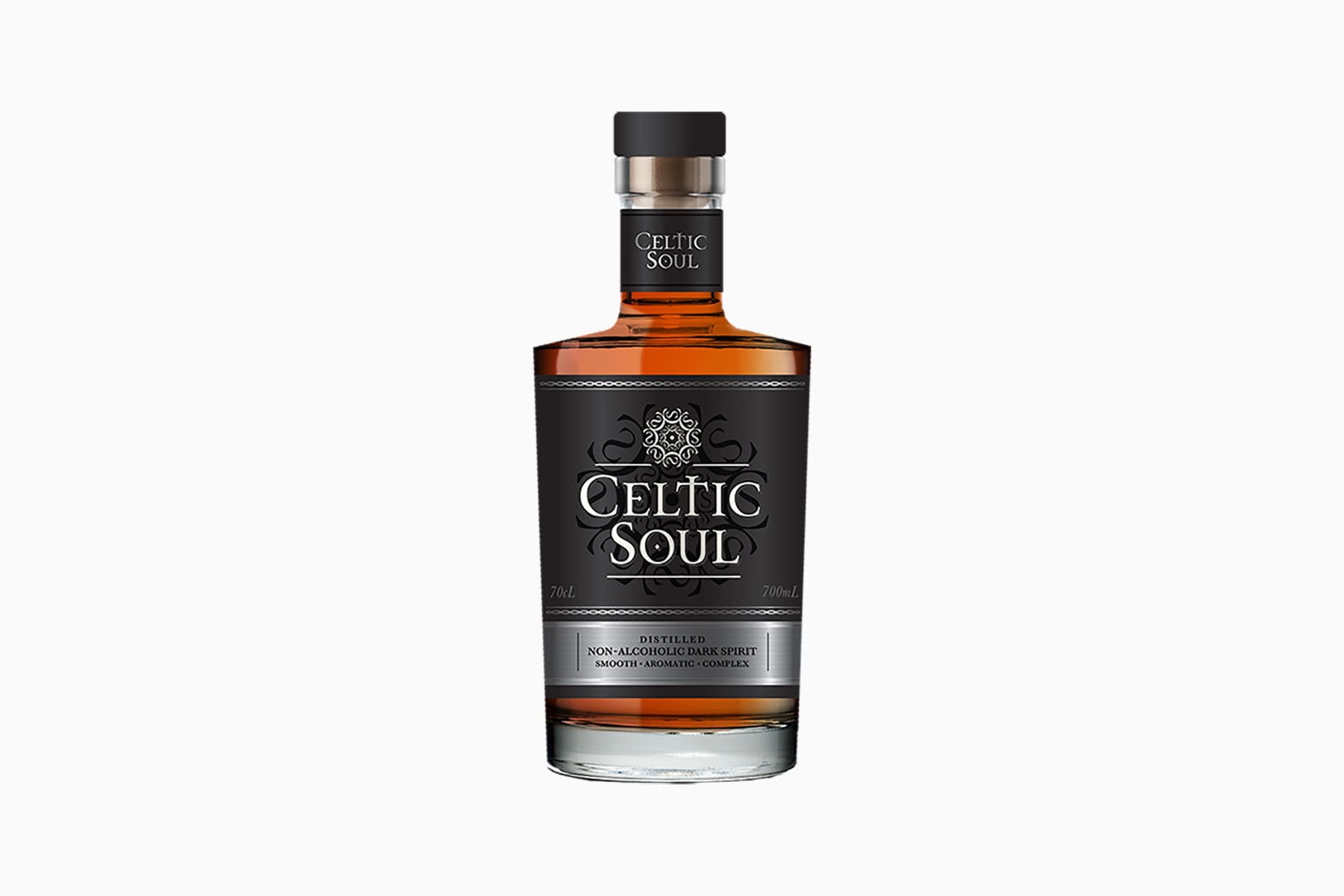 They may call whisky the water of life but after a few too many glasses, it can feel like the opposite. Which is why we need My Celtic Soul, a drink that tastes close to whisky but won't leave you with a throbbing head the next day.
My Celtic Soul's non-alcoholic whisky comes in a sturdy bottle just like the world's best whiskies. More importantly, this dark spirit has an exquisite taste of vanilla, spices, and oak wood flavours—as smooth, aromatic, and full of depth as the golden nectar itself. Plus, it will leave you with that wonderful warm feeling that makes getting through dry January a walk in the park.
Enjoy My Celtic Soul with some proper whisky glasses and the experience will be complete.
Best for: A decadent yet danger-free dram.
Spiritless Kentucky 74: Best non-alcoholic 'bourbon'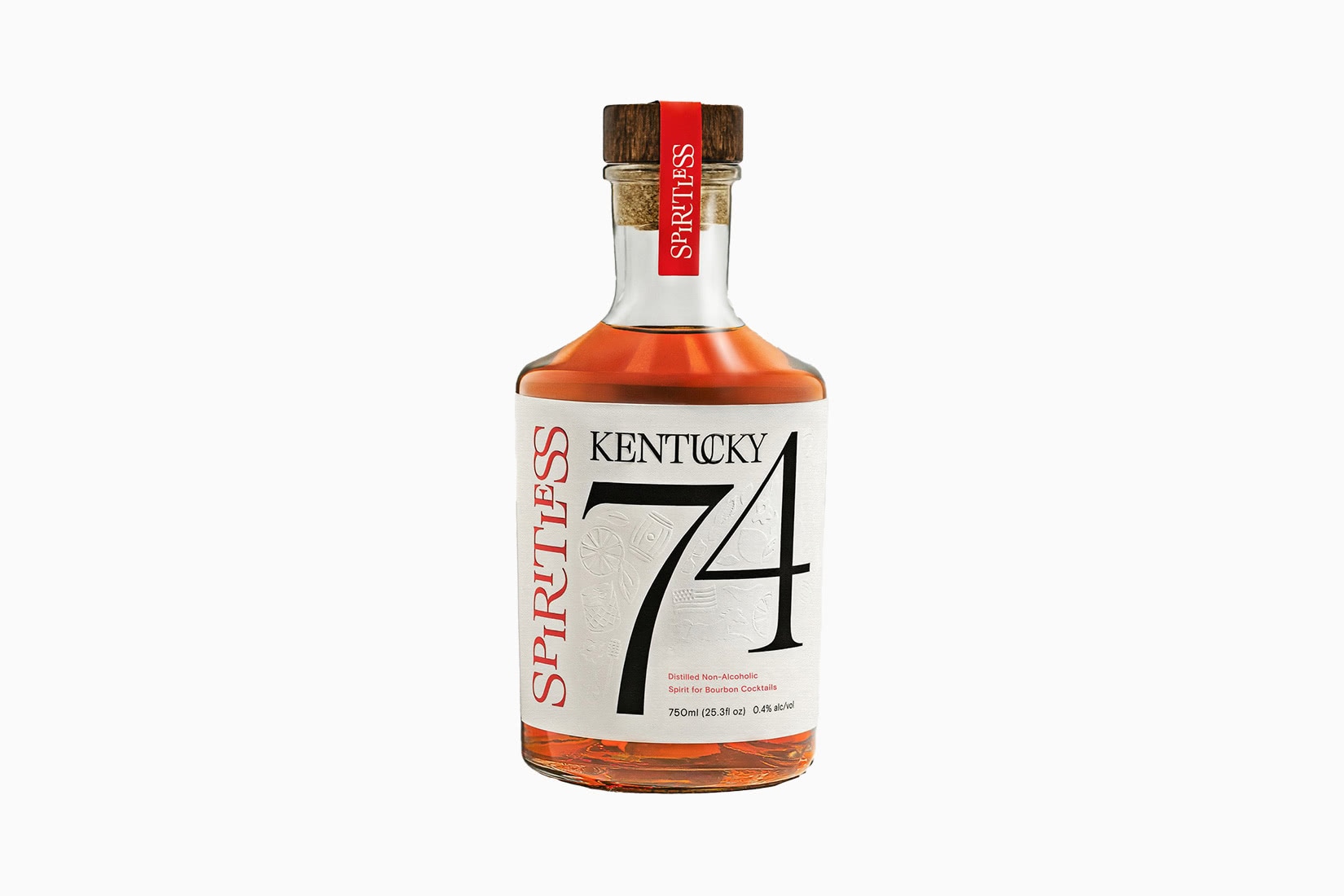 Kentucky 74 is the perfect bourbon substitute for all you sober-curious drinkers. This distilled non-alcoholic spirit by Spiritless is designed to take the place of bourbon in all your favourite cocktails and has the benefit of being free of the hard stuff and containing far fewer calories.
Sip away on an Old Fashioned or Mint Julep guilt-free with Spiritless Kentucky 74, a high-quality spirit with a superbly smooth finish. Notes of caramel, vanilla, and oak will have you betting money that it's the real thing. Perfect for making premium virgin drinks.
Kentucky 74 is the ultimate addition to your home bar and destined to convert a few drinkers to teetotalism. Bottoms-up.
Best for: Making mocktails that rival the most professional cocktails.
Monday: Best alcohol-free 'gin'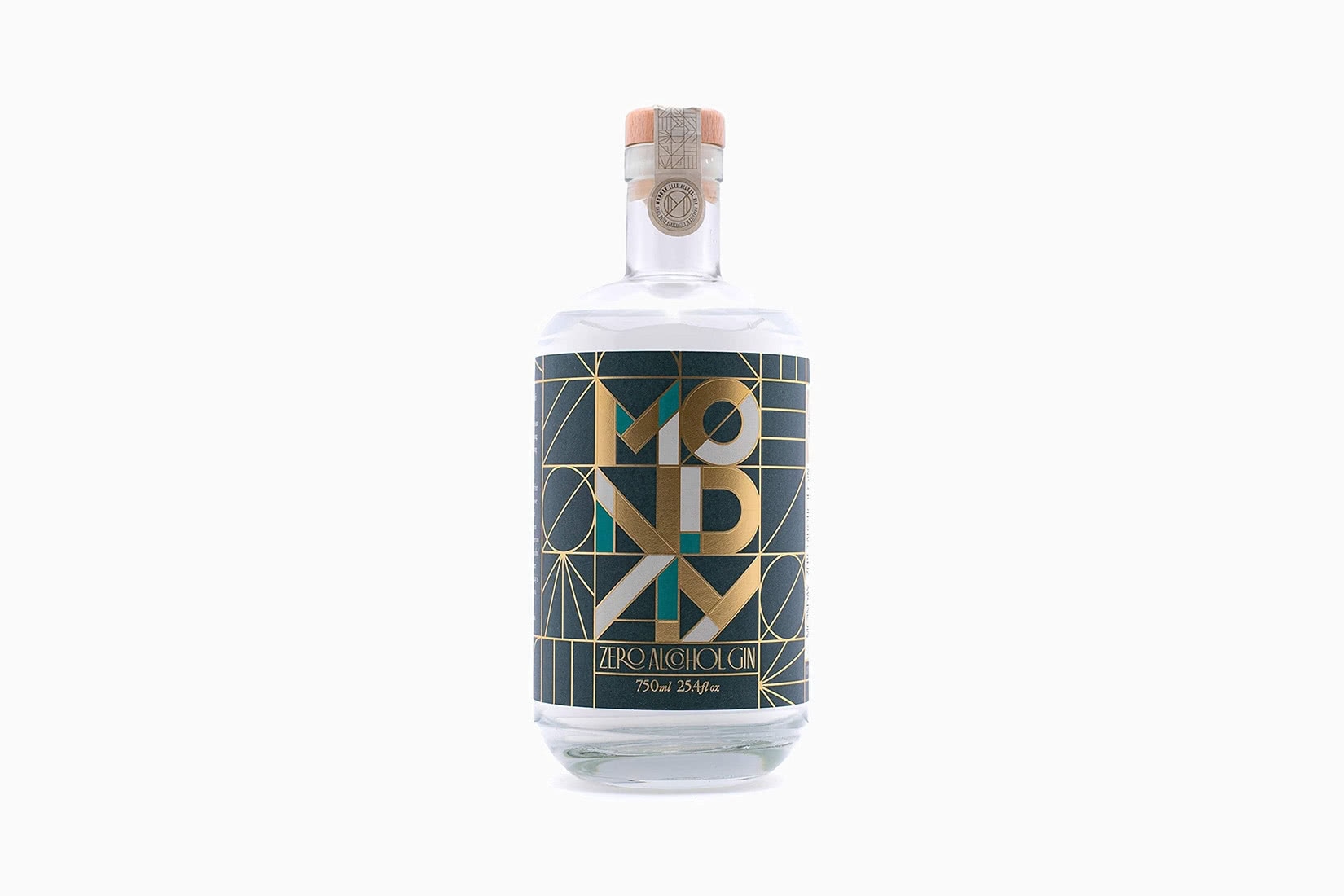 Never say no to a gin 'n' tonic again thanks to this alcohol-free gin from Monday. It's made with a complex and aromatic blend of juniper, natural botanicals, citrus and spices, and is certain to give you the same thrill as holding a gently fizzing glass of the real thing.
Monday gin has got all of the delicious flavour and none of the drawbacks of our favourite go-to drink. And it's not just what this non-alcoholic gin does contain but also what it doesn't. With zero carbs, zero sugars, and zero calories, it's a dream drink for anyone on any kind of diet—or anyone who wants to keep a clear head and their eye on the ball.
Why is it named Monday Gin? Our guess is that it's because you can drink it on a Monday and not feel guilty at all.
Best for: Innocent imbibing on a school night with a zingy zero proof London dry gin.
Fluère: Best non-alcoholic 'rum'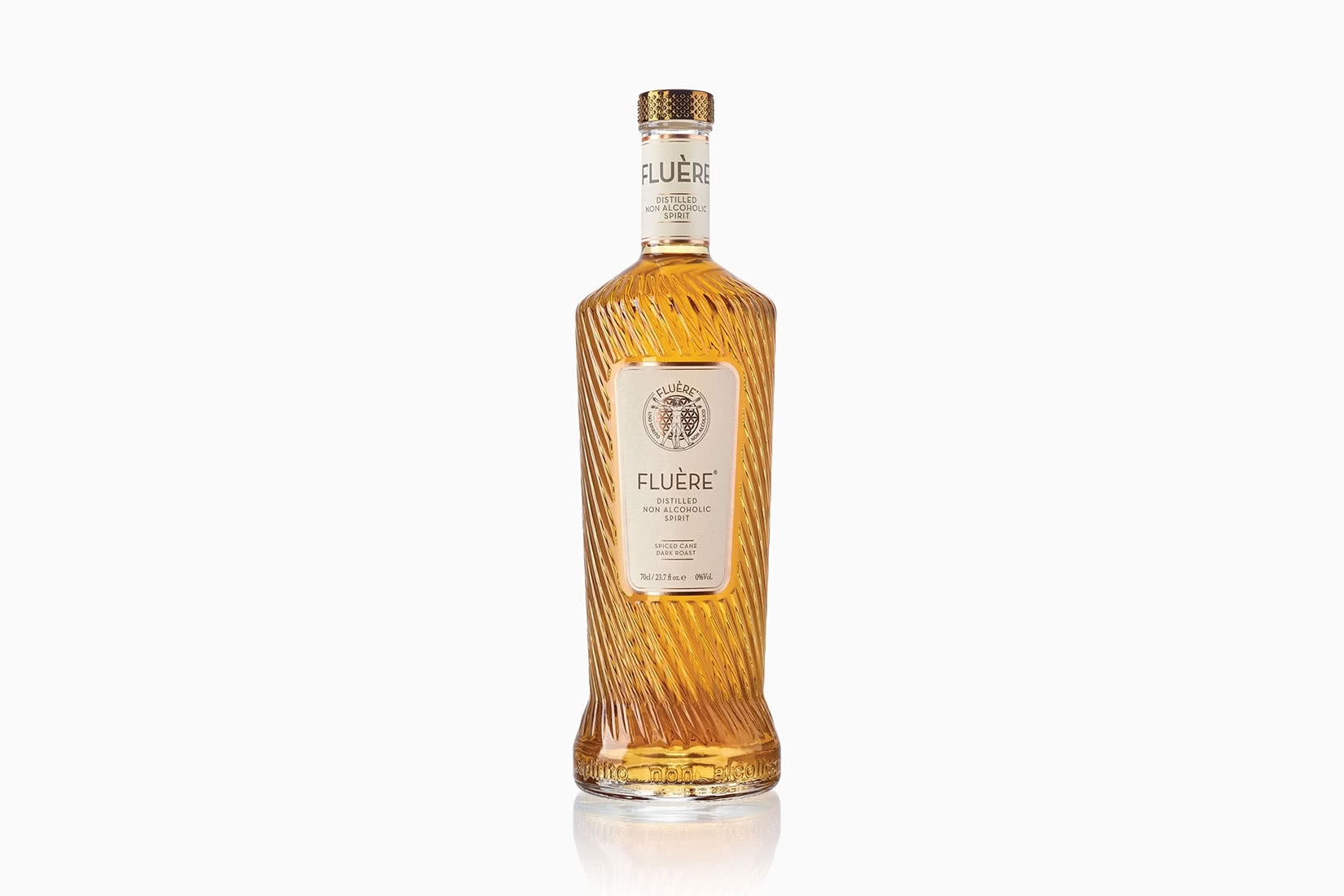 On the hunt for a non-alcoholic rum that makes not drinking the superior choice? Take a sip of this alcohol-free rum by Fluère.
It's got the same complexity and character that we look for from our favourite Caribbean spirit with surprising yet undeniable hints of dark roasted coffee as well as cocoa, liquorice, and tonka beans.
Fluère tastes like rum and that's because it basically is. Just like the real thing, it's been crafted from pure cane molasses. And to ensure optimum flavour, each ingredient has gone through a hydrosteam distillation, extracting those important essential oils that make Fluère a drink-doppelganger for the most premium rum.
Best for: A tropical tipple that's a win for teetotallers everywhere.
ArKay: Best non-alcoholic 'vodka'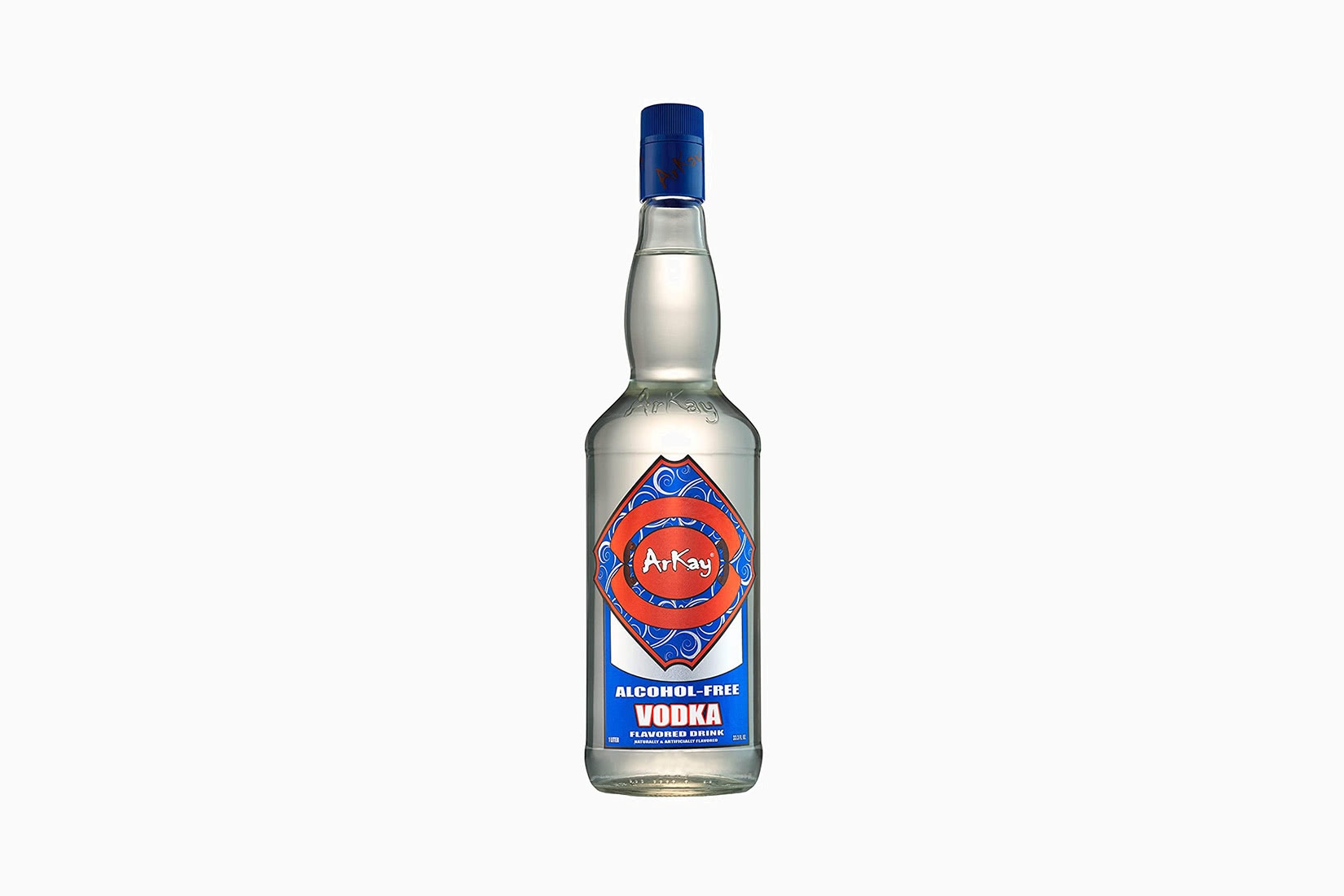 There are a million reasons not to drink—but the best one we've found? ArKay's non-alcoholic vodka. It is the perfect alcohol-free alternative for those who want to go out, hit the town, have a blast—and get up and do a full-body workout the next day.
ArKay vodka has the flavour, mouthfeel, heat, and nose of the best luxury vodkas—plus it's gluten-free, sugar-free, and calorie-free. Perfect for making next-level mocktails that put standard cocktails to shame.
ArKay even has that tingly and slightly astringent taste sure to have you checking the bottle to make sure it really is zero proof as you sip away on two (or three) non-alcoholic cocktails.
Best for: Staying sharp, sober, and sophisticated with a magnificently mixable spirit substitute.
Ritual Zero Proof: Best alcohol-free 'tequila'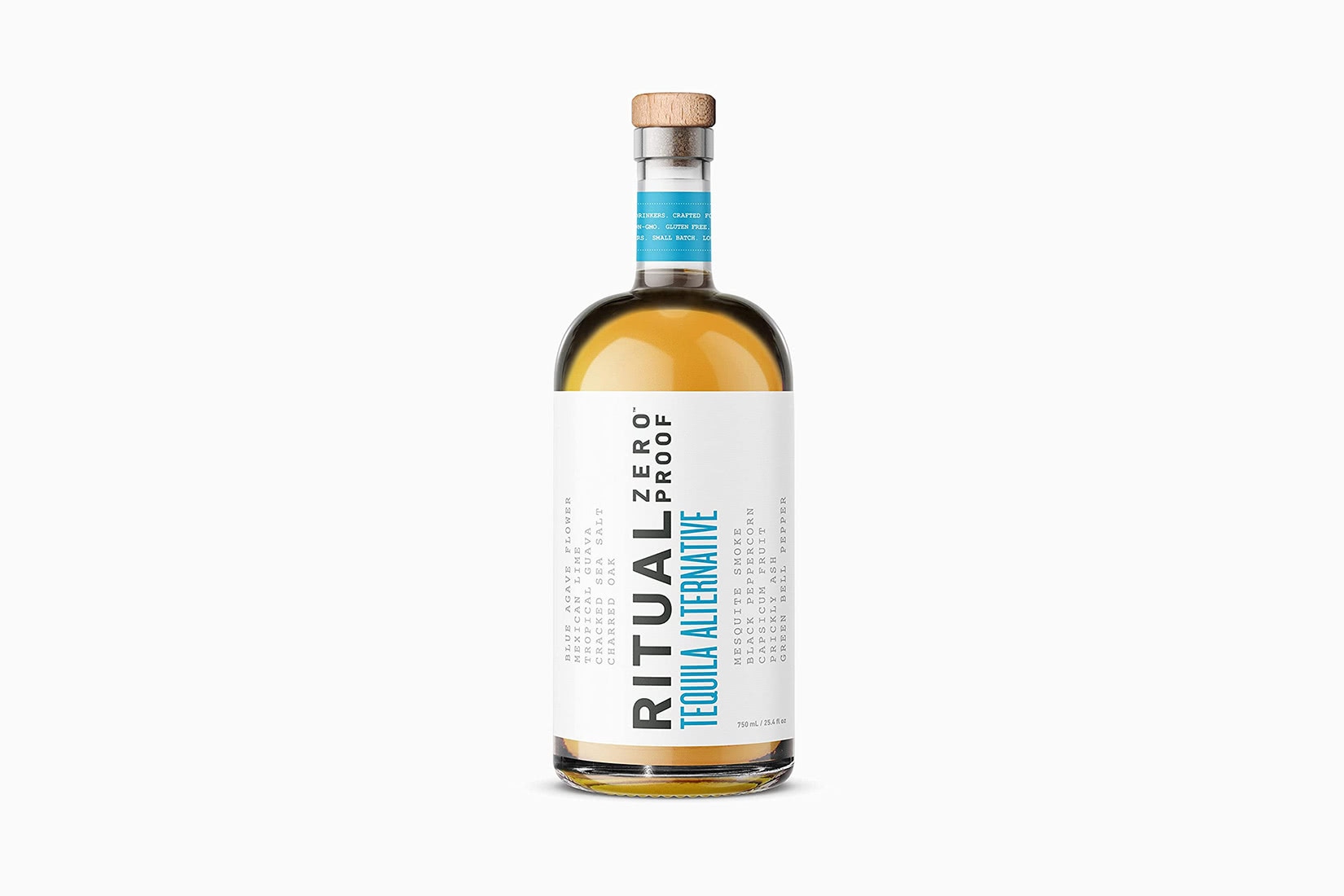 We all love tequila when we're drinking it but few of us love it the next morning. For an award-winning non-alcoholic spirit that brings all flavour and fire of traditional tequila but none of the following-day pain, check out Ritual.
You wouldn't normally associate tequila with clean living and wellness but Ritual is changing that with its healthy tequila alternative that contains no alcohol and minimal calories.
Nothing says celebration like tequila—except perhaps this tequila substitute, with its earthy flavours of blue agave, Mexican lime, and tropical guava. Plus that seductive smokey mesquite finish. Going booze-free suddenly seems like a brilliant idea.
Best for: A spirit so artfully crafted that it turns every sip into a small ceremony.
Lyre's Italian Orange: Best zero alcohol 'Aperol spritz'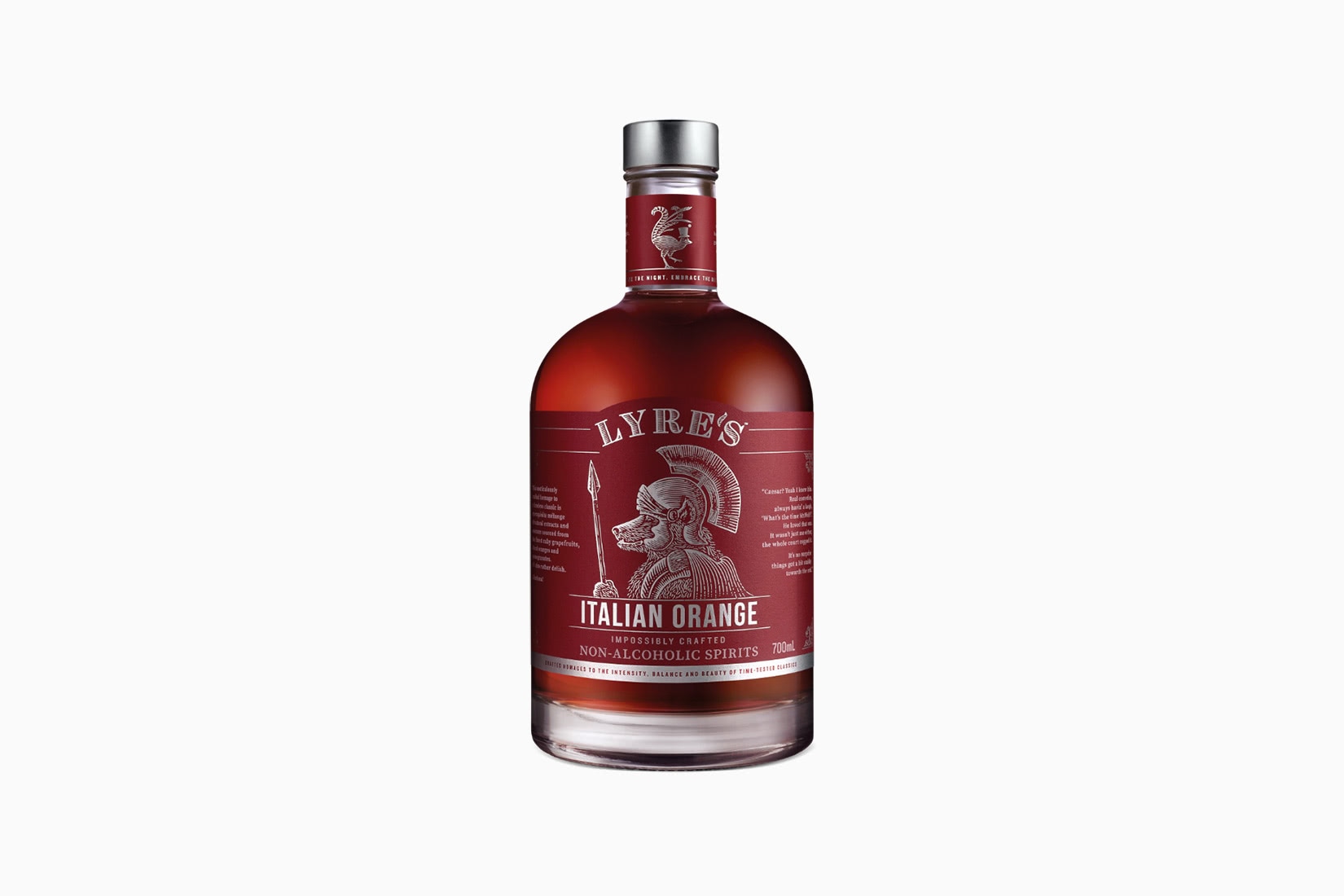 Enjoy the glorious experience of sipping an Aperol Spritz without worrying about your health thanks to Lyre's non-alcoholic aperitif. The brand's Italian Orange spirit captures the distinct bitter orange taste of liqueurs like Campari yet the alcohol content is non-existent.
But Lyre's Italian Orange isn't just a superficial impersonator of an Aperol Spritz. It's actually a strong rival to the Mediterranean classic, with its rich mouthful of citrusy flavours, clear notes of Maraschino, and pithy dry finish. Mix with soda or tonic water for the ultimate feel-good spritz and enjoy this iconic summer cocktail while staying smugly sober at the same time.
Whether you're driving, dieting, or desperate to banish hangovers from your life for good, Lyre's Italian Orange is a compulsory addition to your drinks cabinet.
Best for: An immensely quaffable and thoroughly delectable aperitif.
Lyre's Amaretti: Best non-alcoholic 'Amaretto'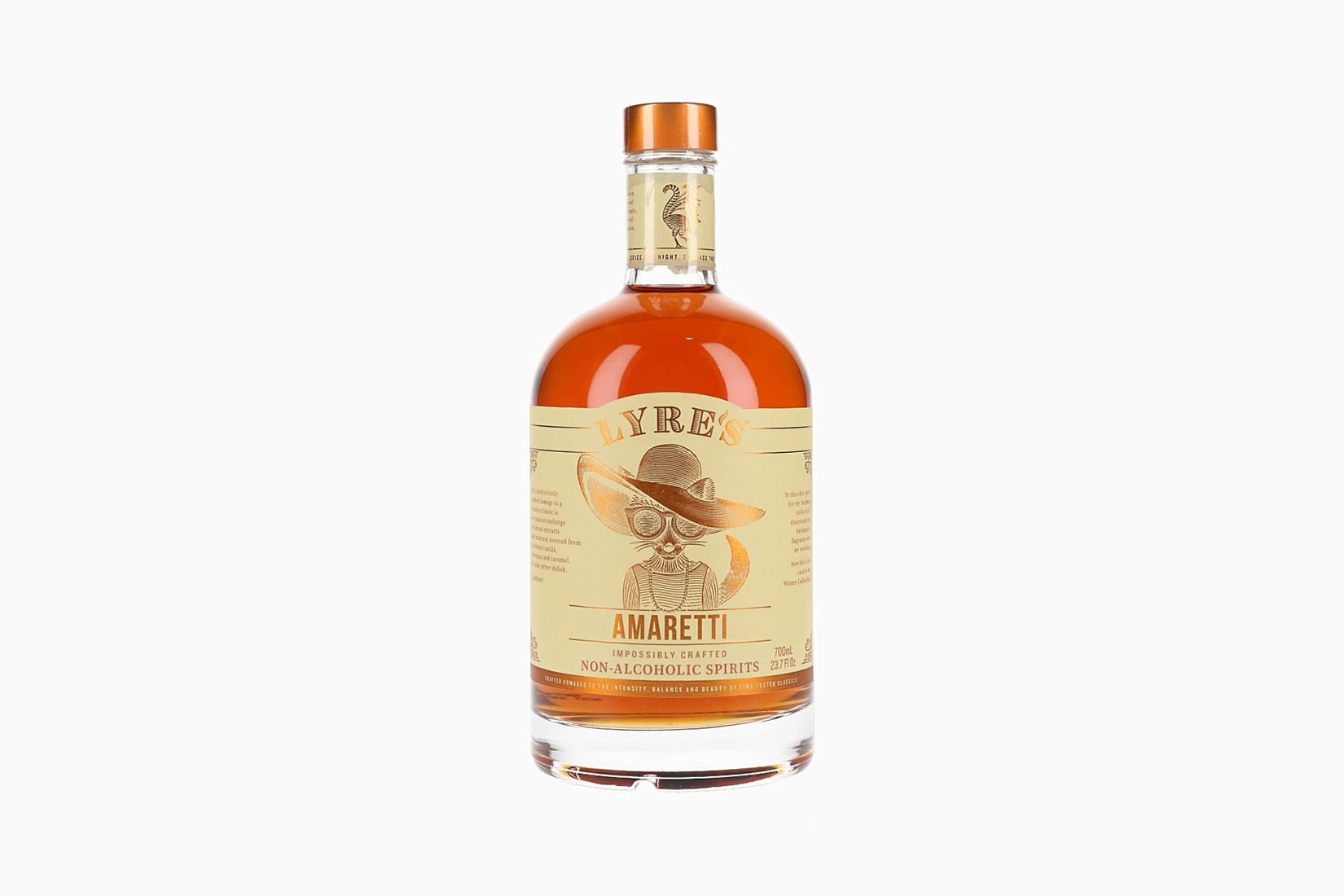 There's nothing quite like Amaretto. Except there is. Lyre's Amaretti is such a dead-ringer for the beloved Italian drink that we're struggling to believe it's alcohol-free. Stimulate the senses without dulling the mind with the nutty flavour of this almond liqueur, one of the best alcohol substitutes.
It's tangy and spicy with notes of candied vanilla too. The sweetness is balanced out by a gently bitter taste and the finish is long, smooth, and generous. Enjoy as a digestive or pour over ice-cream alongside a shot of espresso. You're not drinking so you're allowed to go heavy on the dessert.
Maybe you're a parent who needs a clear head for tomorrow. Or perhaps you're pushing yourself harder at the gym. If alcohol's a no-go for you right now, then Lyre's Amaretti is one of the best non-alcoholic drinks out there.
Best for: A delicious dessert in the guise of a drink.
Three Spirit: Best alcohol-free nightcap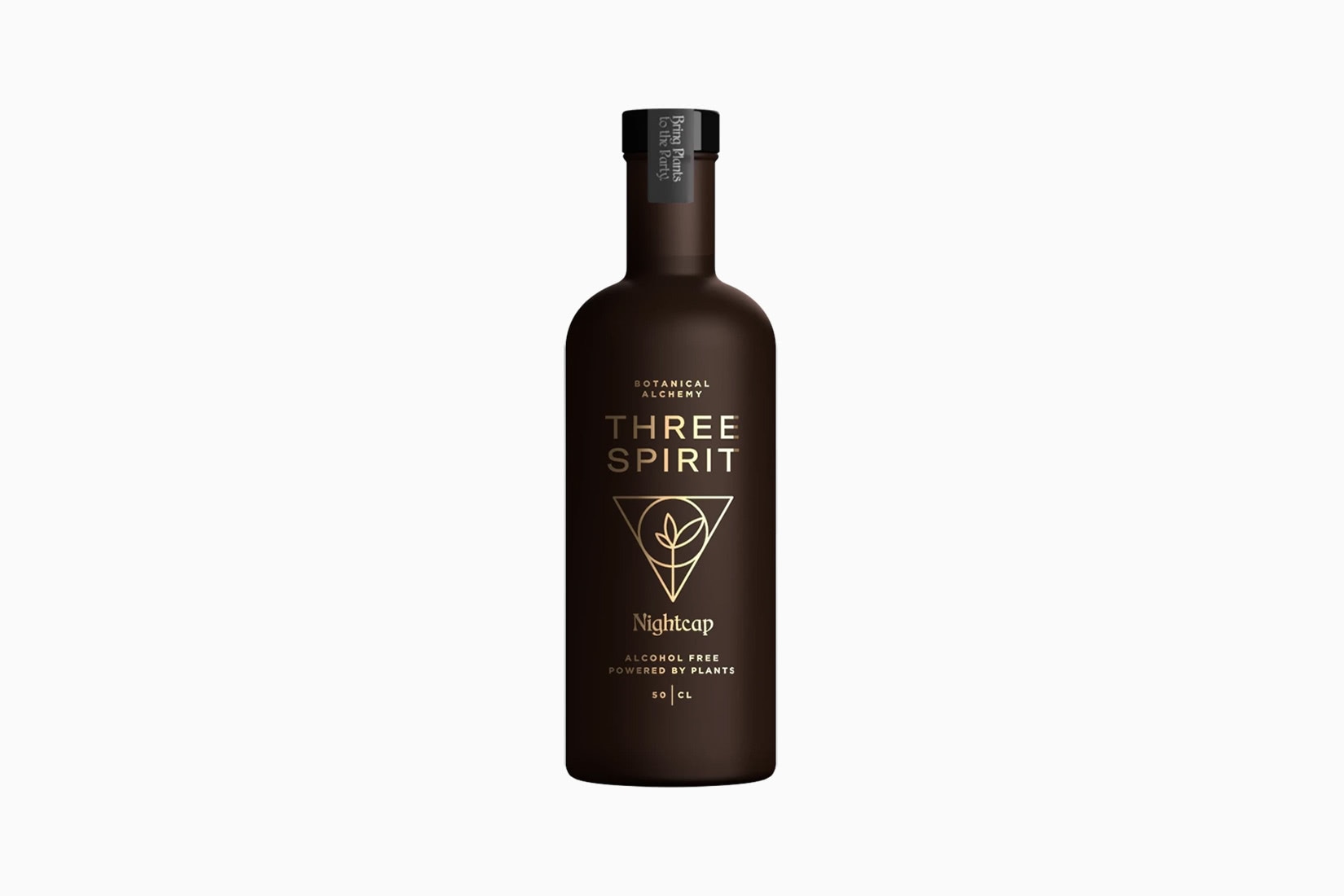 Had a long and difficult day? Desperate for a nightcap? Satisfy your desire for a glass of the hard stuff while keeping it clean with Three Spirit's indulgent Nightcap.
This non-alcoholic spirit is made from a blend of aromatic plants and delicious spices. Imagine a combination of hops, wood, ginger, and cinnamon. Sip it slowly and enjoy the sleek and silky finish of smooth maple, rich vanilla, and hazelnut.
And it's not just your body that will enjoy this drink. Your mind will appreciate the relaxing lemon balm, calming valerian, and adaptogenic ashwagandha to combat stress, while white willow bark brings a comforting feel. In short, all of the decadence and none of that horrible next-morning dread.
Your 'cheeky' nightcap just got a lot less naughty thanks to Three Spirit.
Best for: Saying goodnight in the most sophisticated way possible.
Caleño: Best tropical spirit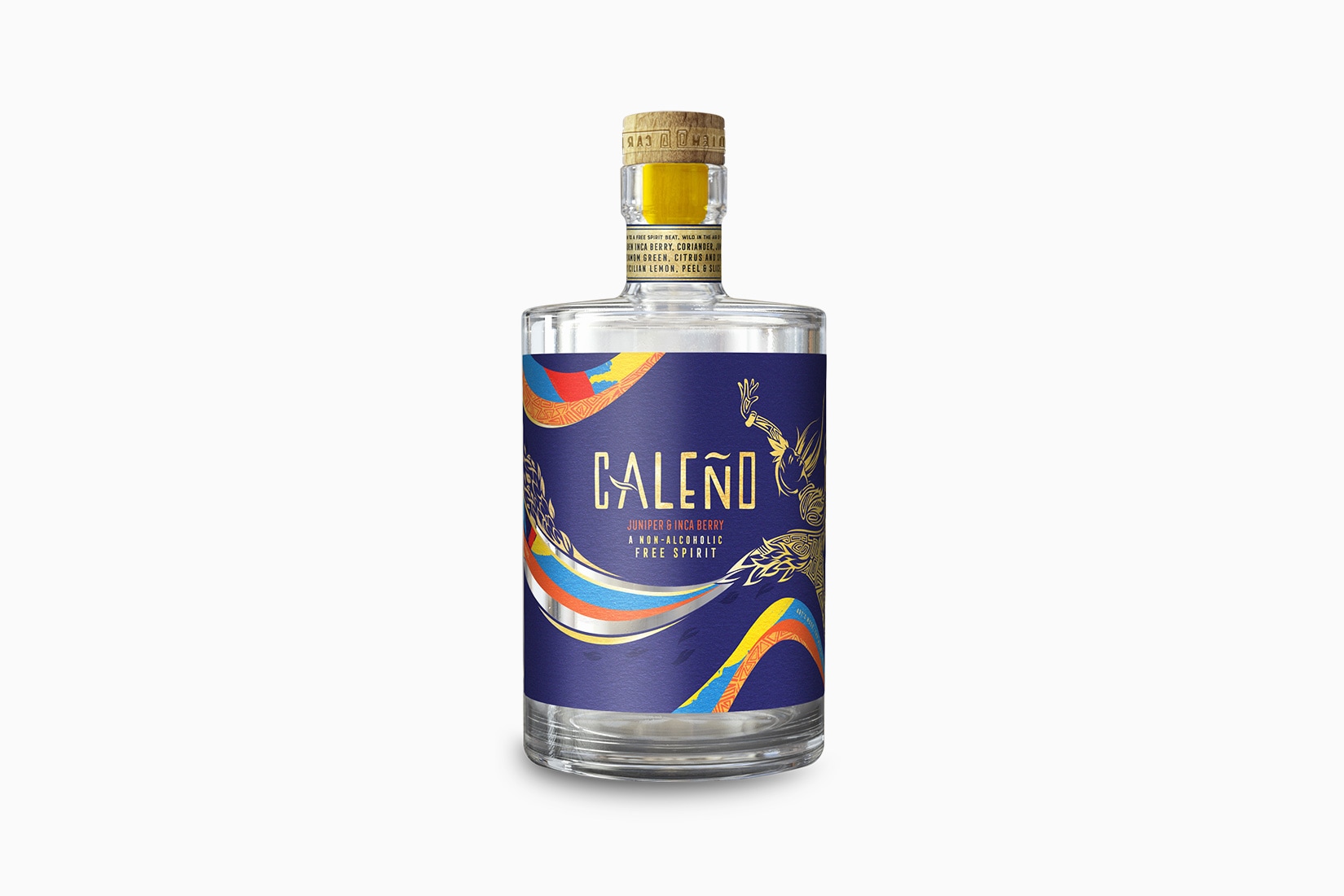 One of the top-rated non-alcoholic spirits is this tropical distilled blend by Caleño. We'd bet money you've never tried a juniper-Inca-berry combination before? Well, there's no time like the present.
Inspired by the founder's heartland of Colombia with its music, sunshine, and spirit, Caleño's drink is not just a perfect alternative to a gin and tonic. In many ways, it's actually superior.
This unique beverage is sweet and tangy with pineapple, mango, and all the best citrus fruit flavours, as well as spicy botanicals, collaborating together to capture the soul and essence of Latin America. The addition of intriguing and nutrient-rich golden Inca berry makes it something extra special.
Caleño's distilled non-alcoholic spirit is an exotic sensory experience and as close to the elixir of life as we'll ever come.
Best for: Being transported to the tropics without a guilt trip.
Everleaf: Best zero alcohol 'spritz'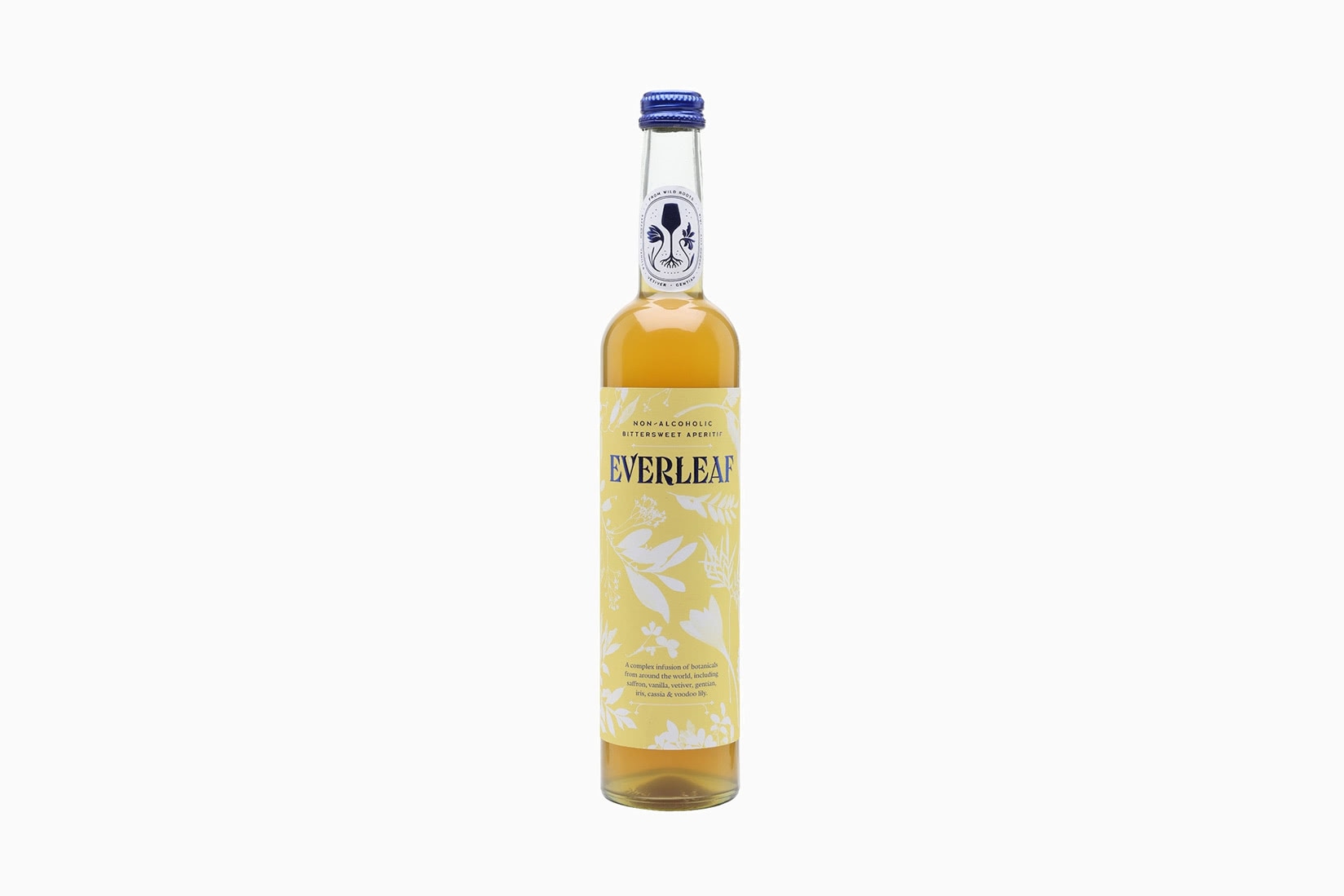 Aperitifs are meant to open the palate, whet your appetite, and get you ready to enjoy your meal. But they can also make you drowsy and sluggish. Side-step the problem with Everleaf's delicious bitter-sweet aperitif.
Evereleaf's founder is a conservation biologist and bartender, so you can trust him to know his botanicals. This spirit contains vanilla, gentian to stimulate digestion, and iris. The result is a bittersweet drink that's wonderfully refreshing, especially when mixed with soda water or tonic.
Spritz up your standard spritz (sorry, we couldn't resist) with this Everleaf aperitif, one of the best alcohol alternatives. Feel additionally reassured knowing all the botanicals are sustainably sourced.
Live less dangerously but more decadently with Everleaf's Bitter-sweet Aperitif. Your happy hour just got a lot happier.
Best for: Arousing your senses and your appetite.
Heineken: Best non-alcoholic 'beer'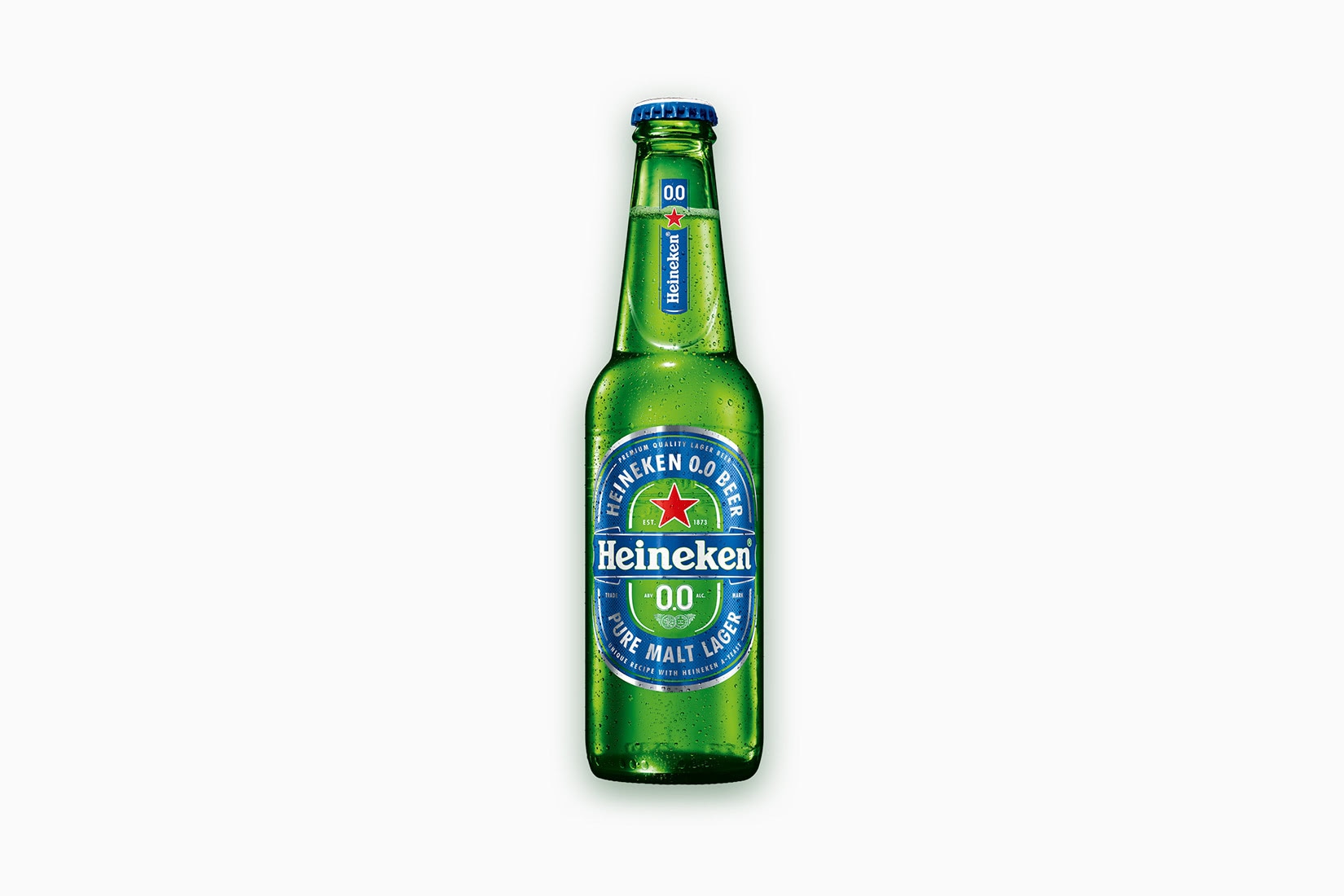 This light and refreshing lager by Heineken has 0.03% ABV, making it the perfect drink for those whose bodies don't like pints as much as they do. It's a beer that will actually make you feel better for having drunk it.
It's twice brewed and fermented with Heineken's unique A-yeast from natural ingredients. The alcohol is then gently removed. The result? A highly drinkable blend with a fruity flavour and slightly malty notes.
We promise that by chugging away on a bottle of Heineken's non-alcoholic beer, you won't feel a single pang of envy for real-beer drinkers in your vicinity.
Best for: Getting boozy without feeling bad.
Jukes Cordialities: Best alcohol-free 'wine'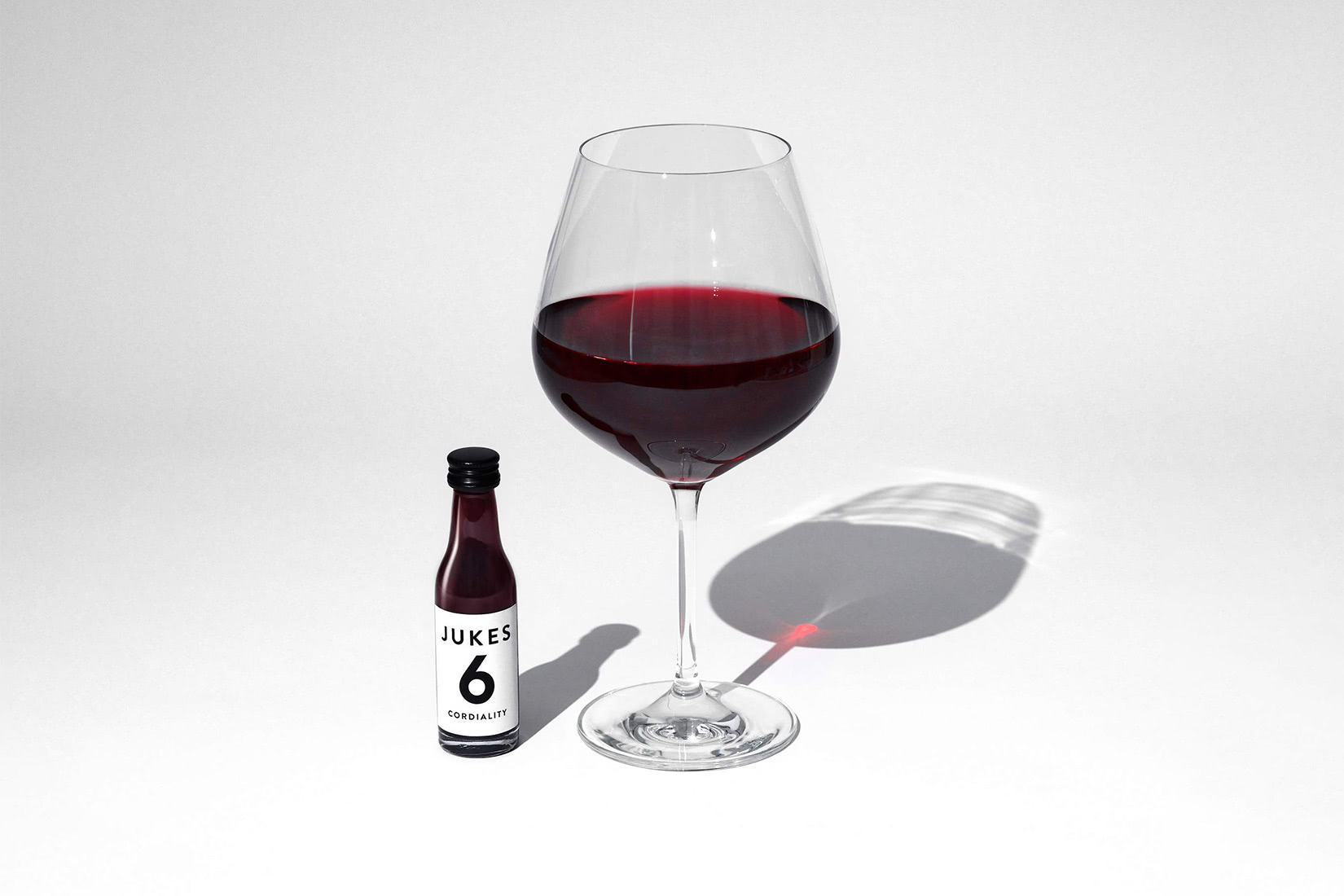 If you're off the 'sauce' for whatever reason, Jukes Cordialities are here to make sure you don't miss out. The creation of Matthew Jukes, a world-famous wine taster, these drinks are a serious contender for the best wine.
Discerning drinkers will find themselves pleasantly surprised by these non-alcoholic drinks, made from a premium blend of fruit, vegetables, herbs, spices, and apple cider vinegar, well known for its health benefits.
A drink with health appeal as well as happy hour appeal? We'll take a glass of that. Pour your Jukes Cordialities into a wine glass and consider it alcohol-free wine. This alcohol substitute does everything wine does with the bonus that you'll wake up smug and spritely in the morning.
Best for: Showing that being 'good' needn't be boring.
Fortnum and Mason: Best non-alcoholic 'rosé sparkling wine'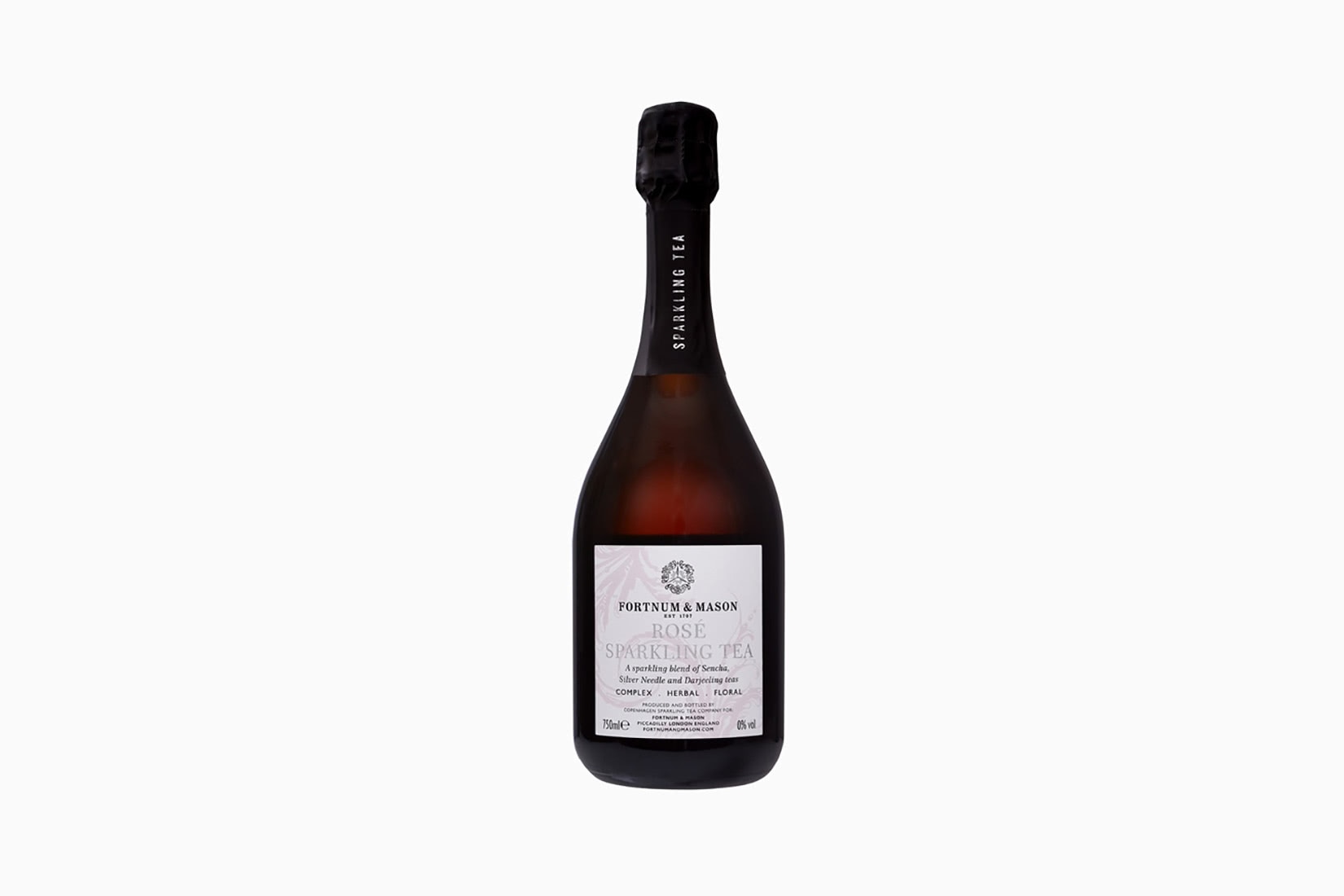 Quenching your thirst shouldn't cost you your health and this rosé sparkling tea from Fortnum and Mason is here to ensure that it doesn't. It may refer to itself a 'tea' but we would call it a non-alcoholic sparkling wine. With its crisp and dry taste, it's a premium rosé in everything but name.
Expect notes of tropical fruits, cranberry, hints of ginger, and layers of Darjeeling—unexpected but exceptionally pleasing. There's even some fresh Japanese Sencha in it. This remarkable blend has both structure and complexity and feels beautifully fresh. The finish is as long and round as your favourite summer wine.
In two words? Very drinkable.
And did we mention it's only got 12 calories per 100ml? We're finding it very hard to say no to Fortnum and Mason's rosé sparkling tea.
Best for: Getting in the party mood with a dazzlingly decadent drink.
Château De Fleur: Best alcohol-free 'champagne'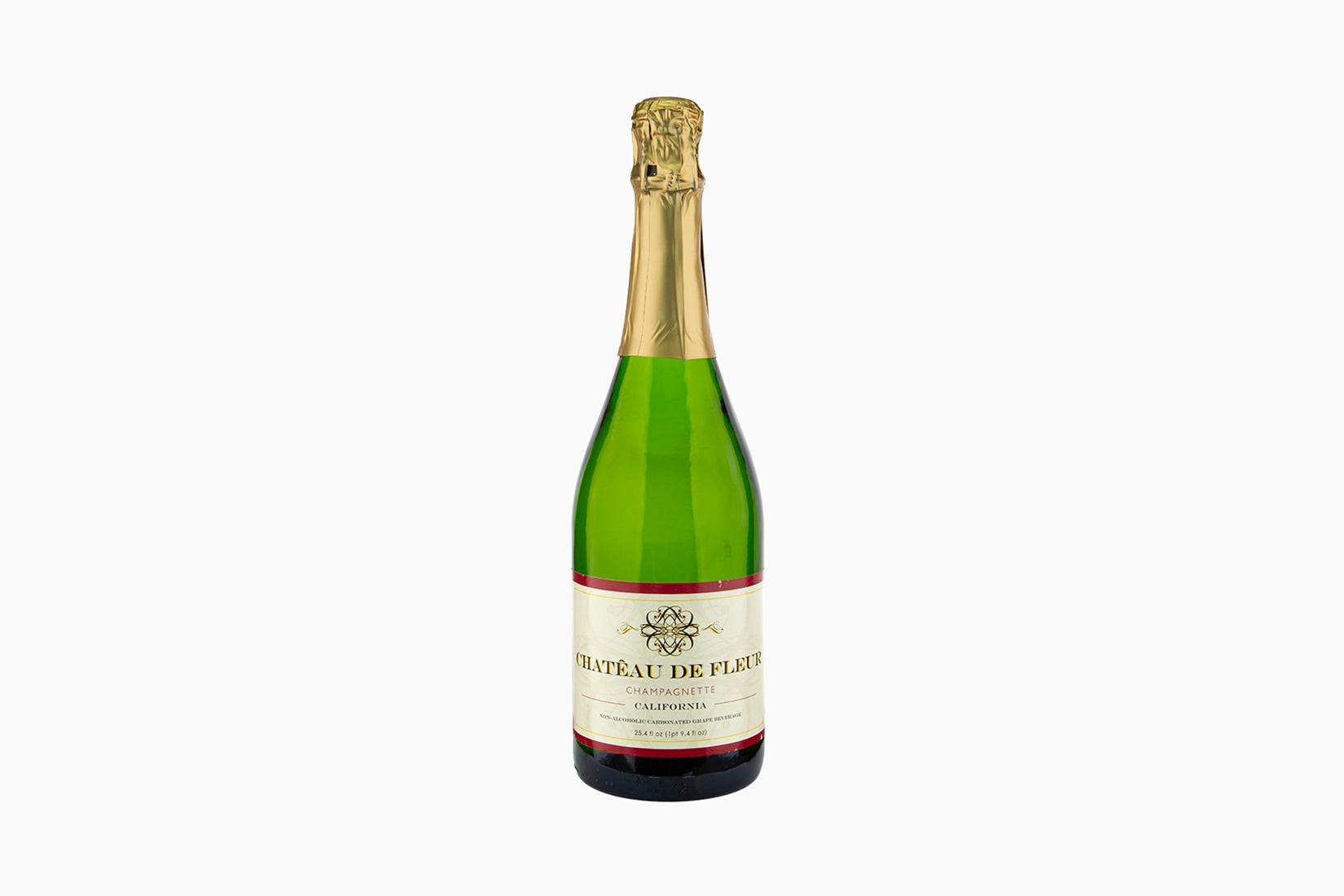 Nothing ruins a glass of bubbly like contemplating the hangover waiting for you. The solution? Château De Fleur's non-alcoholic champagne. Hailing from California, it's crisp and refreshing with flavours of apple and peach.
The perfect drink to mark a special occasion, you can enjoy this non-alcoholic champagne—or champagnette, if you will—just as it is. Or mix it with orange juice for mimosas for a brunch that won't leave you too tipsy. It would also work in a non-alcoholic Buck's Fizz at Christmas for festive guilt-free fun.
Eat, drink, and make merry with Château De Fleur's non-alcoholic champagne. We'll toast to that.
Best for: Making sober celebrations still feel special.
Buyers guide: how to choose a non-alcoholic spirit
When choosing an alcohol-free spirit, there are a couple of things to consider. Firstly, you should understand that alcohol-free is a misnomer for some of these spirits as certain ones still contain 0.5% alcohol. Nevertheless, there are other non-alcoholic spirits that contain no alcohol whatsoever.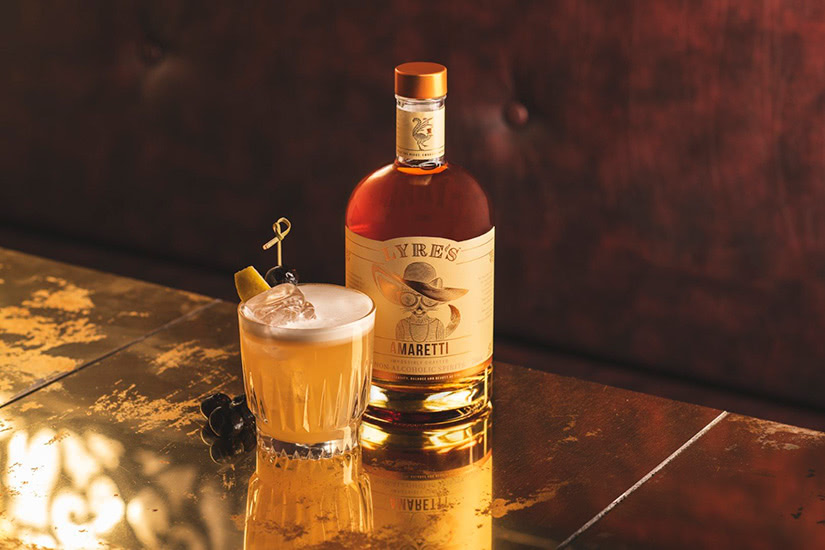 Some non-alcoholic spirits are made in the same way as traditional spirits. A process of fermentation is followed by distillation before the alcohol is separated out. Botanicals and other flavours can then be added.
Other non-alcoholic spirits use an alternative technique whereby they distil with high-quality water instead of alcohol and use a blend of botanical flavours to give these alcohol alternatives a similar taste to conventional spirits.
A final method for creating non-alcoholic spirits is compounding. This means mixing ingredients together with water.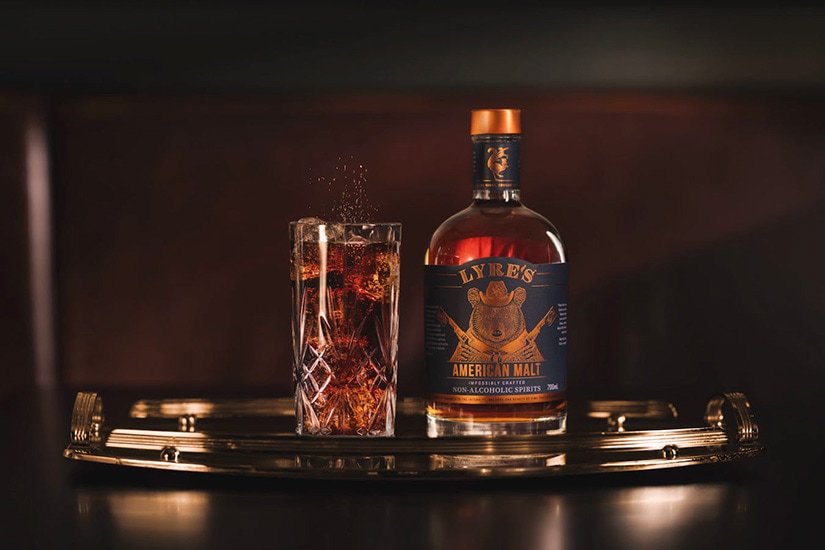 When it comes to non-alcoholic wine, there are two main methods for removing the alcohol—either reverse osmosis or vacuum distillation. Meanwhile, non-alcoholic beer is made using a range of methods, including de-alcoholisation via steam distillation, water vapour or gas stripping, or reverse osmosis. Some non-alcoholic beer has simply undergone a shorter or interrupted fermentation, creating a drink with lower alcohol content.
Because of the lack of alcohol, non-alcoholic spirits can go off faster than alcoholic spirits so you want to consume them within a couple of months of opening.
What are the benefits of alcohol-free spirits?
The main benefit of alcohol-free spirits is that they are a great alcohol alternative. While once the only options were fizzy beverages packed with sugar, now you can drink something that feels grown-up and refined.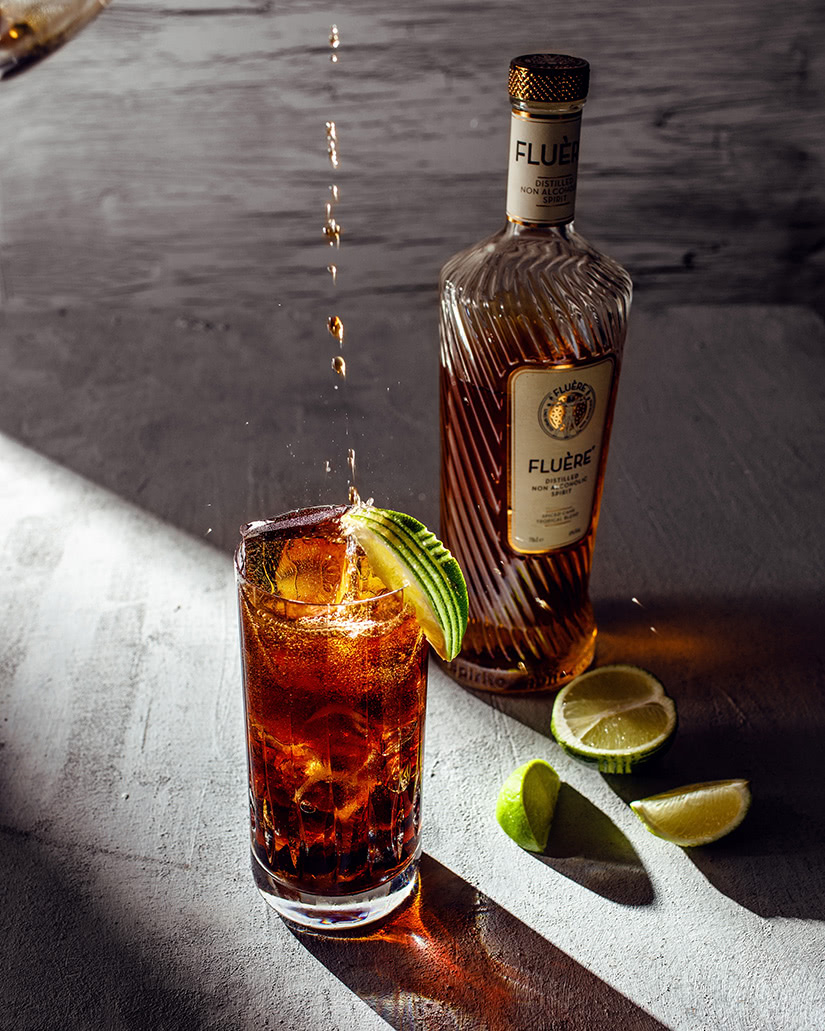 These non-alcoholic spirits are typically low in fat and carbs and contain no artificial flavours either. This makes them a great choice for health-conscious drinkers.
Some alcohol-free spirits have further therapeutic benefits, such as Seedlip, which contains antioxidants like berries and spices, or Kin Euphorics collection of non-alcoholic drinks, which contain adaptogens to alleviate stress responses and nootropics to boost cognitive functioning.
Alcohol-free spirits: know the lingo
Here are some of the terms that might pop up when you're browsing non-alcoholic spirits and other alternatives to alcohol.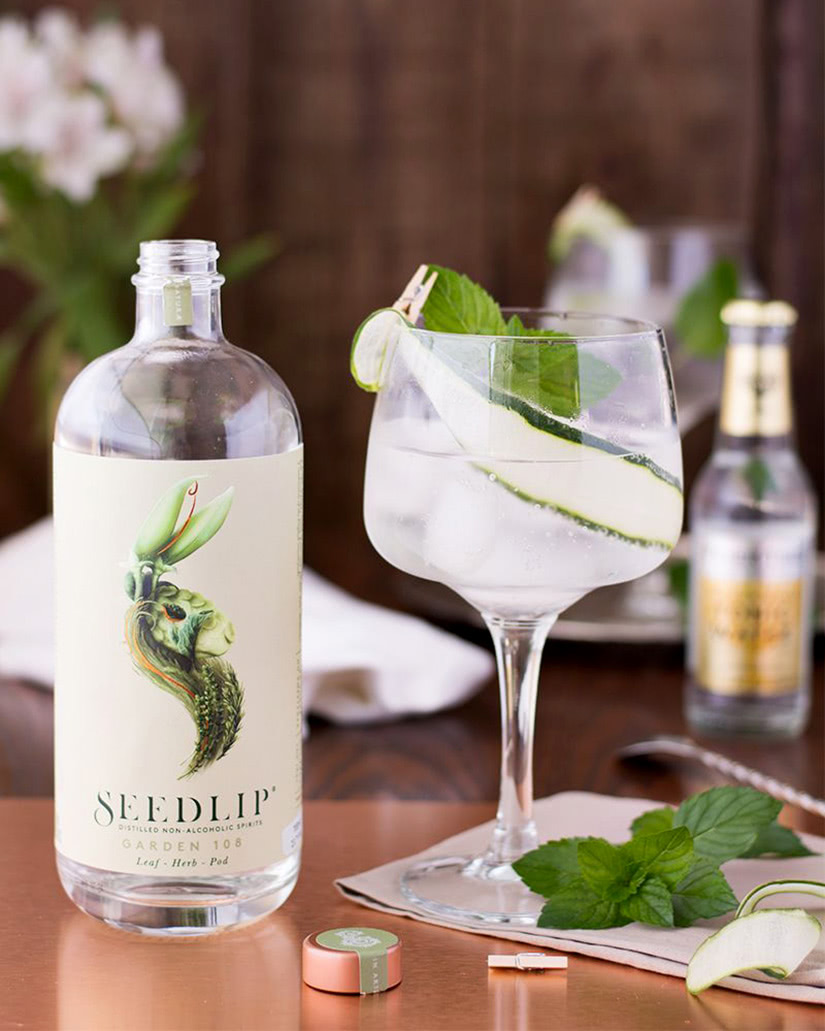 Fermentation – when yeast converts sugars to carbon dioxide and alcohol.
Distillation – the process of collecting a liquid—or distillate—through evaporation and condensation.
Steam distillation – the process of passing steam through ingredients to make them release their essential oils.
Infusion – immersing flavour elements such as herbs, spices, or fruit, in a liquid and leaving to soak.
Maceration – similar to infusion except the various botanicals are broken up first to create a larger surface area for optimum infusion.
Compounding – a cost-effective way of making spirits that simply involves adding botanicals and flavourings to a neutral spirit.
Ethanol – another word for the alcohol produced by fermentation.
Botanicals – those plants that are used to make alcoholic and non-alcoholic spirits, such as berries, citrus fruits, and herbs.
Finish – the final impression of a spirit after you've swallowed it.
ABV – this stands for alcohol by volume and refers to the percentage of the liquid inside your bottle that's alcoholic.
Frequently asked questions about alcohol-free spirits