Whether you're in training as a professional barista, a self-certified coffee snob, or simply want to elevate your morning cup of coffee, then investing in a coffee grinder is imperative. Don't waste your money with pre-ground coffee. The flavor will fade as soon as you open the packet. Get yourself your own coffee grinder and discover what coffee is meant to taste like.
The best coffee grinders have the potential to transform your life—or at least your morning routine. By grinding the best coffee beans, you maximize the flavor, whether you're an Arabica or Robusta drinker. The best coffee grinders also allow you to control the size of your grind, so you can customize it according to your drink of choice, whether it's a flat white or filter, affogato or Americano.
Judging by the versatility of your monthly delivery of sustainably sourced beans, there are more kinds of coffee in the world than there are hours in the day to enjoy them. And so it's no surprise that there are also many types of coffee grinders too, from burr grinders to blade grinders, manual to electric, all designed to create a slightly different cup o' Joe.
To help narrow it down, we've picked out the best coffee grinders on the market. We've got coffee grinders for die-hard French press fans, grinders for espresso drinkers, the best burr coffee grinder, the best small coffee grinder, the quietest coffee grinders (for a more serene morning routine), as well as the best coffee bean grinder for beginners.
Don't waste your life with sub-par coffee. You'll annihilate both your beans and your taste buds. Grab one of these high-quality coffee grinders, and you'll be jumping out of bed in your excitement to get brewing. 
Our favorite coffee beans
EDITOR'S CHOICE: Atlas Coffee Club
For delicious coffee, you'll also need high-quality coffee beans. We recommend Atlas Coffee Club for its premium selection of single-origin equitably-sourced coffee. Select your bean type (ground, whole, or pods) and roast preference, and they'll ship directly to your door.
Check our hands-on Atlas Coffee Club review to learn more about the brand.
The 10 best coffee grinders
Check our special coffee grinders buyers' guide after the list to see exactly what you should pay attention to before purchasing a coffee grinder online.
Baratza: Best overall coffee grinder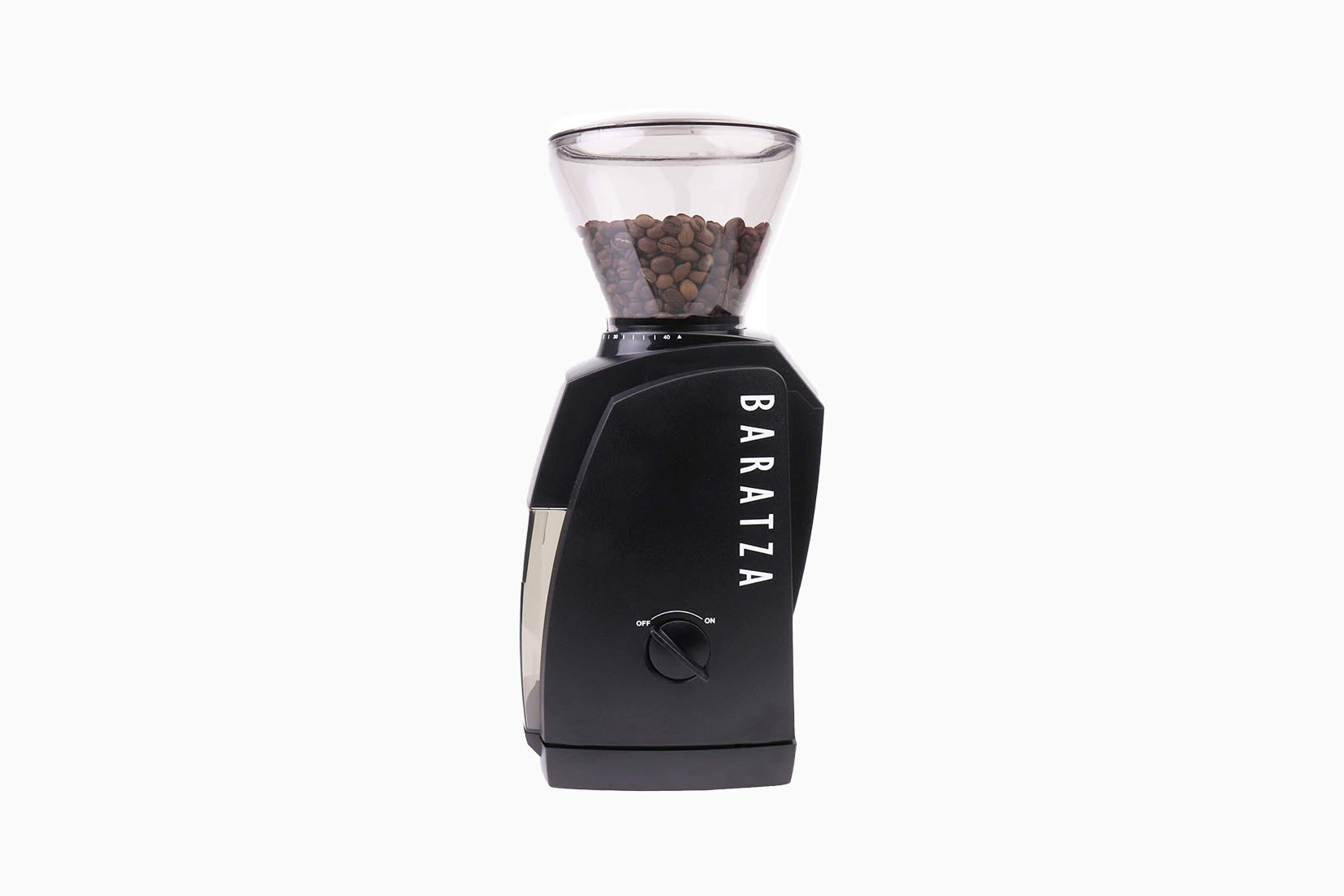 This Baratza Encore coffee grinder has been keeping coffee drinkers happy since 2012 and is one of the brand's most popular models. It's our favorite all-around grinder thanks to its quality, versatility, and ease of use.
Baratza grinders have the support of the world's coffee professionals but you don't have to be running your own coffee shop to benefit from this machine. This burr coffee grinder is ideal for brewing at home, thanks to its small footprint and an easy-to-use front-mounted pulse button. Plus, there are 40 different grind settings so you can adjust accordingly, exploring different grind sizes for different brew methods, from espresso to Aeropress to French press.
This Baratza coffee grinder also comes with 40mm commercial-grade conical burrs—the best of the best when it comes to grinding. With regular cleaning and maintenance, this grinder is also guaranteed to last years.
Best for: The perfect versatile grinder to pair with your daily grind.
Grinder type: Conical burr
Grind settings: 40
Capacity: 8 ounces (227 grams) 
Portafilter holder: No

Hamilton: Best value coffee grinder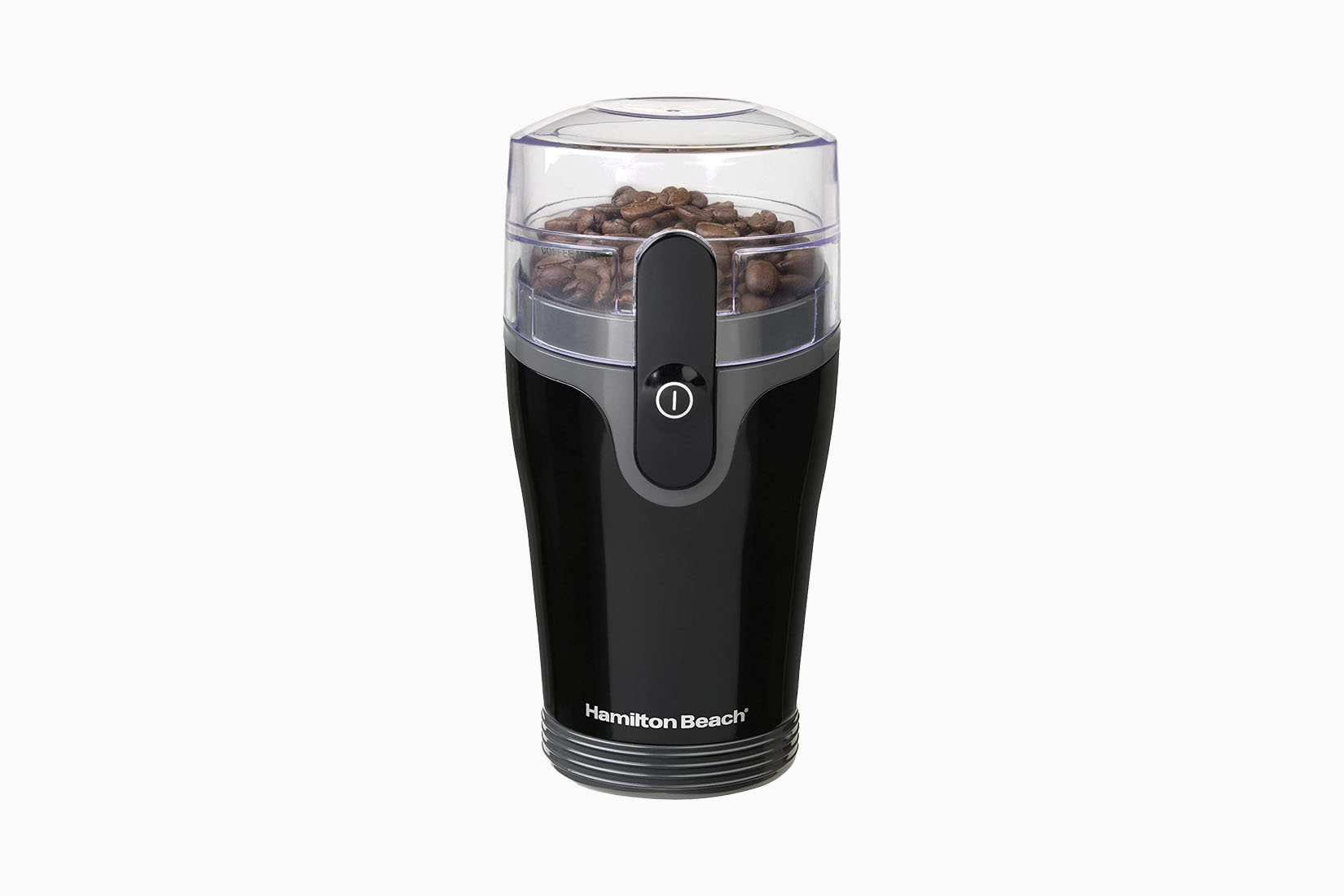 Beans, water, temperature, the quality of your coffee maker—there are a lot of factors that go into a stellar cup of coffee and you can easily shell out a lot of money on the quest for perfection. But at least you don't have to spend a small fortune on the grinder, thanks to Hamilton, the brand behind one of the best coffee grinders under $1000.
One of our favorite features of this Hamilton grinder is the removable grinding chamber. This makes it easy to fill up and remove for cleaning. Other bonuses include the hidden cord storage so you can maintain a sleek and tidy work surface set-up. Stainless steel blades are durable and reliable and it can grind enough for 12 cups of coffee—more than you'll ever need, even on the most challenging of days.
This Hamilton model is also pretty quiet so you can grind early morning or late at night without waking anyone up. Oh, and did we mention you can also grind spices in this electric grinder?
Best for: Saving money on the grinder so you can splash out on the beans.
Grinder type: Blade
Capacity: 4.5 ounces (127 grams)
Portafilter holder: No

Cuisinart: Best coffee grinder for French press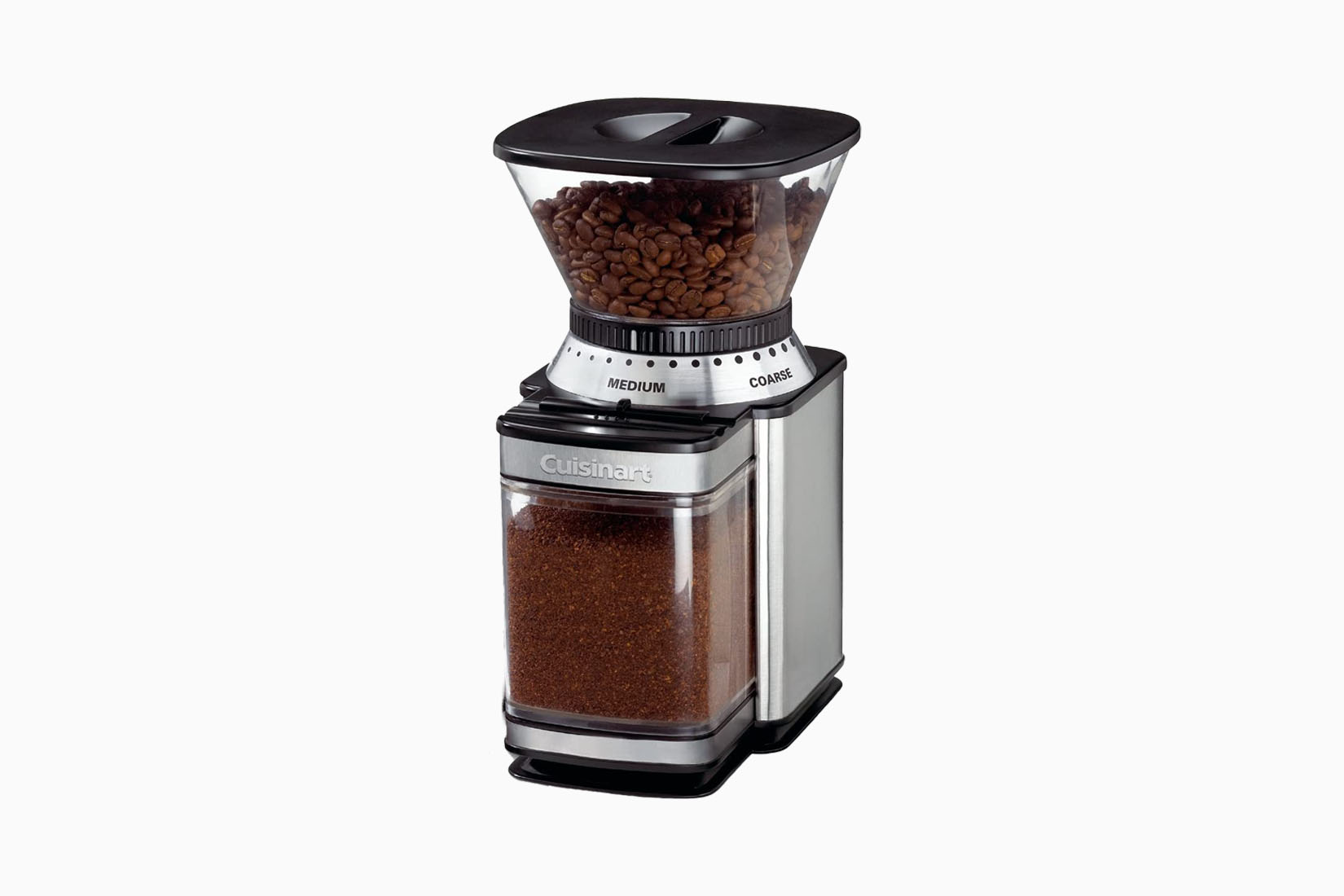 Aromatic, full-bodied, and tailored to your individual preferences—it's hard to beat a coffee made with a French press. But to really enjoy your French press coffee, you need to nail the exact French press grind size.
French press requires coarse ground coffee to maximize the flavor—which is exactly what this Cuisinart coffee bean grinder offers.
Not only is this machine elegant to look at but it features 18 different levels of grinding, from ultra-fine to ultra-coarse. There's also an automatic stop feature so your beans will be ground to the exact grade, each and every time. This means you can treat guests to the same perfect cup of coffee that you enjoy each morning.
This Cuisinart coffee grinder makes enough coffee for 4 to 18 cups and has a chamber where you can store remaining grinds too (enough for 32 cups, no less). It also comes with a scoop and cleaning brush.
Best for: French press fanatics seeking a flavor-optimized grind.
Grinder type: Block burr
Grind settings: 18 
Capacity: 8 ounces (227 grams)
Portafilter holder: No

Breville: Best coffee grinder for pour-over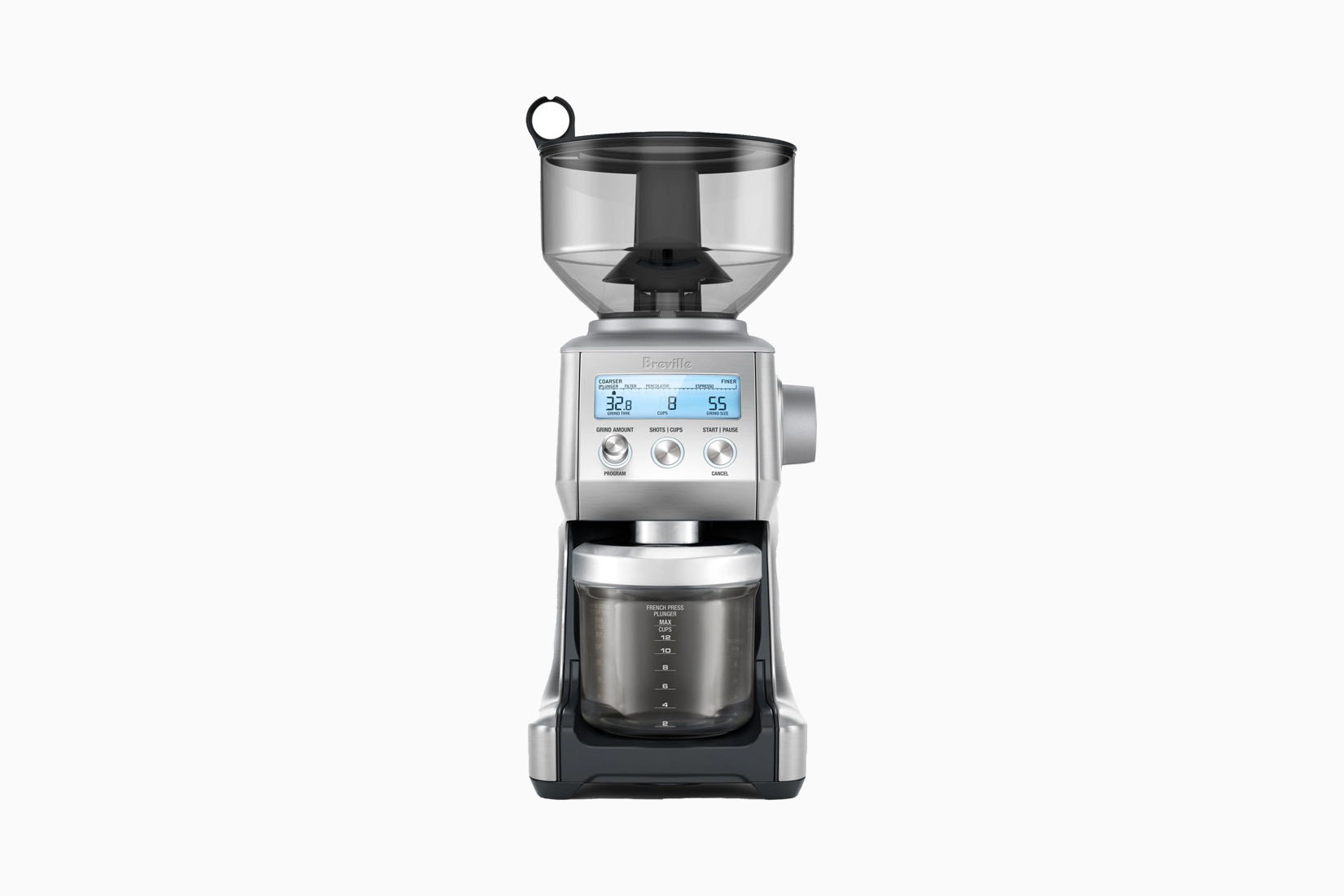 Pour over proponents—aka fans of filter or drip coffee—consider it the only way to consume coffee beans. And we don't blame them. It creates a seriously tasty and aromatic cup of coffee with a clean, clear, and consistent flavor.
For really good pour-over coffee, you need a medium to coarse grind. Anything too fine or too chunky won't create that delicious smoothness. Breville's electric grinder is the best we've found for nailing this exact coffee grind size.
It features 60 precise grind settings, from the finest grind for the most delicate of Espressos to coarse grinds for French press, as well as the perfect mid-way point for your pour-over coffee. You can use the grinder's electronic timer to adjust your grind time in 0.2-second increments and can also grind directly into a portafilter, grinds container, or paper filter.
Best for: Filter coffee fans wanting to master the art of the pour-over.
Grinder type: Conical burr
Grind settings: 60
Capacity: 18 ounce (510 grams)
Portafilter holder: Yes

OXO: Best coffee grinder with an integrated scale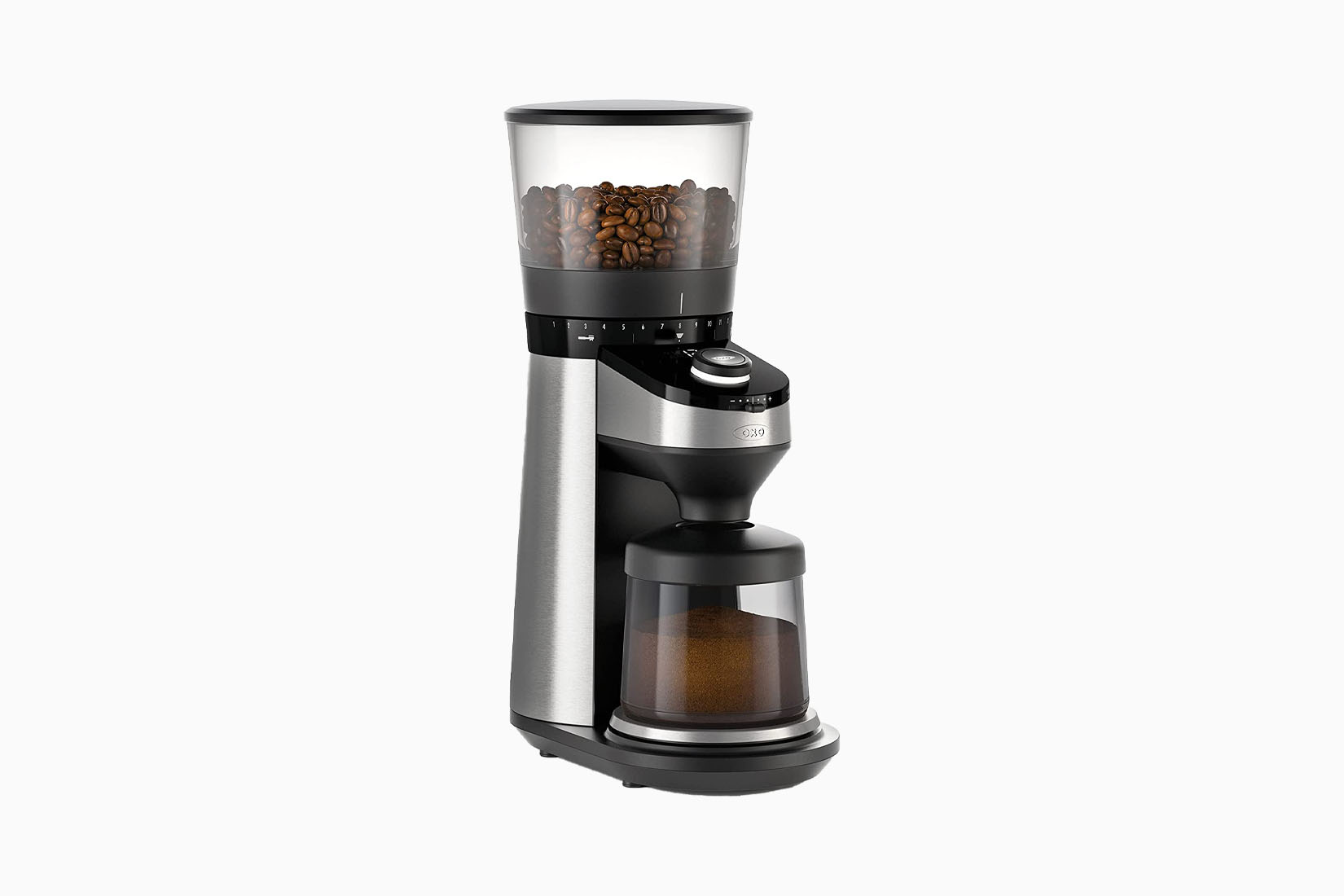 The advantage of a coffee bean grinder with a built-in scale means you can measure your grounds there and then, getting just the right amount of coffee each time for a brew par excellence. This OXO coffee grinder is just the ticket then, with its super handy integrated scale. Because weighing your beans is key to consistently creating a world-class cup of coffee.
This electric grinder features hard-wearing stainless steel conical burrs for a uniform grind. There are also 38 different settings for different grind sizes. Plus the combination of high torque and low-speed motor means no heat during grinding, preserving flavor and minimizing static. This means a better cup of coffee and way less mess.
This OXO grinder also features a Cups mode so you can grind according to how many cups of coffee you fancy brewing. Neat.
Best for: Ultimate accuracy to go with your ultra-precise latte art.
Grinder type: Conical burr
Grind settings: 38
Capacity: 16 ounces (450 grams)
Portafilter holder: No
Rancilio: Best coffee grinder for espresso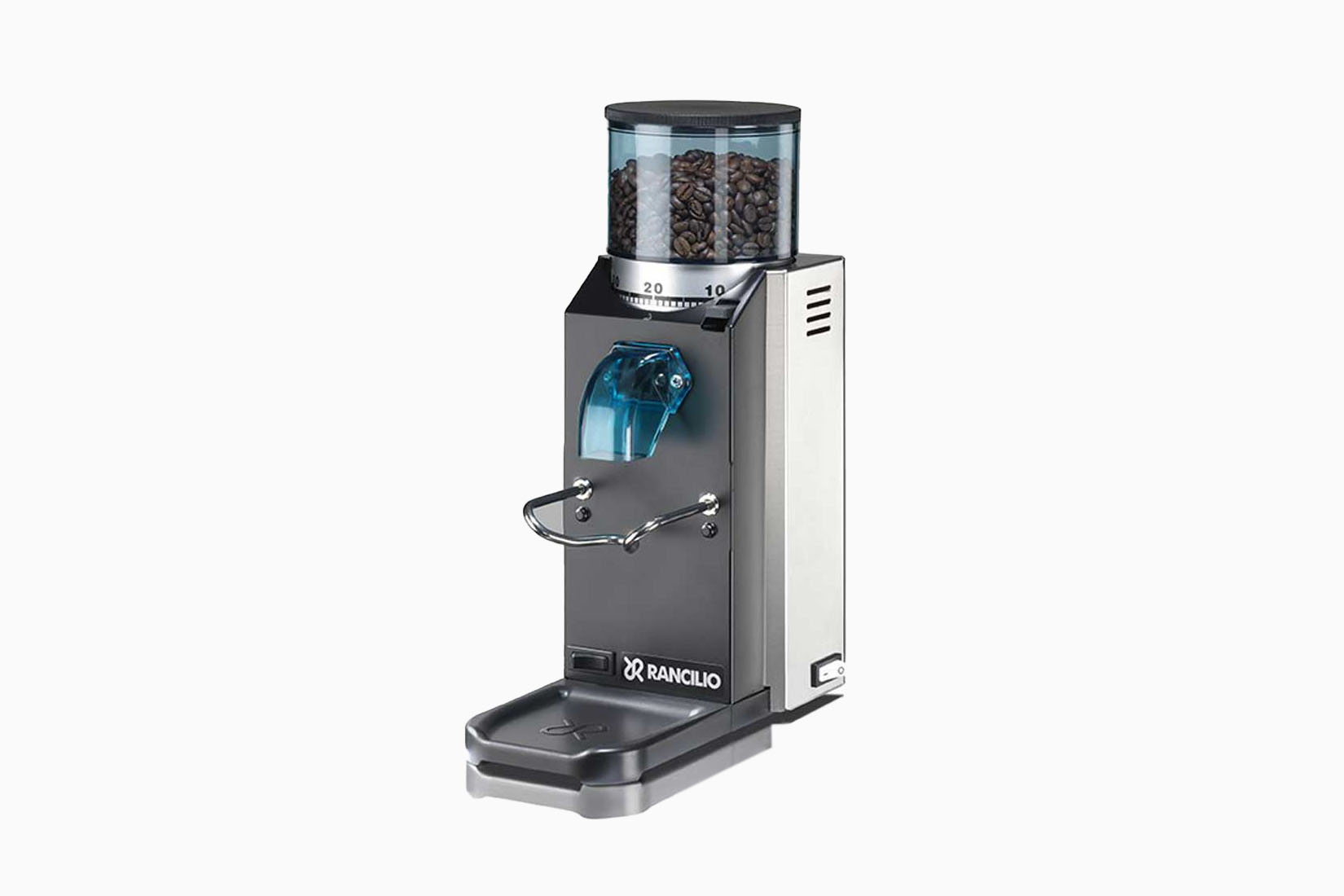 Are you a devoted espresso drinker? Unable to get on with your day until you've downed your tiny cup of concentrated coffee? We've got you covered with this Rancilio espresso grinder. It comes with a removable metal fork to hold your portafilter in place and into which you can grind the beans directly for a smooth and streamlined operation.
The Rocky SD also features 50mm commercial-grind plate grinding burrs—considered far superior to blade grinders by those in the know. This burr coffee grinder is also very powerful, spinning at 1725 revolutions per minute, yet is pretty quiet. You can change the grind setting by unlocking the level and spinning the bean hopper, adjusting according to how coarse or fine you want your grind to be—although if you're an espresso addict, you'll probably just keep it set to fine.
You can also store beans in the bean hopper so it's all ready to go when you stumble over to it first thing on a Monday morning.
Best for: Minimal hassle, maximum taste.
Grinder type: Flat burr
Grind settings: 55 
Capacity: 10 ounces (300 grams)
Portafilter holder: Yes
KRUPS: Quietest blade coffee grinder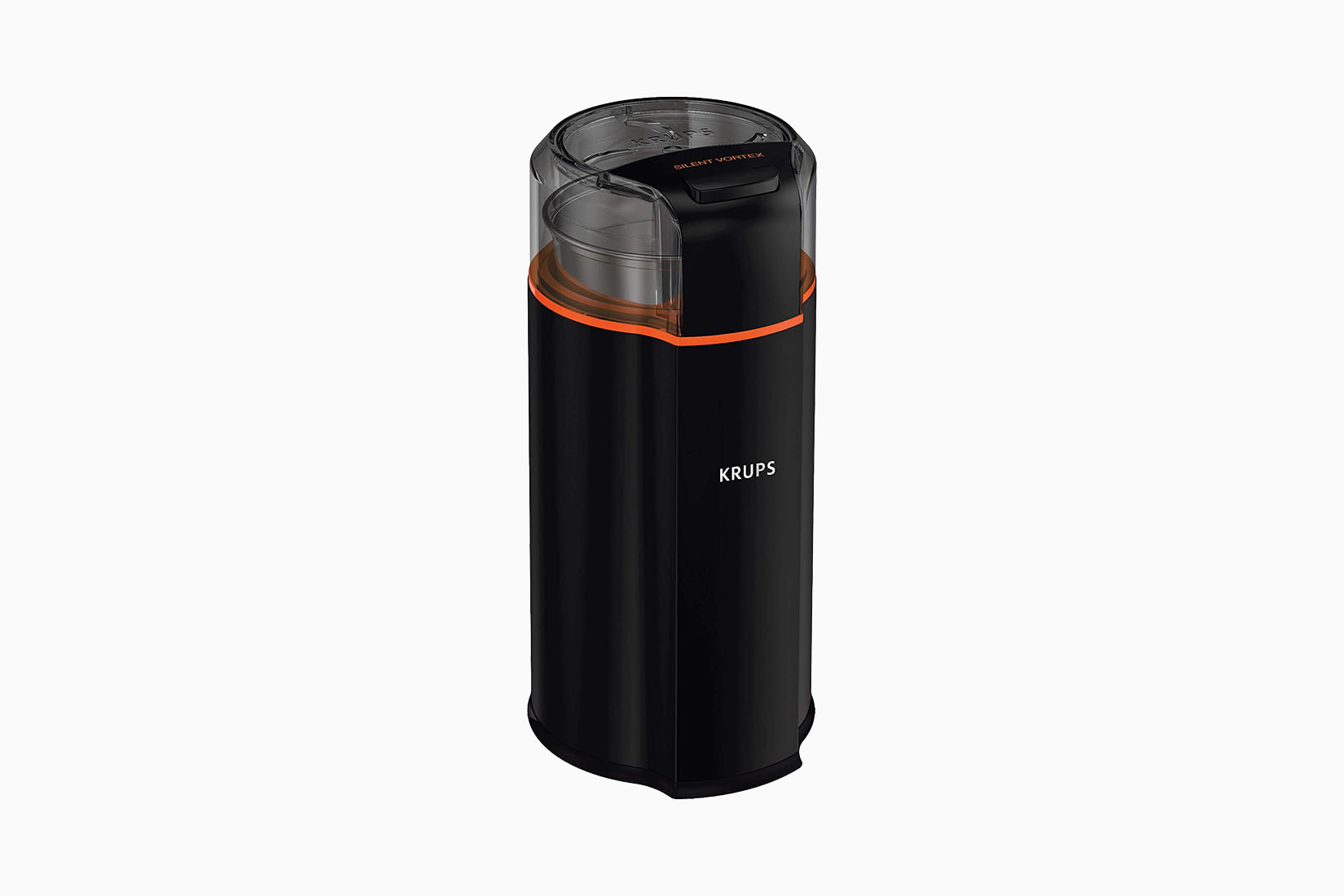 Do you wake up before your partner? Want to avoid incurring their wrath with the chainsaw-like sound of a coffee grinder? Then you need a really quiet coffee bean grinder like this one by KRUPS. It's not called the Silent Vortex Blade Grinder for nothing.
Using innovative technology, the machine pulls ingredients into the spinning blades for super fast and efficient grinding—12 cups in 15 seconds for drip coffee. You can also use the grinder for spices and dry herbs so your dinner can taste just as good as your coffee.
Our other favorite thing about this KRUPS grinder? It's dishwasher-safe for low-maintenance cleaning. And the removable bowl even has a storage lid, keeping everything nice and fresh.
Best for: Eliminating quarrels between coffee brewers and light sleepers.
Grinder type: Blade
Capacity: 3 ounces (90 grams)
Portafilter holder: No

Capresso: Quietest burr coffee grinder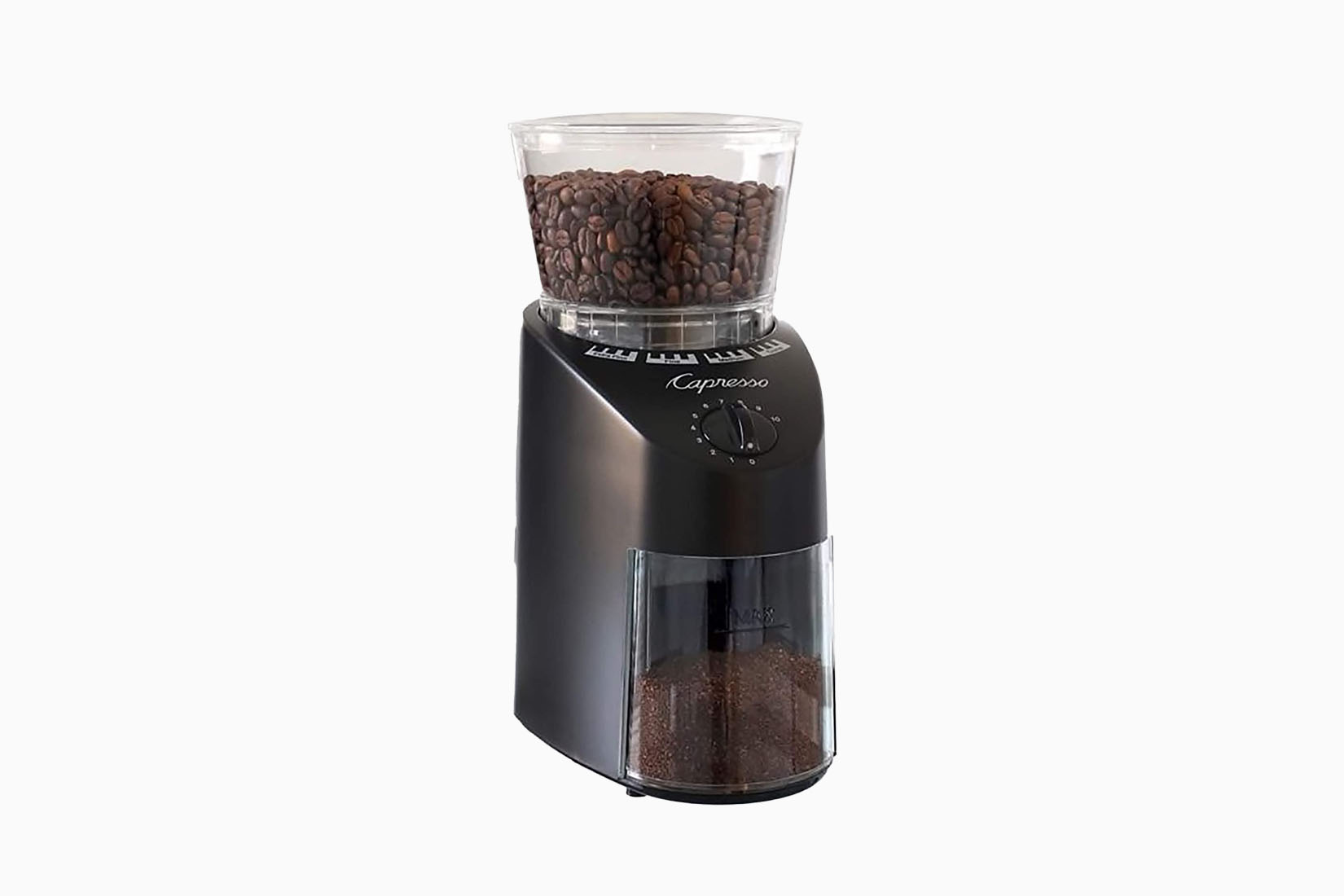 Liked the sound (or lack of sound) of the KRUPS coffee grinder but refuse to settle for anything less than a burr grinder? Then check out this Capresso conical burr coffee grinder instead.
It's basically completely silent thanks to the gear reduction motor which grinds slowly with less noise, minimizing static build-up for a less messy operation as well as heat so you can preserve flavor and aroma.
This Capresso machine features solid steel conical burrs, hand-assembled in Switzerland for super precision. It also has a wide grinding range, with 16 different settings allowing you to grind sizes appropriate for everything from ultrafine Turkish coffee to ultra-coarse French Press coffee. To clean, simply remove the upper burr and use the brush included.
Definitely a contender for the best burr coffee grinder around.
Best for: A slick and silent morning coffee mission.
Grinder type: Conical burr
Grind settings: 16
Capacity: 8.8 ounces (250 grams)
Portafilter holder: No
Bodum: Best coffee grinder for beginners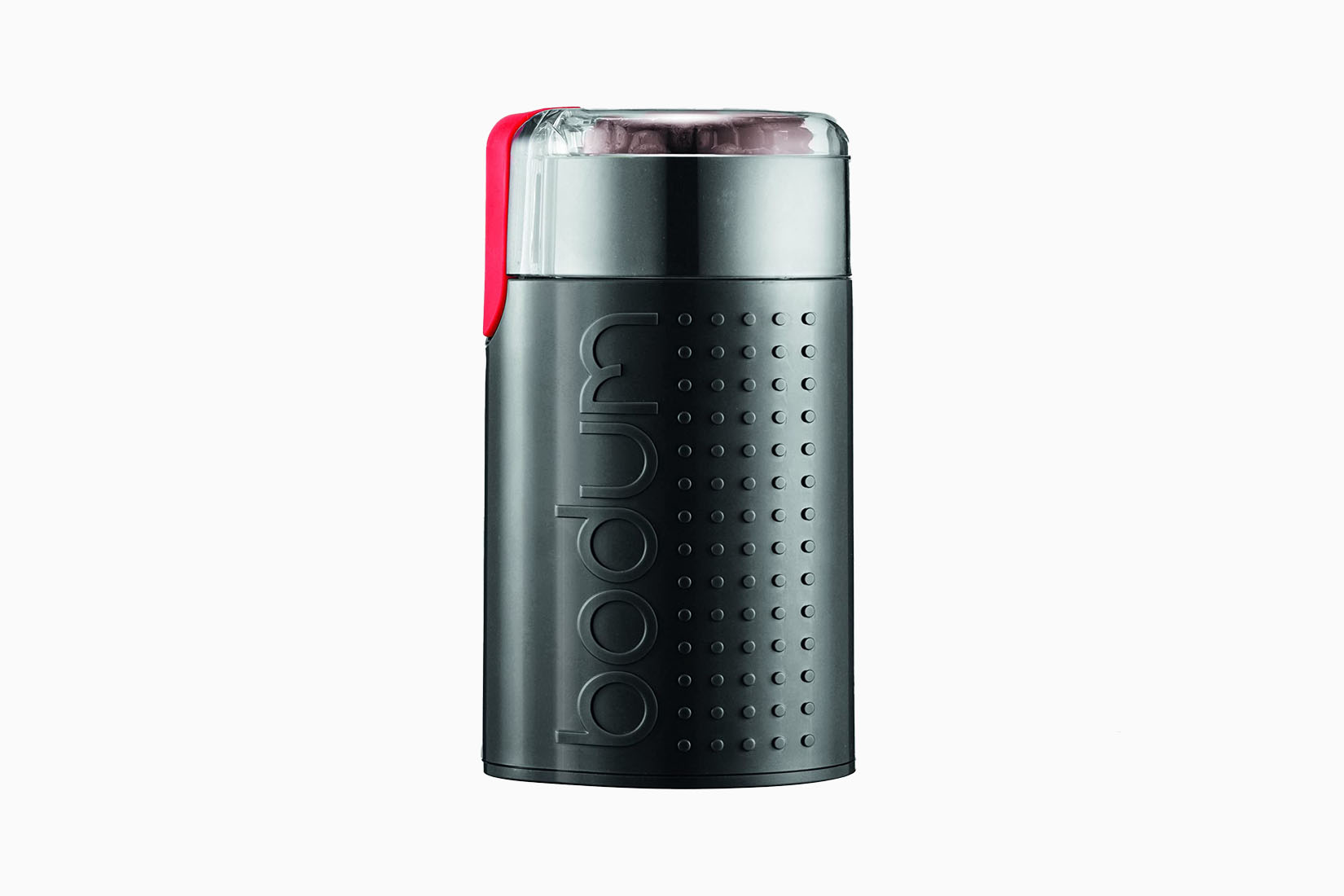 The world of coffee can be a little overwhelming, if not intimidating. But don't be put off by all the lingo and jargon. Just grab yourself this Bodum electric coffee grinder and see how easy it is to take your coffee from average to awe-inspiring.
Sure, it's not a burr grinder, but who cares when it's this efficient and quick? With its durable stainless steel blade spinning at a precise and consistent RPM, it allows you to grind down your beans to whatever consistency you require with minimal effort required.
Use the push-button on the front of this sleek-looking Bodum grinder to pulse away or grind continuously, checking the consistency of the grind through the transparent lid. Plus it's really compact and has cord storage, ideal for small apartments with minimal surface space.
Best for: Getting started on your journey to coffee supremacy.
Grinder type: Blade
Capacity: 2 ounces (56 grams)
Portafilter holder: No
Minimal: Best manual coffee grinder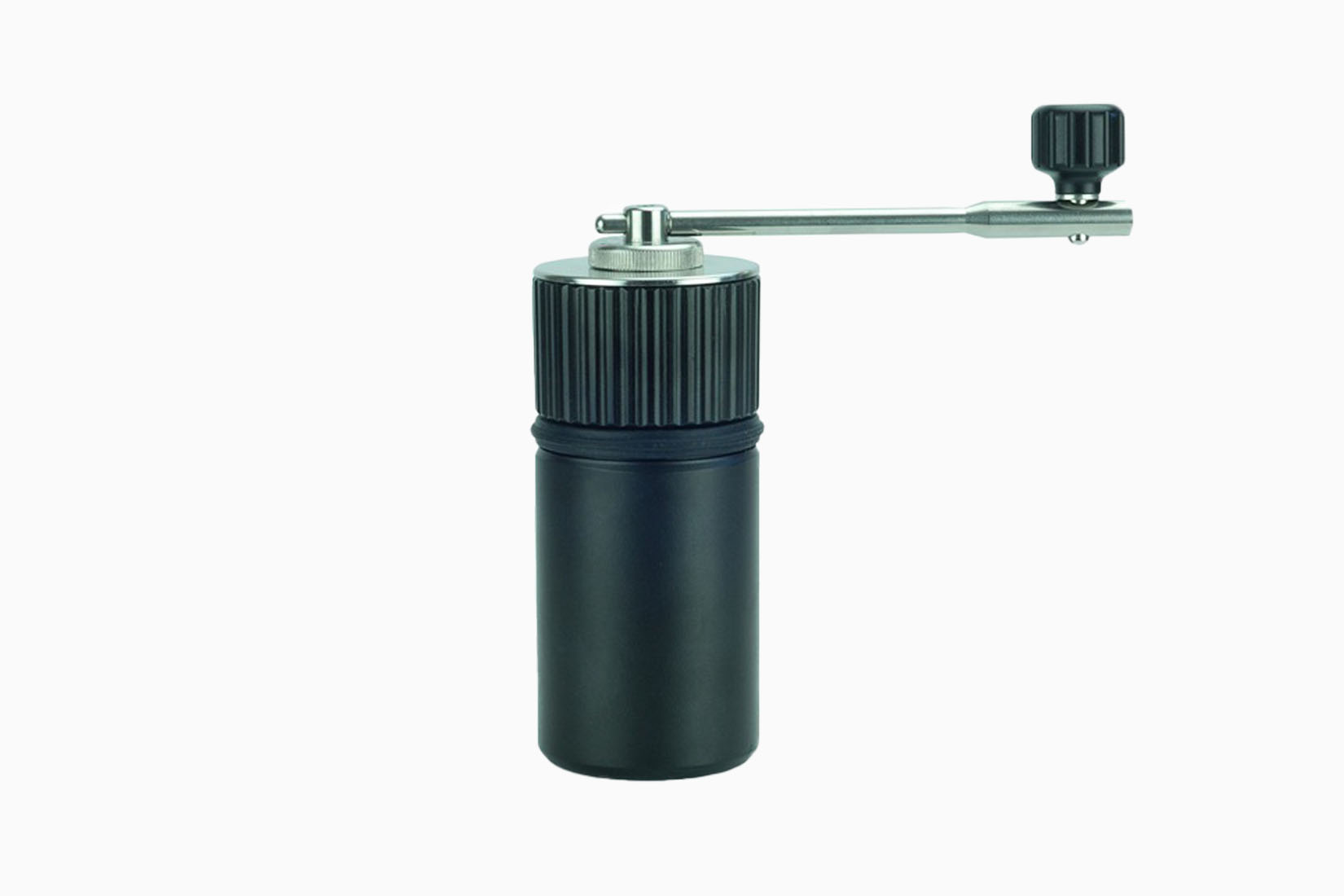 There's a lot to be said for a manual coffee grinder. They're small, cheap, quiet, don't heat up the beans, and you could even fit it in your backpack for camping if you wanted. Our favorite is this one by Minimal.
Using two adjustable and precision-engineered 40mm stainless steel burrs, this small coffee grinder allows you to create the perfect grind for whatever coffee tickles your fancy, from French press to cold brew, using the patent-pending stepless grind system, which offers almost infinite adjustment.
This hand coffee grinder is flexible and easy to use thanks to the ergonomic design. Espresso lovers will also appreciate that the lower chamber opens to fit precisely on top of your 58mm basket for minimal mess and waste.
Best for: Compact and cost-efficient grinding, perfect for small-scale brewing.
Grinder type: Conical burr
Grind settings: 18 
Capacity: 1.4 ounces (40 grams)
Portafilter holder: Yes

Buyers guide: how to choose a coffee grinder
Wondering how to grind coffee beans and trying to choose a coffee bean grinder? It can be difficult with so much terminology and so many options. Here's what you need to know.
Manual vs electric coffee grinders
If you want a small coffee grinder, manual grinders are a space-saving solution. They're also cheaper, portable, and fairly quiet. On the other hand, it can be hard to adjust the coffee grind size and it can take a long time and be a bit of a workout.
Electric grinders are faster and easier to use. If you drink a lot of coffee, these are both perks. But they're also more expensive.
With an electric grinder, you'll also want to consider speed, which is measured in revolutions per minute. The higher the RPM, the more consistent the grind size. But the faster the motor, the more heat produced, which can reduce flavor and aroma, so you have to strike a balance.
Blade vs burr grinders
A blade grinder is just like a food processor except that the edges of the blades are slightly blunted. The blade then spins, chopping up the coffee beans.
Blade grinders are small, compact, and cheaper than burr grinders, but it can be difficult to control the coffee grind size. It all depends on how long you grind for.
Among coffee snobs, a burr coffee grinder is generally considered superior. They grind rather than slice, using two pieces of steel or ceramic. Ceramic lasts longer than steel before becoming blunt but is also quite easy to break.
With a burr coffee grinder, you can control the grind size using different settings and they usually produce a more even grind for a fuller and more balanced taste. Most electrical burr grinders have a pulse button but some also have an auto-grind function so you can do other things while waiting.
However, burr grinders are usually bulkier and louder, as well as being more expensive than blade grinders.
The number of settings on a burr grinder can extend up to 50 or 60 but 20 to 40 settings is enough for most people and less than 30 is fine if you just want to be able to do the basics.
Conical burr grinders vs. flat burr grinders
Large flat burrs grind faster. This is ideal for high-speed grinders as less heat is produced because grinding finishes faster. Flat burrs also give a more consistent grind for a more balanced taste.
Conical burrs are more common with at-home low-speed grinders. They grind slower to avoid heat and static and create a finer grind than flat burrs. This means coffee with slightly more body.
Different grind sizes for different coffee brewing methods
| Type of coffee | Size of grind |
| --- | --- |
| Turkish coffee | Very fine |
| Espresso | Fine |
| Pour-over coffee | Medium |
| French press | Coarse |
| Cold-brew coffee | Very coarse |
Other coffee grinder considerations
In addition to everything we've mentioned, you might also want to consider the following factors when choosing a coffee grinder:
Evenness of grind – different sized pieces of coffee require different brewing times so you want the grind to be uniform.
Sound – how loud is the coffee grinder? Manual grinders are quieter than electric ones.
Price – coffee grinders can be expensive, especially electric burr grinders. However, it's still possible to pick one up for less than $100.
Cleaning – how easy is the machine to clean? Does it have removable parts? Is it dishwasher-friendly?
Capacity – how many beans can the grinder handle? How many cups do you plan to make in one go? Does the grinder have a place to store fresh grinds?
Clear lid – this simple feature can make a world of difference, allowing you to keep an eye on what's going on and adjusting the grind length accordingly.
Ergonomic – particularly when it comes to manual grinders, consider how comfortable the grinder is to use, especially if you plan to make multiple cups of coffee in one go.
Portafilter holder – some grinders are designed to go with the best espresso machines so have a little bracket to hold your portafilter in place which is nice and neat.
Frequently asked questions about coffee grinders
How do I choose a good coffee grinder?
To choose a good coffee grinder, determine what kind of coffee you want to make. Different brewing methods require different grind sizes so you need a different grinder depending. You'll also need to consider cost, sound, and size.
Is a burr coffee grinder the best grinder?
A burr coffee grinder is considered to be the best kind of coffee grinder because it creates a more consistent and even grind, allowing for a more balanced and flavourful caffeine drinking experience. However, they are also typically more expensive. 
Is a burr grinder really worth it?
If you really want to accentuate the taste of your coffee and enjoy a super smooth mouthfeel, then a burr grinder is worth the added cost. However, bear in mind that burr grinders are usually more expensive, less compact, and louder than blade grinders. 
What grind size should I use for my coffee?
The right coffee grind size depends on your brewing method. Espressos require a finer grind, cold brews require a much coarser grind. The best coffee grinders offer different grind settings so you can tailor the grind size as necessary.