Brandy is a spirit that demands attention: fragrant and elegant, smooth and rich, and dark and brooding all at the same time. Thought it was just a sweet drink suitable for drawing rooms and cigars? Think again.
The craft cocktail industry has elevated the best brandy and cognac to the forefront of many mixologists' minds once again, developing a range of sweet and oaky creations that are sure to become new favorites.
Because while it was previously a spirit known best for its traditional roots, brandy is making a comeback, with millennials searching far and wide for the best brandy brands to sip after dinner or mix into a range of fruity cocktails.
It's also a spirit that'll leave you guessing until you've taken a few sips. The number or term on the bottle might give a hint as to what sort of flavors are inside but, thanks to the spirit's diverse nature, each new bottle of brandy promises a unique experience.
No time to read through our entire list? We've chosen Rémy Martin XO as the overall best brandy of the year and Asbach Brandy 8 Year as the best value brandy.
Or if you'd rather, first you can read up on the difference between brandy and Cognac, prep your home bar for the best brandy-based cocktails, or learn more about how brandy is made.
The 11 best Brandy and Cognacs of the year
1. Rémy Martin XO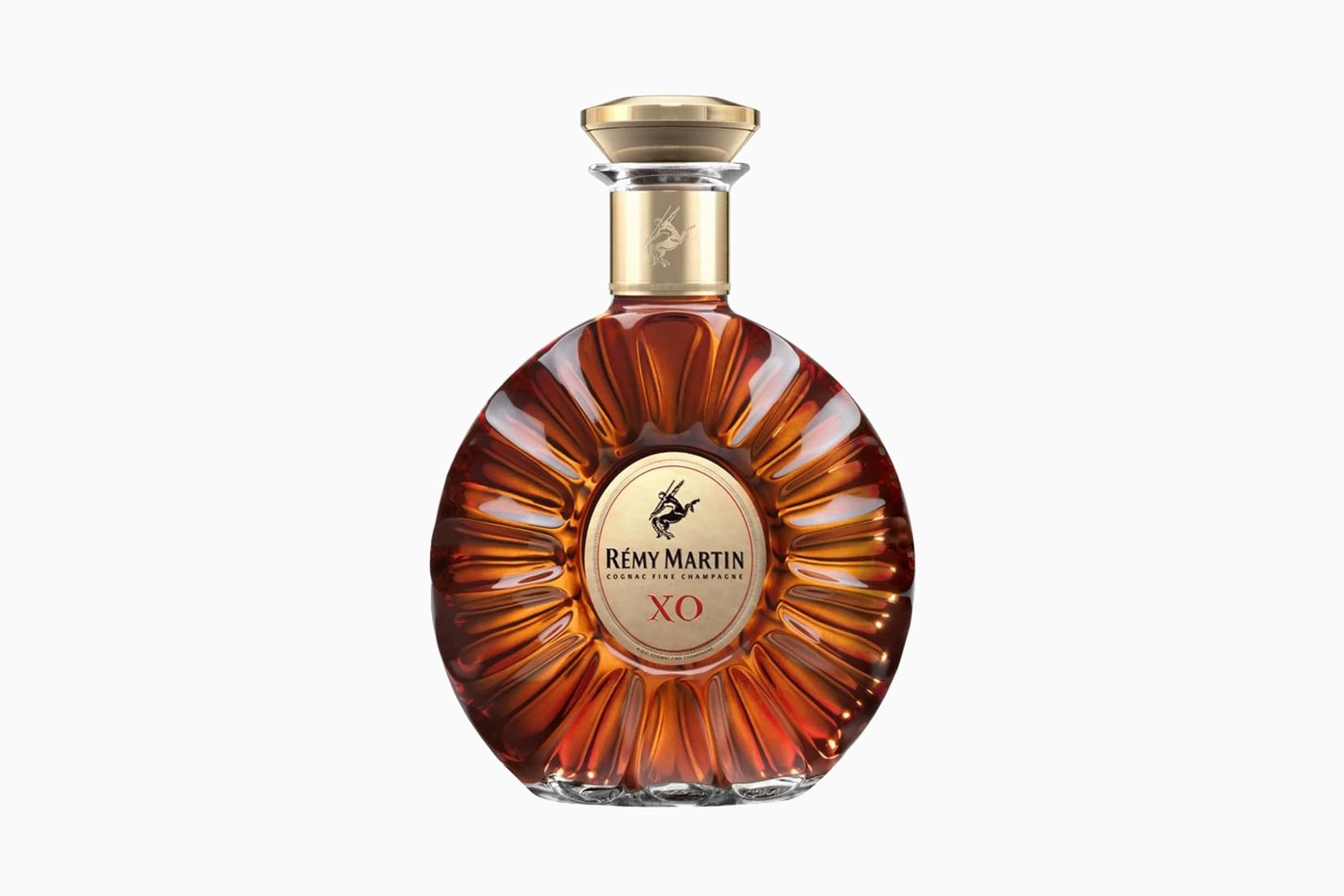 Rémy Martin defines excellence in a bottle and combines everything a good brandy should have. This XO is a Fine Champagne, produced by blending up to 400 different eaux de vie. It's a thoroughly good quality bottle, combining 85 percent of the product sourced from the Grande Champagne region with the remaining 15 percent taken from the Petite Champagne region.
It has an aroma of dark chocolate, port wine cask, exotic spices, and figs, while a sip will reveal notes of white and red grapes, dried apricot, nutmeg, cinnamon, honey, and caramel. It's certainly a complex brandy, and one that will leave you wanting more than just one taste. It's a popular choice for brandy lovers, with a warming finish and smoky wood quality running throughout.
Its impressive character means this is a brandy that should only be enjoyed neat or, at most, with ice. This sweet and smooth bottle is perfect to win over brandy novices right through to experts.
Discover the entire range of the brand's Cognac with our Rémy Martin price guide.
Overall best brandy: Rémy Martin XO
2. Hine Antique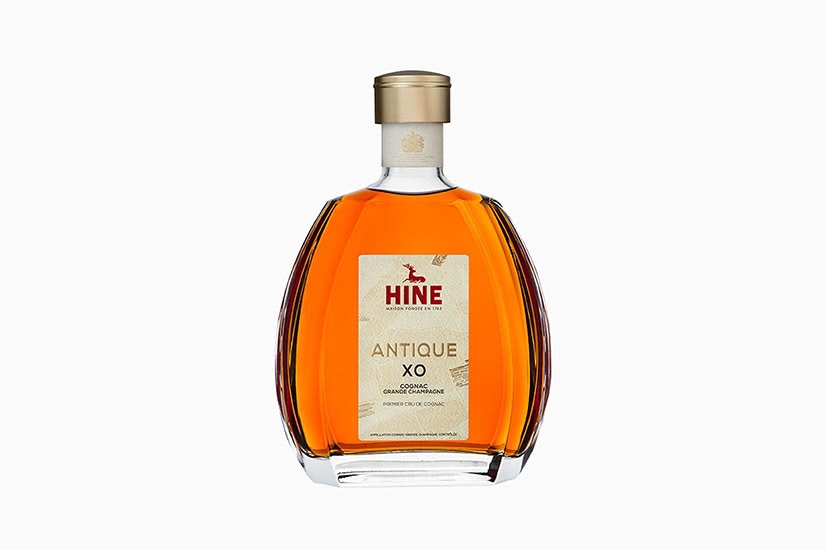 An outstanding cognac, Hine Antique XO Premier Cru is a new addition to the family and is well-loved for its caramel, jasmine, nutmeg, and vanilla flavor notes. Hine Antique XO was first released in 1920 and was initially a Fine Champagne – a blend of cognacs from both the Grande and Petite Champagne regions.
Then, it was upgraded to Grande Champagne, meaning that all the eaux-de-vie used in the assemblage nowadays come from the best region of cognac. This puts it, deservedly, in one of the top spots for cognac in the world, thanks to its multitude of interesting elements.
It's a slightly spicy brandy that's made up of a blend of over 40 different cognacs, aged for over a decade. It's also very rich, with peppery and fruity hints and a dash of cinnamon and nutmeg on the nose. When sipping, it features an unexpected combination of perfume and spice with a beautifully zingy finish.
Best premium brandy: Hine Antique XO Premier Cru Cognac
3. Asbach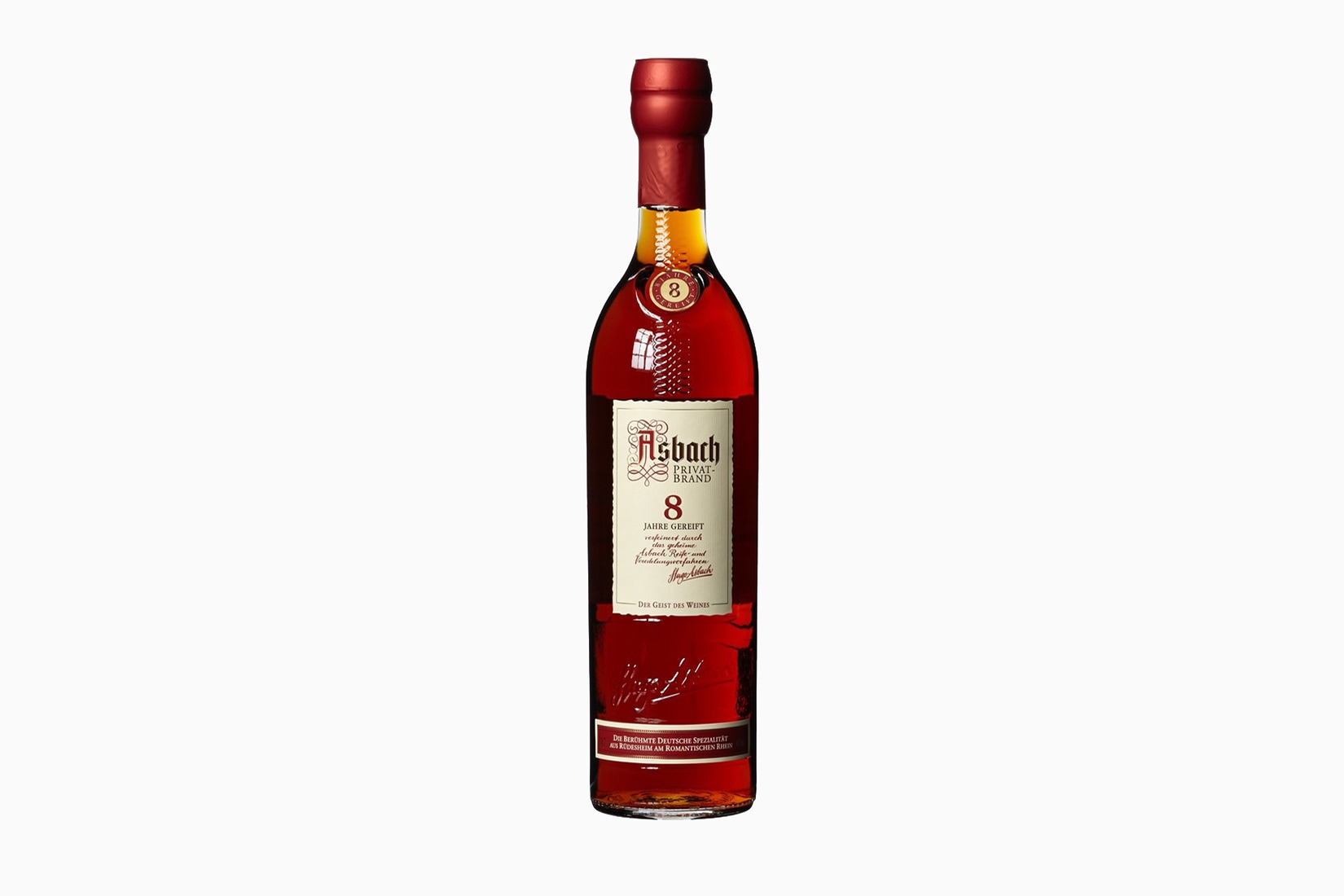 A German brandy, Asbach is a popular producer of the spirit and matures its offerings in small French Limousin oak casks. It produces rich, spicy brandies that have won awards in the past for their smooth and warming tastes. Asbach's 8 Year in particular is a great, inexpensive choice of brandy, promising to deliver both a great nose and flavor for less than $50 a bottle.
This brandy is known for a being a bit more fiery than your standard bottle but that's all part of the attraction. It's a mouthwatering option that's great for sharing with family or friends after dinner.
With its well-developed flavor of fruits with background notes of almonds and spices, this is a top brandy that can be enjoyed neat, with ice, with water, or mixed into a range of cocktails. It's delicate, woody, and complex all at once, and makes a great addition to the bar cart.
Best value brandy: Asbach Brandy 8 Yr
4. Louis XIII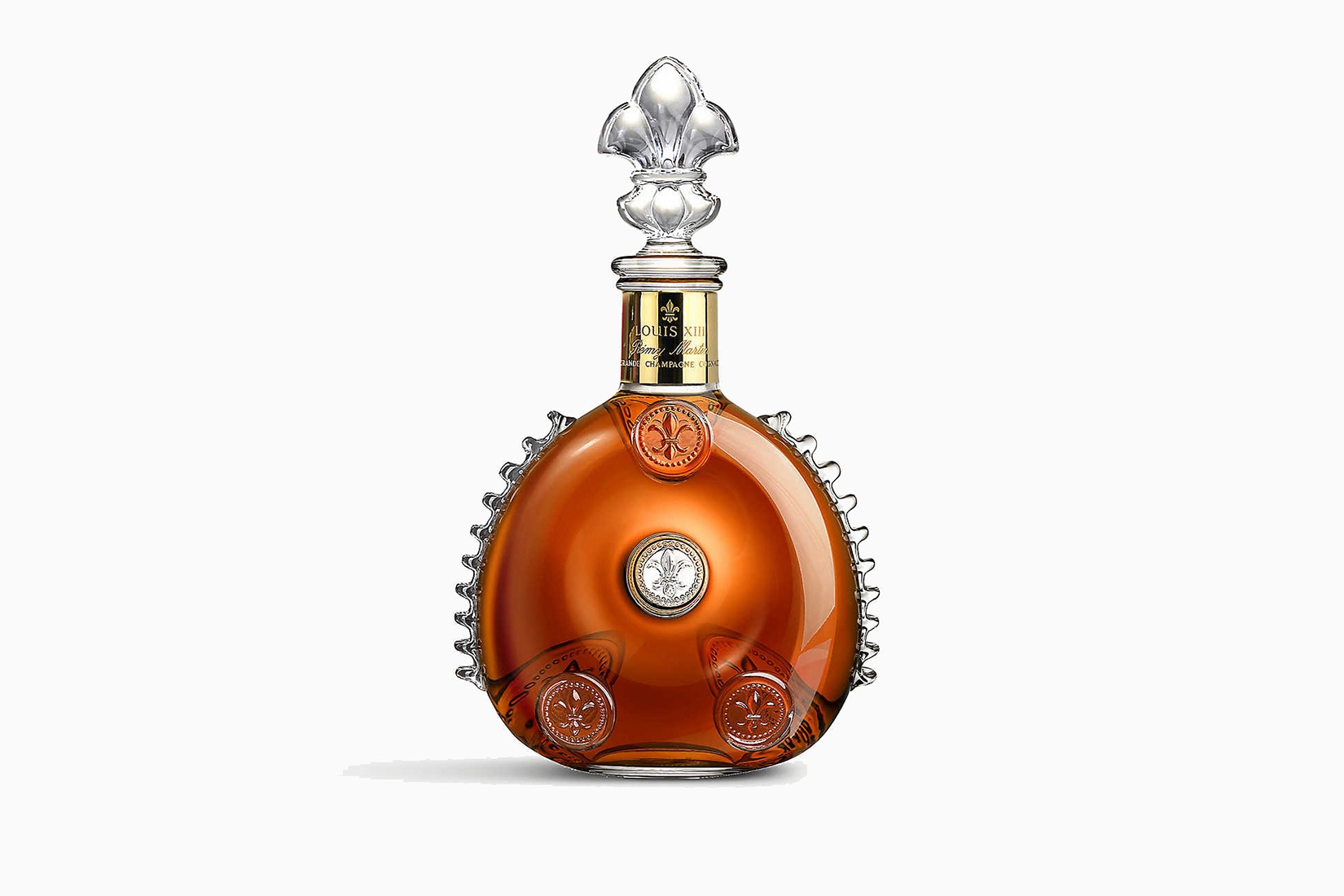 Louis XIII, owned by Rémy Martin, is a truly one-of-a-kind cognac. At over $4,000 a bottle, its premium price comes from its incredibly intricate production process: each bottle is composed of up to 1,200 individual eaux-de-vie from Grande Champagne vineyards, ranging from at least 50 years to 100 years in age.
There's no bottle on the market quite like it. Louis XIII Cognac is often considered the most unique and special spirit in the entire world and has an equally impressive taste and aroma. It's known for its light and complex flavors made up of grass, earth, and a subtle sweetness.
When sipping, expect notes of incense, grapefruit, freshly sawn wood, and raisins, with an oaky finish. It comes with some strong floral notes too, and is known for being one of those bottles that every brandy lover should try once in their lifetime. Louis XIII Cognac is truly stunning and especially complex.
Most expensive brandy: Louis XIII Cognac
5. Torres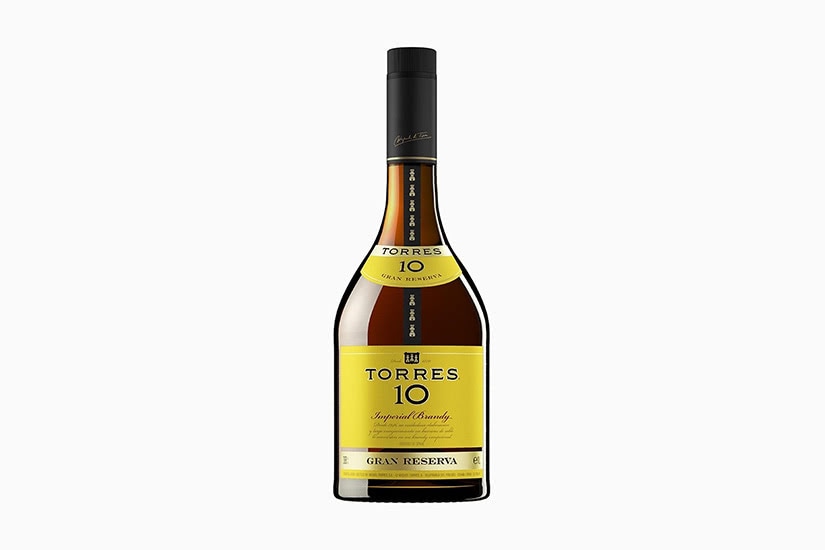 Bodegas Torres launched as a Spanish winery in 1870 and its Torres 10 Grande Reserva Brandy is one of the brand's oldest brandies, first released in 1946. It hasn't changed much in that time, using the same distillation method and aging process to continue releasing an excellent, budget-friendly brandy.
It uses Xarel·lo, Macabeo, and Parellada grapes to first produce a wine mixture that's then aged into a delicious brandy. A spirit far superior to its budget price, it's aged using the Solera method in American oak barrels. The oldest component blended into this brandy is 10 years. It's a rich, intense brandy that's highly recommended and incredibly smooth.
With plenty of full flavor and a heady aroma, it's a drink made at a very reasonable price. Enjoy its sweet grape, wood, and nut aromas and light body when sipping this brandy. This is a great example of a good quality Spanish brandy and it's a staple bottle.
Best budget brandy: Torres 10 Gran Reserva Brandy
6. Hennessy XO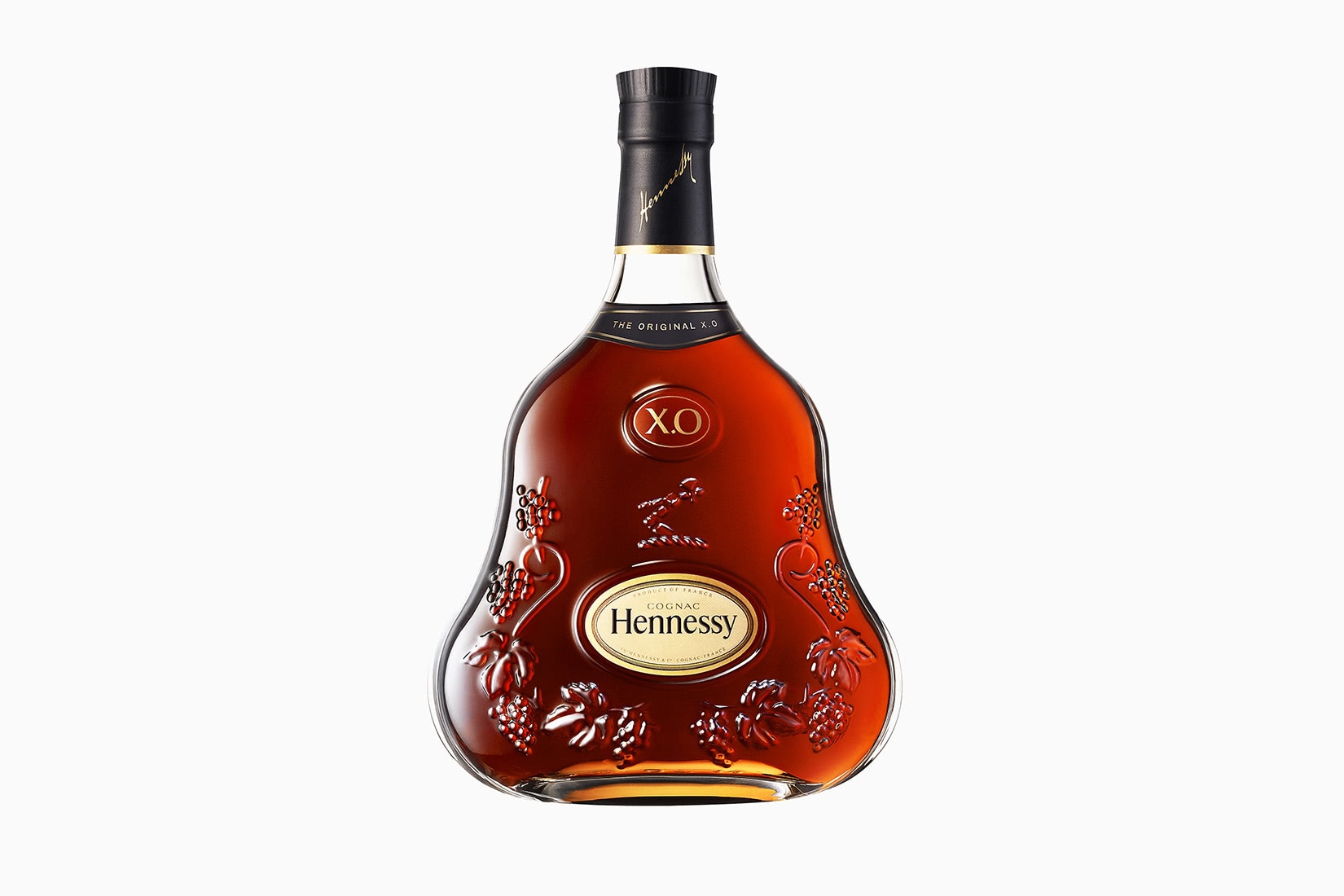 Ask anyone to name a premium brandy and chances are, they'll say Hennessy. A staple of its kind, this extra old brandy is carefully distilled at Hennessy distillery, France, and is a deep amber color. It's given perpetual good reviews, thanks to its notes of orange, black pepper, powdered cocoa, and oaky leather and its long, cinnamon-dusted finish.
Hennessy XO is a blend of about 100 different eaux-de-vie made from Ugni Blanc grapes from the Grande Champagne, Petite Champagne, Borderies, and Fin Bois appellations. Each bottle features a blend of these grapes and is aged for up to 30 years in French Limousin oak barrels.
It's a bold cognac that demands attention and boasts a rich, fruity palate full of prunes, raisins, and sticky toffee pudding. Drink this brandy smooth for ultimate enjoyment. This is the best way to savor every mouthful of what's known as one of the most popular brandies ever created.
Discover the entire range of the brand's Cognac with our Hennessy price guide.
Most popular brandy: Hennessy XO Cognac
7. Delamain XO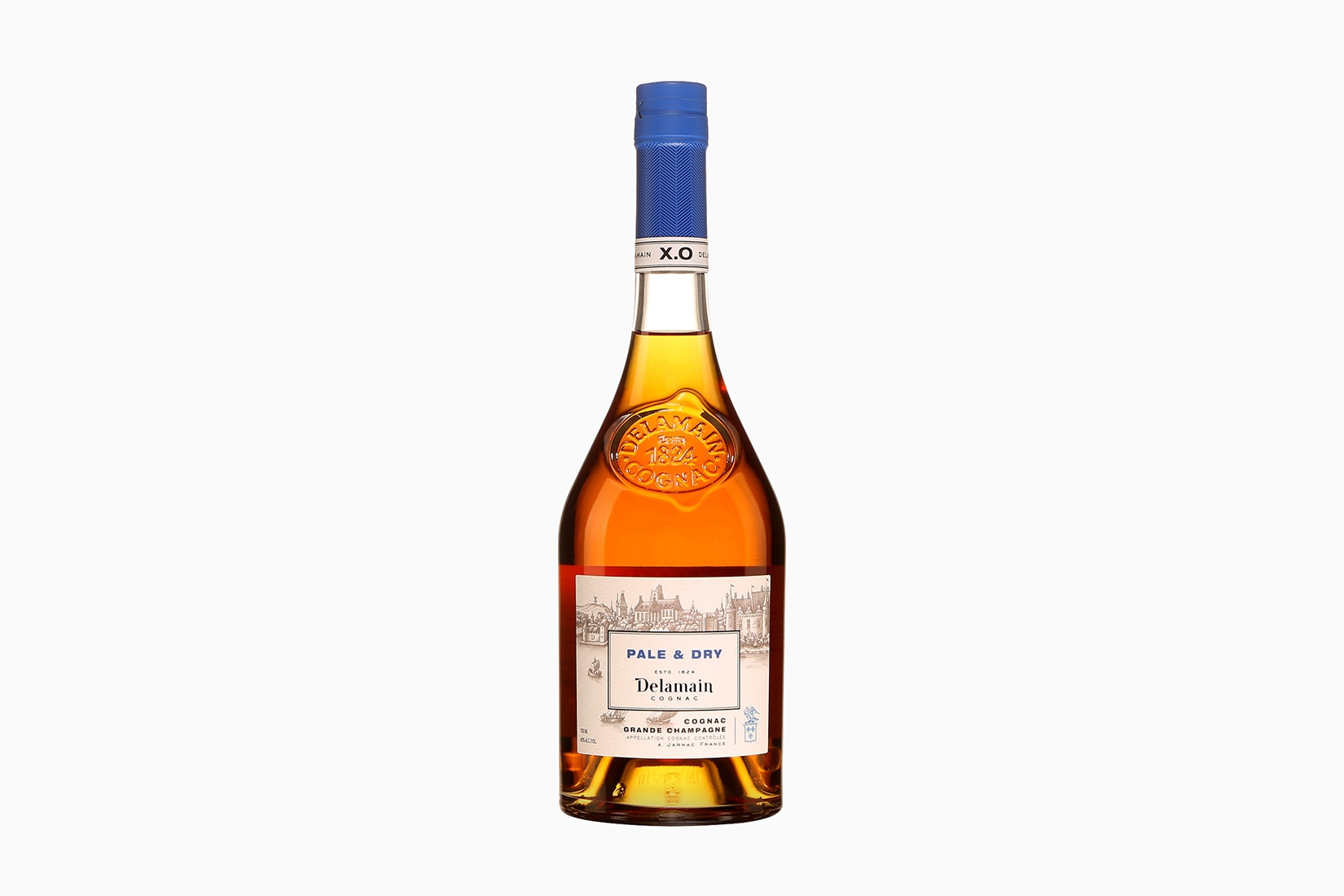 Delamain is a cognac house that uses only eaux-de-vie from the highest cru in Cognac, the Grande Champagne region.
Delamain Pale and Dry XO gets its name from its production method: this brandy is much lighter than most eau-de-vie its age. Delamain never uses caramel or sugar to modify the taste or color of its offerings, making it a dry rather than sweet brandy. As a result, it's one of the purest and most authentic brandies on the market.
The XO is the youngest release from the house and is aged in 350-liter oak barrels called roux, which reduces the amount of tannins involved in the process and alters the taste slightly.
It's aged for an average of 25 years, resulting in plenty of fruity, rich notes of raisins, yellow apple, and peach. Keep sipping to really draw out the complementary notes of vanilla, butter, and caramel. It's exceptionally well-rounded and delivers an incredible integration on the palate.
Best French Cognac: Delamain Pale & Dry X.O Cognac
8. Bertoux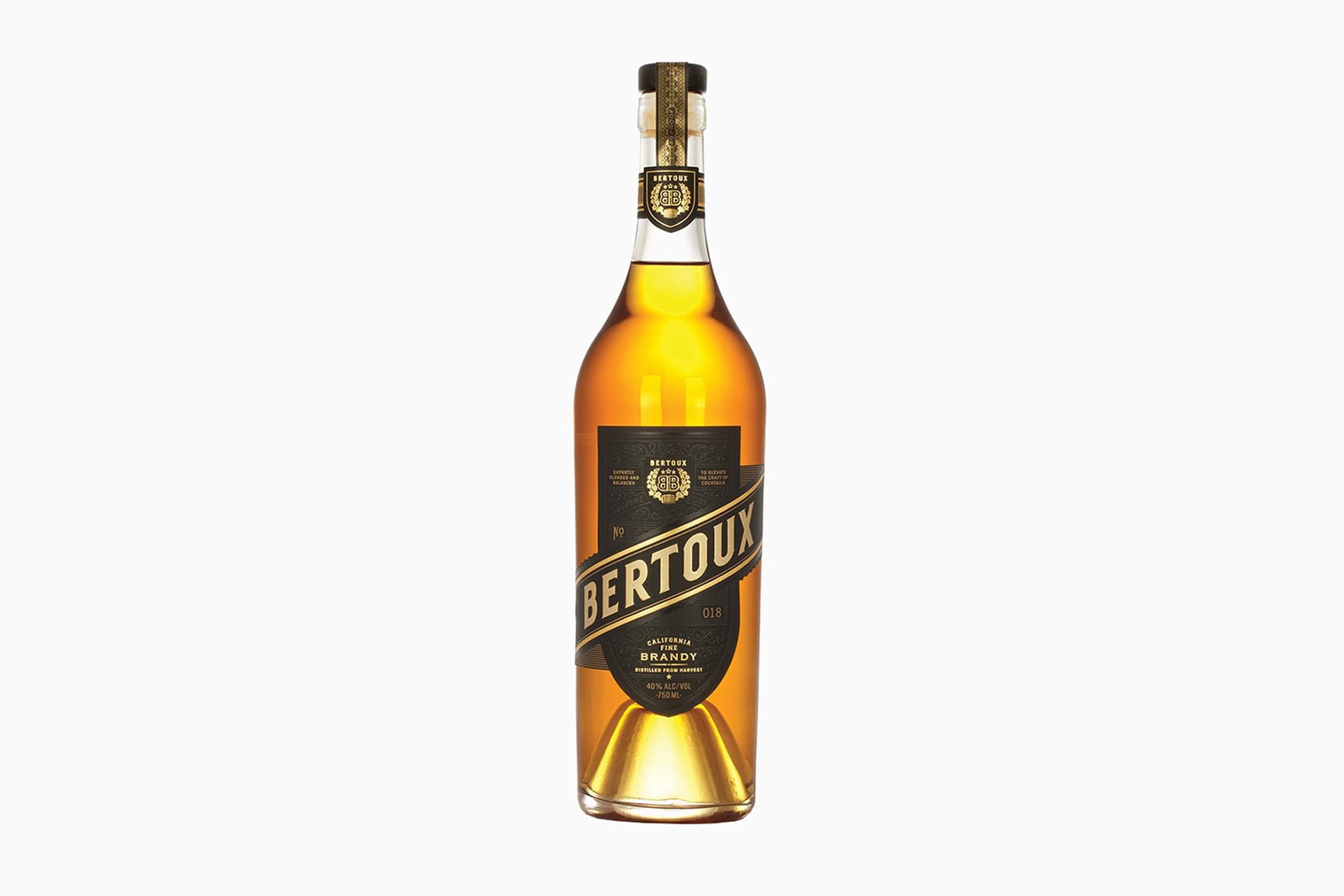 Vibrant and highly aromatic, Bertoux Brandy is produced in California and combines some of the finest grapes to produce a delicious, one-of-a-kind spirit that's perfect for cocktail making. The brand prides itself on creating a range of offerings that are blended, balanced, and full of vibrancy.
Bertoux is pot‑distilled and is aged from three to seven years in French and American oak. If ever there was a spirit designed for cocktails, it would be Bertoux: blended by renowned bartender Jeff Bell and acclaimed sommelier Thomas Pastuszak, who crafted the brandy into the optimum cocktail partner.
This brandy has a dark amber color and a strong and welcoming aroma of candied apricot, orange blossom, and honeysuckle. It has a clean and engaging palette, featuring hints of raisins and dark chocolate, and blends perfectly into a Sidecar cocktail. Shake it well with triple sec and lemon juice for a deliciously refreshing drink.
Best brandy for cocktails: Bertoux Brandy
9. Germain Robin XO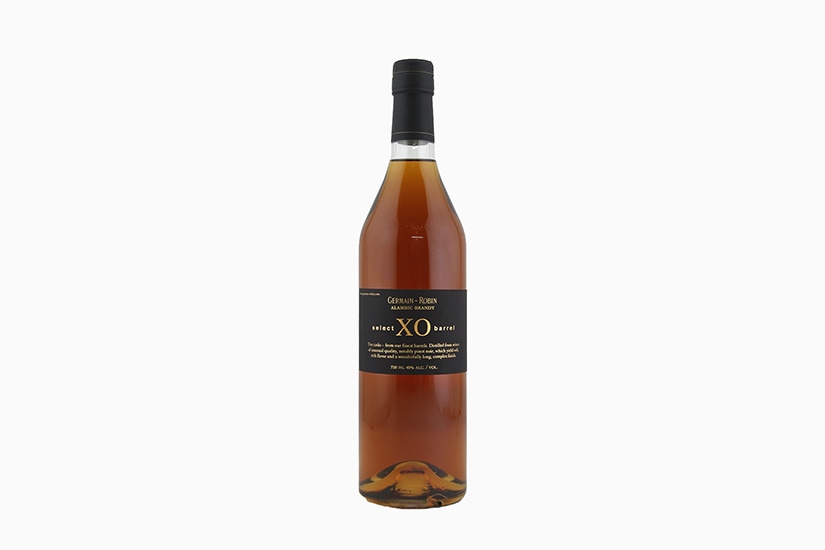 Germain Robin makes 10 barrels a year of its XO alambic brandy and about 80 percent of the wine used for distillation is pinot noir – a premium grape that's evident in this brandy's taste.
It's a bottle that's won competitions against some of the biggest names in brandy in the world, and is unrivaled for its delicious taste and strong characteristics. The brandy is aged for around 17 years, with the process taking place in Limousin oak barrels. Wood spices and red fruit are two of the immediate aromas noted, and a sip will reveal a rich and deep brandy filled with soft orchard fruit, vanilla, and hints of chocolate.
Throughout the drinking experience, enjoy further notes like caramel and coconut. It's a bottle that's well suited as an after-dinner drink, with its high-quality flavors and warming experience. It's fruity and easy to drink, with a butterscotch finish that goes on and on. If you haven't yet tried it, it's sure to be a new favorite.
Best tasting brandy: Germain Robin Select Barrel XO Brandy
10. Courvoisier XO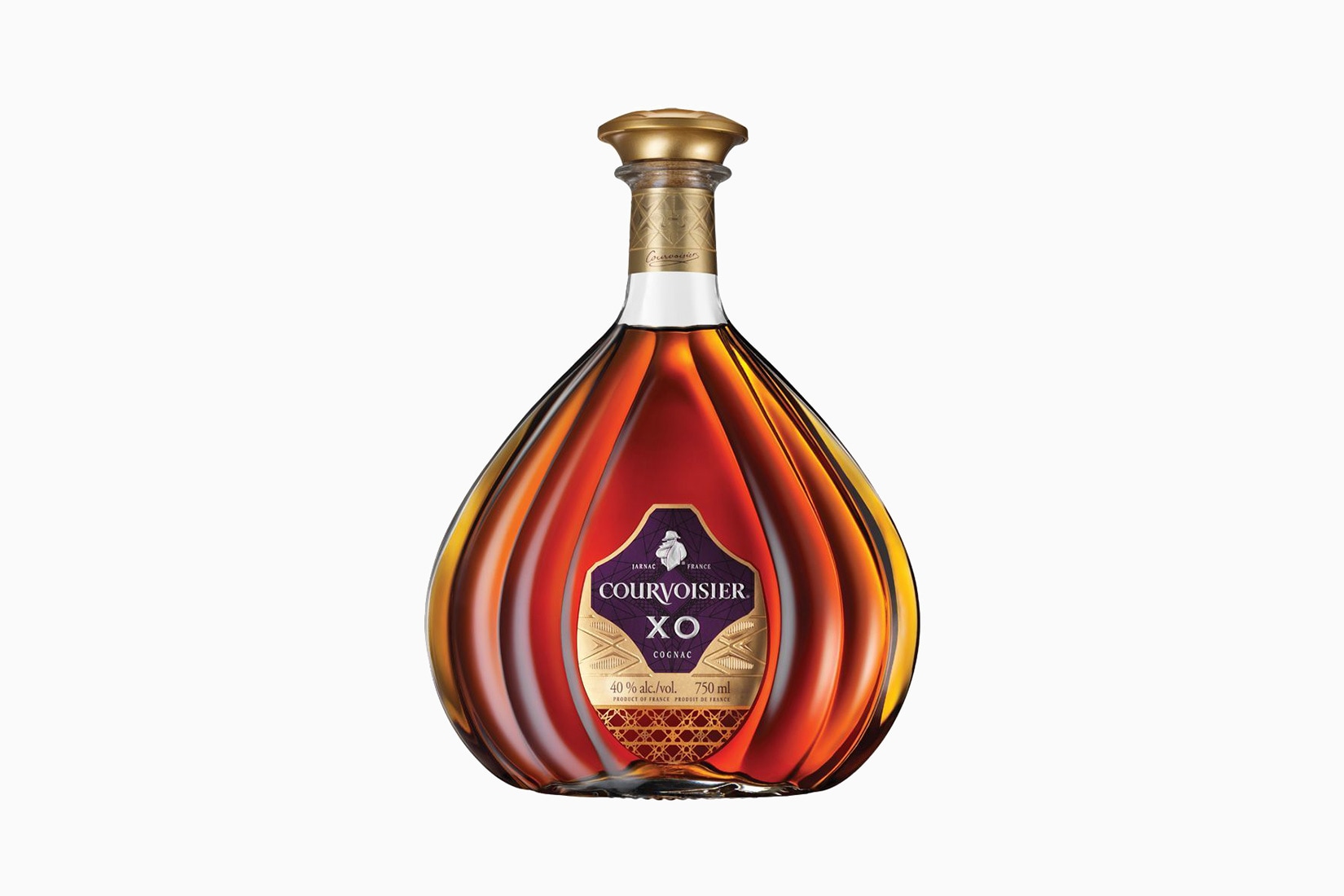 Courvoisier XO Cognac was judged to be one of the finest XO cognacs in the world and it's easy to see why. It's a bottle with many layers, thanks to the brand's Master Distiller using a prime selection of beautifully matured eaux-de-vie, all aged from 11 to 25 years.
Each bottle combines long-aged eaux-de-vie from Grande and Petite Champagne for grace and flavor with a touch of Borderies to add extra depth. The result: an incredibly complex brandy that's smooth and delicious and perfect for special occasions.
It boasts a deep flavor of oak, violet, and strawberry, with aromas of apricot, brown sugar, and cacao nibs. Courvoisier XO Cognac is a true example of brandy at its best; combining its rich character with a full-bodied finish and a sharp taste. It's a popular bottle among brandy lovers and is known for being a staple of the industry.
Discover the entire range of the brand's Cognac with our Courvoisier price guide.
Best rated brandy: Courvoisier XO Cognac
11. Martell XO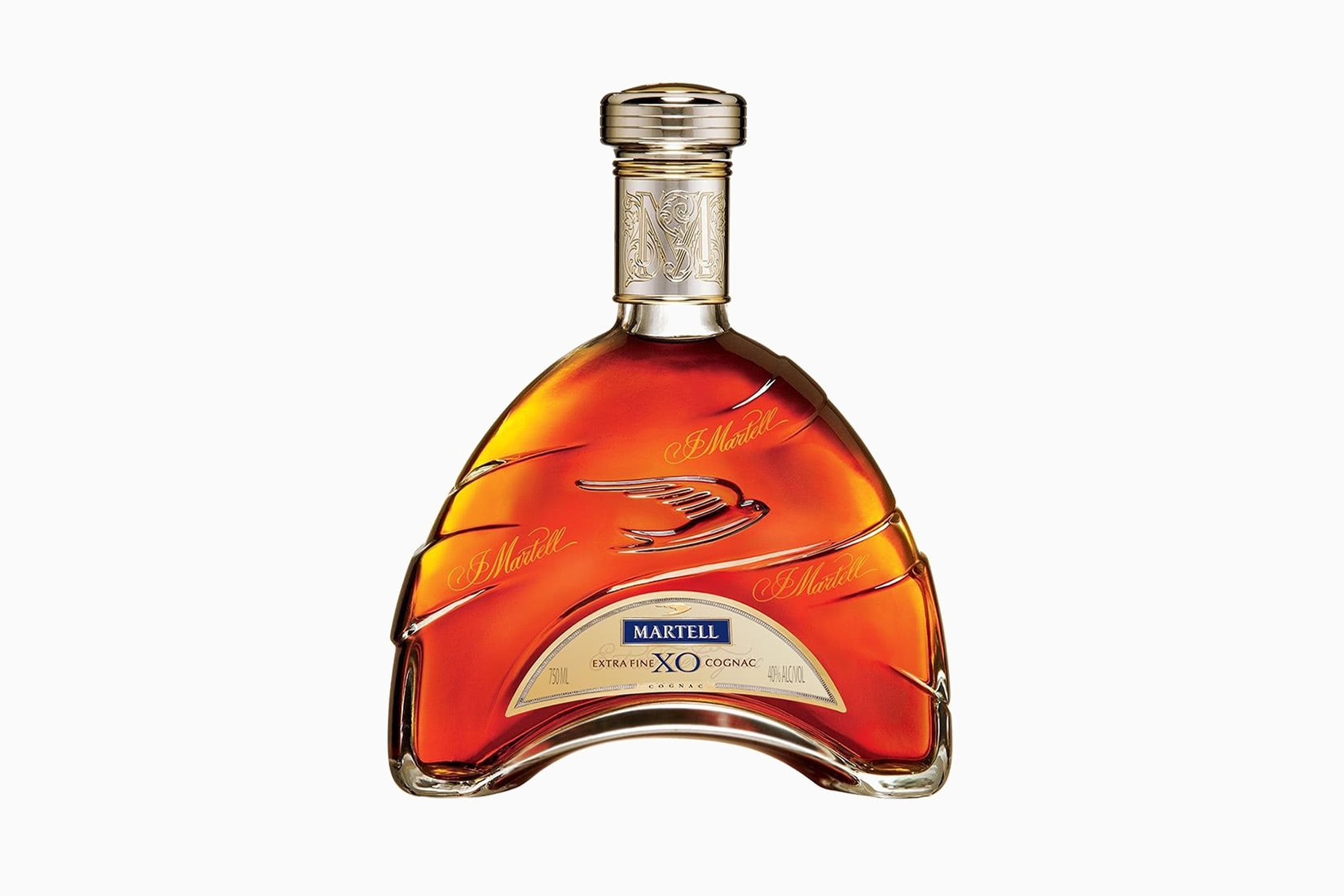 Anyone looking for an especially smooth brandy should choose Martell XO above all. Renowned for its optimum and velvety smoothness, Martell blends nuts and fruit into its XO offering in a uniquely-shaped bottle.
This is a golden-amber brandy that's one of the greatest premium drinks available and goes down well without any burn. Known for its outstanding quality, Martell XO is a soft, mellow brandy with an aroma of black pepper, fig, almond, and sandalwood and tasting notes of citrus, blossom, and walnut.
The blend includes eaux-de-vie from Martell's four main terroirs, including both the Borderies and Grande Champagne regions for depth and the brand's own personal elegance. Its premium quality makes this brandy one to enjoy neat or, at most, with a splash of water to bring out further notes of warming smoke and caramel. It's a masterpiece of blending, with subtle nuances and delicious texture.
Smoothest brandy: Martell XO
Buyers guide to drinking Brandy or Cognac
If you're new to the world of brandy, the broad variety of options available on the market might be overwhelming at first. It will require patience and trial to explore the different brands.
But give it a bit of time, and you'll discover a world of rich new flavors and fascinating nuances.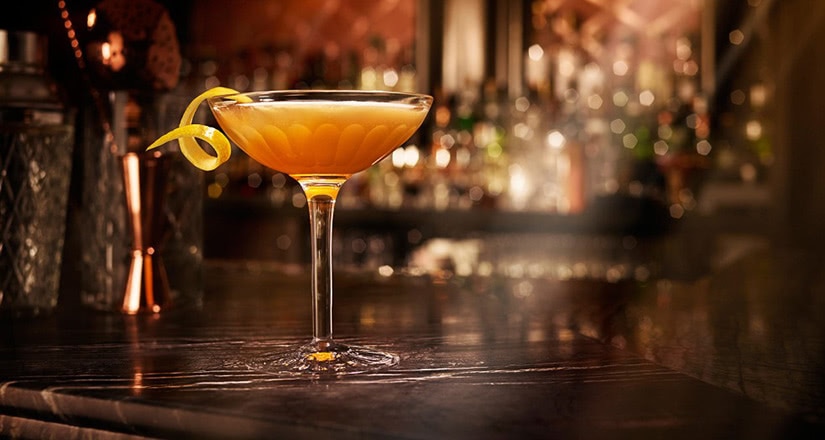 What's the difference between brandy and cognac?
Brandy can be produced anywhere in the world but Cognac has to be made from white grapes from specific French terroirs. Both generally contain 35–60 percent ABV. Brandy is typically made from grapes but can also be produced from another fermented fruit mash. However, a brandy made from a different fruit is typically called just that, for example, "apple brandy" or "pear brandy".
Cognac is more complex and can only be labeled as such if it's produced in the Cognac region in Southwest France. This region is made up of six premium districts, known for their superior grapes and growing conditions. The "Premier Cru", known as the best group of vineyards, is situated right at the center of these six and is the Grande Champagne and Petite Champagne. The remaining four crus are the Borderies, Fins Bois, Bons Bois, and Bois Ordinaires.
Cognac must also be distilled twice using copper pot stills and aged in French oak barrels for a minimum of two years.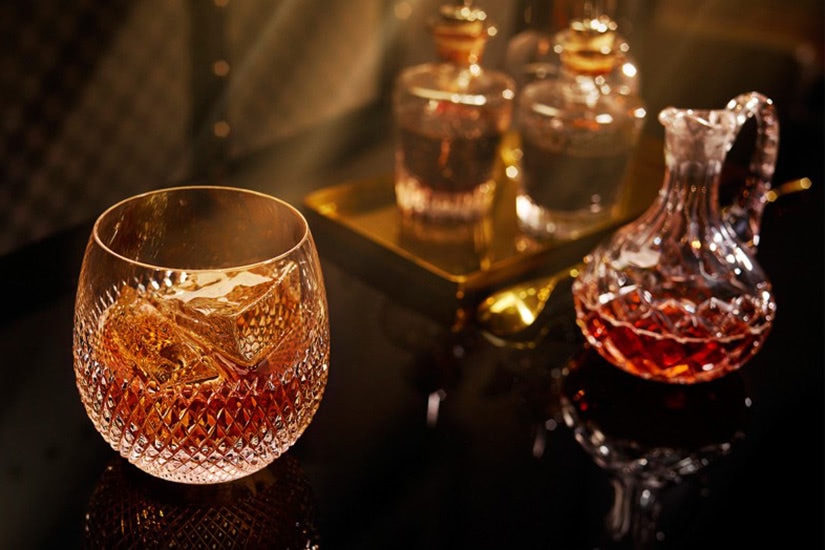 How are Brandy and Cognac made?
Any fruit that ferments can be distilled and turned into a brandy but the most common and most favored choice is grape.
Most wine-producing countries also make brandy, ranging from Greece's Ouzo to Peru's Pisco and Italy's Grappa.
Similar to the production of wine, brandy and cognac are produced in four main stages: harvesting, fermenting, distilling and aging. The process is similar to that of white wine, and in order to produce most brandies or cognacs, a white wine mixture is distilled and then aged in a particular way.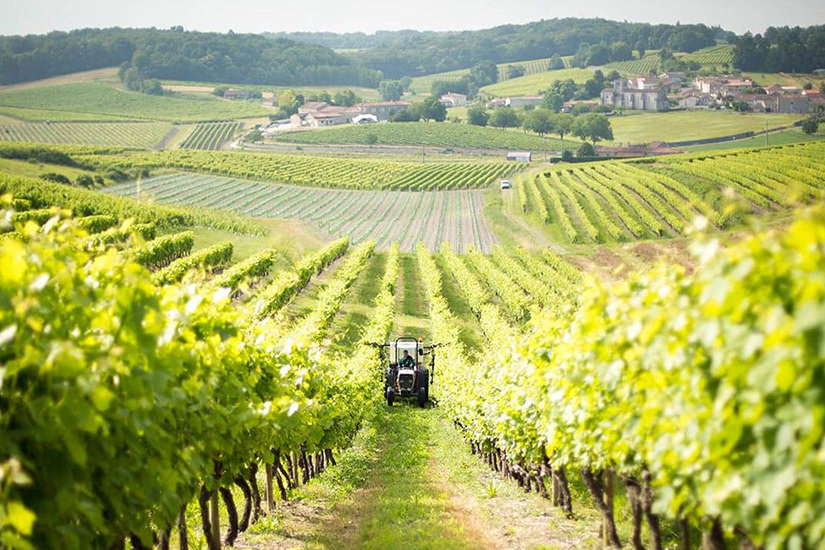 To start, the fruit is picked when it hits optimum ripeness. Grenache, Pinot Grigio, and French Colombard are some of the most common varieties of grapes used to make brandy. Next, the grapes or other fruit are fermented using a combination of yeast and the naturally occurring microflora already present. Once fermented, the mixture is distilled in order to bring out the complex flavors and natural aromas that make up a successful brandy.
Finally comes the aging process. Brandy is typically aged in oak barrels to ensure flavor and quality. Some brandies, especially Spanish varieties, are aged using the Solera system, where the barrels are changed each year. After a period of aging, which varies depending on the country producing the liquid and the type of brandy, the spirit is bottled and prepared for retail.
This aging and storage process can often be a sign of an impressive brandy or cognac. Most brandies are blended products of various ages. The age of the youngest brandy in the blend designates the age statement on the bottle, but can also be noted with various abbreviations:
AC: The lowest quality brandy, which has been aged for up to two years. These brandies are best enjoyed when mixed into cocktails.
VS: Very Special: the second youngest brandy and the term covers brandy that's been aged for a minimum of three years.
VSOP: Very Superior Old Pale, or brandy that's aged a minimum of four years. These brandies are known for being more mellow than previous categories thanks to their time spent in barrels.
XO: Extra Old, or brandy that's been aged for at least six years.
A brandy can also be designated as an Hors d'Age, which translates from French as "beyond age" and covers the spirits that have been aged for at least six years and often for decades, or "vintage" which covers those produced from the very best years. A vintage brandy is the best of the best and should only be sipped neat.
There's no limit to how long a brandy can age for – some of the finest bottles are aged for 20 to 30 years and promise a spectacular array of notes.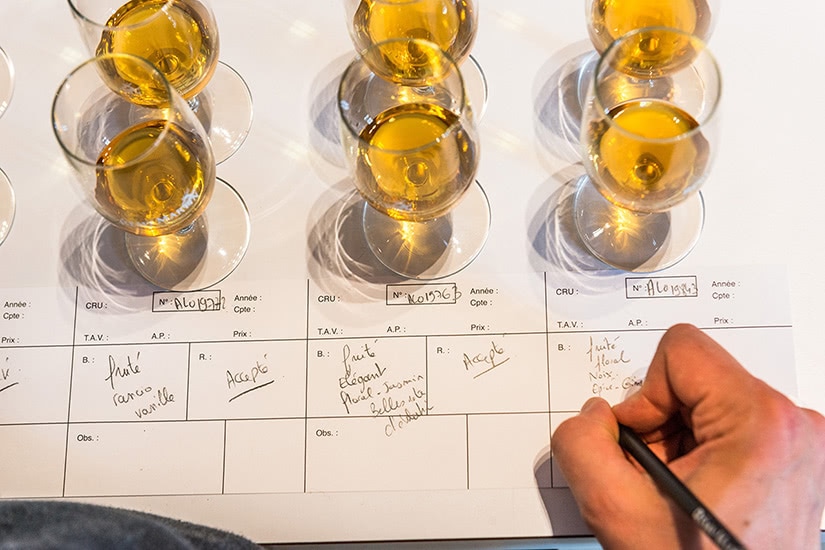 How to drink Brandy and Cognac
Brandy might be known as one of the original cocktail mixers but this is a spirit that's also waiting to be enjoyed neat. The first step to enjoying brandy is to drink it at room temperature. As an aromatic spirit, it's best enjoyed at optimum temperature to really bring out the varieties of flavors and aromas.
To drink brandy the classic way, leave the bottle on the counter for around an hour before drinking and then pour it into a tulip glass; the best glass used to savor the spirit. Its bowl and rim shape is specially designed to allow the spirit to hit the correct part of your tongue while delivering the aromas straight to your nose.
Hold the bowl of the glass in your hand to gently warm the liquid, before sniffing from above the rim of the glass. Then, take small sips of brandy, allowing it to roll around your mouth before swallowing. High-quality brandies and cognacs can be sipped neat and are best enjoyed that way, while a value brandy is the perfect accompaniment to classic cocktails like the Sidecar.
Some people choose to heat their brandy slightly with a candle, by holding the bowl of the glass above a small candle for a moment or two. However, it's easy to overheat the liquid this way, exposing the harsh alcohol fumes.
In comparison to many other spirits, brandy doesn't go off. An unopened bottle can keep indefinitely as long as it's stored properly: a tightly sealed container, away from heat or light.
And even once it's been opened, a good bottle of brandy needn't be finished quickly. The bottle can still be stored indefinitely, resulting in only a few subtle changes to the flavor of the liquid. The high alcohol content of brandy means that it will remain safe to consume for some time, making it an ideal spirit to invest in.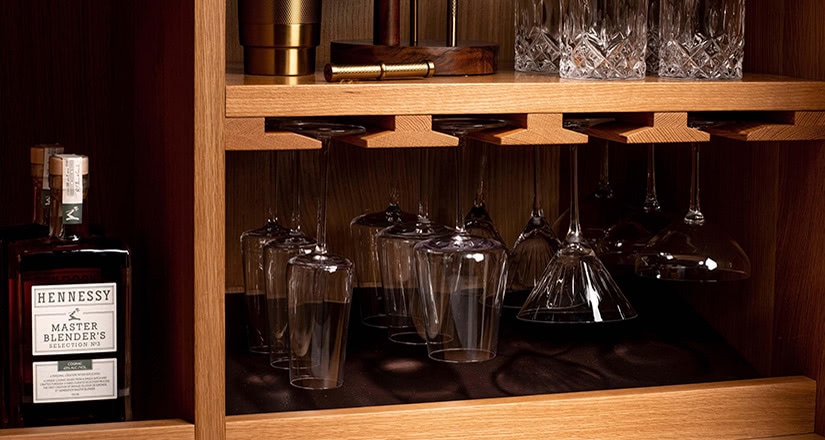 The best brandy-based cocktails
Cognac was a traditional staple cocktail ingredient and the craft cocktail industry is seeing a recent resurgence for the spirit. That means a good bottle of brandy or Cognac is an important purchase for your bar cart.
The traditional brandy-based cocktail is the Sidecar, made up of your brandy of choice (often Cognac), orange liqueur, and lemon juice. With a mix of sweet and sour, it's a popular choice that always goes down well.
Other popular brandy-based cocktails include the Manhattan; created by mixing brandy with sweet vermouth and simple syrup, and the Champagne Cocktail, produced by mixing brandy with Champagne for an elegant twist. Modernize the brandy after supper tradition with a round of Brandy Alexanders; brandy, crème de cacao, and cream, which pull together to form a delicious and satisfying dessert cocktail.
If you'd rather enjoy a simpler creation, brandy goes particularly well with a range of different fruit juices. Lemon is the top choice, offering a blend of tart notes to combine with the spirit's sweetness. Orange, cranberry, and lime juice are also excellent choices. For more traditional mixers, a brandy and coke is a popular request, while mixing brandy with lemonade releases more citrus notes.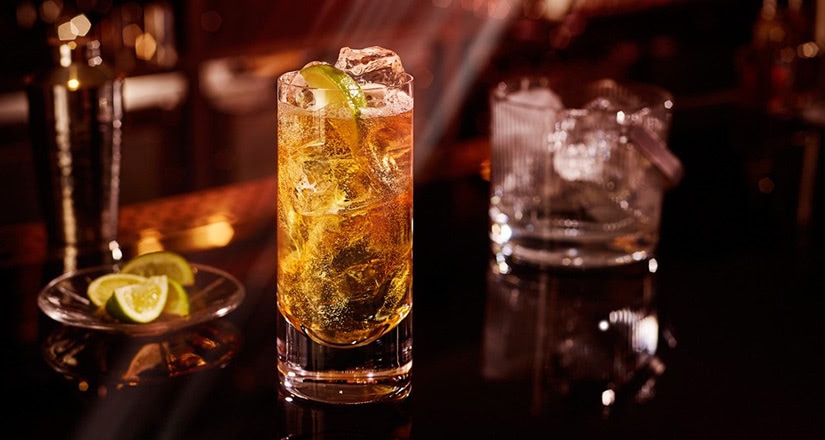 What are the top five best brandy brands?
Next, we'll take a quick look at the history and tradition behind the top five best brandy and cognac brands in the world.
Rémy Martin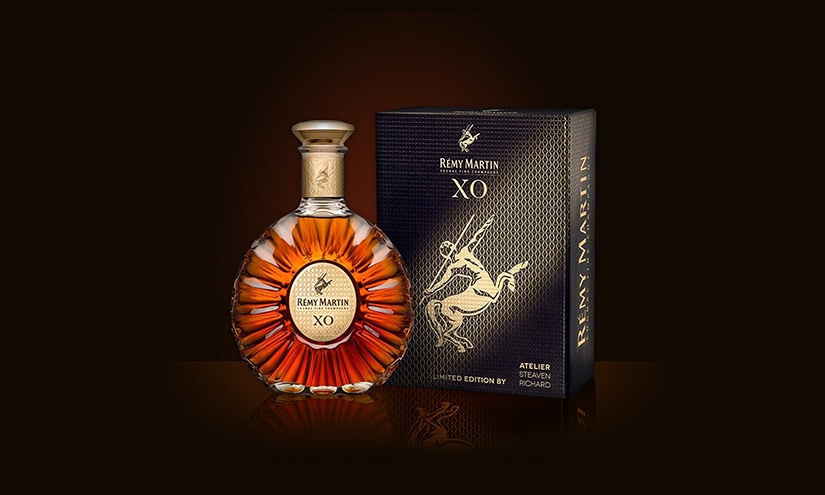 Rémy Martin is known for being one of the biggest cognac producers in the world. Its expertise can also be recognized as it's part of the Comité Colbert, an association of luxury businesses that promote French know-how worldwide.
In 1738, the brand was given the royal accord – the seal of the French royal family and has been around for close to 300 years. It's one of the most expensive Cognac brands in the world and is the only Cognac house founded by a winemaker. Rémy Martin is best enjoyed straight, thanks to its complexity and prestige.
Martell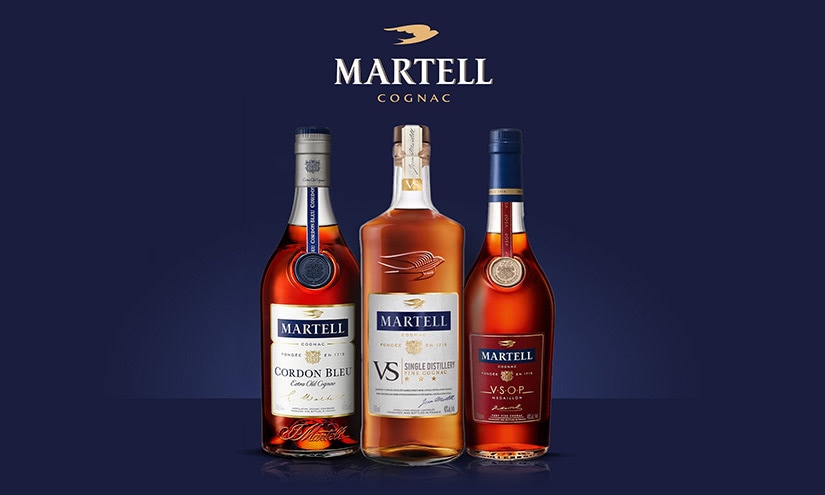 Martell is a Cognac house founded in 1715 by Jean Martell and is another pinnacle of the brandy industry. It's one of the oldest cognac houses in the world and prides itself on its sophisticated blends and craftsmanship. Combining place, precision, and time, Martell uses Ugni Blanc grapes from the Charente region near the Atlantic coast to give the brand its characteristic aromas. Martell is the only great cognac house to use its unique method of distilling exclusively clear wines and it's this that contributes to its one-of-a-kind flavor. This distinctive style puts Martell at the forefront of the brandy industry and has done for many years.
Courvoisier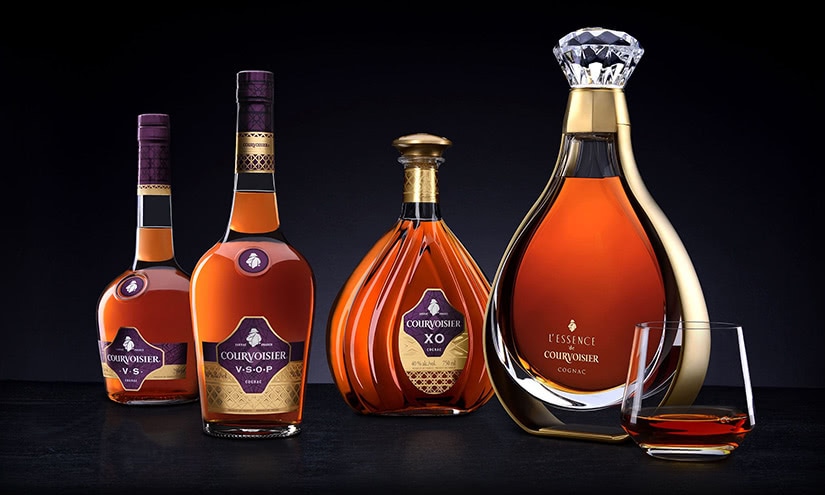 Courvoisier, a popular producer of brandy, is a big brand that's known for its smoothness. It's a premium Cognac brand that's owned by spirits-giant Beam Suntory. Courvoisier uses a traditional distillation process and handcrafted barrels to produce its Cognac, ensuring that each and every bottle meets its strict quality requirements.
Courvoisier works mostly with the four most premier crus in the region: Grande Champagne, Petite Champagne, Borderies, and Fins Bois. It also maintains a close relationship with each and every one of its vine growers. Before bottling its Cognac, Courvoisier separates its liquid and uses only the clean and pure liquid from the middle.
Hennessy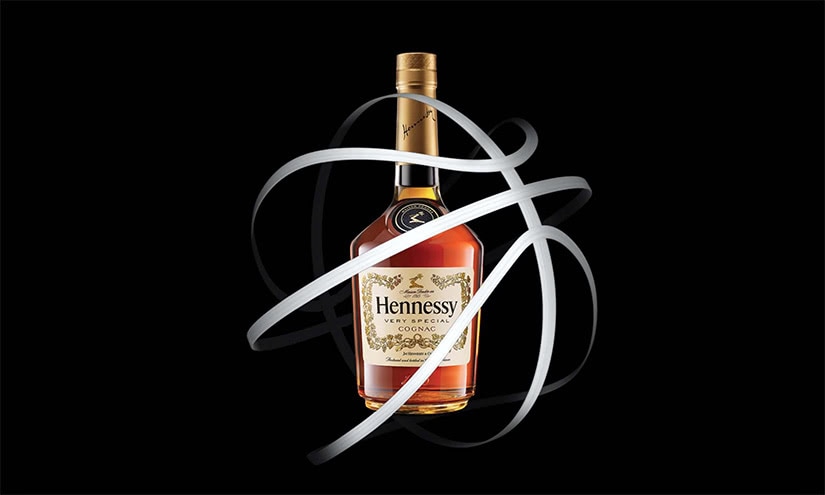 Jas Hennessy & Co., or more popularly known as just Hennessy, is a cognac house that sells about 50 million bottles a year worldwide. This makes it the most popular Cognac brand in the world, and it supplies more than 40 percent of the world's cognac.
Hennessy is an expensive brand for a reason: it uses a long and sophisticated method for producing its offerings, using locally grown Ugni White grapes and a distillation process that has remained unchanged for centuries. It double distills all of its offerings and rotates each barrel throughout the aging process to achieve optimum exchanging of flavor.
Germain Robin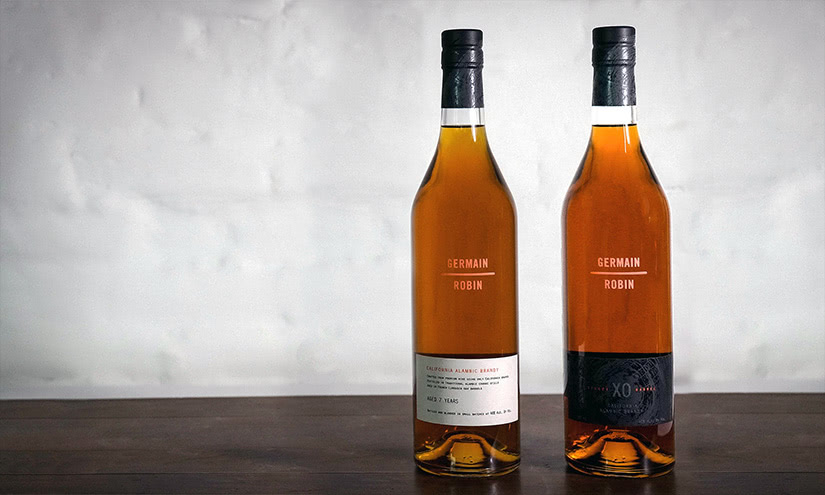 A favorite among mixologists and brandy lovers, Germain Robin is a premium brandy producer from Ukiah, California. While known for its high quality reminiscent of cognac, its offerings can't be called cognac due to being produced outside of the recognized area.
Germain Robin crafts its spirits with traditional alembic cognac stills but uses unconventional, flavorful, and complex California wine grapes.
Germain Robin is the first brandy distilled from non-traditional varietals like Pinot Noir, Riesling, Viognier, and Sémillon, and these provide the brand with a distinctive character. It blends artisanal methods and excellent workmanship to push its brandy to new heights.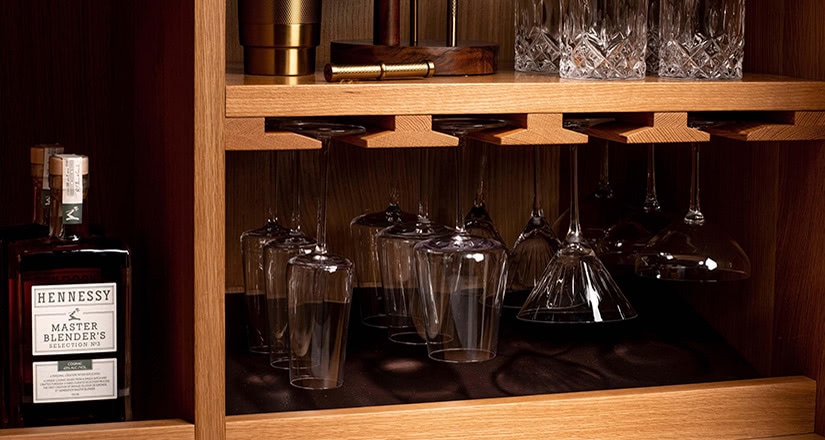 Terminology: the key terms to know when buying Brandy or Cognac
ABV: Alcohol By Volume — the percentage of ethanol in a beverage.
Armagnac: A grape brandy, made in France's Armagnac region, with a similar flavor profile to Cognac but often with more spiced and bold notes. It also uses three additional grape varieties: Folle Blanche, Colombard, and Baco Blanc.
Brandy de Jerez: Brandy that's been aged in ex-sherry casks and that uses a solera system for aging. It also needs to have been aged in the area bordered by the towns Sanlucar de Barrameda, El Puerto de Santa Maria, and Jerez de la Frontera.
Brandewijn: The original name for brandy – a Dutch word that is derived from gebrande wijn, which literally means "burned wine".
Brandy snifter: The traditional glass used for drinking brandy. This is the best way to enjoy brandy for all of its delicate flavors, thanks to the shape of the glass. The large surface area releases the aromas of the spirit while the short foot encourages you to hold it by the bowl, warming the brandy slightly.
Calvados: A type of apple brandy, also produced in France that's either double or single-distilled and is aged in oak barrels.
Congeners: The impurities stripped from a spirit during the distillation process.
Cru: The growing region of the grapes or fruit used to produce the brandy. It's a term used more often when talking about Cognac, which has six official growing regions in France.
Eau de vie: The clear, colorless fruit brandy produced after the fermentation and double distillation period. Translating from French to "water of life", it typically has a very light fruit flavor.
Grande Champagne: A French district, otherwise known as a cru, known for its Cognac. The Grande Champagne region is regarded as the best and most respected region, followed by the Petite Champagne.
Napoleon: A Cognac that's four years old or an Armagnac that's at least six years old.
Vintage: A term used for a bottle of brandy (or, commonly, Armagnac) for when a particular year's harvest is all that's gone into the bottle. These bottles are very expensive due to their rarity and age.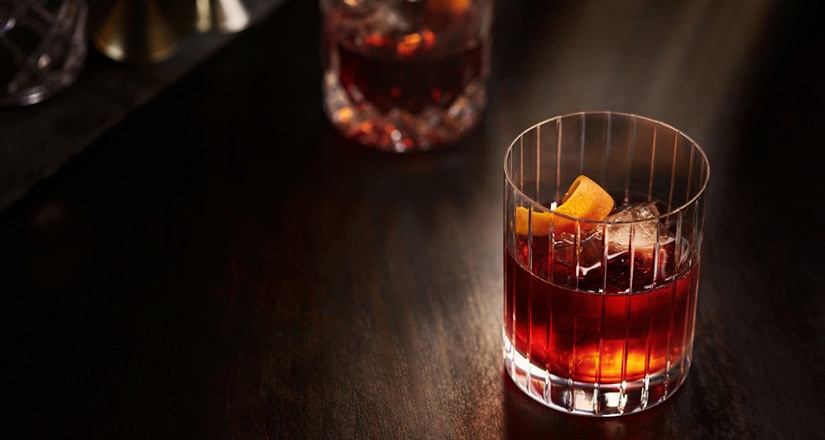 Methodology: How we select, test, and rank the best brandy and Cognac on the market
The beauty of brandy lies in its aging process, making this element of its production arguably the most important. When we put together the shortlist for the best brandies and cognacs on the market, we kept each bottle's age at the forefront of the decision-making process.
We looked into the region where each brandy or cognac was produced and then, especially for cognacs, looked at the quality of grape used and which cru its grapes originated from. We took into account the authority and popularity of each brand, its range of offerings, and its distillation method.
Finally, we weighed up each bottle's individual qualities, aroma, and taste profile, before deciding what each unique bottle was most known for.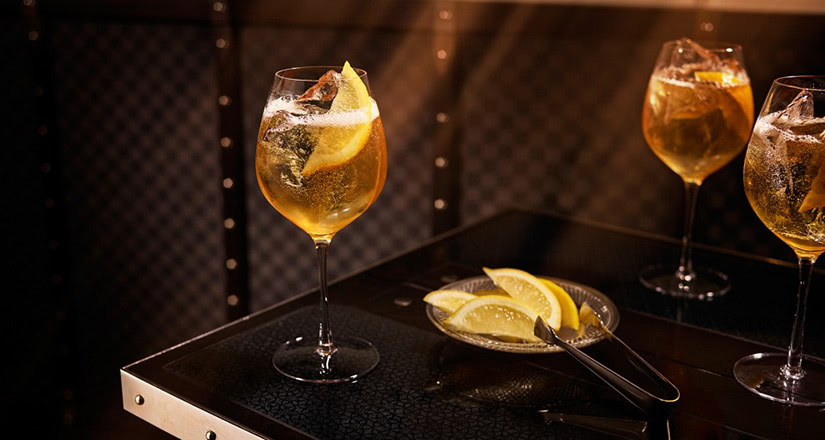 Frequently asked questions about Brandy and Cognac
Which is the smoothest brandy?
The smoothest brandy is Martell XO. It's a very sophisticated cognac with a smooth silky texture and a long finish. Enjoy it for a wonderful drinking experience, with notes of rancio, citrus, blossom, and walnut when tasting and an aroma of black pepper, fig, almond, and sandalwood.
What is a good inexpensive brandy?
A good, inexpensive bottle of brandy is Torres 10 Gran Reserva Brandy, which costs around $22 but has a character and taste profile far superior to its accessible price. This brandy is known for its internationally renowned guarantee of quality and intense bouquet of flavors like cinnamon and vanilla.
What is the difference between Cognac and Brandy?
The difference between brandy and Cognac is where it's produced and what it's produced from. Brandy is fermented fruit juice and can be produced anywhere in the world. Cognac is produced in the Cognac region of France, from specified grape varieties grown in the area. Cognac must also be double-distilled in copper pot stills and aged for at least two years in Limousin or Tronçais oak barrels.
What is the best way to drink brandy?
The best way to drink brandy is at room temperature, poured into a tulip glass. Hold the bowl of the glass in one hand to gently warm the liquid and experience the aroma from directly above. Then, drink in small sips to savor the tasting notes.