Coco Chanel once said "luxury must be comfortable, otherwise, it's not luxury". If we're using this definition, then your cozy hoodie is in the running for being the most luxurious loungewear piece on the market.
While that old college hoodie that you've thrown in with your pajamas, may win points for comfort, it is certainly not going to cut it on the style front. That hoodie that you stole from an ex, may give you the upper hand in the breakup, but the oversized silhouette is doing very little for your form. And that old school hoodie that you've kept from your Grampa…well you can keep it for its sentimental value, but not as your everyday workout wear.
We're after a hoodie that's effortlessly fashionable while maintaining that schlumpy feeling. It's the kind of item that you can still pull over your head after a bad breakup, but the complimentary colorway gives you something new to smile about. It's the one piece that whispers sweet nothings into your ear after your boss patronizes you. And while it may not hold the same sentimentality as some of your older iterations, the flattering fit is all for making new memories.
Finding such a hoodie is no small feat. Fortunately, we've already found the best in the hood. So all you have to do is pick one.
The 22 best hoodies for women
Alo Accolade: Overall best hoodie for women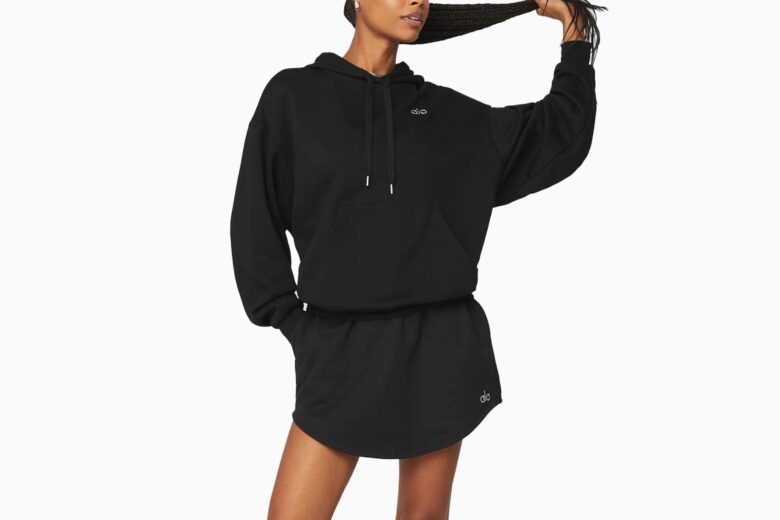 Racking up the accolades for its stylish comfort, Alo's Accolade Hoodie is on the top of our list of the best hoodies for women. The classical kangaroo pocket and bold hood bring that carefree-cool streetwear vibe. While the soft French terry fabric and flattering silhouette bring the luxe factor. Perfect for wearing in or working out, you may need more than one of Alo's trendy hoodies in your rotation.
Learn more about the Alo Yoga brand story.
Best for: Taking first prize—on and off the mat.
| | |
| --- | --- |
| Colors: | Black, Beige, Raspberry + More |
| Material: | French Terry |
Axel Arigato: Best designer hoodie for women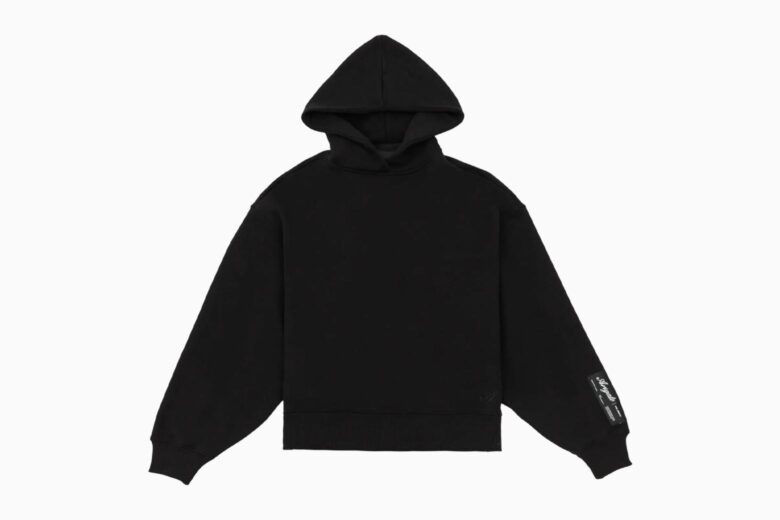 There's something about a hoodie in off-white. Somehow the clean hue makes the humble hoodie look a little more polished—especially when it's Axel Arigato. Refined yet relaxed, this oversized hoodie is one you will wear on repeat. Paired with your best white sneakers and favorite mom jeans, this designer hoodie is perfect for casual Fridays or WFH days.
Discover Axel Arigato's premium clothing and footwear collection.
Best for: Casual chic.
| | |
| --- | --- |
| Colors: | Pale Beige |
| Material: | Organic Cotton |
Champion: Best value hoodie for women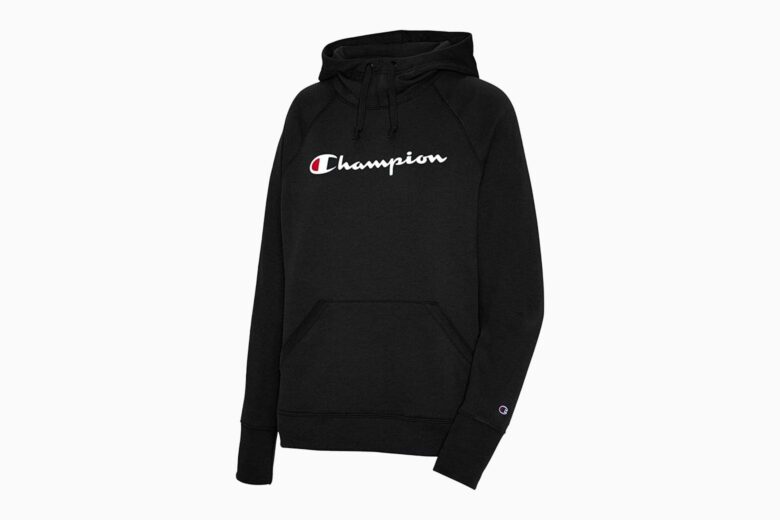 Good news: luxe hoodies needn't be expensive. Champion's winning iteration is case in point. This fleece hoodie features the brand's iconic logo front and center. And coming in a myriad of enticing hues, you're bound to find your new cuddle companion. We especially love the navy silhouette and red logo combo—it's a classic.
Best for: Winning all round.
| | |
| --- | --- |
| Colors: | Navy, White, Pink + More |
| Material: | Polyester Blend |
Cuyana: Best cropped hoodie for women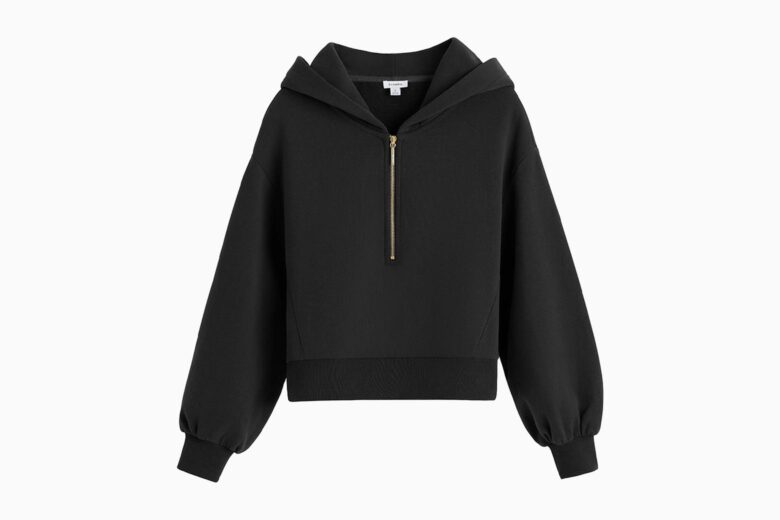 As one of our favorite brands for elevated essentials, we'd be remiss to leave Cuyana off this list of the best hoodies for women. The lightweight zip-up hoodie is made purely from cotton for everyday comfort. The contemporary proportions and cropped cut give it an edgy feel. While the gold zip and ribbed cuff detailing exude luxury hygge. This sumptuous hoodie deserves to see more than your couch.
Learn more about the story behind Cuyana and check our hands-on review of their gorgeous bags.
Best for: Luxury hygge.
| | |
| --- | --- |
| Colors: | Black, Stone and White |
| Material: | Cotton |
Anine Bing Harvey: Best women's oversized hoodie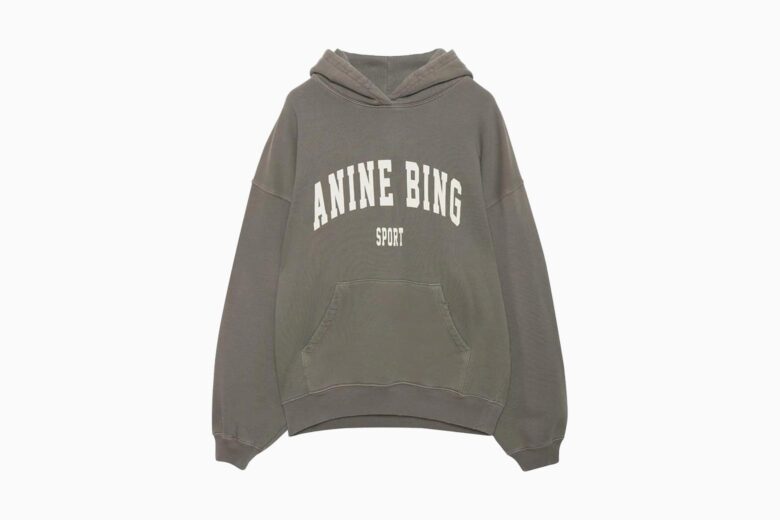 You no longer need a boyfriend just to keep the hoodie. Oversized hoodies for women are totally in trend. And we especially love this boyish look by Anine Bing. The androgynous colorways and oversized fit give off that it's his vibe. While the exaggerated logo in cream speaks to an All-American, college attitude. This carefree aesthetic is the reason we started coveting hoodies in the first place.
Learn more about Anine Bing.
Best for: Carefree and in control.
| | |
| --- | --- |
| Colors: | Olive, Gray, Black + More |
| Material: | Cotton |
Gucci Vintage: Best long hoodie for women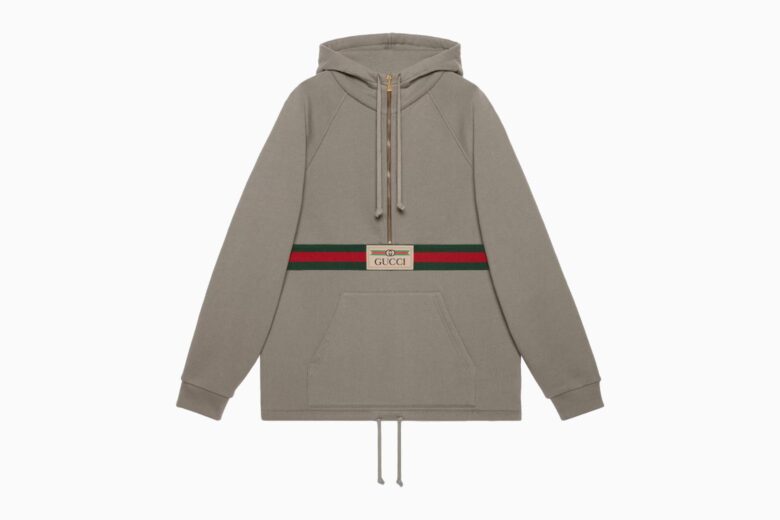 Achieve that vintage look without sifting through your Grampa's moth-eaten wardrobe with this long iteration by Gucci. Long hoodies for women take their cues from retro archives. And nothing screams old-school comforts like Gucci's historical equestrian webbing with a gold partial zip. This gray hoodie is the one your children will be vying for, years after the purchase—so you'd best keep it away from envious hands.
Best for: Luxe loungewear at its finest.
| | |
| --- | --- |
| Colors: | Gray |
| Material: | Cotton |
Glossier: Best cute hoodie for women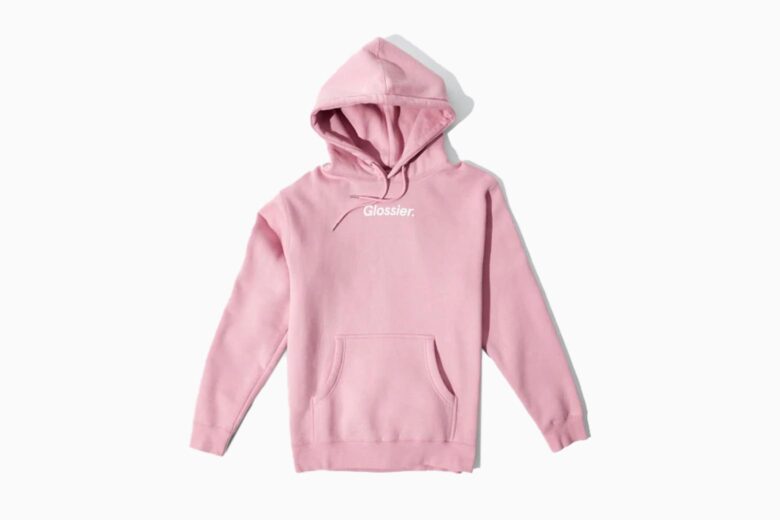 Elle Woods approved and It-Girl endorsed, Glossier's plush pink hoodie epitomizes casual comforts. The classical silhouette features a kangaroo pocket and drawstring closure with the brand's iconic logo in white. It has just enough slouch, yet maintains its shape. We think this plush hoodie by Glossier is the perfect accomplice for an all-girls, at-home spa day. Or to get that Timothee Chalamet streetwear chic look—you decide.
Best for: Plush practicality.
| | |
| --- | --- |
| Colors: | Pink |
| Material: | Cotton Blend |
Brooklinen Montague: Best women's zip-up hoodie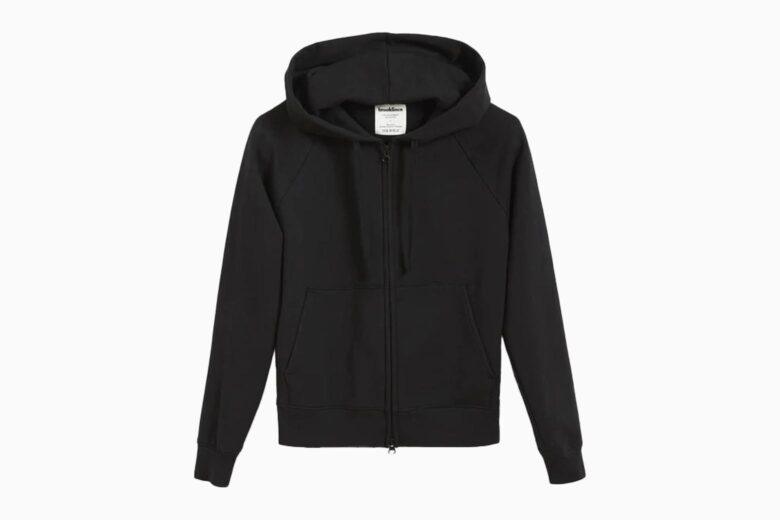 Brooklinen makes some of the finest and most comfortable bed sheets. And as expected, this hoodie is just as dreamy. Lightweight and lined with fleece, Brooklinen's Montague is worth adding to your arsenal of transitional wear. The two-way zipper and double front pockets take practicality to the next level. While the sporty aesthetic and breathable fabrics make it perfect for a leisurely stroll around the park. Pair this elevated essential with your trendy trainers to look the part wherever you go.
Best for: From loungewear to leisurely strolls.
| | |
| --- | --- |
| Colors: | Black and Charcoal |
| Material: | Cotton Blend |
Allbirds: Most comfortable women's hoodie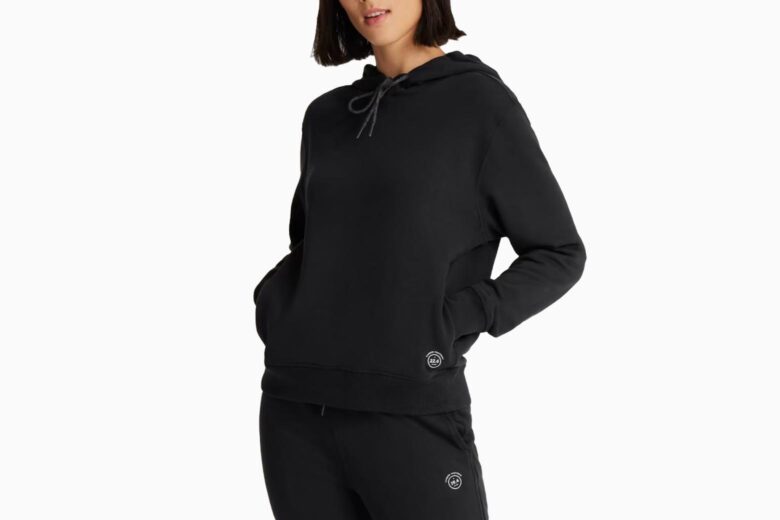 As one of the best activewear brands, Allbirds understands endurance as much as they do the importance of rest and recovery. With a focus on sustainability, the brand's R&R hoodie is carbon-neutral and made from natural breathable fibers. So whether you're putting your legs up or taking the dog out, this versatile hoodie by Allbirds is all about maximum comfort—without sacrificing style, of course.
Learn more about Allbirds' brand story and check our hands-on Allbirds sneakers review.
Best for: Luxury is comfort, and comfort is luxury.
| | |
| --- | --- |
| Colors: | Black, White, Cargo + More |
| Material: | Cotton Blend |
Horizn Studios: Best women's hoodie for travel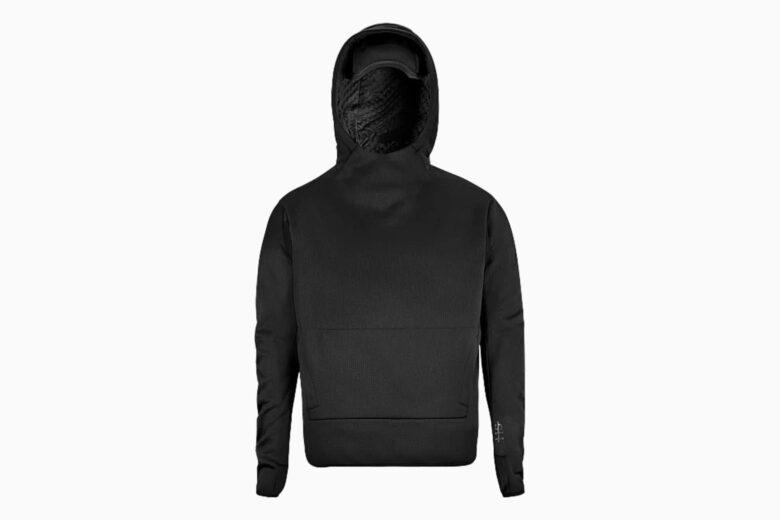 Upgrade to first class without the added cost in Horizn Studios' travel hoodie. Made from vegan-friendly materials, the natural fibers are breathable, temperature regulating, and combat unwanted odors. Plus, the fitted silhouette features a versatile hood with an integrated sleep mask, so you don't have to rely on the airlines' flimsy versions. These cool hoodies are the ultimate game-changers for long flights—trust us.
We took the brand for a spin in a recent trip to Dubai, check our hands-on review of Horizn Studios' luggages.
Best for: Upgrading to first class.
| | |
| --- | --- |
| Colors: | Black, Blue, White + More |
| Material: | Jade and Coffee Charcoal |
On Running: Best black hoodie for women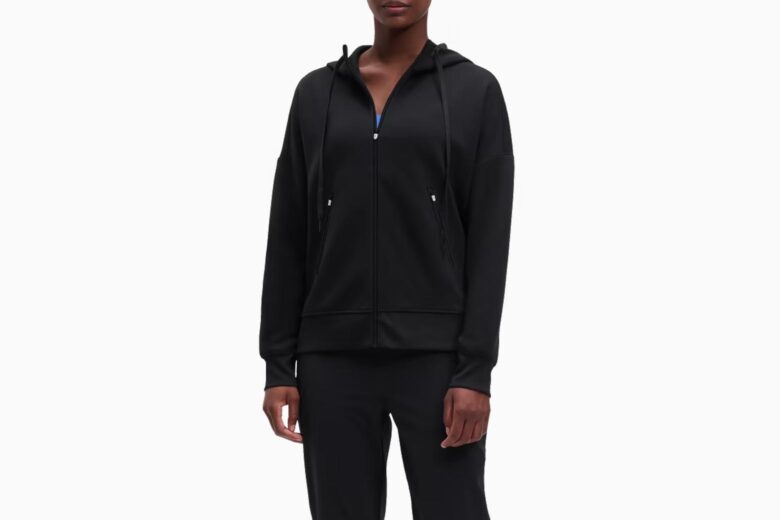 It's no secret that we're big fans of On running. Renowned for their forward-thinking innovations in activewear, the cutting-edge brand uses the latest technology to make your workout that much more comfortable. This black hoodie is case in point. The sleek colorway gives off Kardashian-like confidence while reaching your PB has never been easier.
Check our hands-on On Running sneakers review.
Best for: Running away from fast fashion.
| | |
| --- | --- |
| Colors: | Black |
| Material: | Polyester Blend |
Nike: Best soft hoodie for women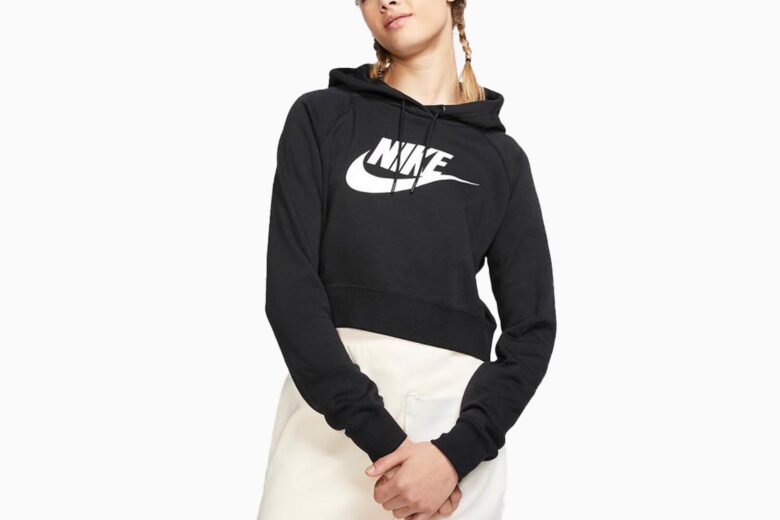 Everyone needs a Nike hoodie in their loungewear rotation. And we're particularly partial towards this chic cropped silhouette. The lightweight fabric feels like butter against your skin. While the brand's signature logo takes center stage, as it should. Pair your color of choice with the matching shorts for a polished sporty aesthetic. If in doubt—just do it.
Best for: Sporty yet stylish.
| | |
| --- | --- |
| Colors: | Gray, Cream, Red + More |
| Material: | Cotton Blend |
Adidas Adicolor: Best women's hoodie for lounging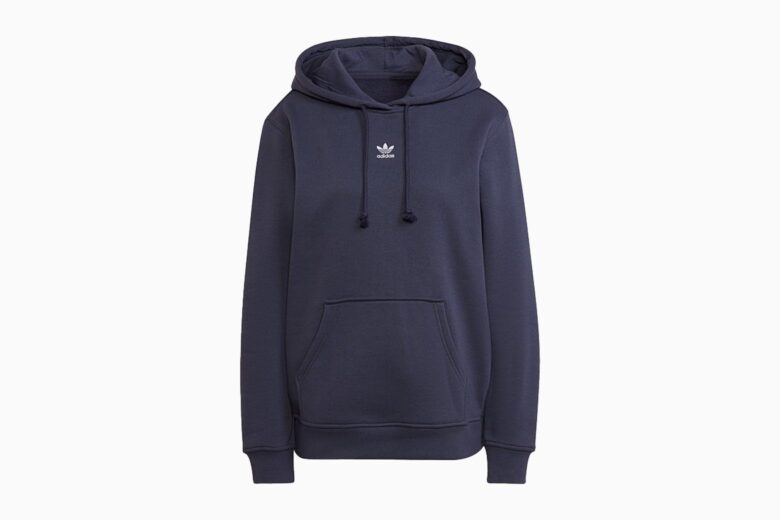 If you're more of an Adidas-Girl, you'll be pleased to know that their fleece hoodie is equally luxurious. And while the activewear brand is all for pushing the limits, this plush hoodie is made specifically for those lazy Sundays and rest days. We're thinking of binging on Netflix with Ben and Jerry and this cozy hoodie…care to join?
Best for: Rest day.
| | |
| --- | --- |
| Colors: | Black, Gray, Beige + More |
| Material: | Cotton Blend |
Hanes: Best lightweight zip up hoodie for women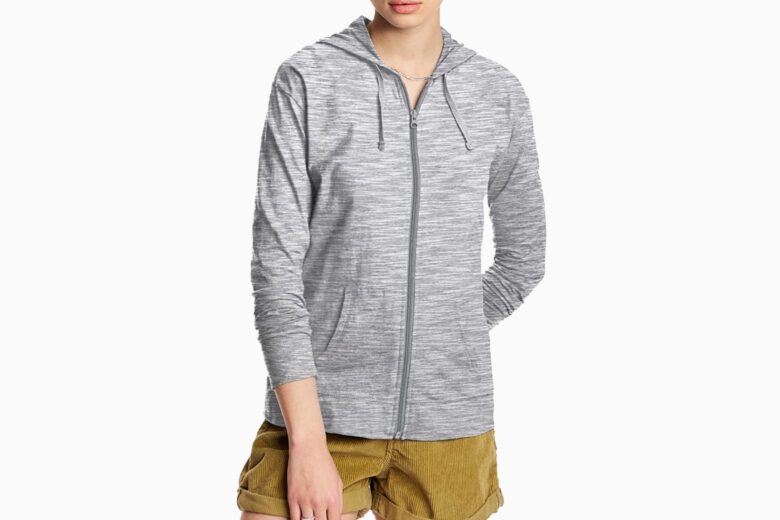 Made from a lightweight cotton knit, this Summer hoodie by Hanes is the perfect additional layer for warmer weather. The zip-up front, hand pouches, and adjustable hood give off a carefree, casual mood. The fitted silhouette is effortlessly flattering. While a range of chic colorways, implore you to add a vibrant iteration as well as a neutral one to your arsenal.
Best for: Adding to your quintessential Summer staples.
| | |
| --- | --- |
| Colors: | Pink, Black, Navy + More |
| Material: | Cotton |
Sporty & Rich: Best cotton hoodie for women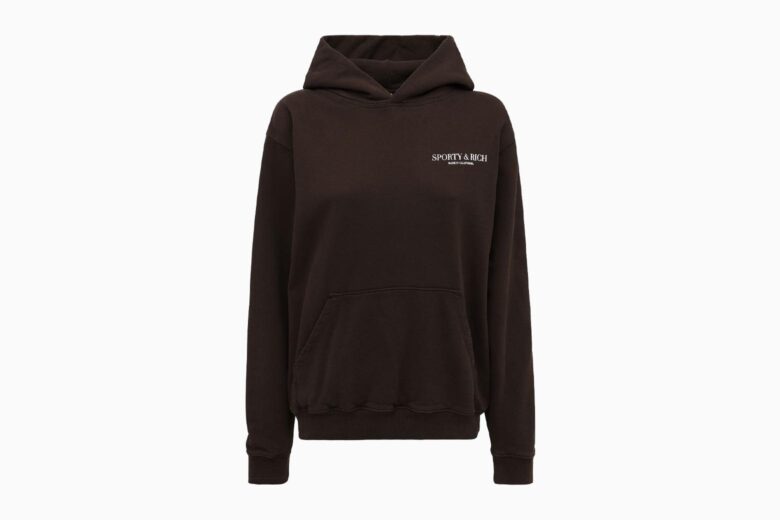 Dark chocolate hues are totally in trend with their retro flair and nonchalant aesthetic. And for that—amongst other things—we adore this sweatshirt hoodie by Sporty & Rich. The kangaroo pocket and ribbed cuffs contribute to its classical silhouette. Pair this cotton hoodie with matching short tights, sneakers and your aviators for the ultimate California cool girl look.
Best for: California dreaming.
| | |
| --- | --- |
| Colors: | Brown |
| Material: | Cotton |
Alo Coverup: Best short-sleeved hoodie for women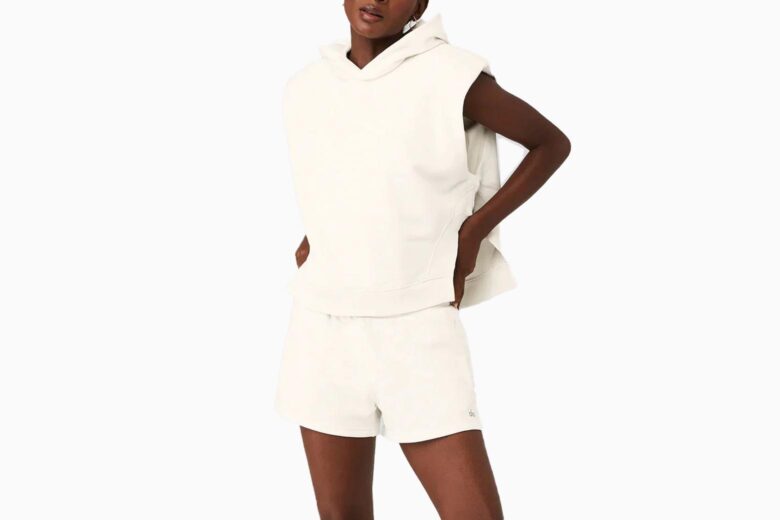 Hit the streets in this sleeveless coverup, and you'll be our next fashion icon. The contemporary silhouette gives off an edgy attitude. The shoulder pads are uber-flattering and oh so stylish. While the breathable fabric makes it the ultimate seasonless staple. Wear it with longs in Winter or shorts in Summer. Wear it to the studio to workout or to brunch after. This Alo hoodie is just as flexible as you'll be on the mat.
Best for: Fashionable flexibility.
| | |
| --- | --- |
| Colors: | White, Black and Gray |
| Material: | French |
Canada Goose: Best wool hoodie for women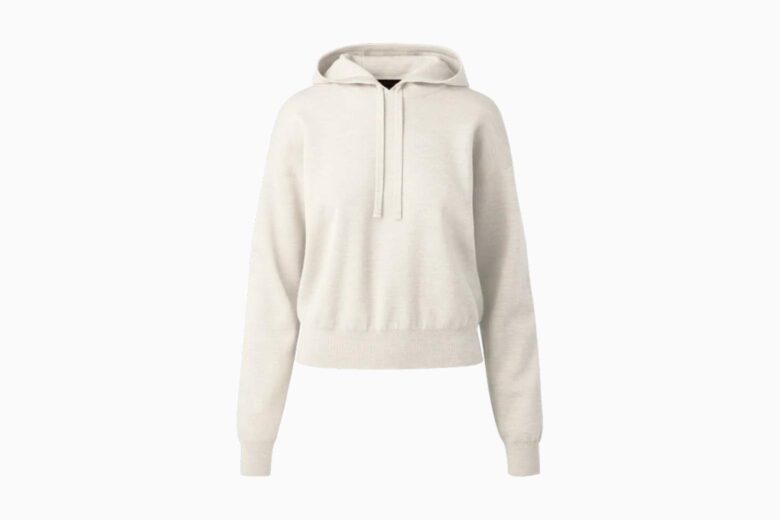 Renowned for their high-quality Winter garments, Canada Goose's wool hoodie is made for the indoors and outdoors. And while you may never want to leave the couch snuggled into the softest Merino wool, this slim fit hoodie is perfect for layering under jackets for outdoor adventures. Plus, the natural hues pair well with just about anything, so you won't have to compromise your style.
Best for: Softer than goose feathers.
| | |
| --- | --- |
| Colors: | Black, Cream, Tan + More |
| Material: | Merino Wool |
Asos Design: Best plus size hoodie for women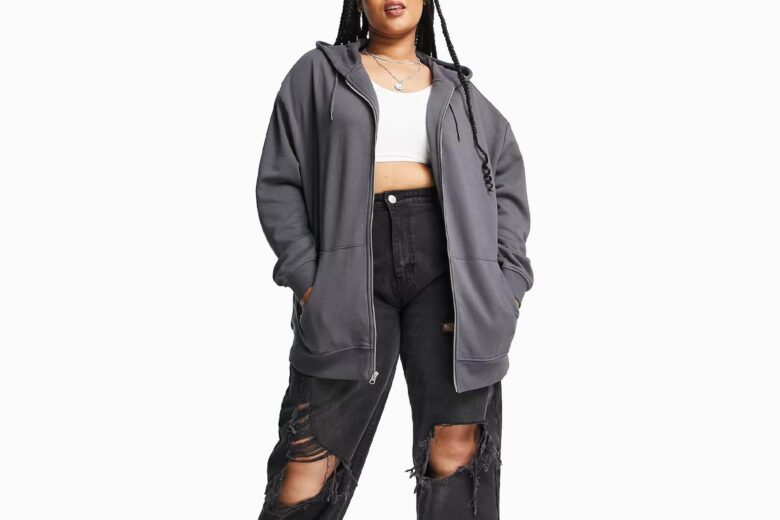 Manifest a chilled mood without digging into your boyfriend's closet. Once you've tried this plus-size hoodie, you'll be happy to give your man back his hoodie. The androgynous style comes in a versatile light gray. The oversized silhouette exudes carefree confidence. While the chunky zip adds a touch of chic. Dress this snug hoodie with distressed denims and sneakers for all-day comfort.
Best for: Returning your boyfriend's hoodie.
| | |
| --- | --- |
| Colors: | Gray |
| Material: | Cotton |
Canada Goose Simcoe: Best fleece hoodie for women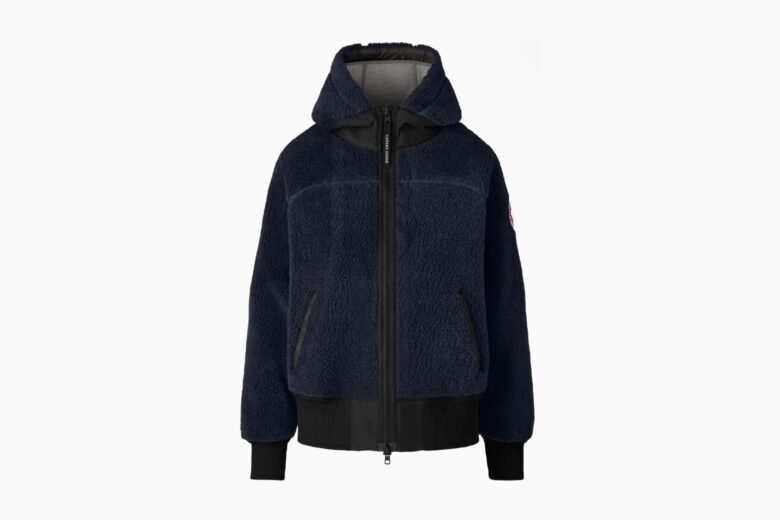 Designed to tackle Canada's icy climates, this hygge hoodie epitomizes Winter comforts. Whether you're cozying up with a good book or making your way through an entire series, the soft Simcoe fleece and signature collar are excuses enough to make it a full-day endeavor. After all, it's not often that you come across a stylish hoodie that doubles up as a blanket.
Best for: Where outdoor adventure meets indoor serenity.
| | |
| --- | --- |
| Colors: | Black |
| Material: | Simcoe Fleece |
Les Tien: Best minimalist women's hoodie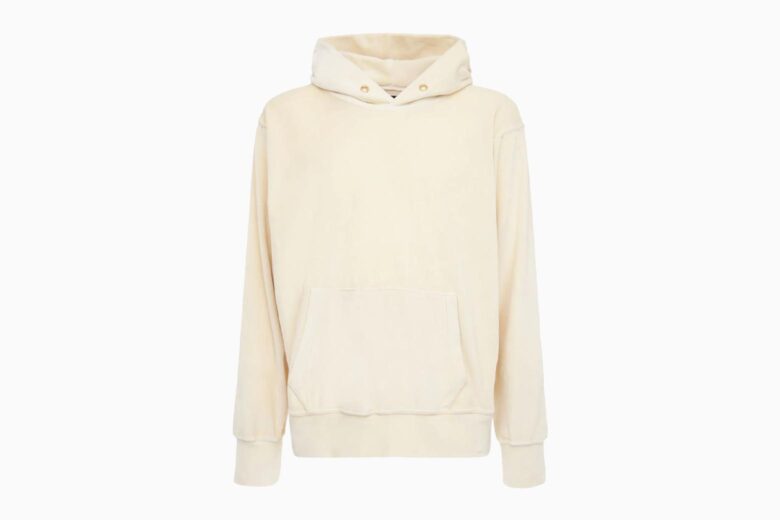 Les Tien brings Parisian chic to your wardrobe with their polished, minimalist pieces. And whilst we don't often associate French finesse with the humble hoodie, when it looks this good, it just makes sense. Made from pure cotton, the breathable lightweight is perfectly manipulated into a relaxed cropped silhouette. While exaggerated gold drawstring loops add a designer touch. Pair this elegant hoodie with the matching track pants for a streetwear style that is also tres chic.
Best for: The humble hoodie gets a French makeover.
| | |
| --- | --- |
| Colors: | White and Black |
| Material: | Cotton |
Daily Practice: Best hoodie dress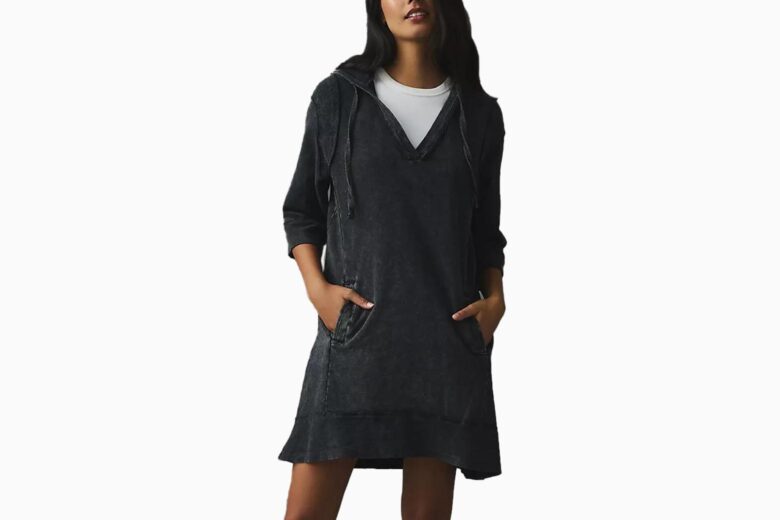 The only thing better than a comfy hoodie, is a comfy hoodie that requires no pants. If you don't know what we mean, try this hoodie dress by Daily Practice. The casual silhouette falls just above the knee and exudes contemporary chic. While the lightweight cotton feels like you're living in pajamas. Pair this hoodie dress with chunky trainers to level up your y2k look.
Best for: From teen to trendy.
| | |
| --- | --- |
| Colors: | Black |
| Material: | Cotton |
LilySilk: Best cashmere hoodie for women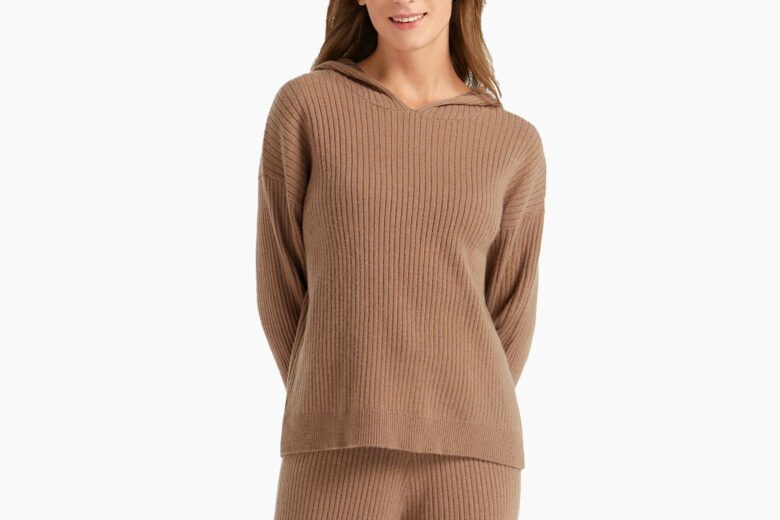 The humble hoodie—but make it fancy. LilySilk's cashmere hoodie marries nonchalance with elegance, making it the perfect pack for lounging, weekend getaways, and other instances where you want to feel relaxed but refined.
But when it comes to hoodies, it's just as much about comfort as it is about style (if not more so.) This is where LilySilk truly comes out on top. Sustainably sourced from Mongolian mountain goats, the conscious brand's cashmere is Grade A quality, and we could really tell the difference compared to other brands. The yarn is remarkably fine, creating a delicately soft and feather-light texture against the skin. And while it provides a refreshing reprieve from heavy winter knits, this cashmere hoodie is also warmer than most.
| | |
| --- | --- |
| Colors: | Coffee, natural white |
| Material: | Cashmere |
Frequently asked questions about the best hoodies for women
Which brand is best for hoodies for women?
The best hoodie ultimately depends on its intended purposes. If you're looking for a designer hoodie, Axel Arigato is our favorite. If you're looking for thin hoodies to see you through Summer, Hanes lightweight zip-up hoodie is worth adding to your arsenal. And if you're looking for an oversized hoodie, Anine Bing's California cool iteration is much better than your boyfriend's. For more recommendations, check out our list of the best hoodies for women.
What are the nicest hoodies?
The nicest hoodies make you look and feel fantastic all at once. We love Alo's Accolodade hoodie for its flattering silhouette, versatile hues and soft French terry fabrics. Cuyana's cropped iteration is perfect for an edgy touch. And Canada Goose's fleece hoodie is all you need to tackle icy climates. For more inspiration, read Luxe Digital's review on all the best hoodies for women.
Which color hoodie is best for women?
When it comes to capsule wardrobe staples, you can't beat neutrals. And whilst black is a popular choice for that effortlessly sleek aesthetic, white hoodies give off a carefree yet polished vibe. We also love tan hoodies for somewhere in between. On the other hand, hoodies already have a y2k edge about them, so could go all out and embrace the dopamine dressing trend with Millennial pinks and Gen Z greens.
What makes a good quality hoodie?
Quality hoodies are made from breathable, soft fabrics. You want a fit where the stitching hits your shoulder at just the right spot. And if it's oversized, it should have enough slouch but still, maintain its shape. The key to a quality hoodie is comfort and style. You should want to live in it—and be able to.