Diamonds may be a girl's best friend, but like any relationship, finding the one is no small (feet). Unless the gem is etched into your shoe—and then well, you must be (sole)mates.
Ok, shoe puns aside, Emmy London is renowned for its signature diamond-accented soles. And as a favorite amongst the British royal family, walking a day in the local brand's heels gives us a taste of what it's like to walk in a Princess' shoes. Although we highly doubt ruling is nearly as comfortable as what they make it out to be.
At a glance
| | |
| --- | --- |
| Brand: Emmy London | |
| Founded: 2004 | Founder: Emmy Scarterfield |
| Origin: United Kingdom | Industry: Fashion |
| Collections: Women's shoes and accessories | Website: emmylondon.com |
| Shipping: International | Headquarters: London, United Kingdom |
Behind the brand
History of Emmy London
Founded in 2004 in London by Emmy Scarterfield, Emmy London was born to marry comfort with decadent details. Emmy grew up in Somerset, where she first harnessed an obsession with shoes. And as she stuffed blocks in her socks and clip-clopped around the house, you could even say that she had an intrinsic eye for design—although she's come a long way since then. 
After graduating from Cordwainers College, Emmy was accepted to Marks & Spencer's "finishing school," where she enthusiastically launched herself into a career in design. As an incredibly talented designer, Emmy began designing for Georgio Armani and then Bottega Veneta in Milan. And five years later, after designing for some of the biggest labels in luxury, she couldn't wait to launch a luxury label of her own.
With a secret sparkle etched into its sole, Emmy London catapulted to cult-favorite status as it became famous for styling royal feet and dressing the red carpet.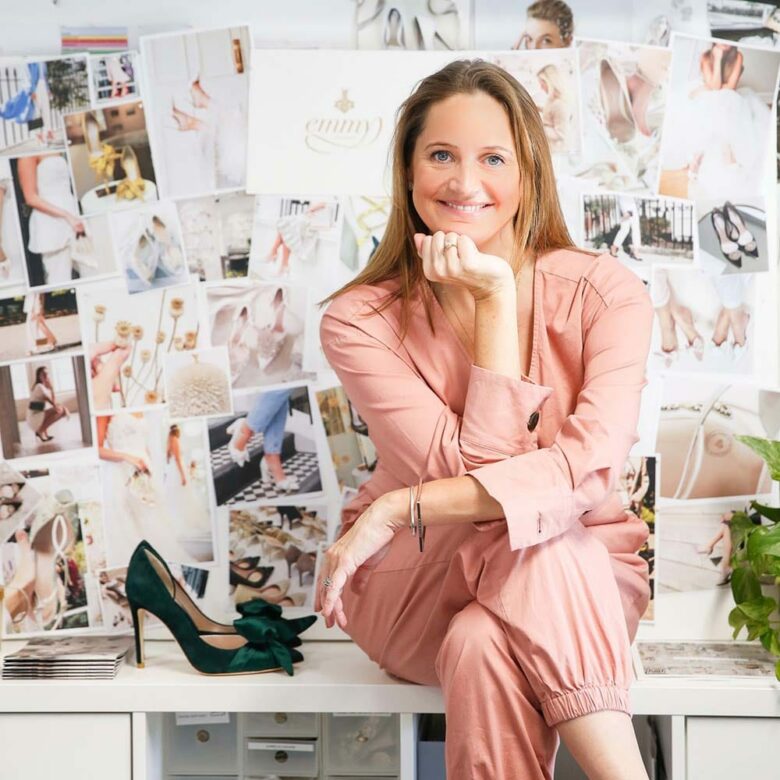 Interesting facts about Emmy London
Marrying a flattering fit with unparalleled comfort, Emmy London is all about feeling comfortable in your shoes. Because we all know that no matter how beautiful the shoes may be, there's nothing less empowering than struggling to walk in them. Emmy London shoes are all impeccably well padded with the highest-tech memory foam. Every heel is graded to ensure perfect balance and tailored fits. And the brand uses 100% Italian suede, making the shoes soft, smooth, and effortlessly breathable.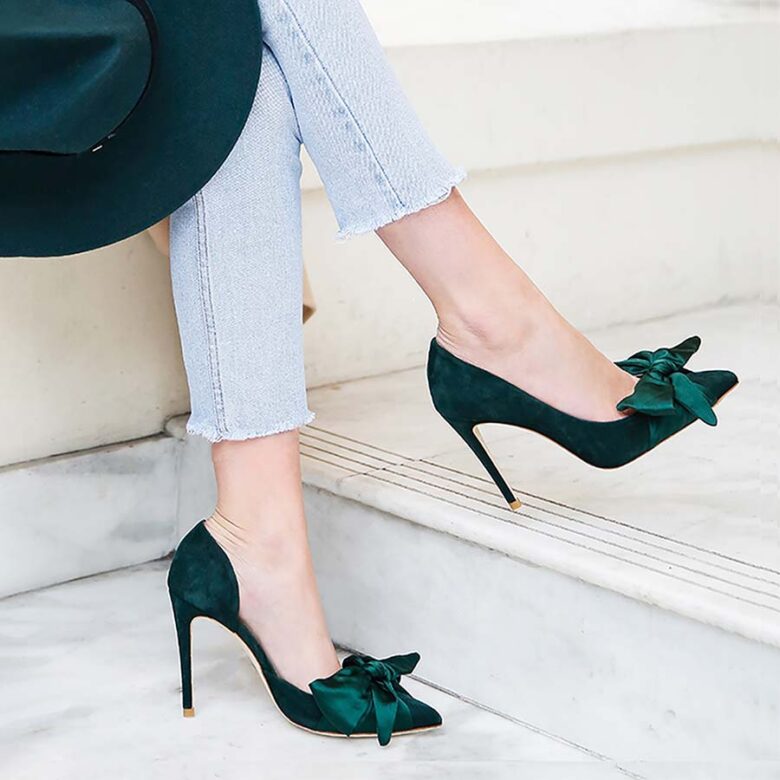 Renowned for producing some of the most comfortable designer heels, Emmy London also has a foot (pun intended) in the diamond industry. Its trademark is an instantly recognizable diamond in each sole. But its appreciation for diamonds extends beyond its sparkly soles and goes straight to the heart. And whilst the brand's wedding dress shoes are worn by many affluent brides on their big day, so are its decadent engagement rings. With its finger on the pulse of everything royal-worthy, Emmy London designs diamond jewelry exclusively for H Samuel in the UK and Peoples in Canada.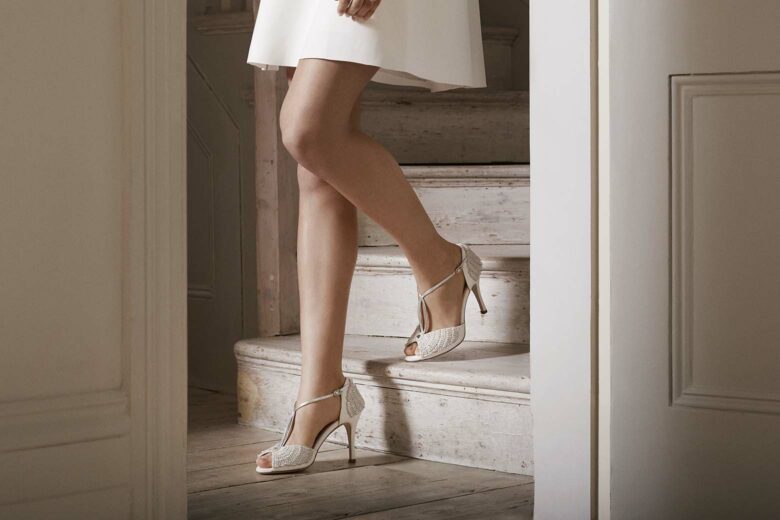 And nobility-approved they are. As the queen (or, more accurately, the princess) of comfortable elegance, we're not surprised by Kate Middleton's affiliation with the brand. But we are a little taken aback by just how many of the British brand's pumps and clutches she owns. So many that we think it's safe to call the regal accessories a key component of the Princess of Wales' unofficial uniform.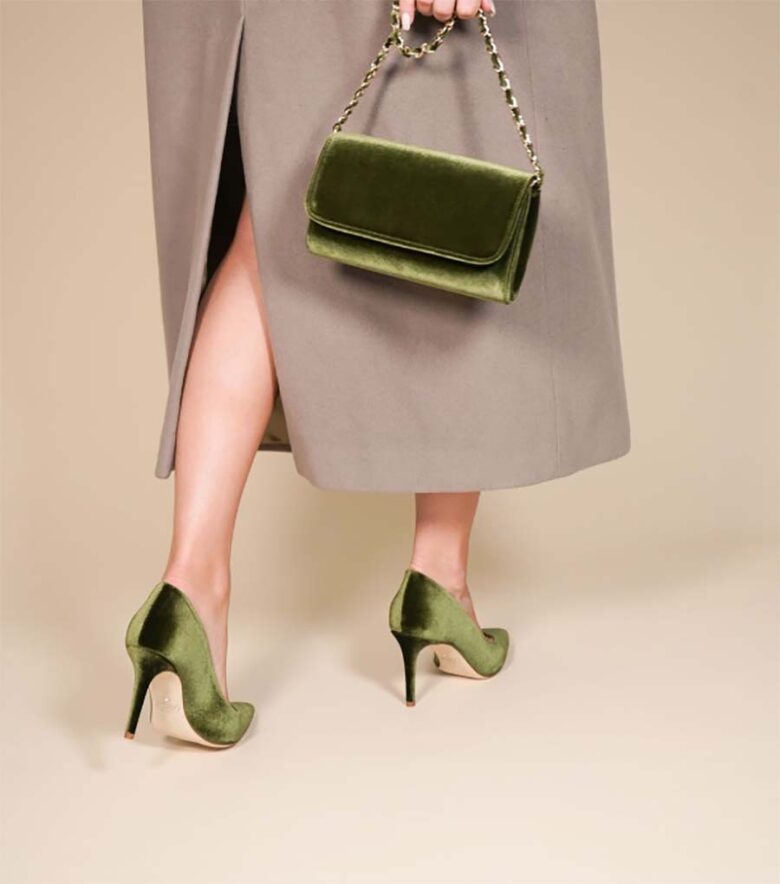 Emmy London product range
Emmy London is most famous for having some of the most comfortable heels for standing all day, as well as luxury bridal shoes. But its other elegant accessories are also well worth taking note of—including Emmy London's embellished clutches and shoe clips.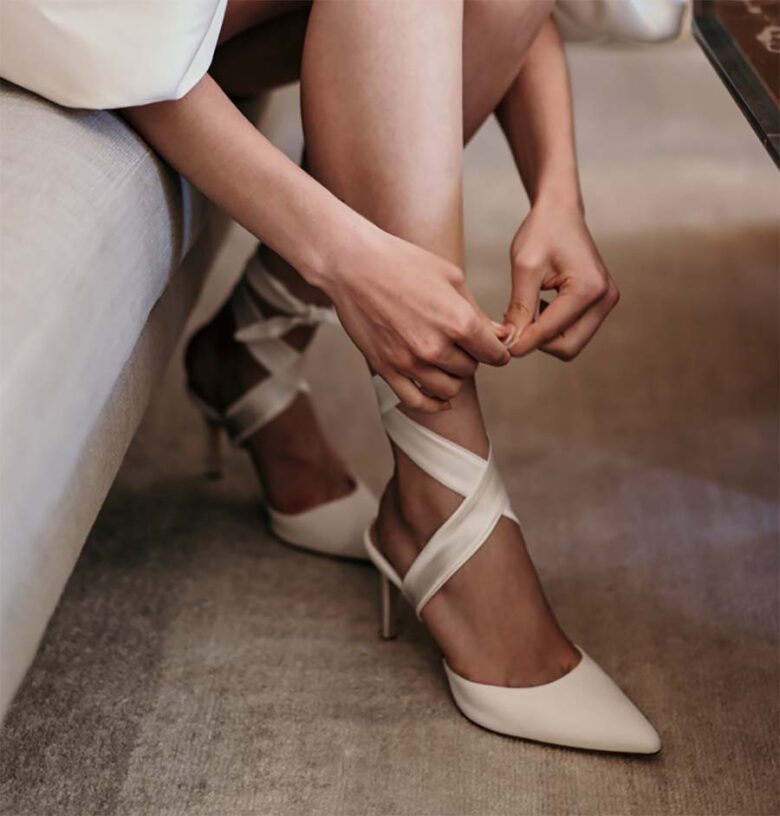 Emmy London shoes range from the most comfortable flats to Kate Middleton-approved comfortable heels for wide feet. We especially love Emmy London's mules and sandals for all-day Summer comfort. Whilst the seasonless Gigi boot speaks to the brand's signature designer embellishments. The iconic court silhouette ranges from contemporary block heels to soaring stilettos. And the same could be said of our all-time favorite bride heels.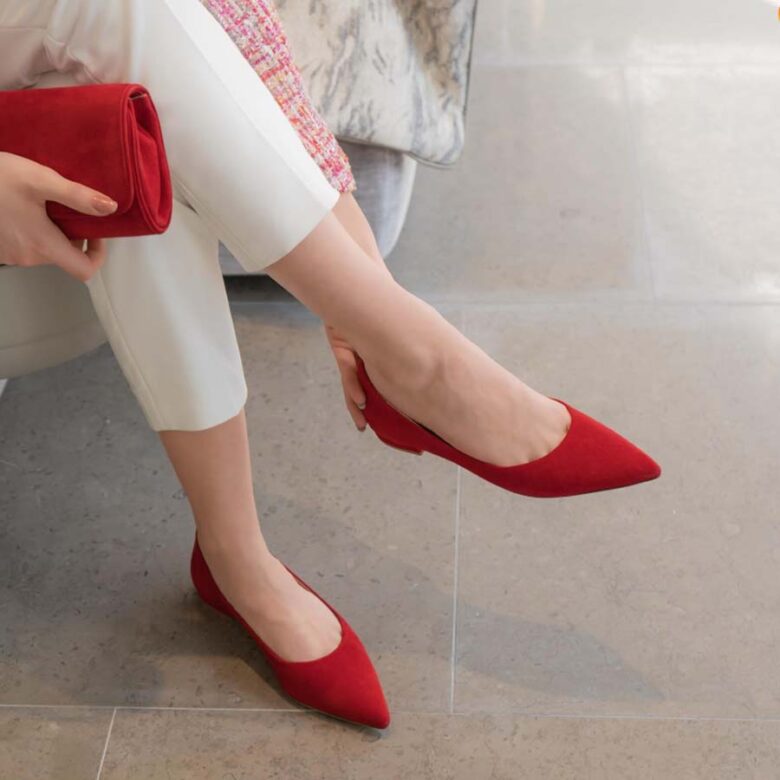 Signature materials and craftsmanship
Key to achieving its all-hailed comfort status is Emmy London's signature materials and unwavering attention to detail. All Emmy London shoes and accessories are handcrafted in the brand's own workshop, using only the highest quality, sustainably-sourced fabrics.
Engineering the most comfortable heels for work, weddings, and walking requires an enormous amount of skill and patience. And from seeking inspiration to the actual shoe production, Emmy London proves itself in both these areas. Interpreting time-honored classics with new avant-garde twists, Emmy constantly seeks inspiration for her designs in everything around her. Sometimes it's a romantic Italian gate. Sometimes it's a delicate insect wing. And sometimes, it's just an unusual cushion.
After the accomplished designer has sketched the latest shoe, Emmy develops and molds her own lasts (shoe molds) from scratch in order to flawlessly bring the drawing to life. And so the shoemaking process begins. Naturally, Emmy is obsessed with sourcing the best of the best materials. And she always chooses the most sustainable option whenever possible. All of the brand's leather comes from Italy. And Emmy works closely with an ethical tannery that she found even before she'd started sketching her debut collection.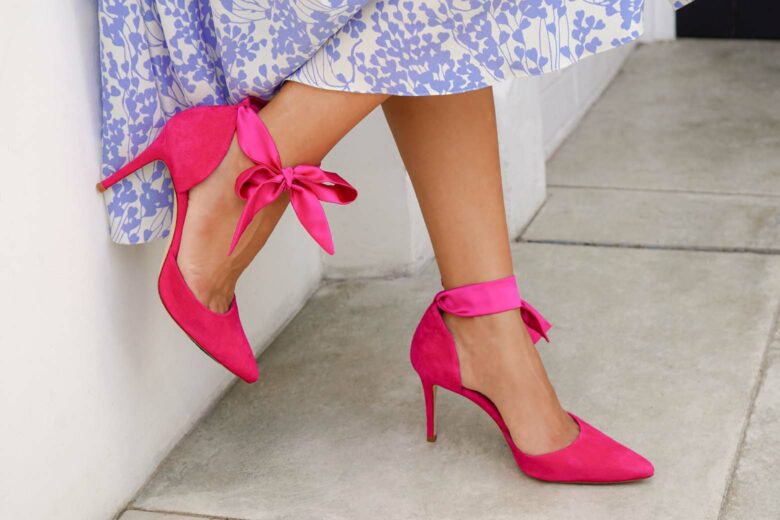 After indulging in the brand's distinctive array of hues and impossibly soft suedes, we can see why she fell head over heels for these specific Italian leathers.
Where is Emmy London made?
Designed in London and handcrafted in Portugal, Emmy London pays homage to classical silhouettes whilst celebrating contemporary interpretations. All of the brand's signature, diamond-studded shoes are designed by founder and accomplished designer Emmy Swarterfield. And the elegant sketches are brought to life in family-style factories owned and managed by the brand itself. This way, Emmy London is able to oversee that no small detail goes unnoticed. And the brand can guarantee that all products are ethically and sustainably manufactured.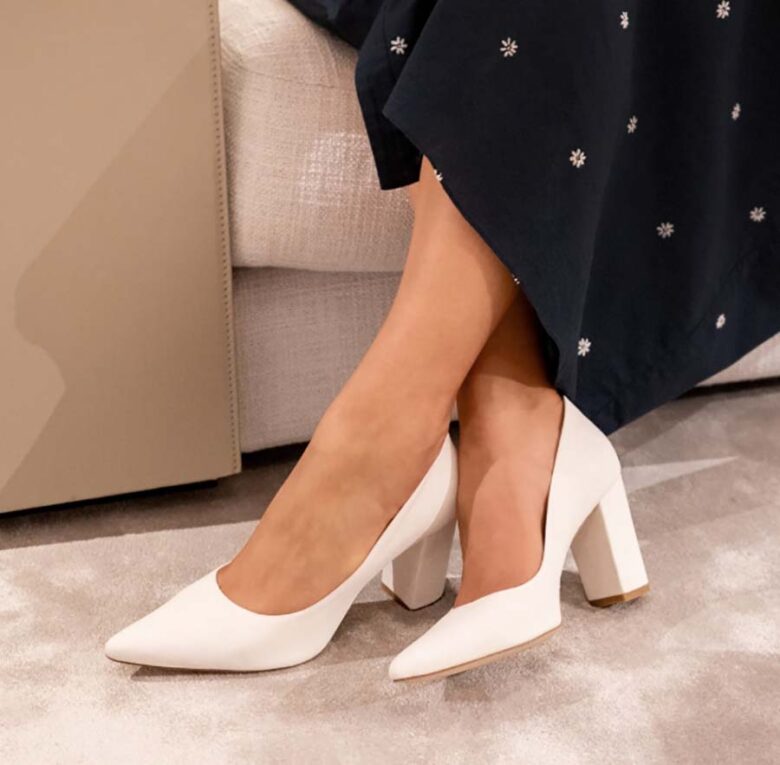 Brand values
| | |
| --- | --- |
| Vegan options | Yes |
| Carbon-neutral | No |
| Gives back | Yes |
Our favorite finds from Emmy London
We've shortlisted the most popular Emmy London shoe models to help you understand the luxury shoemaker's large collection and the recommended retail prices of each model.
Emmy London Josie Block Heel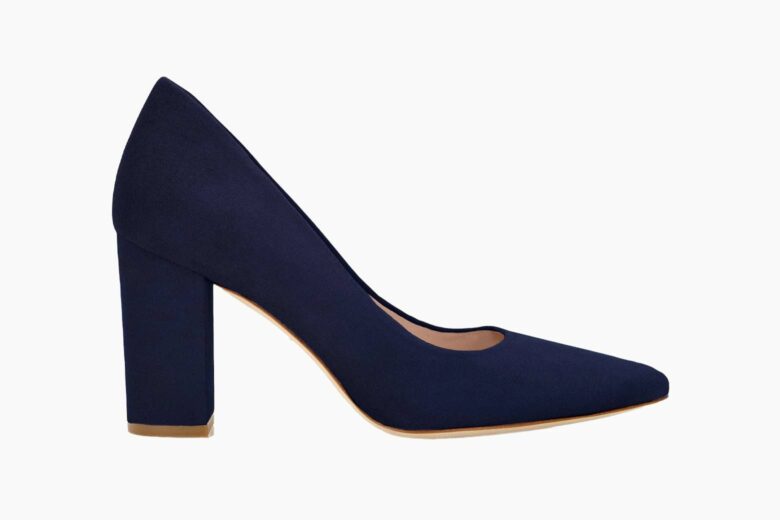 Listed amongst our most comfortable designer heels, The Josie marries a classical court silhouette with a more contemporary block heel. Worn by Kate Middleton, we don't need much convincing that the elegant shoe is fit for royal-worthy occasions. However, its real magic lies in its elevated comfort. It's not often that we wear heels for the day without fantasizing about ripping them off the minute we walk through the door. But with a cushioned insole and thicker heel, we think we'll keep these sophisticated shoes on for a home-cooked dinner too.
Emmy London Claudia Court Shoe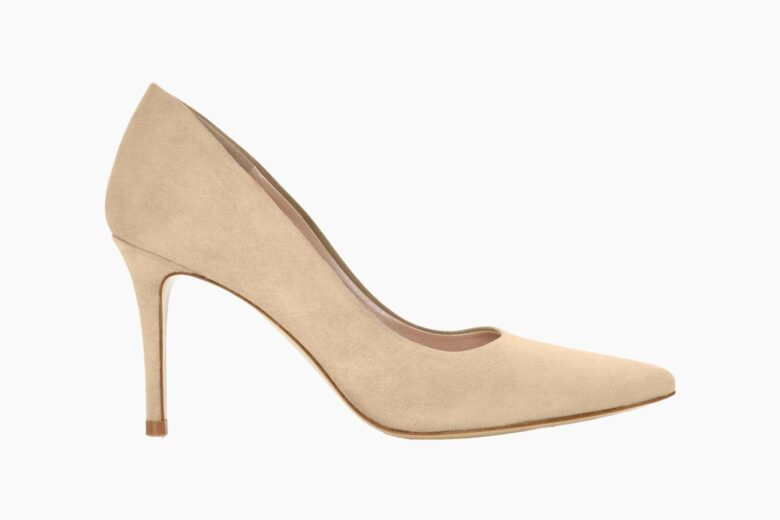 Ah, The Claudia: an elegant but modern classic. The sophisticated courts are lined with the softest leather for cloud-like comfort. The straight heel is effortlessly flattering and perfectly balanced. And the pointed toe is oh-so-chic. Pair these Emmy London heels with one of our best wedding guest dresses, and we think you predict that you'll be the next to walk down the aisle.
Emmy London Natasha Clutch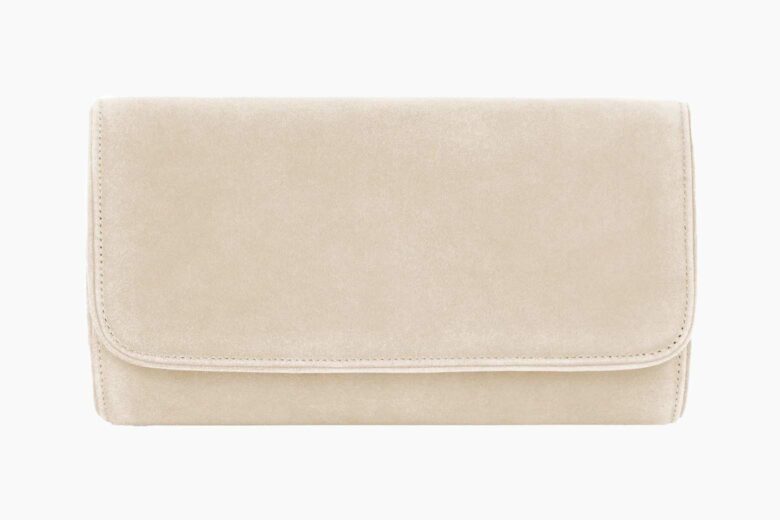 We know what you're thinking: how do we capitalize on canape hour with a clutch in tow. Showcasing the brand's careful attention to detail, this Emmy London clutch comes with a detachable gold and leather strap—because you should never have to choose between holding a champagne flute or another salmon hors d'oeuvre. Plus, this versatile biscuit hue is almost guaranteed to complement your wedding shoes.
Emmy London Claudia Bridal Shoe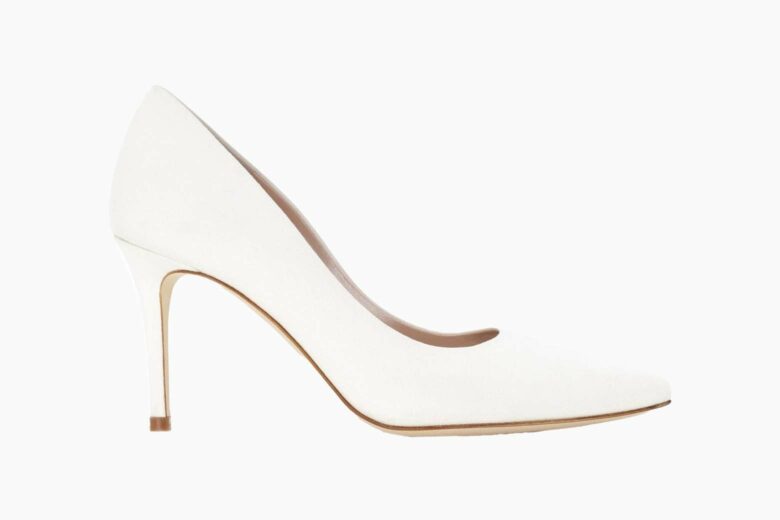 We say yes to the man. We say yes to the dress. But what about the shoe? An often-overlooked but (almost) equally important accessory, your footwear holds the elusive power to make or break your bridal look. The Claudia court in ivory is only making it. Complementing any gown, these bridal luxury shoes exude a fairytale-like elegance with an avant-garde touch. And we particularly appreciate that the padded insole and soft suede are comfortable enough to take on the dance floor—all night long.
Where to buy Emmy London
The best way to shop Emmy London from anywhere in the world is on the brand's official website. The online store features all the label's collections in every size and color. And it is easy to find exactly what you are looking for.
Emmy London price
Whilst Emmy London is still a luxury brand, its price tags are a lot more accessible than other affluent labels of equal quality. The brand's signature comfortable designer heels range from $425 to $525. Whilst smaller accessories, such as clutches, make the perfect luxury gift, priced at $395.
Emmy London shipping
Emmy London delivers anywhere in the United Kingdom for free. It also offers free International shipping on all orders over a certain amount. For example, customers can get free shipping to the United States on all orders over $200. If you are unsure about whether you qualify for free shipping, all shipping charges will be clearly displayed throughout the process.
Emmy London return policy
Emmy London has a full refund policy, so you can shop online with confidence. Once you receive your item, you have 14 days to contact the brand if you wish to return or exchange it. Emmy London will then assist you with your return. And as soon as they have received the item, they will process the refund or exchange.