Just like there's a fine line between fishing and standing on the shore aimlessly, there's a fine line between making a fisherman sandal style statement and actually looking like a fisherman. We're here for the former. And whilst fisherman sandals are quickly becoming the most coveted capsule wardrobe addition—thanks to celebrity and influencer-approved renditions—not every fusion of gladiators and jellies should be deemed a fashion win.
But don't let that put you off. There are still plenty of fish in the sea when it comes to on-trend fisherman sandals. Allow chunky lug soles to add a cheeky edge to your brunch outfit. Elegant leather classics stay true to the traditional silhouette—making them the perfect timeless wardrobe addition. Espadrille platforms weave together two styles that are totally made for each other. While wooden clog soles take the marina footwear in an unexpected direction.
Whatever your style, the key to a good pair of shoes is the integration of comfort, versatility, and (of course) style. And that's what these pairs showcased to lure us in. Our best fisherman sandals for women can be worn on multiple occasions. From lounging around and frantic errand runs to whimsical garden weddings and edgy evenings out—these seasonless shoes are offering your white sneakers that much-needed reprieve.
Now that we've caught your attention, let's reel in the sandals that are Instagram-worthy and fashion-icon-endorsed.
Gucci: Best overall fisherman sandals for women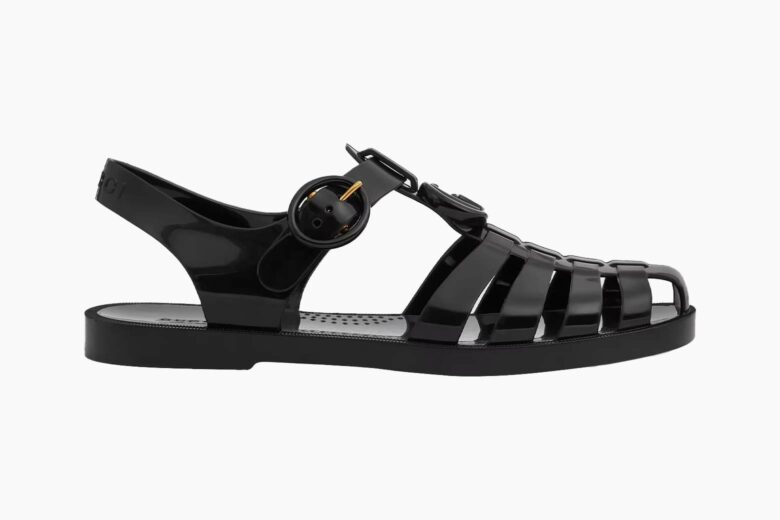 They may be called fisherman sandals, but you won't see shoes like these at the marina. Paying homage to the '90s era, Gucci adds a playful edge to its signature luxury style. And we think that the shiny black rubber is the perfect complement to the fashion house's iconic Double G hardware.
Best for: A big fish in the sea of luxury fisherman sandals.
Thom Browne: Best women's designer fisherman sandals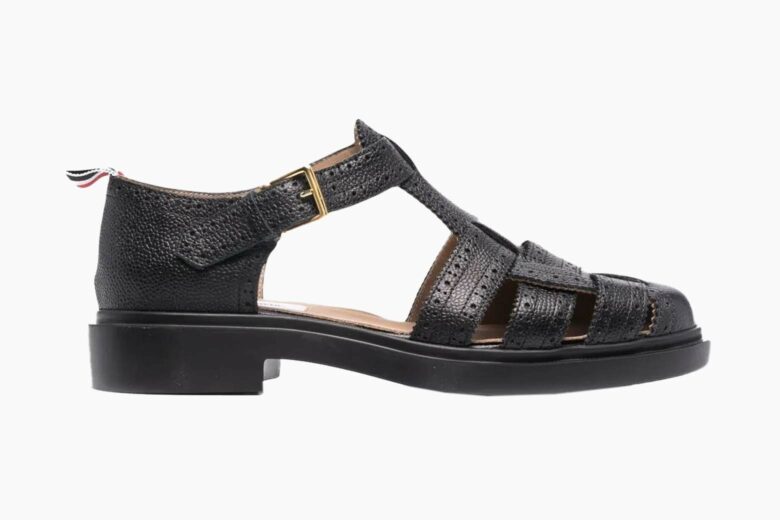 Renowned for his reinvention of classical pieces, Thom Browne's reconceptualization of the iconic leather fisherman sandals is a masterpiece in design. The black pebbled leather and almond toe silhouette whisper airs of timeless sophistication. While the brogue detailing and RWB loop tab add an unexpected twist.
Match these brogued sandals with your best everyday tote to complete your quintessential collection of capsule wardrobe accessories.
Best for: Designer details take the luxe factor one step further.
RAID Presley: Best value fisherman shoes for women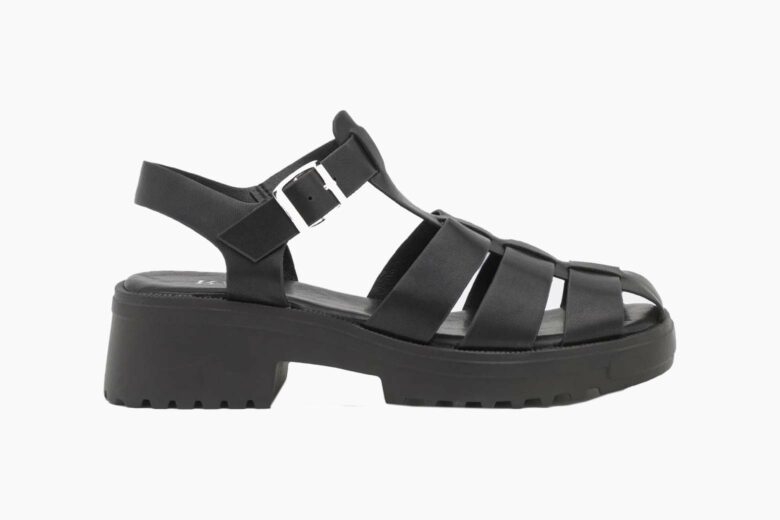 Luxury without the price tag is every shopper's dream. And whilst not easy to achieve, these RAID Presley sandals do so flawlessly. The chunky straps and lug soles are totally on trend. While black faux leather and the signature fisherman silhouette speak to their classical timelessness.
With cheeky block-heel elevation, these fisherman shoes will give your most comfortable heels a good run for their money.
Best for: Being mistaken for designer pieces.
The Row: Best leather fisherman sandals for women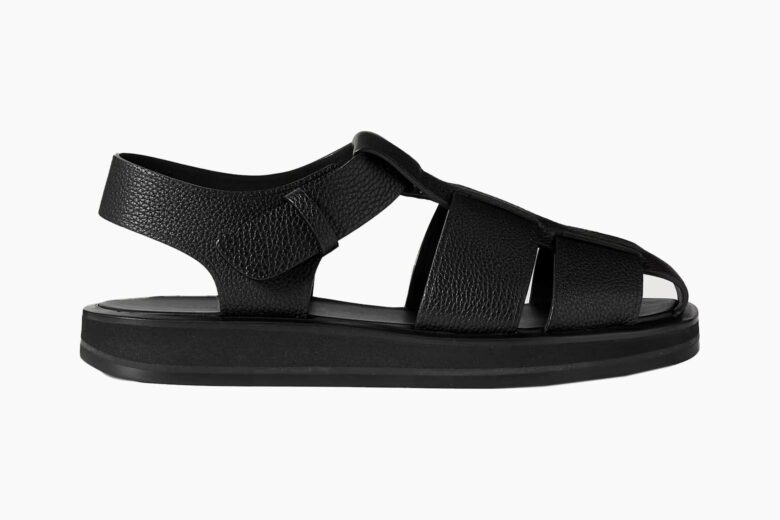 These are the shoes that started it all—when the Olsen twins decided to make marinas the runway of the season. Home to some of the best Summer shoes, it's no surprise that The Row's traditional take on fisherman sandals was enough to revive the trend for decades to come.
As comfortable as they are cool, the black or white silhouettes pair equally well with white Summer dresses as they do your everyday denims.
Best for: Taking their place in the front Row.
Hereu Pesca: Best black fisherman sandals for women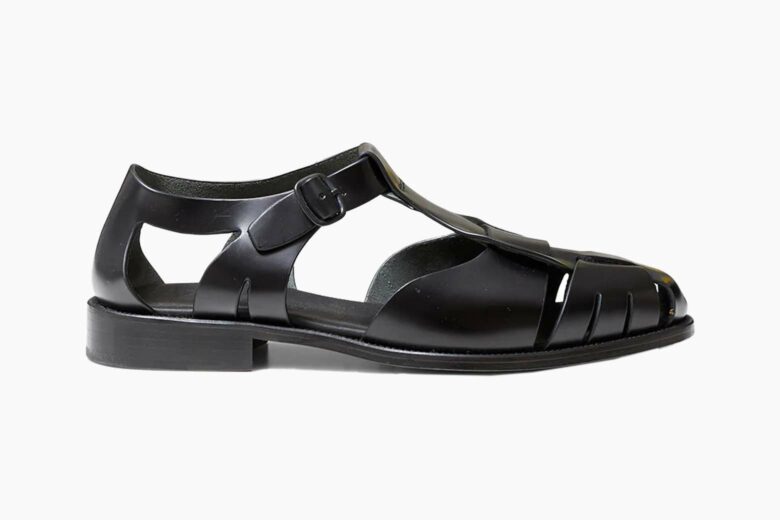 Effortlessly versatile, these black fishermen sandals are some of our most comfortable sandals. The black leather silhouette pairs well with anything. While the buckle fastening and T-bar strap speak to the classical elements of the practical shoe.
Go black on black on black with your loyal LBD. Or dress them down with a contrasting white tee. Either way, Hereu's fisherman sandals just completed your favorite outfit.
Best for: Back to black.
Anthropologie: Best brown fisherman sandals for women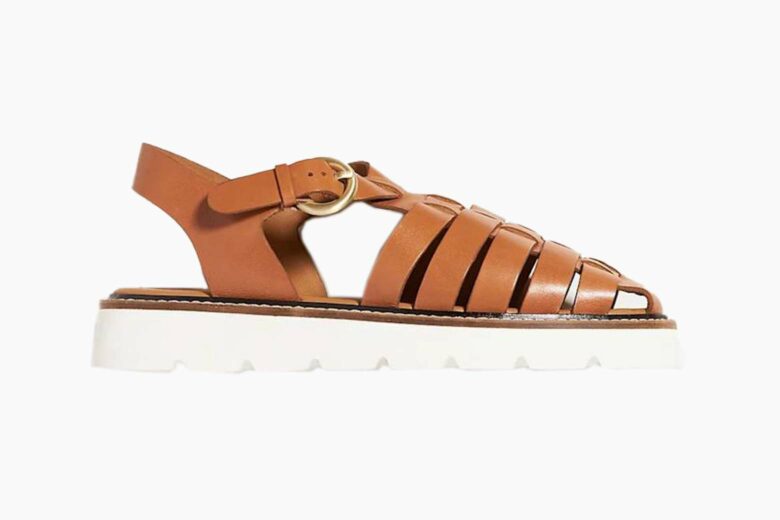 Anthropologie's sport fisherman sandals are an absolute classic. From the timeless leather silhouette and almond toe to the delicate gold buckle and woven straps, the sumptuous shoe exudes relaxed elegance. We love the tan iteration for effortless versatility, but polka dots, eccentric red or gen Z green renditions are equally alluring.
Best for: Sporting the hottest timeless trends.
Max Mara: Best women's fisherman sandals with heels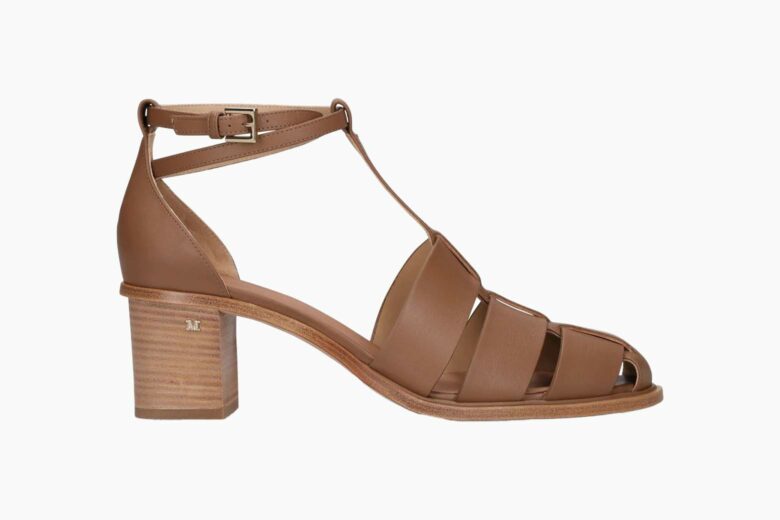 A stellar pair of closed-toe strappy heels are hard to come by. But once you find them, they're bound to elevate any outfit. From whimsical garden weddings to lengthy days at the office, these brown fisherman sandals add height without compromising on comfort. You'll be surprised at how much you rely on these Max Mara shoes over the years.
Best for: Elevated essentials—literally.
Tory Burch: Best espadrille platform fisherman sandals for women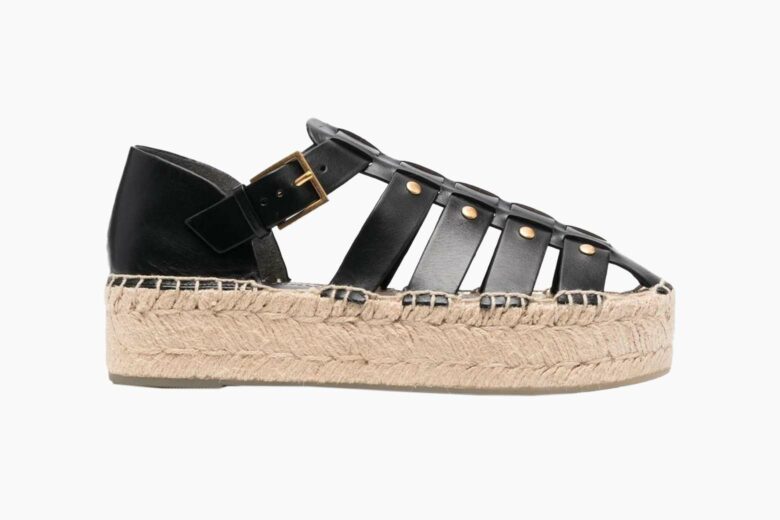 Weave together your best espadrilles with fisherman sandal straps, and you've got Tory Burch's profound creation. The masculinity of the caged design is flawlessly contrasted by the soft straw platforms.
Take this timeless sandal one (or two) steps further with brandy, silver, and straw straps. But if that's too much for your minimalist heart, the black iteration is an unregrettable purchase.
Best for: Marry two top trends, and it's bound to be good.
Emme Parsons Ernest: Best women's flat fisherman sandals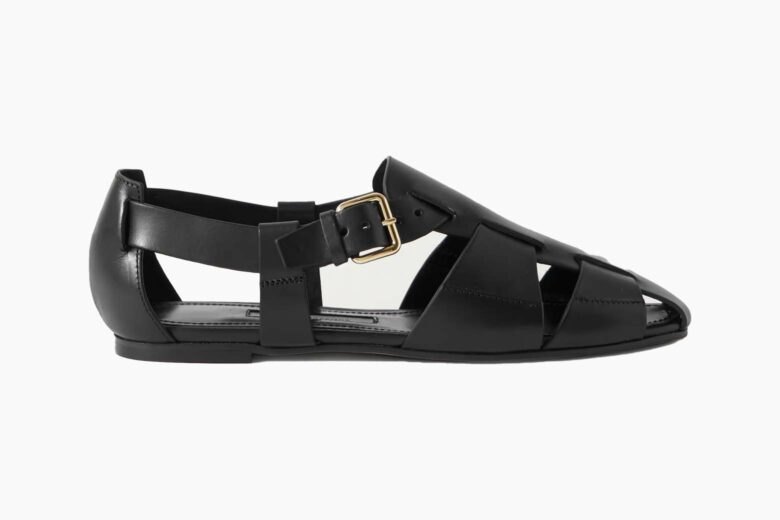 Not only are these some of the most comfortable flats, but some of the most stylish too. Named after the Old Man at the Sea, the supple leather shoes tackle sandy shores just as well as they do cobblestone pavements.
Pair these versatile shoes with absolutely anything—from a short sleeve white T-shirt to your favorite pair of jeans or floral dresses. Your white sneakers deserve a break. 
Best for: Multitasking minimalism.
Ganni Creepers: Best platform fisherman sandals for women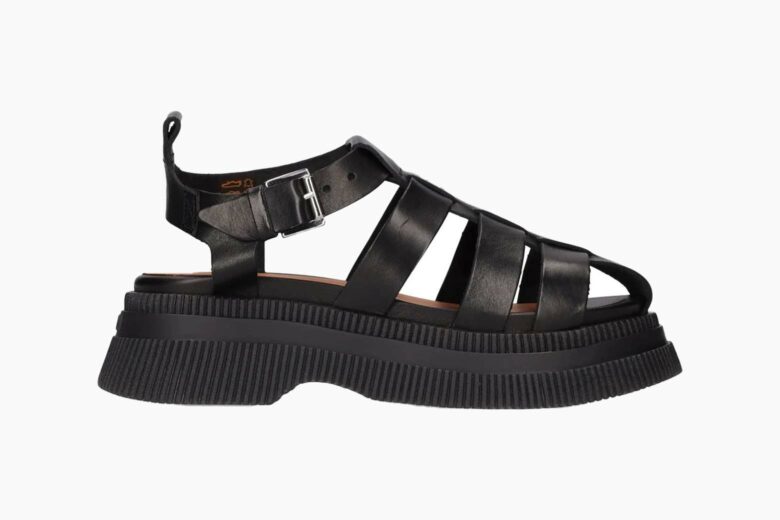 These fisherman sandals are made to tackle anything (not just biting fish). The chunky soles elevate any outfit—both in height and style. While the cushioned platforms make it feel like you're walking on clouds.
Pair with your dopamine-inducing retro shirt and favorite mom jeans for the ultimate on-trend fisherman sandals outfit.
Best for: Elevating the latest trends.
Prada Platform: Best wedge fisherman sandals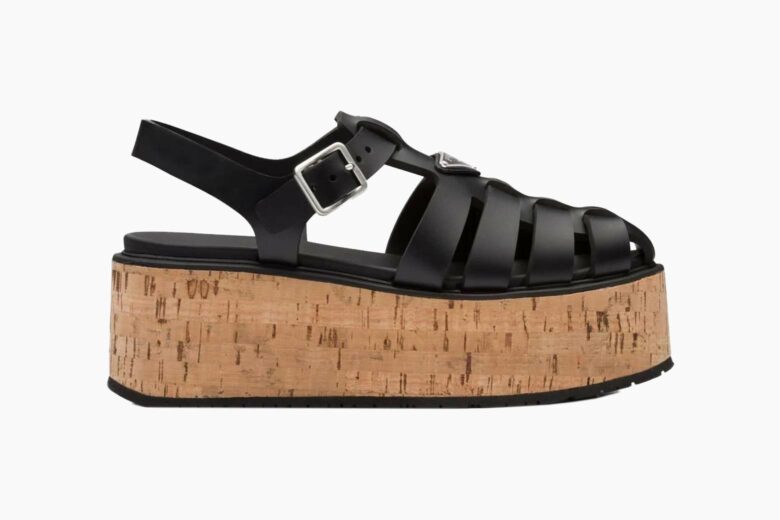 Is there anything these shoes can't do? We don't think so. Contrasted by thick cork soles, the leather braided sandals feature versatile black straps. And the instantly-recognizable Prada logo takes center stage, staying true to the entire collection. These fisherman sandals are ready to conquer cocktail hour one (lemon) wedge at a time; care to join?
Best for: Wedging your way into A-list parties.
Madewell Mindy: Best clog fisherman sandals for women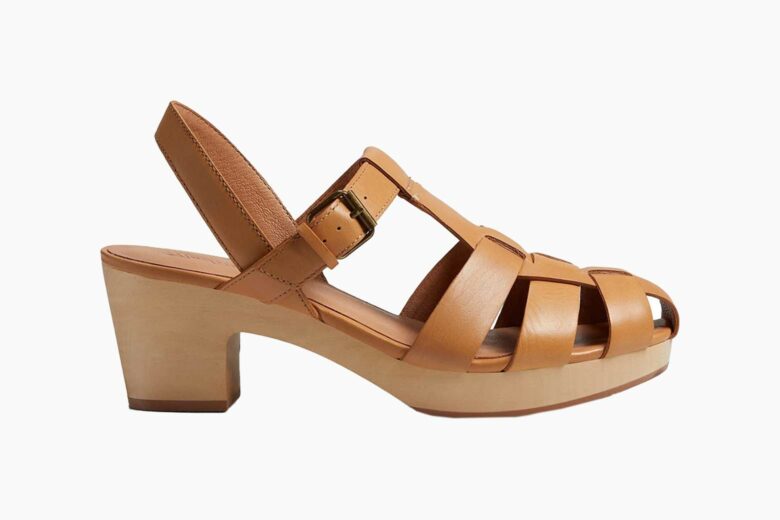 Nice sandals aren't hard to come by. But if you see exceptional ones, it's imperative to strike immediately—especially when clog soles and fisherman straps are involved. These Madewell shoes just so happen to be one of those pairs. Reminiscent of the classical wooden silhouette, the signature fisherman straps are elevated by a short block heel.
Best for: Strike now!
Marni Fisherman's Fussbett: Best canvas fisherman sandals for women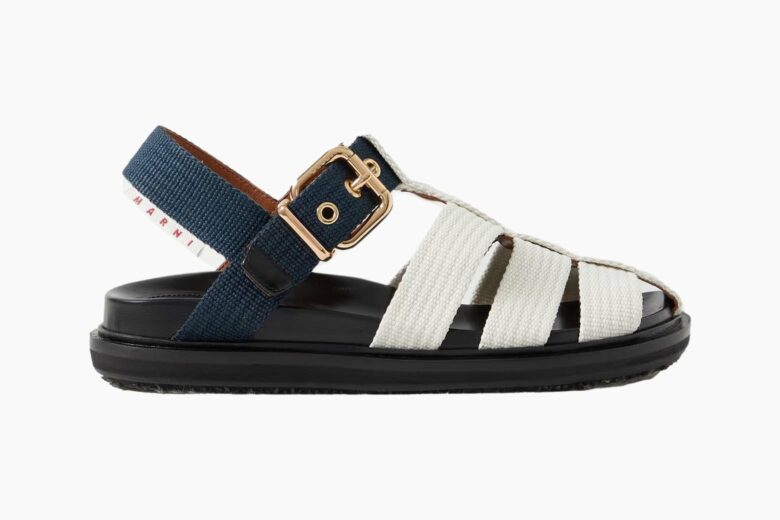 Marni celebrates individuality through unpredictable designs and innovative details, as seen in this rendition of the traditional fisherman sandal. Resting on cushioned soles, the navy and white canvas silhouette marries sailor accents with marina-style straps.
And paired with your best exaggerated sun hat, it's a wedding you won't want to miss.
Best for: Seamen join forces.
Asos Design Hollis: Best women's fisherman sandals for wide feet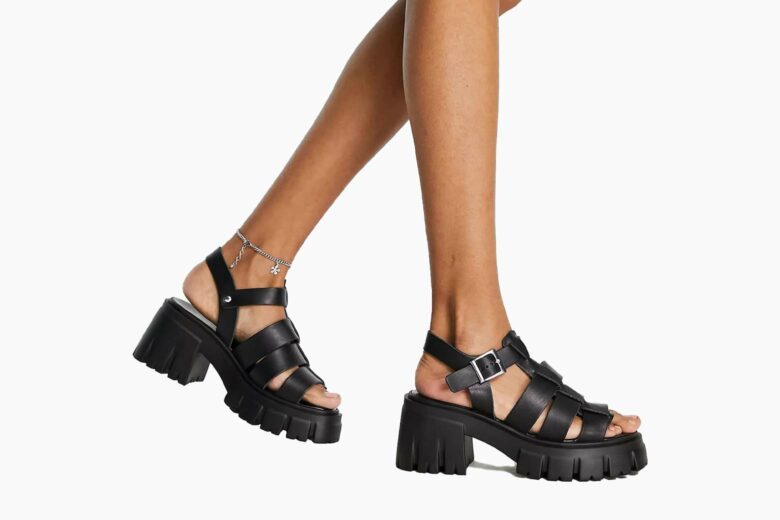 These are so much more than your run-of-the-mill nice sandals. The contemporary brand is always on trend. And these chunky lug soles know exactly what they're doing. The casual block heels are an effortless way to elevate any ensemble—from tees and denims to flowy florals.
Plus, the wide fit design is perfect for those who often find themselves squishing into shoes.
Best for: Taking new trends far and wide.
Roger Vivier Viv Rangers: Most expensive fisherman sandals for women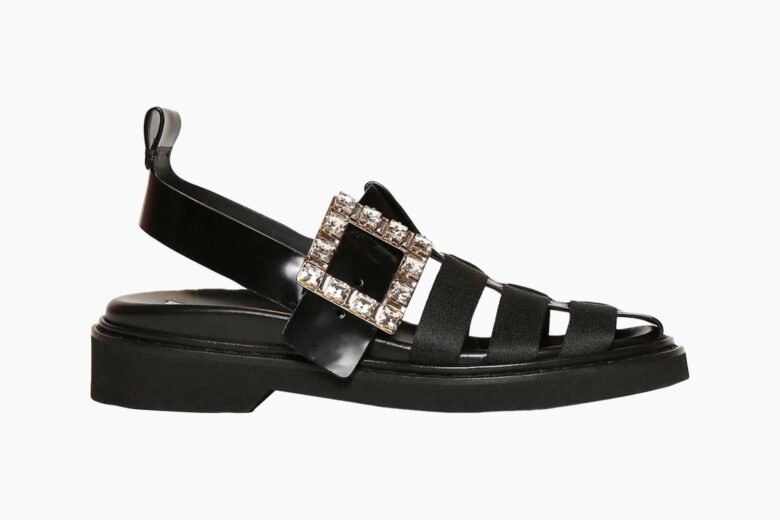 We all need one splurge of the season. And this is ours. Roger Vivier's opulent rendition of the traditionally modest shoe is everything we love about the decadent brand. The impeccably crafted black silhouette sits upon a slightly lifted rubber sole. But it's the chunky crystal embellished buckle that really sets this Rogier Vivier sandal apart from any other shoe.
Best for: Reeling in compliments.
Frequently asked questions about fisherman sandals for women
What are the best fisherman sandals?
With this shoe trending, fisherman sandals come in all shapes and sizes. Max Mara's closed toe strappy heels are perfect for elevating any outfit. The Row's renditions are the trendsetting footwear that revived the timeless fisherman staple. And it goes without saying, that you can never go wrong with a pair of Guccis.
Why are they called fisherman sandals?
Inspired by fishermen's practical footwear, the closed toe strappy sandals were born on the marinas. The space between straps prevented puddles of water and ample air ventilation. And while you may not spend your days with a rod in hand, the comfortable shoes speak to the current rise in functional fashion.
Are fisherman sandals stylish?
Fishermen may not be your typical style icons, but they were definitely onto something when they found these shoes. The classical sandal is a hybrid between your gladiators and jelly sandals, adding a playful edge to timelessly elegant leather silhouettes. And if celebrities and influencers are anything to go by, it's safe to say that the style is in. Check our selection of the best fisherman sandals for women to find the perfect pair for you.
Are fisherman sandals classic?
While avant-garde iterations flood our social media pages, the fisherman sandal remains a timeless classic. The seasonless staple can be worn with silk socks or without. While tan, black or beige leathers ensure a lifetime of wear. Dress them down with denims or manifest your Greece vacation in a white Summer dress.