French designer, Christian Dior coined the term "cocktail dress" for evening frocks in the late 1940s. But the cocktail dress code has since become slightly more complicated. And while a classical LBD is still quintessential to cocktail attire, more and more women are turning up to cocktail soirees in satin suits, dressy jumpsuits and polished palazzos. So what's deemed acceptable and what isn't? And even more, how do you nail the cocktail dress brief while still injecting your unique style into the ensemble?
As one of the more nuanced and unclear dress codes, cocktail attire is sophisticated but not too 1920s ball worthy. It's festive, but in many cases should also be professional. It's both smart and casual, but different from "smart-casual." And while picking an outfit for your next sophisticated soiree should be exciting, unless your invitation stipulates exactly what to wear, it can be quite a stressful one to receive.
Fortunately, we've put together a few general guidelines to assist you through end-of-year gatherings, wedding booms, and festive seasons. These are the kind of outfits that make you feel like a million bucks, while appeasing the more staunch sartorialists at canapes. They're the kind of ensembles that will simultaneously impress your colleague crush and your overbearing boss. And they're the kind of get-ups that make you actually want to get up—and onto the dance floor. After all, cocktail attire is supposed to be fun. And it is. If you have the right framework that is.
Pssst, if you're looking to dress your man in an equally impressive ensemble, see our guide to cocktail attire for men.
What Is cocktail attire?
Cocktail attire hits the elusive sweet spot between formality and fun. To achieve this, opt for high-quality materials (we recommend these sustainable fabrics) and avoid outfits that are skimpy, transparent, excessively short, or overly long. Classical dress options like the iconic LBD, A-line silhouette, strapless, embellished, lace, or midi dresses with long sleeves, are failsafe choices. Pant suits and blazers are also fabulous options in transitional seasons (you know our weakness for silk.) And a killer pair of heels paired with a clutch is almost always a prerequisite for nailing the Cocktail dress code (unless you're hitting the beach.)
When to wear cocktail attire: Dress for the occasion
More often than not, the invitation should stipulate a dress code. But if it doesn't, the assumption is that weddings, end-of-year functions and festive celebrations are all typical cocktail occasions. But each comes with its own set of rules, and you're unlikely to wear the same ensemble to your office party as you are to your best friend's bridal shower. To get it right, bare these factors in mind before getting dressed:
Venue: If it's an indoor venue, you're more likely expected to dress slightly more formally than an outdoor venue.
Type of event: A business event requires more professionalism than a wedding or birthday party.
Time of day: Evenings call for darker tones and perhaps a little more sparkle, while floral chiffons and brighter hues are best kept for the daytime.
Time of year: Goosebumps and teeth-chattering aren't sophisticated.
Formal cocktail party
These are likely to be your evening affairs, indoor soirees or any other event that simply calls for an added air of sophistication. Our go-to? A little black dress. It's understated enough to be considered cocktail attire, but the sleek black colorway is more formal than lighter hues. That being said, any darker colorway should do the trick and you can almost never go wrong with satins and silks. Just make sure that your hemline isn't too short (a big no for cocktail attire, but even more so when it's formal) and feel free to amp up the sparkle with statement necklaces and oversized earrings.
Casual cocktail party
In contrast to formal cocktail attire, casual cocktail attire calls for a more relaxed and effortless approach. Been invited to a garden party or beach celebration? This is the time to try it out. To achieve this style, consider choosing a loose-fitting dress like a shift style, rather than a tailored or bodycon design. Pair the dress with more comfortable shoes, such as block heels, wedges, or even sandals if you're on the coast. Avoid sparkly clutches, opting for a more relaxed crossbody instead. And keep the accessories to a minimum, choosing delicate chains and understated earrings over statement pieces.
Festive cocktail party
It comes around every year—the Christmas and holiday period, saturated with festive cocktail events. If you're yet to invest in a classical red dress, we recommend doing so. It'll save you the stress of coming up with a new ensemble annually. And it's easy to accessorize with metallic hues and versatile accessories. For New Year's Eve, we adore anything gold—whether it's bedazzled palazzos or a sequined bodycon. And if you're spending your summer in a resort that requires a cocktail dress code, consider packing skirts and matching sets with bold patterns. Playful earrings are also a fun way to get into the holiday spirit. And comfortable shoes are a must.
In short: a festive cocktail dress code allows for a little more fun and a little less formality (but don't get too carried away.)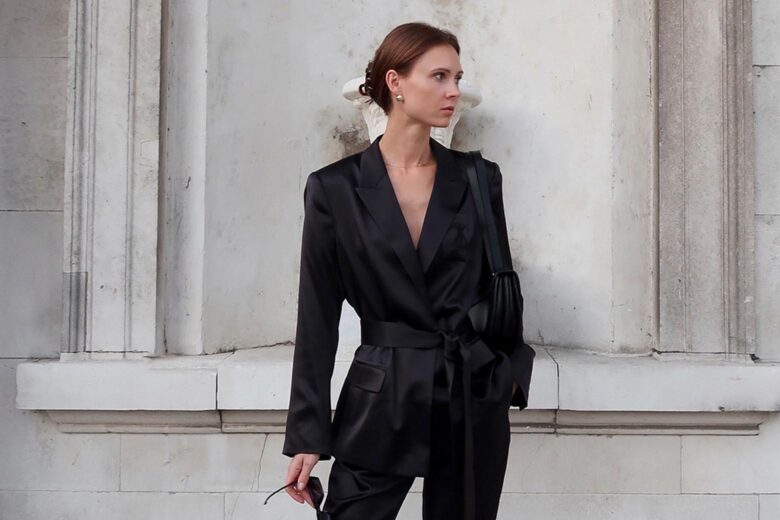 Business cocktail party
Navigating the dress code for business cocktail events can be one of the most difficult. It's important to strike a balance between professionalism and style, whilst still looking different from your everyday boardroom aesthetic. To achieve this, opt for an outfit that combines timeless sophistication with current trends. Instead of your pleated tailored pants, try a pair of flared palazzos. And if you prefer a full suit, opt for more dressy fabrics like satins and silks. Accessorize with muted tones, such as patent black, to add a refined touch. And enhance the ensemble with a touch of gold or silver jewelry.
Wedding cocktail party
Yep, white is off-limits (unless stated otherwise) and your LBD is best kept for other cocktail events, but there are still plenty of outfit options that fit the wedding cocktail dress code. The number one rule is that you don't want to steal the show, making muted tones and subtle prints more wedding appropriate.
A feminine floral dress in a lightweight fabric with a flattering drape, complemented by a pair of raffia wedges and subtle accessories is a classic. For an evening wedding, we recommend darker hues and a little more sparkle. And if the wedding is taking place in winter, a velvet suit paired with block heels and a clutch is both sophisticated and effortlessly chic.
Cocktail attire: Style tips
Follow these guidelines and you needn't fear turning up and turning heads (in the wrong way, that is.)
Cocktail attire don'ts
Don't wear revealing dresses: Cocktail attire requires an air of formality, deeming plunging necklines, short hemlines and sheer fabrics inappropriate.
Don't wear a ballgown: As embarrassing as it is to turn up underdressed, it can be just as awkward to show up overdressed.
Don't wear jeans: Jeans and denims are always a big no at cocktail events, even when it's a casual cocktail dress code.
Don't carry huge bags: As convenient as a spacious tote is, big bags are too casual for cocktail parties.
Don't wear flip-flops: Again, functionality takes a back seat here in favor of formality.
Don't overdo the accessories: Less is more, especially at daytime outdoor events.
Don't let your undergarments show: Exposed bra straps are one way to quickly kill cocktail attire.
Don't wear wrinkled clothes: This is a rule for life, but even more so for cocktail attire.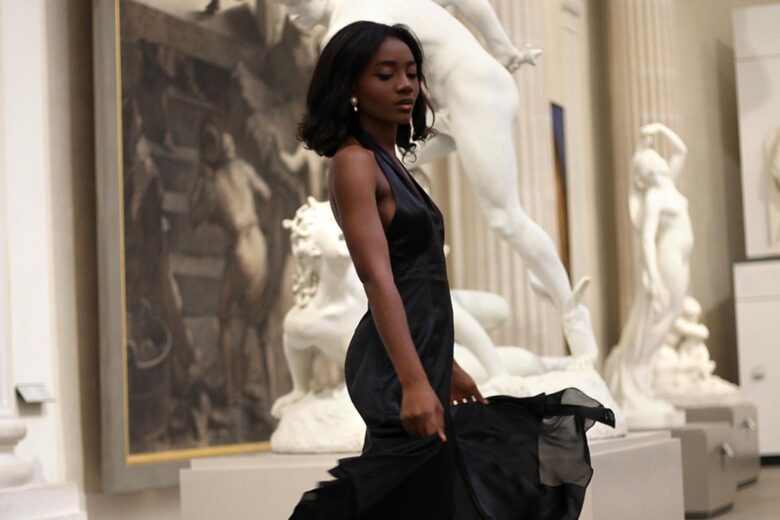 Cocktail attire do's
Watch your hemline: If in doubt, just above the knee is a safe mandate.
Midi dresses: Not too short, not too long, midis are the crowned jewel of cocktail dresses.
Wear trousers: Silk suit pants and wide-leg palazzos almost always nail the brief and keep it chic.
Wear flattering garments: Just because everyone else is wearing a bodycon, doesn't mean that you should if you feel uncomfortable in one.
Hold a clutch: As inconvenient as they are during canapes, a cute clutch is a simple way to elevate a slightly casual ensemble.
Heels or platforms: Steer clear of sneakers and be wary of sandals.
One statement piece: Stacked bracelets and layered necklaces are often considered too casual.
Choose high-quality fabrics: Natural fibers like silks and linens are noticeably more sophisticated than cheap synthetics.
Cocktail attire outfits
Cocktail attire is no longer synonymous with "cocktail dress." These days, we have a choice when it comes to what to wear to cocktail events. One pieces—dresses and jumpsuits—are effortlessly elegant. But separates such as, matching sets, suits, blouses and trousers, may be equally chic.
Cocktail dresses & jumpsuits
LBD
Little black dresses are perennial favorites, and for good reason. Versatile, flattering, and inherently timeless, the LBD effortlessly solves a lifetime of wardrobe woes. A sultry slip is quintessential for those sophisticated evening soirees. A sequined long sleeve is one way to secure that midnight kiss on New Year's Eve. A halterneck hits the elusive sweet spot between sensual and sophisticated. While a classical lace midi is a trend-transcending investment into conquering many ambiguous cocktail dress codes.
Cocktail dresses
A dress is always a reliable choice for summer cocktail events. There's something clean and sophisticated about one continuous colorway. Plus, you don't have to worry about mismatched pairings. The key to cocktail dresses is balancing sophistication with a certain amount of informality. Therefore, you want to avoid floor-length ballgowns and revealing hemlines, opting for cute midis and more relaxed maxis instead. Florals are usually a failsafe for daytime affairs, while darker hues lend themselves to evening soirees.
Dressy jumpsuits
It goes without saying that sweats and athleisure are not considered cocktail attire, but that doesn't mean that you can't be just as comfortable. If dresses aren't your thing and you don't want the hassle of assembling an ensemble from scratch, dressy jumpsuits are the holy grail of functionally-fashionable cocktail wear. To get the dressy jumpsuit look, choose a monochrome hue or muted patterns. Dress it up with block heels or wedges and add a belt for a more flattering fit.
Separates (silky suiting & two-piece sets)
Dress pants & dress skirts
Jeans may be out, but elegant trousers and dress pants certainly aren't. A pair of wide-leg, high-waisted palazzos looks fantastic paired with a tucked-in chiffon ruffled blouse or matching halterneck. While tailored trousers are effortlessly refined and lend themselves to looser, flowy tops. Dress skirts are also a great way to mix up the cocktail aesthetic. Just make sure that your outfit isn't too busy and opt for monochrome options over bolder prints and complementary hues.
Cocktail tops & blouses
When it comes to tops and blouses for cocktail attire, opt for styles that exude elegance and sophistication. Consider one-shoulder blouses with intricate details or draping for a chic and modern look. Flowy silk or satin blouses in rich jewel tones are a big yes. Classic neutrals are a failsafe. And structured button-down shirts with ruffled sleeves or other embellishments add depth and interest to an outfit. Just beware not to appear too business-like and look for tops that drape beautifully with a feminine edge.
Blazers
As with button-down shirts, there is the danger of appearing too professional when wearing a blazer to a cocktail party. However, if you choose the right one and style it appropriately, a blazer can be a cocktail wardrobe hero—especially in cooler seasons. To avoid an office aesthetic, pick a blazer with feminine details. Our favorite cocktail blazer looks are silk and satin iterations paired with matching pants. While tailored cuts and subtle embellishments also add femininity to the otherwise androgynous garment.
Evening outerwear
It's important to vary your outfits based on the season— nothing detracts from a great outfit like goosebumps or sweat patches. During winter, consider incorporating an elegant evening coat as the centerpiece of your ensemble, complemented by a simple slip dress or sleek dress pants. Fabrics like satin, velvet, cashmere and brocade work well because they look elegant and still add warmth. And we would always avoid puffers and parkas. They may be snug, but they just aren't sophisticated enough.
Cocktail shoes
Cocktail attire almost always calls for comfortable heels—emphasis on the almost and comfortable (read: only wear stilettos if you can stand in them). Heels instantly elevate an outfit, making more casual garments cocktail appropriate and often more flattering. More relaxed heel styles like block heels and wedges are best for beginners. And consider a neutral hue for a more elegant approach. Of course, if your cocktail attire is already on the formal side you can probably get away with a pair of dignified flats such as velvet mules or crystal ballet flats (just not flip-flops or sneakers, please.)
Cocktail accessories
Our number one rule: don't overdo it. Unless you really know what you're doing, play it safe with more minimalist accessories, prioritizing an understated sophistication over bold moves. You can still embrace vibrant colors and playful cut-outs, but steer clear of over-the-top sparkles and extravagant details (especially in the daytime) and excessive layering and stacking. Delicate chains and simple hoops are failsafe. Check out our list of the best designer jewelry brands that are worth exploring for polished pieces.
Cocktail bags
We don't always say this, but less is really more, when it comes to choosing a bag for your cocktail event. As convenient as they may be, oversized totes and utility backpacks are a no-go. Instead, find a cute clutch just big enough for your phone, sunnies, cards and lipstick touch-ups (that's all you really need at one event.) And if you really can't get your head around carrying a clutch through canapes, opt for a compact crossbody bag that is as fashionable as it is functional.
Cocktail attire colors
What colors are considered appropriate ultimately depends on what cocktail event you're attending. Obviously, if there's a specific color palette, stick to that. Otherwise, vibrant hues, pretty pastels and florals are more suitable for daytime affairs such as garden weddings and baby showers. And darker hues such as black, navy and emerald are more appropriate for evenings.
If you're still nervous about getting it wrong, neutrals and muted tones are often the safest options, especially for business events and more professional settings. But we wouldn't want to rule out brights altogether, especially if they suit your skin tone better. If this is the case, consider a classical color like red or green.
For more on how to mix and match your wardrobe hues, see our expert-written guide to color matching.
What's the difference between cocktail attire and semi-formal wear?
​​The main difference between cocktail attire and a semi-formal dress code lies in the level of formality. A semi-formal dress code allows for a slightly broader range of options. It is often used for evening and daytime events or occasions that are less formal than black-tie affairs. Semi-formal womenswear ranges from maxi dresses to button-up blouses, while semi formal menswear ranges from suit pants to casual chinos.
On the other hand, cocktail attire is a subcategory of semi-formal wear, typically associated with social events or parties held in the evening. Guests are expected to dress elegantly, but still include an element of fun. Women most commonly wear knee-length or midi dresses, while men often wear dress pants with a dress shirt.
Where to buy cocktail attire outfits and the cocktail attire brands women need to know
LilySilk
A brand focused on high-quality silk garments. What could be more cocktail party appropriate than that? Understated and sophisticated, LilySilk's midi silk slips nail the cocktail dress code. The brand's wide-leg palazzos are designed for conquering cocktail events in style and comfort. And we just adore its versatile silk shirts for almost all occasions. Plus, LilySilk is committed to superlative quality and sustainability, so you know these pieces will see you through many cocktail affairs.
WHBM
Even if you're playing it in neutrals, you can still have fun doing so. White House Black Market's collection of cocktail attire is case in point. The WHBM's minimalist use of colors and patterns makes it inherently elegant and leaves more room to play with accessories and other finishing touches. Pair a blazer by WHBM with the brand's matching tailored pants and block heels and you'll feel confident, comfortable, and cocktail-appropriate all at once.
Luisaviaroma
As one of our best shopping websites for women, Luisaviaroma captures the essence of la dolce vita with a diverse range of designer garments. Housing over 600 luxury brands, including renowned labels like Balenciaga and Gucci, all of its pieces are carefully chosen for their high quality and stylish sophistication. From cute midis to satin blazers to walkable wedges, this is your one-stop shop for all things cocktail.
Net-a-Porter
If you're looking to invest in fewer but higher-quality pieces, Net-a-Porter has got you covered. Renowned for its extensive inventory of designer brands, this online destination boasts one of the largest selections of luxury goods. Whether it's a Stella McCartney ruffled dress or an Alexander McQueen pleated floral iteration, these are the kind of cocktail garments that you can rewear for decades to come.
Farfetch
Aiming to bridge the gap between esteemed fashion designers and discerning wardrobe curators, Farfetch is an innovator in the realm of online luxury and one of our favorite digital destinations for dressing cocktail events. With an impressive collection of minimalist midis, silk slips and little black dresses sourced from over 300 brands globally, you're bound to find something that not only nails the cocktail attire dress code, but makes you feel fantastic doing it.
Anthropologie
As one of our go-to destinations for daytime cocktail outfits, Anthropologie's bohemian aesthetic is distinguished by feminine touches like lace, ruffles, and floral patterns, striking the perfect balance between relaxed comfort and elegant sophistication. From strapless ruched midis to pleated wide leg palazzos, there's a cocktail piece for every style and taste.
KAAI
We've already pointed out that your bag can make or break your cocktail attire and should be chosen carefully. Our go-to? KAAI's collection of cute clutches. The brand's designs come with adjustable crossbody straps (so you don't have to worry about juggling champagne and hors d'oeuvres.) And we love that they play with color and texture to achieve an understated-but-stylish sophistication, perfect for any cocktail party.
Linjer
When it comes to accessorizing your cocktail attire, you want to add a touch of sparkle without overdoing it. Linjer is one of our favorite brands for cocktail-appropriate jewelry (and everyday wear for that matter). With an emphasis on quality and clean design, the jewelry brand experiments with recycled gold, lab-grown diamonds and pearls to create pieces that are timelessly elegant, sustainable and ethical.
Frequently asked questions about cocktail attire for women
What is cocktail dress code for ladies?
Women's cocktail attire calls for a sophisticated and stylish ensemble. Opt for knee-length or slightly above-the-knee dresses in luxurious fabrics like silk or lace. Tailored pants, blazers and blouses are also appropriate, especially when paired with tasteful accessories such as statement jewelry, a clutch, and heels.
What is acceptable as a cocktail dress?
To nail the cocktail dress code, opt for cocktail dresses with hemlines that are knee-length or slightly above the knee and crafted from elegant, quality fabrics such as silk, satin and lace. And when it comes to colors, vibrant hues and pastels are more appropriate for the day, while darker hues and muted tones are suitable for the evening.
What should a woman wear to a cocktail party?
Women's cocktail attire is no longer confined to knee-length dresses and LBDs. And while a classical midi is still one of the most popular styles, dressy jumpsuits and separates are becoming more in fashion. To achieve an effortless sophistication, opt for elegant fabrics like silk, satin or velvet and complete the cocktail look with a minimalist clutch, heels and understated accessories.
What cocktail dress code means?
Cocktail dress code refers to a semi-formal or dressy attire typically worn to social events or parties. Women typically wear knee-length or slightly above-the-knee dresses in elegant fabrics and tailored silhouettes. While men usually wear dress pants and dress shirts, but not a full suit.