We're taking a sneak(er) peak at the luxury footwear brand that's consuming our Insta-feeds. Spoiler alert: after diving into the heart and (sole) of the brand, we can't help but agree with the style-hungry sneakerheads and eco-conscious it-girls of today. Taking giant steps in the right direction, KOIO is committed to leading sustainability in fashion with regenerative leather recycling initiatives. Designed in New York, their minimalist styles are engineered to be worn every day and outlast multiple seasons. Whilst a more affordable price tag aims to make luxury sustainable footwear more accessible to the conscious consumer.
Clearly, KOIO walks the talk. So we're here to unpack the brand—and talk the walk.
At a glance
| | |
| --- | --- |
| Brand: Koio | |
| Founded: 2015 | Founders: Johannes Quodt and Chris Wichert |
| Origin: United States | Industry: Footwear |
| Collections: Womenswear, Menswear and Accessories | Website: koio.co |
| Shipping: International | Headquarters: New York, United States |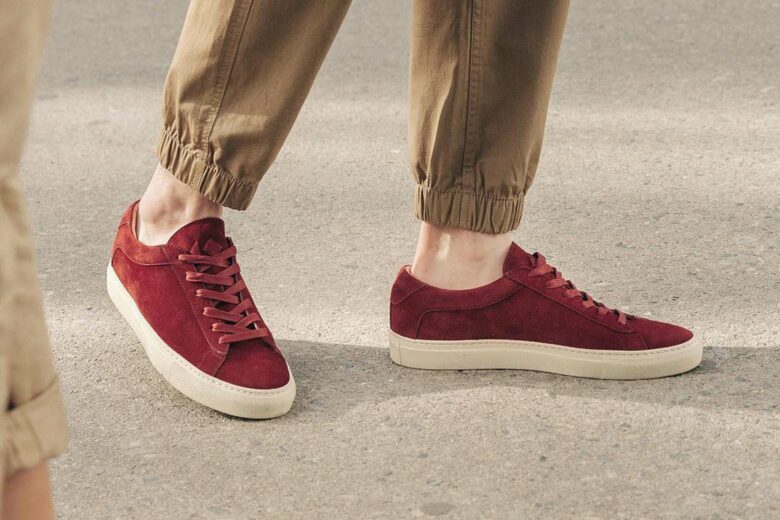 Behind the brand
History of Koio
Founded in 2015 by sneakerheads and businessmen, Johannes Quodt and Chris Wichert, the luxury footwear brand epitomizes what it means to have a featherlight footprint. The duo met in business school in 2014 and bonded over an appreciation for different sneakers. And whilst neither of them had a background in fashion or design, they started Koio with the mutual aspiration to create sneakers that were simultaneously stylish, snug, and sustainable—and in other words, flawless.
Initially, the deep dive into the fashion industry was an unexpected culture shock. And so Johannes and Chris connected with professors at Parson and FIT to glean everything there is to know about engineering the perfect sneaker. To them, sustainability was at the heart and superlative quality was the sole of their endeavor. So before designing their dream sneakers, they were devoted to scrupulously researching various fabrics and manufacturing methods that were both of impeccable quality and environmentally conscious.
The founding team set their sights on Italian leather and family-owned factories. Johannes and Chris visited over thirty-four factories in the country famous for its artisanal expertise before landing on one in Le Marche. Passing over forty-two hands before deemed "perfect", the factory celebrates the time-honored generational craft inherent to Italy. And as they were also used by other high-end labels such as Chanel and Hermes, the sneakerhead duo were satisfied that no small detail would go unnoticed.
Johannes and Chris delivered on an extensive list of promises, including the commitment to producing haute couture quality without haute couture price tags. Sold directly to the consumer through their website, the minimalist sneakers won over sartorialists and skyrocketed to Insta-fame. But as you know, not all social media fads meet our impossibly high standards for elevated, conscious living. Therefore, we scrutinized the brand for our own Koio shoes review in order to determine whether we would sign off on the luxury label along with everyone else.
Did they pass? Oh with flying colors! With some of our best sneakers for men and women, we absolutely think that Koio is worthy of its cult-favorite status and many media moments.
Interesting facts about Koio
The name Koio (pronounced koy-oh) is inspired by the Italian word for leather, cuoio—an appropriate name for a brand that prides itself in sustainable sourcing and impeccable quality Italian leathers. Handcrafted by expert artisans, Koio certainly lives up to the "Made in Italy" cachet as it honors the century-old generational trade. Unlike most brands, all forty-two steps—from cutting to boxing—take place in the same factory in Le Marche, Italy. Whilst other sustainable initiatives minimize the brand's environmental impact even further.
Koio's recycling initiative is an impressive example of how the brand continues to seek new ways to protect the planet and indulge our feet. And whilst the timeless luxury shoes are made to outlast multiple seasons of endless wear, they'll eventually reach the end of their lifespan. At this point, Koio Recycling allows you to send them back to the brand in return for a $50 discount on your next purchase. Not only does this ensure that Koio always stays clear of destructive landfills, but it also means that as a loyal Koio customer, you only ever have to pay full price once.
Reducing transport emissions and introducing recycling drives are admirable introductions. But what really distinguishes the luxury label as a sustainable brand is its support of regenerative farming. Regenerative farming is an agricultural system that mimics natural (and necessary) grazing movements. By reversing carbon emissions, it removes carbon dioxide from the atmosphere and uses it to enrich the soil. Along with many environmentalists, Koio believes this system to be the single most important lever in fighting climate change—and one that is often overlooked by many seeking sustainability in fashion. The brand launched the world's first-ever luxury regenerative footwear in 2022. And it anticipates only using regenerative leather by 2025.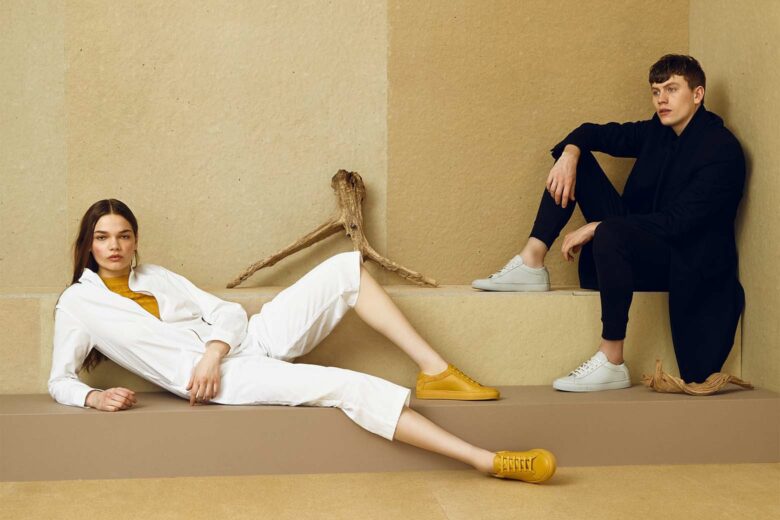 Product range
Founded by two passionate sneakerheads, Koio is renowned for its minimalist designs, high-quality craftsmanship, and environmental endeavors. And along with the brand's growth, the range of sneakers has grown extensively since its launch in 2015. Koio men's designer sneakers include their bestselling capris, retro runners, chunky soles, court classics and hightops in a myriad of colors and different types of leather. Their women's range is very similar with some of our favorite everyday go-tos—from white designer sneakers to chic black leather sneakers.
Besides their hallmark—Koio sneakers—the luxury footwear brand also has some of our best slides for men and women as well as beautiful boots and luxurious loafers. Their line of footwear accessories includes eco cleaners, microfiber cloths and endless lace options. Whilst the Koio Vinci Sweatshirt is all you need to complete your rotation of effortless street style classics.
Signature materials and craftsmanship
Founded with the vision to address unacceptable quality standards, inhumane labor conditions and a poor environmental track record in the fashion industry—product quality, people and the planet are at the core of the luxury footwear brand. Koio only uses Italian leathers that have been certified by the Leather Working Group (LWG).
From the beginning, every Koio Italian leather shoe was made from LWG-certified leather. But in 2022 they also launched the world's first-ever regenerative leather sneaker. Regenerative leather is sourced from the Swiss Alps, on farms where farmers manage their livestock to restore our ecosystems. Regenerative grazing works with nature to mimic the necessary movements of nature to give the plants exactly what they need to flourish. In the process, carbon emissions are reversed and used to enrich the soil, increasing biodiversity amongst livestock, plants and microorganisms. As firm believers in the method of curbing climate change, Koio is dedicated to only using regenerative leather by 2025.
Alongside sustainable leathers, Koio is maximizing the use of recycled materials in its shoes and packaging. The Koio Recycling initiative transforms old Koio sneakers into brand-new ones. Whilst the plastic component of Koio shoes widely relies on non-biodegradable recycled plastics. And when it isn't possible to use recycled plastics, Koio seeks to use renewable fibers from natural sources such as rubber trees.
Where is Koio made?
All Koio shoes are handcrafted in Italy by expert artisans who take pride in the century-old generational trade. And designed in New York to reflect a cosmopolitan on-the-go lifestyle, Koio's minimalist leather sneakers and shoes leave no room for imperfections.
The founding team visited dozens of different factories in Italy before finding one with which they were completely satisfied with. The factory they partnered with is the same one used by other affluent labels like Chanel and Hermes, adhering to the highest quality standards. All of the brand's Italian sneakers pass through forty-two expert hands in the same factory—all of which are treated with consideration and respect.
Brand values
| | |
| --- | --- |
| Vegan options | Yes |
| Carbon-neutral | No |
| Gives back | Yes |
Our favorite finds from Koio
Koio Capri Sneaker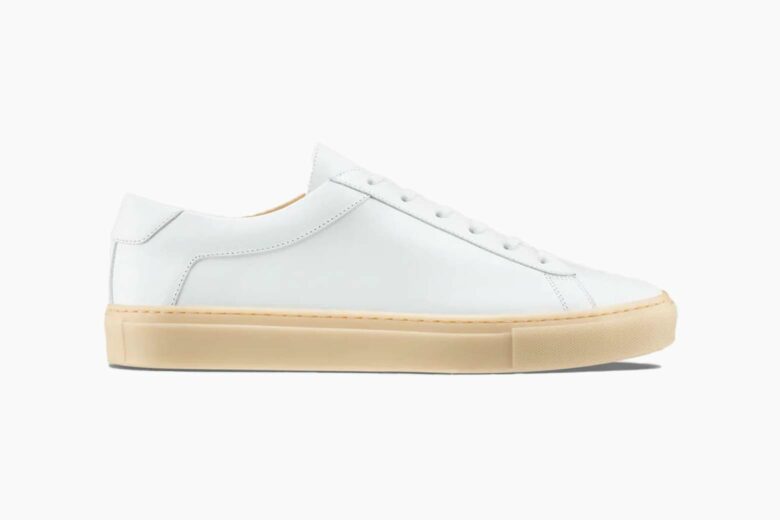 Reminiscent of your 90s' court classic, this minimalist sneaker is our ultimate everyday go-to. Void of obvious branding and show-stealing hues, it's the kind of shoe you don't have to think twice about popping on with a moment's notice. The unisex Capri in light gum is one of our best white sneakers for women and men. Whilst the Koio Capri in onyx black is equally versatile, but with a moodier attitude.
With so many luxury sneaker brands out there, making our carefully curated list of the best of the best is no small (feet). It certainly can't be achieved by relying on good looks alone. And Koio does no such thing. Made in Italy, the direct-to-consumer brand's sneakers are unparalleled in quality, comfort and price. And when comparing them to other affluent labels, such as Koio vs Common Projects, we think they come out top in all three.
Koio Trento Chelsea Boot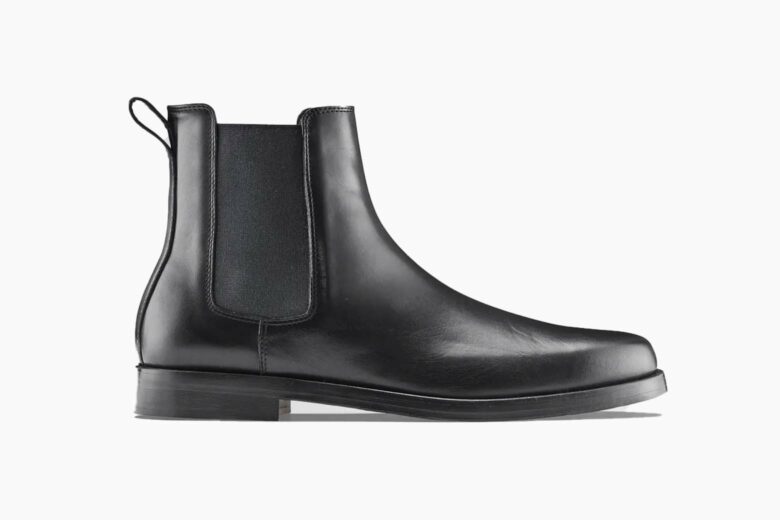 These boots are made for walking—and everything else. Koio's Trento is the brand's dressier Chelsea. And whilst it features the traditional practical Chelsea details such as elasticated side panels and a pull up tag, it does so with an added air of elegance and class.
As one of our best boots for men and women, we've been known to wear this Koio Chelsea boot day after day, week after week. We adore the Trento in black for the office, dinners out and more formal affairs. Whilst the suede Trento in Nero beige pairs beautifully with light chinos or white jeans.
Koio Bari Loafer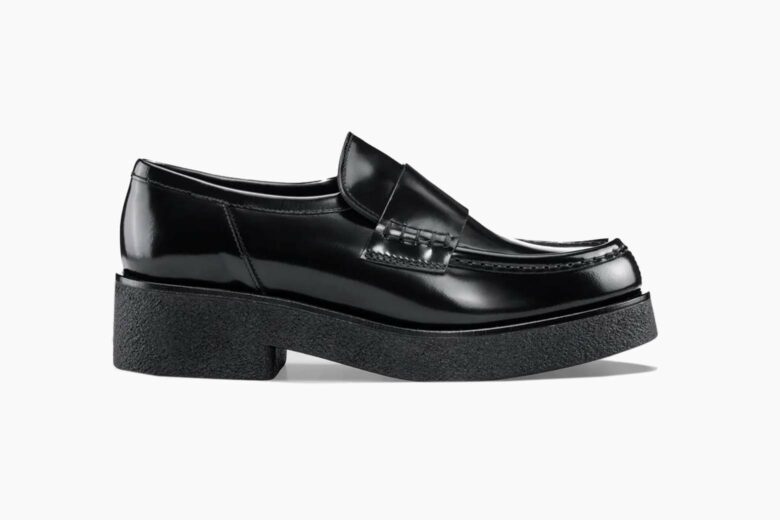 At a glance, the Bari encapsulates the (sole) behind century-old handcrafted Italian loafers. And when you step into them, you almost feel yourself floating through Florence and Milan.
Naturally, cloud-like comfort remains an uncompromising virtue of our best loafers for men and women, but this time it's the slightly chunky sole that really does it for us. Putting a literal spin on elevated, conscious living, the modernized rubber-crepe platform sole raises any ensemble to new heights. Whilst the brand's signature sustainably sourced leather takes care of your conscience.
This Koio black glossed loafer is polished and contemporary, lending itself to a myriad of styling opportunities—from Winter coats to cute Summer dresses.
Where to buy Koio
One of the things we love most about this luxury brand? Their direct-to-consumer retail approach that ultimately results in superior quality at more affordable prices. And whilst selected styles are stocked on reputable luxury e-retailers such as Nordstrom and Farfetch, our best place to shop Koio's full collection of colors, styles and sizes remains the brand's official site.
Koio price
Koio prices are a lot more accessible than other affluent labels offering similar quality. The iconic Koio Capri sneaker and beautiful Bari loafer are priced around $236. Whilst the Trento Chelsea costs $292.
But as a loyal Koio client, you receive frequent discounts through their rewards program. You can earn points for signing up, spending and referring—all of which are redeemable as discounts upon your next purchase. You also get $50 off your next pair when you recycle old Koios, meaning that you can replace them at a lower price every time.
Koio shipping
For domestic orders, Koio offers free shipping and you should allow 3-5 days for delivery. To receive your order within 2-3 business days, you can also opt for express shipping at an extra cost of $20.
Koio also ships internationally, but prices and times will vary depending on where the order is being made. The total shipping cost will be added to your order before checkout.
Koio return policy
We highly doubt anyone would want to return a Koio purchase. But for peace of mind, Koio does accept fully-refundable returns on most unworn, unused purchases returned within 14 days of purchase. However sale items, collaboration items, promotional items, Koio Vintage products, accessories and sweatshirts are only eligible for exchange or store credit. And whilst standard domestic delivery is free, express shipping and international shipping costs will not be refunded on return.
Koio social media profiles