You might be a digital nomad, your office a coastal cabana in Colombia. Or, an avid thru-hiker whose eyes become starry at the thought of completing the Santiago de Compostela. Perhaps you dream of white sand beaches and plan to explore South East Asia on a shoestring budget.
Either way, you won't get very far without the perfect travel backpack.
You may be of the opinion that booking a return flight is oh-so-passé. Like, how can you be expected to plan that far ahead? You've got soul-searching to do! We totally get that.
On the other hand, choosing the best travel backpack does deserve a little forethought. Comfort, capacity, and style are of crucial importance since you'll rarely be without it on the road.
So, we're on hand to help you discover the best backpack for traveling, so you can discover the world and leave your footprints in the soft sands of postcard-perfect destinations.
The nine best travel backpacks
Check our special travel backpack buyers' guide after the list to see exactly what you should pay attention to before purchasing a travel bag.
Bellroy Transit Plus: Best overall travel backpack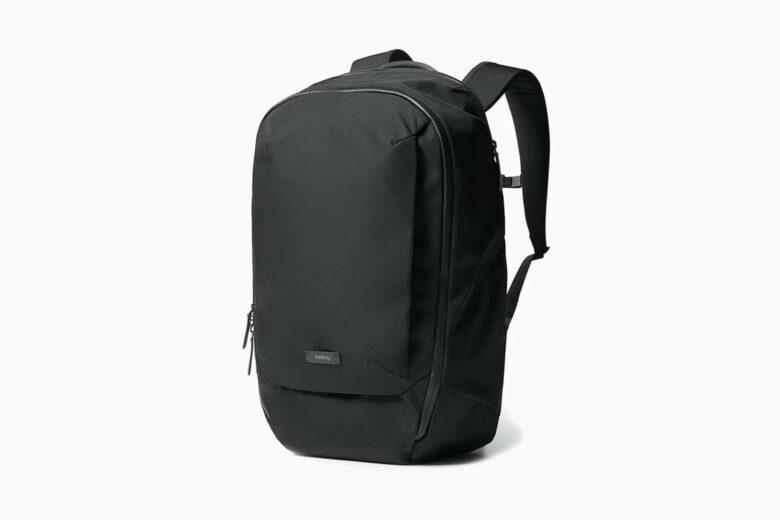 With a myriad of handy features, a smart, compact design, and clever separate access compartments, the Transit Backpack Plus by Bellroy seems to be everything a travel backpack should be, and more.
Optimized for ultimate comfort and ease of access (no more frantic rummaging around to produce your laptop and liquids for the check-in process), its front-opening and internal compression means your items will stay safe and packed in throughout your journey.
It could be the ideal travel backpack for those who prefer everything to be in order. It's neat, space-efficient (it meets carry-on size restrictions), and geared for carrying laptops and phones safely.
While the 28L capacity might not see you through six months of trekking in the Himalayas (although, the 38L might!), this travel backpack —with its padded straps— is extremely versatile. It's best for city breaks, international business trips, and conferences, and if you're space-savvy, long-term trips too.
The Transit Backpack Plus is for the person who reads articles on the '7/10/20 Habits of Highly Organised People' and actually takes the advice on board.
Much like you'll be doing with your nifty backpack.
| | |
| --- | --- |
| Size: | 28L or 38L |
| Material: | Water-resistant recycled woven fabric, premium environmentally certified leather |
| Colors: | Available in Black, Charcoal, or Marine Blue |
RIMOWA Never Still Large: Best high-end travel backpack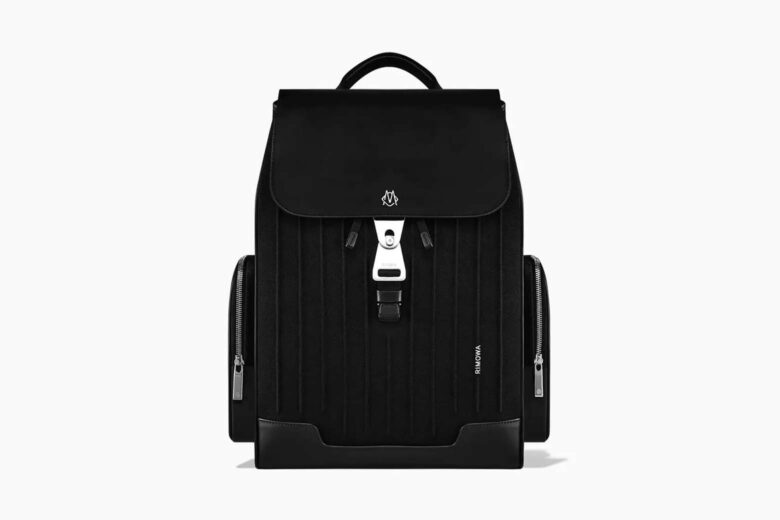 If you travel regularly and need to carry a few essentials with you at all times, it's worth investing in a superior travel backpack to make your experience more enjoyable.
Enter the Never Still Backpack Large by RIMOWA. All the perks of a suitcase with the comfort and convenience of a backpack, and it's coming from a premium luggage brand, so you know you can trust this bag to perform during your next trip.
Made in Italy, the RIMOWA Never Still backpack is designed with flexibility in mind. Crafted out of premium materials like durable canvas and full-grain leather, the bag features two side zipped pockets, adjustable shoulder straps, a padded back for added comfort, and a flap top secured by a bespoke magnetic buckle.
On the inside, you'll find plenty of space for your travel essentials with a large compartment and a separate laptop pocket. Check the other soft bags from the brand in our RIMOWA Never Still collection review.
| | |
| --- | --- |
| Size: | 19.5L |
| Material: | Canvas and full-grain leather |
| Colors: | Available in black and cactus green |
Osprey Farpoint 40: Best value travel backpack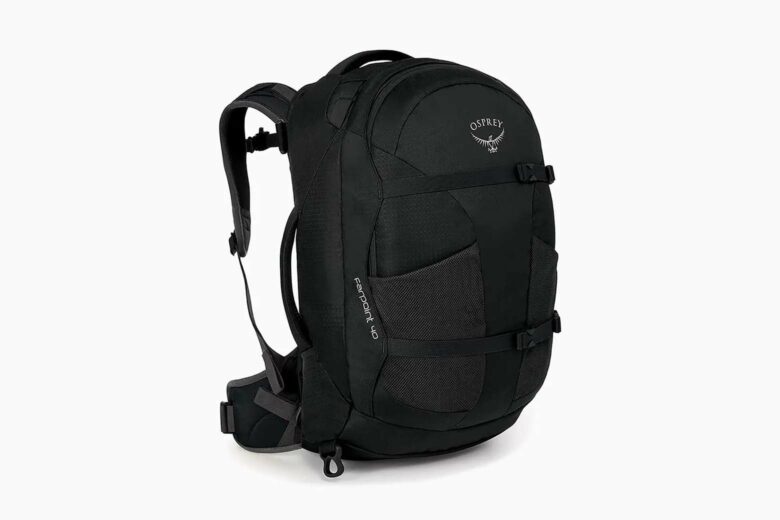 Sometimes, after booking flights, buying visas, and all those extra necessities, you need an affordable travel backpack that will still tick all the boxes.
If that sounds like you, the Osprey Farpoint 40 Travel Backpack could be perfect. Built with airline carry-on requirements in mind, and featuring that ubiquitous front opening, you can really have it all, and still have some cash spare.
It can be worn as a good-sized shoulder bag or on your back, depending on your preference. Plus, the dual front compression straps and laptop sleeves will keep all of your things neatly packed in throughout your journey.
As anyone who's carried a backpack for an extended amount of time will know, carrying your worldly possessions on your shoulders can be a burdensome task. Fortunately, the Farpoint 40 features a LightWire frame suspension system, which transfers some of the weight from the harness to the hip belt. Seriously, you'll be grateful for it.
Also, there are sewn-on attachment points on the exterior to provide the option of attaching extra bits and pieces for easy access, and lockable sliders on the main compartment to maximize security.
It's best for those who desire all of the benefits of a premium travel backpack, with a wallet-friendly price tag.
| | |
| --- | --- |
| Size: | 40L |
| Material: | Water-resistant 210D Nylon Mini Hex Diamond Ripstop |
| Colors: | Available in Black, Caribbean Blue, or Jasper Red |
Vincero Commuter: Best carry-on travel backpack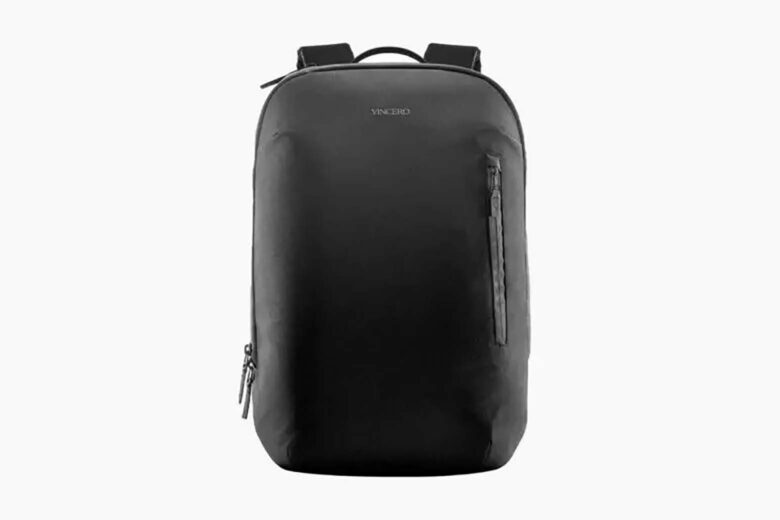 Whether it's a city escape, bush break, or mountain trek, this one's got your back in comfort, style, and durability. Inspired by an urban on-the-go lifestyle, the compartmentalized carryall is ultra-organized with tech sleeves and plenty of pouches. But it's just as good for carrying your water bottle, towel, books, snacks, and mosquito repellant as it is for your laptop and stationery.
Made from recycled nylon, the hardshell waterproof exterior is both sustainable and weather-bearing. Whilst impenetrable zippers promise to keep your contents dry. The contoured, cushioned shoulder pads are engineered for all-day comfort and wearability. And the roller bag strap is quintessential for optimal carry-on comfort.
From boarding the plane to snapping selfies at historical landmarks, the minimalist sleek black silhouette is unobtrusive. And the versatile hue promises not to clash with any of your carefully-chosen ensembles. We got our Vincero Commuter for traveling, but on return, it's transformed into an everyday office staple. Although we probably could've guessed that from the start.
| | |
| --- | --- |
| Size: | 15L |
| Material: | Recycled Nylon |
| Colors: | Black |
Teton Sports Explorer: Best single-day hiking travel backpack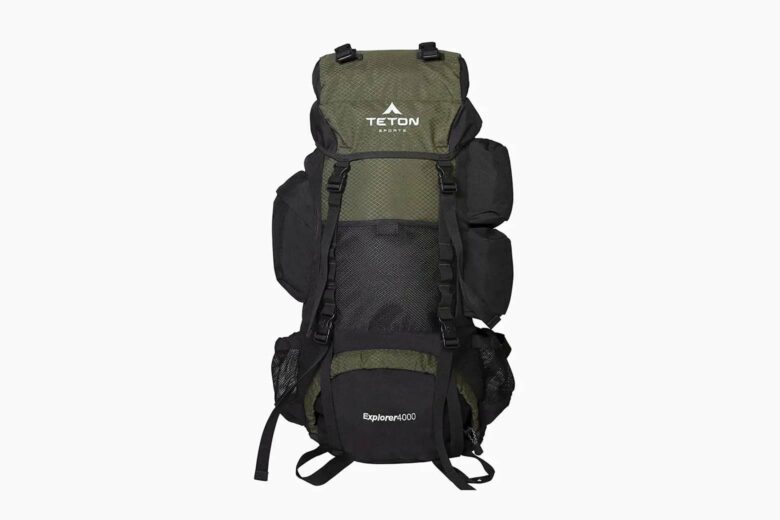 With the intrinsic stresses of a fast-past lifestyle, sometimes the best you can do to escape from it all is venture off on a single-day hike. There's something to be said for taking some Time Out in nature and absorbing the beauty your local area has to offer.
The Teton Sports Explorer could be the perfect companion on such a hike. Offering a sleeping bag compartment (if you decide to extend your hike), compression straps, and plenty of exterior pockets, you'll have all the space you need for a single-day hike, and perhaps more.
Designed with comfort in mind, the plethora of straps are both padded and adjustable, plus the padded back is channeled to encourage airflow. The idea is, you spend less time fixating on aches and pains, and more time soaking up the scenery around you.
Plus, there's an integrated RainFly to keep your things dry, which pulls out easily for quick access when those ominous-looking clouds suddenly burst.
If you prefer to hike with trekking poles or you're considering camping, the pass-through side pockets are excellent for storing awkward-shaped gear while not impeding on your space.
The Teton Sports Explorer is best for single-day hikes, but nicely provides the option for multi-day hikes, too.
| | |
| --- | --- |
| Size: | 65L |
| Material: | 600D Diamond Ripstop / 600D PU with RainFly waterproof cover attached |
| Colors: | Available in Black, Metallic Silver, or Hunter Green |
Lowepro ProTactic: Best camera travel backpack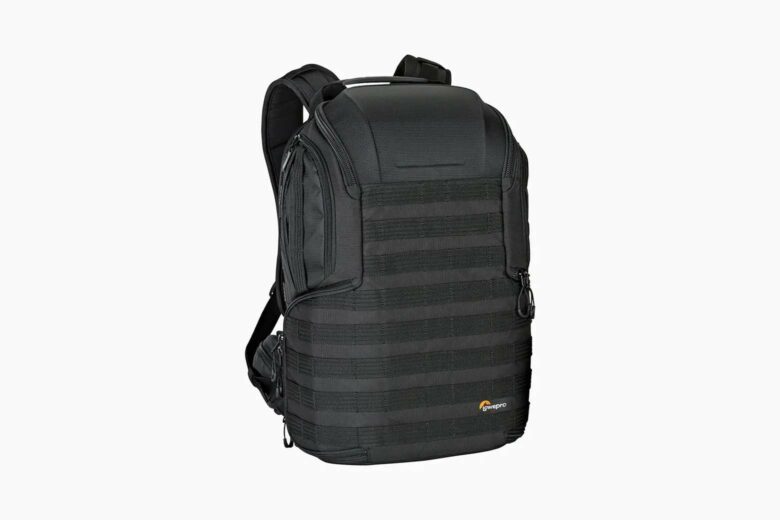 If you're shooting Siberian tigers for NatGeo, or if your photography interests have simply outgrown the capabilities of your iPhone X camera, you're going to need a backpack that's designed for looking after your prized possession.
The Lowepro ProTactic could be just the thing. Built to expand upon the Original Protactic backpacks, offering features specifically for carrying tech, the Lowepro aims to emulate a protective armor for your camera and equipment.
They know that you'll likely be out in all kinds of weather and climates and thus offer the built-in All-Weather cover, which protects the contents from rain, hail, snow, dust, and sand. So, whether you're caught in a Saharan sandstorm or capturing a seabound squall, you'll be covered.
Additionally, the backpack has flexible and adaptive dividers, with attention zoomed in on versatile spaces for various pieces of camera equipment and 4-point access, so you can swiftly gather your equipment to capture those unexpected moments.
While the main focal point is the protection and camera accessibility, comfort has not been left by the wayside: Padded straps and a waist strap, plus a water bottle holder, mean your comfort and convenience are at the forefront of the design.
Best for enthusiastic photographers who require a solid, armored travel backpack to protect their camera and kit. You can also check our round-up of all the best camera backpacks on the market today for more options.
| | |
| --- | --- |
| Size: | 25L |
| Material: | Polyester backpack plus waterproof rain cover included |
| Colors: | Available in black |
Osprey Farpoint 55: Best for holidays, backpacking, and hosteling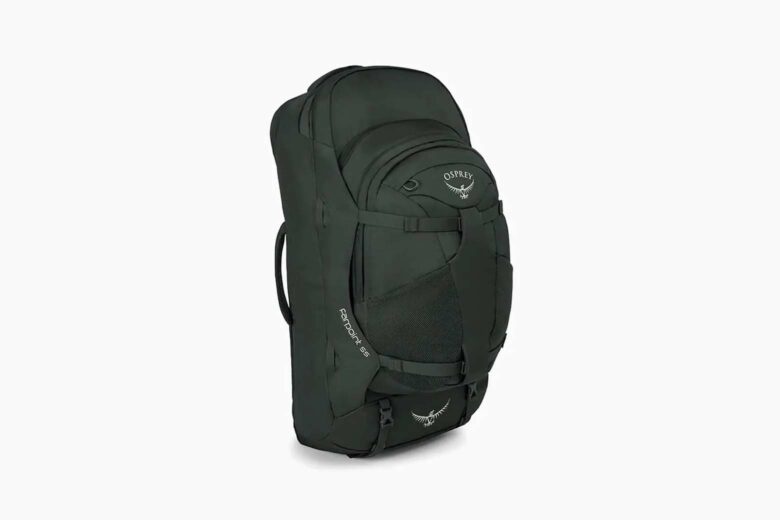 Maybe you're spending the summer hopping on trains between Europe's most exciting cities or off for three weeks to Saint Lucia. For mid-length trips, you'll want to have enough space for all your necessities.
The Osprey Farpoint 55 may be ideal; offering 55L of capacity, you won't need to be choosy about what you bring. The detachable day pack is brilliant for taking essentials with you on day trips while leaving the larger bag back at your hotel or hostel. Plus, it folds down and stows away inconspicuously when it's not required.
Of course, it features a laptop and tablet sleeve, plus a scratch-free compartment for protecting your beloved sunglasses.
Like the Farpoint 40, it boasts LightWire technology which helps to alleviate some of the stress from your shoulders, redistributing it evenly to your waist. Dual compression straps keep your precious things nicely in place during your travels, too.
The Osprey Farpoint 55 is best for long holidays or a month or two of backpacking, with space to pack a variety of items, plus comfort technology so you're free to enjoy your trip to the max.
| | |
| --- | --- |
| Size: | 55L |
| Material: | Water-resistant 210D Nylon Mini Hex Diamond Ripstop |
| Colors: | Available in Volcanic Grey or Jasper Red |
Kelty Redwing 50: Best backpack for long-term travel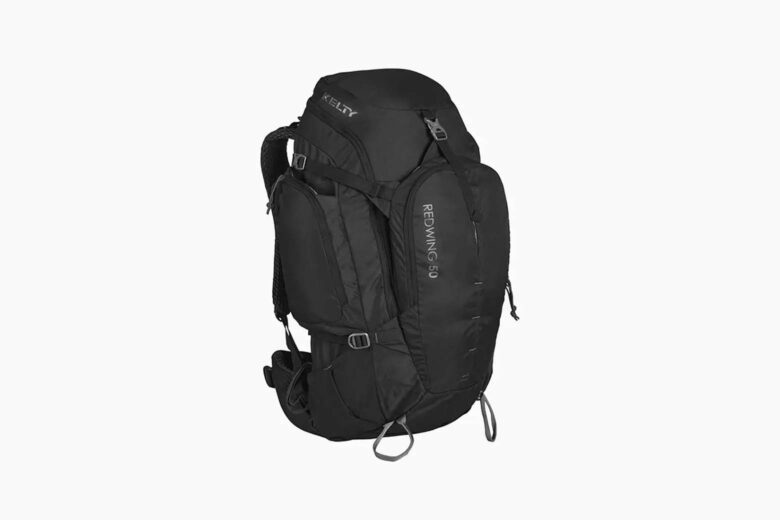 Off on a rite-of-passage gap year around South America, a Working Holiday in Australia or hitchhiking the West Coast of the US? You'll need a hardy, durable backpack with plenty of space for your possessions.
The Kelty Redwing 50 has PerfectFit Suspension for on-body adjustments, so you can enjoy made-to-measure comfort. For long-term travel, this is super important; never underestimate the discomfort of an ill-fitting backpack.
You might be shouldering this on a daily basis, walking to and from hostels, buses, and trains. So, take it from us, and make sure it fits.
The hybrid-loading U-zipper delivers the best of both worlds when it comes to loading up; top-loading and panel loading is possible with this helpful addition.
Stash pockets on the front allow for easy access to those need-it-quickly items, and meticulous in-bag organization is great for ensuring you remain super-organized, even on the road.
You can also lash items such as a tent or yoga mat to the bottom of the bag with the convenient daisy chains at the bottom of the pack. This is totally indispensable for when you truly don't know where your adventure's going to take you!
The padded hydration sleeve contains a water bottle holder and doubles as a laptop sleeve, so you can quench your thirst for both water and technology. Clearly, this backpack has its priorities in order.
Best for those heading off on long-term trips, who require plenty of space and extra features to ensure optimal comfort along the way.
| | |
| --- | --- |
| Size: | 51L |
| Material: | Poly 420D Small Black Stafford, not suitable for heavy rain |
| Colors: | Available in Black, Garnet Red, or Twilight Blue |
Mountaintop 70L: Best travel backpack for camping and trekking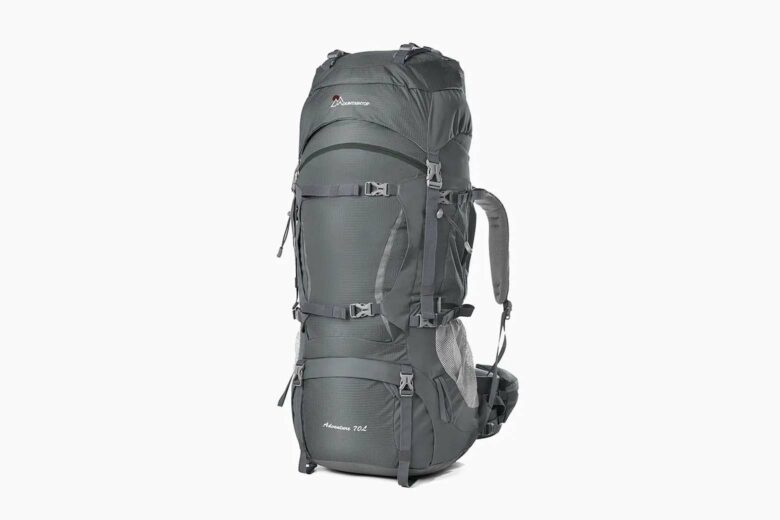 Embarking on a seriously outdoorsy, hardcore, end-to-end trek of the Pacific Crest Trail will, of course, demand a backpack built for purpose. Unfortunately, the flimsy bag you just about got away with when frolicking around the islands of Cambodia just won't cut it on this occasion.
Fortunately, the Mountaintop 70L Hiking Backpack can serve as your rugged companion on such endeavors.
Comfort is absolutely paramount when setting off on a hike, carrying a weighty pack with all you need for daily life, plus emergencies. Plus your temporary home. And your luxuries. Wait, don't let us put you off. The Mountaintop 70L is built with this in mind:
It possesses space for two weeks' worth of clothes, 3L of water, food, shampoo and conditioner, a first aid kit, a sleeping bag, a portable stove… Well, you get the idea. It can hold just about everything you need for a long old walk in the woods.
The wide range of adjustments means it will happily sit on your back at your ideal level, and the adjustable hip belt will ensure the weight is distributed evenly, preventing sore shoulders. That's not to say you won't need a break now and then, but seasoned hikers know this comes with the territory.
This is best for those planning longer, multi-day hikes and treks across a variety of terrains.
| | |
| --- | --- |
| Size: | 70 to 75L |
| Material: | Nylon, waterproof and shockproof |
| Colors: | Available in Black, Lake Green, and Grey |
Travel backpack buying guide
Sometimes, the techy jargon that often accompanies the simple act of buying a quality travel backpack can be a little off-putting.
Here, we'll break down what kind of travel backpack is best for your trip, what the different options are, and what features to look out for.
What travel backpack is best for you?
Long-term travel
When planning an extended trip, choosing the best backpack for your travels is paramount.
You're going to be considerably glued to your bag for longer periods of time, and will probably be staying in a variety of accommodations along the way. Comfort and security are the key features to look for, as well as durability.
For trips around six months to a year, consider purchasing a backpack with a large capacity- 50-60L should be ample room for all your essentials. A front-opener will be a lifesaver for keeping your clothes somewhat orderly, too.
Single-day hike
For a single-day hike, you're much less burdened with supplies. Of course, depending on where you're hiking, you might need to bring extras like a first aid kit, and (regardless of the location) plenty of water.
You're free to select a smaller backpack as you'll be unencumbered by weighty clothes, tents, cooking equipment, and whatever else you would deem necessary for an overnight trek. Although it's totally romantic to envision being totally self-sufficient and free-spirited, for a day hike, it's just not necessary.
Think less Into the Wild, and more Ferris Bueller's Day Off.
Multi-day hike and camping
Ah, now's the time to channel your inner Chris McCandless. Get down and dirty with your inner explorer, because your travel backpack (and it's contents) are going to be hella useful for multi-day hikes and camping.
You'll need to ensure your chosen travel backpack has the capacity for enough weather-suitable clothing, plus space at the bottom with cords to attach your tent and sleeping bag. A larger bag (30-45L) is preferable for these adventures, as you'll likely need provisions for a few days, plus room for food to keep those energy levels up!
Check that your travel backpack is water-resistant or includes a waterproof cover. We'd hate to say we told you so.
Shorter trips
This is the carry-on's time to shine. Many travel backpacks are made to be within the dimensions of airline carry-on restrictions, and they will usually state this in their description. For shorter holidays, weekend breaks, or business trips, a compact carry-on is perfect.
They're built to be ultra space-efficient, meticulously organized, and with specific compartments for things like your laptop, phone, sunglasses, and water bottle. The idea with carry-ons is that everything slots into place nicely, and all of your items are easy to access.
If backpacks aren't your style, check out our guide to the best suitcases.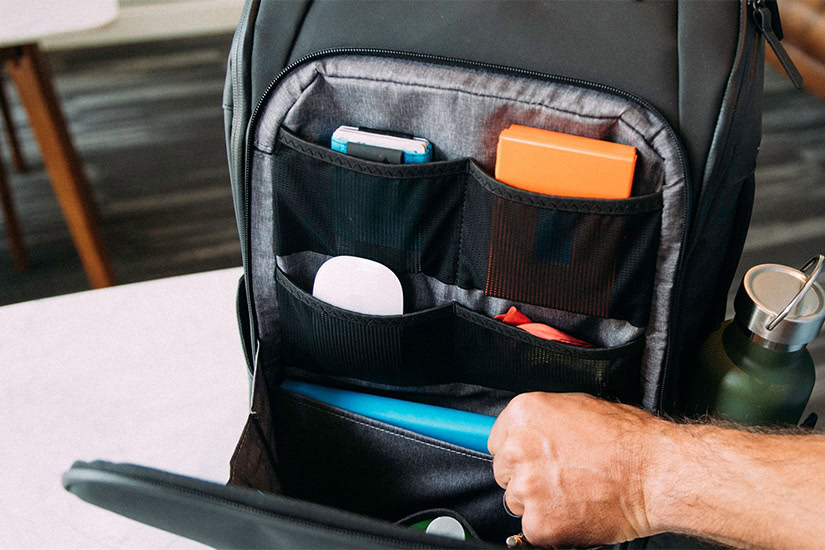 What features to look for
Water-resistant material
For everything other than multi-day hikes and camping trips, water-resistant (rather than waterproof) material should be sufficient for your needs. Of course, if you are setting off across the Annapurna range, you're going to need 100% waterproof material.
Nylon is typically a good material to look out for, as it will withstand drizzles and sporadic showers.
Lockable zips
If somebody is intent on breaking into your backpack (hey, people do it), they'll find a way despite your valiant attempts to deter them with lockable zips. Nonetheless, they are a feature worth having. Scan the bag and check it has compartments with two zips, so they can be padlocked together.
Padded hip belt, straps, and back
Truly a no-brainer, and a feature of any good travel backpack worth its salt, ensure all the straps which come into contact with your body are padded.
Probably not warranting an explanation, but padding will be the make or break of your backpacking experience, whatever form it may take.
Front-loading
If you're limited to a top-loading backpack, consider the items at the bottom of your bag to be, in essence, gone forever. While with a measure of effort and frustration, you, may retrieve what lies beneath- you're going to hate every minute of it.
Invest in a backpack that features front-loading. Essentially, a U-shaped zip that allows you to open the backpack in its entirety, rather than access it through only a comically small entrance at the top.
Best travel backpacks: Frequently asked questions
What is the best travel backpack of the year?
There are plenty of choices out there, but overall we've rated the Transit Backpack Plus by Bellroy as the most user-friendly and versatile travel backpack, whatever your trip may entail.
How to choose a travel backpack?
Make sure you have a good idea of what your travels will consist of before buying a travel backpack. Work out if you're going to need to camp, bring food supplies, carry mostly clothing and toiletries, or require extra padding for cameras or laptops. Then, check out our list for the ultimate guide to selecting the best travel backpack for your needs.
What size travel backpack should you get?
It depends on the length and nature of your trip! Supply-heavy travels like long, multi-day hikes or camping trips will demand a larger capacity. 40-50L should be sufficient, but it depends on your individual needs. For shorter trips, try to buy a backpack that aligns with airline carry-on restrictions to avoid hassle and extra fees.
How do you pack a travel backpack?
Luckily, most travel backpacks are packed with helpful little compartments, built with specific items in mind. They'll have laptop sleeves, water bottle holders, and attachments for extra bits on the outside. Additionally, you can use gadgets like packing cubes, which condense your clothes into easy, packable cubes and maximize available space.