Vincero means I Will Win in Italian. And win it does. Especially when it comes to its carbon footprint—or lack thereof. Since 2019, the sustainable brand has been Climate Neutral certified by pioneering new ways to reduce its impact on the environment and offset the minimal effect it does have. And as the first accessories brand to do so, it's no secret that we're enormously impressed—Vincero has made its way into our best-of lists many times (we've lost count).
Renowned for its timeless designs and high-end finishes, Vincero is one of our favorite luxury watch brands.
But now Vincero is stepping into a new category with the Commuter bag—the first installment of the brand's Carry Collection.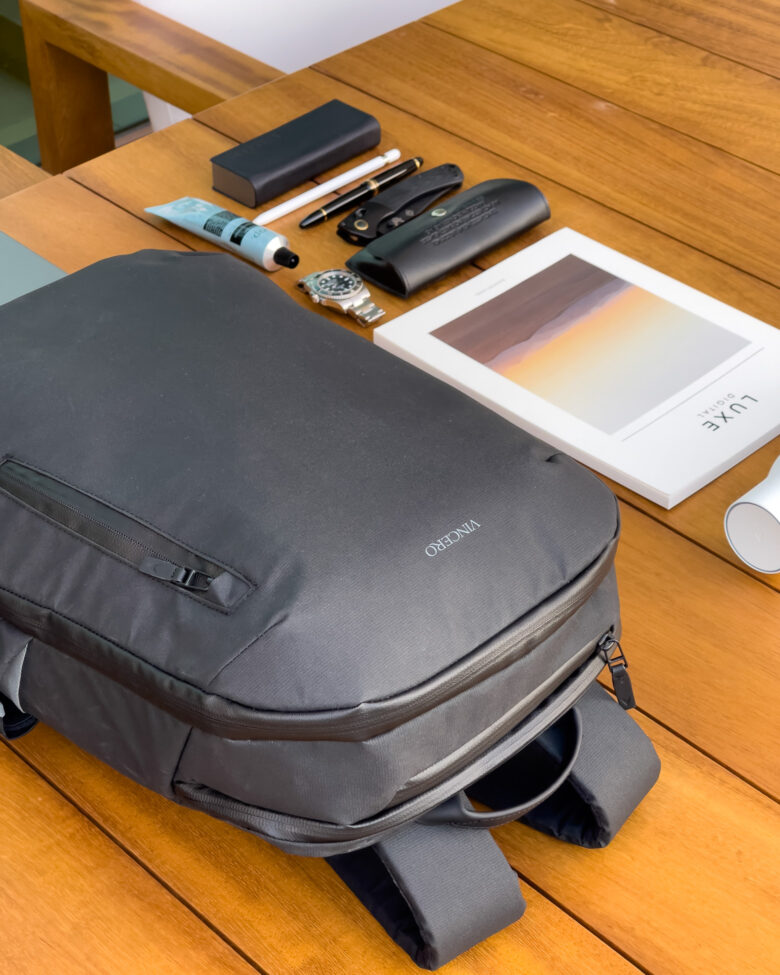 Streamlined on the outside and practical on the inside, Vincero's Commuter has got your back in form and function—thoughtfully designed to lighten your load. And as the sine qua non of stress-free commutes, it fuels us to live a more holistic lifestyle. Whether you're cycling to work in the week or exploring new cities on the weekend, we've found in this bag a conscious, caring companion that always seems to bring out our best—just as any lifelong partnership should.
The sleek urban-inspired silhouette echoes the versatility of Vincero watches and the best bracelets for men. While recycled fabrics speak to round-the-clock sustainability.
With Vincero on our back and wrists, we're not prone to wasting time or energy. So let's head straight to our Vincero Commuter review.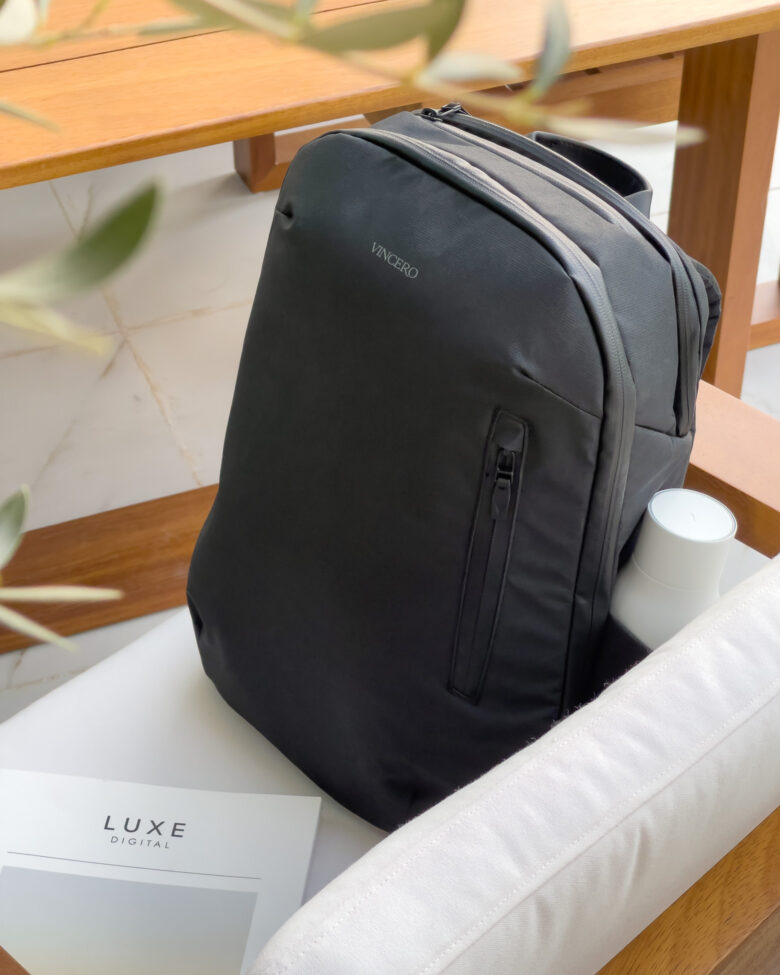 Vincero Commuter Review: Powering carefree commutes
Our verdict: Reliable and robust, the Vincero Commuter is an absolute strapper when it comes to everything travel—be it to the office or the next heritage site. The hardshell waterproof construction is engineered to weather the volatile elements. While all your tech and other everyday essentials remain safely tucked inside a plethora of pockets and cushioned crash-protective sleeves. The contoured foam back support speaks to premium tailored comfort. And whether you're hopping around puddles or screaming around corners on your e-bike, we don't doubt that your papers, packed lunch, and prepped laptop pitches will make it to the table in boardroom-ready condition. 
The pros:
Full weatherproof construction
Fits a 16′ laptop and a separate tablet
Compartmentalized for effortless organization
Made from sustainable materials like recycled nylon and vegan leathers
Contoured EVA foam back support for optimum comfort
Made to last and withstand everyday wear and tear
Travel-friendly with luggage sleeve and meets carry-on restrictions
The cons:
Probably not big enough for a whole weekend away
Color enthusiasts may appreciate a variety of hues to choose from
Doesn't fit wider water bottles
Hands-on experience and benefits: Carrying effortless sustainability on your back
When it comes to finding the best backpacks, we're unapologetically greedy. Fortunately, Vincero has us covered with endless indulgence.
Crafted from premium sustainable materials, the Vincero Commuter is built to carry the weight of the world on your back—without actually bearing the burden. From the moment it arrives (consciously packaged) on your doorstep to your first excursion around town, the hands-on (or rather hands-off) experience is unparalleled in cushioned comfort, weightlessness, and effortless organization.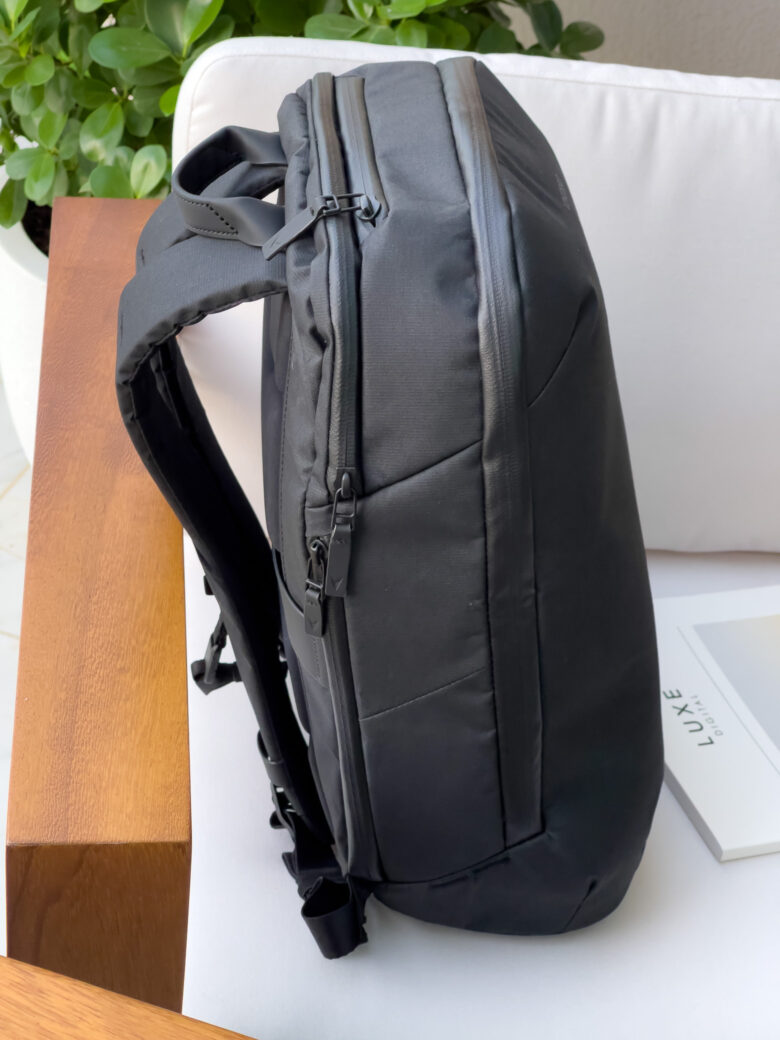 Unboxing
The unboxing of a Vincero backpack is a nostalgic experience. And whilst we're less excited by tacky toys and anything wrapped in our older age, the arrival of this particular large carton box seemed to elicit the same response as that of a three-year-old on Christmas. Stuffed with recycled paper, the backpack comes filled so as not to lose its shape. And we particularly appreciated that it wasn't folded during shipping.
Otherwise, it comes void of fuss and frills—but even if they existed, we doubt we'd have noticed them anyway. We couldn't wait to get the Commuter out of its box and onto our backs.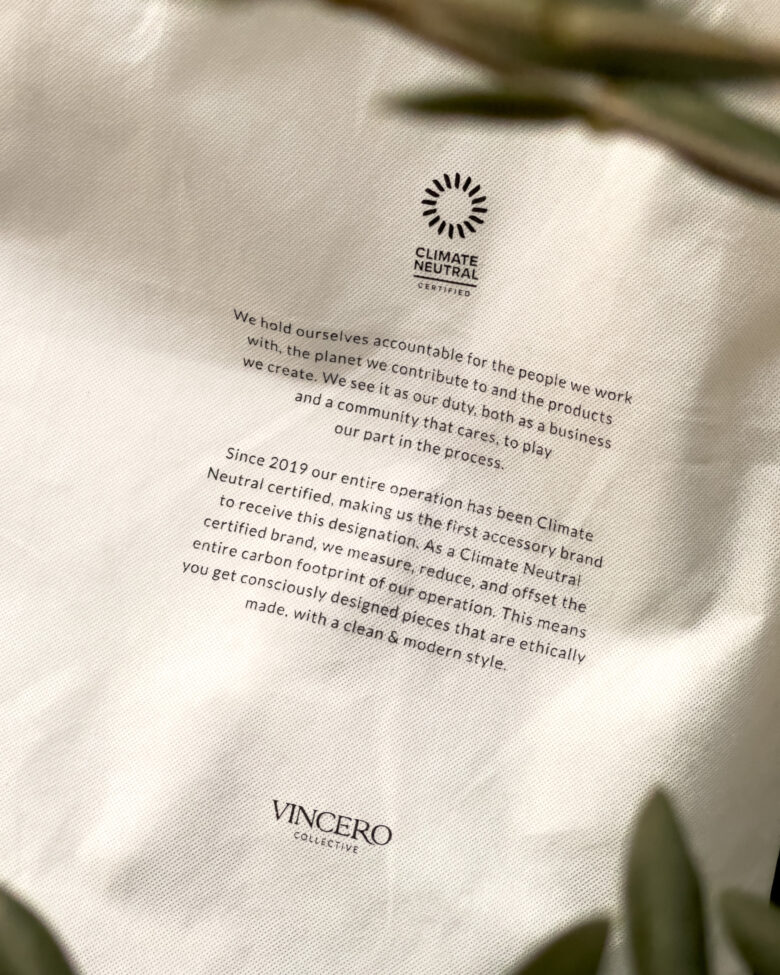 Materials & craftsmanship
Proving that high-quality materials and impeccable craftsmanship shouldn't cost the earth (literally and figuratively speaking), Vincero Collective is pioneering the concept of affordable luxury one sumptuous accessory at a time. And the Commuter backpack is case in point (pun intended).
Made from 100% recycled 400D nylon, the conscious label transforms old fishing nets and plastic scraps into high-performing EDC backpacks. While vegan leather accents speak to Vincero's innovative attitude when it comes to achieving a premium aesthetic without compromising Mother Nature.
The durable aluminum hardware exterior is engineered to outlast multiple seasons on the backs of bikes, stowed away in carry-on compartments, or climbing new peaks. And in doing so, it keeps the sustainable accessories out of landfills and on our backs. The waterproof fabrics and impenetrable YKK also make it irresistibly weatherproof. And whilst an unexpected downpour may see you drenched from head to toe, you can laugh it off with the sound knowledge that all your tech and papers remain untouched.
More than just harbored from rain, the protective microfiber lining cushions your tech from unavoidable crashes (e-bikers, we see you.) While EVA foam is used at the back for optimal back support and sweat-free breathability.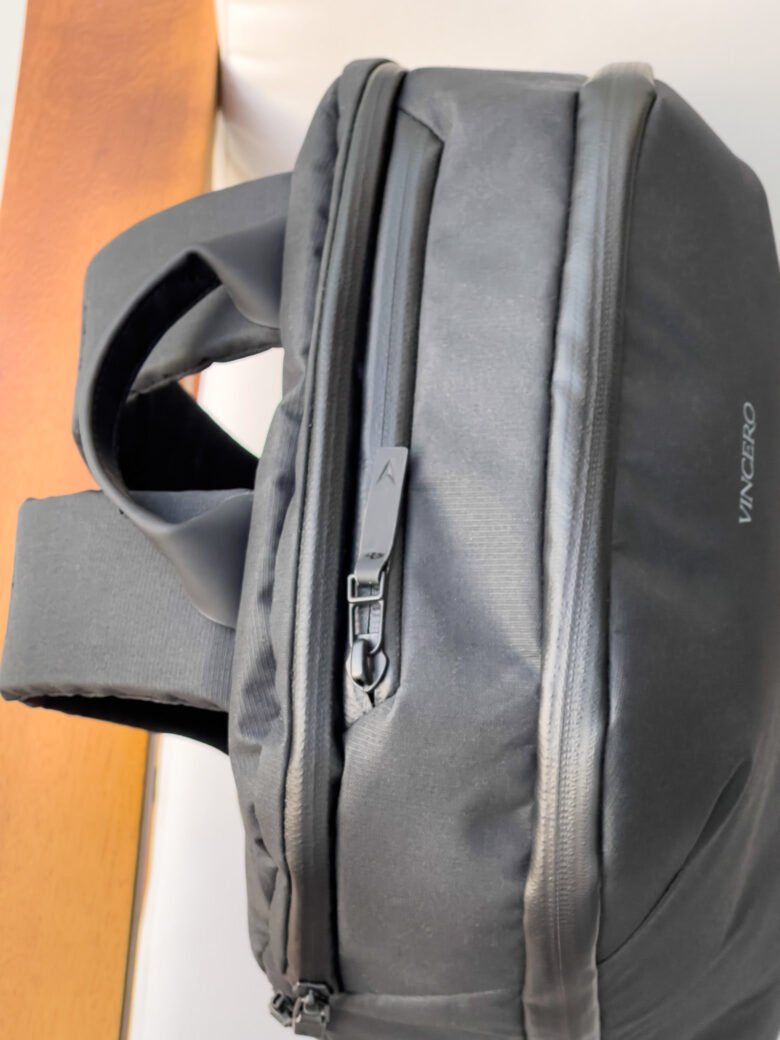 Functionality
This Vincero backpack is hyperfunctional and consciously designed to elevate your everyday commute. The laptop sleeve fits a 16″ device and is thoughtfully lined with a soft microfiber to protect your device from spontaneous swerves. The separate tablet sleeve means that you don't have to pick your device for the day. And the expandable water bottle pocket keeps your liquids clear of your latest pitch deck and expensive tech. The only thing is that it only fits slim silhouettes. But we just appreciate that as an excuse to invest in a compatible LARQ bottle.
The plethora of pockets plays double duty—offering fortnite security and Marie Kondo-approved organization. Both of which prove to be invaluable features on a daily basis (it didn't make it to our list of the best EDC backpacks for nothing). Especially when you need to locate your keys to escape the school parking lot before someone asks you to volunteer again. And when you don't have to scrabble for the latest docs in the boardroom, well, such quintessential compartmentalization may just result in a pay raise.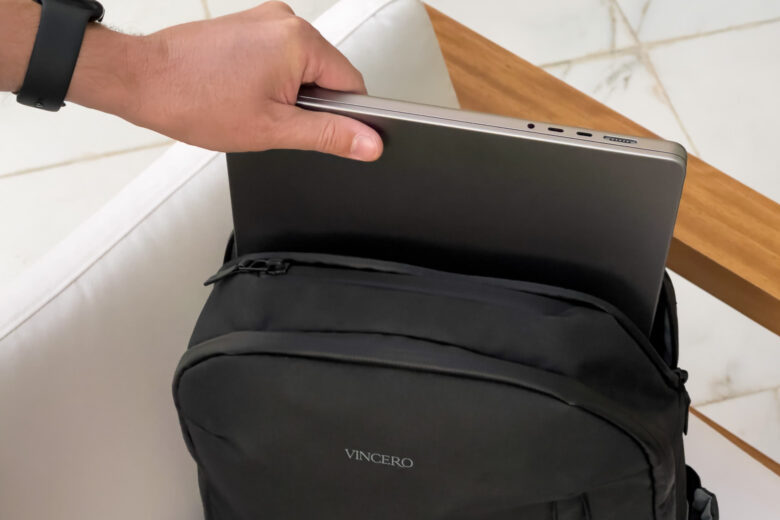 The Vincero Commuter is also travel-friendly. And whether you're popping out of town for a conference or letting your hair down in a new city, we think you'll appreciate the big difference that small details can make. The compact silhouette meets carry-on restrictions whilst maintaining its 15L capacity. The separate laptop access makes passing through security a breeze. Plus, the hidden side zip pockets make your wallet and passport easily accessible whilst keeping them securely out of sight of prying eyes. Plus, it attaches to your luggage handles, so you can take all those essentials (and worries) off your shoulders.
When it comes to functionality, comfort is key. Because we all know that if it isn't comfortable to wear, it just doesn't get worn. The Vincero Commuter takes this sentiment to the next level with things we hadn't even thought of—but now can't live without. The adaptable EVA foam contours to the natural curve of your back for first-class comfort. The breathable fabric makes embarrassing sweat marks (we've all been there) a thing of the past. And the tailored shoulder support only enhances the weightless feel of the bag, even though it's likely holding all the essentials (including ample snacks).
Aesthetic & Design
Like all things Vincero, the Commuter backpack is a sleek, urban-inspired interpretation of a timeless classic. And proving that bigger isn't always better, we're constantly amazed by how compact the silhouette is for its carrying capacity—it manages to house your entire mobile office, basically. The modern minimalist aesthetic is effortlessly versatile, paying homage to the on-the-go lifestyle of the modern professional.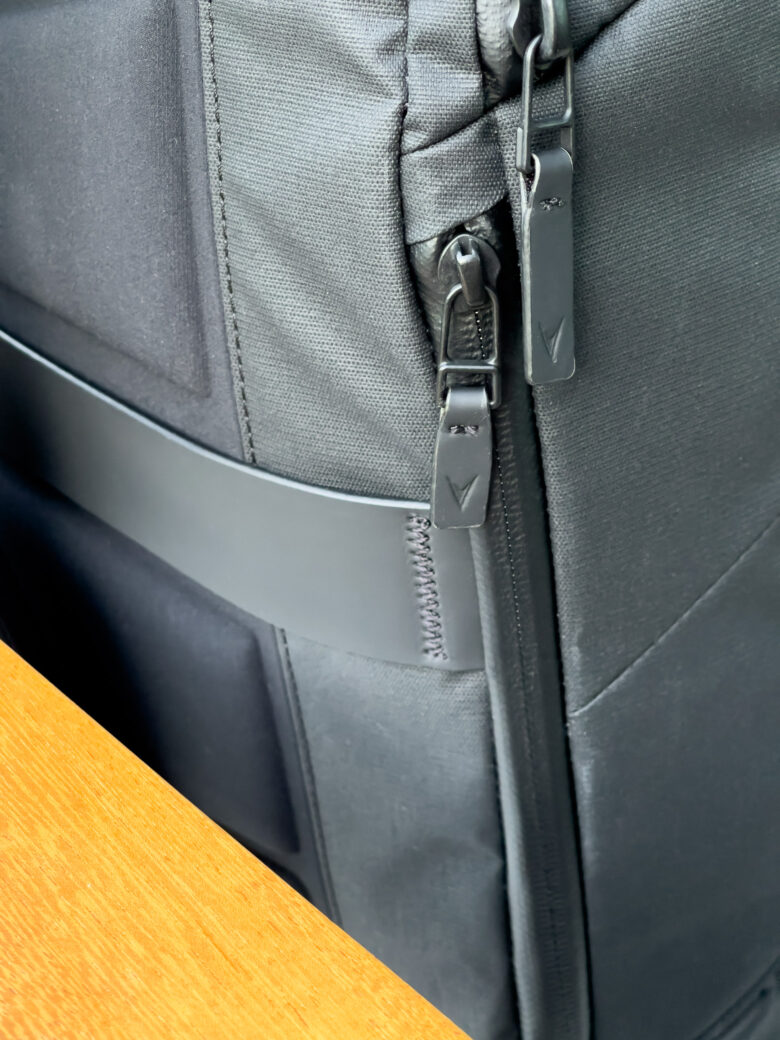 Colors
The Vincero Commuter is available in timeless black. And whilst dopamine-dressers may prefer a more vibrant selection, we appreciate that the black hue is effortlessly versatile and sophisticated.
Care & Maintenance
Maintaining your Commuter is as seamless as your commutes will be. The hardshell exterior is easy to wipe down with a damp cloth. Although we doubt you'll have to do this very often as the concealing black hue usually looks good as new.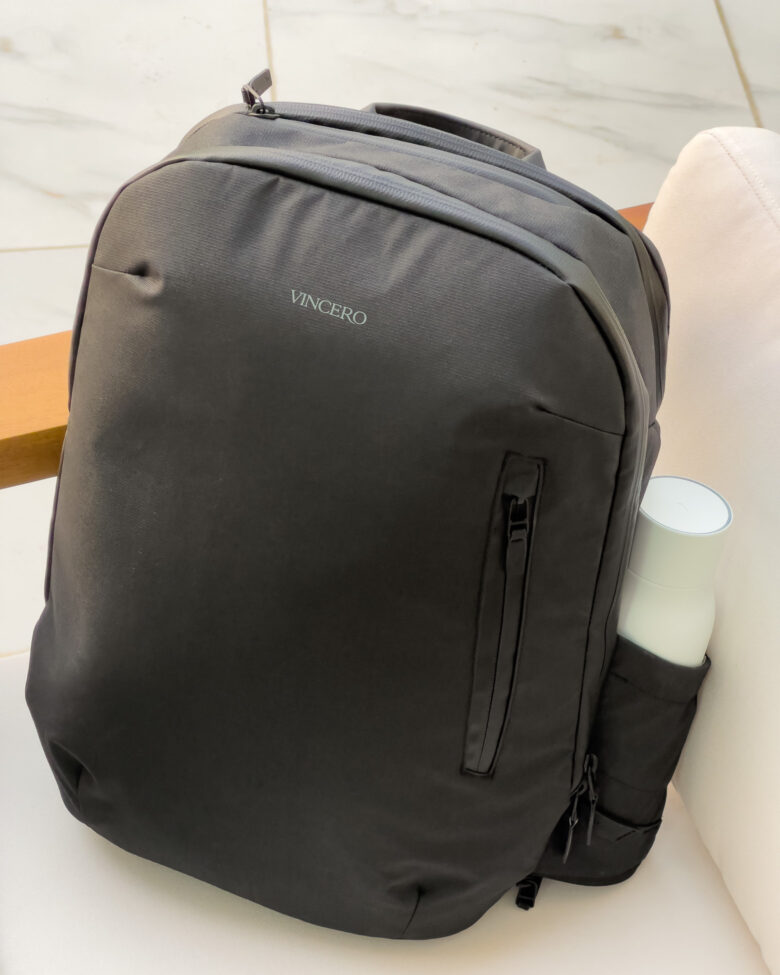 Price
Living up to the brand's goal to pioneer affordable high-quality, the Vincero Commuter retails for $248. And whilst the price tag doesn't give much away, the timeless design and durable materials come with a five-year warranty. So you're guaranteed endless excursions and ample daily commutes with your new BFF. 
Who it is best for
The name kind of gives it away. Yep, The Commuter backpack is engineered for professional commuters. The protective tech sleeves and compartmentalization are designed to withstand sharp bike turns and crammed subways. But the breathable back, contoured foam back, and luggage sleeve also make it an ideal purchase for frequent travelers.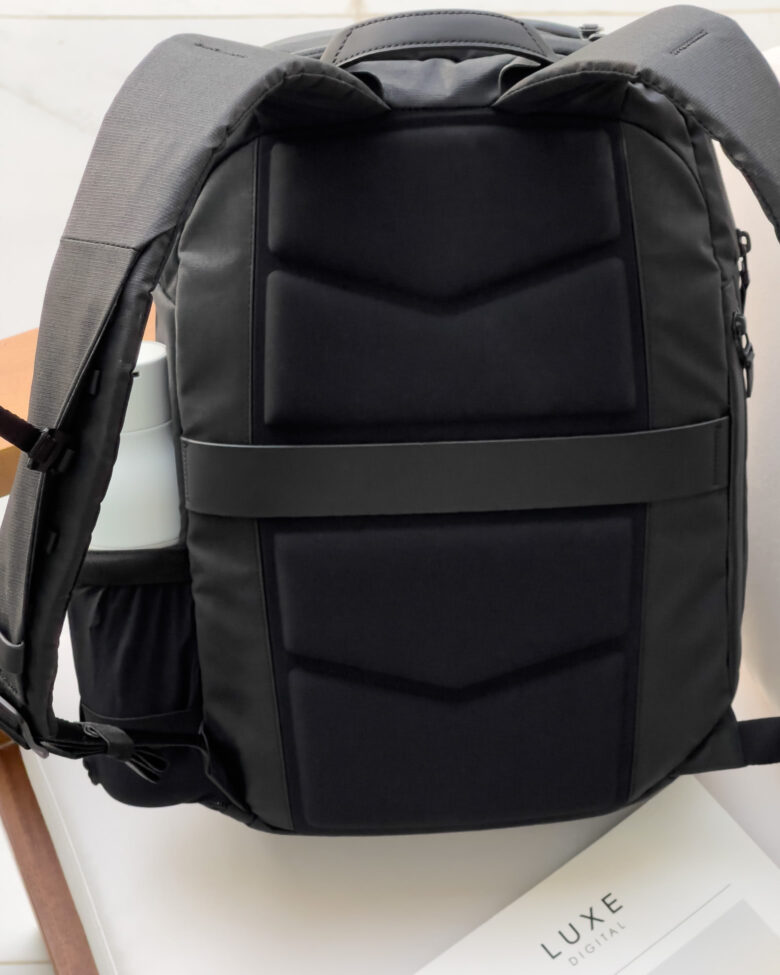 Where to buy the Vincero Commuter backpack?
The best way to buy the Vincero Commuter backpack is on the brand's official website. It comes with a five-year warranty. Shipping is free worldwide. And orders typically arrive within 6-12 days, although they also offer express shipping for faster delivery. Plus, you are guaranteed a full refund on all items returned undamaged within a year of purchase, so you can really shop with confidence. And you can try the backpack out properly before making up your mind.