Calpak is a masterclass in traveling light without packing light. Made for trendy everyday wanderlusters and weekend explorers alike, Calpak is designed for heavy-use—without the heavy price tag. In the long-haul, the sumptuous suitcases flaunt Jane Kondo-approved compartmentalization and organization. While thoughtful details prove that sometimes the journey is, in fact, more fun than the destination.
At a glance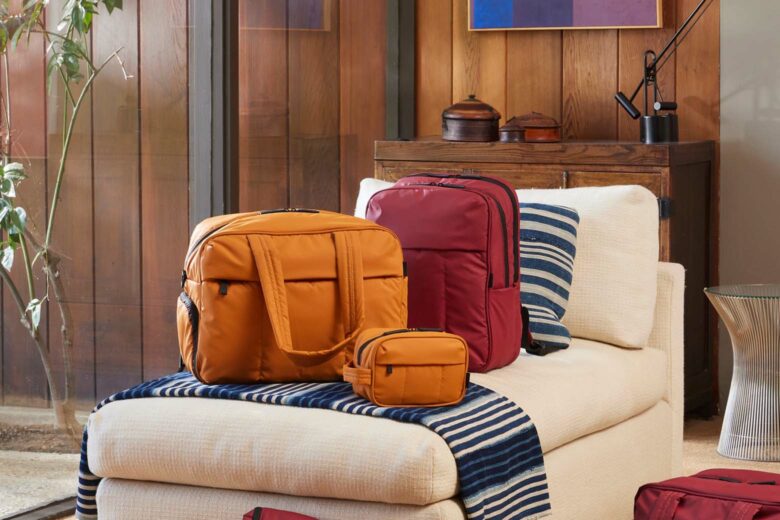 Behind the brand
History of Calpak
As one of the most iconic luggage brands, Calpak—or what was then called California Pak—was established in 1989 in Los Angeles, California by Edward and Judy Kwon. The husband and wife founding team immigrated from South Korea prior to that. And whilst they always had a big heart for travel and adventure, California Pak actually started out selling handbags and wallets before the brand turned to luggage.
In 2013, California Pak became Calpak after Edward and Judy's children, Jennifer and Roy Kwon joined the team. Identifying new ways to innovate, push the boundaries, and perfect the offering, Jennifer joined the product development team. And ever since, she's played an integral role in transforming Calpak luggage into what it is today.
One of the things that irked Jennifer most was that almost all luggage brands seemed to aim their luggage at businessmen. She failed to find suitcases that reflected the youthful, on-the-go, cosmopolitan lifestyles of herself and her friends. In response to her frustration, she became devoted to engineering luggage that was of the highest quality—but was also affordable and effortlessly chic.
Proving that function and fashion needn't be mutually exclusive, that is exactly what she did. And judging by the millions of raving Calpak reviews, the brand's sleek, stylish, and sustainable luggage is constantly being onboarded by modern travelers around the world.
Interesting facts about Calpak
Calpak is a shortened version of the brand's original name—California Pak. Managed and run by the founder's children, Calpak luggage is still a fully family-owned business. And over the past decade, brother and sister—Jennifer and Roy Kwon—have worked together to reinvent the time-honored brand into a luxury label for the modern traveler.
In 2022, Calpak released the TRNK collection—a collection inspired by the vintage trunk. The TRNK collection showcases a variety of silhouettes, all of which come in timeless beige or black hues. Marrying the old with the new, bags such as the TRNK hat box, pay homage to the history of travel. While thoughtful features such as adjustable shoulder straps, cushioned handles, and seamless trolley sleeves speak to the many ways in which travel has progressed and been made easier by brands like Calpak.
Besides designing some of the trendiest and highest quality suitcases, Calpak is also one of the most affordable luxury luggage labels. The brand's luggage is more than half the price of other luxury labels of equal quality. Plus, various programs reward the brand's ever-growing fanbase for its uncompromising loyalty. The Calpak Referral Program rewards Calpak fans with a $25 credit for every customer referred. Of course, if you keep referring friends, you can build up enough credit to get yours for free. But referring friends isn't the only way to rack up credit, by simply purchasing Calpak products, you receive credit for every dollar spent.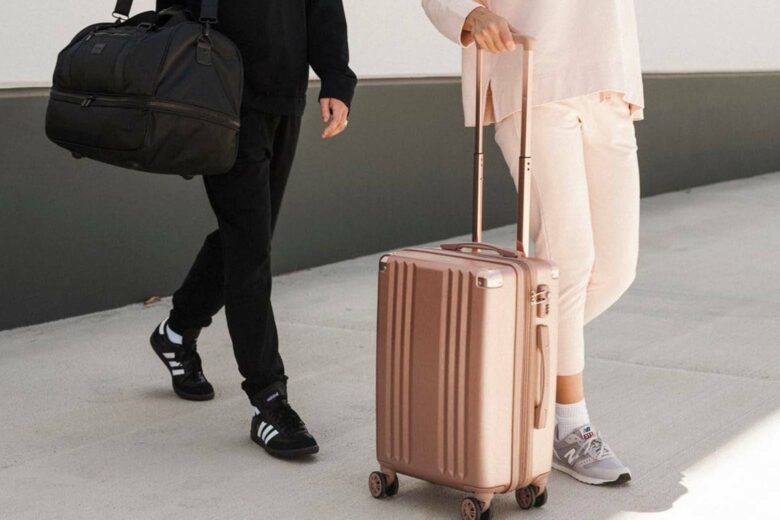 Calpak product range
Calpak luggage consists of a wide variety of sizes, styles and colorways. The Ambeur collection is probably the most classic. The Hue collection plays with color for a vibrant twist on functionality. The TRNK collection marries the timelessness of vintage trunks with modern features. And the Terra collection is specifically designed for tackling the outdoors.
Besides Calpak luggage, the brand also has a range of everyday bags, including our favorite Calpack backpack and the handy Calpak duffel. And if you're looking for the best travel accessories, you can't go wrong with a Calpak cosmetic case, laptop case or Calpak packing cubes.
Signature materials and craftsmanship
All hardshell Calpak luggage is made from 100% polycarbonate. Used in the production of body armor and bulletproof glass, polycarbonate is virtually unbreakable. The chemical makeup of the plastic fiber allows the material to absorb an extraordinary amount of force before springing back to its original form once the external pressure is removed. Plus, polycarbonate is water resistant, making the resilient suitcases great for volatile weather conditions.
Not only is polycarbonate one of the strongest materials, but it's also one of the lightest and most sustainable. A lightweight suitcase is a quintessential characteristic when it comes to packing within a strict luggage weight allowance. And if you're into eco chic travel, you'll appreciate that the polycarbonate shells require very little energy to manufacture.
A masterclass in traveling light without packing light, Calpak suitcases are as light on the planet as they are to carry.
Engineered to make travel smooth sailing, Calpak's suitcases are designed with careful attention to detail. With 360-degree spinner wheels, Calpak cases stick by your side at all times. TSA-approved combination locks provide fortnight security. And the telescopic handle never catches. And whilst these things may seem small, it's the finer details that make all the difference when you're sprinting to catch a train or stopping for an airport coffee.
Where is Calpak made?
While Calpak luggage is designed in Los Angeles, it's manufactured in China. But it's not what you think. The conscious brand is redefining what it means to be "made in China." Every year, product development guru—Jennifer Kwon—personally makes a trip to Calpak's partnering factories in China to ensure that working conditions are good and the workers are treated well and paid fairly. The brand is also obsessed with quality and only uses premium materials and the latest manufacturing technologies.
Brand values
| | |
| --- | --- |
| Vegan options | Yes |
| Carbon neutral | No |
| Gives back | Yes |
Our favorite finds from Calpak
Calpak Ambeur Carry On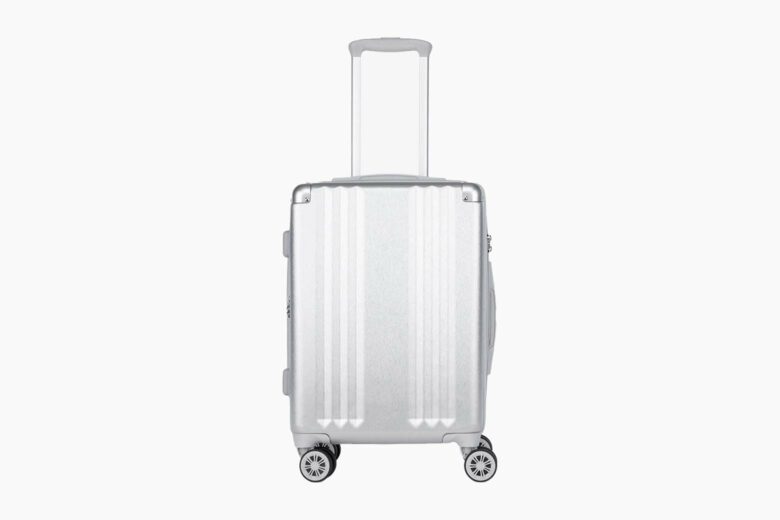 Dynamite comes in small(er) packages—a point proven by superlative carry-ons, like this one by Calpak. As our best luggage brand for small luggage, Calpak's carry-on is compartmentalized and organized. With interior dividers and pockets, there's a special place for every one of your accessories. And if you happen to leave with more than you arrived with (we see you airport shoppers), this lightweight hardshell carry-on is expandable up to 2 inches.
Calpak Kaya Laptop Backpack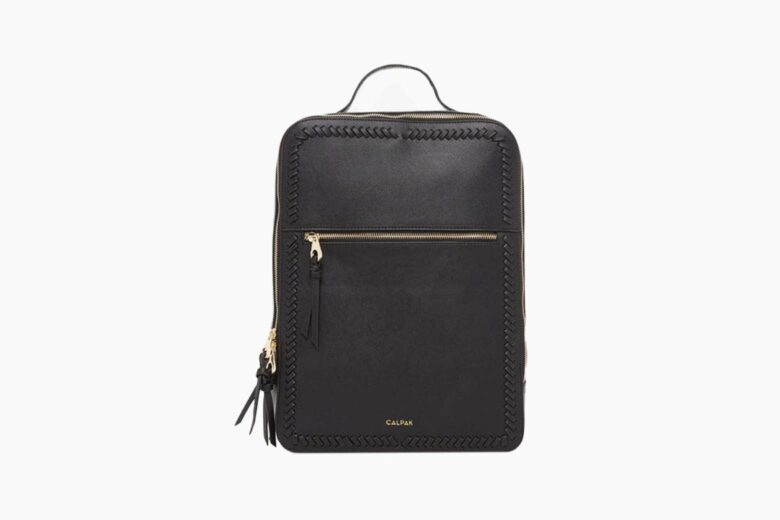 Backpacks are back—especially for long commutes. As one of our best women's backpacks and best designer work bags, Kaya proves that backpacks should no longer be confined to kindergarten drop-offs. Impossibly stylish, this Calpak backpack comes in a range of versatile and vibrant hues. And the zipped back compartment is just the right size for a 15-inch laptop.
Calpak Packing Cubes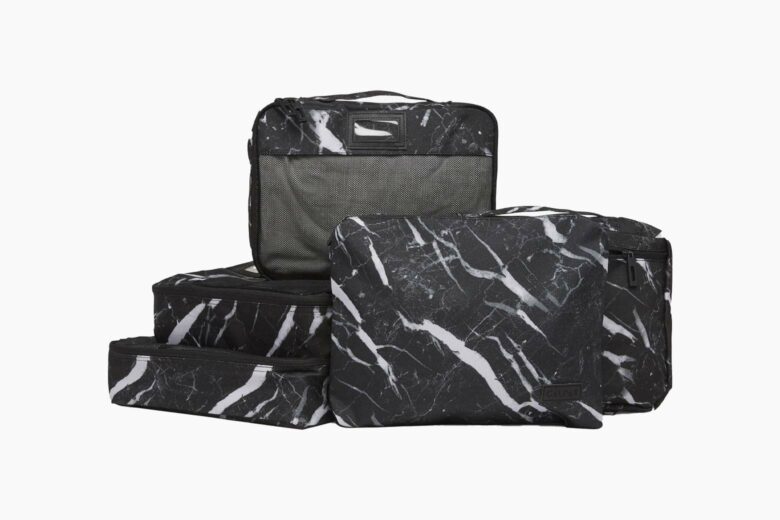 Packing cubes are quintessential for keeping your luggage organized. But some are just so much better than others. This 5-piece set by Calpak includes a water-resistant envelope pouch for any leakables. Different size cubes separate your intimates from your toiletries. And a range of prints and colorways puts the fun into packing—yep, it's possible.
Calpak Cosmetic Case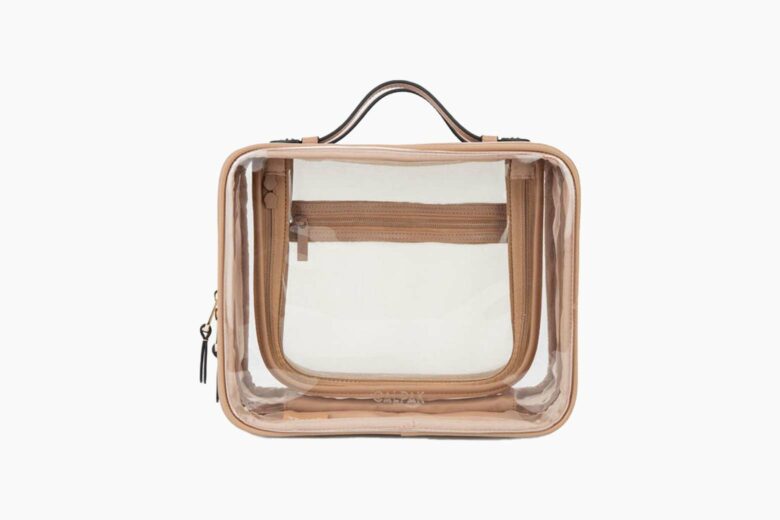 There are some things that instantly elevate a trip. A good cosmetic case—like this one by Calpak—is one of them. Lightweight and water-resistant, the two main compartments separate your toothbrush from your foundation. While the transparent exterior allows you to find exactly what you're looking for without scrabbling. From limited edition Lavender trimmings to a classical caramel, this stylish Calpak cosmetic case is a genius gift for absolutely anyone—yourself included.
Calpak Luka Duffel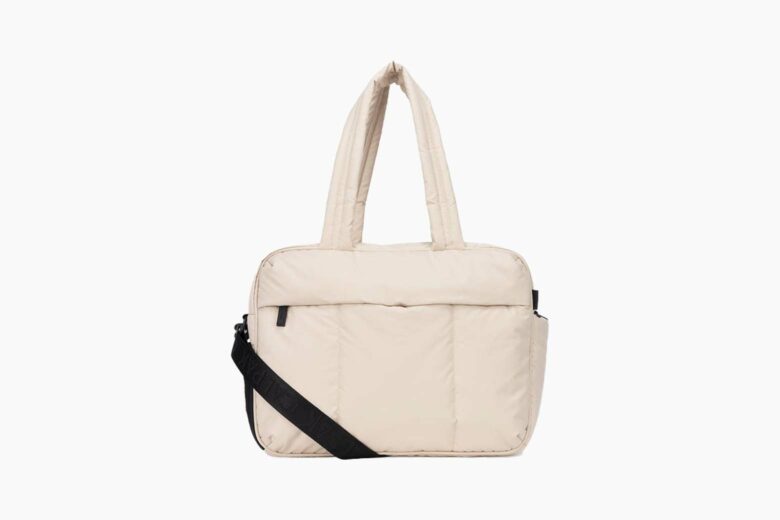 Whether it's a gym excursion or a weekend away, the right duffel makes your day-to-day that much easier. Whilst duffels aren't renowned for being the most organized bags, the Calpak duffel says otherwise. Featuring nine pockets and plenty of space, the lightweight silhouette is as functional as it is fashionable.
Where to buy Calpak
Cutting out unnecessary costs, Calpak is only available online, making quality luggage more affordable than other luxury labels. For the full range of Calpak luggage, bags, and travel accessories, we recommend shopping on the official Calpak website. But it is also available on reputable e-retailers such as Nordstrom and Net-a-Porter.
Calpak price
According to the many raving Calpak reviews—ourselves included—Calpak offers great value for money. Renowned for being one of the most affordable luxury brands with value-added features, Calpak is a lot more accessible than other luxury luggage labels of equal quality. For example, a suitcase that would usually cost $250 to $450 dollars from another brand is sold for $105 by Calpak.
Calpak discount code
Calpak's reward programs mean that you can earn credit just by signing up to the newsletter, referring friends or purchasing Calpak products. Earn $5 in credit for signing up for Calpak's newsletter. Earn $25 in credit for you and your friend every time you refer a friend. And earn credit for every dollar spent on the brand's website.
These points accumulate quickly, making your next Calpak purchase even more affordable.
Calpak shipping
Calpak offers free domestic shipping on all orders over $75 to anywhere within the US. Currently, the brand's official website does not ship internationally. However, there are various authorized retailers that ship outside of the US. Shipping typically takes 2-9 business days and can be tracked so that you know when to expect to hear your doorbell ring.
Calpak return policy
Calpak has a full money-back guarantee on unused items returned within 30 days of purchase. Returns must be in their original packaging and void of any kind of damage. Unreturnable items include gift cards, sample sale items, and silk travel sets.
Frequently asked questions about Calpak
Is CALPAK worth the money?
According to the many raving Calpak reviews, Calpak is excellent value for money. As one of the most affordable luxury brands, Calpak luggage is of the highest quality. Lightweight polycarbonate shells and 360-degree spinner wheels make the suitcases effortless to maneuver. And compartmentalized interiors organize your trip for you. Check our in-depth Calpak review to learn more about the brand.
Where is CALPAK from?
Calpak was established in Los Angeles, California, in 1989 by Edward and Judy Kwon. Originally named California Pak, the luxury label reflects an on-the-go Cali lifestyle, as it was born to address the needs of the cosmopolitan traveler.
Is CALPAK made in China?
While Calpak luggage is designed in California, it is manufactured in China. However, unlike fast fashion brands, the luxury label is redefining what made in China means. The brand's president, Jennifer Kwon, visits Calpak's partnering factories annually to ensure good working conditions, fair pay, and superlative quality.
Who is the owner of CALPAK?
Founded in 1989 by Edward and Judy Kwon, Calpak remains a family-run business. The iconic brand is now owned and run by the founders' children, Roy and Jennifer Kwon.