When we think of an adventure, we think of escaping the mundane. We think of marrying reality with possibility. We think of broadening our horizons.
Launched in Germany in 2015, Horizn Studios embodies this idea in every facet of its tantalizing travel line—merging timeless designs with trailblazing technologies.
If one too many poor-quality luggage has sent you into a tailspin, this luxury travel brand for the next generation is about to change your world for the better.
Not only does Horizn Studios bring conscious sustainability to high-end travel but the Berlin-based luggage brand is also committed to providing conscious jetsetters with stylish and sturdy luggage that never needs to be replaced (only repaired—not that it will happen any time soon).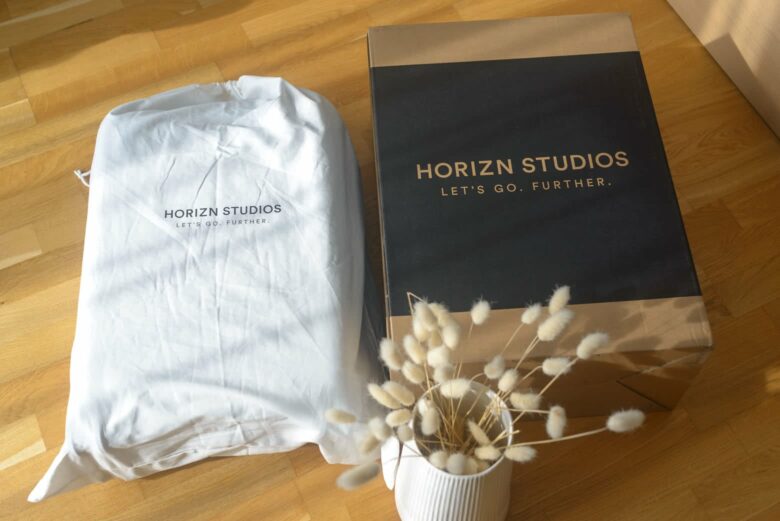 A modern, stylish spin on German engineering
While Germans are renowned for their meticulous timeliness, such impeccable attention to detail seems to seep into everything they do. And this tantalizing travel line is no exception.
The luxury brand promises to go the extra mile in delivering the highest quality travel accessories. And their German standards and rigorous testing methods ensure that nothing below perfection is delivered to your doorstep.
Their entirely vegan materials and four 360° Japanese (smooth and silent) spinner wheels exude the experimental spirit of the vanguard modernist, while the TSA-approved lock and aerospace-grade polycarbonate shell ensure that your best-kept secrets are safely carried away.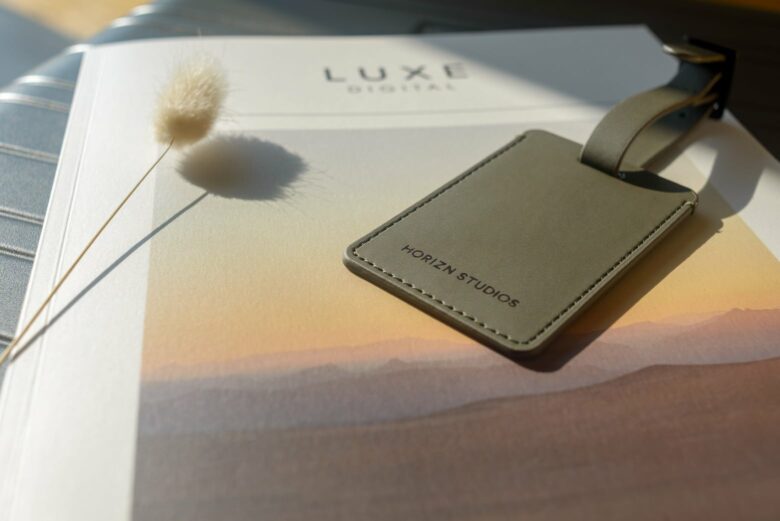 While quality is key—an eye for creativity and avant-garde designs isn't lost on the young entrepreneurs.
The sumptuous brand exceeds our soaring expectations at every turn. They've managed to marry time-honored designs with cutting-edge materials in an effortlessly natural ensemble.
Horizn Studios is passionate about partnering with different creatives and world-class artists and brands, from BMW to NASA. The result? Avant-garde styles that simultaneously transcend trends and are sure to turn heads on the (airport) runway and beyond: The brand teamed up with the world's youngest astronaut-in-training, Alyssa Carson, for a design study into the world's first luggage for—wait for it—space travel. How cool is that?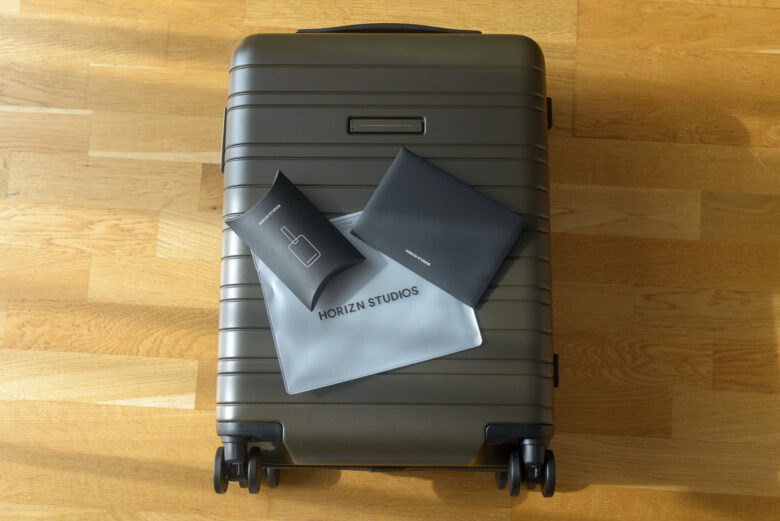 Finding the you-niverse
The only thing better than luxury is personalized luxury. And no travel line does it better than Horizn Studios. The brand gives you the opportunity to design your own travel bag. So while they'll deliver the same exceptional quality, you can take the wheel when it comes to matching your luggage to your lifestyle requirements.mFrom the model to the shell to the handles—you can customize your case to suit your style (we'll call it the suit-case).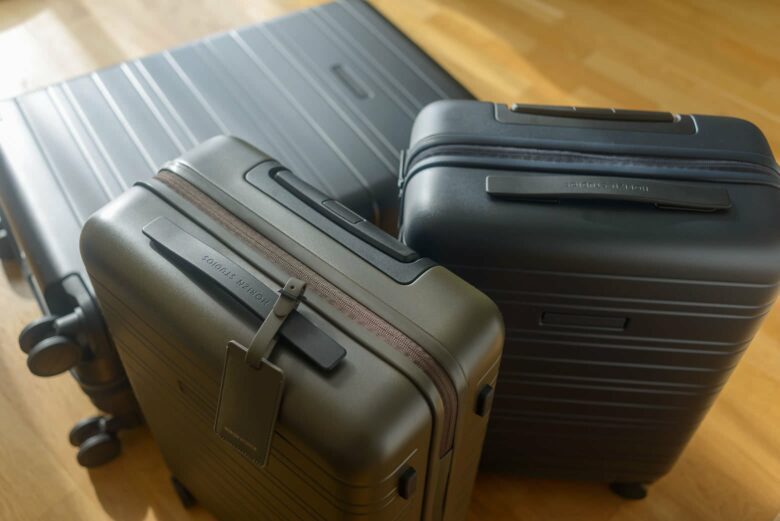 The journey to the world's most sustainable travel bags
While durable luggage is nice to most of us, this forward-thinking travel brand sees it as a necessary contribution towards a sustainable future.
Horizn Studios is trailblazing new tracks in sustainable travel, going full circle with a travel wardrobe that lasts forever. The idea is that the luxury line will never see a landfill. The brand's superior quality materials never have to be replaced, while timeless designs beg to be passed down to future generations.
Horizn Studios' Circle One collection is at the forefront of the brand's commitment to sustainable living. And the luxury cabin luggage is impossible to beat when it comes to environmentally-friendly carry-ons. The European design flaunts fully plant-based, biodegradable fabrics. Plus, it is flawlessly complemented by unparalleled performance and a chic, contemporary style.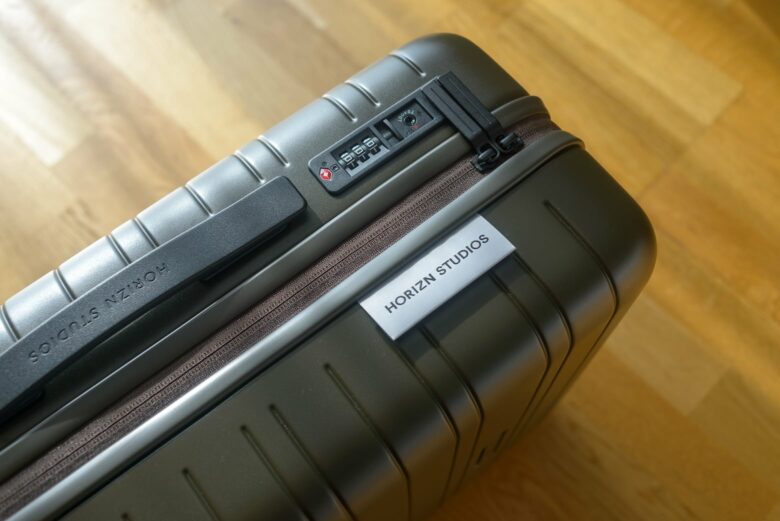 Essential or Smart
The Essential Line features everything you need for your vacation. It's sturdy, sustainable, and impossibly stylish. But as we all know, it's what's on the inside that counts. And every essential carry-on or check-in bag has a more intelligent counterpart.
The Smart Edition flaunts an integrated, removable power bank for last-minute calls. While a hidden laundry bag effortlessly removes your old socks from your chiffons. It's the seamless extension for those of us that don't take luxury travel lightly.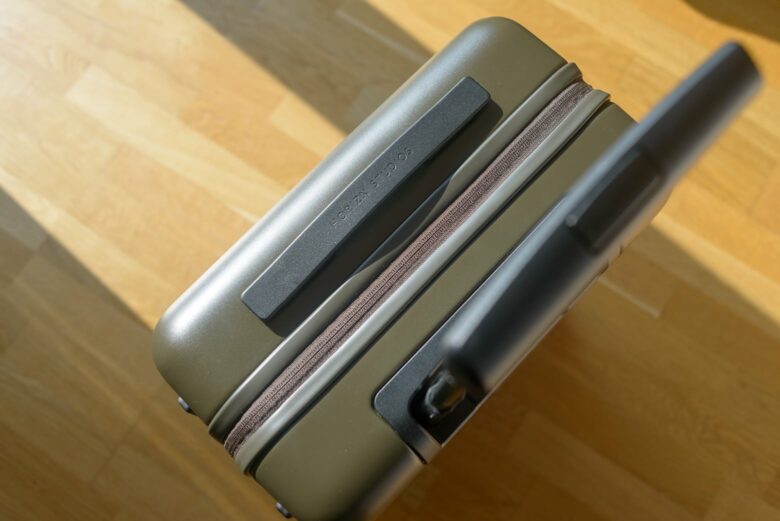 Packing list: A grand tour of the travel essentials
Now all that's left to do is to book your next adventure. And soar to new Horizns. Gute Reis!
Horizn Studios carry-on: M5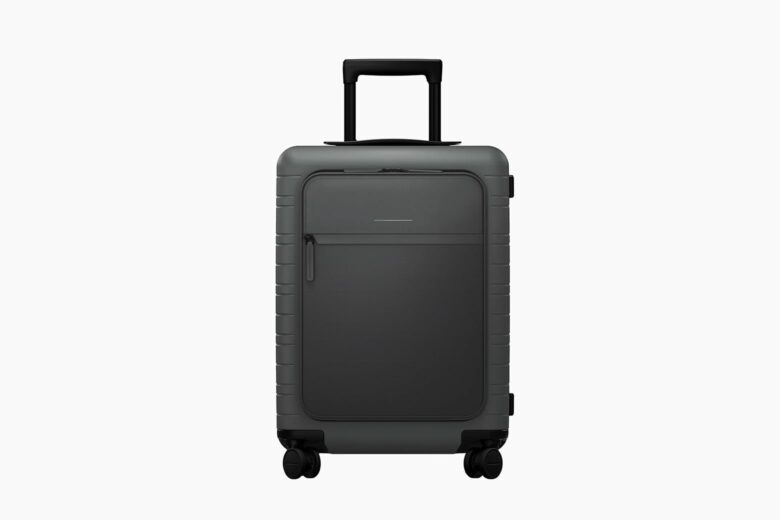 This Smart Edition Cabin M5 takes luxury luggage to new heights. While it's large enough to fit everything you need plus a spare pair of shoes—the compact case will conveniently mold into every overhead compartment. An ​easy-access, waterproof front pocket is made to keep essentials and laptop secure yet within reach. A secret, ejectable power bank lets you charge mobile devices on the go. This Smart Edition also features a compression pad and a premium laundry bag.
Roomy and reliable—it's safe to say that this sustainable case is our new favorite carry-on companion.
Best for: Compact convenience makes room for a spare pair.
Horizn Studios suitcase: H7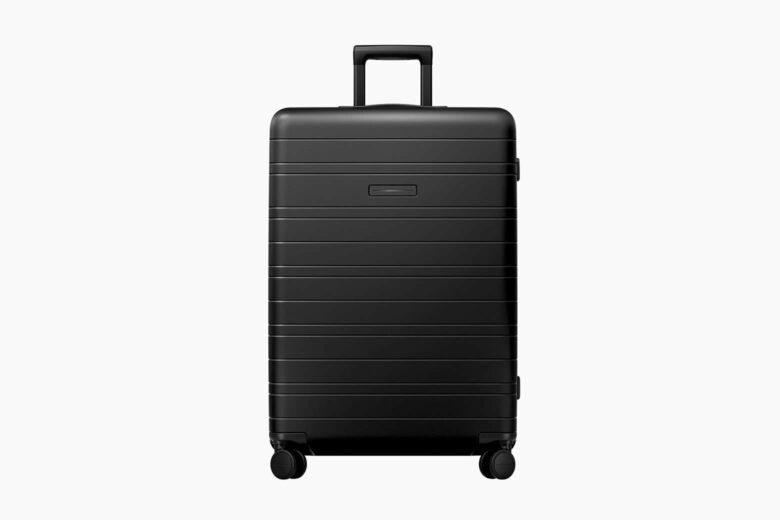 Vegans are renowned for their powerhouse attitudes. And these vegan hardcover cases certainly live up to the stereotype. While the recycled hardshell remains true to the brand's environmentally-conscious commitment, the durable material will never have to be replaced. And Horizn's H7 Check-In Luggage comes in a wide range of vibrant hues. From glossy lemon to pale rose—there's a unique palette to match your mood.
Best for: Irreplaceable, recycled robustness.
Horizn Studios Weekender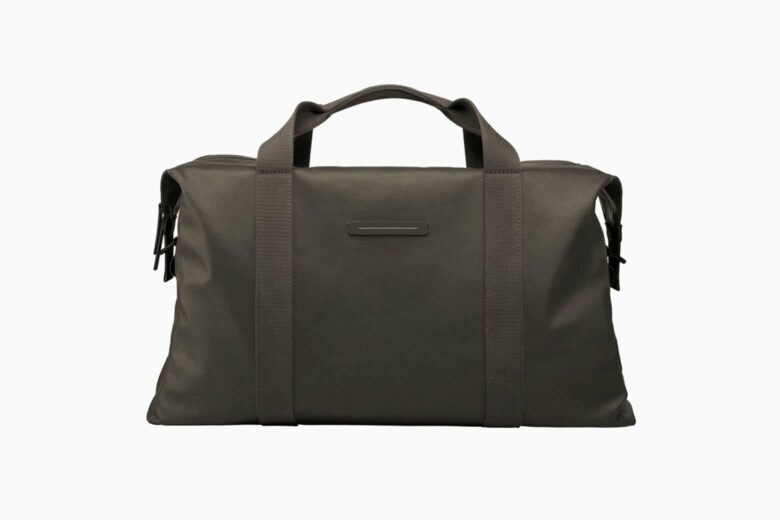 This travel tote is lightweight luxury. The waterproof lining will safeguard your silks from sunrise coffee spills. And multiple pockets make it easy to reach for your boarding pass. The robust canvas fabric guarantees a lifetime of adventure. The padded handles and adjustable straps are easy on the arms. And the black, sand, or olive green colorways speak to a subtle simplicity. All in all, we think that this SoFo Weekender is the tote-al package. That's why we shortlisted it for Luxe Digital's selection of the best weekender bags for men and women.
Best for: Enjoying the simple things in life.
Horizn Studios Packing Cubes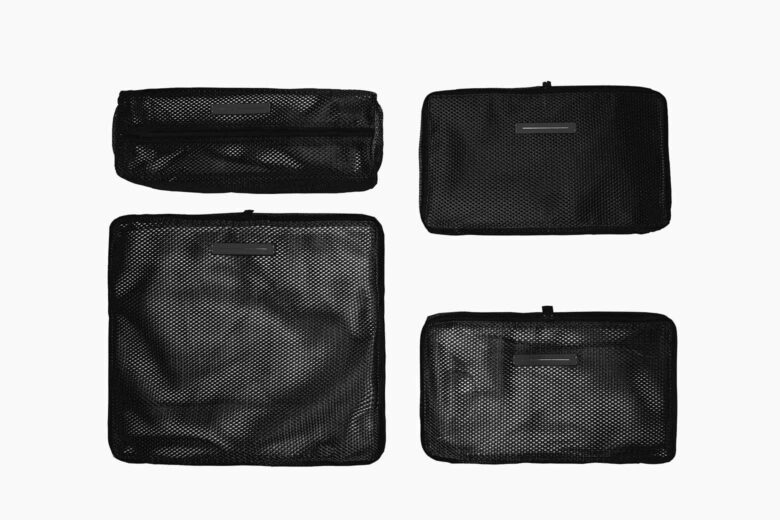 Let's unpack why these incumbent cubes belong in every jetsetter's case. They fit seamlessly into all Horizn luggage and are made to maximize space and efficiency. The mesh material adds minimal weight. The waterproof cubes are made to harbor wet materials. Larger cubes will separate your T-shirts from your denims. A smaller cube will conceal your unmentionables. And at every size—these quintessential cubes effortlessly take the pain out of packing.
Best for: Seamlessly separating your socks from your silks.
Horizn Studios Liquids Bag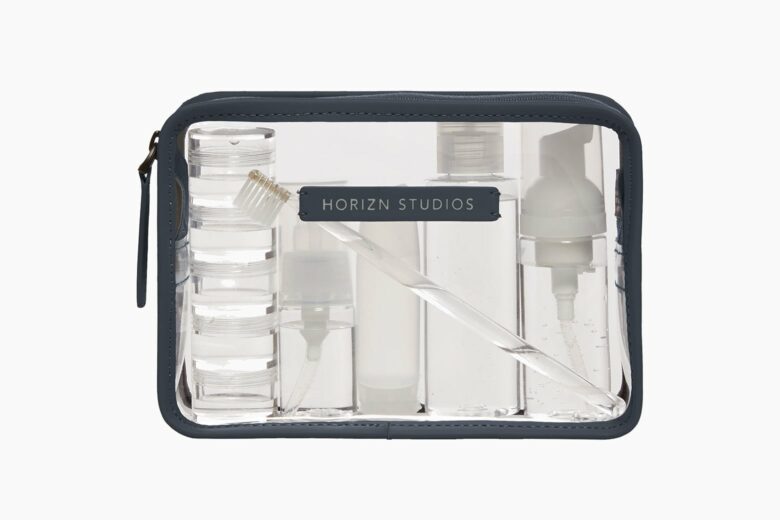 Nobody wants shampoo on their chiffons. But have no fear, this luxury liquids bag has got you covered. Made from transparent materials, this travel necessity makes finding your night cream seamlessly simple. And the vegan-approved fabrics are in line with the brand's sustainable image. The compact case is compliant with airport security regulations. So you won't become a bag of nerves every time you send it through.
Best for: Combatting carry-on catastrophes.
Horizn Studios Travel Hoodie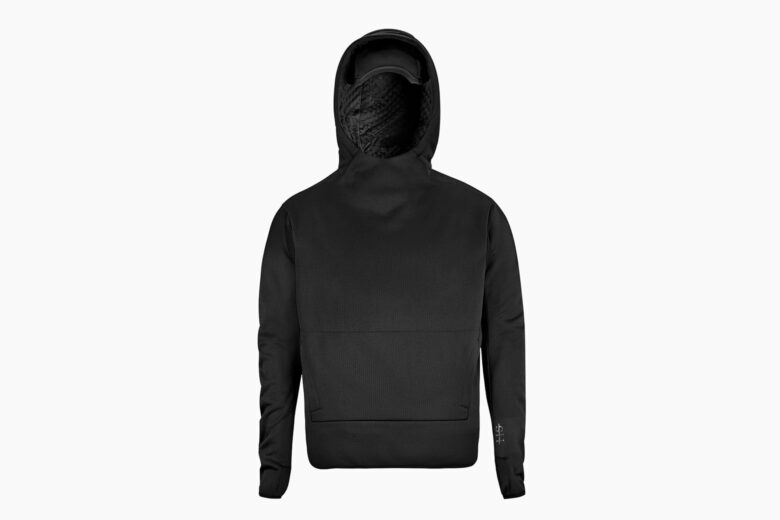 Why do we fall prey to the airplane's unavoidable aircon every time? Not any more. These temperature-regulating hoodies will protect you from that inescapable chill. Their latest design in organic technology will simultaneously hamper overheating and odor, while a versatile, cushioned hood and integrated eye mask will make Economy feel like First Class. The sustainably, sleek travel companion will counter the inevitable eye bags upon arrival.
Best for: Achieving the impossible and sleeping on a flight.
Horizn Studios review
Our verdict
Horizn Studios makes an unbeatable case for sustainable, sturdy, and stylish luggage. The German brand's impeccable standards speak to its forward-thinking designs. The conscious luggage will simultaneously take care of your journey and the environment, while cutting-edge materials are made to outlast your lifetime and a classically chic style will never go out of fashion.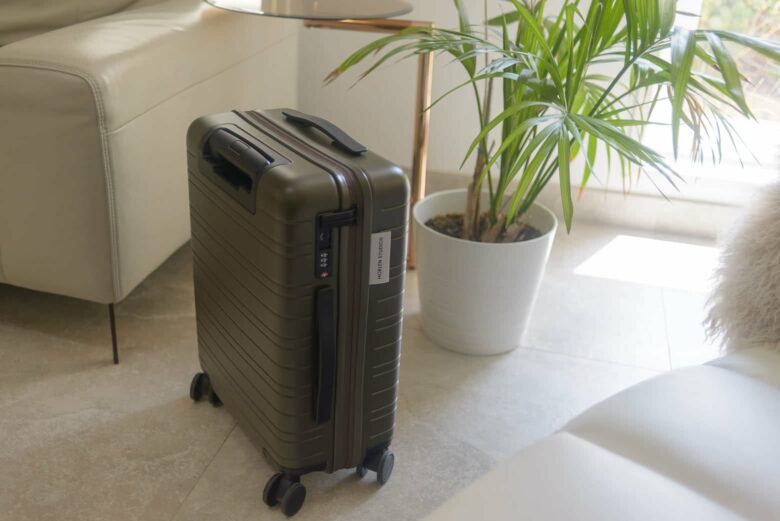 Horizn Studios vs Away
Away and Horizn Studios luxury brands both flaunt an exceptional travel line. And they both feature hard polycarbonate shells, 360° Japanese spinner wheels, built-in laundry bags and power banks. Horizn Studios however goes above and beyond to provide unparalleled opulence. The high-end travel brand ensures that laptop sleeves are waterproofed. Horizn Studios also gives you the opportunity to design your own case. But perhaps Horizn Studios' most noteworthy distinction is its exemplary pursuit of sustainable travel and irreplaceably robust luggage.
Is Horizn Studios worth it?
Horizn Studios is at the forefront of forward-thinking travel brands. The European brand lives up to its German standards. And it never fails to deliver impeccable quality. Horizn is committed to trailblazing sustainable travel: the brand's products are vegan-approved and made from recycled materials, while robust fabrics are made to last a lifetime and never see a landfill.
We're massive fans of progressive brands that prioritize environmental consciousness, impeccable quality, and timeless trends. And Horizn Studios delivers on all three accounts.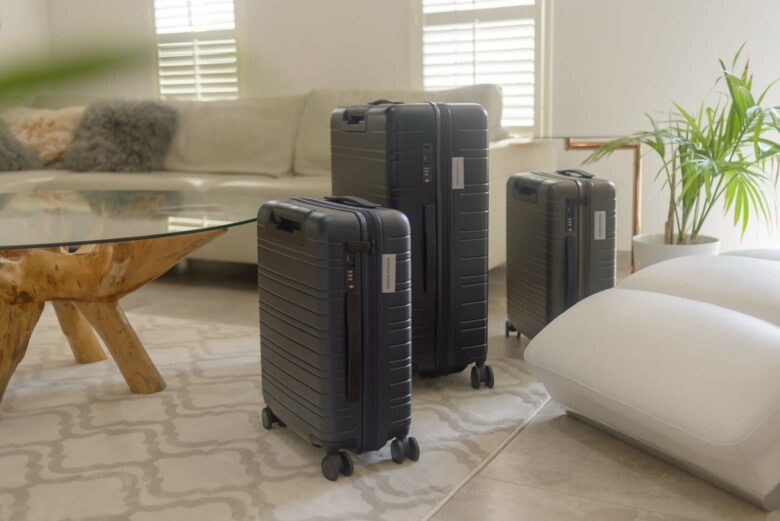 Horizn Studios discount code & coupon
Let's be honest, once you go Horizn, you'll never look elsewhere. And you won't have to. The benevolent brand has a special price for buying sets. And varying colorways mean that you can mix and match your carry-on and check-in.
There's nothing better than one, sleek travel aesthetic. And our coupon code is your perfect excuse to revamp your voyage style.
Horizn Studios offers an exclusive 25% off on all discountable products except the Circle One collection. This offer is valid until March 2023 using the voucher code Luxe25.
Where to buy Horizn Studios?
Horizn Studio's official website is your one-stop-shop for their sustainably stylish travel line. And once you check-out, the brand promises free and timeous delivery. They also allow for seamless returns within thirty days. And every case comes with a five-year warranty. So what are you waiting for? Let's get carried away.