1 million dollar shoes are astonishing enough. Yet the world's most expensive pair of shoes for women is twenty times more expensive—on par with the most expensive cars and the most expensive houses.
From diamond-encrusted stilettos to iconic ruby slippers, the most expensive women's shoes of all time aren't your most comfortable flats or heels. Precious jewels, elegant craftsmanship, and ornate designs set this luxury footwear apart.
These women's luxury shoes aren't just shoes: they are works of art. The most expensive women's shoes ever sold are connected to culture. They present a deep understanding of materials and shoe construction. They are timeless, both reflecting trends and setting them. And they come from renowned designers like Stuart Weitzman and Harry Winston.
Just keep in mind that you don't have to pay top dollar for designer shoes. While you may not be able to afford diamond-encrusted shoes, some of the finest designer shoes can be bought from online luxury retailers like Luisaviaroma, FARFETCH, or NET-A-PORTER.
With that in mind, here are the shoes that continue to influence some of the most expensive shoe brands today. Counting down to the most expensive shoe ever sold, every women's shoe on this list is nothing short of iconic.
15. Red Christian Louboutin Boots – $50,000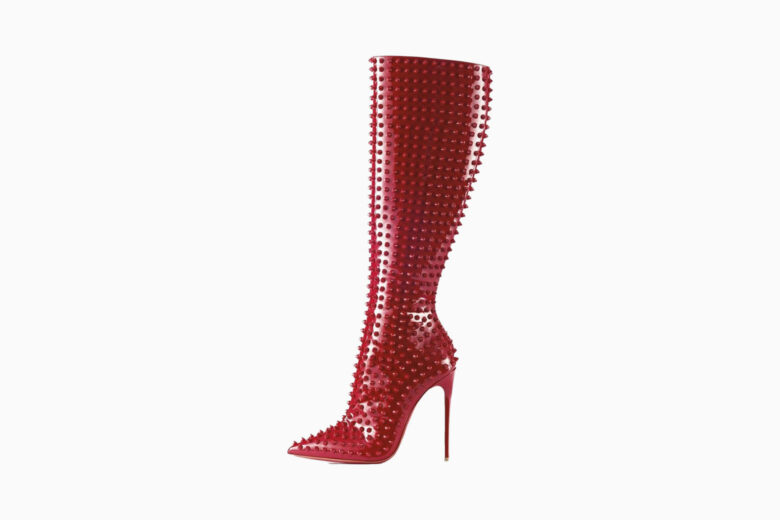 Nicki Minaj and many other celebrities have turned their head to these Christian Louboutin boots. The spiky red boots were custom-made to raise money for charities dedicated to fighting malaria, tuberculosis, and Aids. The red soles were inspired by inventive fashion and retro Parisian streetwear. Stunning plays with texture and the sheer height of these playful shoes allowed them to fetch over $20,000 more than their estimated worth.
14. Kathryn Wilson Diamond Shoe – $420,000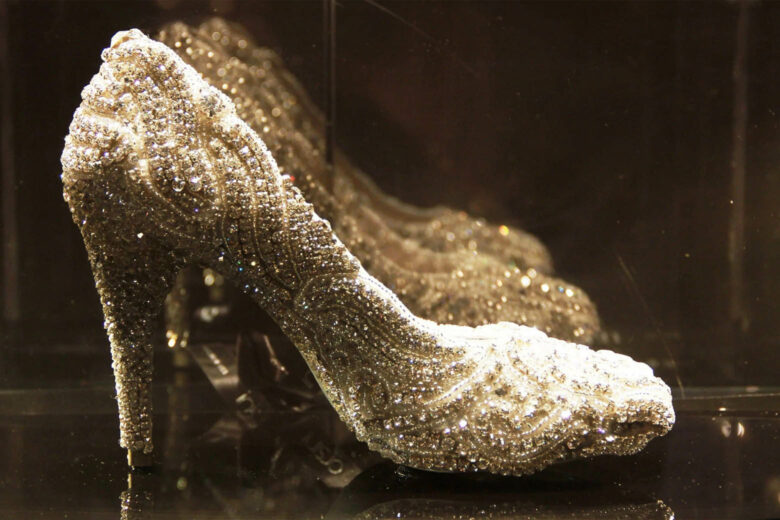 New Zealand designer Kathryn Wilson's diamond shoes are nothing but exquisite. Over 21 carats of genuine diamonds were applied by hand on ivory pumps. Sparkling from heel to toe, these expensive shoes took over 50 hours to make and were auctioned off to benefit the Ronald McDonald House in 2013. They certainly aren't the best shoes for standing all day, but they're considered one of the most glamorous shoes ever sold.
13. Stuart Weitzman Diamond "Dream" Stilettos – $500,000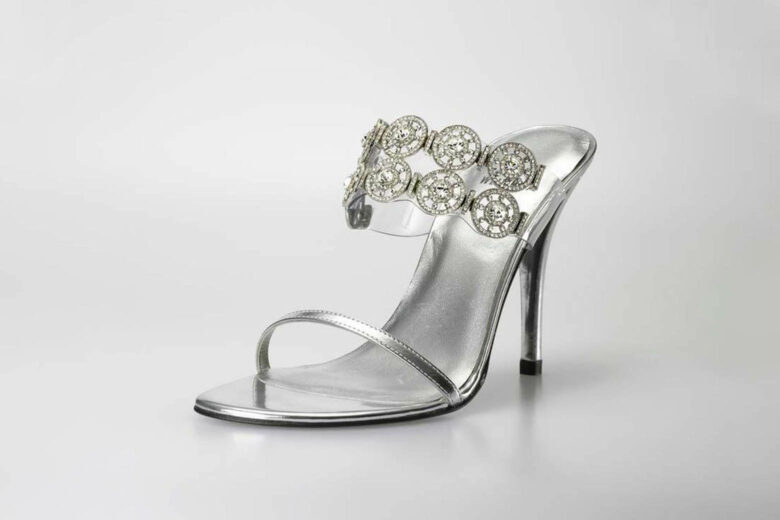 This pair of diamond stilettos were created for star Anika Noni Rose's Oscar appearance for Dream Girls. 30 carats of Kwiat diamonds are arranged in platinum strands. The combination of over 1,400 individually-cut diamonds and delicate silver straps make these luxury shoes something out of a dream. Yet these shoes are not nearly the most expensive shoes ever made by Stuart Weitzman.
12. Stuart Weitzman Retro Rose Pumps – $1 million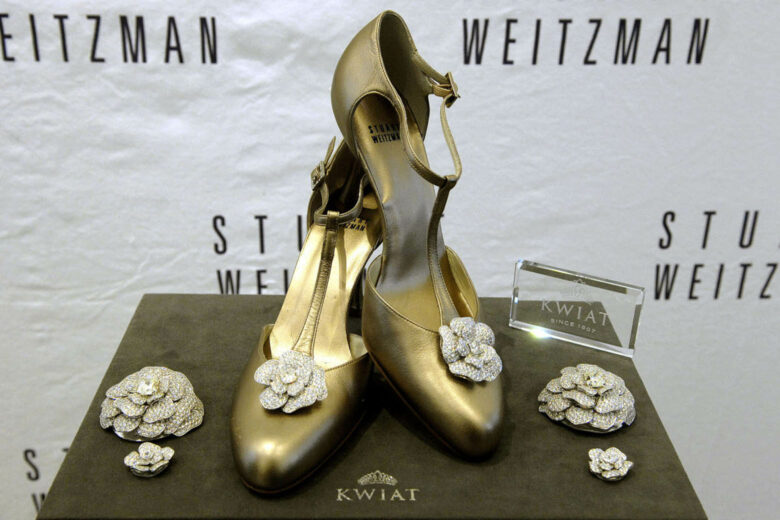 These 1 million dollar shoes are a testament to Stuart Weitzman's artistic eye. The signature pumps pair dusky rose and gold hues for a retro appeal. While elegant at first glance, the statement rose appliques on both shoes sparkle brilliantly in the sunlight. 100 carats of over 1,800 Kwiat diamonds are to be credited for the sheer elegance. These diamond shoes were worn for Diablo Cody's red carpet look for the Oscars in 2008.
11. Stuart Weitzman Marylin Monroe – $1 million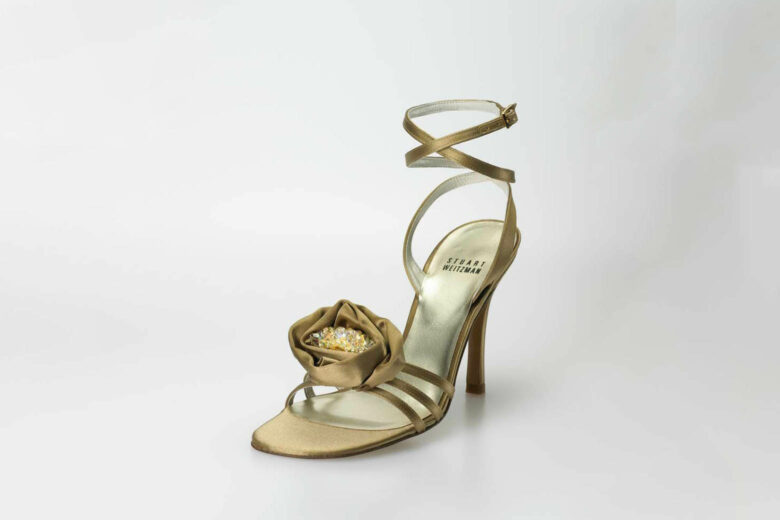 These swanky nude evening heels are exceptional but in a quiet way. The highlight is the satin roses, adorned with Swarovski crystals. The reason behind the price? The crystals came from a pair of stunning earrings worn by Marilyn Monroe. So while there are no real diamonds and the design is simpler, it's a pair of shoes steeped with lore. The simple elegance of the thigh straps and the feminine touches are also not to be discounted.
10. Stuart Weitzman Platinum Guild Heels – $1.09 million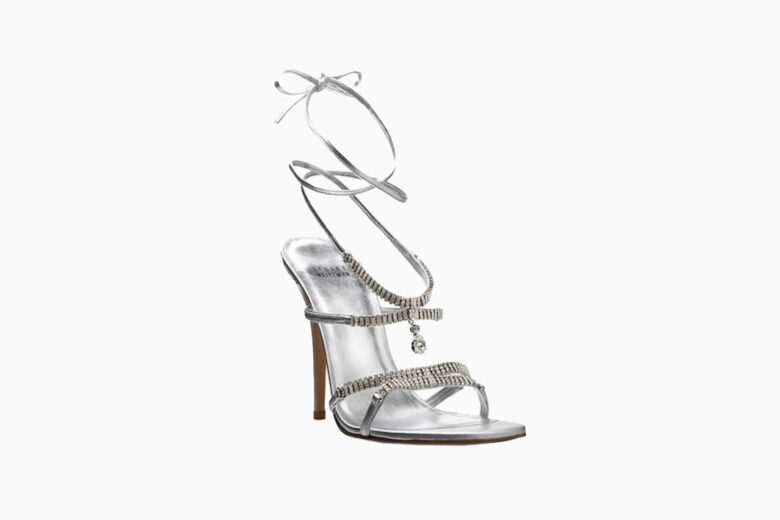 The unique two-fold design and premium materials are the first eye-catching elements of these $1 million shoes. Innovation at its finest is showcased by round and pear diamonds, structured on a removable strap. These diamond shoes feature over 460 Kwiat diamonds, but that's just part of the appeal. The side straps can be converted into a necklace or a bracelet. It's that type of artistic vision that sets them apart even amongst the most expensive women's shoes.
9. Stuart Weitzman "Wizard of Oz" Ruby Stilettos – $1.6 million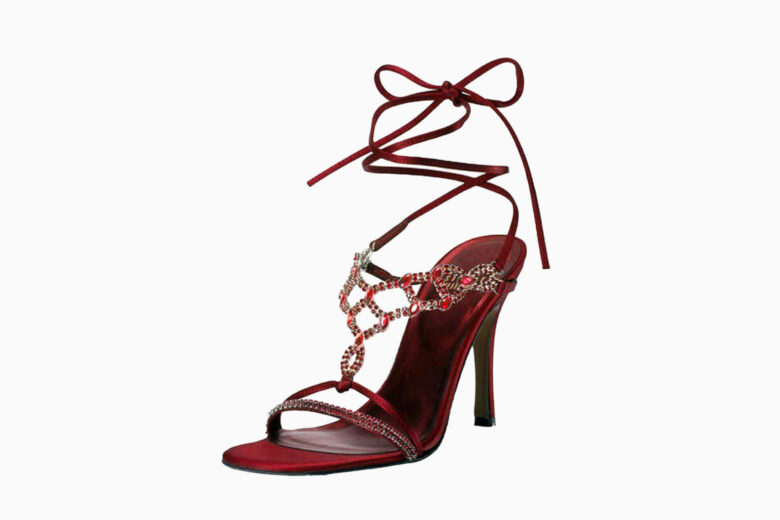 These glitzy stilettos are inspired by the Ruby Slippers from the Wizard of Oz. Instead of trying to mimic the design, though, Weitzman instead captures the essence of the original slippers. These innovative stilettos impress with a deep ruby red hue and over 123 carats of premium platinum. Of course, the value of these shoes can be credited to over 640 genuine rubies, sourced from Burma. 
8. Stuart Weitzman Cinderella Slippers – $2 million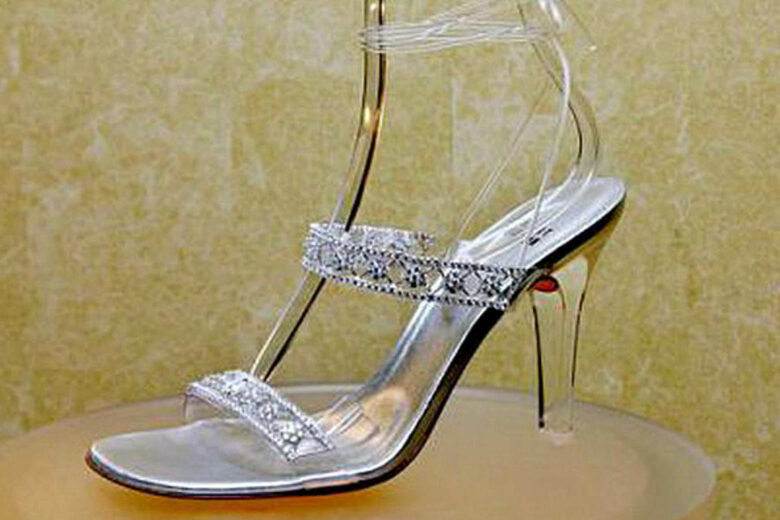 Country singer Alison Krauss had her Cinderella moment at her 2004 Oscars appearance with these $2 million shoes. Designed by Stuart Weitzman, the heels are crafted in platinum, with 55 carats of sparkling diamonds. A minimalist silhouette pairs metallic notes with brilliance for a dramatic but ethereal take on diamond shoes. Over 560 individual diamonds and sheer elegance push these expensive shoes past the 1 million dollar mark.
7. Stuart Weitzman Tanzanite Heel – $2 million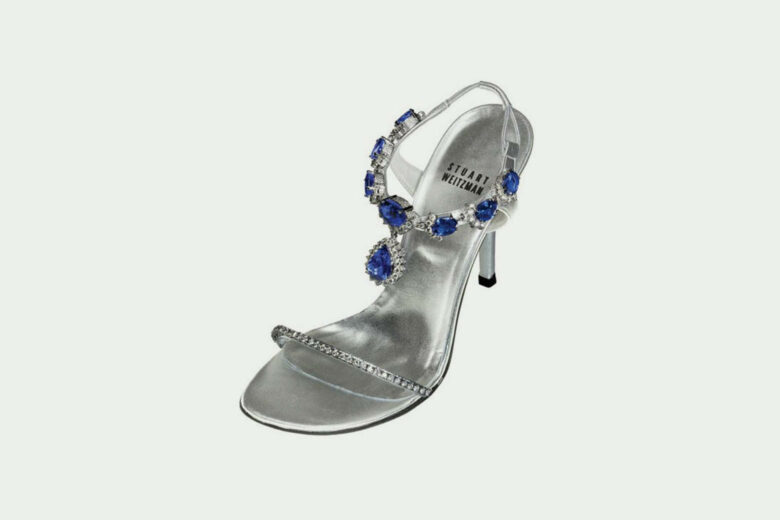 Weitzman also earns a spot as one of the most expensive shoe brands with genuine tanzanite gemstones, discovered on Mount Kilimanjaro in the mid-1960s. 185 carats of ear-shaped tanzanite gemstones dazzle along a platinum strap. The sharp geometric drop and slender silver accents make these $2 million shoes true show-stoppers. The stunning play with color and sleek details alone showcases the opulence of these designer shoes.
6. Stuart Weitzman Rita Hayworth Heels – $2.75 million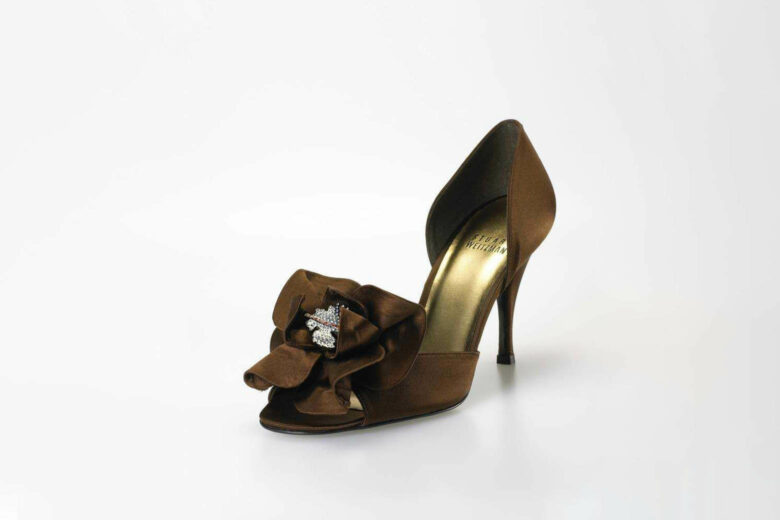 Nudging past the iconic tanzanite heels are the iconic Rita Hayworth heels. Also designed by Stuart Weitzman, the open-toe heels feature not only diamonds but also rubies and sapphires. These precious gemstones are set on a creamy rust-hued overlay for a vintage appeal. A petal motif is sleek, elegant, and surprisingly understated for a nearly $3 million pair of shoes. These Rita Hayworth heels are the most expensive Stuart Weitzman shoes ever sold.
5. Harry Winston Ruby Slippers – $3 million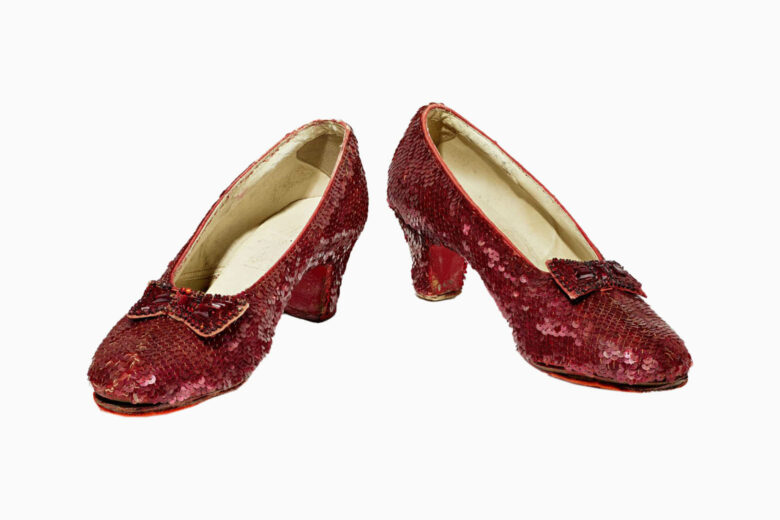 While Harry Winston's ruby red slippers aren't the world's most expensive shoes, they are easily one of the most beloved. Harry Winston, a renowned jewelry designer, created these ruby slippers to commemorate the 50th anniversary of The Wizard of Oz feature film. The slippers feature 1,350 carats of rubies and 50 carats of diamonds. The premium-quality gemstones are encrusted from heel to toe on these glamorous slippers.
4. A.F. Vandevorst Diamond Boots – $3.1 million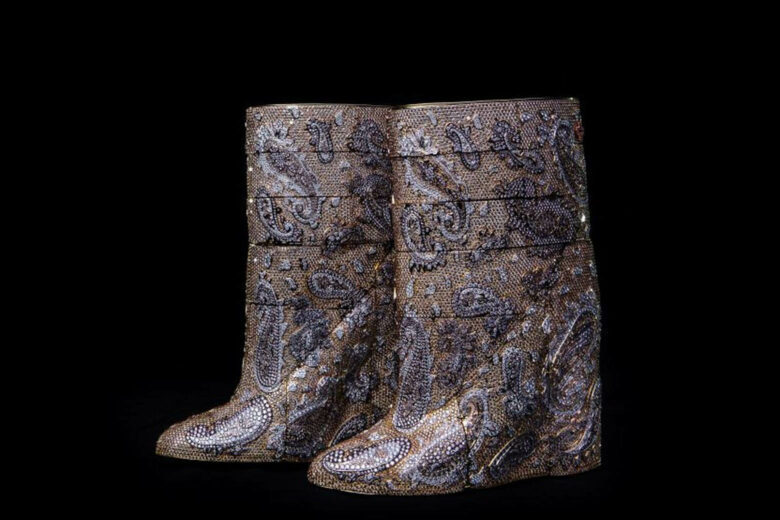 In 2013, A.F. Vandevorst was impressed with these lavish diamond boots. Paisley patterns pair with genuine black leather for a rustic, vintage, and glamorous blend of styles. 1,550 carats of diamonds accent the boots, complemented with nearly 4,800 grams of genuine gold. Instead of opting for white diamonds, it's champagne, pink and gray diamonds that boldly play with convention. These expensive shoes took over 30,000 hours to make.
3. Debbie Wingham Heels – $15.1 million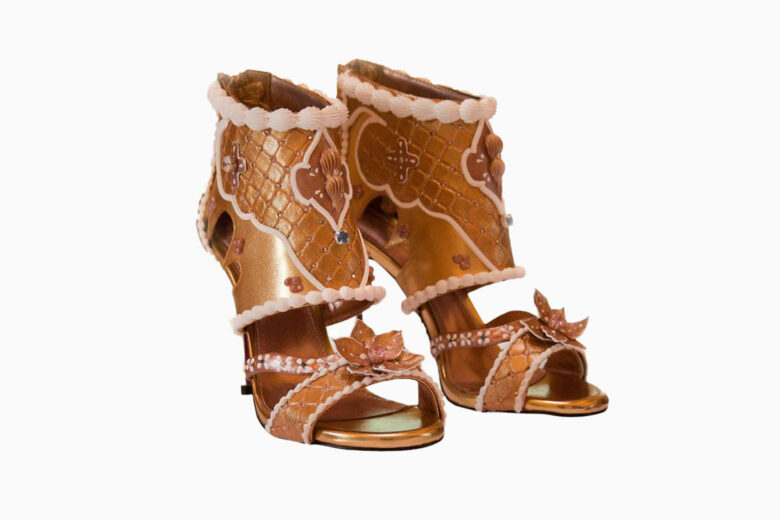 These stunning heels aren't Debbie Wingham's most expensive creation—that honor goes to her $17 million Abaya gown. But these heels still are one of the most expensive shoes ever made. They're crafted with 18K gold bottoms, 18k gold thread, and solid gold paint over genuine leather. The luxurious shoe sparkles with white, pink, and blue diamonds. They're truly a work of art, and opulent in every way.
2. Jada Dubai Passion Diamond Stilettos – $17 million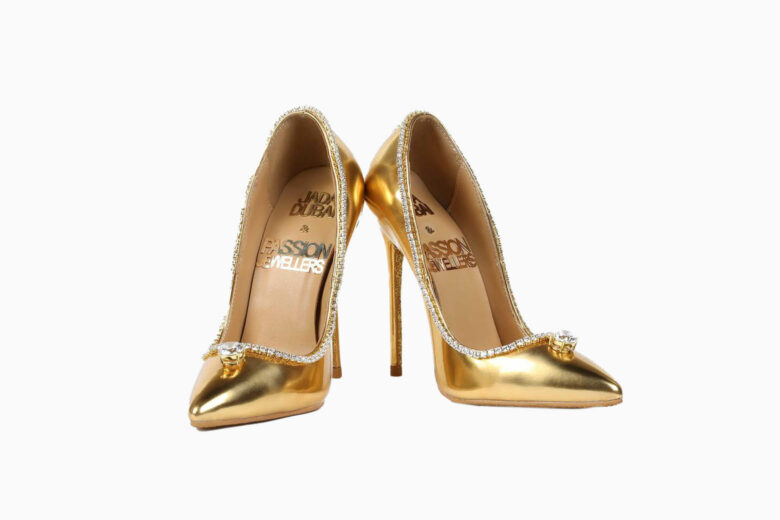 Once considered to be the world's most expensive shoes (and the most expensive shoes for women), these diamond stilettos are truly exceptional. Designed by Jada Dubai, the elegant heels took nearly 9 months to create. Two 15-carat flawless diamonds are featured on the toes. 118 round diamonds trim the sleek, genuine gold silhouette. The Dubai-based jeweler went above and beyond, adding gold to the insoles. The result: jaw-dropping elegance and sophistication.
1. Antonio Vietri Moon Star Shoes – $19.9 Million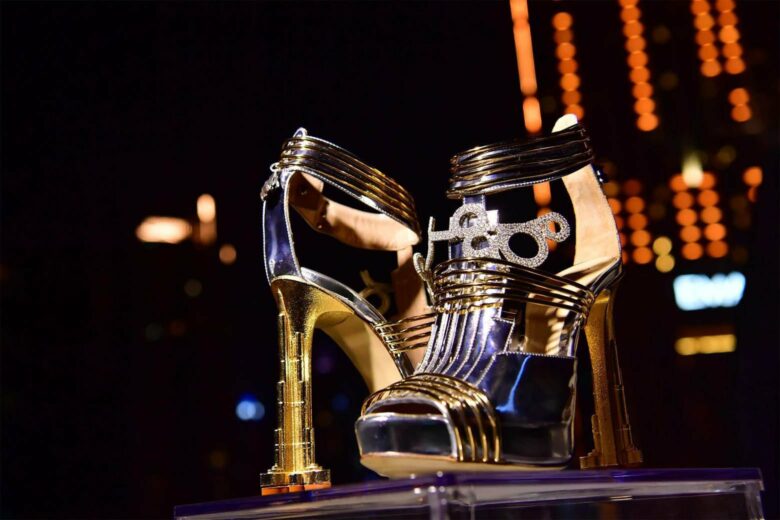 Not even the best men's dress shoes can come close to the price of pure artistry of these diamond shoes. Considered the world's most expensive shoes of all time, Antonio Vietri's Moon Star Shoes are made with 30 carats of diamonds, solid gold, and a meteorite from 1576. Known also as the first 24k gold shoes, they have a futurist appeal to them, with sleek, glossy metallics and dramatic diamond details.
The most expensive shoes of all time: Summary
We hope you found some inspiration from the luxurious designs behind the 15 most expensive women's shoes. Even if they're not in your price range, there's something to be said for learning about premium materials and exquisite construction.
Here's a quick recap of the 15 most expensive shoes for women ever made:
Antonio Vietri Moon Star Shoes – $19.9 Million
Jada Dubai Passion Diamond Stilettos – $17 million
Debbie Wingham Heels – $15.1 million
A.F. Vandevorst Diamond Boots – $3.1 million
Harry Winston Ruby Slippers – $3 million
Stuart Weitzman Rita Hayworth Heels – $2.75 million
Stuart Weitzman Tanzanite Heel – $2 million
Stuart Weitzman Cinderella Slippers – $2 million
Stuart Weitzman "Wizard of Oz" Ruby Stilettos – $1.6 million
Stuart Weitzman Platinum Guild Heels – $1.09 million
Stuart Weitzman Marylin Monroe – $1 million
Stuart Weitzman Retro Rose Pumps – $1 million
Stuart Weitzman Diamond "Dream" Stilettos – $500,000
Kathryn Wilson Diamond Pumps – $420,000
Red Christian Louboutin Boots – $50,000
Frequently asked questions about the most expensive shoes