Quartz is the second most abundant mineral in the world, but not all quartz is the same. Rutilated quartz is one of the most unique types of quartz, valued not for its perfections, but its imperfections. Rutilated quartz is becoming more appreciated today than ever before, even if many don't know its name. 
A bit ethereal, with an array of colors, rutilated quartz is seen as spiritual and illuminating. It may not be the most prized birthstone, but it offers unique value, lore, and meaning. From spiritual growth to emotional healing, rutilated quartz is enchanting in its own right.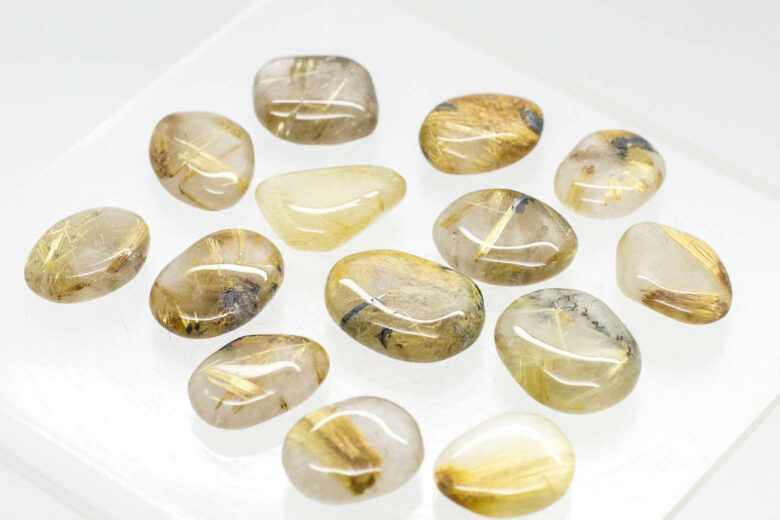 | | |
| --- | --- |
| Rutilated Quartz Color | Gold, Red, Copper, Silver, Yellow, Green |
| Zodiac Signs | Leo, Taurus, Gemini |
| Hardness Scale | 7 on Mohs Scale |
| Mineral Class | Silicate |
| Symbolism | Intuition, Spiritual Growth, Illumination |
What is Rutilated Quartz
Rutilated quartz is a type of quartz, classified by its unique inclusions. The term rutilated refers to those imperfections, which are tiny and often described as "needle-like". These divots are embedded, fine, and add texture to the quartz.
Rutilated quartz is not used as widely as other types of quartz. It is most commonly seen as cabochon cuts for jewelry. It's also used for meditative purposes and spiritual healing. Thus, even though rutilated quartz is not used as much, it holds value for many.
Like other types of quartz, rutilated quartz is fairly strong, with a Mohs hardness rating of 7. It's also affordable, but more expensive than some types of quartz. The average price per carat for rutilated quartz is $20. This is due to the interest in its whimsical needle-like pattern. The price of rutilated quartz varies based upon the nature of its inclusions, its color, and how common it is.
What does Rutilated Quartz look like
While most precious birthstones derive their value from their clarity—or lack of inclusions—the opposite is true for rutilated quartz. It's the distinct needle-like pattern of inclusions that is its defining characteristic. Those inclusions are most desirable when they are more uniform and fine.
Rutilated quartz comes in many colors. While the most common color for its inclusions is gold to champagne, rutilated quartz can also be red, copper, silver, gray, and even yellow or green. These inclusions may take over most of the surface or may be intermittent.
Rutilated quartz is usually transparent. Of all the types of quartz, rutilated quartz has one of the highest refractive indexes. A refractive rate is an important property that describes how light travels through a stone or mineral.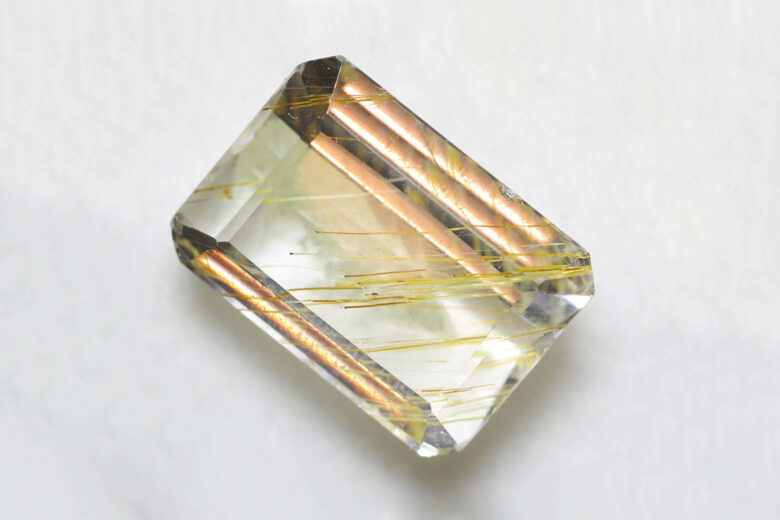 The history of Rutilated Quartz
Rutilated quartz has a compelling history—adding to its intrinsic value. Over the years, it's earned a variety of nicknames, including Cupid's dart, Venus hair stone, and Fleur d'amour. It's been used in a variety of cultures for meditation, healing, and religious ornamentation.
While the exact date of discovery is unknown, rutilated quartz was officially recognized in 1803. German geologist Abraham Gottlob Werner successfully distinguished the unique deposits inside rutilated quartz. Eventually, geologists understood how rutilated quartz's formation differs from other forms of quartz.
However, the bulk of golden rutilated quartz was not discovered until 1940. It was found within the Serra de Mangabeira mountain range in Brazil. Miners, in search of clear quartz, were surprised by the unique needle-like inclusions.
While clear quartz is often the most sought-after, over time, rutilated quartz has once more become more appreciated. Polished and rough stones reside in homes around the world. The spectacle of this unique type of quartz carries today, even though its history is not as well-documented.
Meaning of Rutilated Quartz
Rutilated quartz is considered to be a highly spiritual stone. Used in Feng Shui practices, rutilated quartz is believed to be useful for illuminating deeper thoughts and emotions and promoting both spiritual and emotional growth.
The most interesting benefits of rutilated quartz are connected with the seven chakras. It's used for healing the heart, spirit, and emotions. It's especially aligned with the heart, throat, and crown chakras— this is the association with higher powers.
Above all, rutilated quartz is used for meditation. Sometimes it is worn, sometimes it is held, and sometimes it's placed within a room. The benefits of rutilated quartz are thought to be the most potent when touching skin.
Those properties are only enhanced when used with black tourmaline, black obsidian, and citrine. Those seeking prosperity meditate with citrine and rutilated quartz. For those who long for emotional healing and deeper spiritual life, both black tourmaline and black obsidian may be used. Some have also pointed to rutilated quartz as a sleep aid and for slowing the aging process.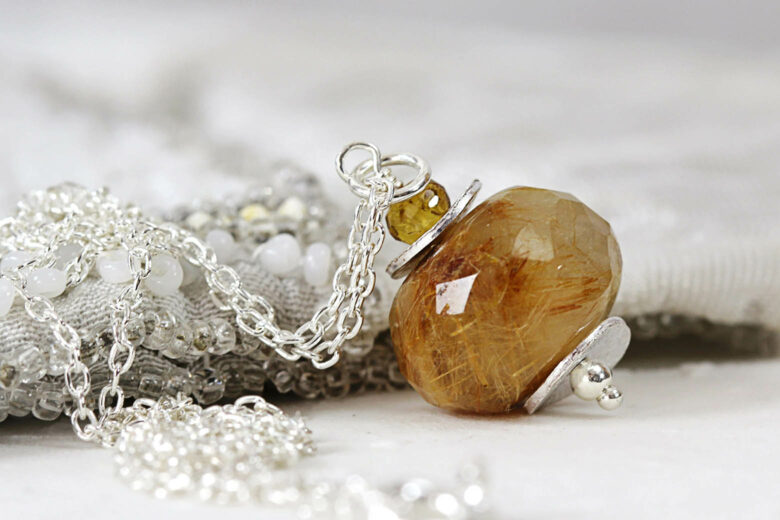 Where does Rutilated Quartz come from
Rutilated quartz is mined in Spain, Australia, Brazil, Kazakhstan, Madagascar, Norway, Pakistan, India, and regions of the United States. It's abundant, even if not as well known as other types of quartz, such as amethyst and citrine.
The majority of rutilated quartz, like other types of quartz, is formed during a hydrothermal process. A hydrothermal process occurs when oxygen and silicon atoms bond together under pressure and high temperatures. Crystals stack upon each other to form rutilated quartz's 3D crystal structure.
The difference between other quartz and rutilated quartz is what happens during the hydrothermal process. High temperatures cool and pressure reduces. Sometimes, fine needle-like crystals are trapped within larger crystals. When this occurs, quartz develops signature rutilated inclusions.
Which family is Rutilated Quartz from
Rutilated quartz is part of the silicate mineral family. Silicate is an anion that's comprised of oxygen and silicon. Silicate can be found in Earth's crust and is abundant and important. The silicate family comprises 90 percent of Earth's crust.
Rutilated quartz is classified as a tectosilicate, one of the main groups within the silicate family. It has a 3D framework structure, like other members within this group. It's this 3D crystal structure that provides some dimension to the colored inclusions. It's in the same group as feldspars and zeolites.
Birthstones chart
Find your birthstone by month
---
Frequently asked questions about Rutilated Quartz
What does rutilated quartz do?
Rutilated quartz is primarily used for gemstones and jewelry. However, some believe that it has unique properties for healing, especially when combined with other gemstones. Paired with black tourmaline or black obsidian, it provides mental balance. Rutilated quartz is also used with citrine to increase wealth.
Why is rutilated quartz so expensive?
Compared with jewelry birthstones, rutilated quartz is not expensive. But it's one of the more expensive types of quartz due to its unique inclusion. The average price is $20 per carat. The needle-like imperfections provide visual interest. They also are ideal for cabochon cuts, used by some fine jewelry makers.
What is the meaning of rutilated?
The definition of rutilated refers to fine, embedded needles of rutile. Rutile is a mineral composed of titanium dioxide. Thus, rutilated quartz is a type of quartz that's distinguished by its delicate, needle-like imperfections. The unique texture and properties of these inclusions distinguish Rutilated quartz from other types of quartz.
Is rutilated quartz rare?
Rutilated quartz is not a rare gem. While it's not the most common type of quartz, quartz alone is the second most common mineral on Earth. Rutilated quartz is abundant in the same regions where crystal quartz is found.