If you had to choose a watch to help you survive the end of the world? It would be an Omega.
Solid, dependable, and with an untarnished reputation for making spectacular Swiss watches for over a century, Omega deserves its cult following. Omega men's watches have gone further, tried harder, and, most importantly, kept time better than most other timepieces. They've been to the darkest depths of the ocean and to the moon and back. And they have the ultimate brand ambassador: James Bond.
At a glance
| | |
| --- | --- |
| | |
| Industry: Watches | Founded: 1848 |
| Headquarters: Switzerland | Founder: Louis Brandt |
| Watch Collections: dress watches, dive watches, pilot watches, racing watches, and women's watches. | Parent organization: The Swatch Group |
| Annual Revenue: $1.7 billion USD | Website: omegawatches.com |
Omega watch prices
How much does an Omega cost?
The starting price for an entry-level Omega watch is around $,2500 for a Prestige, part of Omega's De Ville collection, a high-quality, superbly accurate, and affordable timepiece. For more famous models like the Speedmaster or Seamaster, you're looking at a starting price of around $5,000. The brand's most expensive models retail for more than $700,000.
See how this compares to the world's most expensive watches.
What is the most expensive Omega watch?
The most expensive Omega watch ever made is the Constellation Baguette, worth $700,000 and featuring 459 Top Wesselton diamonds totaling about 30 carats and a case made from white gold.
What is the cheapest Omega watch?
The cheapest Omega watch is the Prestige, a model in the brand's De Ville collection, which retails for around $2,550. Other more affordable Omega watches for men include an Omega Aqua Terra, which you can pick up for $2,750, or a Trésor, some of which sell for $4,200.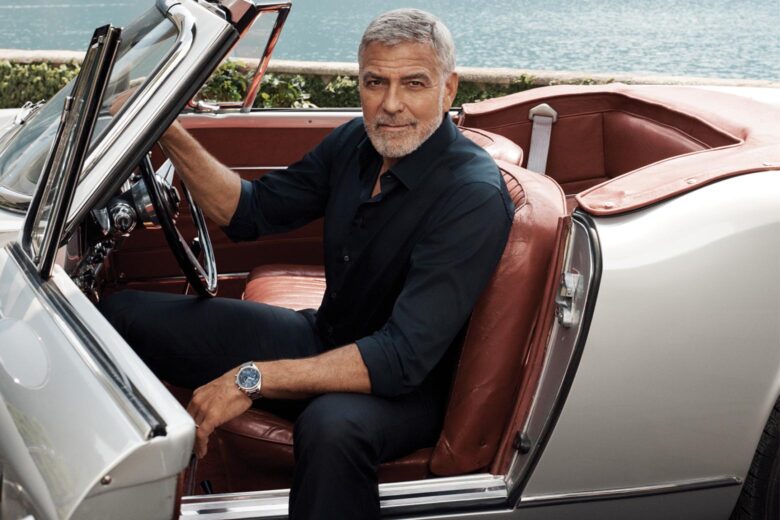 About the brand
The history of Omega
The story of Omega watches starts in La Chaux de Fonds in Switzerland in 1848. Founder Louis Brandt established the company at just 23 years old. It was originally known as Louis Brandt & Fil.
When Brandt died in 1879, the business went to his sons, who continued his work making and selling luxury timepieces. In 1885, they released the Labrador, the company's first mass-produced caliber. This was followed by their first minute-repeater in 1892 and the 19-line Omega Caliber in 1894. By this point, the brand had secured its position as a top Swiss watchmaker and was renamed Omega Watch Company.
In 1932, the company became the official timekeeper of the Olympic Games, held that year in Los Angeles. Then, in 1936, Omega's 47.7 mm caliber set a world precision record in all six categories at the Kew-Teddington Observatory in London.
In the 1960s, the Omega Speedmaster was given an official endorsement from NASA, who certified it as the official clock for American space missions as it was the only watch to survive rigorous temperature and speed testing. Since then, the Omega Speedmaster has been to the moon in 1969, on the wrist of American astronaut Buzz Aldrin, and also took part in the Apollo 13 mission.
In the 1990s, the Omega Seamaster Professional, first launched in 1948, was worn by Pierce Brosnan in his role as Jame Bond in GoldenEye. To this day, the Seamaster is synonymous with 007.
Interesting facts about Omega
Since the start of its partnership with the Olympics, Omega has sponsored over 20 games.
In 1969, President Nixon refused a gift of the first-ever gold Speedmaster Professional Deluxe, deeming it too valuable.
Al Pacino wore an Omega la Magique in his role as Tony Montana in Scarface.
Supermodel Cindy Crawford has been an ambassador for Omega for more than 20 years.
Each Omega watch takes up to 500 hours to create.
Fans of Omega watches include Tom Hanks, Prince William, and Elvis Presley.
In 1937, Queen Juliana of the Netherlands was given an Omega jewelry watch where the balance spring was five times finer than a human hair.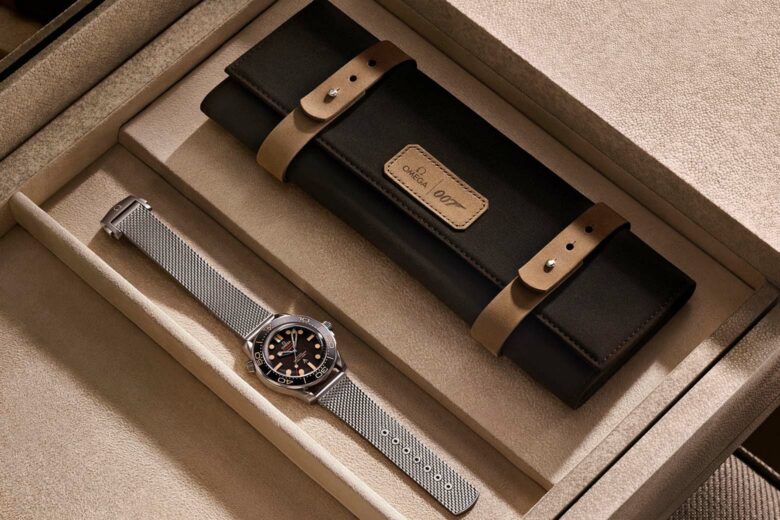 Omega watches: product range
Omega makes watches for different purposes and occasions, from dress watches to high-performing professional watches. The brand's most famous timepieces are the Speedmaster—a chronograph used in situations that demand highly accurate time measurements, such as car racing or space missions—and the Omega Seamaster Professional dive watch, which includes models with a water resistance of 6000 meters.
Other Omega watch families include Constellation (elegant and exquisitely crafted dress watches) and De Ville, with its more affordable models like the Trésor or Prestige.
Signature materials and craftsmanship
Omega uses fine metals and alloys that have undergone stringent tests to make sure they're of the highest quality. These include yellow and rose gold as well as stainless steel and titanium in addition to more unconventional materials such as Liquidmetal™, an alloy with superior scratch resistance, three times harder than stainless steel.
Then there are the brand's own exclusive alloys. These include bronze gold; an ​​18K Sedna™ Gold, a rose gold alloy; fade-resistant Moonshine™ Gold; Canopus Gold™, a white gold alloy; and Ceragold™, a ceramic-gold mixture that combines the best qualities of both. Natural materials that Omega uses include mother-of-pearl and meteorite.
Omega uses a combination of high-tech machinery and human skill and ingenuity to create its luxury watches. The sensitivity of the human touch is capitalized on at nearly every stage of the assembly process, but each box of watch parts is moved around the factory by a robot. Parts are stored in a room where oxygen is reduced to 15% to minimize the risk of fires.
The factory is also home to Omega's Master Chronometer certification area where watches undergo a series of tests for anti-magnetism, accuracy, and water resistance.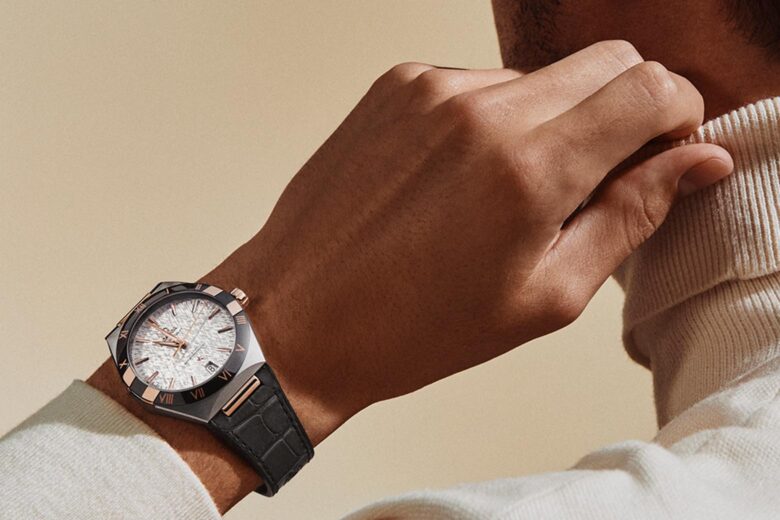 Where is Omega made?
Omega watches continue to be made in Switzerland where the company was founded in 1848 in La Chaux de Fonds. The company has a solar-powered factory that was built in 2016 and designed by innovative Japanese architect, Shigeru Ban. The building is heated and cooled using the regenerative energy of groundwater and is made from locally sourced timber.
Brand values
| | |
| --- | --- |
| Vegan options: | Yes |
| Carbon-neutral: | No |
| Gives back: | Yes |
Omega men's watches
Speedmaster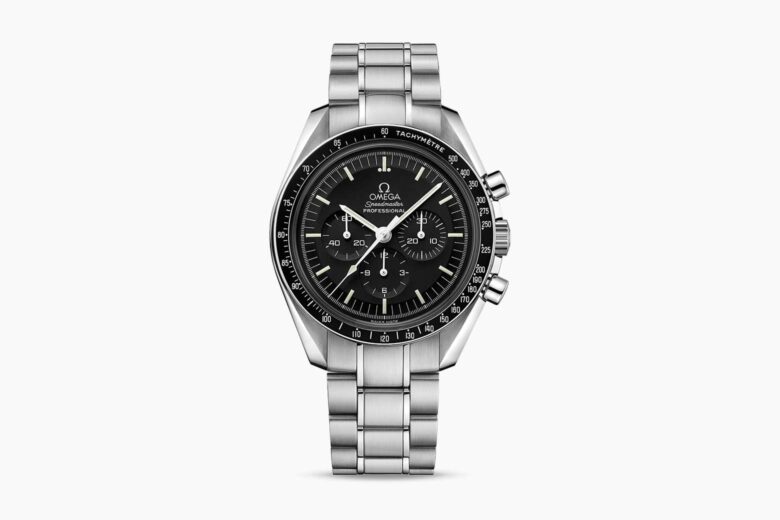 The Omega Speedmaster is one of the brand's most iconic and collectable men's watches. Originally conceived of as a racing chronograph, today it's available in many different iterations, from the classy Heritage models and dignified Speedmaster 38 to the ultra-practical and functional Skywalker.
Of course, the most coveted and cult-worthy watch in the Speedmaster collection is the Omega Speedmaster Moonwatch Professional. Worn by NASA astronauts on their intrepid missions beyond the Earth's atmosphere, and the first watch to be worn on the moon, Omega's Moonwatch is an important part of both horological and human history.
| | |
| --- | --- |
| Number of models: | 6 |
| Price: | $5,250 to $81,000 |
| First release year: | 1957 |
| Current case size: | 38 mm – 42 mm |
| Movement: | Manual, automatic, and quartz |
| Water resistance: | 50 – 100 m |
| Crystal: | Sapphire |
Seamaster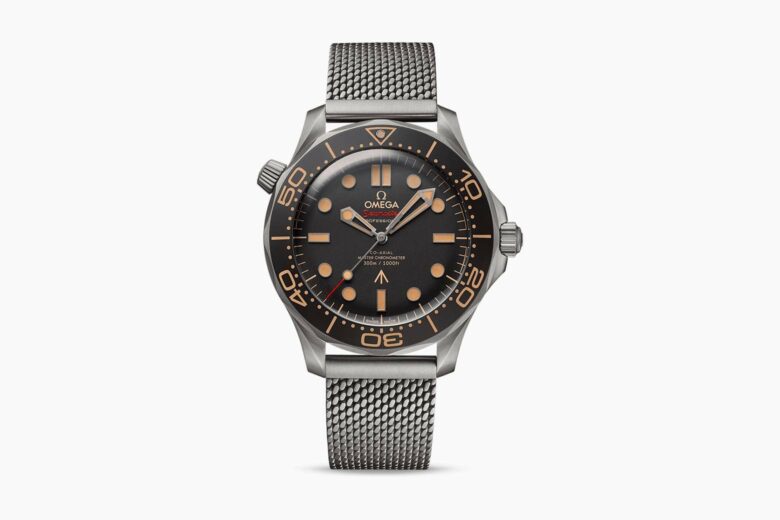 Considered one of the world's top luxury watches, the Omega Seamaster is also Omega's oldest watch still in production. What makes the Seamaster so special? Everything from its impeccable mechanics to its sleek aesthetic allure, as well as its impressive water resistance. And that's not to mention its associations with 007, ever since Pierce Brosnan wore one in 1995 for GoldenEye.
One of Omega's more recent models to join the Seamaster ranks is the Omega Aqua Terra, a beautifully crafted timepiece with a combination of polished and brushed finishes and 150-meter water resistance. Versatile, practical, and stylish, it was worn by Daniel Craig for the premier of No Time To Die.
| | |
| --- | --- |
| Number of models: | 4 |
| Price: | $4,900 to $204,100 |
| First release year: | 1948 |
| Current case size: | 28 mm – 42 mm |
| Movement: | Manual, automatic, and quartz |
| Water resistance: | 60 – 6000 m |
| Crystal: | Sapphire |
Constellation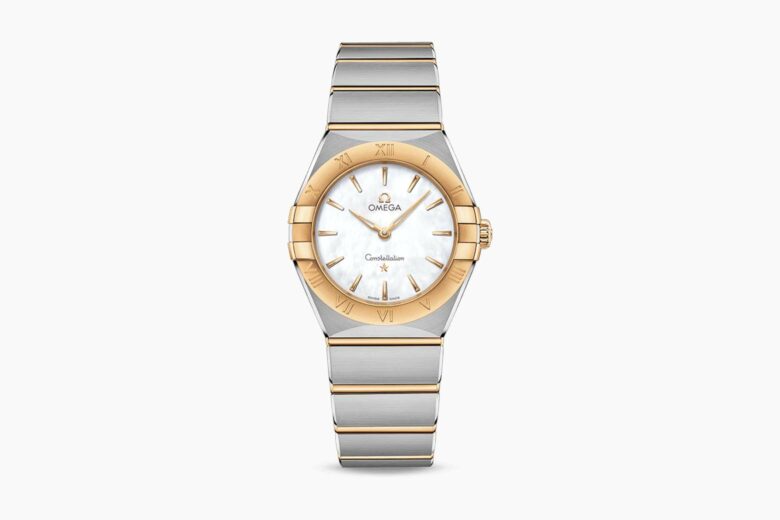 If you're in the market for a dress timepiece, the best place to start is with an Omega Constellation watch. The Constellation collection, over six decades old, offers discerning watch wearers a diverse range of ultra-elegant timepieces.
One of the collection's most noteworthy features is the 1950s-style pie pan dial, now seen in the Globemaster model. There are also the 'claws' holding the bezel and crystal in place at 3 and 9 o'clock, as seen in the Manhattan model. You'll find both men's and women's watches in this collection.
| | |
| --- | --- |
| Number of models: | 2 |
| Price: | $2,650 to $130,000 |
| First release year: | 1952 |
| Current case size: | 24 mm – 42 mm |
| Movement: | Automatic and quartz |
| Water resistance: | 30 – 100 m |
| Crystal: | Sapphire |
De Ville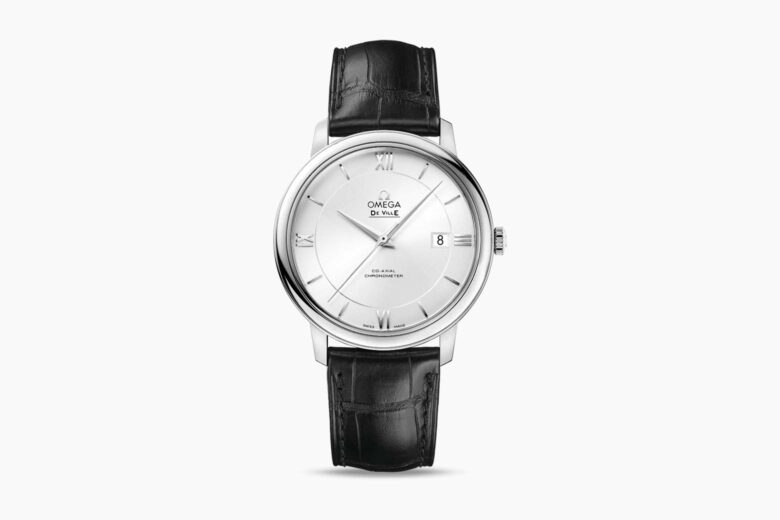 A collection with a devoted fan following, the Omega De Ville watch combines the best of contemporary technology with old-school cool. It is also the watch to first be equipped with Omega's innovative Co-Axial escapement, allowing for greatly improved efficiency in timekeeping and making these some of the most precise timepieces in the world.
Within this collection, you'll also find the Trésor, with its slim case and sleek straps, as well as the Ladymatic, one of the first automatic watches for women.
| | |
| --- | --- |
| Number of models: | 5 |
| Price: | $2,550 – $725,000 |
| First release year: | 1967 |
| Current case size: | 24.4 mm – 44 mm |
| Movement: | Automatic and quartz |
| Water resistance: | 30 – 100 m |
| Crystal: | Sapphire |
Watch straps vs Nato straps
When buying an Omega watch, you can choose whether to use one of the brand's conventional watch straps or a Nato strap. Nato straps were originally designed for the British Special Forces and are quick-drying, robust, and lightweight. Omega offers them in a range of colors and designs.
Meanwhile, the brand's normal watch straps are available in a range of shapes, materials, and colors, from stainless steel mesh bracelets to black vegan leather.
Where to buy Omega watches
You can buy Omega watches for men directly from the brand's website, from an Omega Boutique, or via an authorized retailer, which the company lists here. You could also buy used Omega watches from a trusted online retailer such as Mr Porter, Farfetch or Jomashop where the authenticity can be guaranteed.
For more about buying an Omega watch, see our watch guide.
Omega shipping
If buying your Omega watch from the brand's website, you can take advantage of the free delivery policy. Meanwhile, Jomashop offers international delivery for a fee of $150, not including customs duties, taxes, and other charges, while Farfetch offers different rates depending on the country. Mr Porter also charges different fees depending on the destination, ranked according to sustainability. 
Omega return policy
If you buy your watch from the Omega website, you can return your watch by mail within 14 days of delivery for a full refund, providing that it's unworn and undamaged. Returns aren't accepted in Omega boutiques, however, and if your watch has been personalized in any way (embossed or engraved, for example), it can't be returned. 
Omega customer service number
For assistance buying an Omega watch or help with any other queries, contact the brand's customer service department on 0808 122 1969.
Omega social media profiles
Frequently asked questions about Omega watches
What is Omega known for?
Omega is known for some of the most elegant and precise watches in the world. Its most iconic models include the Speedmaster, worn during the moon landing in the 1960s, and the Seamaster, the watch of choice of everyone's favorite spy, 007.
Who owns Omega?
Omega is owned by The Swatch Group, a company that also includes other famous watch brands such as Breguet and Hamilton. For more information about the brand, including its history, Omega watch prices, and product range, see our Omega watch guide.
Is Omega considered a luxury watch?
Omega is one of the world's top luxury watch brands. It's the name behind some of the world's most famous luxury timepieces, including the Omega Seamaster and Omega Speedmaster. For more about this famous watchmaker, see our in-depth Omega watch guide.
Which Omega model is the best?
The best Omega model is the Speedmaster, known for its accuracy and quality—the reason why NASA chose it to accompany its astronauts into space. The Seamaster is another of the brand's most popular models, thanks to its James Bond associations.