It's impossible to talk about Tudor without mentioning its big brother brand—a rather well-known watch company by the name of Rolex. But while once Tudor watches were considered cheap substitutes for Rolex's luxury timepieces, today the watch brand is much more than an 'affordable alternative'.
Tudor has had enough of sitting on the substitute bench. Following a boom in demand, it's out on the field, playing the horological game, and playing it extremely well. With elevated design, durable craftsmanship, and its 'born to dare' philosophy, Tudor makes luxury watches with mass appeal—and that also happen to be bargains too.
At a glance
| | |
| --- | --- |
| | |
| Industry: Watches | Founded: 1926 |
| Headquarters: Switzerland | Founder: Hans Wilsdorf |
| Watch Collections: field watches, dive watches, dress watches, and women's watches | Parent organization: The Hans Wilsdorf Foundation |
| Annual Revenue: $298 million USD | Website: tudorwatch.com |
Tudor watch price
How much does a Tudor watch cost?
Tudor watches are more affordable than Rolex and are so by design. Owned by Rolex, Tudor produces high-quality watches that are priced below what many watch buyers would expect, making them value luxury watches. Tudor watches range between $1,750 for an entry-level Tudor watch (Tudor 1926) and $16K for the most expensive Tudor watch (Tudor Black Bay 58 in 18k gold) with the average cost of a Tudor watch being $4,200.
Check here for the best deals on second hand Tudor watches.
What is the most expensive Tudor watch?
The most expensive Tudor watch to date it is the Tudor Black Bay Only One Watch, which sold at the Only Watch Charity Auction in 2015 for 375,000 Swiss Francs—around $410,200 dollars at the time. This was over 120 times its retail price.
See how this compares to the world's most expensive watches.
What is the cheapest Tudor watch?
The cheapest Tudor watch is a Tudor 1926, with prices currently starting at $1,750. Tudor watch prices for a Tudor Black Bay start at $3,575. You can also pick up a Tudor Pelagos for $4,400 or a Tudor Heritage Chrono for $4,200.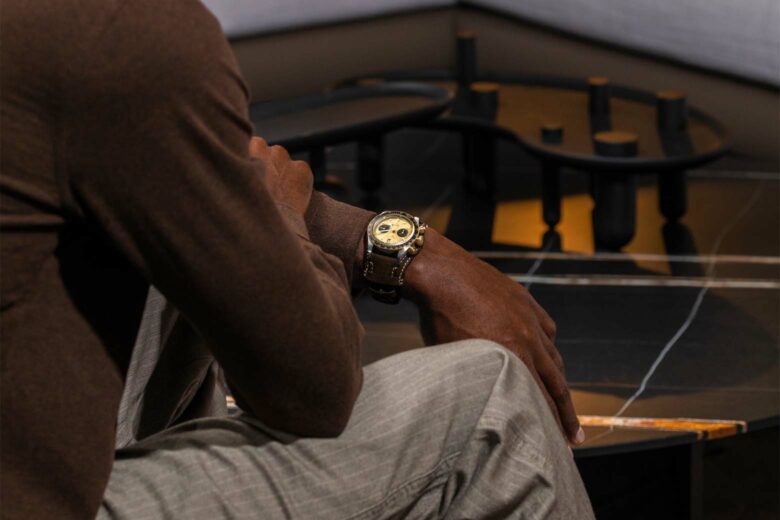 About Tudor watches
History of Tudor watches
The story of Tudor begins in 1926 when 'The Tudor' was registered as a trademark by a Swiss watchmaker named Veuve de Philippe Hüther. It was then acquired by Hans Wilsdorf, aka the founder of Rolex, who established Montres Tudor SA in 1946.
Wilsdorf's vision was of a sibling watch company to his superstar luxury watch brand, offering more affordable but equally high-quality men's watches with the guarantee that comes with the Rolex name. He was able to use Rolex facilities for assembling the watches while the movements came from third parties.
The Tudor Oyster was launched in 1947, a direct reference to the famous Rolex Oyster. Next was the Tudor Oyster Prince, released in 1952. And in 1969 came the Tudor Prince Date-Day.
Tudor soon moved into the world of dive watches, releasing its Tudor Submariner watch in 1954, known as the Tudor Oyster Prince Submariner 7922. It still exhibited the Rolex logo as well as many other trademark design features of the Rolex watch of the same name.
In 1957 came the Tudor Advisor alarm watch as well as the Tudor Oysterthin. During the 1970s, the watch brand also released various chronograph watches, including the Tudor Montecarlo 7169/0, so named for the resemblance of the dial to casino roulette wheels.
In the 1990s and early 2000s, Tudor fell off the radar. Experiencing low demand, it even stopped selling watches in the US.
But in 2013, Tudor announced a comeback, re-invigorated by the arrival of Davide Cerrato as design director, and releasing a new range of watches inspired by the watch brand's archives but with larger cases and contemporary materials.
In 2012, the watch company launched the Tudor Pelagos, one of the most coveted watches at the Baselworld Fair that year, with its signature snowflake hands and titanium and steel case.
That same year, Tudor launched the highly popular Tudor Heritage Black Bay, a modern version of the Tudor Submariner and winner of the Grand Prix d'Horlogerie de Genève Revival prize.
Finally, in 2016, Tudor started producing its own in-house movements, allowing it to begin to forge its own identity distinct from Rolex.
Interesting facts about Tudor
Tudor has supplied watches to the US Navy, Canadian Navy, Jamaican Defense Force, and French Marine Nationale. The latter also helped with testing and developing the Tudor Submariner.
Tudor watches accompanied explorers on the British North Greenland two-year-long expedition in 1952.
David Beckham, John Mayer, and Lady Gaga have been spotted wearing Tudor watches.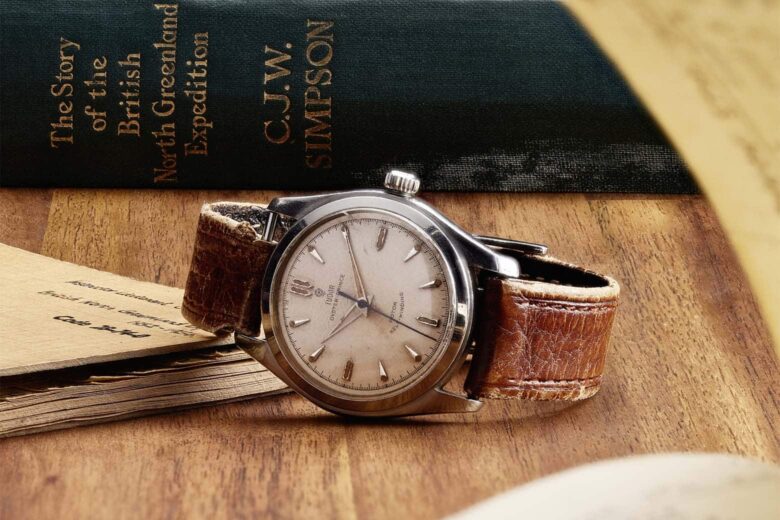 Tudor product range
Tudor watches can be grouped into nine main collections.
First up, the famous Tudor Black Bay watch series. You'll find many different models within this popular collection from the unusual Black Bay P01 to the stylish Black Bay Chrono. This series is iconic and you'll soon discover why.
Next, there's the Tudor Ranger, a solid and dependable selection of field watches that are durable, rugged, and yet also refined.
If it's water resistance you're after, you'll want to check out the Tudor Pelagos, the brand's popular series of dive watches.
The Tudor Heritage Chrono sees the brand turn from the ocean to the racetrack for inspiration while the Tudor Royal offers timeless dress watches that are as hard-wearing as they are handsome.
The Tudor 1926 is the watch brand's entry-level timepiece and showcases the brand's knack for understated elegance. The Tudor Glamour, as the name suggests, dials up the glam factor, while the Tudor Style is, unsurprisingly, sleek, stylish, and wonderfully affordable—ideal for your next black-tie event.
Finally, you have the Tudor Clair de Rose, the brand's range of watches for women, starting at petite 26 mm and offering enduring charm and grace.
Signature materials and craftsmanship
While Tudor watches undeniably have similarities with Rolex timepieces, there are also clear distinguishing factors.
First, there are Tudor's signature 'snowflake' hands—hands with diamond-shaped edges which first appeared on Tudor Submariners in 1969. These hands have a practical as well as an aesthetic function as they provide more surface area for luminescence, therefore improving underwater legibility.
Secondly, while all Tudor watches are mechanical and some feature in-house movements, others use modified ETA movements, unlike Rolex which makes all its own movements.
Additionally, you won't find many precious metals in Tudor watches. Steel is the main material of choice although bronze, titanium, and carbon are also options. Tudor also uses cloth straps for its watches as well as metal bracelets.
Tudor watches are famously durable. Even Tudor dress watches feature water resistance of 100 m or more. You'll also find KIF anti-shock systems to protect the movement.
Like Rolex, Tudor is notoriously secretive about its design and manufacturing process. This adds to the enigmatic aura around both watch brands and increases the hype around the launches of new watches.
Where is Tudor made?
Tudor watches are made in Switzerland. The company headquarters are in Geneva. This is also where research and development, assembly, and quality control take place. In fact, Tudor watches are tested using some of the same machinery and processes as Rolex, whose headquarters are also here.
Brand values
| | |
| --- | --- |
| Vegan options: | No |
| Carbon-neutral: | No |
| Gives back: | Yes |
Tudor watches
Black Bay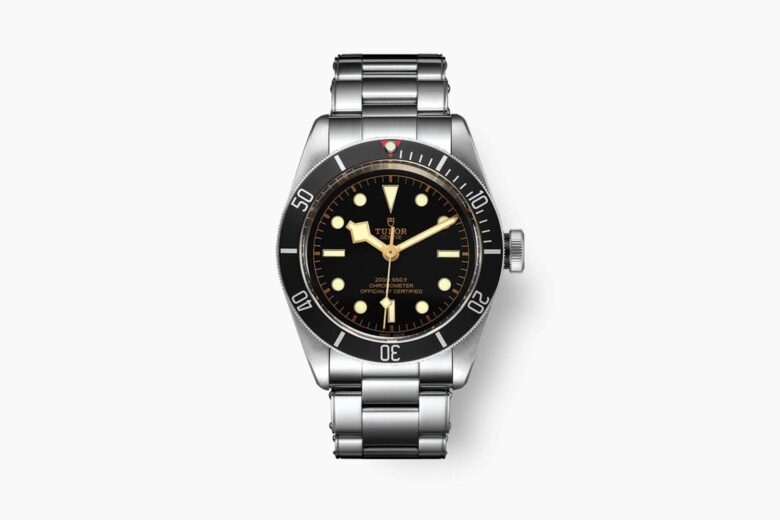 One of the brand's most popular collections, Tudor Black Bay watches are the affordable and accessible versions of Rolex's iconic Submariner dive watch. Available in steel, steel and gold, ceramic, and with a bracelet or leather strap, these are stylish timepieces that also serve as status symbols—just without you having to take out a small loan.
Within the Tudor Black Bay collection, certain models are particular favorites among Tudor fans. These include the Tudor Black Bay Fifty-Eight (a 39 mm version of the original and ideal for slender wrists), the 2019 Tudor Black Bay P01 with its distinct bezel locking mechanism, the Tudor Black Bay GMT (the perfect wallet-friendly alternative to the Rolex GMT), and the Tudor Black Bay Chrono, which adds sleek and speed-hungry chronograph functionality into the mix.
| | |
| --- | --- |
| Price: | $3,575 – $16,825 |
| First release year: | 2012 |
| Current case size: | 32 mm – 43 mm |
| Movement: | Automatic |
| Water resistance: | 200 m |
| Crystal: | Sapphire |
Tudor Ranger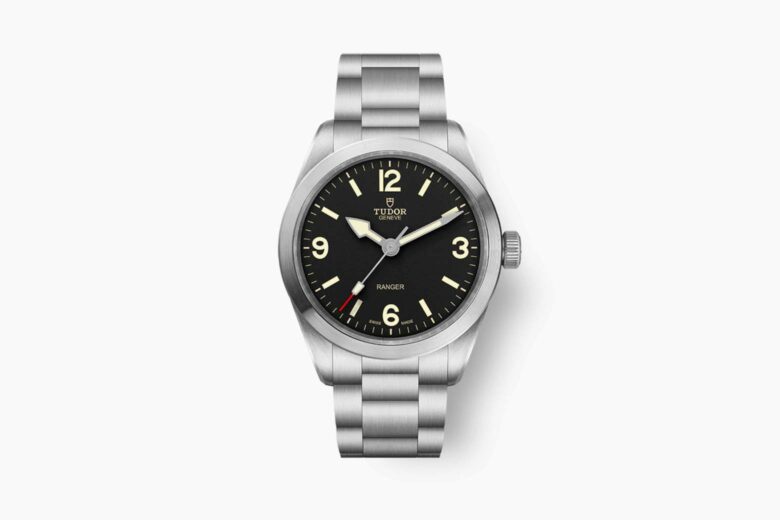 An ultra-functional, high-performing, no-nonsense and no-frills field watch, the Tudor Ranger is often referred to as an affordable substitute to the Rolex Explorer. But this Tudor timepiece offers advantages beyond its price point. It's suitably large and chunky for a watch designed for adventure, satin-finished, and has a practical 100 m of water resistance. Rather than Tudor's classic snowflake hands, you have vintage-style arrow hands, and the markers are luminescent for easy legibility under the cover of darkness.
| | |
| --- | --- |
| Price: | $2,725 – $3,050 |
| First release year: | 1969 |
| Current case size: | 39 mm |
| Movement: | Automatic |
| Water resistance: | 100 m |
| Crystal: | Sapphire |
Tudor Pelagos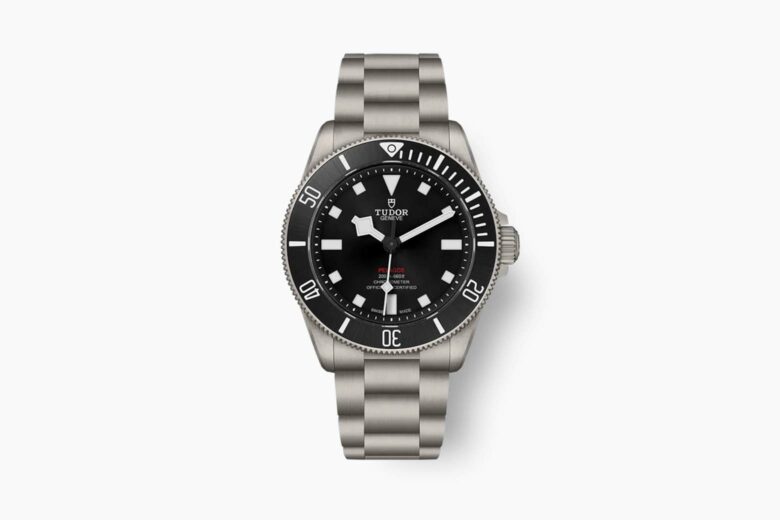 The Tudor Pelagos collection includes the Tudor Pelagos, the brand's dive watch with 500 m of water-resistance and a scratch-resistant ceramic bezel, and the smaller Tudor Pelagos 39, which lacks the helium escape valve but still has 200 m of water-resistance and is exceptionally wearable. These are sturdy yet lightweight tool watches, designed to prioritize performance over aesthetics—although are still incredibly handsome. No wonder they're some of Tudor's best-selling watch models.
| | |
| --- | --- |
| Price: | $4,400 – $4,575 |
| First release year: | 2012 |
| Current case size: | 39 mm – 42 mm |
| Movement: | Automatic |
| Water resistance: | 200 m – 500 m |
| Crystal: | Sapphire |
Tudor Heritage Chrono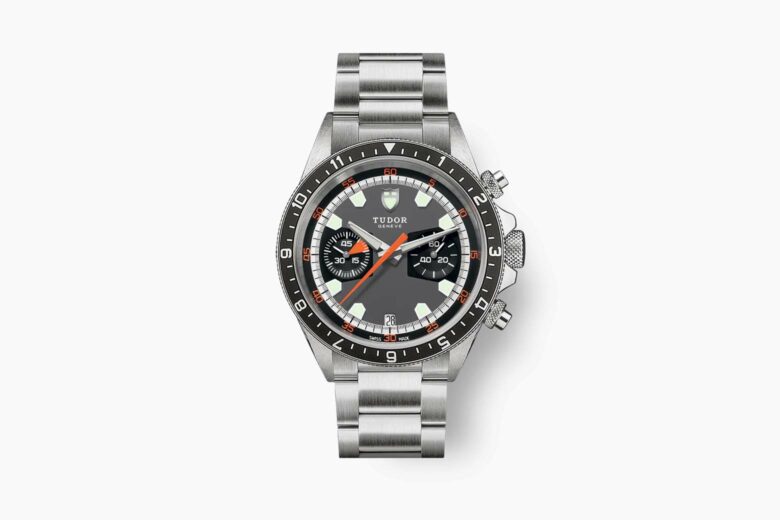 With the Tudor Heritage Chrono collection, we see Tudor firmly step out of the shadows of its sibling brand and deliver a watch that is more youthful and colorful than anything you'd typically see coming out of Rolex workshops. Inspired by old-school Tudor chronographs, nicknamed Montecarlo for their multi-colored roulette-like dials, the Tudor Heritage Chrono features reliable and accurate calibers, two subdials, a date display, and is available in bright colorways. Look out for the much-coveted 2013 Tudor Heritage Chrono Blue in particular.
| | |
| --- | --- |
| Price: | $4,200 – $4,525 |
| First release year: | 2010 |
| Current case size: | 41 mm |
| Movement: | Automatic |
| Water resistance: | 150 m |
| Crystal: | Sapphire |
Tudor Royal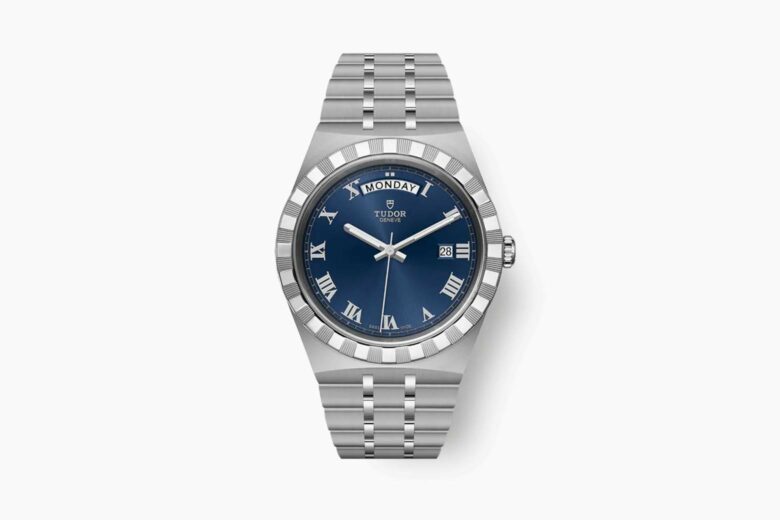 A tasteful collection of sporty yet stylish timepieces, the Tudor Royal watch series is defined by its versatility, being equally at home engaged in outdoor adventures as at an exclusive party or gala. Available in a range of case sizes from a petite 28 mm to a robust 41 mm, you can also choose between 316L stainless steel or stainless steel combined with yellow gold. Take your pick from different sunray satin-finished dials and if you like your Tudor with an added dose of diamonds, that's possible too.
| | |
| --- | --- |
| Price: | $2,200 – $3,925 |
| First release year: | 2020 |
| Current case size: | 28 mm – 41 mm |
| Movement: | Automatic |
| Water resistance: | 100 m |
| Crystal: | Sapphire |
Tudor 1926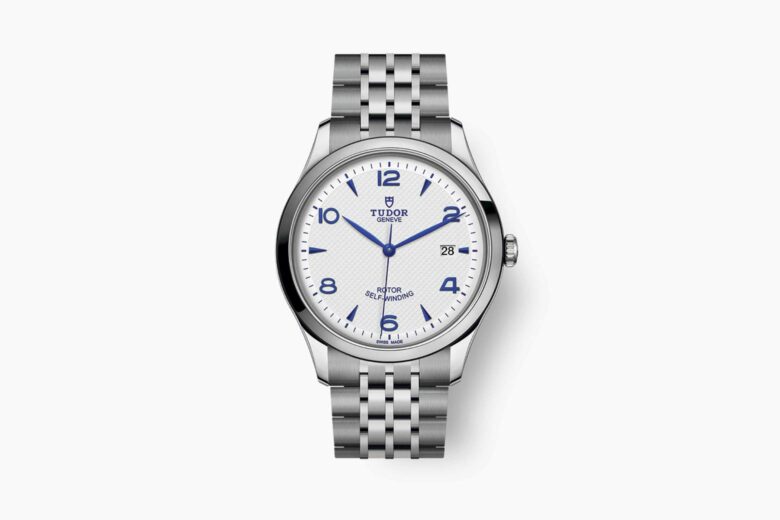 The Tudor 1926 represents the best entry-level Tudor watch. The cheapest of all the Tudor collections, the Tudor 1926 is a straightforward and dependable watch that can be customized to your particular needs and tastes thanks to the range of dial and size options on offer. These range from 28 mm to 41 mm and from silver to black dials, as well as the addition of diamonds if you want a dash of luxury. The Tudor 1926 won't win awards for being experimental but if laidback and low-key is more your jam, then it's perfect.
| | |
| --- | --- |
| Price: | $1,750 – $3,525 |
| First release year: | 2018 |
| Current case size: | 28 mm – 41 mm |
| Movement: | Automatic |
| Water resistance: | 100 m |
| Crystal: | Sapphire |
Tudor Glamour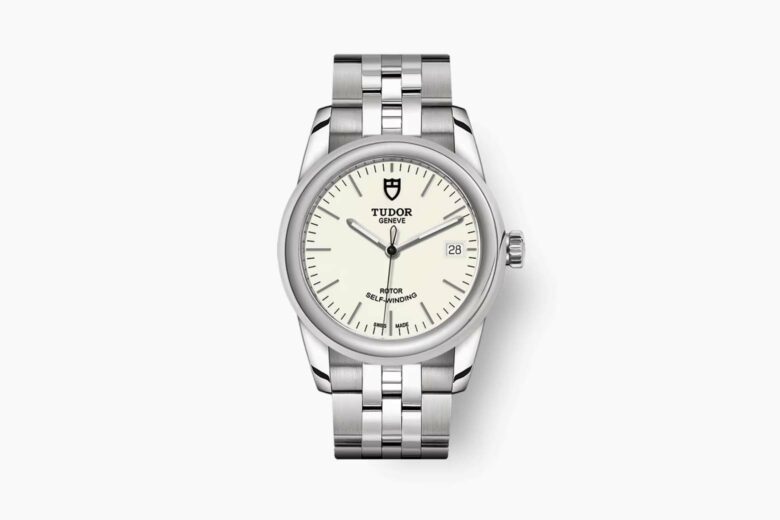 In the Tudor Glamour collection, you'll find the most obvious echos of Rolex's catalog of luxury timepieces. We're talking dual-aperture big date complications, dials in silver, opaline, champagne, or black, diamond hour markers, leather straps, and some serious old-school-cool vibes. David Beckham himself was a brand ambassador for this particular model—pretty much all you need to know.
| | |
| --- | --- |
| Price: | $2,225 – $5,250 |
| First release year: | 2013 |
| Current case size: | 28 mm – 41 mm |
| Movement: | Automatic |
| Water resistance: | 100 m |
| Crystal: | Sapphire |
Tudor Style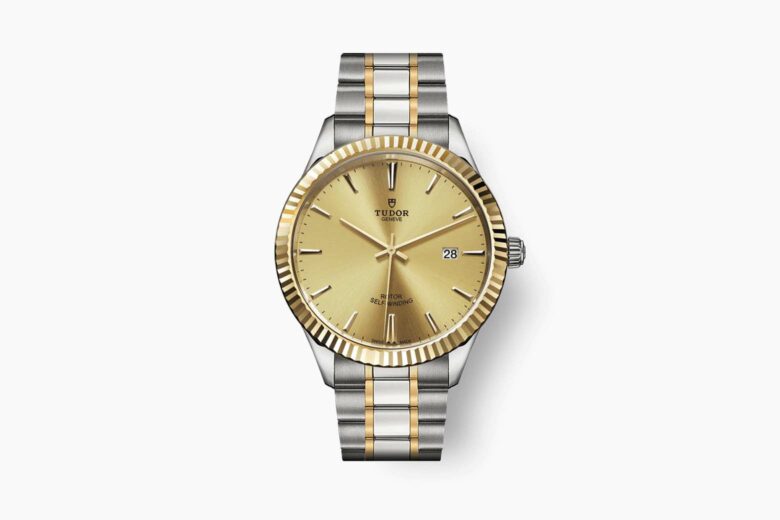 The appropriately named Tudor Style watch series does indeed boast bucket loads of style. These are also essentially modular watches: you can pick and mix dial, bracelet, and case size options to create the perfect timepiece. Flexibility and adaptability set the Tudor Style apart from other equally affordable dress watches, as does its less-is-more aesthetic that doesn't try too hard.
| | |
| --- | --- |
| Price: | $2,100 – $3,750 |
| First release year: | 2015 |
| Current case size: | 28 mm – 41 mm |
| Movement: | Automatic |
| Water resistance: | 100 m |
| Crystal: | Sapphire |
Tudor Clair de Rose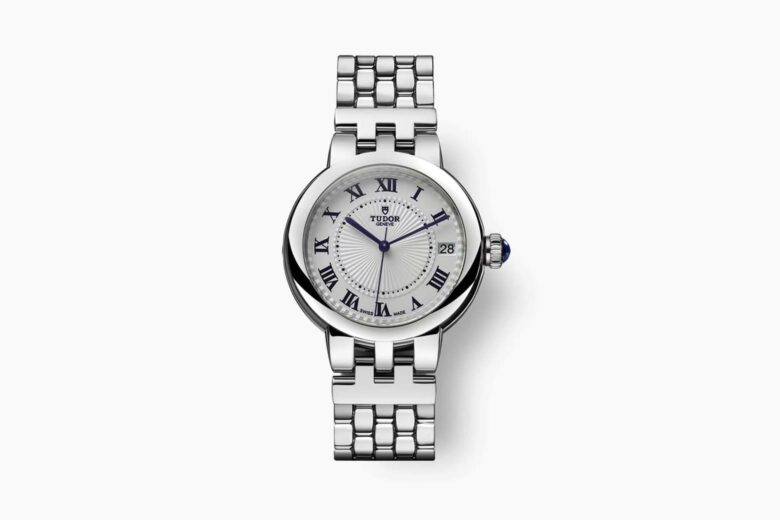 While Tudor's expertise lies in creating rugged and robust sports watches, it's equally capable of turning out intricate and graceful dress watches too. Marketed mostly towards women, the traditional Tudor Clair de Rose collection is available in a delicate 26 mm up to a very wearable 34 mm and the entire series is imbued with cool and class.
| | |
| --- | --- |
| Price: | $2,225 – $2,950 |
| First release year: | 2017 |
| Current case size: | 26 mm – 34 mm |
| Movement: | Automatic |
| Water resistance: | 100 m |
| Crystal: | Sapphire |
Where to buy Tudor watches
You can buy Tudor watches in-person from one of the authorized stores listed here. All Tudor watches purchased after January 1st, 2020, have a five-year international guarantee.
You can also buy Tudor watches from a trusted third-party retailer such as FARFETCH, Mr Porter, or Jomashop. Each of these retailers has a stringent set of testing procedures to ensure the authenticity of each timepiece.
For more about buying a luxury timepiece, see our luxury watch guide.
Tudor shipping
FARFETCH offers international shipping for Tudor watches for different fees depending on the country. The same goes for Mr Porter. Jomashop will ship your Tudor watch internationally for a set fee of $150.
Tudor return policy
FARFETCH accepts watch returns within 14 days for a full refund and Mr Porter allows returns within 28 days, both subject to quality control. Jomashop offers a refund for returns made within 3 days of delivery.
Tudor customer service number
For help with any questions relating to your Tudor watch order, contact the boutique or retailer where you purchased your Tudor watch directly.
Tudor social media profiles
Frequently asked questions about Tudor watches