You already know you want a new watch. Maybe it's your first ever wristwatch and you want something special. Or maybe it's part of your growing collection of fine timepieces. Perhaps, you're on the hunt for an investment or something that will become a family heirloom.
Or maybe you just want to treat yourself. We're not judging. But buying a watch isn't as simple as pulling out your credit card and saying yes. There are just so many to choose from. Plus all the complex terminology to wrap your head around. You don't even know how to pronounce tourbillon, let alone what it is.
So if you're on the hunt for the best luxury watches for men or for women, we're here to help with this fool-proof comprehensive watch buying guide. We've covered everything from different complications to a watch size guide, so you can make an informed decision rather than an impulse buy. Whether you're after a status symbol with social cachet or something practical and high-performance, you'll find all you need to know in this luxury watch guide.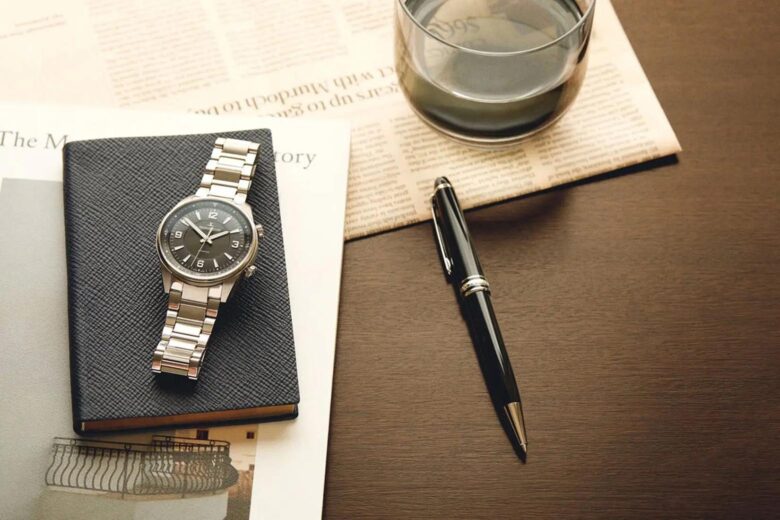 Watch buying guide: table of contents
Watch movements
A watch movement is essentially the mechanism that makes a watch tick. It's also known as a caliber and is essentially like a tiny engine that makes the hands go round.
There are three types of movement: mechanical, automatic, and quartz.
Mechanical movements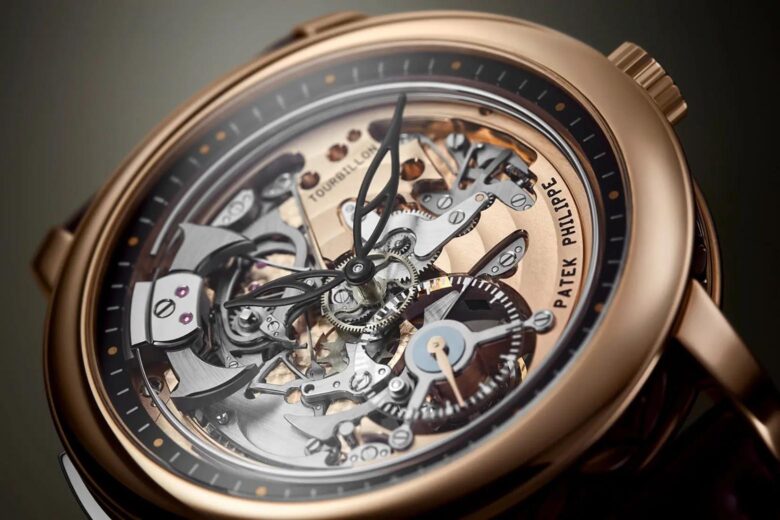 A mechanical watch is powered by a mainspring which powers a series of gears and the balance wheel. To tighten the spring, you twist the crown. This cranks up the coils. The spring then slowly unwinds, making the second hand move.
The longer the mainspring, the longer the watch's power reserve—essentially how long you get before you have to wind it up again.
As any luxury watch guide will tell you, it's an unquestioned truth in the world of timepieces that mechanical movements are superior. To understand why people set so much store by mechanical movements compared to quartz movements, you have to understand that wearing a luxury watch is not just about being able to tell the time.
It's about owning a piece of exquisite engineering—something that reflects centuries-old tradition, intricate craftsmanship, and ground-breaking technology. A quartz movement may tell the time better, but a mechanical watch tells it with more style.
Watch snobs also rave about the 'feel' of a mechanical watch with its continuously sweeping hands rather than the tick-tick-tick of a quartz watch.
Automatic movements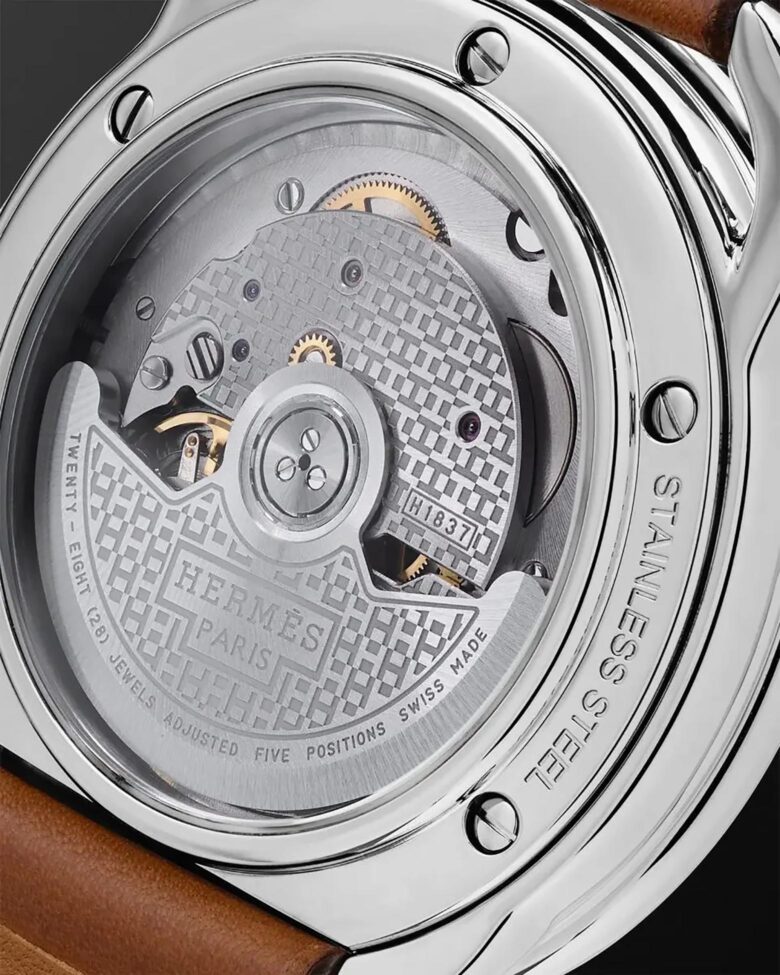 The majority of high-end watches today are automatic mechanical movements, aka self-winding watches. Inside, they're very similar mechanical watches. But they use kinetic energy generated from your wrist to power the movement by means of a rotor, a small weight that moves as your wrist moves, winding the mainspring. A slipping clutch device prevents overwinding.
As a result, there's no need to manually wind your automatic watch. But if you don't wear it, you'll need to put it in a watch winder, a small device that moves the watch in a circular motion to keep it wound so you don't have to re-set things like the calendar when you come to wear it again.
Automatics developed in-house by a watch brand are typically higher quality and carry more kudos. The best automatic movements are either Swiss or Japanese-made, designed by some of the top men's watches brands such as Rolex or Patek Philippe. 
Quartz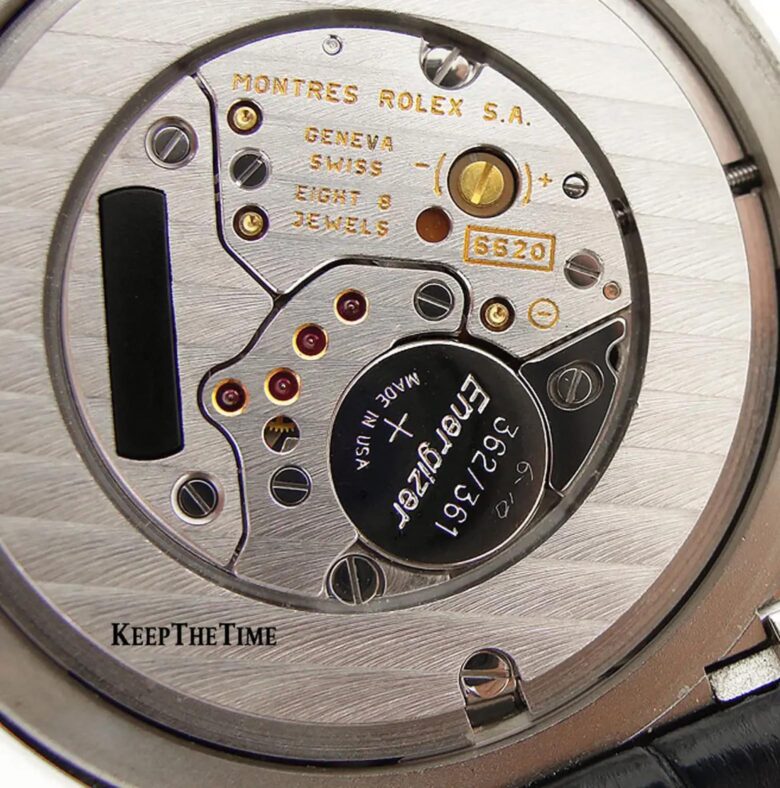 Some of the best affordable watches are quartz watches. They are battery-powered and regulated by quartz, a small crystal that replaces all the springs, gears, and wheels of a mechanical movement, serving as a conductor between the battery and the electric circuit.
Essentially, the battery passes electricity through the quartz, causing the crystal to vibrate. This vibration is then converted into a pulse to move the second hand on the watch. These pulses create that tick-tick-tick movement.
When quartz watches first appeared on the scene back in the 1970s, it triggered the so-called Quartz Crisis. Suddenly ultra-precise watches could be made quickly, effortlessly, and in large quantities. What did this mean for traditional old-school Swiss watch manufacturers? How could they continue to charge such steep prices?
In the end, quartz watches didn't replace mechanical watches. While they're incredibly accurate and well-priced, people continued to invest in automatic and mechanical watches for their technical mastery.
But if it's precision you're after, it's impossible to beat a quartz watch. While a mechanical watch balance wheel works at around 18,000 to 36,000 beats an hour, a quartz crystal vibrates at 235,929,600 times per hour. They only lose around 1-2 seconds a month.
| Movement | Pros | Cons |
| --- | --- | --- |
| Mechanical | No need to change the battery. Smooth movement and feel. Superior craftsmanship. Winding is a tactile and meditative ritual. Vintage mechanical watches are collectibles and often fetch a high price at auction. | You need to remember to wind it—sometimes every day. Moisture, dust, shock, and magnets can all break a mechanical movement, although more modern movements tend to be more robust. Accuracy starts to diminish with age. Every five years or so, it might need a tune-up. Expensive. |
| Automatic | More convenient than a manual-wind watch. No battery is required. Smooth movement.A demonstration of traditional craftsmanship and technical expertise. | Vulnerable to environmental aggressors. Need to invest in a watch winder for storage. Not as accurate as a quartz watch. As expensive as a mechanical watch. |
| Quartz | Very affordable. Minimum maintenance. All you need to do is change the battery occasionally. Robust and hardy because fewer moving parts. A good choice for sports watches. | Less smooth movement because of the electrical pulsing. Arguably lacks character because there hasn't been the same time, effort, and attention to detail invested in making it. |
Watch complications
Beyond telling the time, many of the best luxury watches for men offer additional features known as complications.
A watch complication is essentially any extra feature that does something other than tell the time. Depending on what you want your watch to be able to do, you'll be more interested in some complications than others. Some complications serve more as status symbols than necessary additional functions.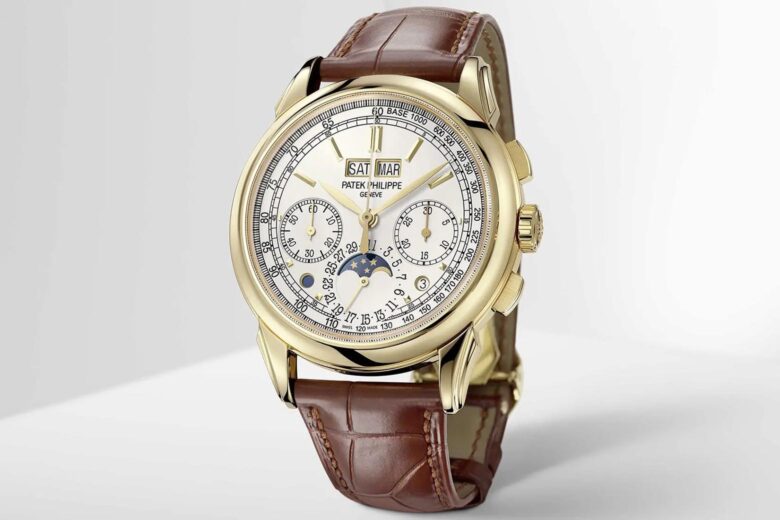 The most well-known watch complications
Luxury watches for men will often feature one or more of the following complications:
Date – this usually takes the form of a small aperture next to 3 o'clock or a bigger display for a larger view of the date. Sometimes the date will be shown on a sub-dial.
Perpetual calendar – the most complicated calendar complication. Displays date, day, month, and year, taking into account leap years.
Chronometer – essentially like a stopwatch, usually consisting of three small dials on the main watch dial. A split-second chronograph allows you to time two separate events.
Tachymeter – a scale around the rim of a watch, used to calculate speed, distance, or fuel consumption, such as on a pilot watch.
Time zones – a dual time complication allows you to tell the time in two separate time zones by means of a main dial and sub-dial.
GMT complication – this allows you to tell the time in three different time zones with a rotating bezel, depending on the time between Greenwich Mean Time and the time you need to know.
Moon phase – this complication shows full, half, quarter, and new moons. Originally used by sailors to gauge tides.
Alarm – this function is found in mechanical, automatic, and quartz watches.
Power reserve indicator – indicates the amount of power remaining in a mechanical or automatic timepiece (i.e. how long before it needs to be wound) by judging how much tension there is in the mainspring.
Minute repeater – chimes on demand by means of a level on the side of the case. Often found on pocket watches.
Tourbillon – an elaborate complication consisting of a cage to spin the balance wheel on its own axis to negate the effects of gravity. These days, it's not really necessary but can increase the value of a watch.
Watch materials
Watch cases can be made from a range of materials, each with different characteristics and price tags. Here are the different options:
Stainless steel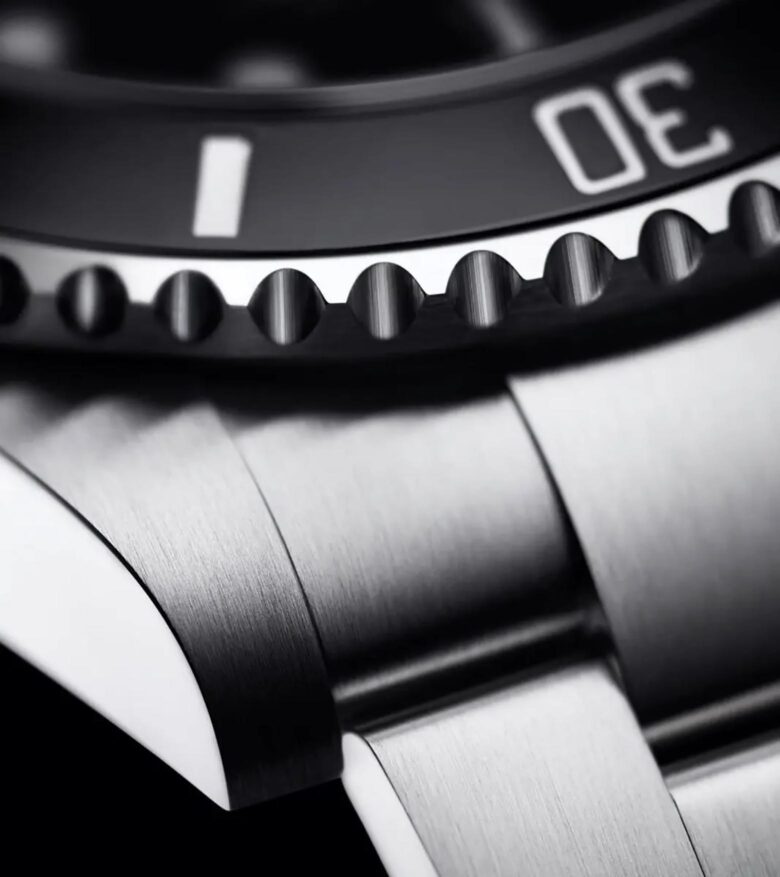 Stainless is an incredibly popular choice when it comes to watch cases and is found more and more frequently, even in high-end timepieces. Corrosion-resistant and durable, it's a winning option for dive watches or sports watches.
Stainless steel is also very lightweight, making for a comfortable wear. It's available in gold-tone or silver-tone and isn't too expensive either.
Ceramic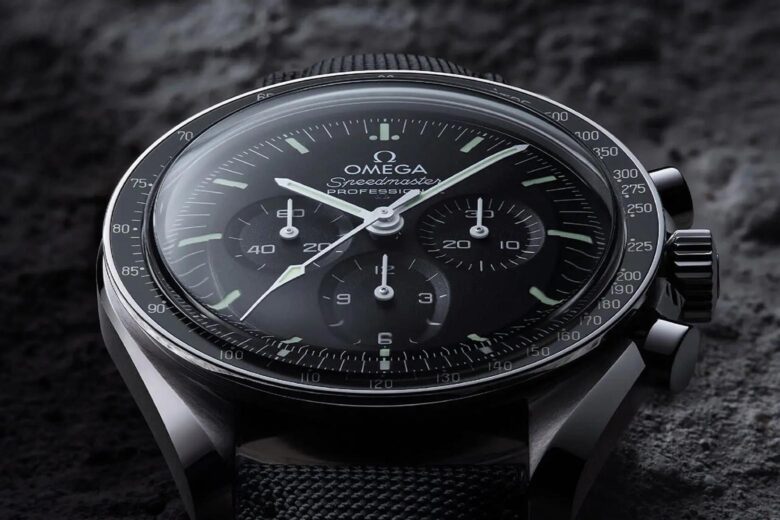 This durable material is not the same as that used to make kitchenware. It's a high-tech compound that has the advantage of being hypoallergenic and scratch-resistant, making it a long-lasting choice. It's also very lightweight.
Gold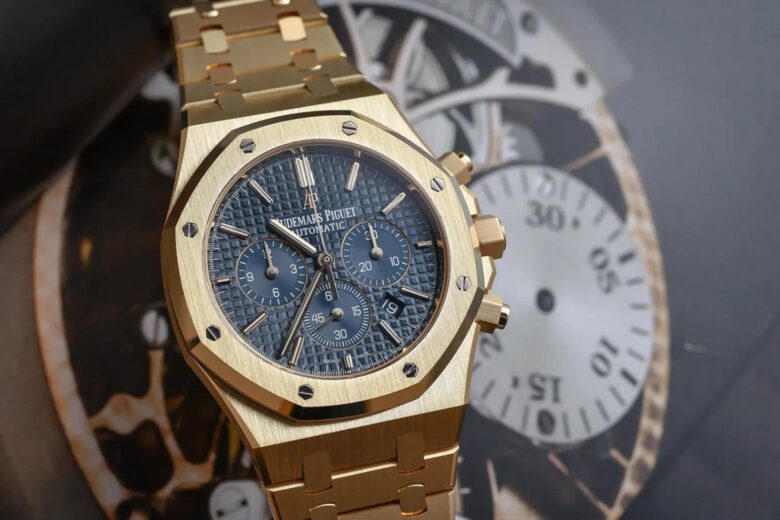 Whether you opt for white gold, rose gold, or yellow gold, all are incredibly luxurious, highly coveted, and a real style statement. Sure, gold isn't the cheapest option on the market, but it holds its value, so you could consider it an investment. But gold is also vulnerable to scratches and tarnishing so is best suited to dress watches rather than field watches, for example.
Titanium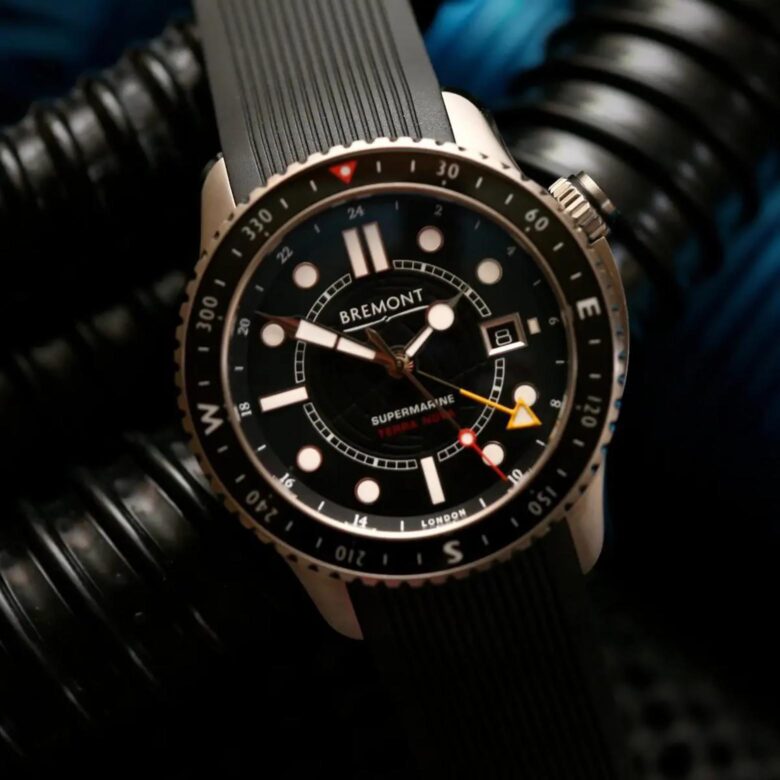 Titanium shares many of the qualities of stainless steel except it weighs even less and is even more durable. In fact, it is three times as strong as steel—although whether you need that level of robustness from a watch is debatable. There's also the advantage that it's naturally hypoallergenic.
However, titanium can also be pretty expensive and isn't quite as shiny as stainless steel.
Types of watch glass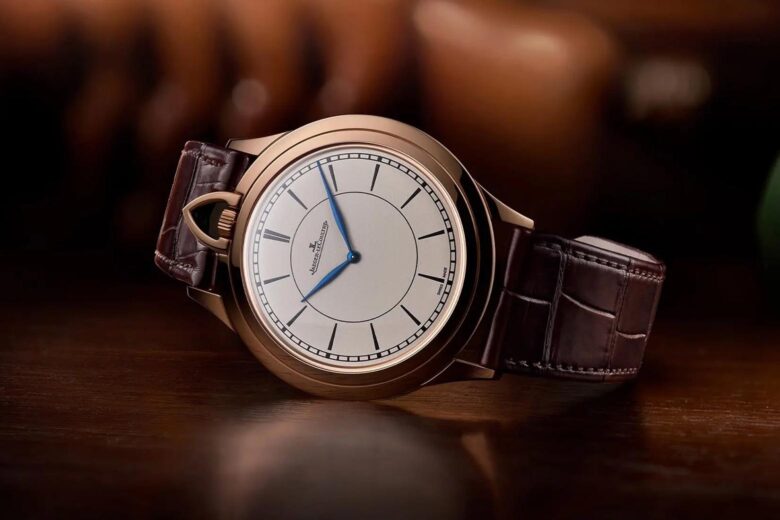 Next, consider your watch glass or crystal—that which protects the watch dial. The options are:
Mineral crystal – a popular choice, mineral crystal is scratch-resistant and affordable but can break with impact.
Acrylic crystal – also known as plexiglass, acrylic isn't that strong but is very affordable, shatter-proof, and impact-resistant. It's also susceptible to scratches.
Sapphire crystal – this is the best of the best when it comes to watch glass. It's one of the hardest materials in existence and almost impossible to scratch.
Price range: how much should you spend on a watch?
The next part of our luxury watch guide will address the question of price. How much should you spend on a timepiece? Of course, it ultimately comes down to how much you can afford.
But what's a reasonable price tag for a watch? Are there advantages to pushing the boat out, price-wise? When does a watch become an investment?
Budget-friendly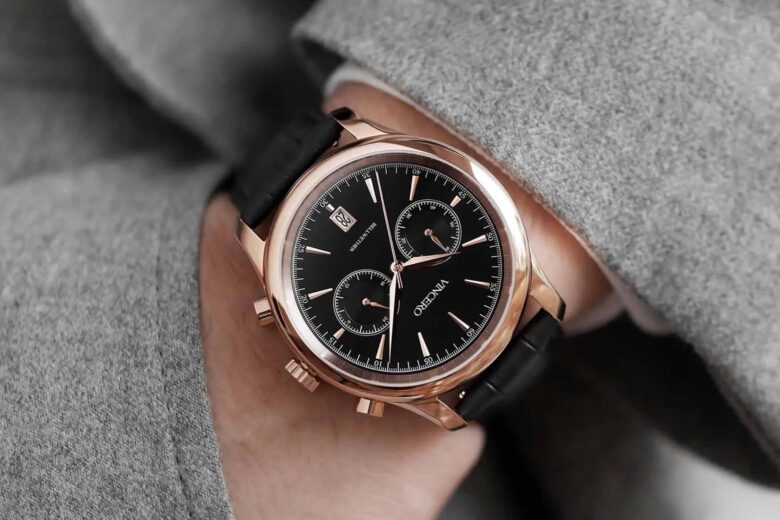 The cheapest watches usually come with a quartz movement and minimum complications. You can pick one up for between $10 and $200.
Seiko watches for men are pretty affordable, as are Citizen watches for men. These kinds of timepieces are mass-produced so you won't have the exclusivity that comes with owning a more high-end timepiece.
Brands like Nordgreen and Vincero also create incredibly stylish timepieces that are some of the best affordable watches around, appearing a lot more expensive than they actually are.
More than reasonable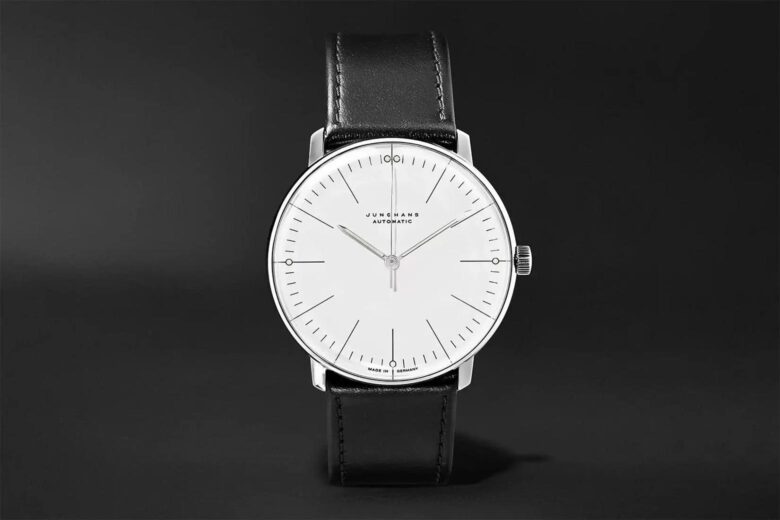 This is quite a large category and obviously your idea of 'reasonable' may differ from your neighbors. But typically, watch aficionados are willing to spend anywhere between $500 and a couple of thousand dollars on a more high-end watch.
These luxury watches for men are pieces of technical wizardry with expert mechanics and heritage craftsmanship, as well as more luxurious materials. Whether it's an under-the-radar brand such as Junghans or something more well-known such as a Hamilton, Oris, Longines, or Bremont timepiece, these watches are luxurious without being inaccessible.
Designer watches by the likes of Gucci are also likely to fall into this category.
Luxury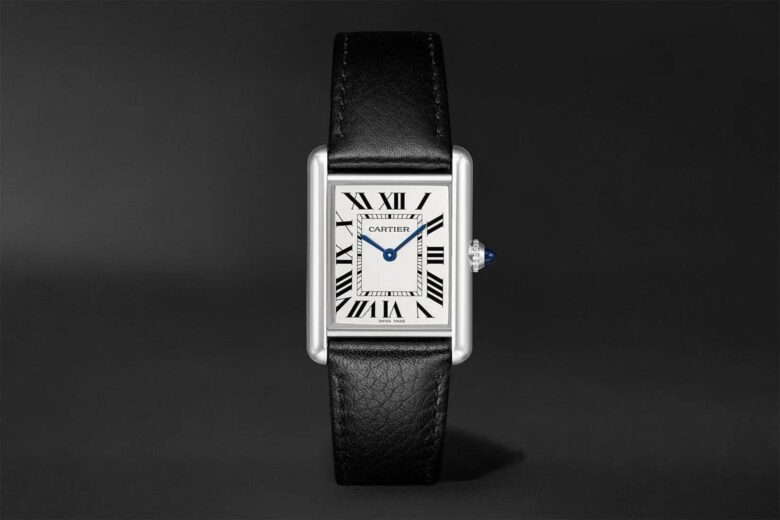 Your standard luxury watches include iconic timepieces by legacy watch brands such as a Rolex Submariner, an Omega Speedmaster, a Jaeger-LeCoultre Reverso, or a Cartier Tank. These watches typically feature more complications, such as split-second chronographs. 
Part of the higher price tag is name recognition but these timepieces are undeniably high-quality, and you're paying for decades of watch-making experience.
The height of opulence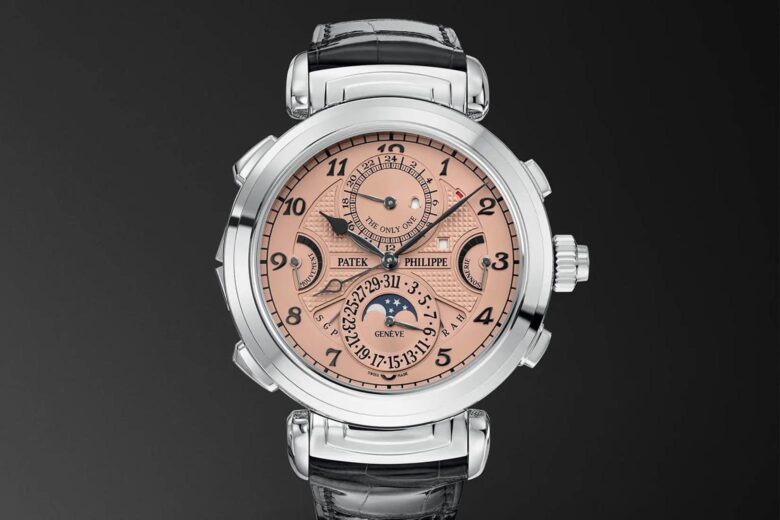 These timepieces go on auction for millions of dollars and are the subject of headlines in all the major horological publications. They're usually made of deluxe materials like gold, rose gold, and platinum, are heavy on the diamonds, and feature rare complications such as perpetual calendars and tourbillons.
These are heirloom pieces and solid investments, likely to only appreciate in value. Think of a Patek Philippe or Audemars Piguet, for example. Or check out our rundown of the world's most expensive watches or our guide to the most expensive Rolexes of all time.
Different watch styles
Dress watches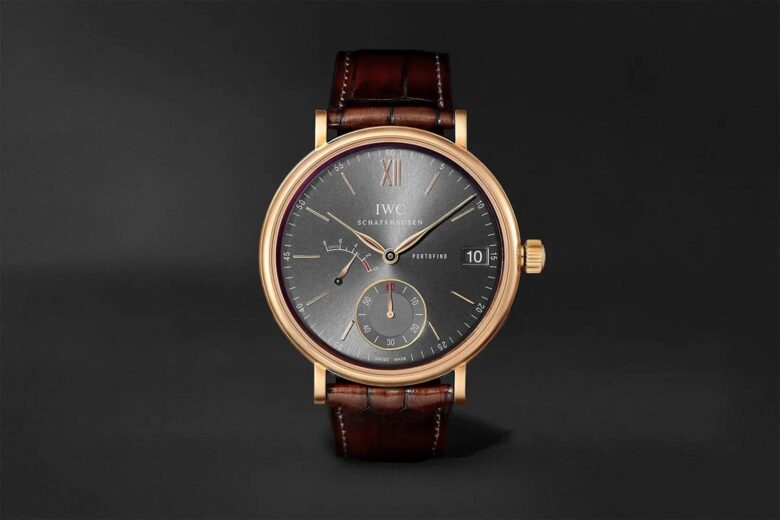 As the name suggests, a dress watch is designed for dressier occasions. Whether it's a wedding, gala, or a movie premiere, you need a watch that will slip unobtrusively under your shirt sleeve, adding refined sophistication without being gauche or showy.
With their slim cases, the best dress watches are a superb lesson in simplicity, featuring minimal complications, a low-key dial (rarely wider than 42mm), and minimalist hour markers. The luxury aspect lies in the fine materials and sleek leather straps.
Some of the most iconic dress watches around include Jaeger-LeCoultre's Art Deco Reverso (originally designed for Polo players) and Cartier's Tank watch for women. 
These days, there's more crossover between watch categories, and you could wear a sports watch to a more formal event to make a statement or team your dress watch with business casual attire for the office.
Dive watches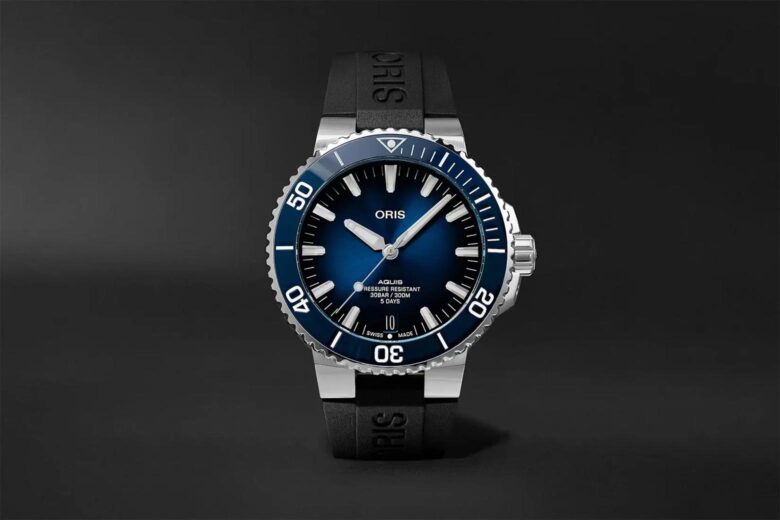 At the opposite end of the spectrum from dress watches, you'll find dive watches. Far from being designed for the red carpet, these are watches created for aquatic expeditions, specifically engineered to withstand the extremities of deep-sea diving.
It goes without saying that dive watches need to be water-resistant to at least 100 meters. They're also made from corrosion-resistant materials such as stainless steel, nearly always feature a unidirectional bezel to time dives, and have a large and luminous dial for easy underwater reading.
One of the most iconic dive watches is the Rolex Submariner, as worn by James Bond. Other well-known diving timepieces include Omega's Seamster, worn by Daniel Craig as 007. These days, you don't have to spend time below the ocean surface to wear a dive watch. They are equally appropriate for casual weekend attire—ideally aboard a yacht or at a beach club.
Smartwatches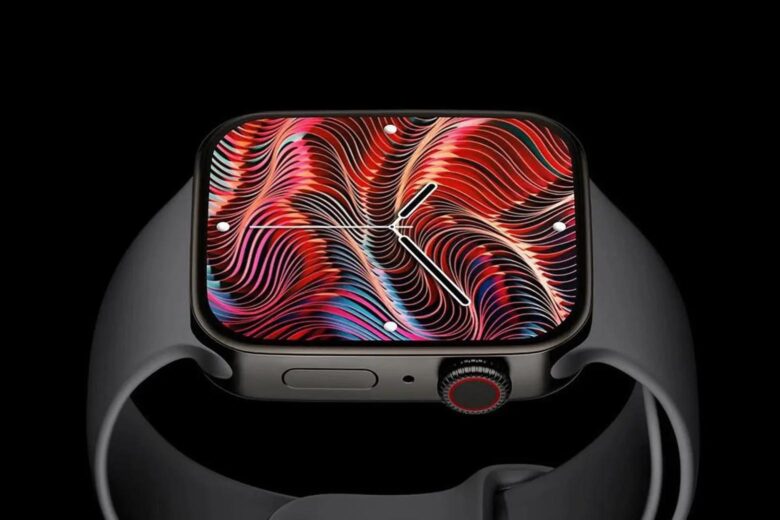 If you consider a watch more a means to an end, then you need a super functional timepiece like a smartwatch. While automatic and mechanical watches may be minor works of art, when it comes to something practical with genuine potential to make your life easier, only a smartwatch will do.
Essentially like a smartphone but wearable, a smartwatch is the most high-tech of digital tools, allowing you to access apps, receive notifications, use GPS tracking, and monitor your health all from your wrist. While they might not have the glamour or allure of a Swiss luxury timepiece, they will make your day-to-day more productive and even more enjoyable.
The most well-known smartwatches include Apple Watch and Fitbits, probably the world's most famous fitness tracker. Consider these cutting-edge creations a means of elevating and augmenting your phone experience, not replacing it. They allow you access to all the same insights and functionality but are way more portable.
Pilot and aviator watches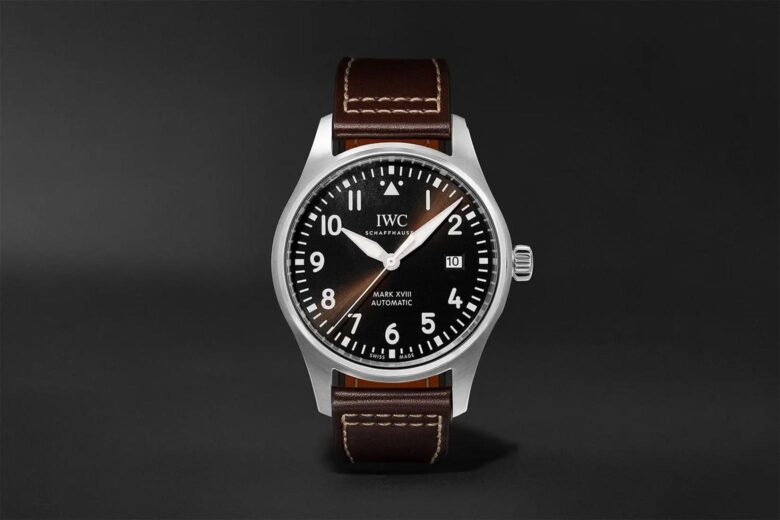 After Cartier created a watch for pilot Alberto Santo Dumon to wear in his plane back in 1911, the door was open for other top watch brands to create high-performing timepieces that would accompany wearers on high-altitude missions.
A pilot watch can be distinguished by a few features, most notably a large dial with luminous hands and a black-and-white color scheme for optimum legibility. They also feature a long leather strap that can fit over a flight jacket as well as a chunky onion-shaped crown that can be gripped even with thick aviator gloves. Complications typically include time zones and chronographs.
A pilot watch is a great choice if you want something classic with retro flair. They're statement-making without being too clunky, have a cool history, and are made by top men's watches brands such as IWC Schaffhausen.
Tactical watches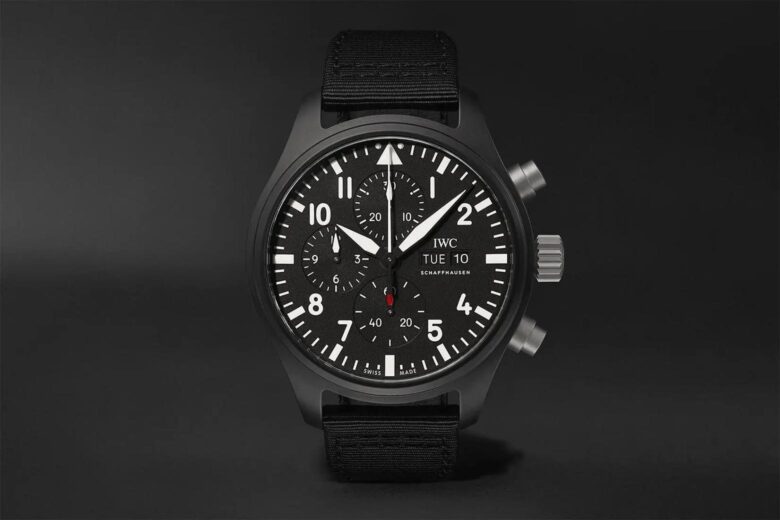 A tactical watch is the opposite of a fashion watch. It's designed to survive the extreme. Think the depths of the jungle, polar treks, mountain peaks, and desert dunes. Or simply a weekend walk where it might get wet.
Whether or not you're likely to need your watch to get you out of dangerous situations, having a timepiece that's more of a tool, with features such as a compass, altimeter, or the ability to give you weather warnings, is not something to be sniffed at.
Often originally designed for military use, top tactical watches include Casio's almost unbreakable G-Shock (as favored by law enforcement agents) and the Navy Seal by Luminox, which has been licensed by the US Navy.
Fancy a tactical watch that also looks super sleek and sophisticated? Try IWC's Top Gun, named after the iconic blockbuster of the same name.
Field watches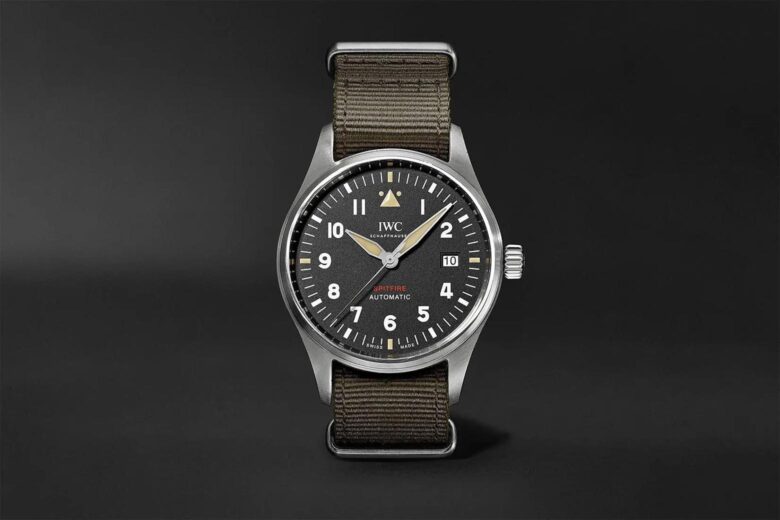 Based on the original WW1 trench watch, field watches are all about rugged robustness. After all, they needed to withstand brutal conditions and survive battle alongside their wearers.
For the most part, field watches are fairly small so they don't get in the way and feature an easy-to-read black and white dial and a stainless steel or titanium case. Straps are usually either leather, canvas, or nylon—or might be a classic NATO strap, as developed by the British Ministry of Defence.
Timekeeping devices first and foremost, field watches feature minimal complications and are a very versatile option—a solid everyday watch with an intriguing military past. Some of our favorite field watch brands include Filson and AVI-8, a fairly young brand that makes aviation-inspired timepieces.
Racing watches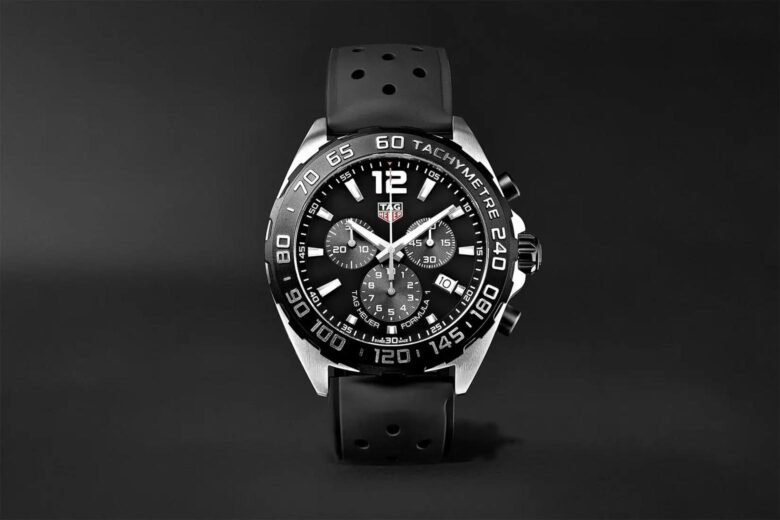 We would never encourage you to break any speed limits when driving but wearing one of the world's best racing watches on your wrist is a great way to vicariously enjoy the thrill of the Grand Prix and pick up some style points.
Full of attitude and energy, racing watches are typically quite flashy. After all, racing car drivers aren't known for being modest and unassuming.
Ever since TAG Heuer added the chronograph and tachymeter to their driving watch, these complications have become defining features of this style of timepiece. In addition, you'll often also find Arabic numerals on a large dial for easy legibility, a hard-wearing stainless steel case, and either a leather or metal strap.
Some of the best-known racing watches include Tag Heuer watches for men, particularly the Monaco, as worn by Steve McQueen in Le Mans. There's also the Omega Speedmaster and Rolex Daytona.
Digital watches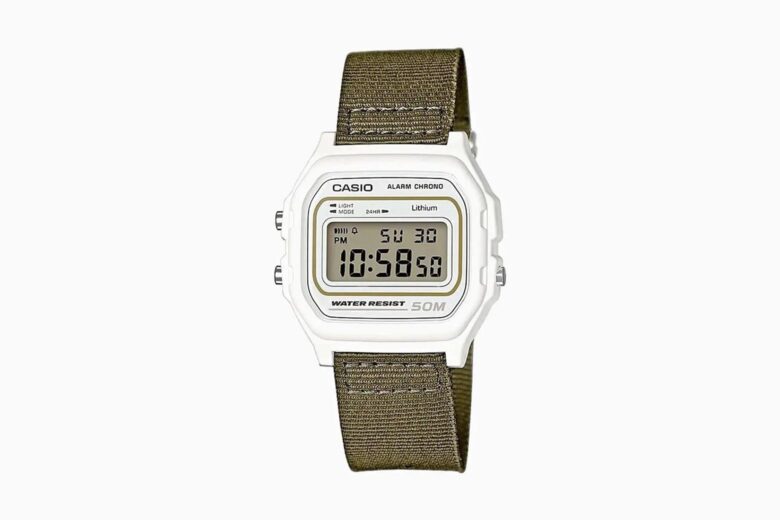 A digital watch is the opposite of an analog watch. It tells the time by means of digits rather than an hour, minute, and second hand. These days, most digital watches have been replaced by smartwatches, which have the added advantage of internet connectivity. But that doesn't mean that the best digital watches don't have a place on the horological scene.
A digital watch is the number one choice if you're seeking a non-nonsense straight-talking fuss-free timepiece. While they often have a number of handy extra features such as an alarm, timer, pedometer, or compass, ultimately they're there simply to tell the time in the most efficient and accurate way. You'll probably recognize some of the most well-known digital watches, such as the Casio Classic, or those by Timex.
Why opt for a digital watch over a smartwatch? One, they're a lot cheaper. And two, the battery won't die within a day.
Pocket watches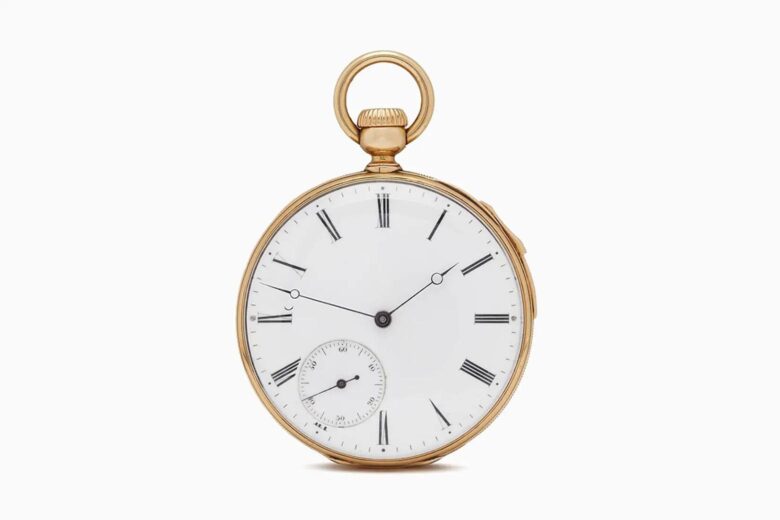 Admittedly, very few of us need a pocket watch. But if you want a timepiece that's more akin to a small work of art, a relic from a bygone era, and something worthy of becoming a treasured family heirloom, then a pocket watch is one of the most unique investments you could make.
With an undeniable air of aristocratic grandeur, the majority of pocket watches come with a chain to attach to your waistcoat pocket, making them a great addition to any black-tie outfit. You can choose between an open-faced (or lidless) pocket watch or a hunter case to allow you to flip it open theatrically in front of passersby.
Pocket watches are often quite expensive, and some are vintage collectibles. However, you can also pick up more budget-friendly options too. Check out our rundown of the best pocket watches for inspiration.
Water resistance: What does ATM on a watch mean?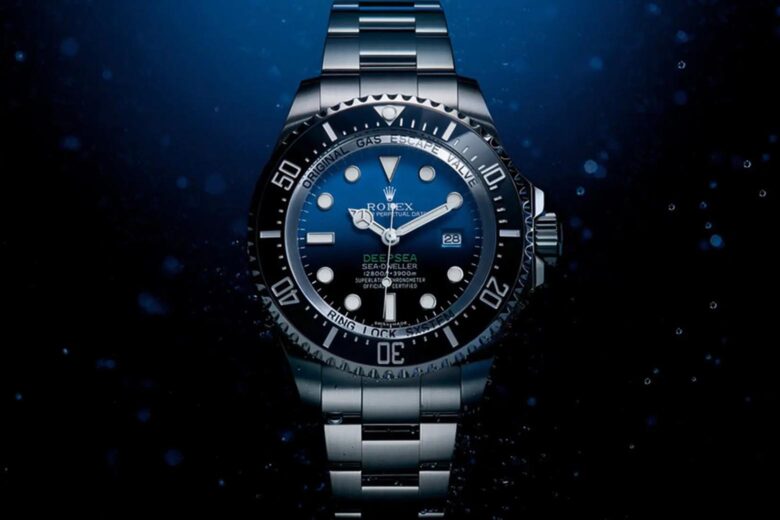 ATM on a watch stands for atmospheres and is used to measure the water resistance of your watch. In Europe, you'll find the term 'bar' instead of ATM.
| ATM | Accidental splashes | Washing hands | Rain | Showering | Swimming | Snorkeling | Diving |
| --- | --- | --- | --- | --- | --- | --- | --- |
| 3ATM (3 bar, 30 metres) | YES | YES | YES | NO | NO | NO | NO |
| 5 ATM (5 bar, 50 metres) | YES | YES | YES | YES | YES | NO | NO |
| 10 ATM (10 bar, 100 metres) | YES | YES | YES | YES | YES | YES | NO |
| 20 ATM (20 bar, 200 metres) | YES | YES | YES | YES | YES | YES | YES |
So what actually makes a watch water-resistant? How does a 20 ATM watch differ from a 3ATM watch, for example?
Gaskets – on a water-resistant watch, the gaskets will be made of rubber, nylon, or Teflon. This creates a watertight seal at the places where the crystal, case back, and crown meet the watch case. Gaskets dry out or become corroded with time, so you'll need to have your watch checked regularly to ensure it remains water-resistant.
Sealant – water-resistant watches are lined with a sealant inside to keep water from penetrating.
Material – stainless steel or titanium are top choices for water-resistant watches as they can withstand pressure and are corrosion-resistant.
Screw-in crown – a feature often found on divers' watches, this stops water accessing the case by creating a water-tight seal.
Water-resistant vs. waterproof?
You'll never find a watch these days described as waterproof. Waterproof means that it's totally impermeable, no matter the conditions, and this is impossible to achieve. Any watch will start to leak at a certain pressure.
The water-resistance rating of your watch refers to how well it will keep out water in ideal conditions i.e. in totally static water. In real life, you can't create such conditions. As a result, you can't really wear your watch to the depths indicated by lab tests.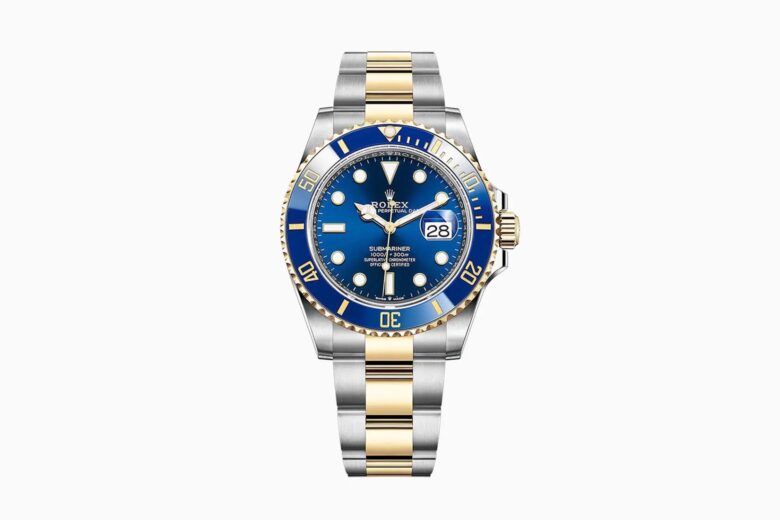 Similarly, the lab tests don't account for the sudden temperature changes that occur when you wear your watch swimming in the ocean, for example. Moving the watch from cold water into warmer air can lead to water damage. Similarly, if you wear your watch in a hot tub, this can cause parts of the watch to expand faster than the rubber gaskets, creating gaps where water can get in.
You should also avoid heavily chlorinated water, perfume, and hairsprays that can damage the gaskets.
Watch size guide: straps and cases
Strap size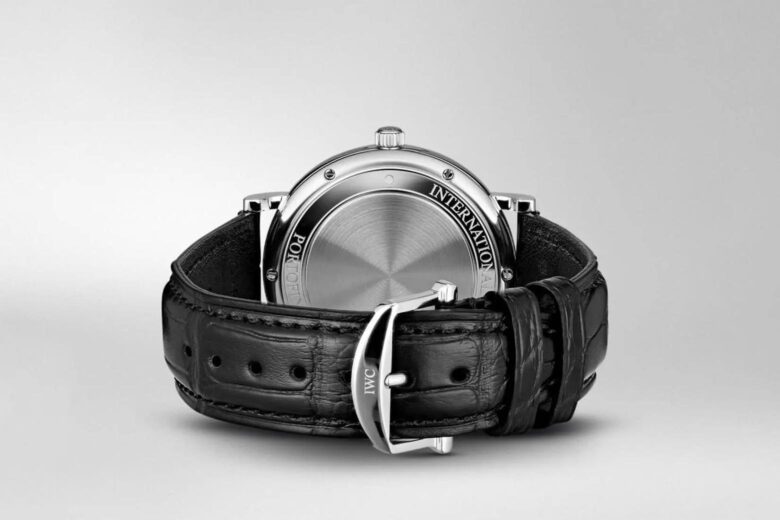 Watch strap sizes include two measurements—a long section, which is the tail end, and a shorter section, which is the buckle end. Most watch straps are adjustable. Metal watch bands are made from different links which you can remove to get a better fit.
| Wrist size | Strap size |
| --- | --- |
| 150 – 164 mm | 120/70 mm |
| 165 – 178 mm | 125/75 mm |
| 179 – 190 mm | 130/80 mm |
| 191 – 203 mm | 135/80 mm |
| 204 – 216 mm | 140/85 mm |
| 217 – 229 mm | 145/90 mm |
Case diameter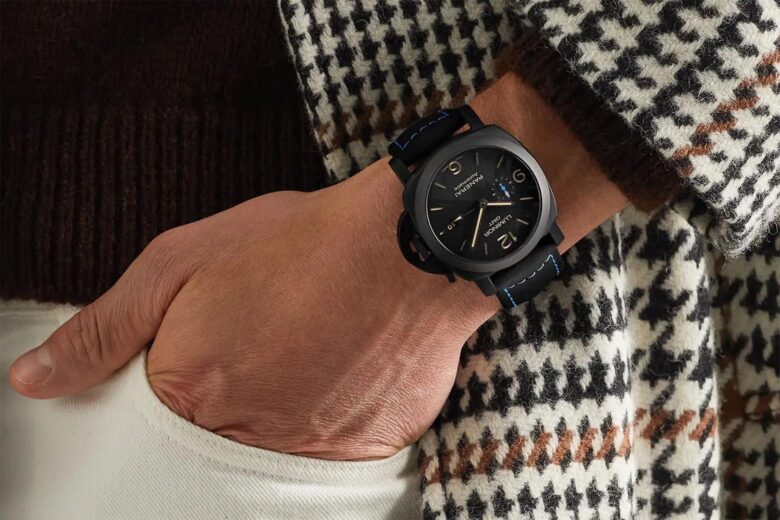 The right case size depends on the style of watch. A dress watch is typically smaller and slimmer than a dive watch or tactical watch, for example. A field watch should also be fairly small.
Think about where you'll be wearing this watch and how conspicuous you want it to be as well as how easily you want to be able to tell the time. Should it fit under your shirt cuff, for example?
Most men's watches are between 34 mm and 50 mm in diameter. Pre-1990s, the standard watch size for men was 35 to 40 mm. Then it became fashionable to have much larger watches—more than 40 mm. These days, the trend for smaller watches has returned. 38 mm is a good halfway house.
Those with slimmer wrists will want a slightly smaller watch—between 34 and 40 mm. Men with wrists larger than 19 cm should opt for a watch diameter of between 44 and 46 mm. If the watch is too big, it will look clunky and over-the-top. Too small and it could look too feminine.
Generally speaking, women's watches are smaller than men's. Most modern women's watches are between 34 mm and 40 mm. Smaller watches can also be found between 26 and 29 mm, or even as small as 24 mm.
Case thickness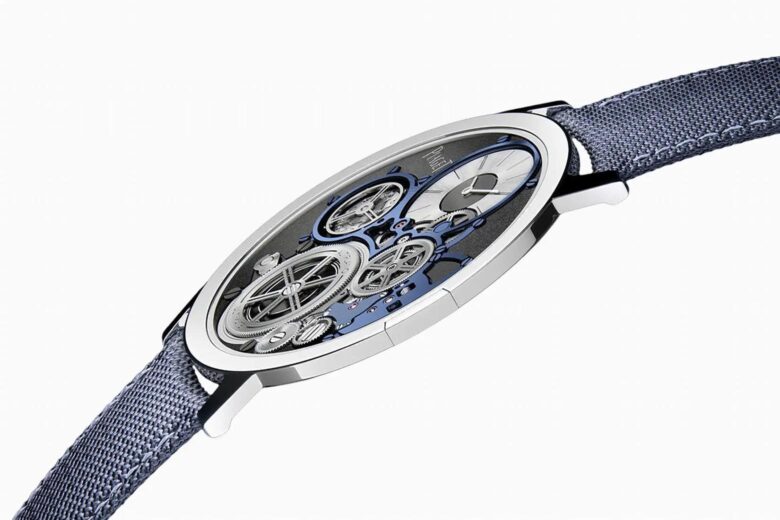 The wider the watch diameter, the thicker the case. The case thickness is usually to do with the complexity of the movement. The more complications, the bigger the watch. If you need your watch to fit under your shirt cuff, opt for around 10 mm in thickness.
Straps and bracelets
The strap of a watch is the finishing touch. While all the mechanical ingenuity goes into the movement and the dial, the strap is the perfect complement, enhancing and elevating the watch stylistically or providing added comfort or durability.
You can also change straps with most watches, alternating depending on the occasion or swapping it up when you get bored. Got an Apple watch? Check out our guide to the best Apple Watch straps and bands for your timepiece.
Metal bracelets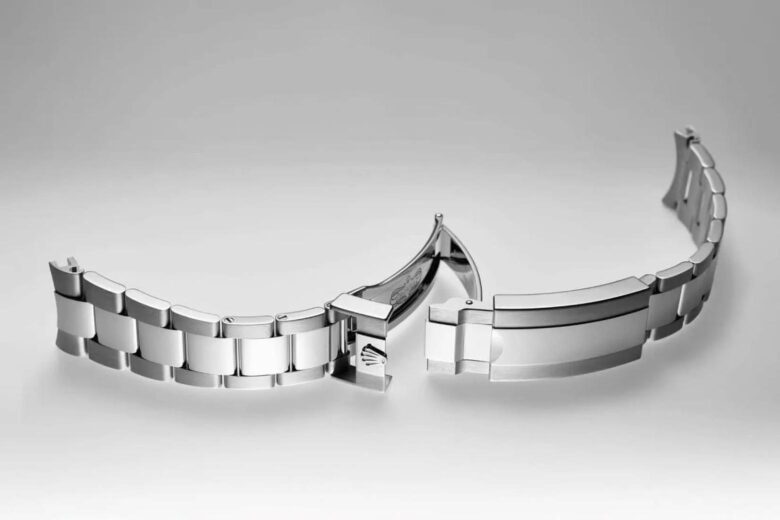 A metal strap is known as a bracelet. A classic metal bracelet is typically made from gold, steel, or titanium, and is held together by a metal clasp.
Metal bracelets are durable and have a sleek polished look. There are also Milanese bracelets, braided bands of stainless steel that look like a very fine mesh. They're comfortable, elegant, and easy to clean.
Rolex has a number of different metal bracelets. There's the three-link and ultra-durable Oyster, most commonly found on the brand's sports watches. Then there's the Jubilee, a five-link bracelet with a crisscrossing pattern. Finally, there's the President, which is found on the Rolex Day-Date and Datejust.
Leather straps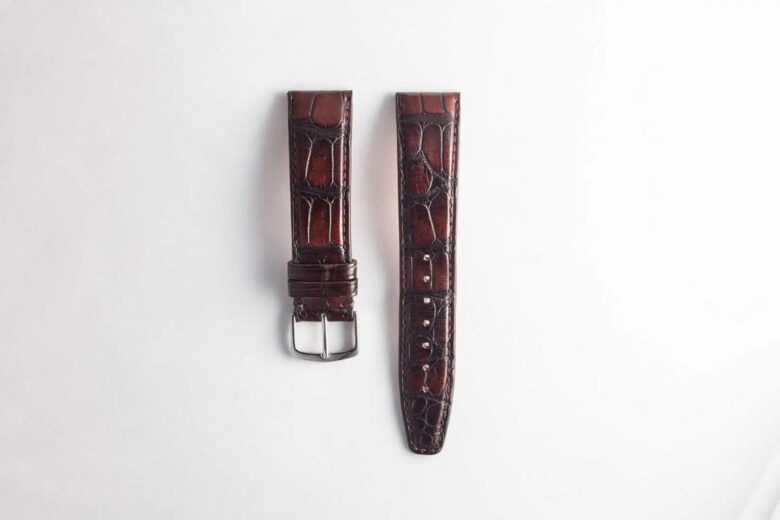 This is the most popular type of watch strap, especially for more formal occasions. There are different types of leather available, including crocodiles for something eye-catching and glamorous.
Leather is comfortable, long-lasting, timeless, and can develop an attractive patina with age. It's also a good choice for those who are allergic to metals.
NATO straps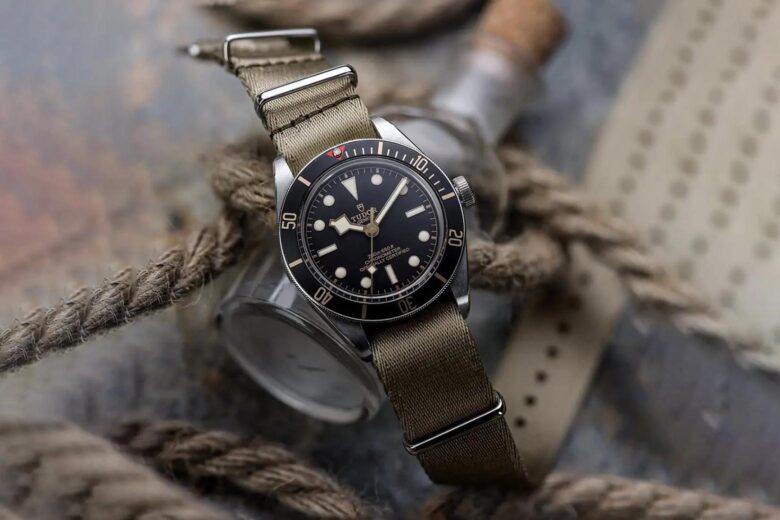 As we mentioned earlier in this watch buying guide, the NATO strap was designed by the British Military of Defence. It attaches separately to a watch's lug bars for additional security in case one bar breaks.
NATO straps are inexpensive and long-lasting, can complement a range of watch styles, and sit snugly and comfortably against your wrist.
Rubber straps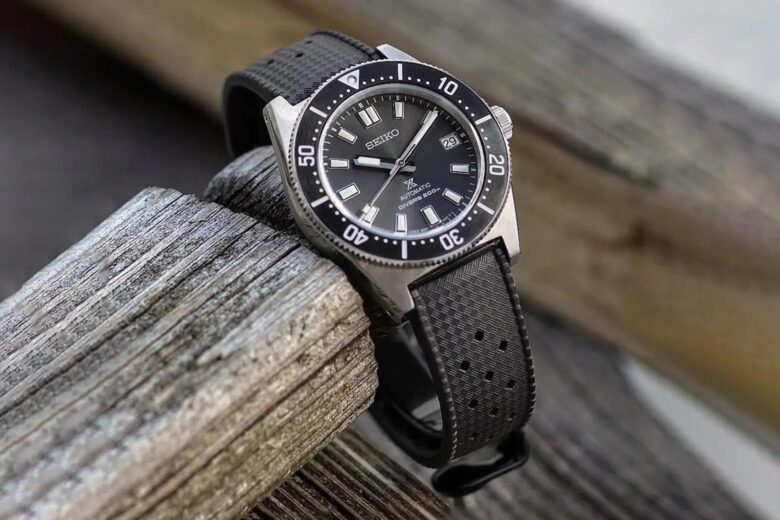 Rubber is a heavy-duty and robust material that can withstand sweat and saltwater. They're UVA-resistant, non-allergenic, non-toxic, easy to clean, lightweight, supple, and comfortable. Some of the best affordable watches feature rubber straps.
Bund straps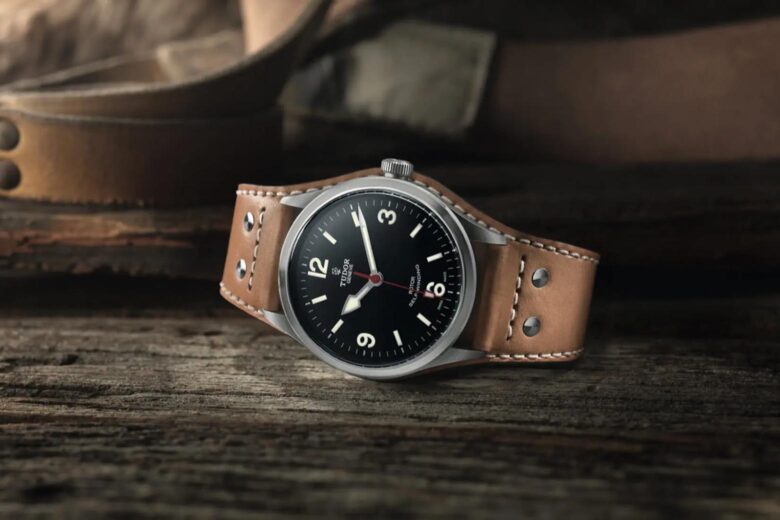 A bund strap is when the watch sits on top of a wide leather pad. While these kinds of straps were unfortunately worn by the German air force during the 1930s, they were also very popular during the 1970s, when they were favoured by the likes of Steve McQueen, Robert Redford, and Paul Newman. So despite their controversial past, bund straps definitely offer inimitable retro-cool.
Investing in vintage watches
If, after reading through this watch buying guide, you've got your heart set on a vintage watch—one with history and prestige—there are a few steps you can take that will make the hunt for the perfect timepiece a little bit easier.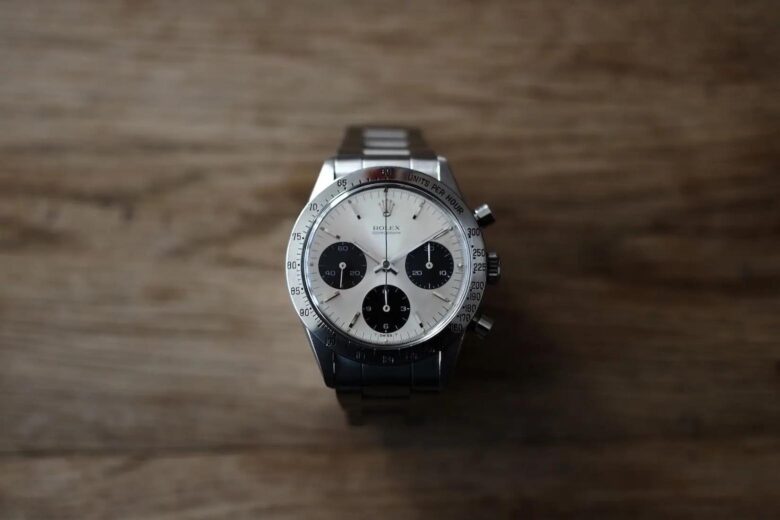 1. Decide why you want a vintage watch
Are you buying a vintage watch as a treat for yourself? Maybe you want a stylish accessory to accompany a formal outfit for a special occasion? Maybe you're giving it as a gift?
Perhaps you're buying a vintage watch as an investment—in which case you want a timepiece that will definitely hold its value or even appreciate. Or maybe you're a horological buff who wants a watch featuring certain unusual or rare complications.
Whatever the reason, it's best not to buy a vintage watch if you're looking for something practical. These are fragile items that typically have no water resistance. You'll have to take good care of it, and it's not something that can be worn every day.
2. Do your research
The next step is to determine what watch you want. Decide on a style and brand, then start browsing collections. You'll want to explore different models and references.
Limited editions are definitely worth looking into. Because they're rarer, they tend to hold their price or even go up in value.
3. Keep an eye on the market
Making a wise investment in anything requires an understanding of the market. Watches are typically a safe investment, but only if they're a classic or highly sought-after model. Research those models that hold their value the best. Watch how prices rise and fall.
4. See what celebrities are wearing
If you need inspiration when it comes to vintage and luxury watches it's always worth seeing what timepieces celebrities and famous figures are sporting. Some people have become so associated with certain watches that the timepiece has become known by the same name, such as the Paul Newman Rolex Daytona.
5. Stick to the classics
As we've already mentioned, for a vintage watch to be a smart investment, it's advised not to purchase anything too quirky or unusual—although these can sometimes fetch high prices at auction. But a more low-risk choice would be a classic that will always be in demand, such as a Rolex Daytona, Omega Speedmaster, or Audemars Piguet Royal Oak.
6. Buy from a trustworthy source
Unfortunately, there are a lot of fake luxury watches out there. To avoid being scammed, ask the dealer lots of questions. They should also be able to supply both the original box and papers. Buy from a reliable marketplace such as eBay, where vintage Rolexes and other watches come with a lifetime authenticity guarantee. For a curated selection of new timepieces, MR PORTER is one of our favorite shopping destinations for men.
7. Take care of your watch
Looking after your watch is not just a matter of personal pride. It's also necessary if you plan to sell it at a later date. So keep hold of the box and any documentation, get your timepiece serviced regularly, and keep any receipts with repair details. It's also worth getting your watch insured too.
Terminology
The watch world is full of complicated jargon. The final part of our watch buying guide is a cheat sheet to help you get to grips with the most common terminology.
Caliber – another word for movement. Typically, people use the word caliber followed by the movement model number.
Movement – the internal mechanism made up of different parts that power the watch. Essentially like the watch's engine. A movement can be either mechanical—which means you have to wind it by hand—or automatic, which means it's self-winding. There are also quartz movements, which are battery-powered.
Complications – any feature of a watch that goes beyond telling the time, such as an alarm or perpetual calendar. Some of the most common complications include a day-date or chronograph. A Grand Complication is the name given to a timepiece that contains several different complications.
Dial – this is the face of the watch and the place that displays the time and any other readings. Some high-end watches feature enamel dials, which might be cloisonné, whereby gold wires are used to create a unique design, or made from ultra-durable Grand Feu enamel. You'll also find guilloche dials with an engraved pattern.
Bezel – this surrounds the watch crystal and is typically made of metal or ceramic. On a dive watch, you'll find a unidirectional bezel that only moves in a counter-clockwise direction, helping a diver accurately judge how much air they have left.
Lugs – these connect the watch case to the bracelet. Sometimes they're known as watch horns. There are different types of lugs, including shrouded or hooded lugs, Speedy lugs (as popularised by the Omega Speedmaster), and Explorer lugs (as popularised by the Rolex Explorer). The most common type of lugs is straight lugs.
Case – this is the largest part of the watch and that which contains the movement and the dial. It can be made of stainless steel, gold, ceramic, or titanium, and varies from 23 mm up to 50 mm in diameter.
Hands – these are used to tell the time. Most watches have three different hands, indicating hours, minutes, and seconds. Different styles of watch hands include baton hands, aka stick hands, Breguet hands, which feature small 'moon tips' (also known as Pomme hands), and cathedral hands, which feature geometric details and are sometimes skeletonized.
Hour marker – these mark out the hours and sometimes glow in the dark, offering luminosity in low-light conditions. You'll find Arabic numerals, Roman numerals, arrow markers, baton indexes, and even diamonds used to mark hours.
Crown – the knob on the side of the watch that's used to wind it or change the date. Some crowns will be screw-down, such as with a dive watch, or feature jewels.
Crystal – the domed transparent cover that protects the watch dial. It can be made from mineral, acrylic, or sapphire crystal.
Chronograph – essentially like a stopwatch. Also known as a chrono for short. A chronograph usually features additional subdials and pushers on the side.
Tourbillon – a rotating cage that contains parts of a watch's movement and protects it from the effects of gravity.
Jewel – the mechanism may contain small sapphires or rubies that serve as bearings for the gears, reducing friction.
Skeleton dial – this allows you to see the movement via the front of the watch.
Exhibition case back – this allows you to watch the movement at work via the back of the watch.
Helium release valve – you'll find this on dive watches. It's designed to release any trapped gas that might build up during long dives at over 75 meters.
Aperture – the small cutout window on a dial that shows the date or moon phase. Sometimes you'll also find a cyclops on the watch crystal—a small magnifying lens that makes it easier to read the number in the aperture.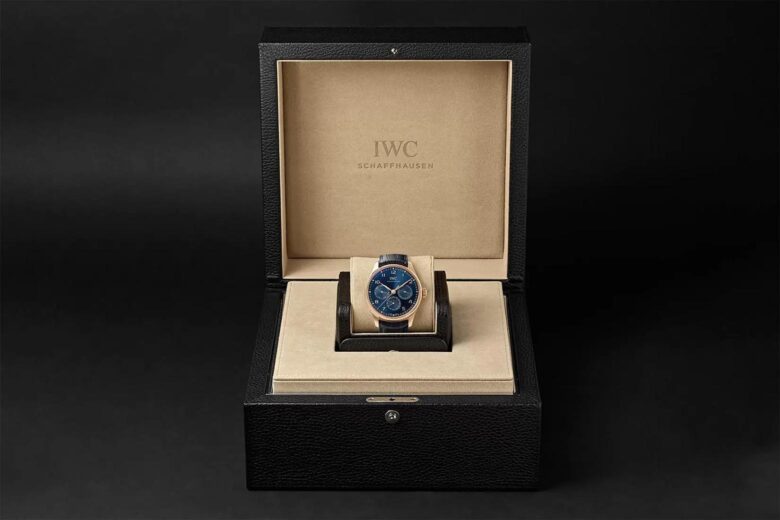 Frequently asked questions about watches
What is the difference between automatic and quartz watches?
Automatic watches are powered by the motion of your wrist. This powers a rotor that then winds the mainspring. In a quartz watch, a battery sends an electrical current through a quartz crystal causing it to vibrate. This drives the motor.
Where to buy luxury watches online?
The best place to buy luxury watches online is on MR PORTER for new timepieces and eBay, the world's first marketplace for pre-owned and vintage watches, and where any purchase comes with an authenticity guarantee. You could also shop for affordable luxury watches from brands like Nordgreen or Vincero on their websites.
How much does a Rolex watch cost?
Typically, a Rolex will cost anywhere between $6,000 and $80,000. You could even pay around $700,000 for a vintage Rolex Daytona at auction. But, at the same time, you might pick up a Rolex Oyster Perpetual for around $5,700.
What are the best luxury watch brands?
The best luxury watch brands include Patek Philippe, Audemars Piguet, Omega, and Rolex. Less well-known luxury watch brands include Zenith, Tudor, and Oris. For more information, check out our guide to the best luxury watch brands.