One of the best smartwatches on the market, the Apple Watch is an undeniable game-changer. In fact, with a piece of technology, this advanced on your wrist, it's easy to forget about the strap. But the best Apple Watch bands go out of their way to complement the watch, enhance its features, and ensure a more comfortable and secure fit.
The best watch bands for Apple Watch are like supporting actors to the showrunner. They're quietly competent—high-performing and handsome but in a modest and humble way. They're prepared to let the Apple Watch itself take center stage while they simply get on with the job—keeping your favorite timepiece snug and secure, protected from accidents, and without aggravating your skin along the way.
But with countless different bands for Apple Watches on the market, how are you meant to choose? Should you get an understated yet elegant leather watch strap for timeless fashion appeal? Something more modern and hard-wearing made of TPU or polycarbonate? Or do you need a sports strap that will survive regular sweat sessions?
Our rundown includes Apple watch bands for everyone, from sweat-proof sports bands to designer Apple Watch bands to bring a touch of high-end panache to your most prized possession. We've got what we consider to be the most comfortable Apple watch band and an Apple Watch strap that's specifically designed to withstand a rough and tumble (not that we recommend throwing your Apple Watch around).
Browse our selection of Apple Watch bands for inspiration for your next timepiece accessory. Can't decide? No big deal. Having more than one watch band is a smart move. Isn't it important to color coordinate with the rest of your outfit, after all? And you can hardly be expected to wear the same watch band to CrossFit as to the cocktail bar, right?
The 13 best Apple Watch bands and straps
Check our special Apple Watch bands buyers' guide after the list to see exactly what you should pay attention to before purchasing an Apple Watch strap online.
Nomad: Best overall Apple Watch band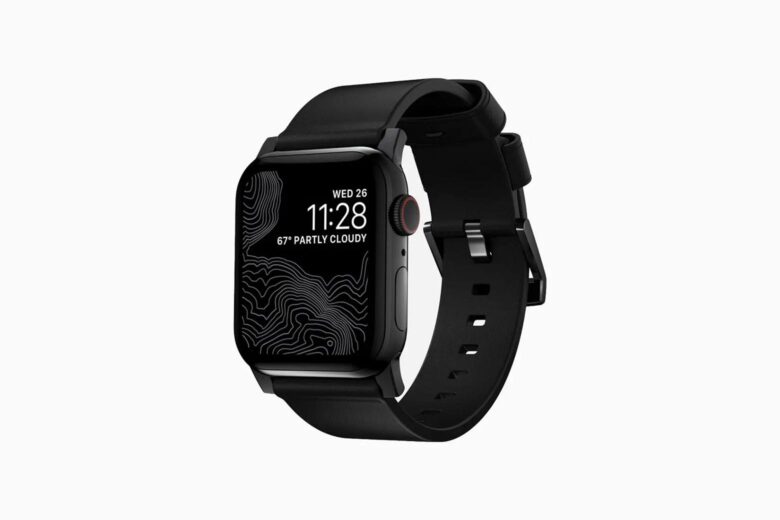 No color is more timeless and versatile than black. Which is why this black leather strap from Nomad triumphs as the best Apple watch strap on our list. Whether you get it with matching black or contrasting silver stainless steel hardware, the overall aesthetic is the height of swish and sleek.
The vibe is classic yet progressive with minimally treated vegetable-tanned Horween leather, hailing from one of America's oldest and most established tanneries. This means the strap will start to develop a gorgeous patina over time, actually looking better with age. Who could say no to that?
This Nomad watch strap isn't supposed to get wet—but neither is your Apple Watch (it's only water-resistant, not waterproof) so that suits us just fine.
Best for: An enduringly stylish strap that risks upstaging the watch itself.
| | |
| --- | --- |
| Colors: | Black with black or silver hardware |
| Compatible Apple Watch models: | 38 mm / 40 mm / 42 mm / 44 mm |
| Wrist size: | 150 mm to 210 mm |
Kate Spade: Best luxury Apple Watch strap for women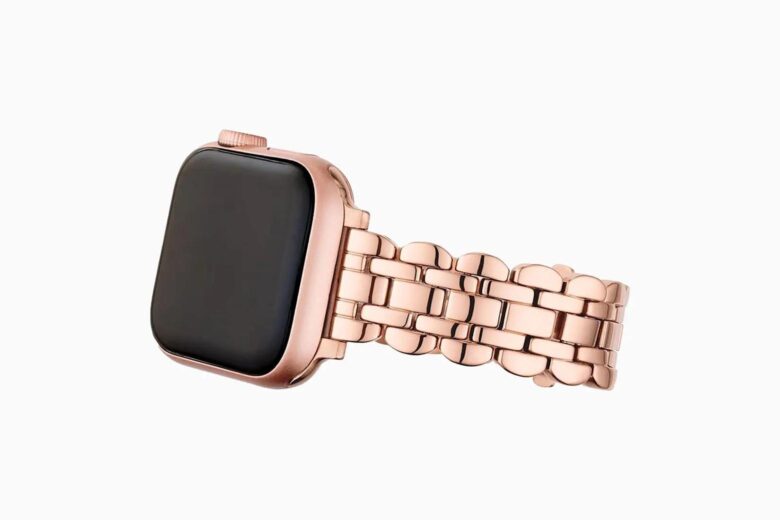 Your Apple Watch is most likely your pride and joy, so why skimp when it comes to the strap? Treat yourself to one of the best designer Apple Watch bands out there with this Kate Spade creation.
Definitely up there with some of the best luxury Apple Watch bands, this Kate Spade strap is made from stainless steel with a buckle closure. It's available in a range of shades, but we're particularly drawn to the rose gold, which really seems to make our skin glow.
We love the combination of this classically stylish bracelet band with the high-tech wizardry of the Apple Watch. Self-adjusting links allow you to customize the fit as necessary. One of the best Apple Watch bands for women we've seen.
Best for: Elevating your watch to something worthy of a magazine cover shoot.
| | |
| --- | --- |
| Colors: | A range including rose gold, gold, and silver |
| Compatible Apple Watch models: | 38 mm / 40 mm |
i-Blason: Best value Apple Watch band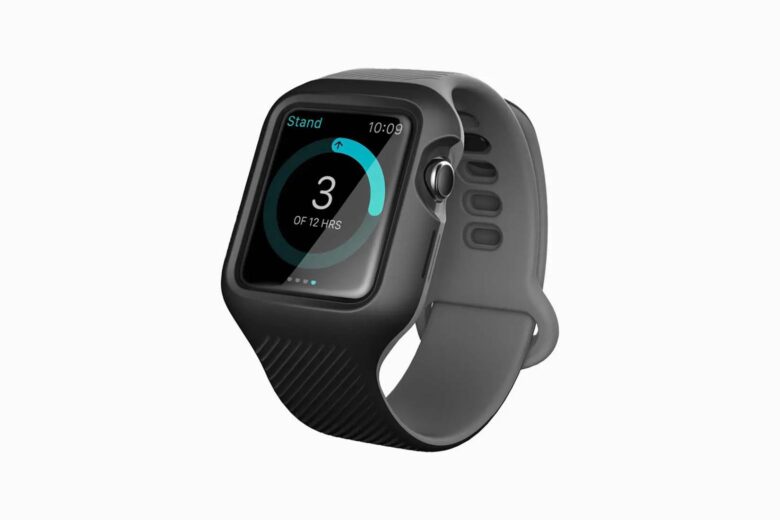 You've already splashed out on an Apple Watch (although it was totally worth it, right?) and you don't really want to spend a vast amount of money on something as simple as a strap. So grab yourself this watch band from i-Blason—one of the most budget-friendly Apple Watch wristbands we've seen.
This watch strap features a couple of winning features, including a TPU bumper to protect your Apple Watch from bumps and scrapes as well as elevated edges to guard that precious display. It's made from scratch-resistant polycarbonate that won't lose its color with time and is available in a range of cool shades.
We're confident you're going to love this watch strap from the get-go, but if you're not convinced, how does a 1-year warranty sound?
Best for: A straight-talking, no-nonsense bargain watch band.
| | |
| --- | --- |
| Colors: | Black, green, or pink |
| Compatible Apple Watch models: | 42 mm |
| Wrist size: | Fits most wrists |
Harber: Best leather Apple Watch strap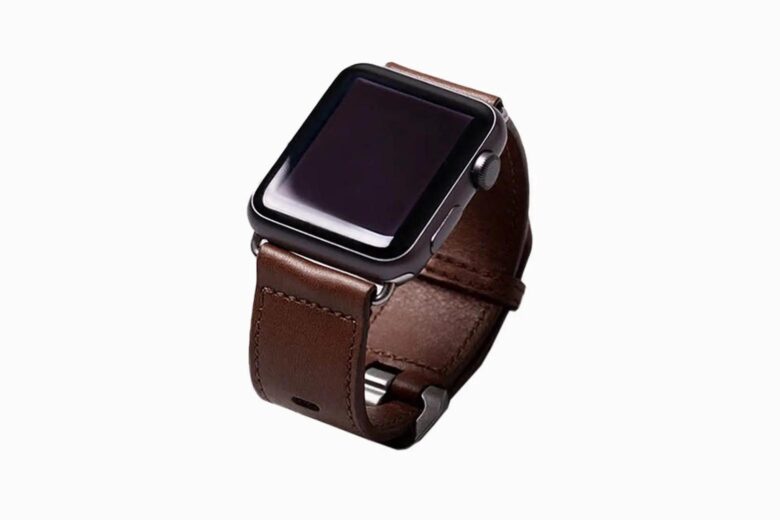 Harber is a family-run company based in London making luxury leather goods, including this rather elegant leather Apple watch band. Like all Harber goods, it's simple yet indisputably sophisticated and guaranteed to last a long time.
This leather Apple Watch band is handmade from full-grain cowhide leather by expert craftsmen in Spain—because nothing but the best will do. The leather will form a unique patina over time, which means the strap will look as good in five years as it does today—if not better.
The buckles are custom-made from high-quality stainless steel—anti-allergic and corrosion-resistant, so it won't get rusty if it gets splashed or sweaty. This Apple Watch leather band is also easy to adjust to get the right length.
Best for: A more traditional yet no less trend-conscious strap choice.
| | |
| --- | --- |
| Colors: | Tan, black, or brown |
| Compatible Apple Watch models: | 38 mm / 40 mm / 42 mm / 44 mm |
| Wrist size: | Fits most wrist sizes |
Apple: Best official Apple Watch band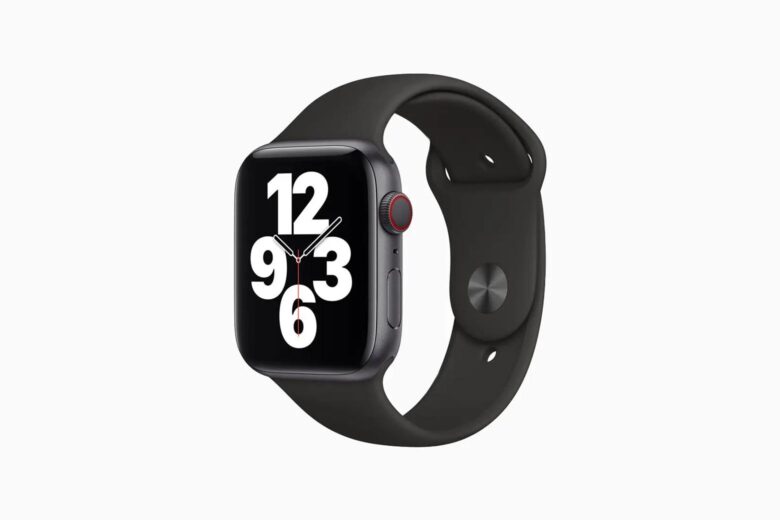 Not content to just create a spectacular watch, it seems like Apple is also out for the prize for one of the best Apple Watch bands too. This official Apple watch band is available in a huge range of colors, including a rather fun Pride Edition.
The strap is made from fluoroelastomer, but don't worry, we'd never heard of it either. It's a fluorocarbon-based synthetic rubber, resistant to pretty much anything, including extreme temperatures, chemical reactions, and corrosion. It's as soft as it is strong and won't get deformed or cause allergic reactions.
Super comfortable against the skin, this Apple Watch strap sits comfortably on the wrist while a pin-and-tuck closure allows for a snug fit. A top contender for the most comfortable Apple Watch band around.
Best for: Keeping it all firmly on-brand and on-trend.
| | |
| --- | --- |
| Colors: | A range including black, red, and blue |
| Compatible Apple Watch models: | 40 mm / 44 mm |
| Wrist size: | Regular or extra large |
Nike: Best Apple Watch band for working out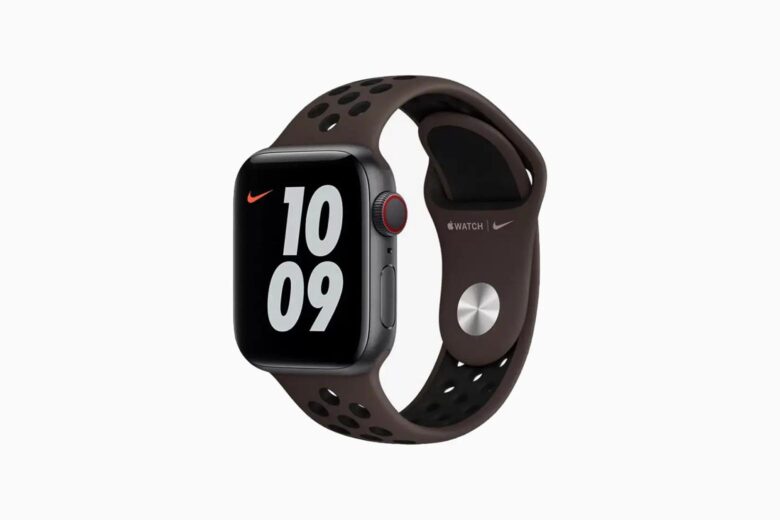 One of the best things about the Apple Watch is that it encourages us to get moving with its activity-tracking features. But this means we need a watch strap that's also totally sweatproof. Step forward with this super sporty watch strap from Nike.
Nike knows a thing or two about what makes good athletic gear. Which is why it's one of the best Apple watch bands when it comes to straps suitable for exercise.
Like the official Apple sports bands, this one is made from a high-performance fluoroelastomer. It also features compression-molded performations to boost airflow and improve breathability. In other words, no clammy wrists, even during the most heart-racing workout programs.
This Nike sports band is tough and strong yet soft and malleable enough for a comfortable fit. The pin-and-tuck closure also creates a neat silhouette.
Best for: A watch strap that's as athletic as you.
| | |
| --- | --- |
| Colors: | A range including black, blue, and silver |
| Compatible Apple Watch models: | 40 mm / 44 mm |
| Wrist size: | 160 mm to 200 mm |
Nomad: Best Apple Watch band for the office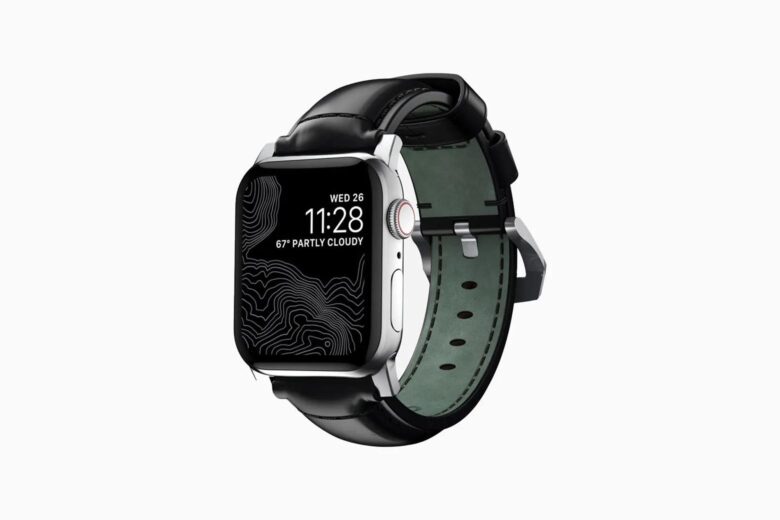 On the hunt for a watch strap to complement your office attire? Our favorite down-to-business Apple watch strap has to be this one by Nomad, one of the best labels for smartwatch bands.
From the outset, it's clear that this is a watch with its eye on the prize, made from Horween Leather's Shell Cordovan, widely considered one of the best leathers in the world thanks to its luster, minimal creasing, and durability. It takes six months to craft and will develop a patina with time, resulting in a strap that's almost as impressive as the Apple Watch itself.
The finish is hand-glazed for handsome, rich, and glossy allure. And the inside of each band is uniquely patterned. This, plus the fact it's also limited edition, accords this watch band some serious exclusivity.
A great way to make your Apple Watch look more like a dress watch.
Best for: Functional9-5 style to ensure you're always in business.
| | |
| --- | --- |
| Colors: | Black with black or silver hardware |
| Compatible Apple Watch models: | 42 mm / 44 mm |
| Wrist size: | 150 mm to 210 mm |
SUPCASE: Best protective Apple watch strap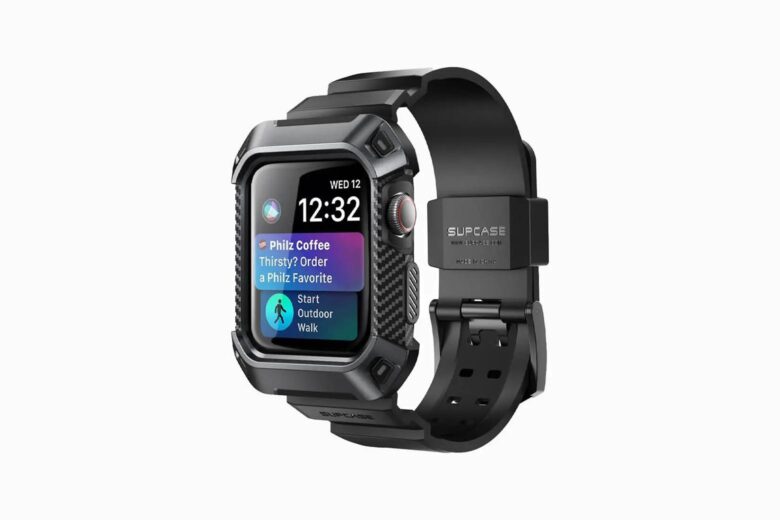 Better safe than sorry when it comes to your expensive Apple Watch. You need a two-in-one case and strap, here to keep your timepiece totally safe and secure.
This SUP Apple Watch wristband case is made of TPU—shock-absorbent, resistant to liquids such as oil, grease, and stains, and abrasion-resistant—combined with unbending polycarbonate. It also features a double tongue buckle for a lock that you can definitely rely on.
Raised bezels guard your watch display from any damage. And the final bonus of the SUP watch strap-case hybrid? Even with the case on, your watch can be charged wirelessly.
One of the most high-performing iwatch bands we've come across, ready to make your Apple Watch look like a cool tactical timepiece.
Best for: The next best thing after getting your Apple Watch its own bodyguard.
| | |
| --- | --- |
| Colors: | A range including black, green, and blue |
| Compatible Apple Watch models: | 44 mm |
KADES: Best stainless steel Apple Watch band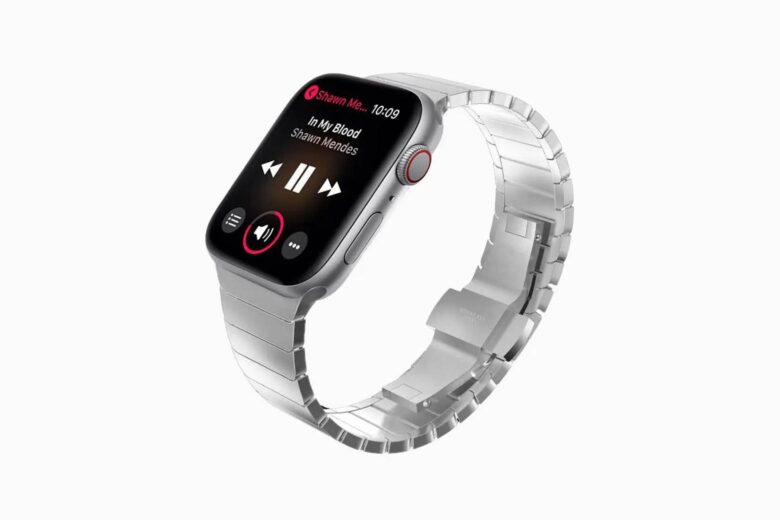 You can't beat stainless steel when it comes to a watch band. Few other materials have the same level of corrosion resistance, strength, and general longevity. Which is why we're coveting this KADES Apple watch band, made from 304L stainless steel for a silky smooth on-skin feel.
Sturdy and durable, the stainless steel has undergone a precise machining process and features a refined brushed finish, instantly bringing class to any formal outfit. A double-button folding clasp, aka a butterfly closure, keeps the watch locked firmly in place.
It's also easy to adjust this Apple Watch band by KADES to fit as it comes with a small link-removing tool.
Easily up there with the most stylish Apple Watch bracelets, we've seen.
Best for: An infinitely stylish and outstandingly durable watch strap.
| | |
| --- | --- |
| Colors: | Black or silver |
| Compatible Apple Watch models: | 42 mm / 44 mm |
| Wrist size: | 145 mm to 200 mm |
Carterjett: Best silicone Apple Watch strap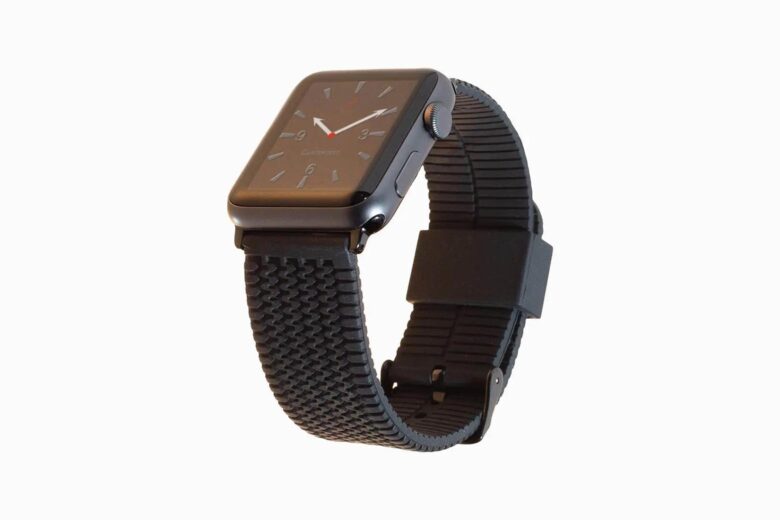 If you haven't yet experienced the joys of silicone Apple watch bands, you're in for a treat. It's one of the most highly-rated materials for watch straps, thanks to its softness, smoothness, and affordability.
This watch strap has been specifically engineered for use outdoors. It's sturdy and lightweight, flexible enough to be comfortable against your wrist, and features channels on the back to allow air to circulate so you don't get clammy.
Carterjett adapters don't use screws. Instead, they're permanently attached to the wristband. This allows for greater security and no risk of loose screws or spring bars popping out.
All in all, a solid yet sophisticated watch strap, available in a range of colors, including a rather striking pink.
Best for: An ultra-modern and unbelievably affordable Apple Watch accessory.
| | |
| --- | --- |
| Colors: | A range including black, blue, and pink |
| Compatible Apple Watch models: | 38mm / 40 mm / 42 mm / 44 mm |
| Wrist size: | Available in small, medium, or large |
Horus: Best rubber Apple Watch strap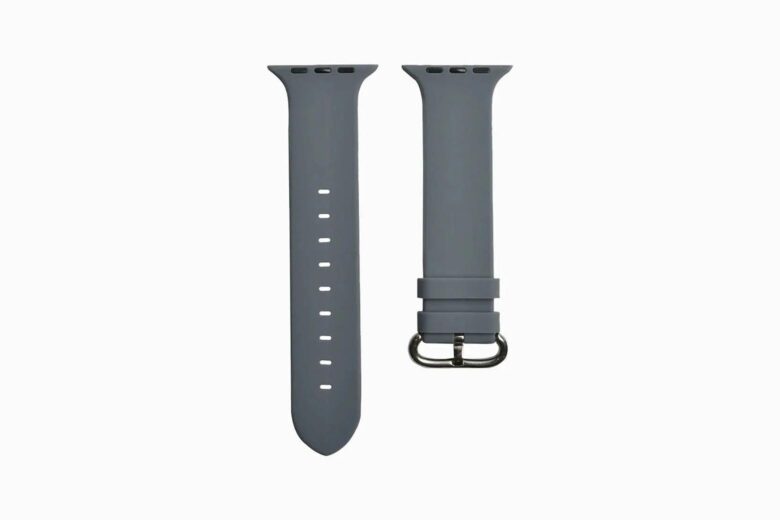 It wouldn't be an overstatement to say that Horus has revolutionized the watch strap industry. The label has a knack for creating stylish and ergonomic watch band designs, such as this rubber strap for both men and women.
Horus watch straps are designed to modernize some of the world's best watches, and here the brand works its magic on the technically advanced timepiece that is the Apple Watch. It's as comfortable as it is aesthetically pleasing with a simple and streamlined design and tang-buckle fastening.
Crafted from 100% rubber, this strap is durable, stain-resistant, and water-repellant. No wonder Horus is a favorite among celebrities when it comes to designer Apple Watch bands.
Best for: Exclusive elegance that's still appropriate for everyday wear.
| | |
| --- | --- |
| Colors: | White for women, grey for men |
| Compatible Apple Watch models: | 42 mm / 44 mm |
Secbolt: Best Apple Watch strap for small wrists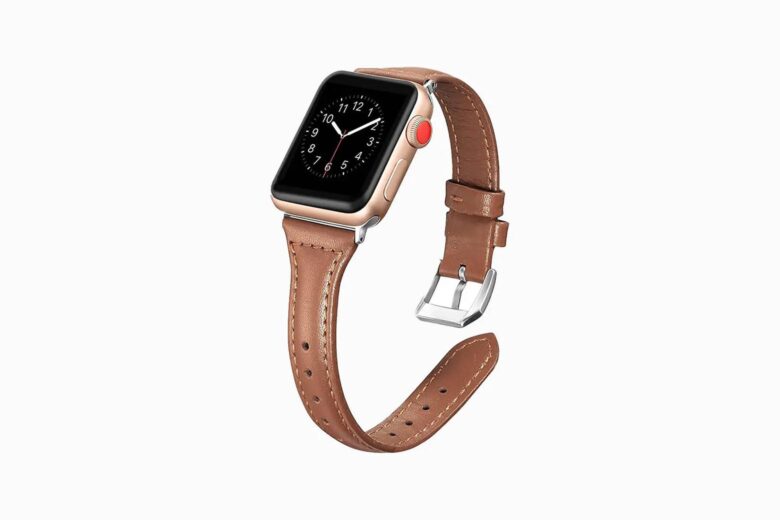 There's nothing worse than a watch strap that doesn't fit properly—especially if it's too big. So for those of you with small wrists, it's worth investing in an extra slim wristband like this one by Secbolt.
As well as being adjustable so you can achieve the perfect fit, this watch strap is made from genuine leather with a polished stainless steel buckle. The overall aesthetic is traditional yet timeless, suitable for pairing with both casual and office attire.
The leather of this strap will also conform to your wrist with time for superior comfort. You'll probably forget you're even wearing it.
Best for: An optimum fit for those with the most slender wrists.
| | |
| --- | --- |
| Colors: | A range including beige, black, and brown |
| Compatible Apple Watch models: | 38 mm / 40 mm / 42 mm / 44 mm |
| Wrist size: | 140 mm to 200 mm |
Nomad: Best waterproof Apple Watch strap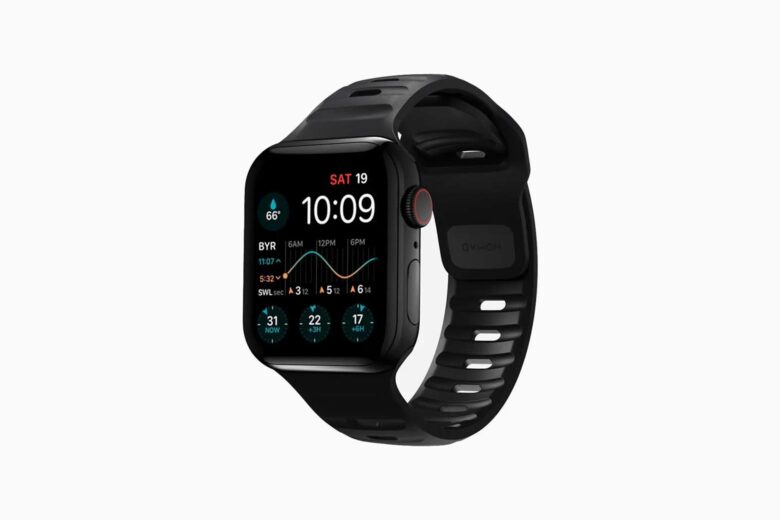 Apple watches have a water resistance rating of 50 meters. But what about the watch strap? If you plan to wear your watch for workouts—or want to know it will survive the occasional downpour or dip in the shower—then you need a band that won't absorb water and has a quick dry time. Like this one by Nomad.
This sports watch band is designed to survive the most intense workouts as well as everyday wear. It's made from a soft and flexible FKM rubber—lightweight and breathable for day-to-night comfort. The pin-and-tuck mechanism offers security as well as being low-key enough not to distract from the rest of the sleek design.
This Nomad watch strap is 100% waterproof and has interior channels for ventilation. Up there with the best Apple Watch bands for men.
Best for: A watch strap that won't wince at the sight of water.
| | |
| --- | --- |
| Colors: | Black or grey |
| Compatible Apple Watch models: | 38 mm / 40 mm / 42 mm / 44 mm |
| Wrist size: | 150 mm to 200 mm |
Buyers guide: how to choose a new strap for your Apple Watch
When choosing a new strap or band for your Apple Watch, feel free to be creative. After all, swapping up a watch strap is all about adding personality to your off-the-shelf model.
However, there are a couple of things to consider when browsing the best Apple Watch bands.
Material
There are a few different material options when it comes to iWatch bands. Here are the pros and cons of each:
Leather – this is a classic choice, perfect if you plan to wear your Apple Watch to formal occasions. In brown, leather can be a refined look for everyday wear. It will also age nicely over time, provided you take good care of it. Leather watch bands are not very water-resistant, however.
Stainless steel – a stainless steel bracelet offers timeless style as well as being hard-wearing and weather-resistant. You can also get a mesh, or Milanese, bracelet—similar to chainmail with tiny interlaced rings. The downside to stainless steel Apple Watch bracelets is that they can be quite heavy.
Rubber – rubber is a popular option for dive watches and a very functional choice, being both waterproof and stain-resistant. Look for rubber straps with interior ventilation channels to allow for breathability. Some straps are made from TPU, a rubber-like material that's both scratch and shock-resistant and often used to make iPhone cases.
Nylon – this is a very practical option, being lightweight, comfortable, breathable, and easy to wash. However, it does look very casual.
Buckle
There are 3 main types of clasp or buckle found on watch straps:
Deployment clasp – unfolds into thirds and locks in place with a latch. Very secure but will need to be resized by a professional.
Butterfly clasp – these are essentially invisible, making them a great choice on a sleek and elegant strap. They consist of two metal hinges that unfold, kind of like a butterfly.
Tang buckle – these are the same as the buckle you find on a belt. They are easy to adjust without having to be resized and come in different widths. Those with a thicker pin are typically more secure.
Pin-and-tuck – these mechanisms are very unobtrusive and low-profile, but some people find them less secure than the other buckle types.
Generally, buckles are made from stainless steel but can be made from plastic.
Size
The majority of Apple Watch wristbands come in a standard length suitable for most wrist sizes. If your wrist is particularly small, however, you may want a shorter watch strap. Most watch strap lengths are measured in millimeters.
Color
The best color for smartwatch bands depends on your particular style preferences as well as where and when you plan to wear your watch. Black is timeless and versatile, while brown can be casual and refined at the same time. Lighter shades look good, especially during the summer months, but will also show up stains.
Apple Watch Series
Before buying, make sure the strap is compatible with your particular Apple Watch. You need to make sure that your watch strap corresponds to the case size of your Apple watch. Apple Watch Series 1, 2, and 3 have a 38mm or 40mm case, while Apple Watches Series 4, 5, 6, and the SE have a 42mm or 44mm case.
To change your Apple Watch band, simply press the band release button on the watch, slide the band across, remove it, then slide the new band in.
Frequently asked questions about Apple Watch bands and straps