Revered for its ability to reimagine the norm and re-write the watchmaking paradigm, Jaeger-LeCoultre knows a thing or two about bucking the trend. Few Swiss brands can lay claim to as many inventions and innovations as JLC, aka the watchmaker's watchmaker.
Taking the idea of time-keeping and playing with it and perfecting it with spectacular success, here's why JLC watches are worth the money.
At a glance
| | |
| --- | --- |
| | |
| Industry: Watches | Founded: 1833 |
| Headquarters: Switzerland | Founder: Antoine LeCoultre |
| Watch Collections: tool watches, dive watches, dress watches, women's watches, and clocks | Parent organization: The Richemont Group |
| Annual Revenue: $600 million USD | Website: jaeger-lecoultre.com |
Jaeger-LeCoultre price
How much does a Jaeger-LeCoultre cost?
The starting price for a JLC watch is around $4,750 for the most basic Jaeger-LeCoultre Reverso or $7,550 for an entry-level Polaris. Prices for watches from the brand's Master collection start at $8,600. Jaeger-LeCoultre prices can reach staggering heights, such as over $1 million for one of the brand's Hybris Mechanica timepieces.
What is the most expensive Jaeger-LeCoultre watch?
The most expensive Jaeger-LeCoultre watch currently on the market is the Hybris Mechanica Grande Sonnerie, which costs $2.5 million. The timepiece features 1,300 different parts and 26 complications. It's the brand's most complicated watch, made of white gold, and can chime the entire Westminster chimes melody. It also has a petite sonnerie, minute repeater, and silent modes, as well as a partially skeletonized dial.
However, it's not the most expensive Jaeger-LeCoultre watch ever made. That title goes to the Jaeger-LeCoultre Joaillerie 101 Manchette, crafted as a gift for Queen Elizabeth II and costing $26 million, which puts it up there with the 21 most expensive watches in the world.
What is the cheapest Jaeger-LeCoultre watch?
The cheapest Jaeger-LeCoultre watch is an entry-level Reverso Classic with a quartz movement, which you can pick up for around $4,750. An entry-level Polaris Automatic in stainless steel will set you back around $7,550 while Polaris Date prices start at $8,700.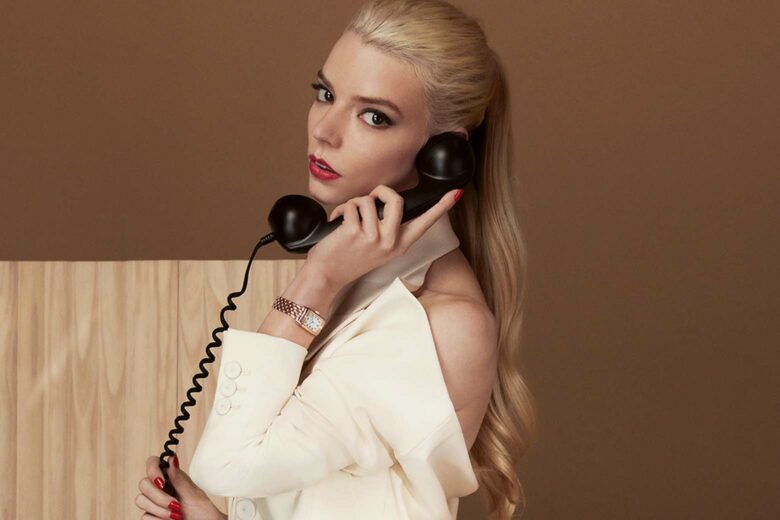 About the brand
Jaeger-LeCoultre history
Jaeger-LeCoultre began with Antoine LeCoultre, a self-taught watchmaker who, in 1866, founded the first Manufacture in Switzerland's Vallée de Joux. He was responsible for several groundbreaking inventions including the milonometer (the first measuring instrument accurate to the micron) and a crown-winding system. By the 1890s, his company was producing Grand Complication watches as well as movement blanks for none other than Patek Philippe.
Meanwhile, Edmond Jaeger, a well-regarded French watchmaker, founded his own company in Paris in 1880. He was the official Horologer of the French Navy and specialized in mechanisms that could measure speed.
Back in Switzerland, Antoine LeCoultre had passed away, and the company was in the hands of Jacques David LeCoultre. In 1903, LeCoultre learned of Edmond Jaeger's challenge to Swiss watchmakers to manufacture the ultra-thin watch movements that he had invented. LeCoultre cycled 20 km from the factory to the nearest telephone to accept Jaeger's challenge.
This was the beginning of the Jaeger-LeCoultre collaboration although it wasn't until 1937 that Jaeger officially merged with LeCoultre to form the Jaeger-LeCoultre brand—pronounced Jeh-jair Luh-cool-truh.
But even before then, this business alliance was incredibly fruitful, leading to LeCoultre's ultra-thin calibers, first seen in 1903, and the company's production of movements for the Cartier fashion house, including the tiny Calibre 7BF Duoplan in 1925. The famous Jaeger-LeCoultre Reverso watch was also released in 1931.
In 1950 came the Memovox, which led, in 1959, to the release of the Memovox Deep Sea, the first automatic diver's watch with a mechanical alarm, as well as the Memovox World Time and Memovox Polaris.
Other inventions during this century included the world's first fully automatic watch, the Futurematic, as well as the Geophysic, a chronometer that is water, shock, and magnetic-field resistant. And there was also the iconic two-faced Reverso Duo in 1994.
Jaeger-LeCoultre has continued to innovate and surprise the watchmaking world into the 21st century, establishing a reputation for making some of the most complex men's watches on the market, consistently beating records, and creating world-firsts.
Interesting facts about the brand Jaeger-LeCoultre
In 1929, the company released the Calibre 101 Reine, worn by Queen Elizabeth II at her coronation in 1953.
JLC is known as the watchmakers' watchmaker because it supplies movements to other watchmaking companies such as Vacheron Constantin, Audemars Piguet, and even IWC Schaffhausen, who have all used JLC movements at various times.
Jaeger-LeCoultre has made a total of 1,231 movements and has over 400 patents.
Famous fans of Jaeger-LeCoultre include Presidents Bill Clinton and Lyndon B. Johnson and actors John Hamm and Benedict Cumberbatch, while Amanda Seyfried was the face of the 2021 Jaeger-LeCoultre Reverso watch campaign.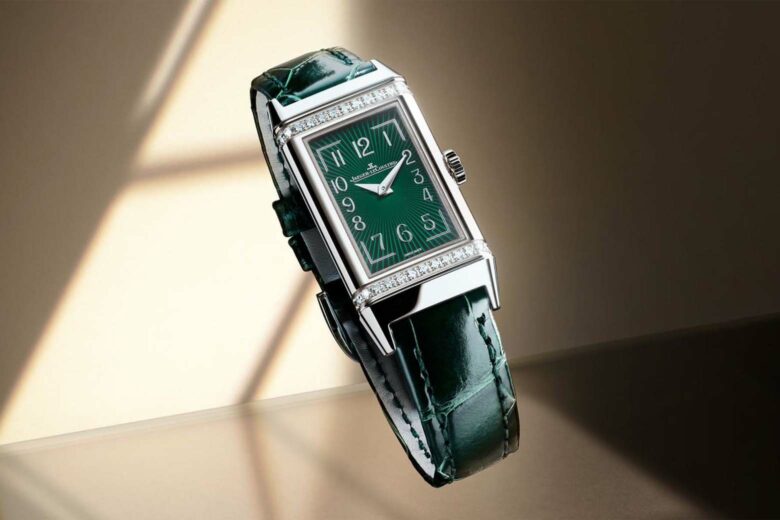 Jaeger-LeCoultre product range
Jaeger-LeCoultre watches can be divided into three categories: sports watches, dress watches, and exceptionally complex watches such as minute repeaters and tourbillons. The brand specializes in ultra-thin or ultra-small watches as well as its world-famous Jaeger-LeCoultre Atmos clock.
In the luxury sports watch category, you have the Polaris with timeless style while JLC's most famous dress watch is the Reverso. There's also the highly exclusive Calibre 101. The Jaeger-LeCoultre Master Collection contains some superbly complex offerings while elegant and functional women's watches are found in the Rendez-Vous collection.
Signature materials and craftsmanship
A small army of creators, from watchmakers and engineers to artisans, and designers, all come together under the single roof of Jaeger-LeCoultre's Manufacture, tirelessly working to create the brand's famously high-quality timepieces.
JLC craftsmanship is defined by a combination of the new and the old. Guilloché engraving, for example, is done with refurbished 19th-century machines and the factory contains hand tools that can recreate watch parts that are over half a century old.
But you'll also find high-tech laser-cutting machines and CNC machines as well as the company's demanding '1,000 Hour Control' protocol—1,000 hours of quality control testing using state-of-the-art equipment to spin, freeze, and expose JLC watches to extremely high pressure to ensure they meet the requisite standards.
JLC's decorative processes are exceptionally time-consuming and intricate. Hand-painted enamel dials can take 100 hours to complete, and the perlage decorative technique is also done by hand using a unique spinning tool. Everything takes place on the micro-scale. Polishing is done under a microscope and jewels are placed in the calibre with tweezers.
JLC is committed to reducing its carbon footprint and a circular economy approach, minimizing waste as much as possible. The company has been an active member of the Responsible Jewellery Council since 2008, ensuring the responsible sourcing of natural materials.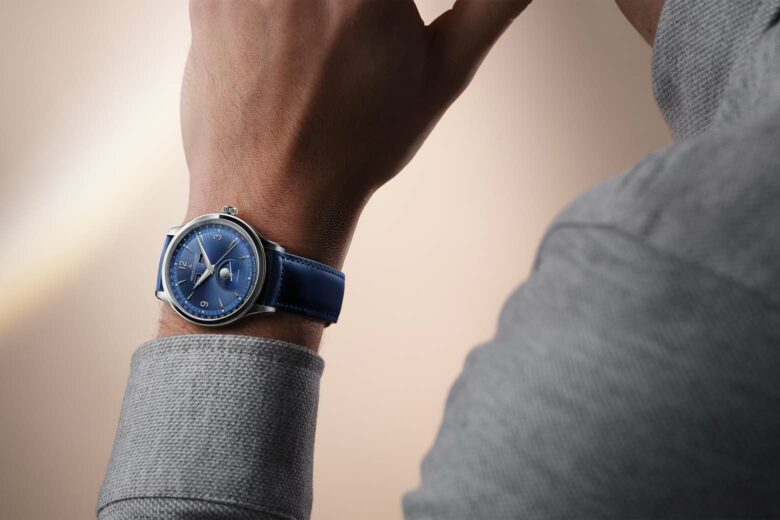 Where is JLC made?
JLC watches are made in the small village of Le Sentier in the famous Vallée de Joux in Switzerland, alongside other famous Swiss watch brands such as Patek Philippe and Vacheron Constantin. The company's manufacture is 25,000 square meters and employs 1,300 people.
Brand values
| | |
| --- | --- |
| Vegan options: | No |
| Carbon-neutral: | No |
| Gives back: | Yes |
Jaeger-LeCoultre watches
Reverso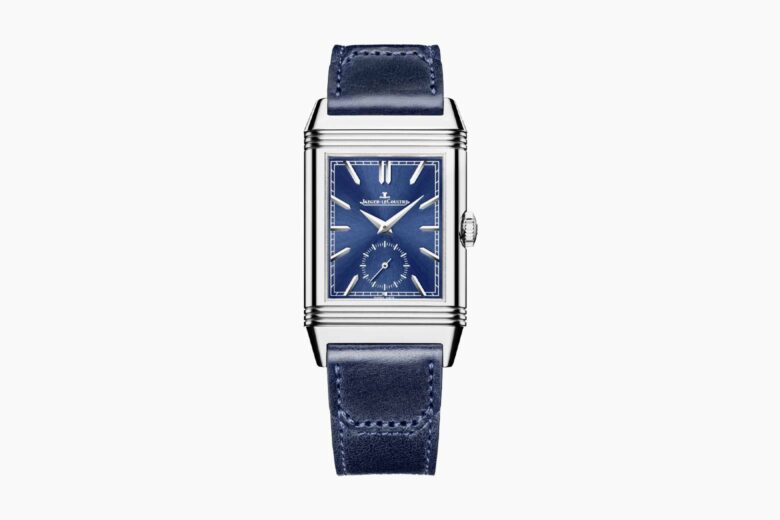 Originally created for polo players, the Jaeger-LeCoultre Reverso is one of the most inventive Switzerland watches ever made. Emblematic of classic Art Deco style, the pioneering reversible case makes it instantly recognizable. The luxury timepiece is available in countless iterations featuring everything from unique dial colors and engravings to a double watch face in the Reverso Duetto.
| | |
| --- | --- |
| Price: | $4,750 – $37,700 |
| First release year: | 1931 |
| # of models: | 40 |
| Current case size: | 34.2 x 21 mm – 49.4 x 29.9 mm |
| Movement: | Automatic, manual, and quartz |
| Water resistance: | 30 m |
| Crystal: | Sapphire |
Master (Control, Ultra Thin, Grande Tradition)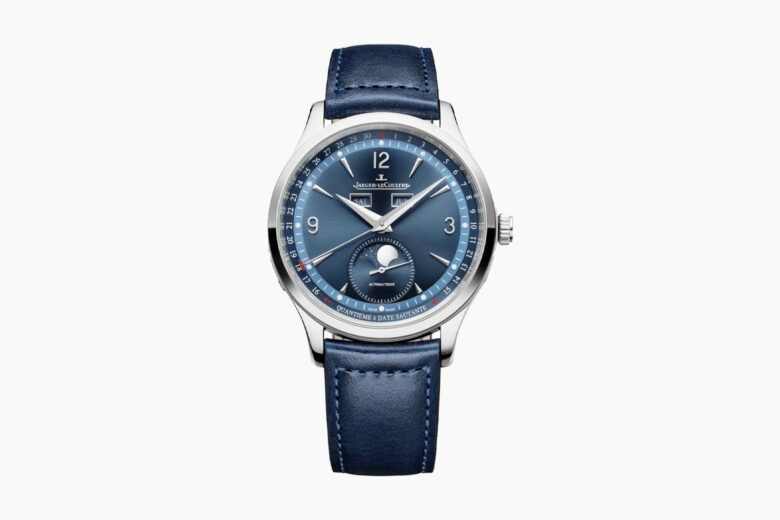 Defined by its sleek elegance and understated design, Jaeger-LeCoultre's Master collection includes the Master Control with its 1950s-style and mechanical excellence; the Master Ultra, noteworthy for its incredibly flat case; and the Jaeger-LeCoultre Master Grande Tradition, the most expensive timepiece in the watch family.
| | |
| --- | --- |
| Price: | $8,600 – $100,000 and price upon request |
| First release year: | 1833 |
| # of models: | 45 |
| Current case size: | 36 mm – 43 mm |
| Movement: | Automatic and manual |
| Water resistance: | 50 m |
| Crystal: | Sapphire |
Polaris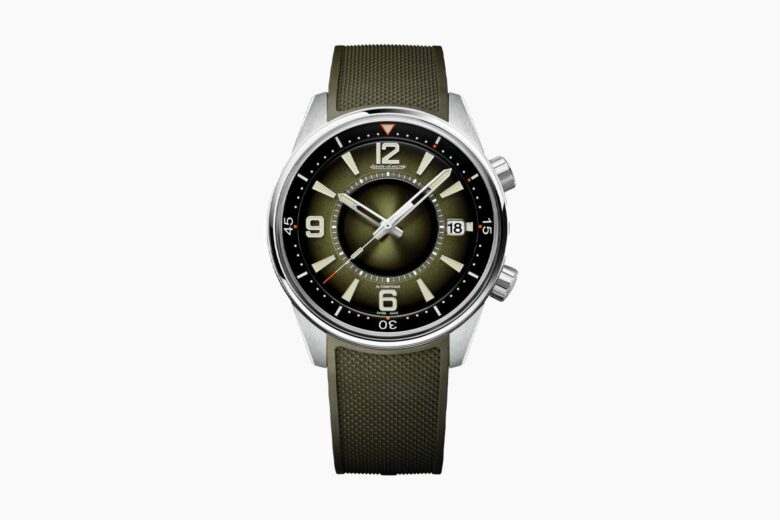 The JLC Polaris is a sporty watch that offers laidback luxury for watch lovers wanting something durable for everyday adventures. Highly functional with a legible dial featuring Super-LumiNova hands and Arabic numerals and a sharply streamlined case, it features a sapphire case-back to allow you to watch the in-house automatic movement at work.
| | |
| --- | --- |
| Price: | $7,550 – $48,100 |
| First release year: | 1968 |
| # of models: | 18 |
| Current case size: | 41 mm – 44 mm |
| Movement: | Automatic |
| Water resistance: | 100 – 200 m |
| Crystal: | Sapphire |
Duomètre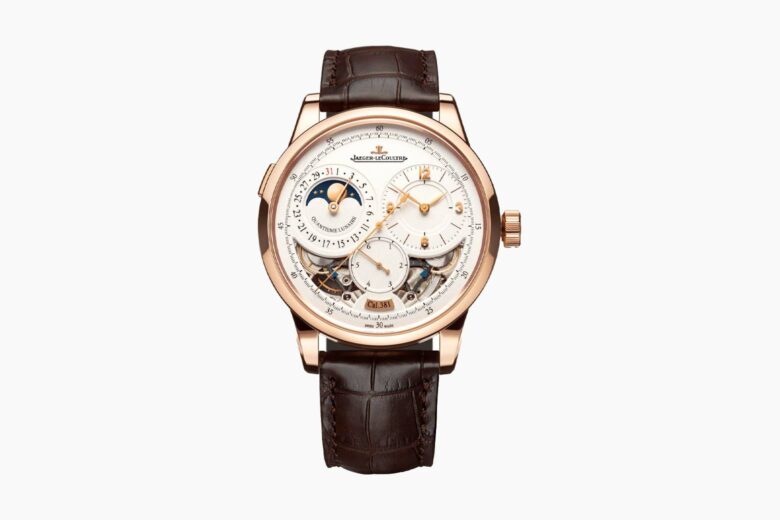 Distinguished by its two independent barrels wound by one crown, each driving a different part of the watch's movement, the Duomètre's precision and accuracy is guaranteed. The Dual-Wing Concept also secures the watch a position among the most complex Swiss timepieces ever. The Duomètre range includes five different models, each available in a variety of materials and dial colors.
| | |
| --- | --- |
| Price: | $44,300 – $53,500 |
| First release year: | 2009 |
| # of models: | 5 |
| Current case size: | 40.5 mm – 42 mm |
| Movement: | Manual |
| Water resistance: | 50 m |
| Crystal: | Sapphire |
Rendez-Vous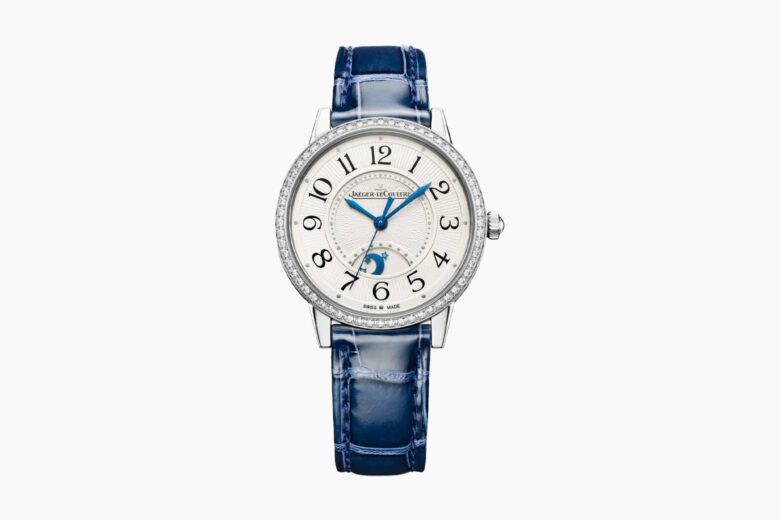 Jaeger-LeCoultre was one of the first luxury watch brands to make high-end timepieces exclusively for women. The Rendez-Vous collection is designed for the modern woman— superbly functional and exquisitely elegant. These Swiss watches feature sapphire backs to allow you to watch the automatic movement at work while the face of the watch is typically highly decorated, whether with engravings or mother-of-pearl.
| | |
| --- | --- |
| Price: | $8,050 – $100,000 |
| First release year: | 2012 |
| # of models: | 31 |
| Current case size: | 29 mm – 39 mm |
| Movement: | Automatic and quartz |
| Water resistance: | 30 m |
| Crystal: | Sapphire |
Calibre 101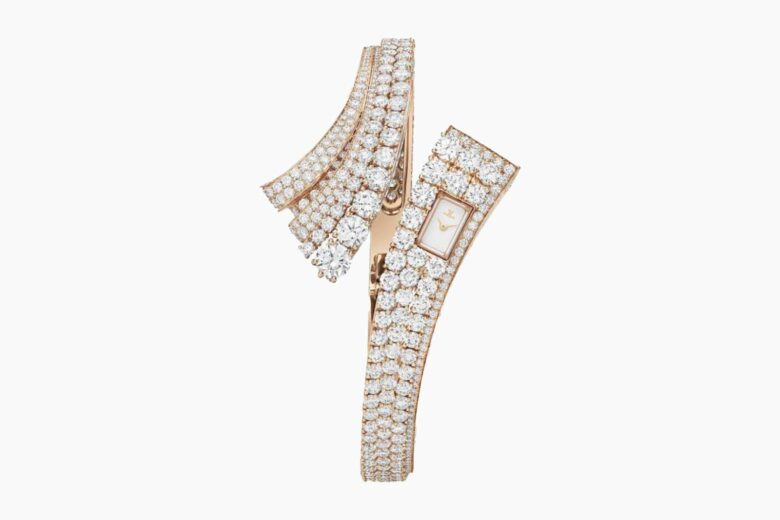 First unveiled in 1929, the Calibre 101 remains the world's smallest mechanical watch movement, hand-wound and weighing just 1 gram. Worn by Elizabeth II at her coronation, this is a delicate yet truly majestic creation, combining the best of haute horlogerie and high-end jewelry. In 2020, the brand released two new models for the collection: the 101 Snowdrop and the 1010 Bangle, both tiny and both decked in diamonds.
| | |
| --- | --- |
| Price: | Price on request |
| First release year: | 1929 |
| # of models: | 4 |
| Current case size: | 5.98 or 6.8 mm x 18.35 mm |
| Movement: | Manual |
| Water resistance: | 30 m |
| Crystal: | Sapphire |
Hybris Mechanica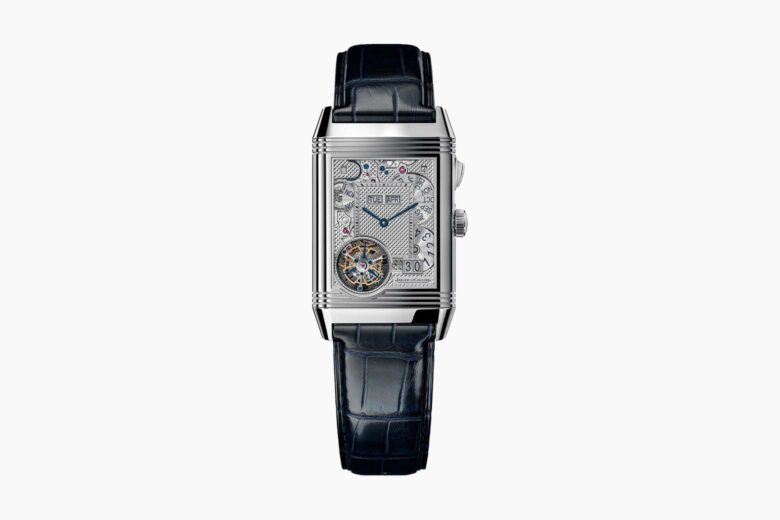 Jaeger-LeCoultre's Hybris Mechanica collection is epitomized in a single word: unique. These three timekeepers are unlike any you've seen before. There's the Atmos Hybris Mechanica Calibre 590, a perpetual clock that can display the solar system and its cycles; the breathtaking Reverso Hybris Mechanica Calibre 185 Quadriptyque, a watch with four faces; and, finally, the Jaeger-LeCoultre Master Grande Tradition Gyrotourbillon Westminster Perpétuel, which replicates the chime of the Big Ben clock tower in London.
| | |
| --- | --- |
| Price: | $805,000 – $1.6 million |
| First release year: | 2003 |
| # of models: | 3 |
| Current case size: | 51.2 x 31 mm and 43 x 14.08 mm |
| Movement: | Perpetual and manual |
| Water resistance: | 30 m |
| Crystal: | Sapphire |
Atmos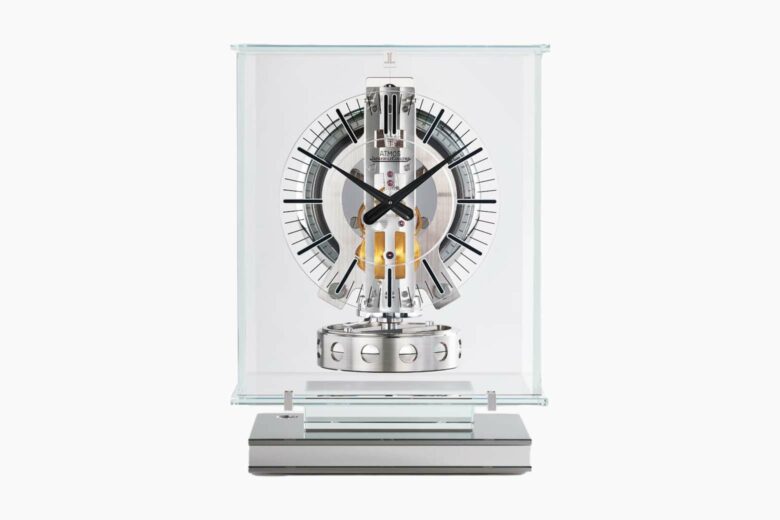 Not actually a watch but one of the world's most innovative clocks, the Jaeger-LeCoultre Atmos is a visionary technical masterpiece. Powered by atmospheric pressure and temperature changes, it's essentially a perpetual motion device, allowing it to run for years without human intervention. The Atmos is such a ground-breaking creation that it's chosen as a traditional gift to heads of state and dignitaries.
| | |
| --- | --- |
| Price: | $7,300 – $30,400 |
| First release year: | 1939 |
| # of models: | 9 |
| Movement: | Perpetual movement |
Where to buy Jaeger-LeCoultre
You can buy your Jaeger-LeCoultre watch directly from the brand's website, guaranteeing its authenticity. The website offers secure payment via bank card, Klarna, PayPal, or bank transfer for orders over $2,000.
Another option is to buy pre-owned JLC watches from a trusted online retailer like FARFETCH or Jomashop where you can be sure the timepiece is genuine. Jaeger Le-Coultre watches are also available on Mr Porter.
Jaeger-LeCoultre shipping
Jaeger-LeCoultre offers complimentary delivery. Standard delivery is 5 to 7 business days while the Urgent Delivery service is 1 to 2 business days. You can also organize to pick your watch up from a Boutique in 1 to 2 business days. If buying from Jomashop, you will be charged $150 for international shipping, plus any customs charges or taxes. FARFETCH charges different delivery rates depending on the country, as does Mr Porter.
Jaeger-LeCoultre return policy
Jaeger-LeCoultre offers free returns for exchange or refund. Simply contact the company's customer service team to arrange a return within 14 days of your watch being delivered. Engraved and other personalized watches cannot be exchanged or returned.
Jomashop has a 3-day returns period, while FARFETCH accepts returns within 14 days and Mr Porter within 28 days. All returns are subject to quality control.
Jaeger-LeCoultre customer service number
Contact Jaeger-LeCoultre's customer service department at 020 3107 1833 for any help with your purchase.
Jaeger-LeCoultre social media profiles
Frequently asked questions about Jaeger-LeCoultre
Do Jaeger-LeCoultre hold their value?
Jaeger-LeCoultre watches hold their value, and some even appreciate in value. These iconic timepieces are incredibly high quality and coveted by collectors which allows them to retain their value and even go up in worth as demand increases.
How do you pronounce Jaeger-LeCoultre?
Jaeger-LeCoultre is pronounced Jeh-jair Luh-cool-truh ​[ʒeʒɛʁ ləkultʁ]. For more information about this famous Swiss watch company, check out our in-depth guide, including Jaeger-LeCoultre's pronunciation, history, and products.
How long does a Jaeger-LeCoultre last?
A Jaeger-LeCoultre watch can last a lifetime as long as it's properly looked after. You should have your JLC watch regularly serviced by an expert. They will replace worn components and change the oils, ensuring that it runs properly.
What country is Jaeger-LeCoultre from?
Jaeger-LeCoultre is from Switzerland. The company was founded in 1833 in Le Sentier and is now one of the country's most famous watchmakers. For more about Jaeger-LeCoultre, including Jaeger-LeCoultre prices and product range, see our guide.