If there's one word that's synonymous with luxury watches, it's expensive. The world's most exciting, exclusive, and extravagant timepieces are multi-million dollar creations destined to end up in fiercely guarded private collections, if not museums. It's called Haute Horlogerie for a reason.
There are pilot watches, dive watches, field watches, and dress watches. But the world's most expensive watches are in a class of their own. Their very raison d'être appears to be to break world records, catch the eye of top collectors, and encourage millionaires and billionaires, members of royal families, and Hollywood A-listers to empty their pockets.
Hailing from the most expensive watch brands in the world (think Patek Philippe, Rolex, Chopard, and Vacheron Constantin), these watches turn the heads of anyone even mildly interested in timepieces with their exquisite engineering, superb styling, precious stones, precious metals, and their exclusivity—many being one-offs or limited editions.
So if you want to know the most expensive watch in the world with its price, keep reading. We used inflation-adjusted prices to create our list of the world's most high-end watches ever sold, so you know how much these watches would be worth if they went on the market today.[1]
Our rundown of the world's most expensive watches—many of which also happen to be the rarest watches in the world—includes a whole range of timepieces, from vintage pocket-watches to timepieces more akin to luxury jewelry. Sure, you might not be able to afford any of them right now—but what's the harm in dreaming?
The 21 most expensive watches in the world
21. Patek Philippe Worldtimer Guilloché Ref. 2523/1: $5.5 million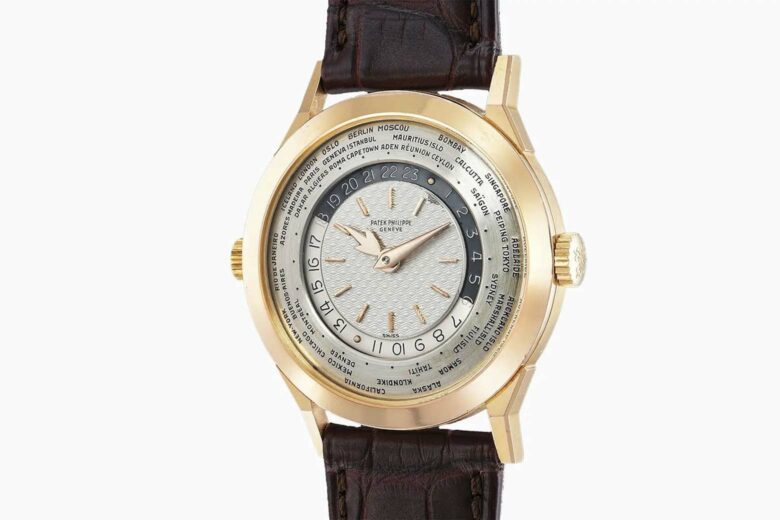 Patek Philippe is one of the world's top luxury watch brands, so be prepared to see the name many times on this list. First up, this ultra-rare Patek Philippe world timer is one of only four in existence. Only two versions of the timepiece have ever appeared at auction.
This one is crafted in rose gold with an elegant and highly distinctive guilloché patterned dial. One of the first Patek Philippe creations to incorporate the brand's dual-crown system, you use one crown to wind the watch and the other to control the city disk for the 24-city timer. The combination of polished and brushed surfaces adds to the sophisticated aura of this one-of-a-kind timekeeper.
Learn more about Patek Philippe.
Best for: The most refined of rare beasts.
20. Patek Philippe Platinum World Time Ref. 1415: $5.8 million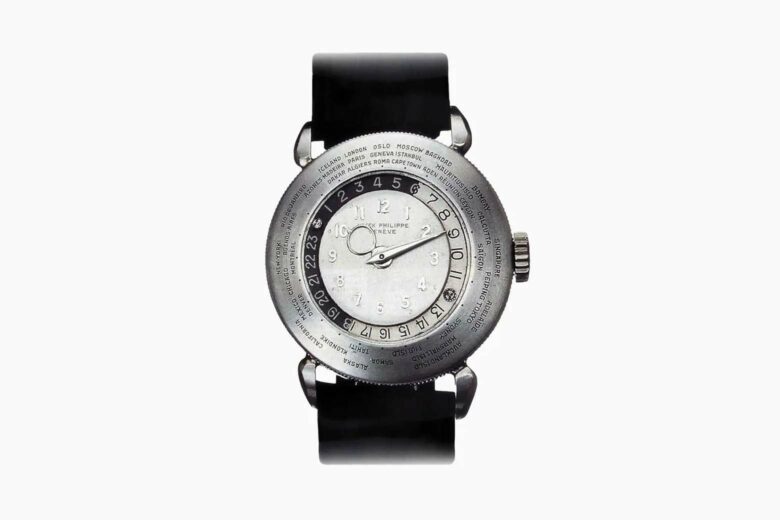 This watch already broke a world record as the most expensive watch ever after going on sale at Antiquorum's Geneva auction in April 2002, where it went for 6.6 million Swiss francs. It was then hardly seen again until it arrived at Christie's Hong Kong auction house in 2021, further adding to its enigmatic and unattainable air.
Today, it no longer holds the status of the world's priciest watch, but it remains a highly coveted timepiece. The only platinum reference 1415 HU in the world, this Patek Philippe masterpiece offers serious high-end drama with its monochrome aesthetic. The world-time mechanism is considered Patek Philippe's first production world timer.
Best for: A record-breaking example of horological brilliance.
19. Patek Philippe Yellow Gold Calibre 89: $6 million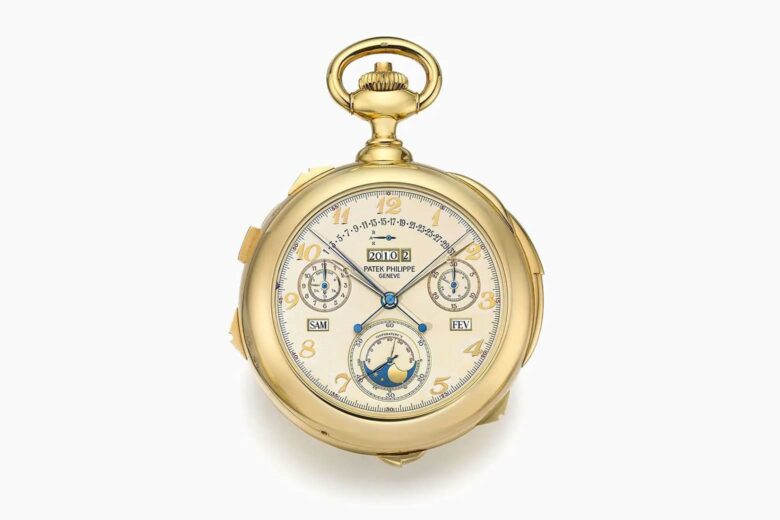 Known for some time as the most complicated wristwatch in the world, the Caliber 89 by Patek Philippe is one of only four. The other three are made from pink gold, white gold, and platinum.
Weighing only 1.1 kg, the timepiece features no less than 33 complications, including sunrise and sunset times, world time for 125 cities, a perpetual calendar, a split-second chronograph, a minute repeater, a barometer, an altimeter, and a compass. No wonder it took nine years to build the movement alone. It is indeed a top contender for the world's most expensive gold watch.
Despite this impressive engineering, Calibre 89 failed to find an owner during its most recent auction. But we're sure it won't stay homeless for long.
Best for: One of the most complicated and highly coveted watches in the world.
18. Rolex Daytona Unicorn Ref. 6265: $6.1 million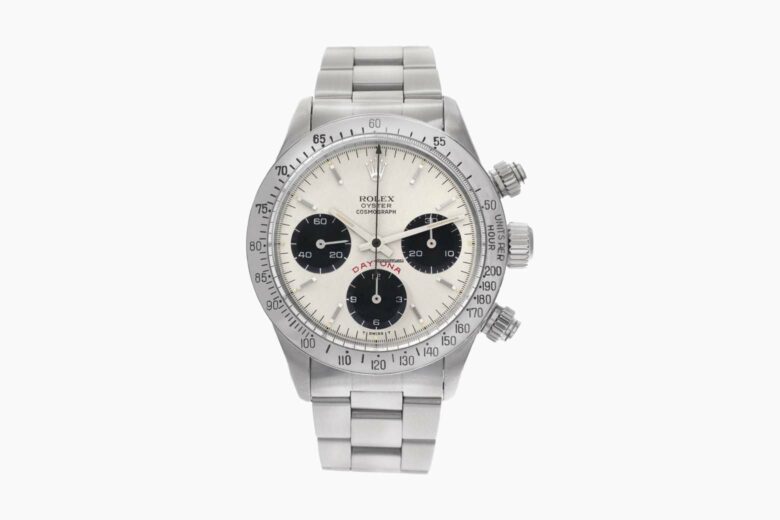 The second most expensive Rolex ever to be sold in public, this timepiece has been making waves ever since Hodinkee first profiled it in 2013. Collectors can't get their heads around the existence of a white gold vintage Daytona. The Daytona was meant to be an everyday sports watch, and so the decision to make it from a material as luxurious as white gold is unconventional, to say the least.
The Rolex Daytona Ref. 6265 was manufactured in 1970 and today comes with a deluxe white gold bracelet. This one-off wonder also features a beautifully contrasting black dial with white gold indexes.
Best for: Demonstrating that if there's one thing better than gold, it's white gold.
Learn more about Rolex watches.
17. Patek Philippe Titanium Ref. 5208T-010: $6.6 million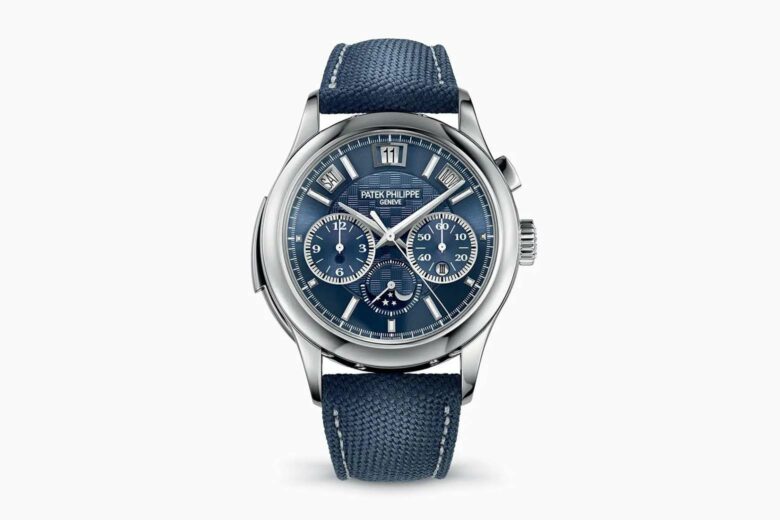 Many of the world's most expensive watches are one-offs—or at least incredibly rare. Like this Patek Philippe timepiece, the first and only titanium version of the Reference 5208 Triple Complication wristwatch. The brand very rarely uses titanium, immediately elevating this watch in the eyes of collectors. The timepiece also features a minute repeater, monopusher chronograph, and an instantaneous perpetual calendar.
The blue watch face has a hand-guilloched 'Carbon' motif, while a display back allows the lucky owner to admire the impeccable craftsmanship at work.
Best for: Turning heads with titanium, one of the rarest materials in the luxury watch world.
16. Patek Philippe Gold Chronograph Ref. 1527: $6.8 million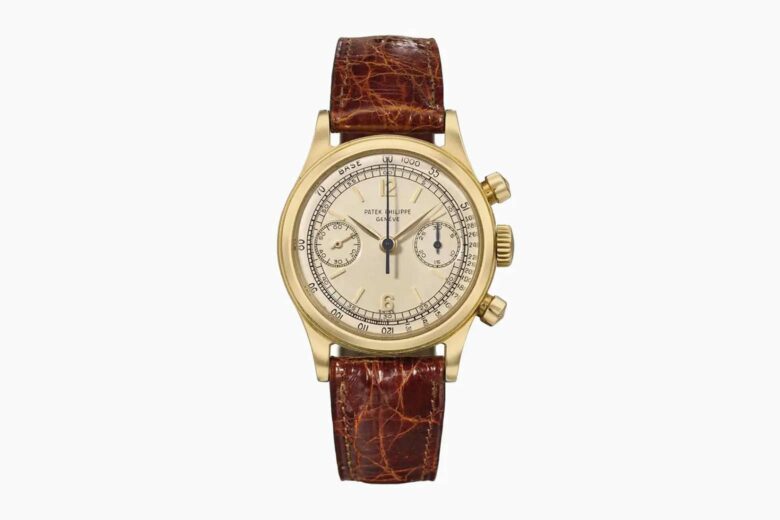 This important precursor of future Patek Philippe wristwatches created quite a stir when it was first launched in the 1940s. Its case design was indisputably avant-garde in style and proportions—rounder, larger, and with elongated and slightly curved lugs.
Despite the efforts of horology experts to uncover the details, not much is known about this watch, except that it was one of just two Ref. 1527 timepieces. It features a chronograph with date and moon phases. The movement also includes 23 jewels. The buckle is made from 18k gold which, along with the watch's rarity, partly explains the reason why it fetched such a high price when sold at auction.
Best for: A timepiece with an air of mystery and an aura of the unexpected.
15. Patek Philippe White Gold Calibre 89: $6.9 million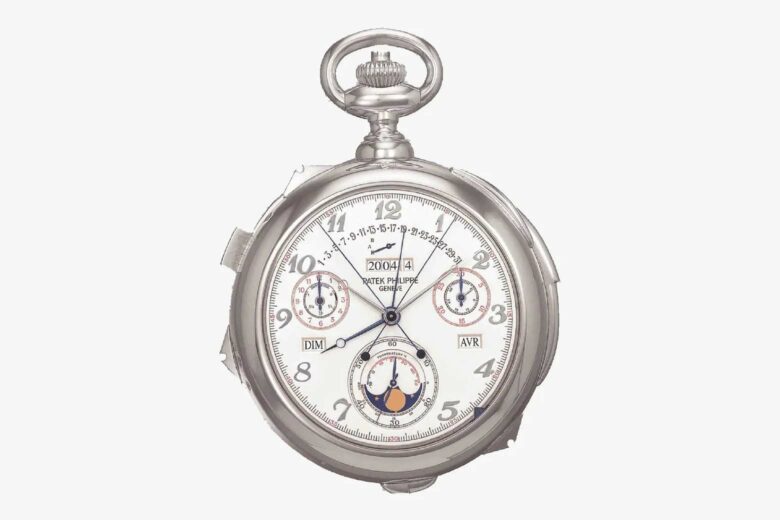 We've already explored the Calibre 89, aka the most complicated wristwatch in the world, and the timepiece returns again here as the 15th priciest watch ever sold, this time in white gold.
Patek Philippe first created the watch for the brand's 150th anniversary and incorporates an almost outrageous number of complications, including a second time-zone, sunrise and sunset timer, perpetual calendar, century leap year correction, solstice and zodiac indication, and an unusual date of Easter indication. This latter complication is particularly noteworthy—complicated to create given it's determined astronomically and varies each year.
With the extensive engineering going on inside the case, it's no wonder that this astronomical watch is an impressive 88.2 mm in diameter and 41.07 mm thick—a true behemoth.
Best for: More complications than you could ever possibly need.
14. Patek Philippe Two-Crown Worldtime Ref. 2523 Eurasia Dial: $7.7 million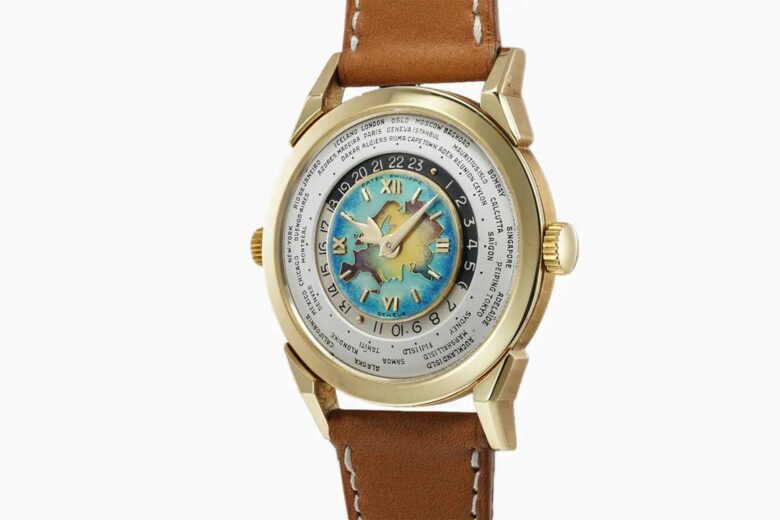 Known as a 'grail' watch, highly covetable and superbly desirable, this Patek Philippe timepiece is one of the most mythical and legendary in the horological world—befitting of a brand that has created some of the best men's watches of all time.
The watch is known as the Silk Road 2523. Its standout feature is a dial featuring a map of Eurasia. It also boasts a world time complication, dual crown, 41-city ring, and is both elaborate and instantly iconic at once. Only three yellow gold 2423 world timers with this particular dial exist—hence why collectors are willing to pay over $7.5 million to own one.
Best for: Billionaire travelers and bling-hungry jetsetters, off on a tour of Europe.
13. Patek Philippe Stainless Steel Ref. 5016A-010: $7.9 million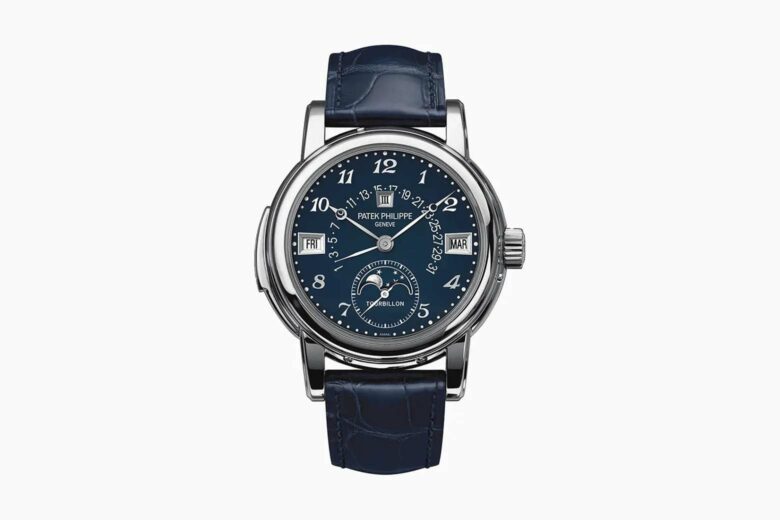 This Patek Philippe timepiece is based on the brand's reference 5016 and is an exquisitely complicated and wondrously high-end creation. While the Ref. 5016 fell out of production around 2011, the company decided to resurrect it for this occasion. The reference is already incredibly rare and this one-off is totally unique, hence the willingness of watch fanatics to dig deep to secure it.
The timepiece features a minute repeater, a tourbillon, and a perpetual calendar with a retrograde date—three of the most cherished watch complications. It also comes with a distinctive blue dial made of Grand-Feu enamel and the movement is housed inside a small 36.8 mm case.
Best for: The rebirth of a classic, brought back to life for one lucky owner.
12. Vacheron Constantin 57260: $8 million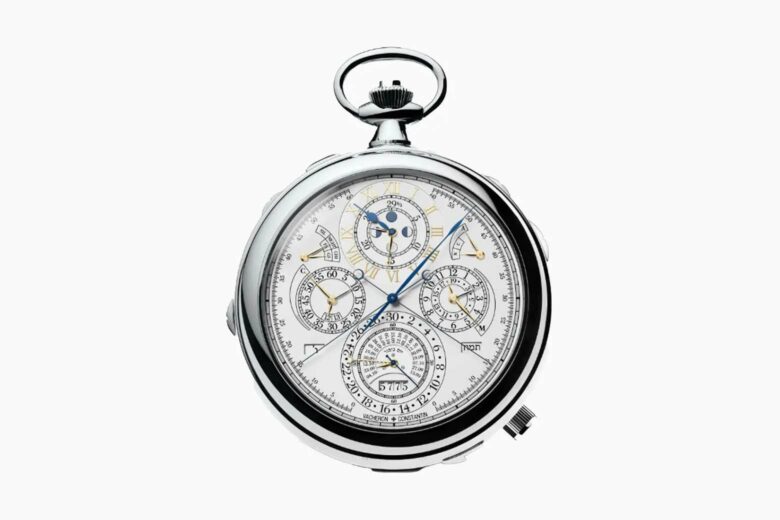 A commission for a private client, this Vacheron Constantin timepiece really is the most complicated watch in the world and includes 57 different complications, made up of 2826 individual components and 242 jewels. Ten of those complications were brand new horological inventions at the time of manufacture.
Some of the most exceptional functions? The Judaic calendar, a 'night mode', and a double retrograde split-seconds chronograph. The case is relatively simple and unfussy, allowing the peerless mechanics to take center stage. It seems appropriate that this watch sold for around $8 million, given that it took three watchmakers 8 years to design and create.
Learn more about Vacheron Constantin.
Best for: The last word in intricate, ornate, and ridiculously complicated timepieces.
11. Patek Philippe Gobbi Milan 'Heures Universelles' Ref. 2523: $9 million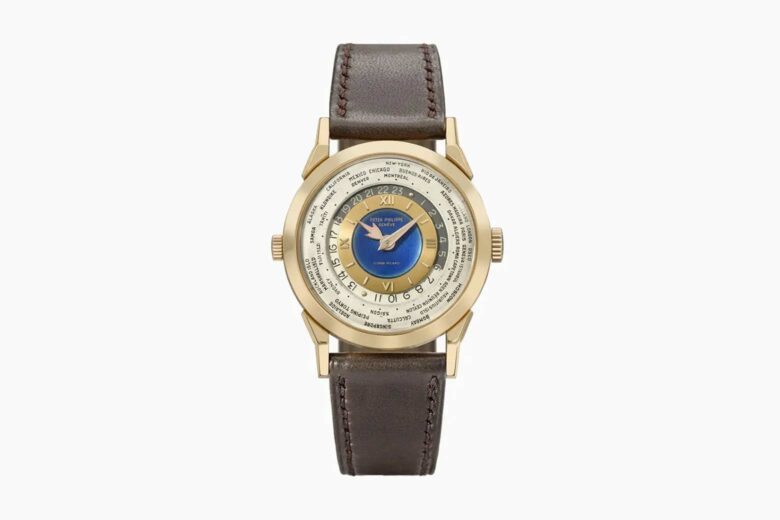 As this list proves, Patek Philippe is particularly skilled at creating the kind of watches that collectors will fight over, and this double-crown world timer is yet another example.
Featuring a blue enamel dial that contrasts beautifully with the luxurious 18k pink gold case, it doesn't take a watch expert to identify this timepiece as something special. It features the Heures Universelles world time system as patented in the 1930s by horological icon, Louis Cottier. And it's also the only known reference 2523 to feature the signature of both Patek Philippe and Gobbi Milano.
Best for: Telling the time all over the world in the most traffic-stopping and eye-catching way.
10. Patek Philippe Stainless Steel Ref. 1518: $12 million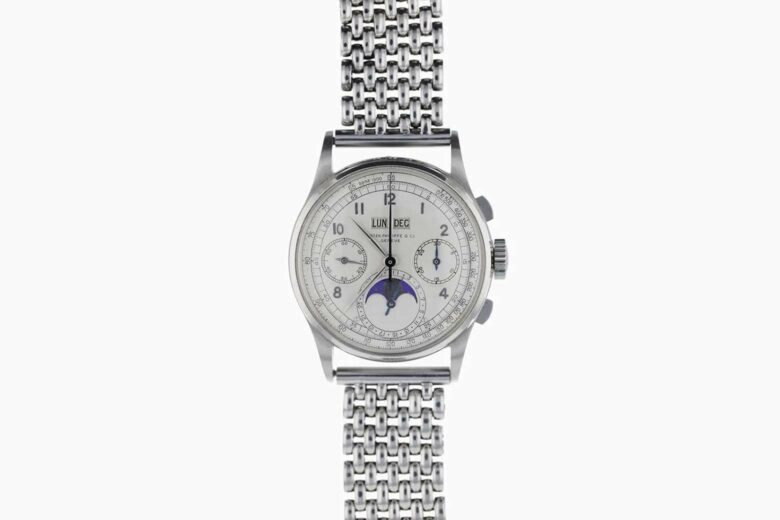 Part of a limited edition four-piece series, the main appeal of this particular watch lies in its case. Made with a high-grade stainless steel case, it distinguishes itself from other Patek Philippe luxury watches, typically made of yellow or rose gold.
First introduced in 1941, the Patek Philippe Ref.1518 made horology headlines as the first-ever perpetual calendar and chronograph—yet another reason why this watch impresses collectors. And while you might think steel would make a watch less valuable than gold, it's hard to find high-end watches in this material. Rarity always pushes prices up.
Best for: Proof that stainless steel can also be sophisticated and sought-after.
9. Jacob & Co. Billionaire Watch: $18 million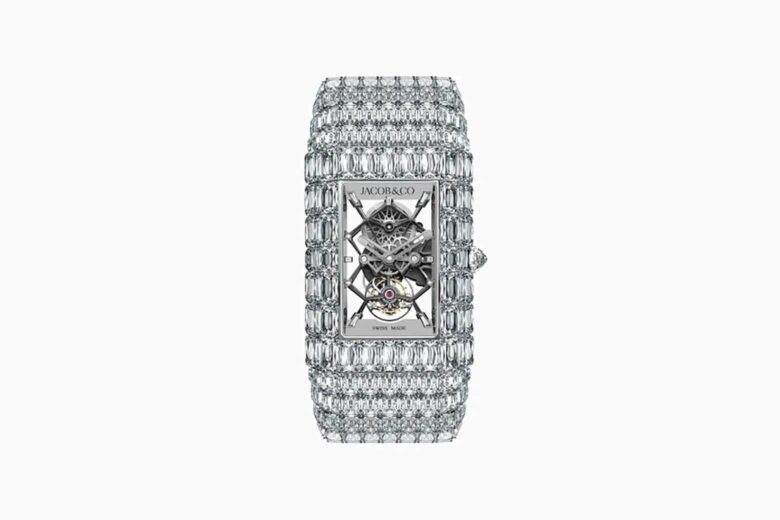 Now we're into the top 10 most expensive and rarest watches in the world. And no luxury timepiece has ever been more aptly named than Jacob & Co.'s Billionaire watch.
It certainly lives up to its designation, encrusted with 189 carats of Akosha diamonds—a cut that's meant to make each diamond appear 30% bigger than a standard emerald cut diamond (one of the most popular diamond shapes). Then there's the skeleton face, where you can see the intricate and hand-crafted tourbillon movement at work, composed of 167 elements and 18 jewels.
The bracelet and dial are seamlessly integrated and made of 18k white gold, while a final rose-cut jewel on the crown is the cherry on this extremely expensive cake. No wonder Floyd Mayweather decided to buy it.
Best for: A watch that says it like it is.
8. Rolex Paul Newman Daytona Ref. 6239: $18.7 million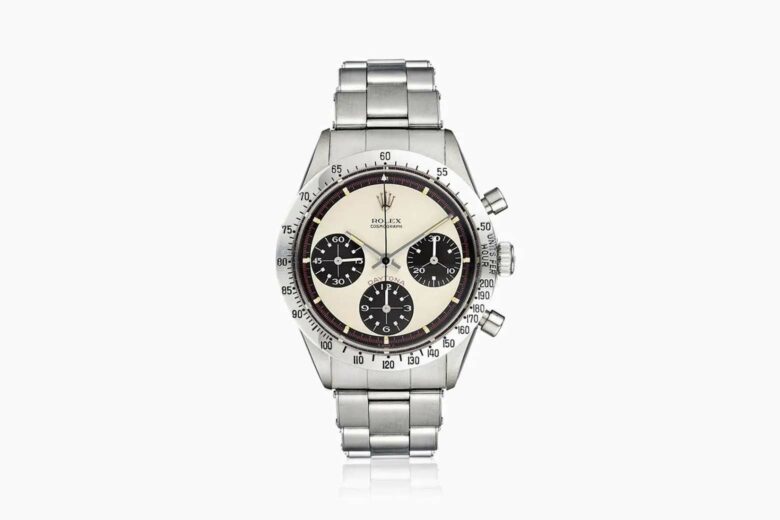 Actor and heartthrob Paul Newman was known for his love of fine watches and for being a devoted racing car fan. Hence why, when she had it commissioned in 1968, his wife Joanne Woodard had this watch engraved with the words Drive Carefully.
With its unusual black and cream exotic dial and elegant Art Deco style, the Paul Newman Rolex Daytona Ref.6239 appeals to more than horological buffs and anyone interested in Hollywood memorabilia alike.
The auction lasted only 12 minutes before the watch was sold to the highest bidder by telephone. No surprise, really, given that Rolex is not only the most famous watch company in the world but also one of the most celebrated luxury brands in existence.
Best for: A Hollywood-approved timepiece with a uniquely beguiling backstory.
7. Patek Philippe Henry Graves Supercomplication: $26 million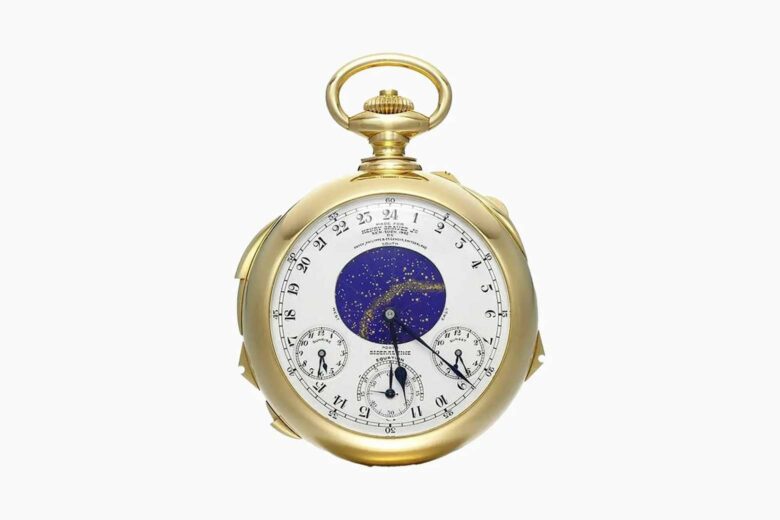 Originally crafted in 1933 for a wealthy American banker by the name of Henry Graves, this Patek Philippe gold pocket watch took 7 years to design and build, back when watchmaking had to rely on craftsmen rather than the calculations of computers.
One of the world's most expensive pocket watches, its impressive range of complications includes a perpetual calendar, minute repeater with Westminster Chimes, sunrise and sunset times, and a celestial chart based on the night sky as it looked from Graves' home in New York. 
Following a 15-minute bidding war between some of the world's top watch collectors, the intricate timepiece was sold to an anonymous bidder. A dream addition to the collection of any pocket watch fan.
Best for: The pocket watch to rival all pocket watches.
6. Chopard 201-Carat: $25 million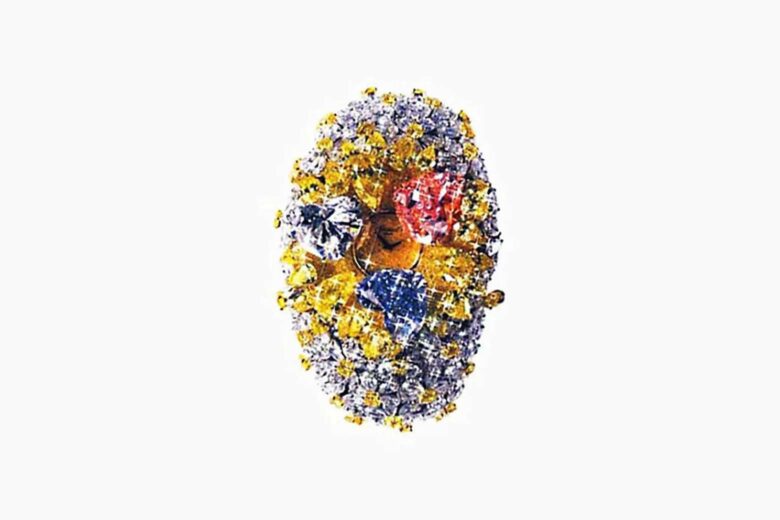 It may not be subtle, but this Chopard timepiece certainly makes a statement. With 874 diamonds—201 carats in total—in a whole range of spectacular colors, this 25 million dollar watch is probably the magnum opus of the Swiss watchmaker, a favorite of both A-listers and royalty.
Some people are drawn to high-end watches for their engineering and technical skills. Others just want some bling. This Chopard timepiece, with its 15-carat pink diamond, 12-carat blue diamond, and 11-carat white diamond—is probably the latter. But if you can afford it, then why not? It's just an extra bonus that it happens to tell the time. And if this particular model isn't for you, take a look at our ranking of the best luxury watches for women for more ideas.
Best for: Confirmation that diamonds are literally anyone's best friend.
5. Jaeger-LeCoultre Joaillerie 101 Manchette: $26 million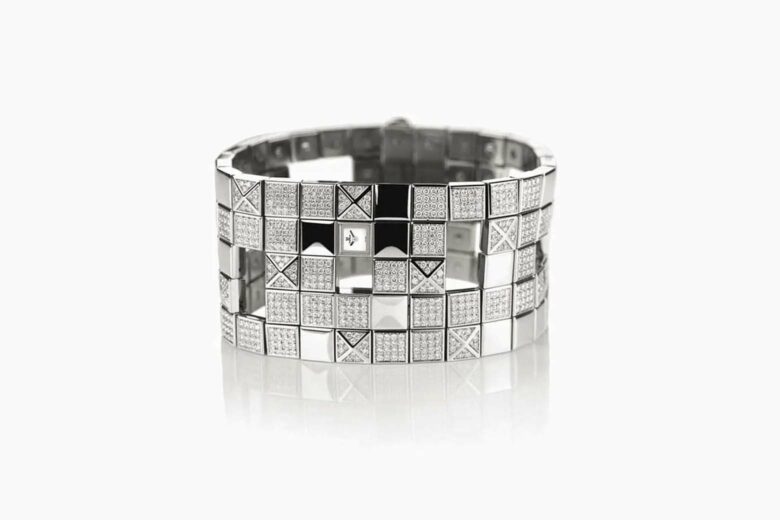 If we told you that top-tier brand Jaeger-LeCoultre crafted this intricate timepiece as a gift for none other than Queen Elizabeth II to celebrate the 60th year of her reign, it would give you some idea of what to expect.
Indeed, with its utterly unique profile, made from white gold and featuring a series of polished and diamond-set links, plus a miniature caliber 101 movement (one of the smallest in the world), this watch deserves to be worn in the chambers of historic palaces and to exclusive state functions.
Learn more about Jaeger-LeCoultre.
Best for: Royal-approved refinement from masters of the minimalist timepiece.
4. Breguet Grande Complication Marie Antoinette: $30 million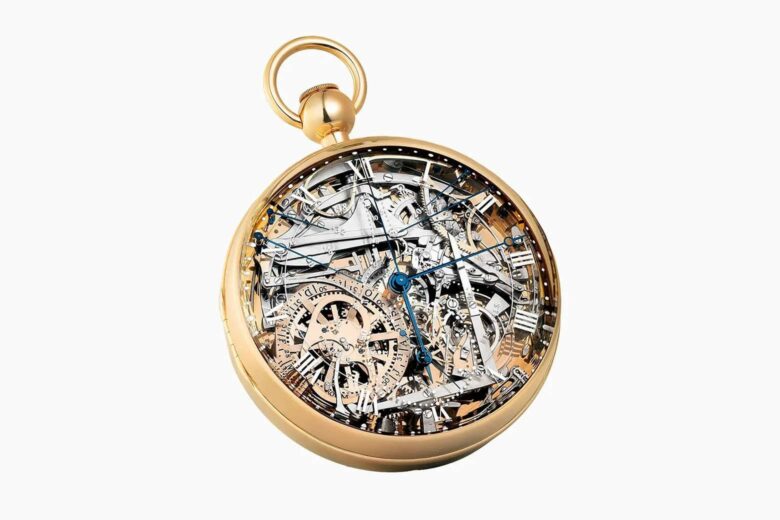 Legend has it that this watch was initially commissioned for the iconic French queen and fan of life's finest things, Marie Antoinette, by one of her lovers. Crafting this exceptional piece took around 40 years, and she was executed before the work was complete—only adding to the romance and enigma of this historic timepiece.
Encased in gold, it includes every complication that existed at the time, including a perpetual calendar and thermometer. After being stolen in the late 1900s, the watch is now safely locked away in the L.A. Mayer museum but is available for purchase for those with $30 million.
Best for: A legendary timepiece with a compelling tale behind it.
3. Patek Philippe Grandmaster Chime Ref. 6300A-010: $31 million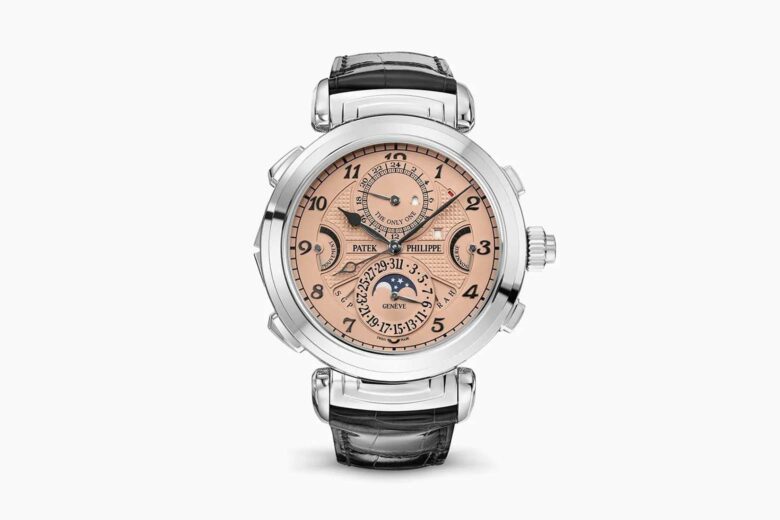 If you're going to spend $31 million on a timepiece, then it's a bonus to know you're getting two for the price of one. This timepiece has two dials, one on the front, and one on the back.
The most expensive Patek watch ever sold, the Grandmaster Chime boasts 20 different complications, including five different chiming modes (hence the name), as well as an acoustic alarm and date repeater. Both dials are blue opaline with gold-applied numerals and 18K solid gold dial plates. The case is white gold, and the strap is made of navy blue alligator leather.
Best for: Being roused from sleep by the sound of the 3rd costliest watch in the world.
2. Graff Diamonds The Fascination: $40 million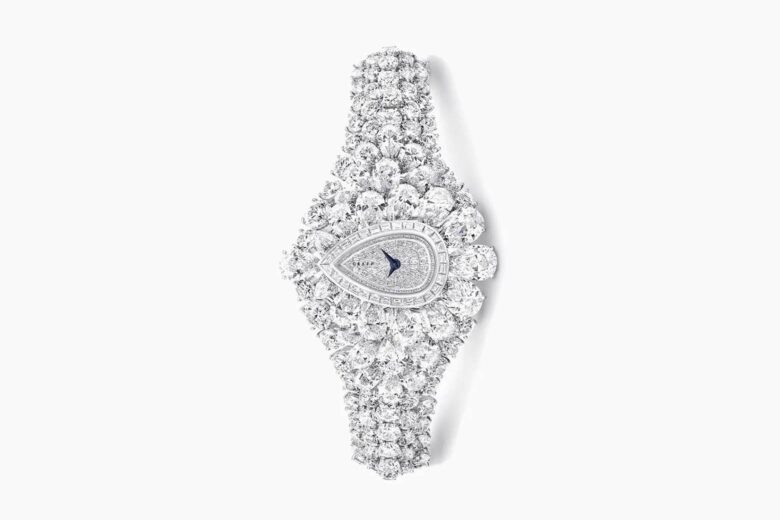 Occupying the second place in our rundown of the most expensive watches in the world, The Fascination is the work of Graff Diamonds, a British jeweler brand known for acquiring and polishing some of the world's most famous diamonds.
Not only is The Fascination a masterpiece of horological craftsmanship, but it's also a unique demonstration of diamond mastery. Definitely, one to give all other women's watches a run for their money.
This timepiece consists of 152.96 carats of white diamonds and a 38-carat pear-shaped diamond dial in the middle, which can also be worn as a ring. A convertible watch means double bang for your buck—all $40 million of it.
Best for: Gems and jewels galore for big spenders with a penchant for bling.
1. Graff Diamonds Hallucination: $55 million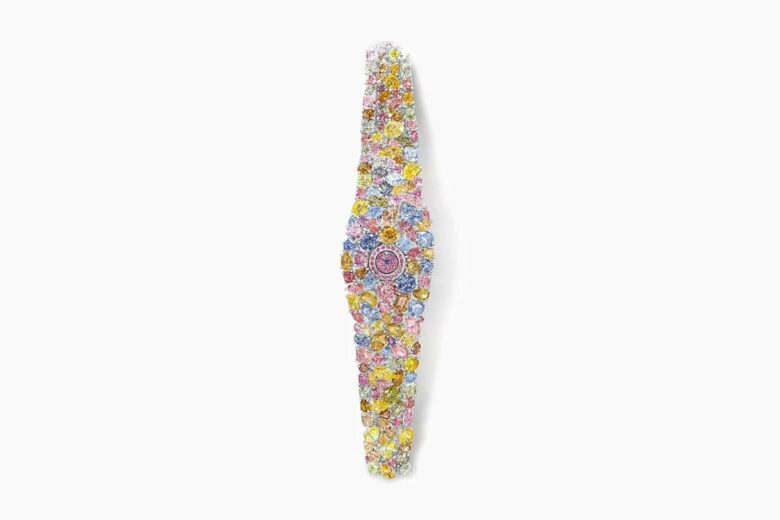 The most expensive watch ever made is another Graff Diamonds creation. The Hallucination is, as the name suggests, truly breathtaking and brilliantly fantastical.
Featuring a kaleidoscopic array of 110 carats of different colored diamonds in a range of different cuts, set into a platinum bracelet, The Hallucination brings high fashion to the world of Horlogerie. About as far from a tactical watch as you can get, it's almost easy to forget this piece's timekeeping capabilities, but there is a tiny dial in the center of all that sparkle.
With the eye-wateringly high price tag of $55 million when it was first unveiled at Baselworld in 2014, the Hallucination is the culmination of thousands of hours of work from a team of designers, gemologists, and expert craftsmen.
Best for: A sparkling and sensuous spectacle, sure to make you feel a million dollars.
Frequently asked questions about the world's most expensive watches