IWC watches manage to be everything at once. Robust, rugged, with serious aerial combat credentials—but also elegant, refined, and mega status symbols. Founded with the goal of combining contemporary American production methods with Swiss watchmaking tradition, the company brings the best of modern technology to elevate and enhance the allure of classic horological heritage.
These are mission-ready men's timepieces. But they're also black-tie appropriate. How does IWC do it?
At a glance
| | |
| --- | --- |
| | |
| Industry: Watches | Founded: 1868 |
| Headquarters: Switzerland | Founder: Florentine Ariosto Jones |
| Watch Collections: pilot watches, dress watches, and dive watches | Parent organization: The Richemont Group |
| Annual Revenue: $800 to $845 million USD | Website: iwc.com |
IWC price
How much does an IWC watch cost?
The starting price for an IWC watch is around $4,000. For $4,350, you can get an IWC Pilot Watch Automatic 36. For around $5,000, you can buy the IWC Portofino Automatic, one of the brand's most elegant dress watches. For the IWC Portugieser, you will need to spend at least $7,000. At the other end of the spectrum, some of these Swiss watches retail for over $200,000.
What is the most expensive IWC watch?
The most expensive IWC watch is the IWC Siderale Scafusia, launched in 2012, and which is on sale for $750,000. It's one of the brand's most complex timepieces ever, taking 10 years to create, and features an astronomical display, perpetual calendar, and oversize tourbillon display.
Check out how this IWC watch compares to the world's most expensive watches.
What is the cheapest IWC watch?
The cheapest IWC watch is the IWC Pilots Watch Automatic 36 which currently sells for around $4,350. There is also the Pilot's Watch Mark XVIII Edition "Le Petit Prince" which retails for $4,500. For an IWC Portofino Automatic, expect to pay around $5,000.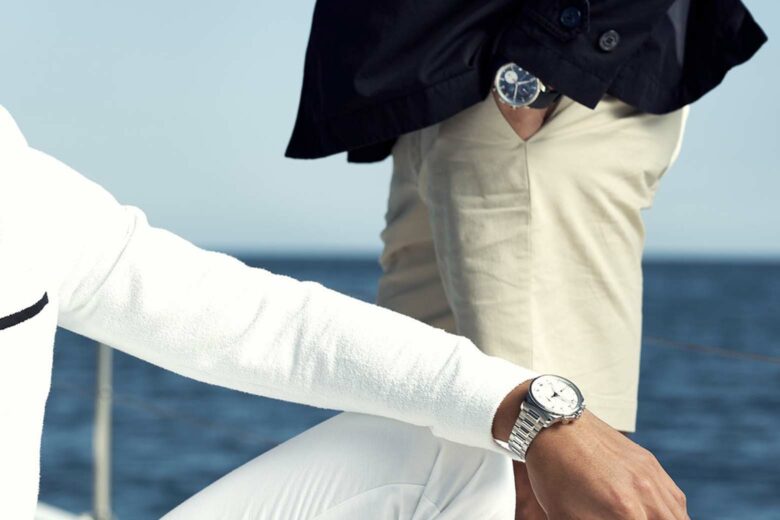 About the brand
History of IWC
IWC Schaffhausen was founded by an American named Florentine Ariosto Jones, an engineer and watchmaker from Boston. In 1868, he traveled to Switzerland on a mission to combine American industrial production methods with Swiss watchmaking prowess. He was also tempted by Europe's low labor costs.
After meeting Heinrich Moser (of H. Moser & Cie fame), he was inspired to follow Moser's lead and use the nearby Rhine Falls in Schaffhausen to create hydroelectricity to power the equipment inside his factory.
Unfortunately, the company wasn't making enough money and went bankrupt soon after. In 1880, it was acquired by Johannes Rauschenbach. The Rauschenbach family owned and managed IWC for many years. During this time, the company released several ground-breaking watches, including the IWC Portugiesier in 1939 and its famous IWC Big Pilot's watch in 1940.
In the later 1940s, Albert Pellaton joined IWC and invented the 89 caliber which protects watches against magnetic fields. He also developed the Pellaton winding system.
The Aquatimer was launched in 1967, the first IWC water-resistant wristwatch.
However, the quartz crisis along with rising gold prices and a falling dollar meant the company had to be sold. It then passed through several hands before being bought by The Richemont Group, which owns IWC to this day, along with other watch brands like Jaeger-LeCoultre.
Interesting facts about IWC
The IWC Ingenieur was designed by Gerald Genta, the name behind the famous Royal Oak timepiece by Audemars Piguet.
IWC launched a rather controversial marketing campaign in the early 2000s with taglines that included 'Engineered for men' and 'Almost as complicated as a woman. Except it's on time.'
In 1978, IWC created the first all-titanium wristwatch.
From 1885, IWC has kept records for every watch that has left its factory and has spare parts for all of them, allowing them to repair any of their own timepieces.
In 1990, at Basel Fair, IWC launched its first Grand Complication, which has 20 displays and functions.
IWC stands for International Watch Company as it was Florentine Ariosto Jones' goal to make Switzerland watches for the international market.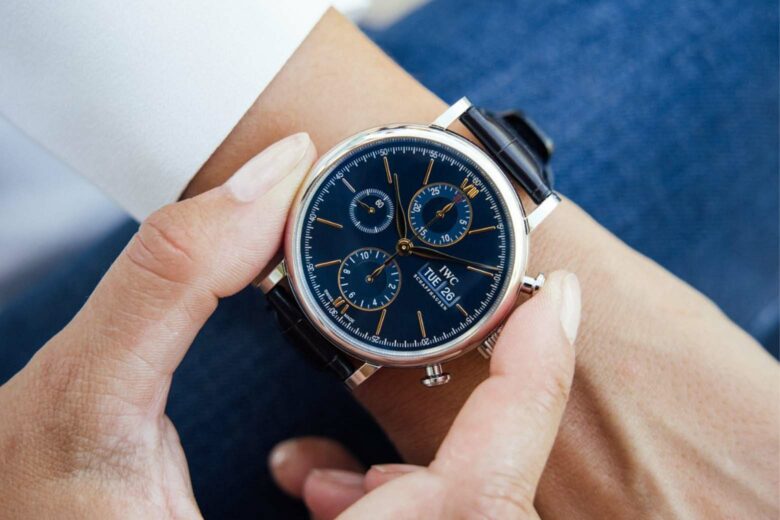 IWC product range
IWC Schaffhausen makes a range of luxury watches for different people and purposes. While the brand established its reputation making pilot watches, it also has a range of dress watches, such as the minimalist IWC Portugieser and elegant IWC Portofino, as well as expert dive watches like the Aquatimer.
There's also the technically impressive Da Vinci collection while the Ingenieur watch family is known for its durability and extreme precision.
Some IWC Pilots, for example, are luxurious enough to be worn on formal occasions while the impressive quality and craftsmanship of all IWC watches mean they can withstand everyday wear.
Signature materials and craftsmanship
IWC is known for making practical and hard-wearing precision timepieces that eschew many of the fussier details found on other luxury watches. This is why its Portofino collection caused a stir, with its mother-of-pearl dials and diamond bezels. Before then, the focus had always been on function and durability.
That's not to say the company isn't creative. Innovation and inventiveness are part of the IWC spirit and every aspect of the watch—even elements such as the feel of the case edge or the way a button is activated—are all carefully considered.
IWC combines modern technology with the inimitable touch of master craftsmen. Every watch is individually assembled by a talented and highly-trained watchmaker. But before this, sophisticated tools and software such as 3D computer simulations, X-ray-based material analyses, futuristic CNC machines, high-speed cameras, and laser measuring instruments are all used to create its impeccably high-quality timepieces.
IWC has a particular expertise in working with different materials, from stainless steel and bronze to 5N gold, white gold, titanium, and platinum. There's also Certanium, a revolutionary material that's as robust and lightweight as titanium but as durable and scratch-resistant as ceramic.
Each watch undergoes 30 stringent tests that simulate everything that might happen to a watch in both everyday and extreme conditions. These can take several months and includes a two-week test in a saline bath at 37 degrees.
If you're asking 'why are IWC watches so expensive?' then your answer lies in the relentless quest for excellence that's evident at every stage of the IWC manufacturing process.
Where is IWC Schaffhausen made?
IWC men's watches are made in a modern manufacture on the outskirts of Schaffhausen, Switzerland. The factory was opened for IWC's 150th anniversary and has space for 400 craftsmen. This is where the components, movements, and watch cases are all made. Assembly and testing take place in the original Swiss factory.
Brand values
| | |
| --- | --- |
| Vegan options: | Yes |
| Carbon-neutral: | No |
| Gives back: | Yes |
IWC watches
Pilot's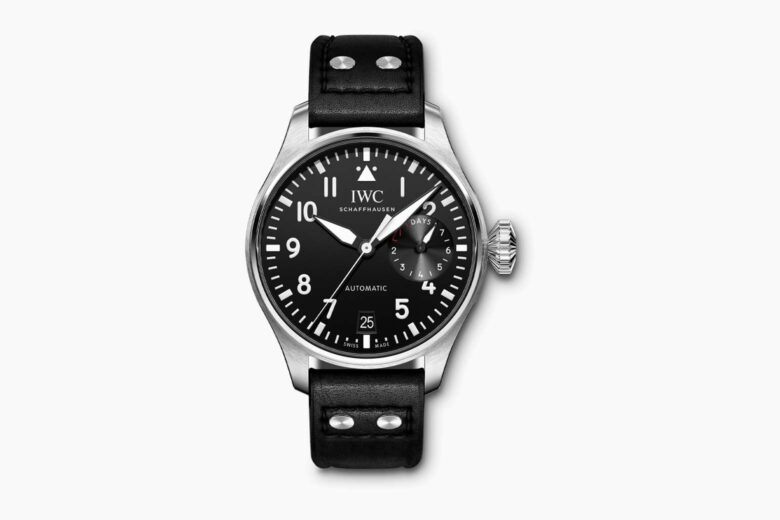 IWC's most iconic watch family was born in the 1930s when the company started making these highly precise time-keepers and navigation tools for pilots. The hallmarks of these cult-favorite timepieces include the large conical crown for use with thick gloves, a high-contrast display for easy legibility, luminescent hands and numerals, and a triangular index at 12 o'clock. Contemporary models retain the same cockpit-instrument vibe of the original.
| | |
| --- | --- |
| Price: | $4,350 – $112,000 |
| First release year: | 1936 |
| Current case size: | 34 mm – 46.5 mm |
| Movement: | Automatic and manual |
| Water resistance: | 60 – 100 m |
| Crystal: | Sapphire |
The IWC Pilot watch family can be divided into five categories: Classic, IWC Spitfire, IWC Top Gun, IWC Le Petit Prince, and IWC Antoine de Saint Exupéry. If you're wondering which IWC watches hold value, then any member of the IWC Pilot family is a safe bet.
Here's how they compare:
| Sub-collection | Case material | Dial color | Average price | In a nutshell… |
| --- | --- | --- | --- | --- |
| Classic | Various | Various | $4,350 – $32,800 | 1930s and 1940s styling |
| Spitfire | Bronze or steel | Black or green | $4,900 – $16,300 | Heritage-inspired |
| Top Gun | Ceramic or Ceratanium | Various | $5,550 – $10,000 | Ultra-robust and corrosion-resistant |
| Le Petit Prince | Steel or gold | Blue | $4,500 – $112,000 | Commemorative piece with retro elegance |
| Antoine De Saint Exupéry | Steel, rose or white gold | Brown | $4,500 – $32,400 | Limited edition tributes to French author |
Portugieser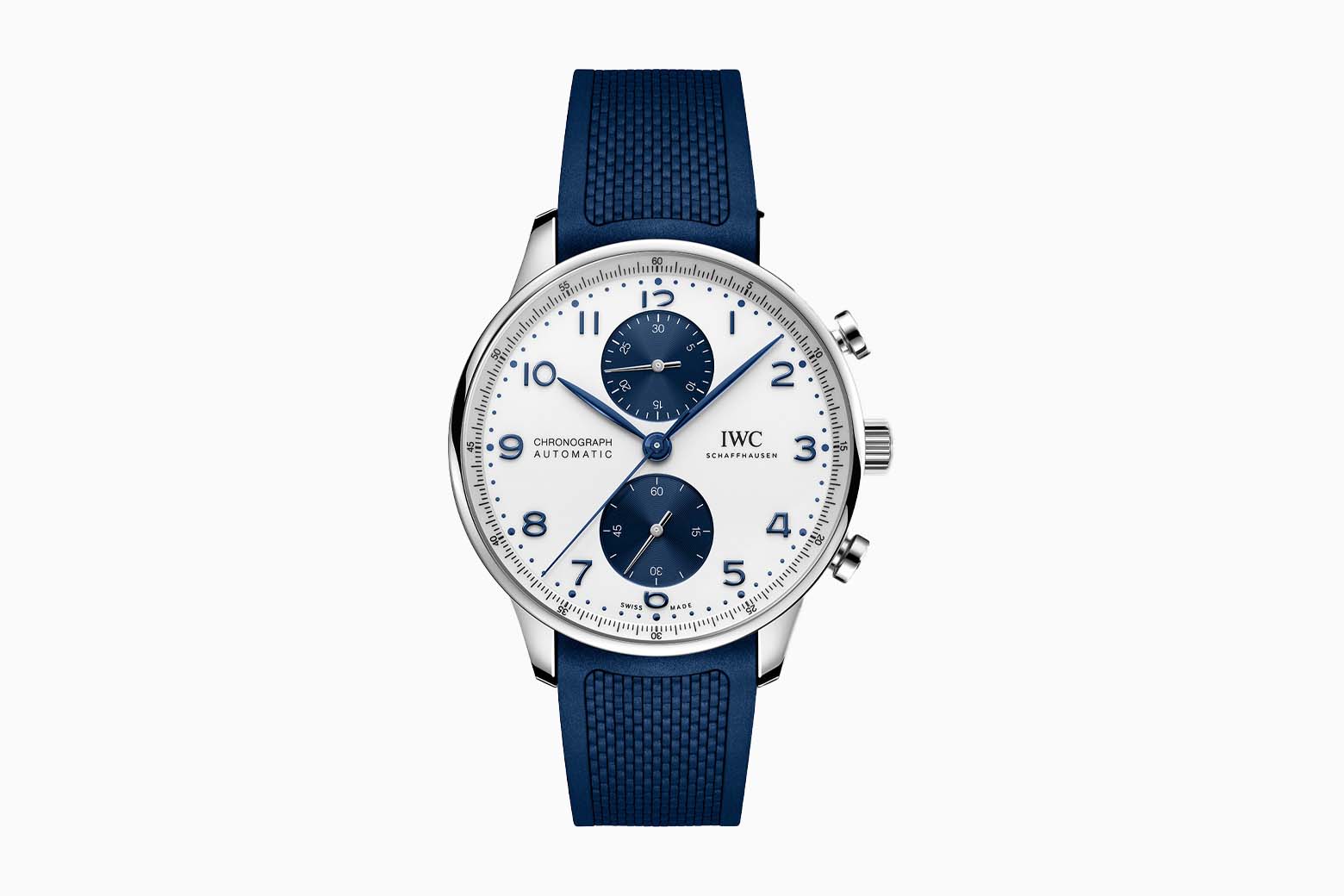 While the IWC Portugieser was technically born in 1939, it wasn't until 1995 that IWC released the watch that would really serve as the foundational design for the now iconic timepiece. Aesthetically, it has barely changed since then, simply because it hasn't needed to—people like it as it is. It combines sporty functionality with enough luxury appeal that it also works as a dress watch.
| | |
| --- | --- |
| Price: | $7,450 – $242,000 |
| First release year: | 1939 |
| Current case size: | 34 mm – 46 mm |
| Movement: | Automatic and manual |
| Water resistance: | 30 m |
| Crystal: | Sapphire |
Portofino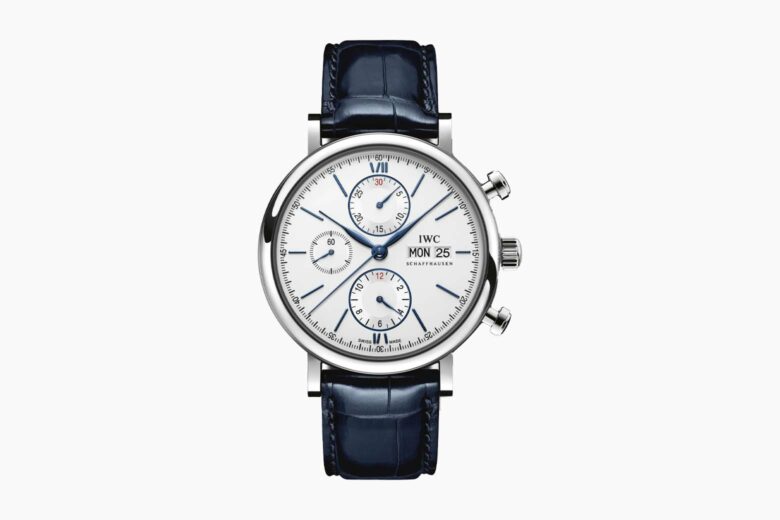 Understated and refined, the IWC Portofino collection offers timeless elegance for men and women. It's uncluttered, simple, and sophisticated, with Roman numerals, simple hour markets, and Feuille hands. Within the collection, you'll find a diverse range of complications, from moon phase to tourbillon models, but all have the same mesmerizingly minimalist aesthetic.
| | |
| --- | --- |
| Price: | $5,050 – $24,800 |
| First release year: | 1984 |
| Current case size: | 34 mm – 46.2 mm |
| Movement: | Automatic and manual |
| Water resistance: | 100 m |
| Crystal: | Sapphire |
Da Vinci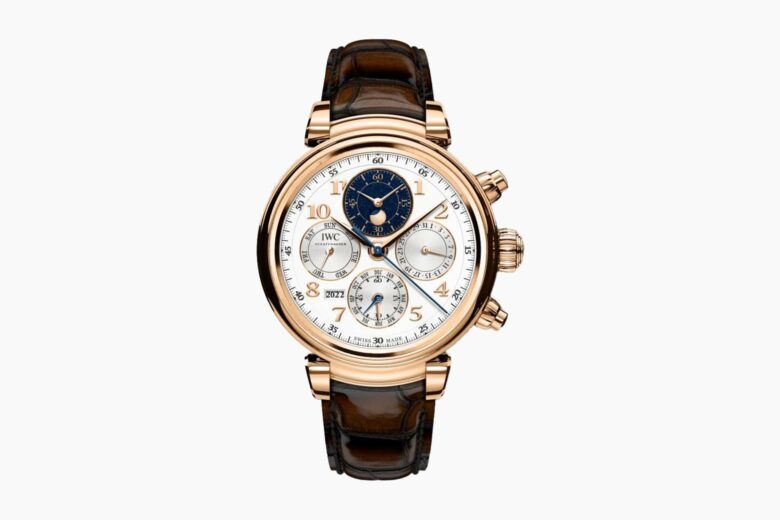 While perhaps not as popular and well-known as the IWC Portugeiser or IWC Big Pilot's Watch, the Da Vinci watch family has always been a platform for IWC to innovate and experiment. The very first model in the collection featured the Beta 21 quartz movement and had a hexagonal-shaped case while the most noteworthy model in the collection is the Perpetual Calendar Chronograph, created by master watchmaker Kurt Klaus.
| | |
| --- | --- |
| Price: | $5,550 – $8,750 |
| First release year: | 1969 |
| Current case size: | 34 mm to 44 mm |
| Movement: | Automatic |
| Water resistance: | 30 m |
| Crystal: | Sapphire |
Ingenieur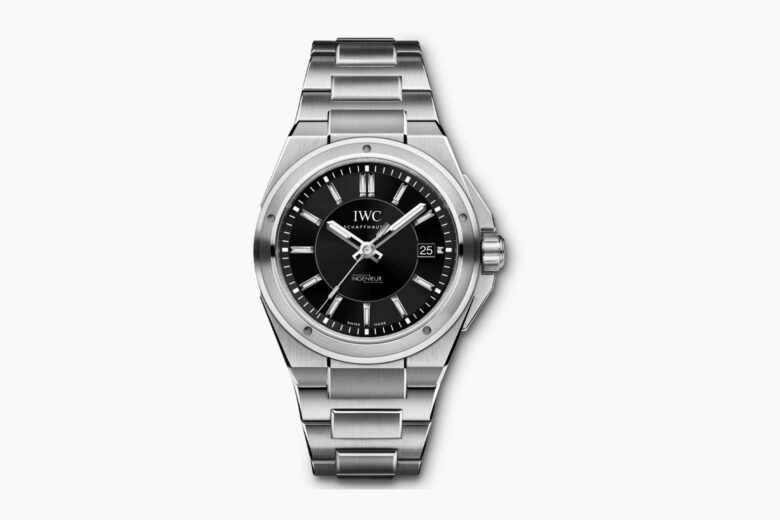 When it was released in 1955, the Ingenieur contained IWC's first automatic movement, a self-winding system developed by Albert Pellaton. But most significantly, the IWC Ingenieur was one of the first watches with protection against magnetic fields thanks to a soft iron cage inside the case. Water resistance and extreme precision are the other features that define this robust and reliable timepiece. Look out for the Ingenieur SL as designed by Gérald Genta.
| | |
| --- | --- |
| Price: | $4,750 – $47,700 |
| First release year: | 1955 |
| Current case size: | 40 mm – 45 mm |
| Movement: | Automatic |
| Water resistance: | 120 m |
| Crystal: | Sapphire |
Aquatimer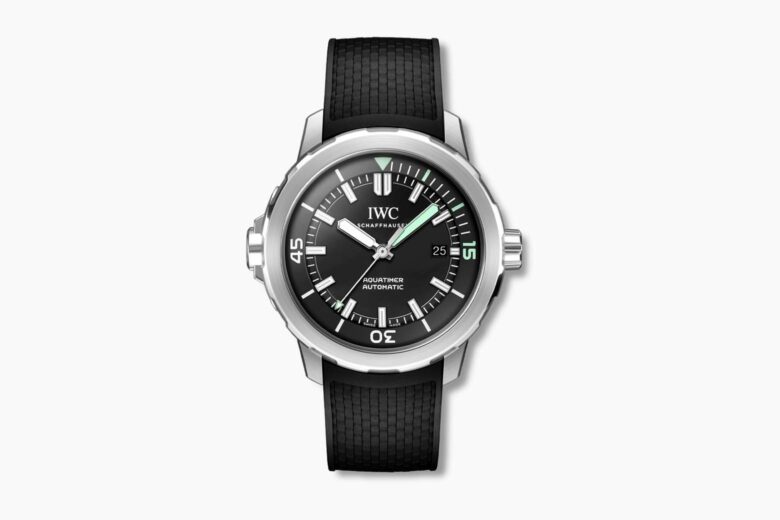 Created in the 1960s as part of the brand's enduring alliance with the world of diving, the Aquatimer is the perfect companion for those venturing below the ocean surface thanks to its quick-change bracelet that you can swap for a rubber strap, dust and water-resistant sealing system, easy-to-grip rotating bezels with a SafeDive system, plus luminescent dials for legibility.
| | |
| --- | --- |
| Price: | $4,500 – $56,700 |
| First release year: | 1967 |
| Current case size: | 34 mm – 46.2 mm |
| Movement: | Automatic and manual |
| Water resistance: | 200 – 2000 m |
| Crystal: | Sapphire |
Where to buy IWC watches
You can buy IWC men's watches directly from the brand's website. You could also buy your IWC watch in person in one of the stores listed here. You could even book a virtual appointment with a Boutique associate to answer any questions you might have.
If you're looking for used IWC watches, the best place to start is Jomashop, a second-hand watch online marketplace where authenticity is guaranteed. You could also buy an IWC watch online from Mr Porter or FARFETCH. 
Who wears IWC watches?
IWC men's watches are a favorite among those who prefer their timepieces to be practical, unfussy, but elegant. Famous fans of IWC watches include actor Bradley Cooper and basketball superstar Michael Jordan while Jason Bateman has been seen in an IWC Portugieser Automatic and Sacha Baron Cohen owns an IWC Portugieser Chronograph.
IWC shipping
IWC offers three different delivery methods: standard, express, and urgent. The standard shipping service is complementary. You can send your watch as a gift with a message included. The package will be insured during transit and a signature will be required upon receipt. For countries outside of the US, EU, or UK, IWC partners with a third-party service to ship to other destinations.
IWC return policy
You can return or exchange IWC watches purchased online or in person by phone if you speak to an advisor at the Client Relations Center within 30 days of delivery. All exchanges and returns are subject to quality control. Personalized products cannot be exchanged or returned unless defective. Returns are eligible for a full refund provided the product is still in its original condition.
IWC customer service number
For help with buying an IWC watch, or for answers to any other queries, contact an IWC advisor at +1-800-432-9330.
IWC social media profiles
Frequently asked questions about IWC Schaffhausen watches
Is IWC worth the money?
IWC watches are worth the money thanks to their superior quality and craftsmanship. You can be sure an IWC watch will hold its value, if not appreciate. For more about IWC, including history, prices, and product range, check out our IWC watch guide.
What is the most iconic IWC watch?
The most iconic IWC watch family is the IWC Pilot, which includes the IWC Big Pilot and IWC Top Gun, both very popular. There's also the IWC Portugieser dress watch, renowned for its minimalist aesthetic. For more on this luxury watch brand, see our guide to IWC watches. 
Is IWC German or Swiss?
IWC is a Swiss watch manufacturer, considered to be one of the top 10 Swiss luxury watch brands. While it was owned for a time by VDO Adolf Schindling AG, a German instrument manufacturer, IWC watches have always been made in Switzerland.