What if we told you diamonds could dance? And dance right across your wrist? Thanks to Chopard, it's possible.
This rule-breaking and ridiculously creative Swiss brand swept the watch world off its feet with the launch of the never-before-seen Happy Diamonds watch and its free-wheeling gems and free-spirited joie de vivre.
How does Chopard, with its audacious style and exclusive watchmaking heritage, redefine what timekeeping looks like today?
At a glance
| | |
| --- | --- |
| | |
| Industry: Watches | Founded: 1860 |
| Headquarters: Switzerland | Founder: Louis-Ulysse Chopard |
| Watch Collections: dress watches, sports watches, women's watches, and jewelry watches. | Parent organization: Privately owned by The Scheufele Family |
| Annual Revenue: $430 million USD | Website: chopard.com |
Chopard watch price
How much does a Chopard watch cost?
The starting price for an entry-level Chopard watch is around $5,000. You can buy a Happy Sport quartz watch for $5,520. The brand's prestigious L.U.C. collection is more expensive, with a starting price of $8,110 for a L.U.C. 1937 Automatic. Chopard watch prices for the iconic Chopard Happy Diamonds start at $8,990.
What is the most expensive Chopard watch?
The most expensive Chopard watch ever made is the Chopard 201-Carat watch. It features 874 diamonds in yellow, blue, white, and pink, weighing 163 carats altogether. In the center are three heart-shaped diamonds that open by means of a spring-loaded mechanism to reveal the watch face.
At $25 million, this Chopard watch earns a place in our rundown of the most expensive watches in the world.
What is the cheapest Chopard watch?
The cheapest Chopard watch is a Happy Sport quartz watch which currently has a starting price of $5,520. You can buy a Mille Miglia GTS Automatic for $5,910. Meanwhile, Chopard watch prices for a Happy Diamonds Icons quartz watch start at $8,990 and a Chopard Imperiale quartz timepiece is $5,780.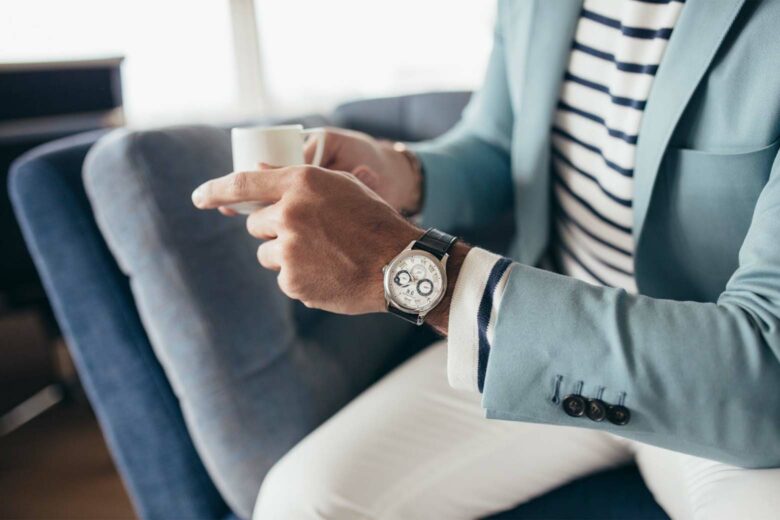 About Chopard
History of Chopard
Chopard was founded by watchmaker Louis-Ulysse Chopard, the son of a farmer, in 1860 in Sonvilier, Switzerland. He focused solely on pocket watches and chronographs, enjoying quick success with international buyers that included Tsar Nicholas II of Russia.
The company was taken over by his son and grandson in 1915 who changed the focus of the business to producing ladies' watches and pocket watches.
In 1963, Chopard was bought by German watchmaker and goldsmith Karl Scheufele III. The Scheufele family owns Chopard to this day.
In 1980, the brand launched the St. Moritz sports watch, its first water-resistant and shock-resistant timepiece. Then came the famous Chopard Happy Diamonds collection, launched in 1985 and representing the best of the brand's distinctive style with its free-moving diamonds under sapphire crystal.
In 1993, Caroline Scheufele designed Chopard's first Happy Sport watch: a ladies' sports watch made of steel but featuring the same patented free-floating diamonds. And 1994 saw the launch of the IMPERIALE collection, distinguished by its use of precious stones, arabesque motifs, and intricate gold wirework.
in 1996, the L.U.C 96.01-L caliber, an automatic bi-directional movement with a 22K gold micro-rotor and a 65-hour power reserve, was released, providing the engine that drove the first Chopard L.U.C watch, known as the L.U.C 1860.
In 2016, Chopard launched its first-minute repeater watch which won the Aiguille d'Or Best in Show award at the Grand Prix d'Horlogerie de Genève thanks to its innovative world-first: movement gongs made of sapphire rather than gold or steel.
To this day, Chopard continues to wow the watchmaking and jewelry world with its exquisite and highly creative offerings as well as its admirable commitment to improving sustainability.
Interesting facts about Chopard
Chopard watches and jewelry regularly make red carpet appearances on the wrists of A-listers like Julianne Moore and Marion Cotillard.
Chopard is the official partner of the Cannes Film Festival and director Caroline Scheufele redesigned the Palme d'Or trophy.
In 1988, Chopard became a partner of the Mille Miglia vintage car rally and releases a Mille Miglia watch model every year.
Wondering about Chopard pronunciation? It's said SH OH p aa r.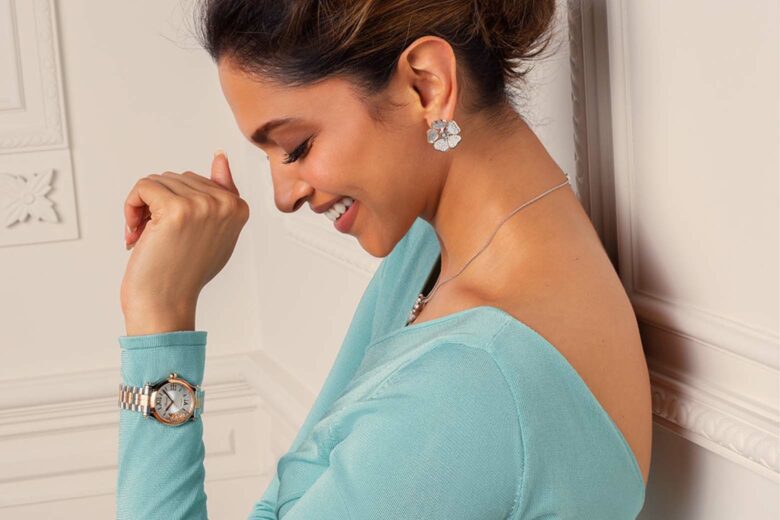 Chopard product range
The Chopard product range can be divided into three. On the one hand, you have the brand's dress and jewelry watches, known for their generous displays of diamonds and gemstones, and exotic materials. This includes the Happy Diamonds collection, the L'Heure du Diamant collection, and the IMPERIALE collection of women's watches.
Then you have the brand's sports watches for men: the Alpine Eagle collection, bold and durable, and the Mille Miglia collection, inspired by vintage racing cars.
Sitting somewhere between the brand's sports watches and dress watches is the Happy Sport collection, made from steel but featuring dancing diamonds, appropriate for both every day and more formal wear.
Finally, there's the Chopard L.U.C collection, paying homage to the brand's founder, Louis-Ulysse Chopard, heavy on complications and other impressive watchmaking features.
Signature materials and craftsmanship
At the Chopard manufacture, you'll find a combination of high-tech modern technology such as CNC machines and electrical discharge machines, along with talented craftsmen finishing individual components by hand, a highly laborious and lengthy process.
Indeed, the company champions traditional hand-applied techniques with more than 20 different craft trades housed in its workshops, such as Grand Feu enameling (which involves fusing glass to metal), Fleurisanne engraving (an ornate 19th-century decorative motif) and circular-graining. It's committed to promoting and preserving these ancient watchmaking techniques and trains 40 apprentices each year as part of its efforts to protect this heritage.
Perlage is used to finish the watch main plates, bridges are decorated with Côtes de Genève stripes, and any angles are crisply beveled. Chopard even smelts its own special gold alloys rather than bringing in gold case blanks from external sources.
Chopard is focused on sustainable production for both its watches and jewelry with a 'green carpet' collection that prioritizes the responsible sourcing of gemstones and gold. It has been a member of the Responsible Jewelry Council since 2010, has a partnership with the Alliance for Responsible Mining, and in 2013, created the world's first watch made from Fairmined gold to much critical acclaim.
Where is Chopard made?
Chopard's headquarters are in Geneva but there is a manufacturing site in Fleurier in Neuchâtel where the company's high-end watch movements for its L.U.C. collection have been made since 1996. There's also Fleurier Ebauches where non-L.U.C. watch movements are made as well as a site in Pforzheim in Germany.
Brand values
| | |
| --- | --- |
| Vegan options: | No |
| Carbon-neutral: | No |
| Gives back: | Yes |
Chopard watches
Happy Sport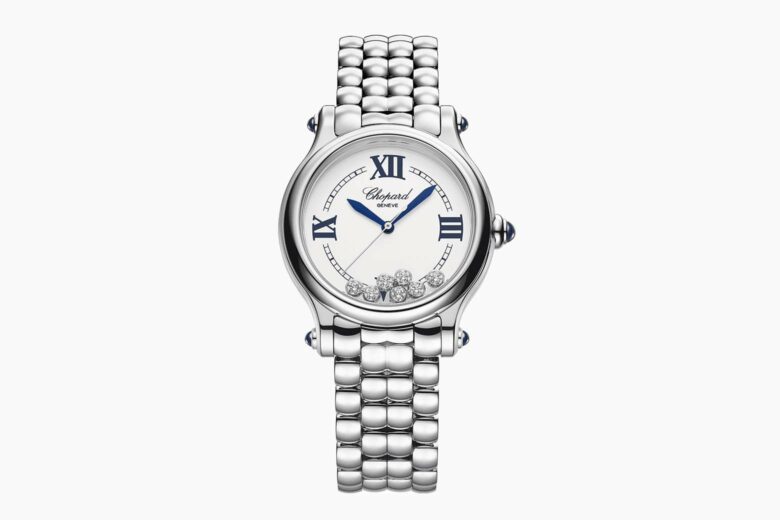 The first watch to combine hard-wearing steel with the timeless appeal of diamonds, the Chopard Happy Sport is an approachable and accessible crowd-pleaser. Like the brand's Happy Diamonds jewelry, it features gold-cased stones that float between two sapphire crystals. A playful and uplifting timepiece with enduring allure, the Chopard Happy Sport is one of those luxury watches that no one can say no to.
| | |
| --- | --- |
| Price: | $5,520 – $97,000 and price on request |
| First release year: | 1993 |
| Current case size: | 29 mm to 40 mm |
| Movement: | Automatic and quartz |
| Water resistance: | 30 m or 300 m for Happy Ocean |
| Crystal: | Sapphire |
L'Heure du Diamant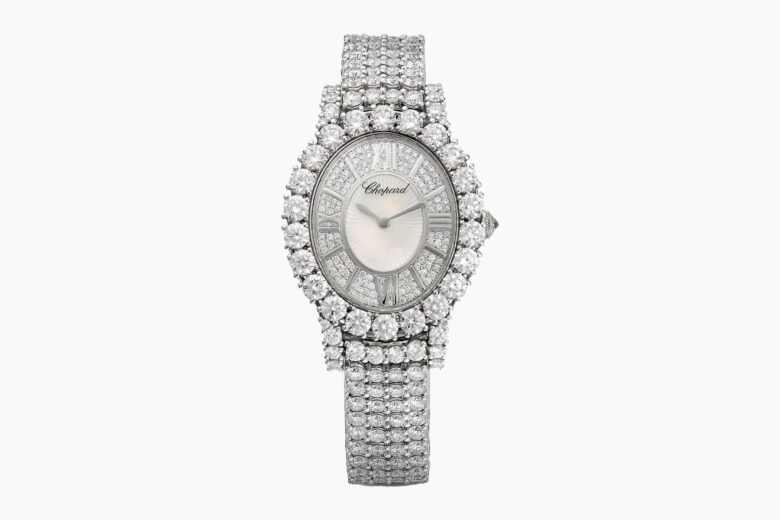 Exhibiting the unrivaled skill and creativity of the Maison's finest artisans, the L'Heure du Diamont collection is, unsurprisingly, all about the diamonds. Navette, baguette, or brilliant-cut, the diamonds steal the show in these Chopard watches. But the dials are an exquisite supporting act, carved from precious materials such as mother-of-pearl and enhanced with fine guilloché or miniature paintings.
| | |
| --- | --- |
| Price: | $30,800 – $90,800 and price on request |
| First release year: | 1969 |
| Current case size: | 26 mm – 36 mm |
| Movement: | Automatic, manual, and quartz |
| Water resistance: | 30 m |
| Crystal: | Sapphire |
L.U.C.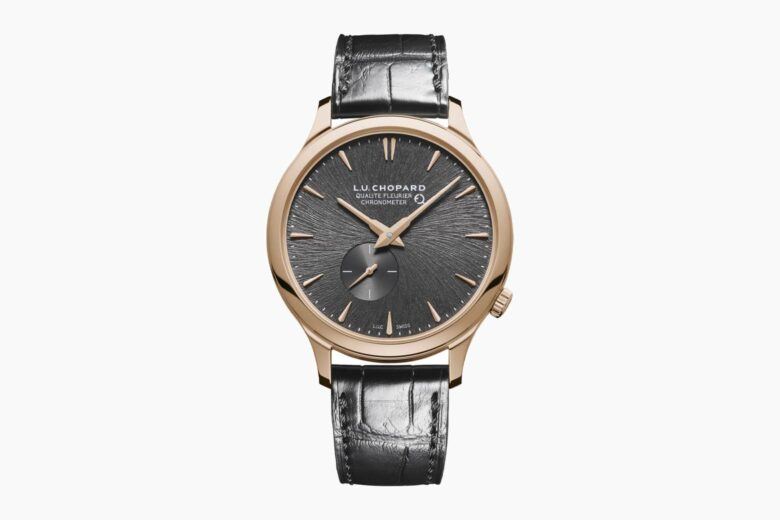 The Chopard L.U.C collection is a tribute to the brand's founder, Louis Ulysse-Chopard, representing a combination of horological tradition and innovation. The entire production process of these Chopard watches takes place in-house in the workshops in Geneva and Fleurier. The design is simple but the engineering is infinitely complex and sophisticated, representing all the skills the Swiss watchmaker has acquired over its 160-year history, including calibers with up to 14 complications.
| | |
| --- | --- |
| Price: | $8,110 – $99,900 and price on request |
| First release year: | 1997 |
| Current case size: | 35 mm – 46 mm |
| Movement: | Automatic and manual |
| Water resistance: | 30 m – 300 m |
| Crystal: | Sapphire |
Alpine Eagle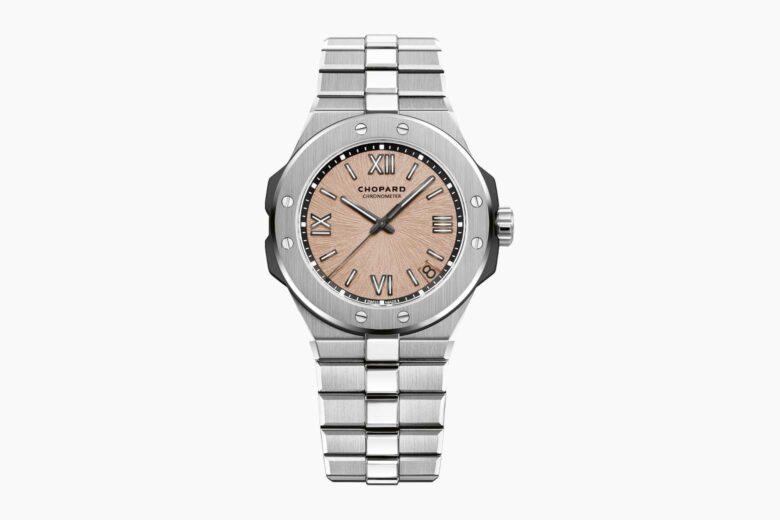 A collection inspired by both the epic mountain range of the Alps and the soaring majesty of the eagle, this Chopard watch series is as daring and dynamic as you'd expect from the name. A sporty timepiece that re-interprets the brand's St. Moritz sports watch (named for the Swiss ski resort) and updates it for the 21st century. The perfect timekeeper for high-fliers.
| | |
| --- | --- |
| Price: | $9,810 – $55,900 and price on request |
| First release year: | 2019 |
| Current case size: | 33 mm – 44 mm |
| Movement: | Automatic |
| Water resistance: | 50 m – 100 m |
| Crystal: | Sapphire |
IMPERIALE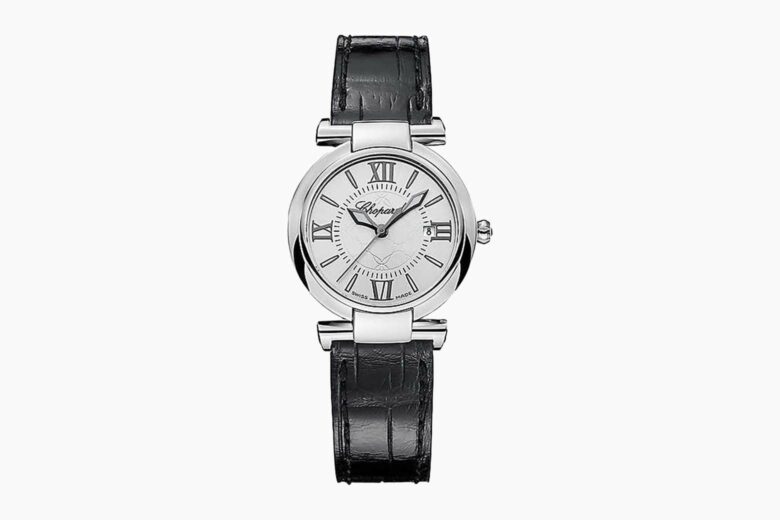 As befits a modern-day empress, the Chopard IMPERIALE collection brings together gorgeously exotic materials with imaginative artwork, diamonds, and gems. Watches in the series vary from whimsical and eclectic to classic and timeless. A round dial, Roman numerals, and carage lugs are complemented by arabesque motifs, diamonds, amethysts, rubies, pink quartz, and gold wirework. And there's certainly treasure to be found at the end of the glittering Imperiale Tourbillon Rainbow.
| | |
| --- | --- |
| Price: | $5,780 – $64,800 and price on request |
| First release year: | 1994 |
| Current case size: | 29 mm – 40 mm |
| Movement: | Quartz and automatic |
| Water resistance: | 50 m |
| Crystal: | Sapphire |
Happy Diamonds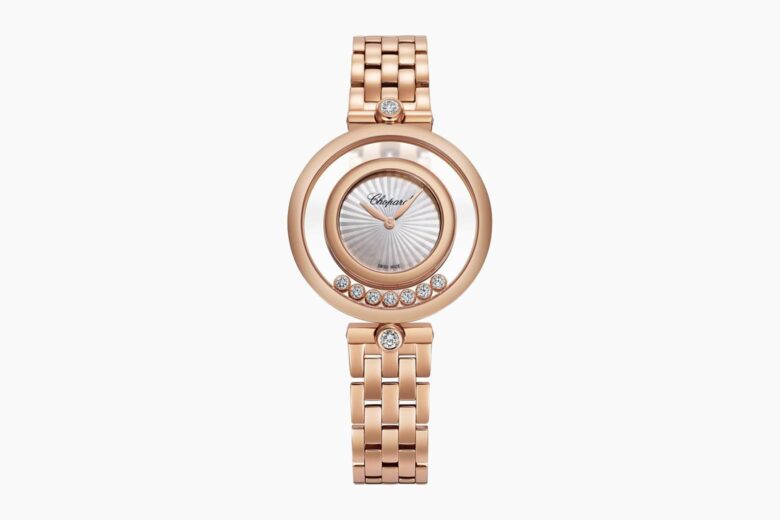 Possibly one of the most ground-breaking innovations in watchmaking aesthetics in the 20th century, the Happy Diamonds timepiece is distinguished by a single stroke of design brilliance: free-floating diamonds that dance across the dial. It's fun, fabulous, a breath of fresh air, and it's not going out of fashion anytime soon.
| | |
| --- | --- |
| Price: | $8,990- $64,800 |
| First release year: | 1985 |
| Current case size: | 26 mm – 38 mm |
| Movement: | Quartz |
| Water resistance: | 30 m |
| Crystal: | Sapphire |
Mille Miglia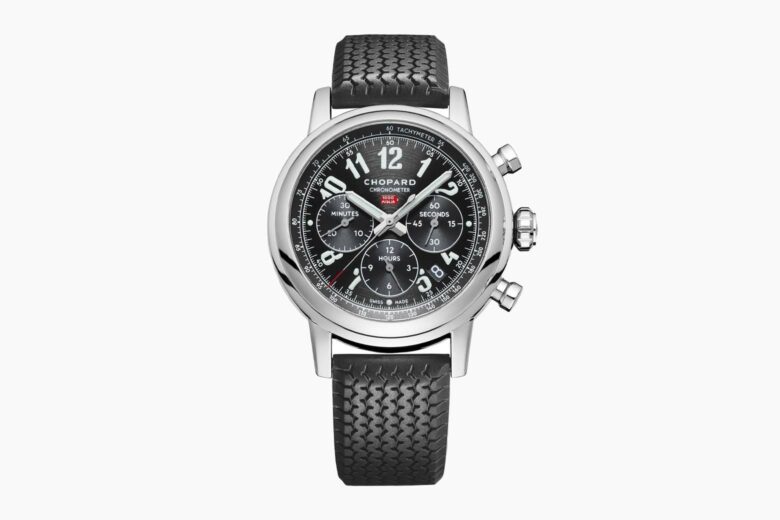 Taking inspiration from the world of automobiles, the Chopard Mille Miglia collection, named for the famous Italian car race, is distinct from other Chopard watches with its emphasis on speed, agility, and functionality. Nevertheless, these timepieces have the same effortless elegance and charm as all Chopard watches, bringing together a delightfully retro design with ultra-precise COSC-certified calibers.
| | |
| --- | --- |
| Price: | $5,910 – $11,400 |
| First release year: | 1988 |
| Current case size: | 42 mm – 44 mm |
| Movement: | Automatic |
| Water resistance: | 50 m – 100 m |
| Crystal: | Sapphire |
Where to buy Chopard watches
You can buy a Chopard watch online from the brand's website or in person at a brand boutique, as listed here, where you can enjoy assistance from one of the company ambassadors. You can also buy Chopard watches from trusted online retailers such as FARFETCH or Mr Porter where the authenticity is guaranteed.
For more about buying a luxury watch, see our watch guide.
Chopard shipping
Chopard offers complementary Federal Express Overnight delivery on all watch orders. Your order will arrive the next business day after you receive a confirmation email that it has been shipped. Applicable sales tax will be added for deliveries within certain states.
FARFETCH and Mr Porter offer international shipping for different fees depending on the country.
Chopard return policy
Chopard watches can be returned for a full refund within 30 days from the date of delivery. You can also return your watch in-store for store credit or exchange it for another product. Before making the return, contact the sales department to request a Return Form and obtain a Returned Merchandise Authorization.
If buying your watch from FARFETCH, the retailer accepts returns within 14 days for a full refund and Mr Porter allows returns within 28 days.
Chopard customer service number
For more information about Chopard watches and personalized advice from an assistant, give the company a call on 1800-246-7273.
Chopard social media profiles
Frequently asked questions about Chopard watches
Are Chopard watches worth it?
Chopard watches are worth the price if you're looking for a superbly elegant timepiece that does double duty as a beautiful piece of jewelry or a miniature piece of art. For more about the brand, from watch prices to history, see our Chopard guide.
Is Chopard a luxury watch?
Chopard is a luxury watch company based in Switzerland, famous for its high-end timekeepers and jewelry. In fact, some of its watches blur the distinction between timekeepers and jewelry with their diamonds, gemstones, and innovative form.
What company owns Chopard?
Chopard is privately owned by the Scheufele family who bought it in 1963. The Scheufele family takes an active role in the design of the brand's exclusive watches. In fact, it was Caroline Scheufele who designed Chopard's first Happy Sport watch.
What is Chopard known for?
Chopard is known for its luxury timepieces and upmarket jewelry and for making watches that also serve as pieces of exquisite jewelry. For more about the brand, including Chopard watch prices, history, and product range, see our Chopard guide.